Words:  Jane Speechley    Photos: Monica Tindall
Sometimes, it seems as though it might be impossible for a restaurant or café to achieve the big three: great location, great food and drinks, and great service. Usually, one or the other is lacking. However, Local Press Cafe really does seem to have them all.
Local Press Café can be found on the Kingston Foreshore area of Canberra, a much anticipated and growing urban waterside community that's home to some of the city's most exciting new bars and restaurants. The price for such a prime location is plenty of competition, but Local Press has been able to carve out a niche for itself with its focus on clean, healthy, wholesome food.
While we arrive early on a cold Saturday morning, there are already a good number of customers milling around, but co-owner Gary warns us there will soon be queues out the door. Those brave enough (or forced by the queue) to face the winter chill, in order to sit outside and enjoy the view, can help themselves to a trunk full of blankets. It's a nice personal touch that proves characteristic of Local Press Café.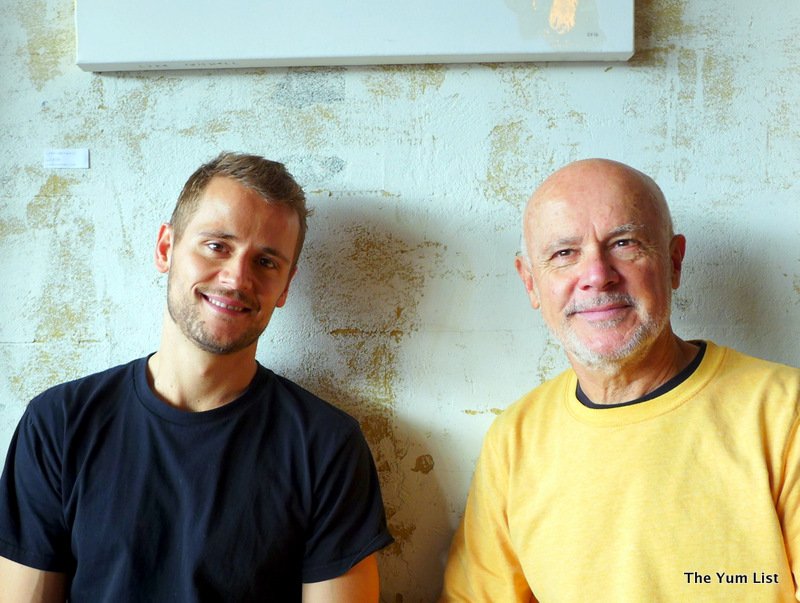 Local Press Café opened just over two years ago, and neither Gary (a former geologist) or his son and business partner Jonathan had owned a restaurant before – they simply set about creating the kind of place where they themselves would like to eat. For them, this meant a quirky and rustic décor, comfortable seats that encourage you to linger, and lots of those personal touches. For example, when the duo couldn't find tables they liked, they built all their own out of recycled materials.
Freshly pressed juices are a specialty here, and they're a great way to kick off the day. We start with the Essential Greens with kale, spinach, parsley, lemon and apple (AU$6), which has a wonderfully refreshing herbal flavour that's boosted by the zing of the lemon. We also can't resist the Deep Purple with beetroot, apple, ginger and lemon (AU$6). It has the deep colour and earthiness you'd expect from the beetroot, and it works beautifully with the ginger, lemon, and a lift of sweetness from the apple. Both juices are served perfectly icy cold, and our glasses are empty in no time at all.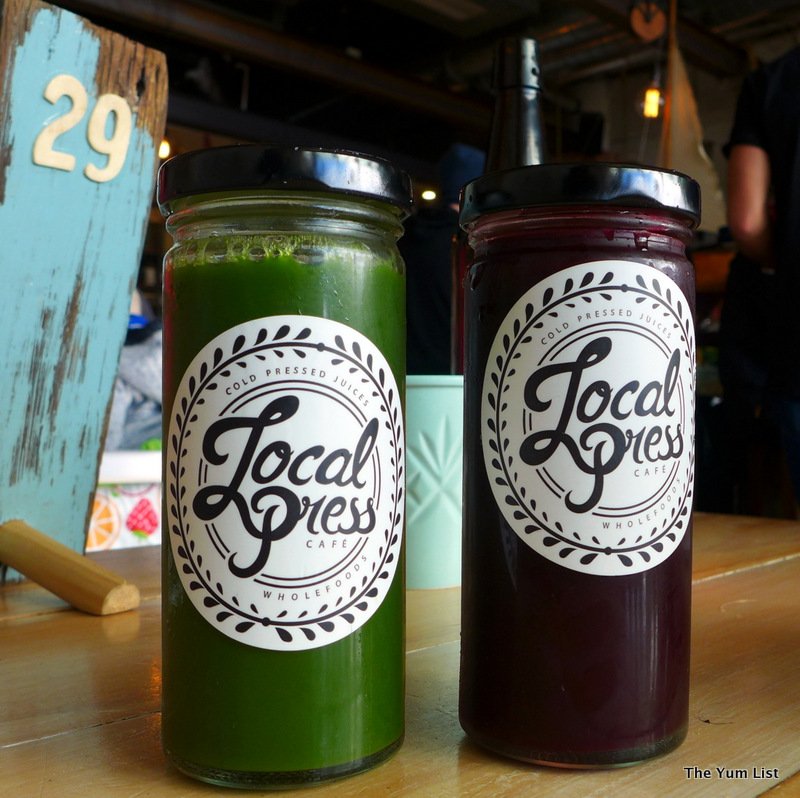 Early as it is, there's a momentary panic when we realise there's no coffee listed on the menu, but rest assured, there are plenty of options on offer. Local Press takes their coffee seriously: it's sourced through a quality local supplier, and the blend changes depending on the season and availability. At first sip, Mon correctly picks that they're using Ethiopian beans at the moment – it turns out to be a blend of 40% Kochere (natural) and 60% Adado (washed).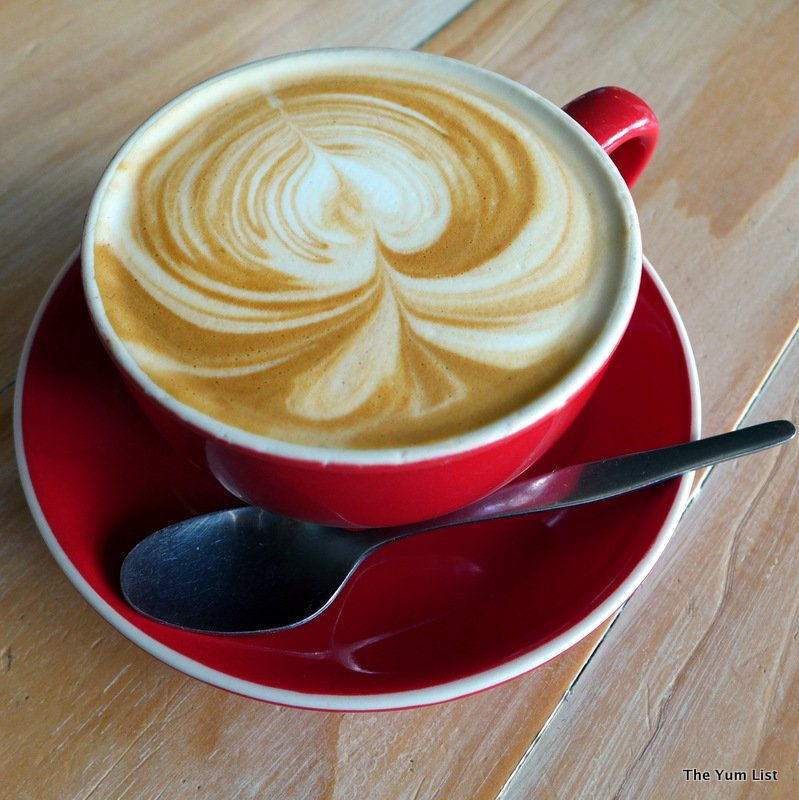 Breakfast menus can be disappointingly predictable, but Local Press Café's menu reflects the kind of attention to colour, texture and flavour that's usually reserved for dinner service. In an age of ultra-minimalism in restaurant menus, it's also a relief to find one that actually tells you what you're getting when you order! The Green Pea Pancake with Poached Eggs, Macerated Avo, Corn Salsa, Feta, Chilli Jam and Mint Garnish (AU$21) is a signature dish and it's a cacophony of bright colours and tastes. The pancake itself is thick and fluffy, with a green tint from the addition of the peas, and topped with a perfectly poached egg and a dollop of the house-made chill jam. The entire plate is heavily scattered with more peas, toasted corn kernels, crumbled feta, cherry tomatoes and chopped mint, and enhanced by a generous drizzle of rich sweet balsamic vinegar. Overall, the dish has a bit of a tex-mex feel to it, and it's so enjoyable – every mouthful is sweet, tangy, crunchy and tasty – it's an instant favourite.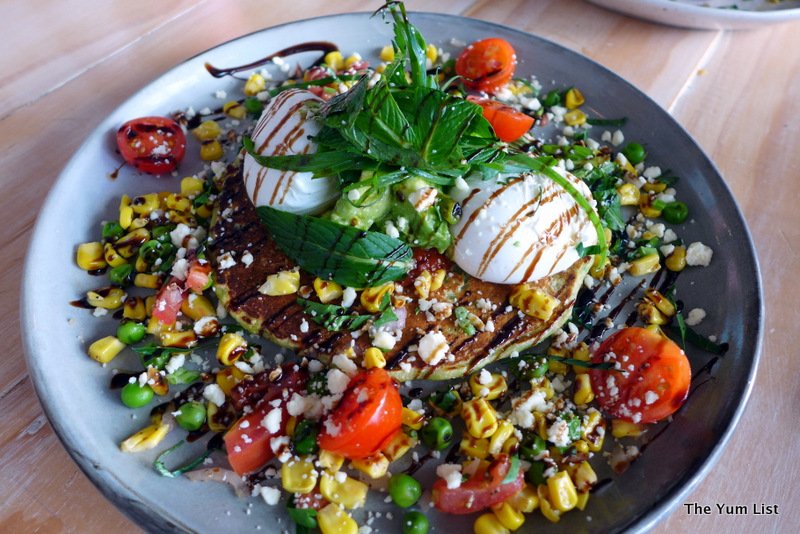 Our second dish turns out to be a wise choice as well. The Wild Mushrooms Sautéed in Garlic, Thyme, and Sage Oil, with Fried Chestnuts, Meredith Chevre, Seasonal Greens and a Poached Egg on Artisan Sourdough (AU$19) is as generous as it is delicious. It's a towering pile of several different varieties of mushrooms, beautifully seasoned, and the addition of the greens adds plenty of variety and crunch. Again, it's the little touches – such as the toasted chestnuts and creamy Meredith-brand goat's cheese – that take this dish from routine to refined.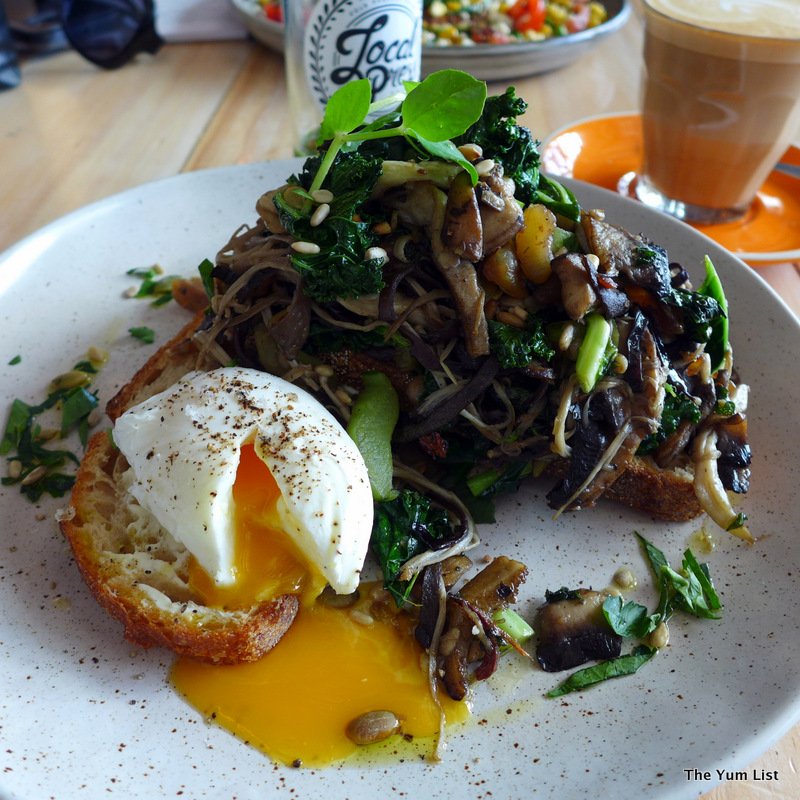 By this time, we're about to wrap up, but when we hear chef Ben has been working on a range of raw, vegan treats, we simply have to try a couple. Ben's passion for his work is clear, and these cakes and slices might just convert the most die-hard sweet-toothed omnivore. A large Caramel Slice has a nutty base topped with a buttery filling that has strong coconut oil flavour and a subtle caramel taste; while the Strawberry Cheezecake is rich and dense, not too sweet, with an almost fizzy citrus tang.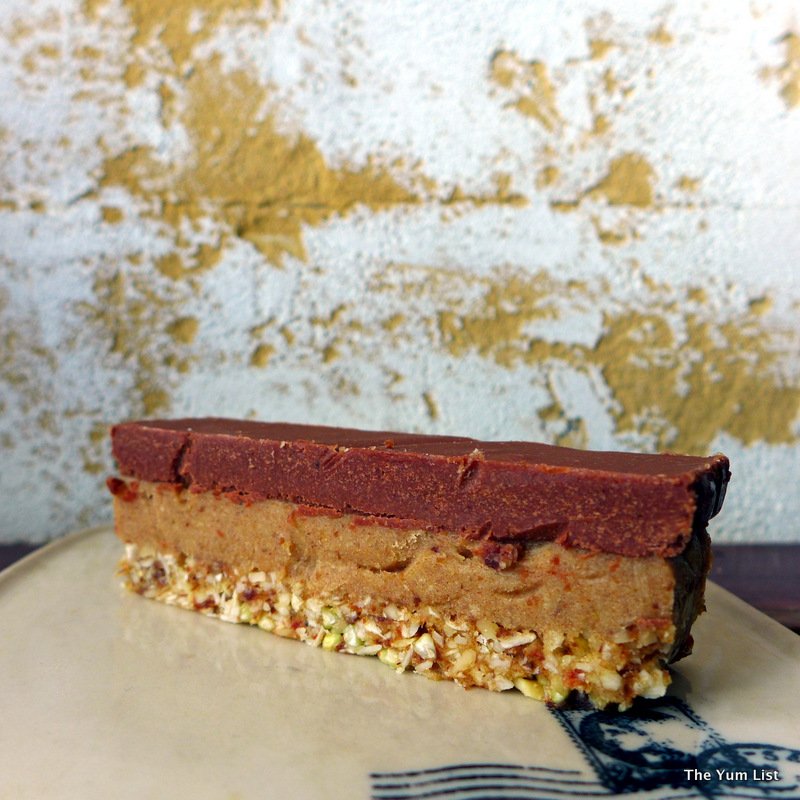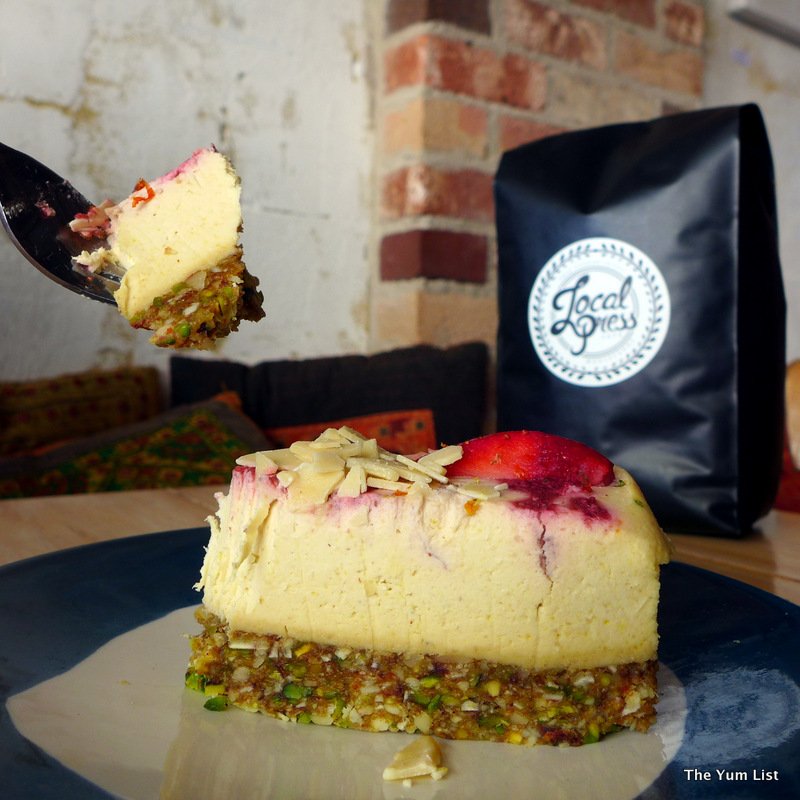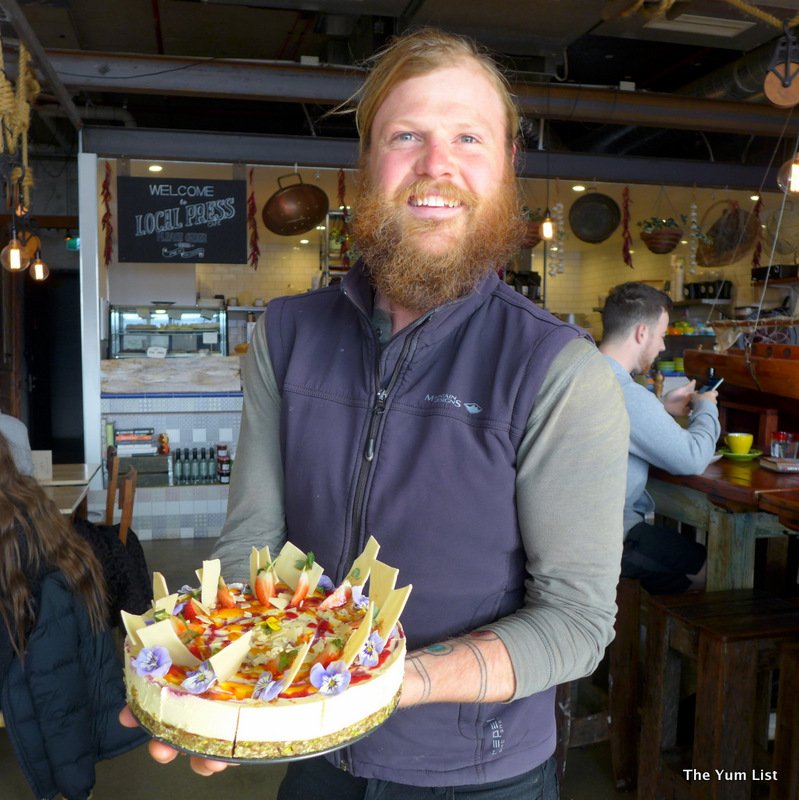 If you still think healthy, wholesome food can't be interesting and even – gasp! – delicious, you need to check out Local Press Cafe. By combining quality ingredients with sophisticated preparation and a few human touches, they're continuing to stand out among the competition. Make sure you get there early though – Gary was right, by the time we leave, the customers are indeed lining up out the door.
Reasons to visit: great coffee, nice views, friendly atmosphere, Mon loved the Wild Mushrooms, Jane adored the Pea Pancakes, and both were smitten with the raw desserts.
Local Press Cafe
81 Giles Street
Kingston Foreshore
Australian Capital Territory (ACT)
Australia
+61 2 6162 1422
[email protected]
www.localpresscafe.com.au