The Michelin Guide might not yet have reached Malaysia, but Michelin starred chefs have no problem finding their way across its borders. For one week only Alexy Fuchs, head chef of the Michelin starred Le Gavroche, is partnering up with Mezze's group executive chef Yves Pierre Renou, to bring Malaysian residents an exquisite taste of their hometown, Alsace in France. Kronenbourg Brewery hails from the same region and so guests can look forward to some brew inspired dishes along with boutique Alsation wines curated by Mezze's sommelier, Sebastien le Francois.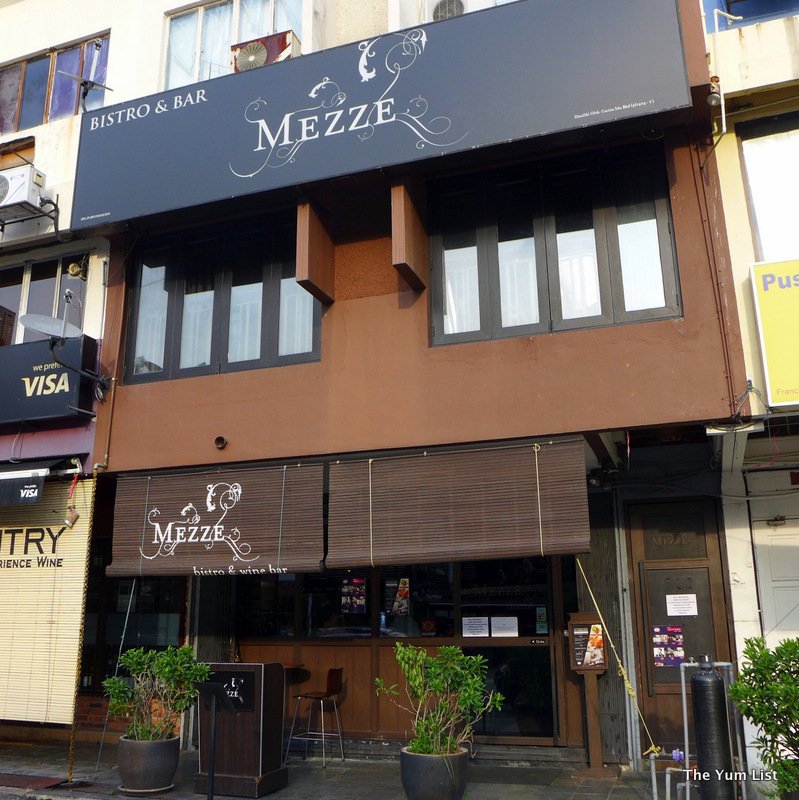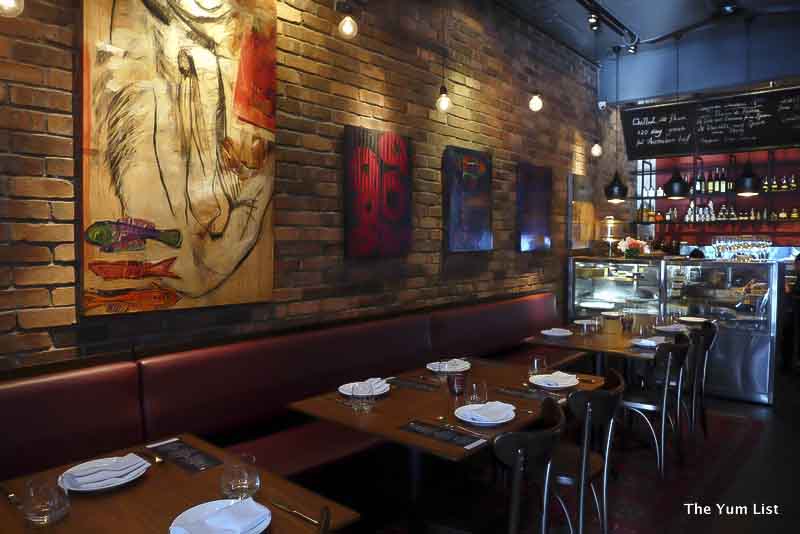 Two different menus will be presented over the course of the week. We're here on the second day to sample the first menu.
A cocktail kick-off is a guaranteed path to a positive start. The K1664 Special was especially created for Mezze by French mixologist Viji Thomas, who heads their sister outlet newly opened a few blocks away, Skullduggery. Consisting of rye whisky, Fernet Branca, honey, rosewater, angostura bitters and topped up with Kronenbourg Blonde, it's quite a complex cocktail, refreshing and balanced.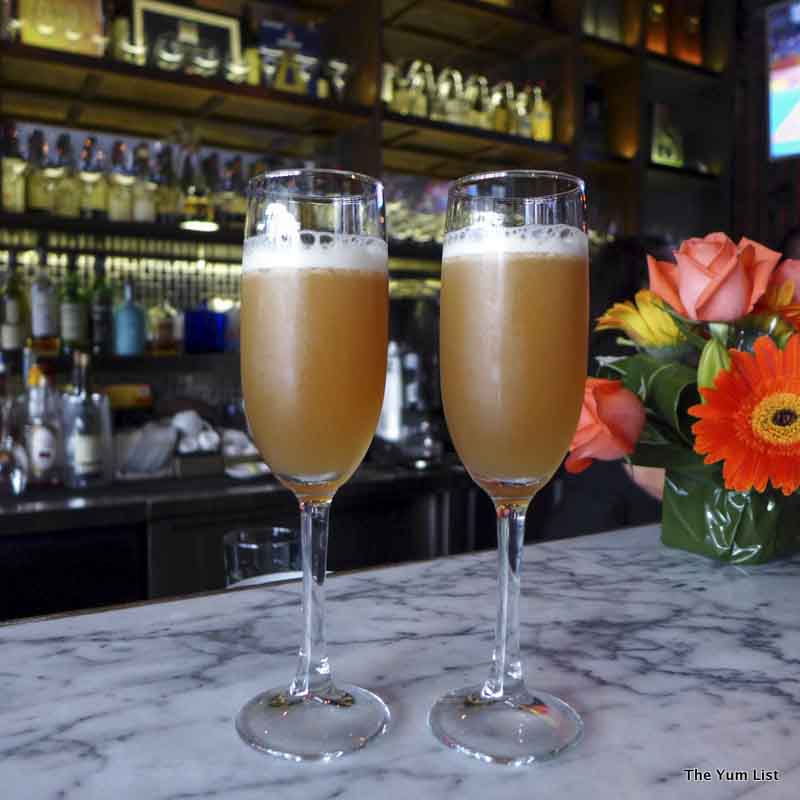 Amuse Bouche
Our eyes are amused before our mouths with the presentation of the Amuse Bouche in a spoon and a shot glass, upon a cross cut of wood. Ratatouille with Parmesan crisp is rich, and gazpacho of rockmelon with Port wine is fresh and fruity. Our palates are asking for more.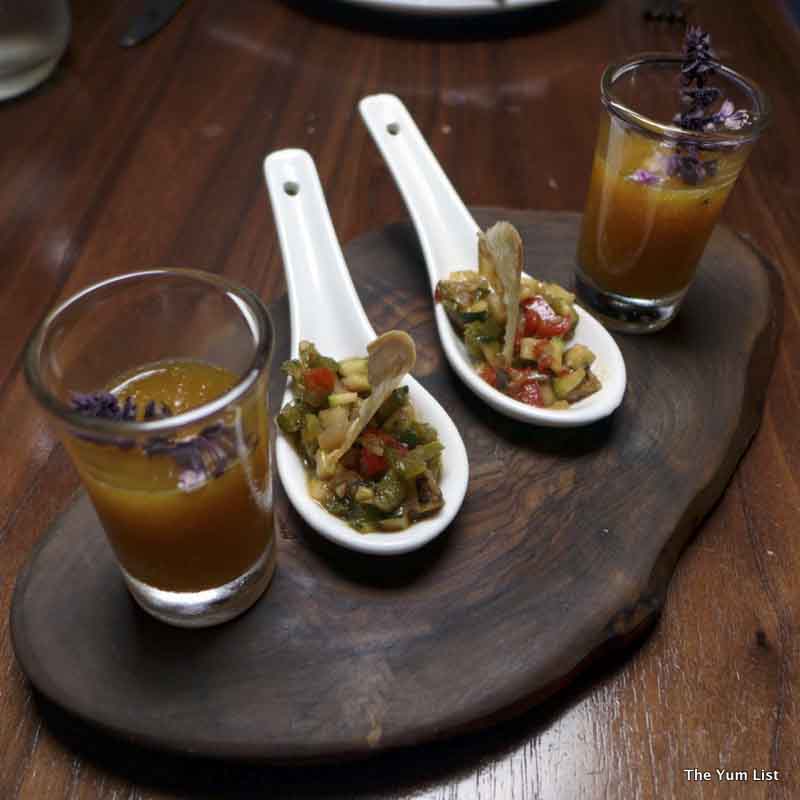 Starters
Hake Tartare takes full advantage of the infusion of kaffir lime, which not only serves to give it a "just caught" impression but also departs with an "I want more" flavour in the mouth. Candied lemon cream offers both sweet and complimentary acidity finishing off the dish in perfect harmony.
"I'll never be able to eat soup again without wishing for a marshmallow," I think to myself as I spoon the last drops of the Veloute of Green Pea Crème. It's savoury, creamy and thick and is adorned with a trio of egg and Parmesan puffs resembling the consistency and appearance of fluffy marshmallows. Delicious.
Wines
Wines by the glass are chosen especially for this menu and conveniently have roots in the same region from which our dishes are inspired tonight, Alsace. The white is a 2012 Pinot Gris Bio Evidence by Gustave Lorentz. It's dry and slightly fruity with a touch of citrus, and does nicely with the starters and the main course for the fish.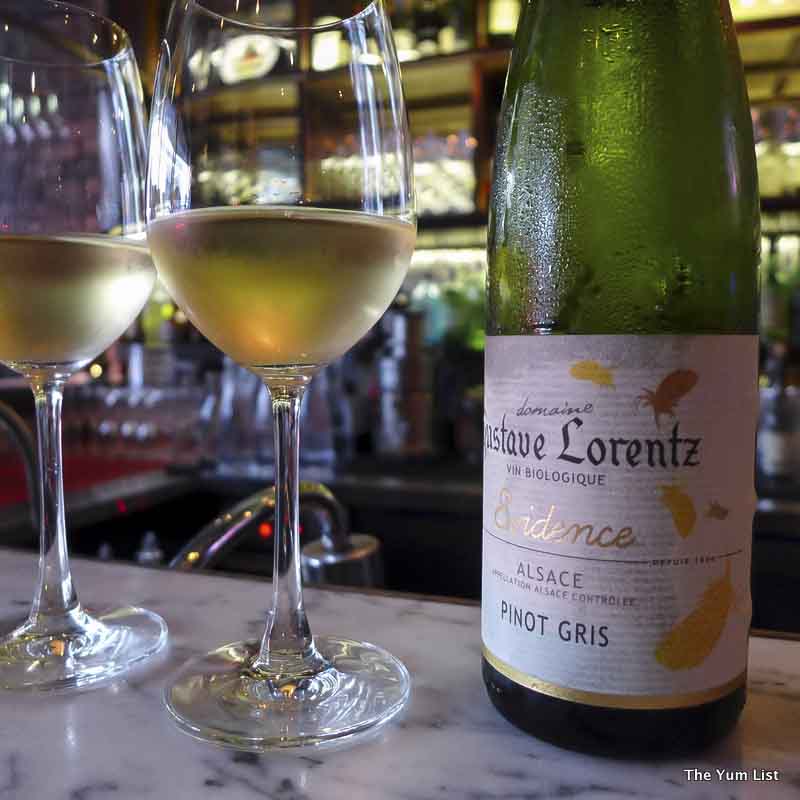 The Pinot Noir Bio Evidence by the same vineyard and year is the red by the glass. It's a versatile wine, pairing well with a number of the meaty mains. It's quite unique as it's rare to export these boutique style wines from this region. Light, fresh fruit, red berries with a nice hint of acidity, it's served chilled to bring out the lighter notes in the wine.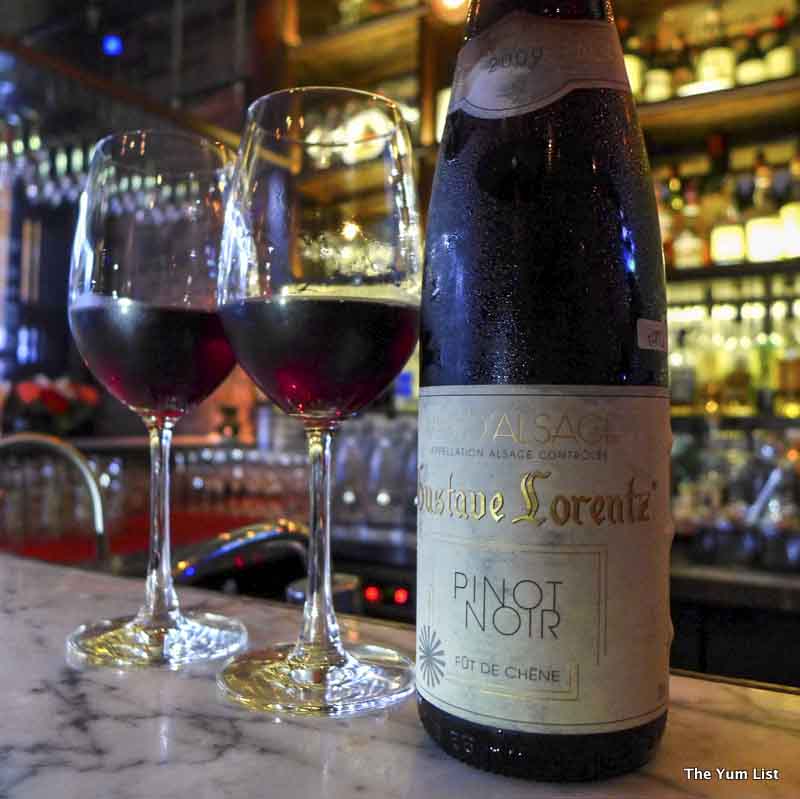 Mains
Two nuggets of Golden Monk fillet find a place atop a dense flooring of spelt risotto with lemon confit, foam and two razor shells positioned on either side. The fish is moist and flaky, but it's the spelt with a soft chew that seduces me to keep on forking back in.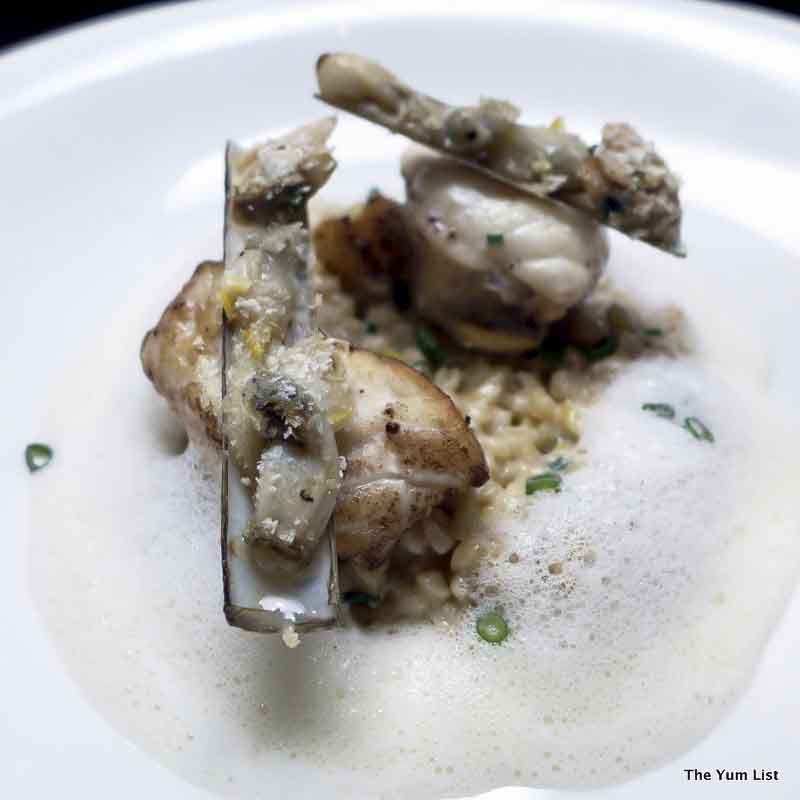 Sourdough bread, shaved slimly and toasted with Parmesan, wraps as a warm blanket around a hunk of 100% Black Angus Beef Tenderloin. We slice in and it's deliciously pink in the middle, parting at the slightest touch of our knives. A light chiffon potato seasoned with sage completes our "meat and potato" dish and there's additional sauce for our Malaysian friends who love it so.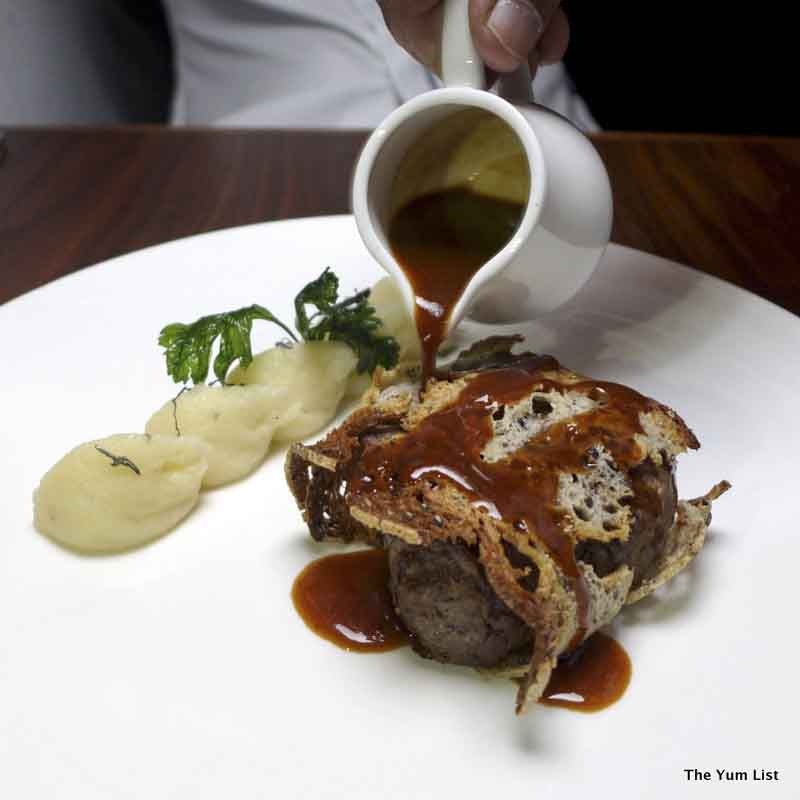 Palate Cleanser
"Oh my, this is so good!" says hubby swallowing the last drop before I've even contemplated the palate cleanser. A K1664 lemon-infused sorbet is mildly sweet with just a whisper of lemon and lingering malty finish. Yum!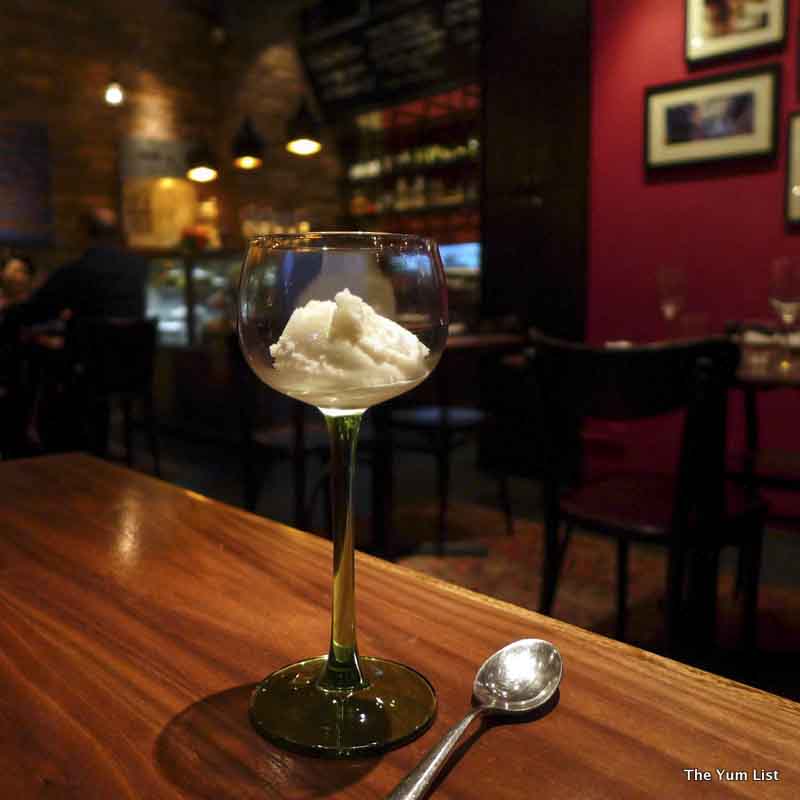 Desserts
Dark Valrhona Chocolate is an attractive low tower of chocolate layers: biscuit base covered with folds of chocolate mousse and finished with a thin sheet of dark chocolate. Vanilla tonka bean ice cream caps the crown making not only a pretty contrast in colour but also a complementary change in texture and temperature.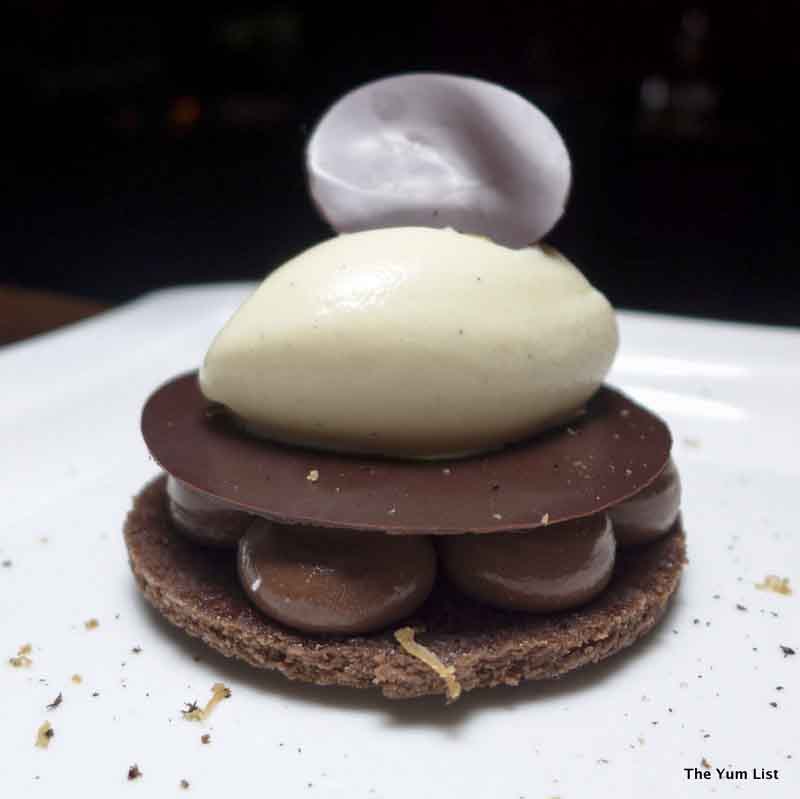 The chocolate is good and is sure to satisfy any chocolate fan, but we both go wild for the Yuzu Macaron with Pineapple Basil Sorbet. A generous slathering of citrus curd fills an expertly prepared macaron – smooth crisp shell outing and softer chewier middle. The pineapple sorbet is surprisingly velvety and altogether they make a tart, spring-fresh finish.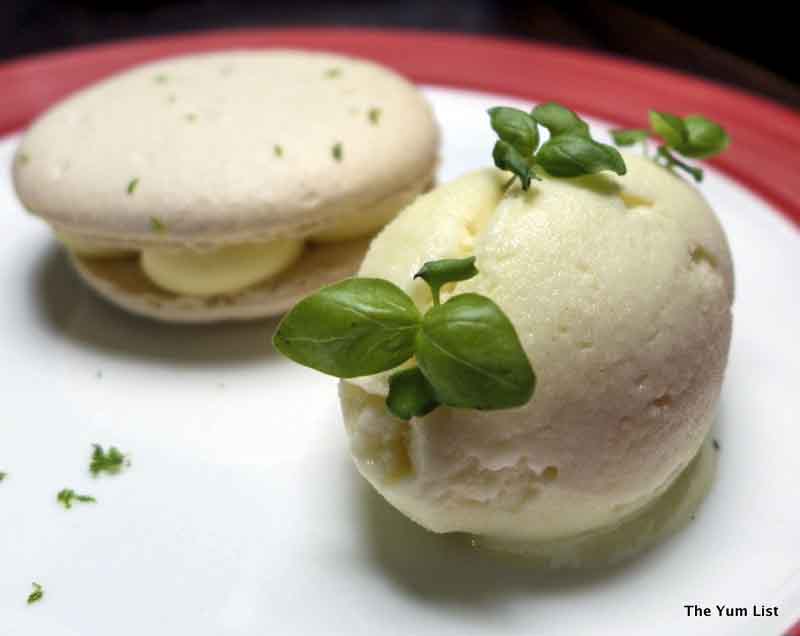 Supplying a circle ending presentation wise, petit fours arrive on a wedge of wood. K1664 infused marshmallows are a highlight, and classic financiers are just as they should be, light moist and springy.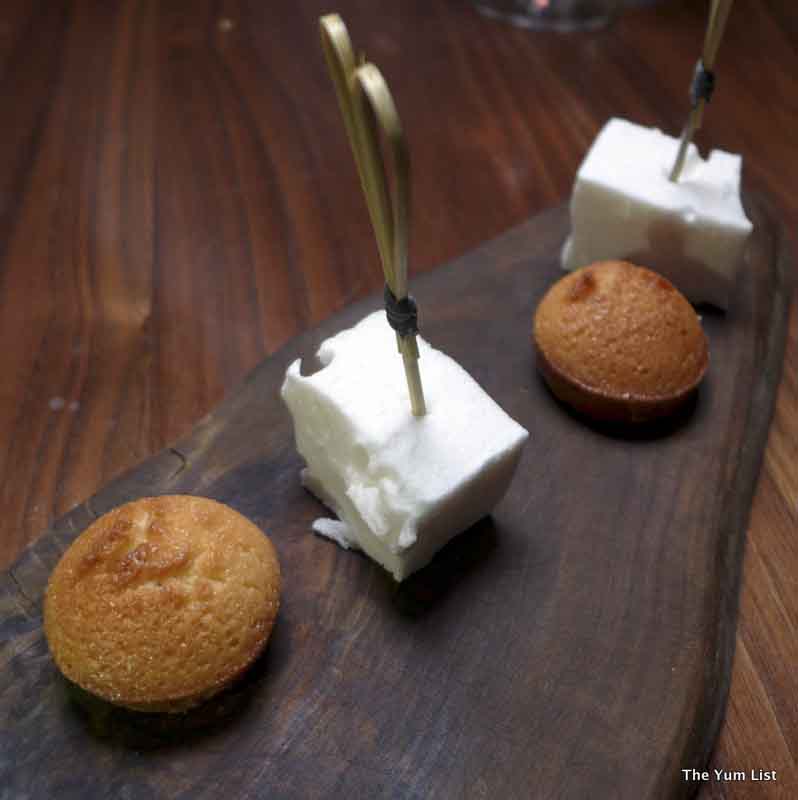 Chef Alexy is at Mezze from August 6th until August 12th, 2016. Set menus are priced at RM280++ per person and will change half way through the week. The first menu will be featured from August 6th until the 9th and a new menu will be showcased August 10th to 12th. This dinner sold out weeks before opening, but I learn tonight that there are always last minute cancellations – so, if you're feeling lucky, why not give it a try?
Reasons to visit: a chance to dine with a Michelin starred chef without the airfares to get to him!
Mezze Bistro and Bar
132 Jalan Kasah
Medan Damansara
Kuala Lumpur 50490
Malaysia
+6 03 2095 0122
[email protected]
[email protected]
www.mezze.my
www.facebook.com/mezzebarbistro