Words: Craig Selby   Photos: Monica Tindall
One of my favourite Chinese festivals is that of the Mid Autumn Festival. Not only is the meaning behind the festival intriguing; it is also an opportunity for that once-a-year delicacy – the mooncake. Although I grew up in New Zealand, ever since I can remember, the Chinese community there celebrated mid Autumn Festival, and mooncakes were always around. They were a little different thirty years ago – being the traditional baked skin with red bean paste – a double yolker was always considered a treat. Now, they take on new and amazing forms – being centerpieces of culinary artistry – two of which we discovered this evening.
Our Mid Autumn Festival family dinner (I call it a family dinner, as we were with good friends; and good friends are family where I come from) at Chynna, Hilton Kuala Lumpur, offered a great progression of dishes – each one adding a spectacular layer to the journey.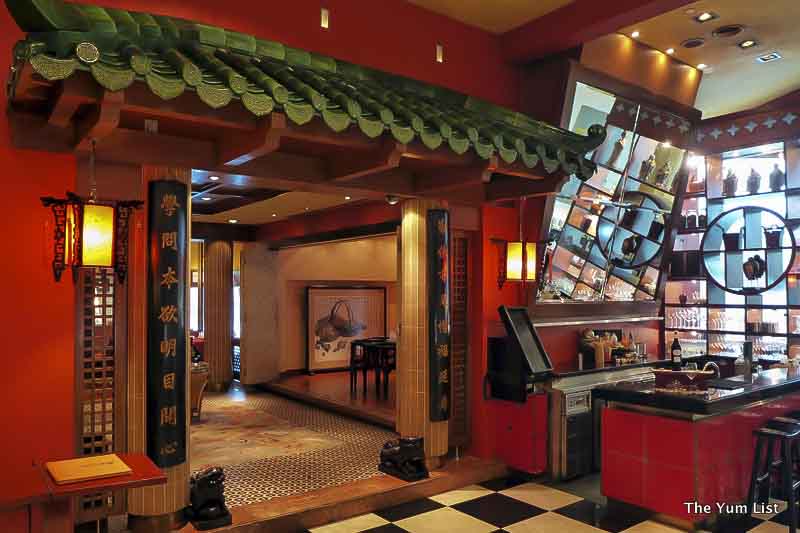 Welcome tea, yes, that's right, "welcome tea" was served by a gentleman in traditional outfit, looking rather dapper, and carrying one of the biggest teapot spouts I have ever seen. His hand-eye coordination was superb; not a single drop was spilt. It's not the flavour of the welcome tea, but the theatre with which it is presented! Quite an eye-opener for the uninitiated; and still a head turner for the experienced – as I still wonder how I would go about practicing the perfect pour.
To whet our appetite was a salad – fresh mixed greens sourced from Cameron Highlands, with Chef's house-made coconut dressing. I enjoyed the lightness of this dressing – a perfect blend involving coconut, onion and lemongrass – although I am certain there are a few secret ingredients in there too. The mixed greens offered textural variety, as well as slight peppery accents, and were accompanied with yellow micro petals, crab meat, clam meat, anchovies, and fried egg; with the salad inspired by the flavour profile of popular Malaysian dish nasi lemak.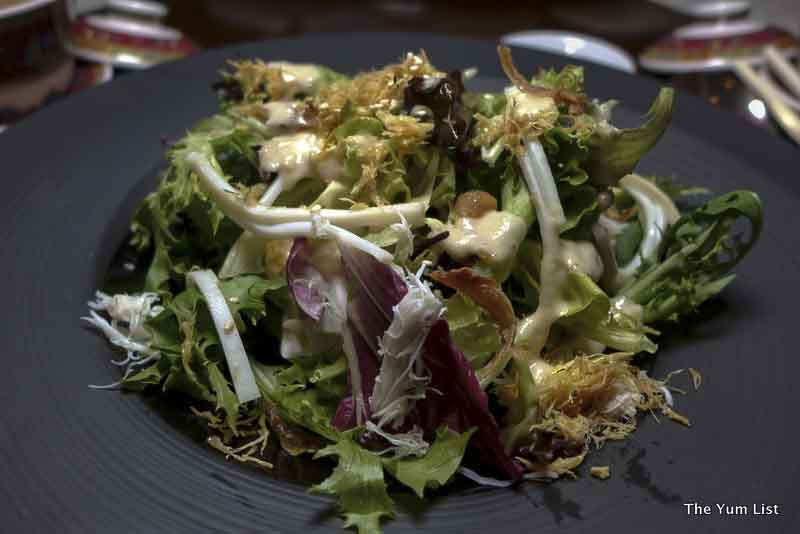 A new experience for me was the fish maw soup. Double-boiled, this Cantonese inspired milky soup broth was chock full of delicious goodness, including loads of collagen (good for the skin), bean curd skin, and lightly fried chicken shreds. To balance the milkiness, a potent pepper element is present, giving it that extra pop in your mouth.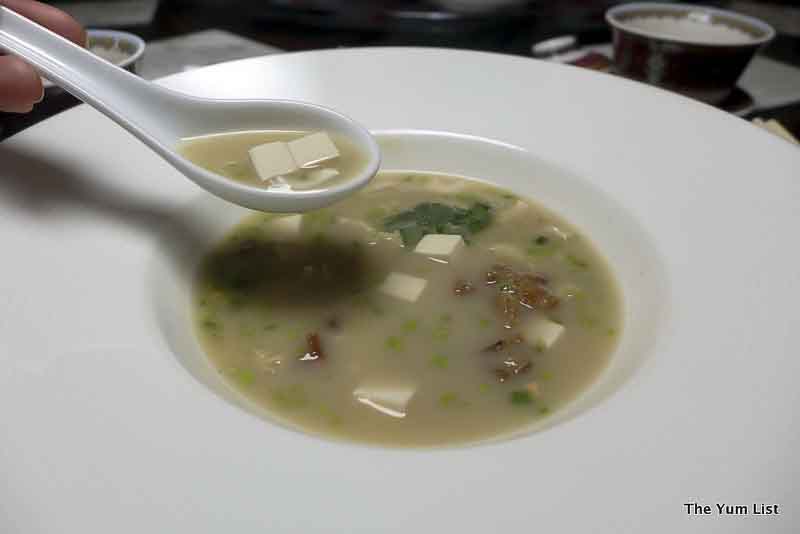 Centrepiece to the main dinner was the steamed fish in 'special' green sauce. Funny thing; the sauce was special – we were asking for more (they obliged), and lapping (should I say, slurping) it up. The whole fish was served, including the head (prized by some at our table) – tender flesh, great flavours of ginger and spring onion. The sauce emphasised these flavours with the addition of Chinese staple, coriander. No wonder we were all asking for seconds!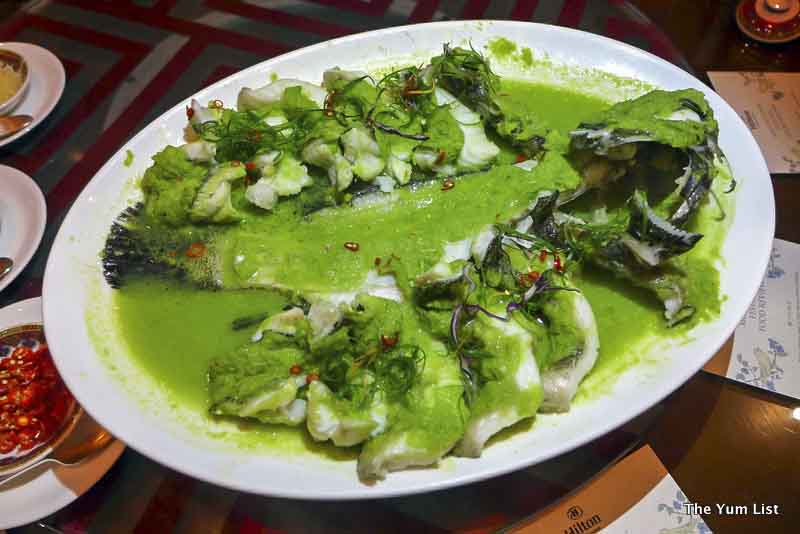 In a night of firsts, the customary rice dish surprised us all – not fried rice, but toasted rice, playfully infused with strawberry, nashi, seasame seed, and crab meat. Totally unexpected in combination, it was an instant hit (went well with the green sauce from the fish too). Delicate in flavour, curious in texture, but stunning in execution and taste – this is a dish I would come back for any day of the week.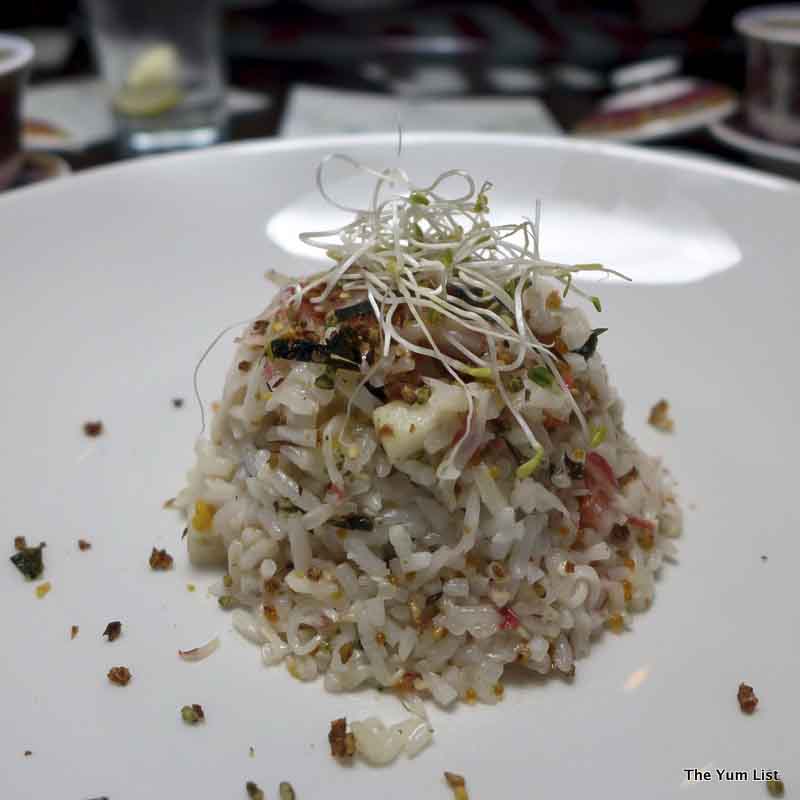 Our dinner was hosted by Chef Hock Hin – clearly proud and enthusiastic when sharing this dish's ingredients. But none so more as when he introduced us to two of Chynna's unique mooncake creations for the 2016 season – durian (yes, you read right) and chocolate.
Honestly, I am not a fan of durian, but work is work, and I had to give it a go. Luckily, I am a chocoholic, so I had the right follow-through to keep me happy. Both mooncake varieties are snowskin.
The durian variety comprises no less than 100 grams of musang durian – considered by aficionados as the absolute crème of the crop; each mooncake containing the best part of a whole durian. Sprinkled with gold dust, this creamy mooncake packs a powerful punch. Chef offered a helpful hint for this one though – if you are buying for consumption at home, you can keep it frozen to extend its life (just in case you want to stock up on durian deliciousness for the coming few months).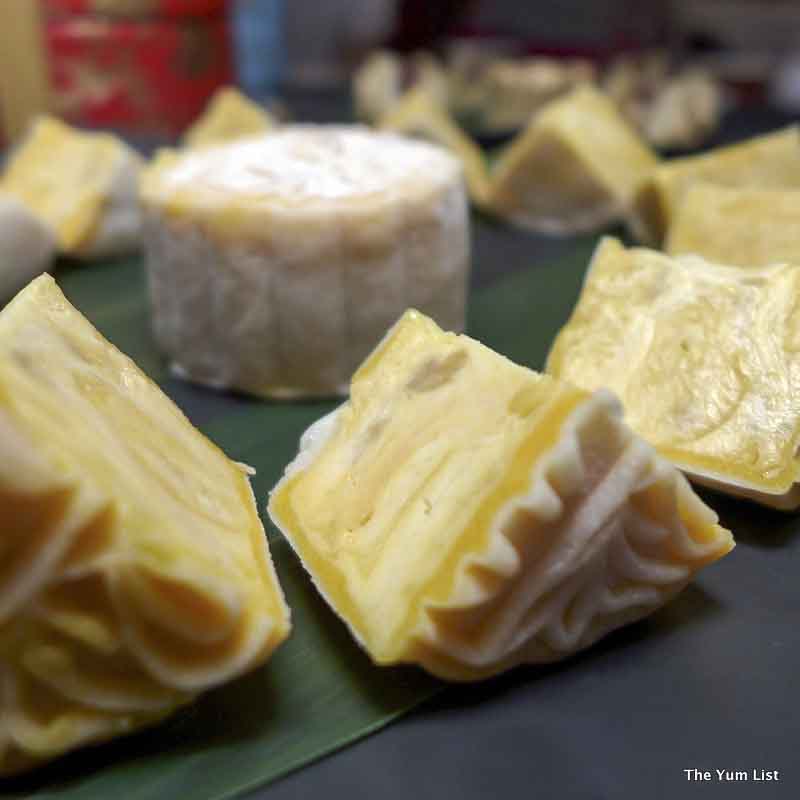 More to my personal liking was the Valrhona chocolate mooncake. Infused with fig, it was rich and smooth, and very palatable. I probably had a little more than my fair share on this one, but when you can't resist, you have to do what you have to do – eat more!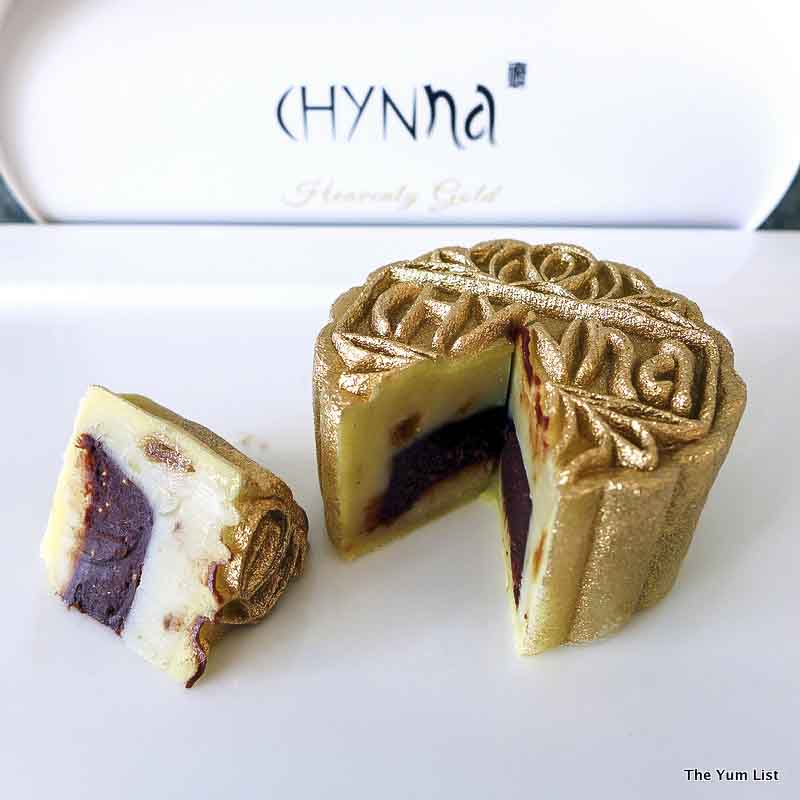 The final dish was a delicate jelly – a translucent chilled aloe vera and lemon grass jelly, with a sharp, tangy lemon sorbet. A perfect way to end the meal, with light floral notes and a bite from the lemon.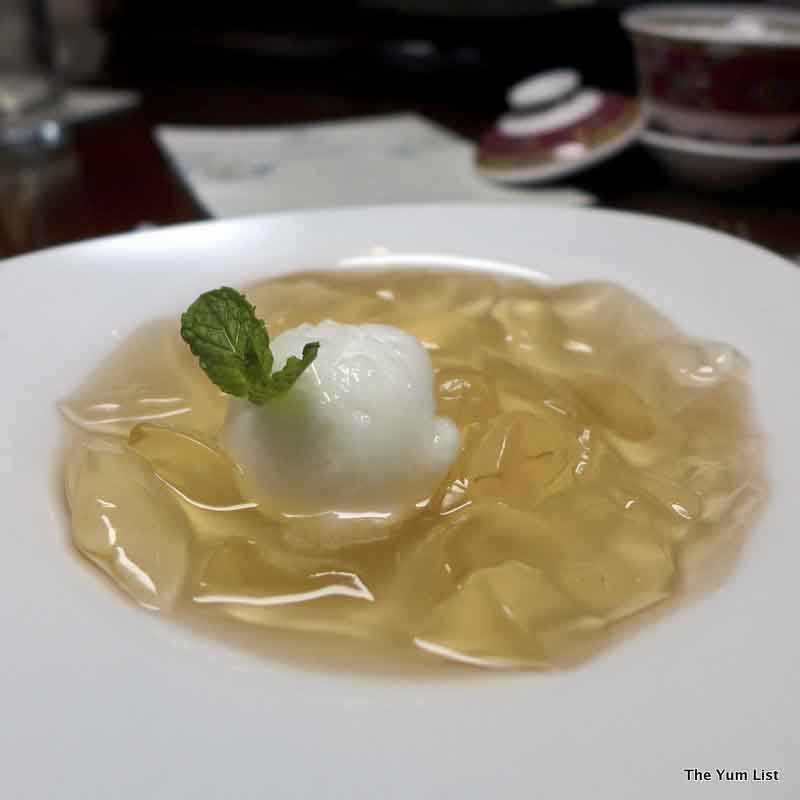 Together, it was a great menu. But what makes it special, as always with Chinese meals, is the companionship and chatter along the way. Definitely an outstanding culinary experience for family and friends, I highly recommend getting together a group to share, eat and talk the night away, and sample for yourself a few cuisine firsts.
Reasons to visit: superb Chinese dishes; amongst durian lovers the durian mooncakes have a reputation for being the best in the city; for those not so inclined towards the stinky fruit, the Valhrona chocolate mooncakes are equally decadent options.
Chynna
Hilton Kuala LumpurLevel 5
Level 5
3, Jalan Stesen Sentral
Kuala Lumpur Sentral, 50470 Kuala Lumpur,
Wilayah Persekutuan Kuala Lumpur
Malaysia