There are only two Palazzo Versace hotels in the world and the Gold Coast Australia has one of them! On the northern end of the Gold Coast, Palazzo Versace is located between the tourist strip of Surfers Paradise and the popular Seaworld theme park. Claiming a spot on the prestigious harbour of Marina Mirage it finds upmarket neighbours in the luxury yachts docked beside it and fine restaurants rimming its edge.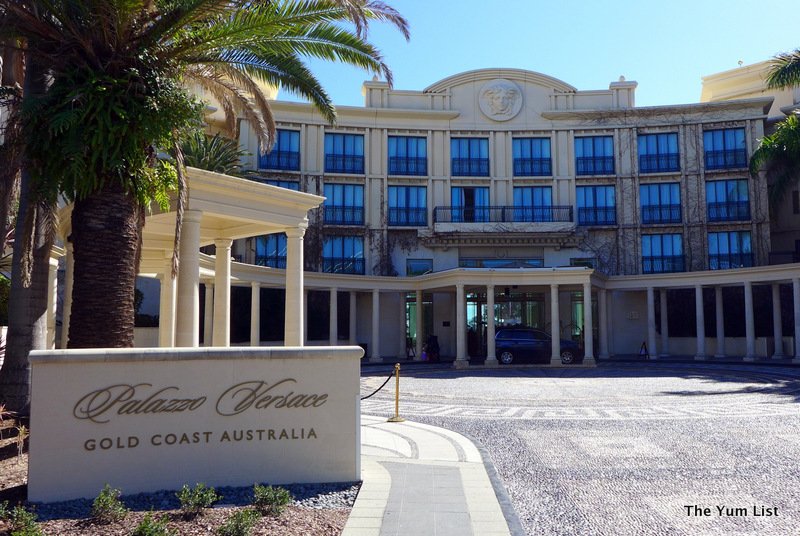 Such prestigious lodgings deserve an equally esteemed afternoon tea and that is exactly what Le Jardin at Palazzo Versace provides in their Couture High Tea with Versace. Marble flooring, glass walls, elegantly upholstered chairs and glass-topped coffee tables provide the setting with plenty of fresh orchids as adornment. Served between 11am and 5pm daily Le Jardin and lobby are often abuzz with small groups partaking in the fine experience.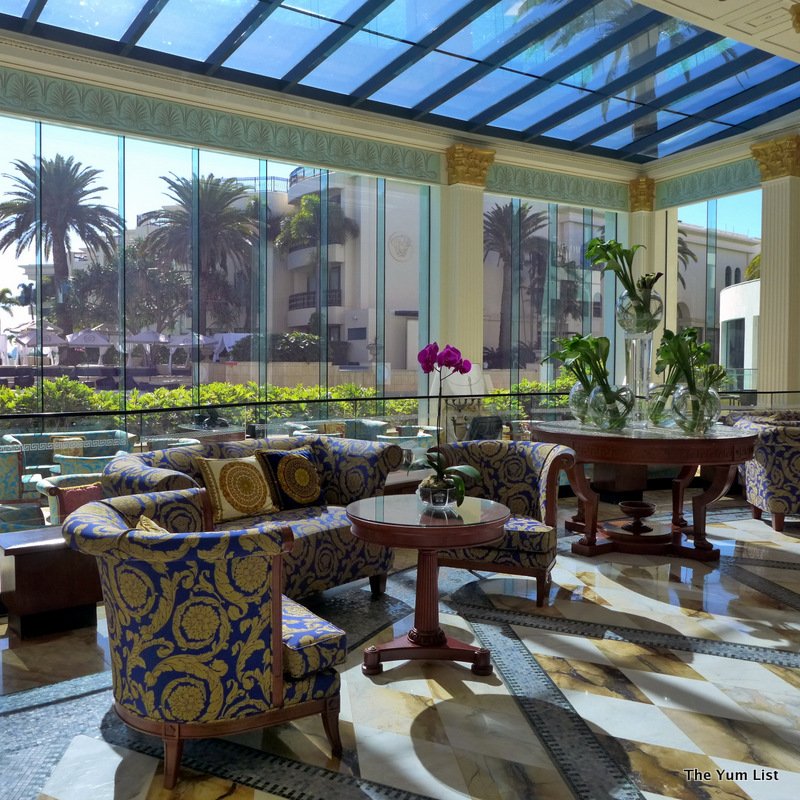 First Course
Arriving in two courses, a wonderful aroma precedes the delivery of the first: freshly baked sultana scones still warm from the oven. Devonshire style cream, and rhubarb and passionfruit jam are delicious accompaniments. The scones pass our (dad's with me today) test, which is a tough score as we claim to have been spoiled for years by our hometown's scone champion, my mum.
We top up our afternoon with a couple of glasses of Cloudy Bay Pelorus Sparkling Wine. It befits the setting and its crispness backed up by light toasty notes make a terrific aperitif.
Scones polished off and plates cleared, part two arrives as a three tiered tower.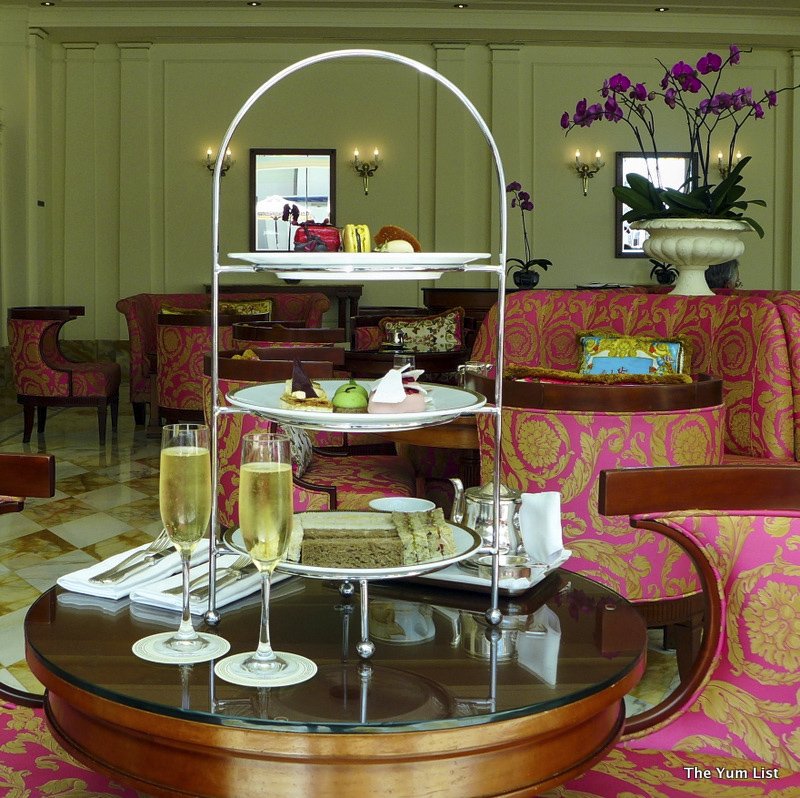 The Bottom Tier
The savoury tray brings a selection of finger sandwiches. Cheddar cheese pairs perfectly with red onion marmalade between slices of grain bread. Egg mayonnaise is seasoned with black pepper and enveloped with white bread. Prosciutto, tomato and pesto are the strongest in flavour with a distinctive herbiness due to oregano bread slices. Smoked salmon is fresh and moist between rye bread and accompanied by lemon and dill crème fraiche – this turns out to be our favourite.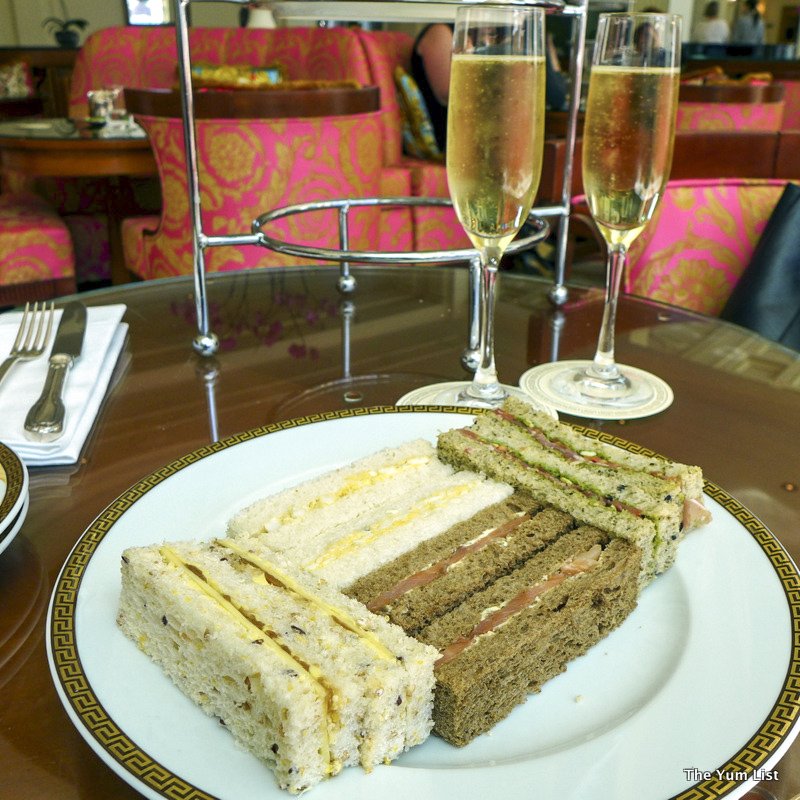 Not one, but two trays of sweets offer saliva-inducing temptations. Each mini sweet is beautifully presented and it takes all of our might not to devour every single crumb.
The Middle Tier
Rum and raisin mille feuille with caramelized banana is our waitress' most loved sweet, and turns out to be dad's too. The pastry is thin and flaky and the cream mildly sweet. A dome of apple mousse tops a walnut and honey base and is again not overly sweet, endearing us to the petite bite even more. Strawberry and yuzu vaherin resembles an ice cream on a stick. A devilishly airy mousse with a yuzu ice cream middle is chilled and surrounded by a pink chocolate with drops of berry coulis affixing wafers of meringue. Gorgeous.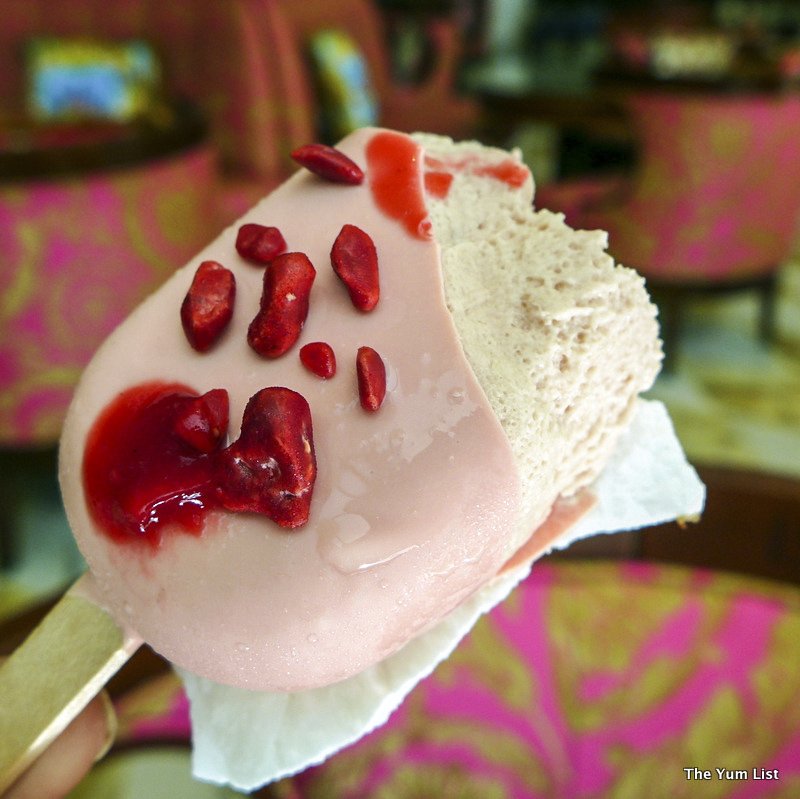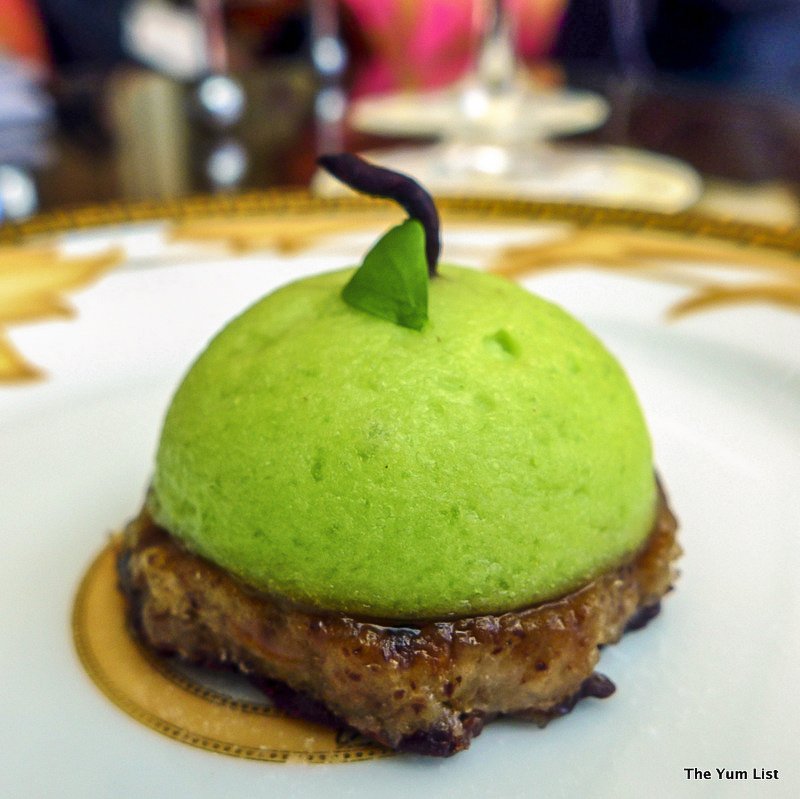 The Top Tier
The Versace Signature Macaron is yellow and sprinkled with gold dust. It's filled with a black liquorice cream, strong enough to know immediately the flavour, but not overpowering. The macaron is cooked perfectly with a smooth shell and slightly chewy middle. Date Custard Tart looks deceptively like a lemon tart and it's not until I bite in and check the menu that I realize my error. The pastry cup is crisp and thin, holding layers of date paste and custard. A blob of cinnamon cream surmounts the top. Versace signature Valrhona chocolate delice is perhaps the crowning glory of the tower. Rich chocolate cake is layered with chocolate mousse, chocolate chips and a tart berry jelly which lightens its decadence just enough to enable us to eat the whole cube.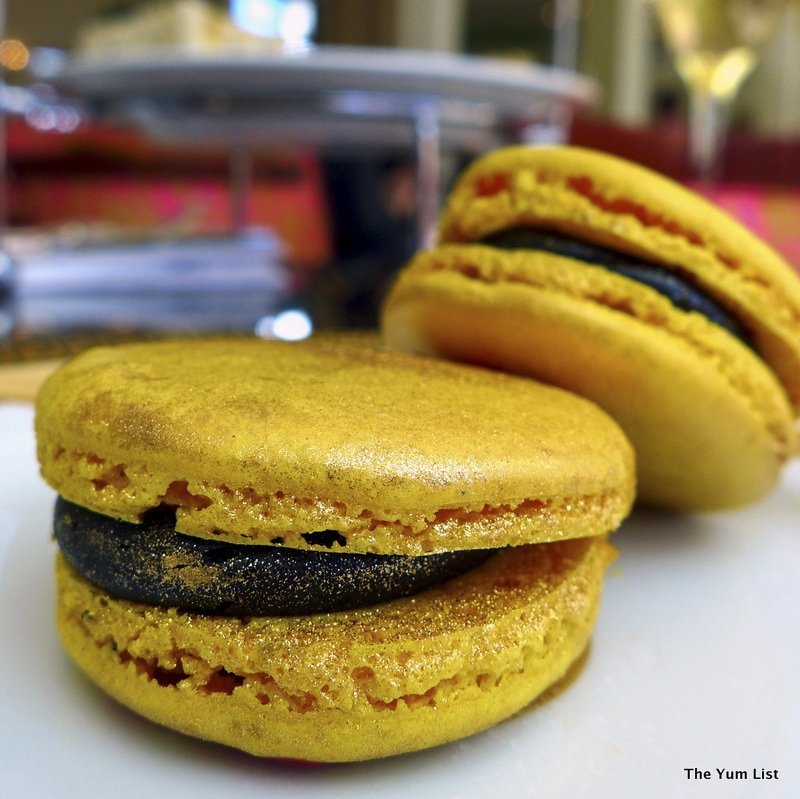 Besides the regular tea, Versace offers an enticing selection of Iced Teas ($7.50). The Vanilla Roibosh Tea is shaken with ice and served with fresh mint and berries. The Turkish Apple is infused with fresh mint and ginger beer. They're both served in an oversized brandy snifter, so not only taste good but look stylish too. Please note both are rather sweet and make great refreshments but choosing to have the ice tea and high tea on separate occasions will prevent a sugar overload.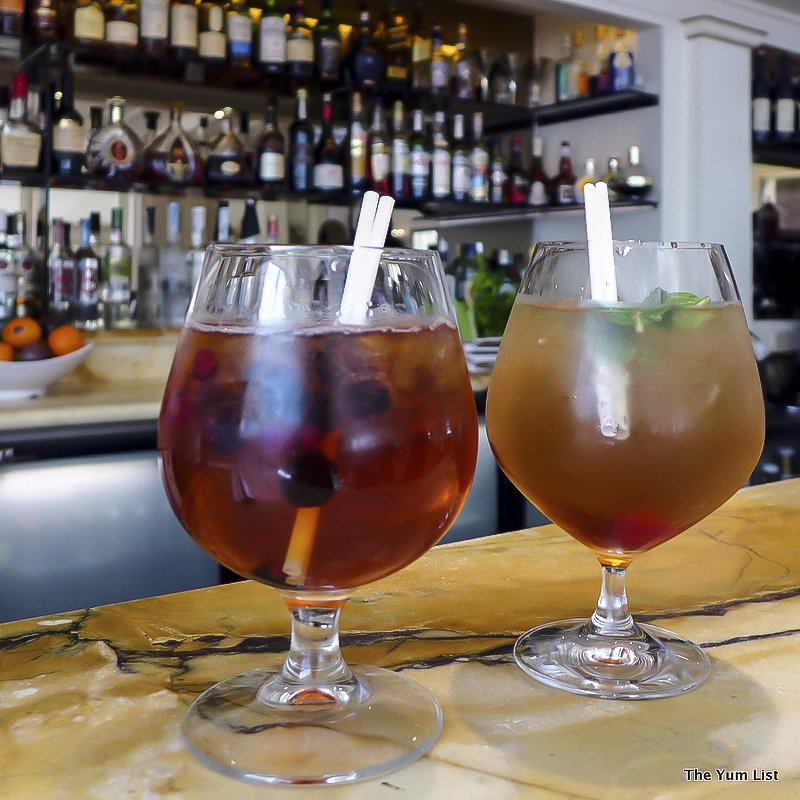 Couture High Tea with Versace is available between 11am and 5pm, and is priced at $48 per person during the week and $58 on weekends. The Sparkling Couture High Tea includes a glass of Cloudy Bay Pelorus Sparkling Wine and costs $60 per person.
Reasons to visit: stylish setting with lots of natural light and views out over the pool; our top picks of the set are the rum and raisin mille feuille, the strawberry and yuzu vaherin, and the decadent Versace signature Valrhona chocolate delice.
Palazzo Versace Gold Coast
94 Seaworld Dr., Main Beach
Queensland, 4217
Australia
www.palazzoversace.com.au
+61 (07) 5509 8000
[email protected]