Words:  Heather Onderick     Photos:  Monica Tindall
There's no lack of international cuisine in Kuala Lumpur. There are scores of Asian restaurants from every country in the region, brunch spots popping up like wildflowers, and an Italian or three in every commercial center in town. Having said that, Spanish influenced restaurants have not yet saturated the market and newbie, Tiki Taka, is a special treat in the sense that it's Spanish inspired cuisine with an intention to take you on a global culinary adventure. Chef Carrie Scully and her partner, Hans Gill, spent some delicious traveling moments in Spain pre-opening, and fueled by their evening strolls around Barcelona and not knowing what adventures lay behind each artistic entrance, the two have created a dining experience at Tiki Taka that is about taking risks with food. The name of the restaurant, Tiki Taka,  is a style of play in football which utilizes short passing and motion to maintain possession of the ball, and characterizes the playfulness but distinct ownership of their menu.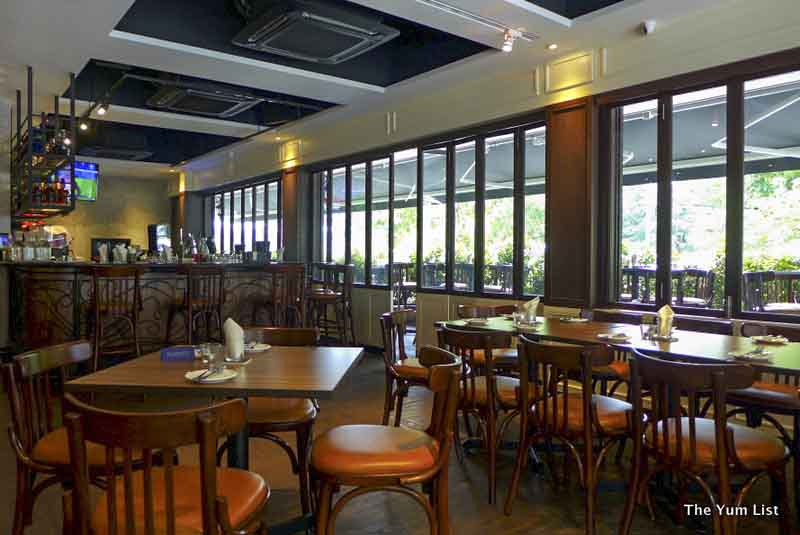 Tiki Taka is located on a strip of restaurants and bars in Medan Demansara. It is situated at the end of the strip and offers valet parking to its clients. Walking into Tiki Taka, it has an inviting feel. Chestnut brown and soft golden interior create a sense of warmth. The bar is well lit and if you feel like sitting outside, there is a lovely alcove that runs alongside the length of the restaurant, curtained with greenery to help you relax in the urban jungle.
Tiki Taka  has quite an impressive bar and with that in mind, we immediately ordered some drinks.  First up, was the Asam Boi Mojito (RM 25). Bubbling with personality, the fresh mint and rum softened the strong sour plum flavors of the asam boi. The Havana (RM 30), was a creamy eggnog like treat.  For those of you who like milkshakes or mudslides with the warming buzz of rum, this is a good option. After this creamy dessert like drink, I needed something lighter and we opted for the Shoreditch (RM 30).  This gin based drink served with cucumber and apple syrup was refreshing and would later give relief and cool down our palates from some of the spicy plates served. Then there was the Pulp Fiction (RM 30), made with whisky, ginger, honey, fresh orange and pineapple juice. This healthy blend could fight a good cold and gave us a warm buzz.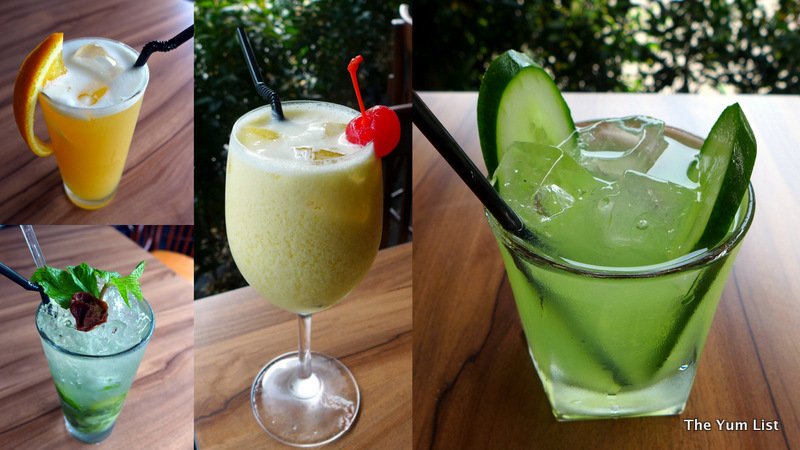 As each drink cascaded out, we were happy and ready for the train of plates that roared at that moment starting with the pincho, Tomato and Serrano (RM 6). Consisting of fragrant juicy tomato, soft Serrano ham and and edgy balsamic glaze and adorned with a fresh flower, the clash of different natural salts from the tomato, ham and balsamic was pleasantly noteworthy.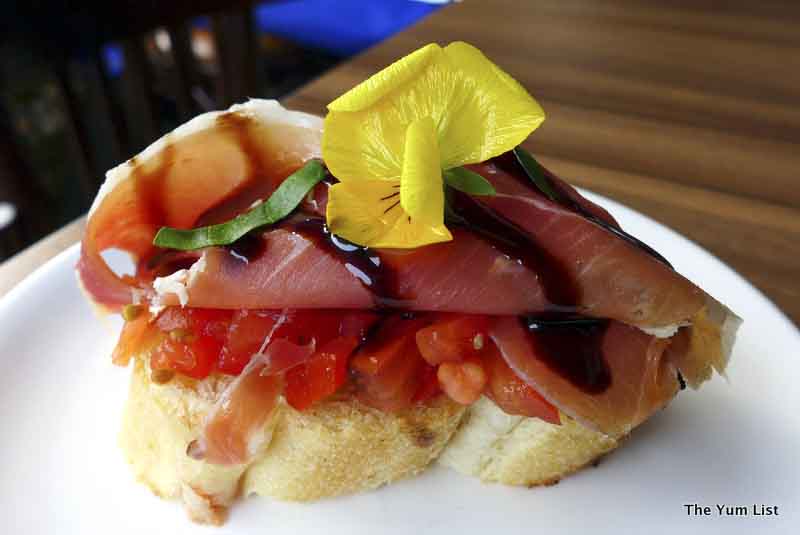 From a Spanish centric plate, we shifted gears and headed up to a pincho inspired by Scandinavian cuisine. The Salmon Crema (RM 8) combined smooth dill cream cheese, smoked salmon, black lumpfish, caviar and my favorite luscious topping of truffle honey.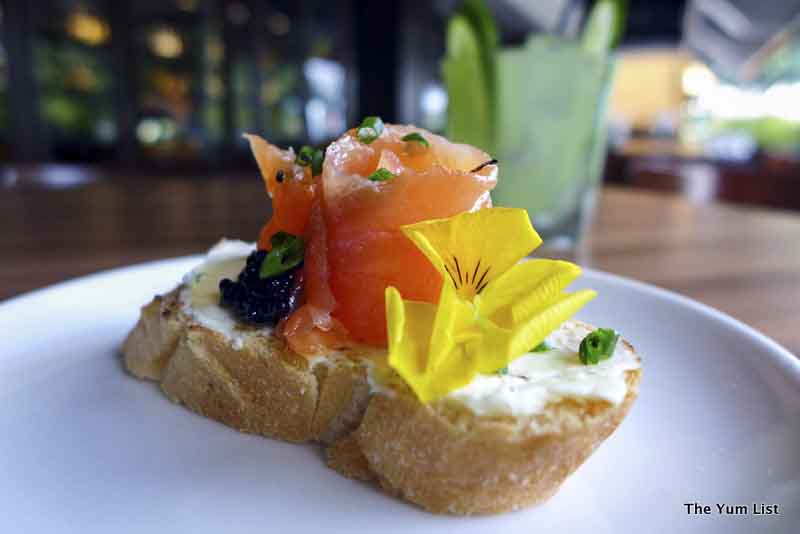 It was at this point that we shifted continents and a pincho inspired by local Malaysian and neighbor Singaporean flavors, arrived, the Salted Egg Crab Bun (RM 9). I have eaten pinchos all around Spain and sadly never encountered this one. Served on a charcoal brioche with salted egg crabmeat that has the consistency of pulled pork, there is a multitude of flavors that involve curry and chili spices dancing playfully together on our tongues.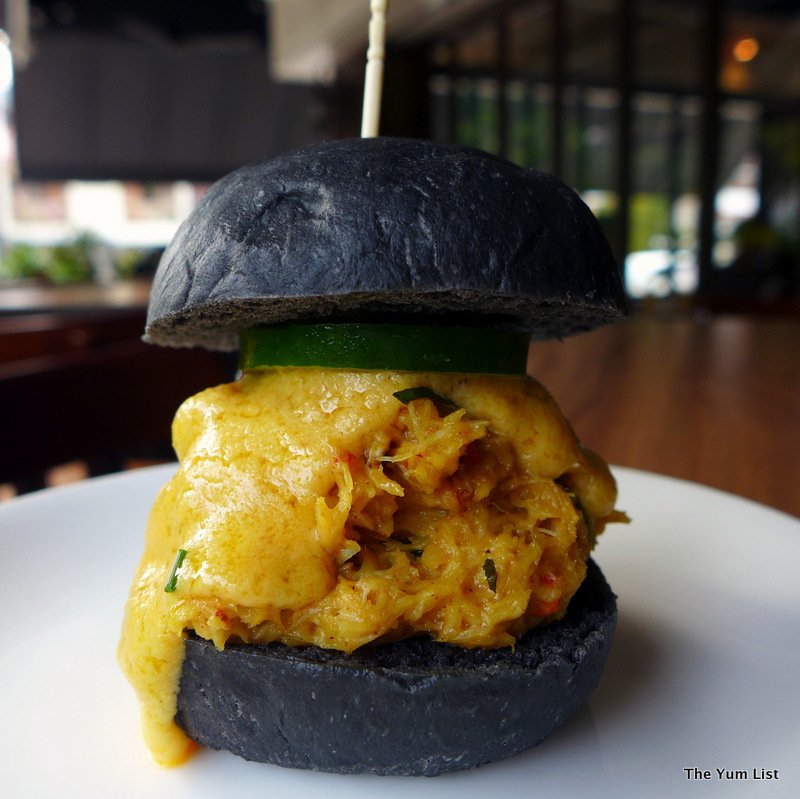 The next pincho was a testament to food experimentation and being willing to take risks.  It's one of Tiki Taka's most famous plates at the moment. The Nutella Bacon (RM 6) includes the traditional pincho bread, spread lightly in Nutella, adorned with a small caramelized banana, walnuts grilled bacon and more of that mouthwatering truffle honey. The flavors blend textures together to resemble a taste similar to a bacon wrapped date, with crisp, soft and creamy notes coming out.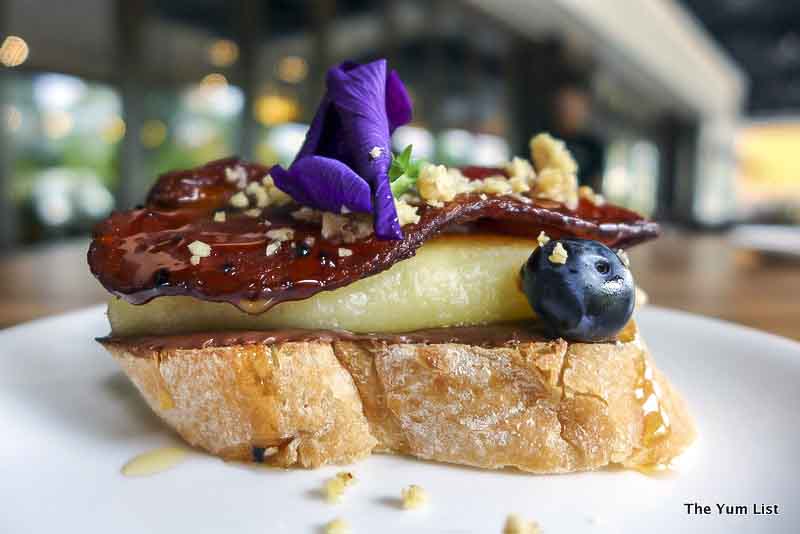 Shifting from pinchos to tapas, we tasted a number of these small sampler plates, starting with Saffron and Squid Ink Pasta (RM 22), which consisted of a chewy squid ink spaghetti and creamy saffron sauce. The lively citrus flavors that the prawn and mandarin brought to the dish complemented the Szechuan chili oil and floral Saffron notes. Overall, it was a complex dish with extremely well layered flavors.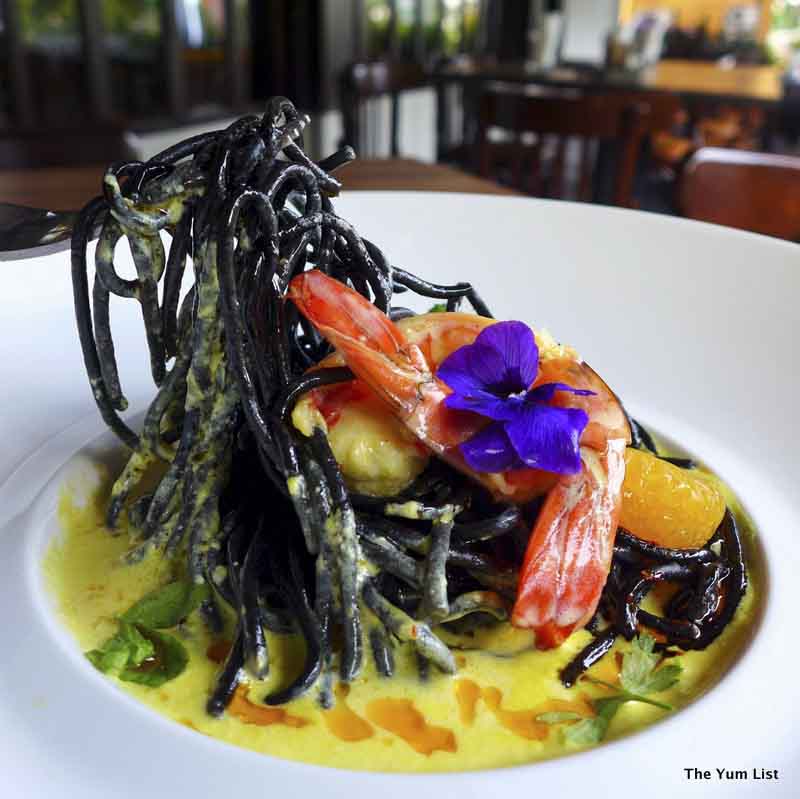 Next up, was an interpretation of a regional favorite, Singapore Chili Prawns (RM 24). Served alongside irresistible deep fried mantou bread, the sweet crispy outside and doughy inside of the buns balanced the fiery prawn dish perfectly.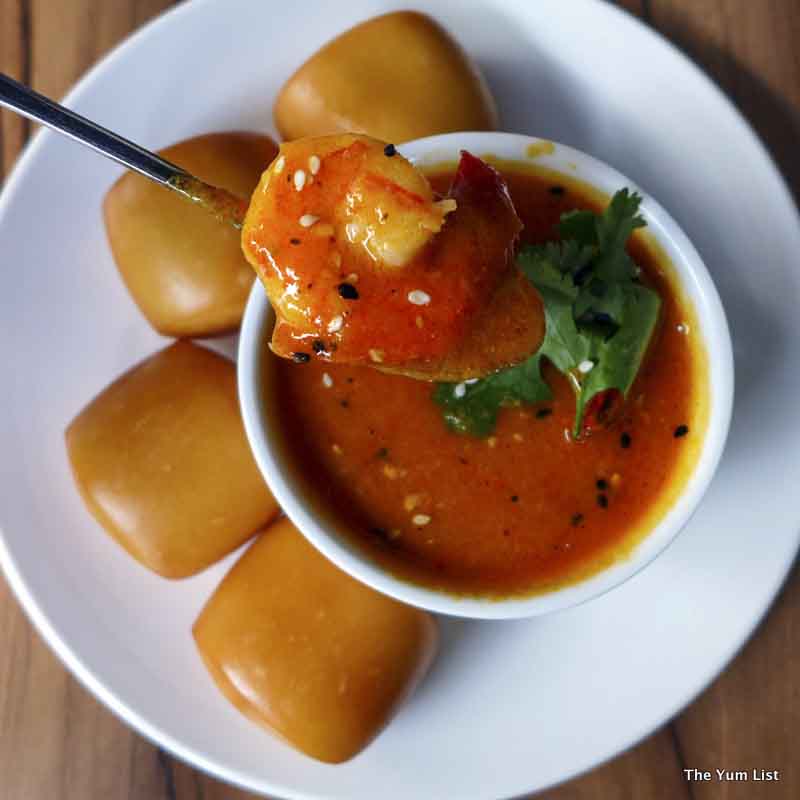 Needing to cool ourselves down after those racy prawns, we set ourselves upon the Melon, Mozzarella and Tomato Salad (RM 22). This colorful dish looked almost Joan Miro inspired, with melon balls and half moon cherry tomatoes balancing the salted lime yoghurt gel and globular baby mozzarella. The gel had a lot of character but was a refreshing and unique touch in this vibrant dish.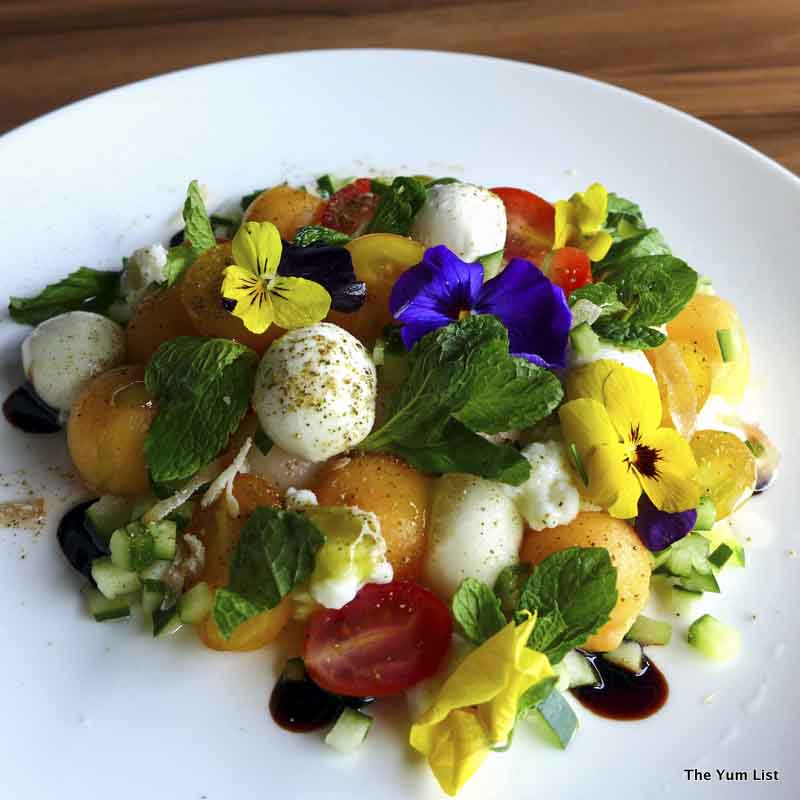 The beauty of the melon salad stood out but when the Quinoa Garden (RM 22) arrived, I did a double take. This beautifully plated dish was truly a work of art, looking like a forest complete with a ground of butter quinoa, drops of passionfruit sauce dew, edible flowers lining the forest floor, tall trees of asparagus and yellow squash and finally, new potatoes appearing like rocks to sit on in the forest. This magical plate looked like it was inspired by a J.R Tolkien novel.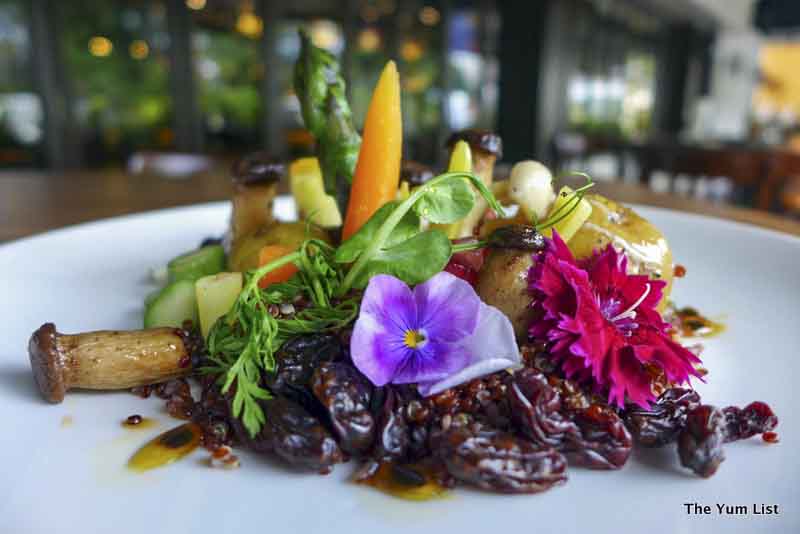 With the serving of the the next plate, I felt Chef Carrie was really challenging me as a diner. Molecular Paella (RM 25) was another fascinating interpretation of an old Spanish favorite. Consisting of aromatic saffron rice and a rich roasted red pepper sauce topped with a bacon gel seashell, one can imagine that these flavors would suffice enough in creating an interesting dish. But it didn't end there, there were also three fried mini crabs, a fried paprika prawn ball, grated candied citrus peel, lemon curd and parsley pearls. The lemon curd was a compelling touch and accompanied the flavors of the strong perfumed rice well.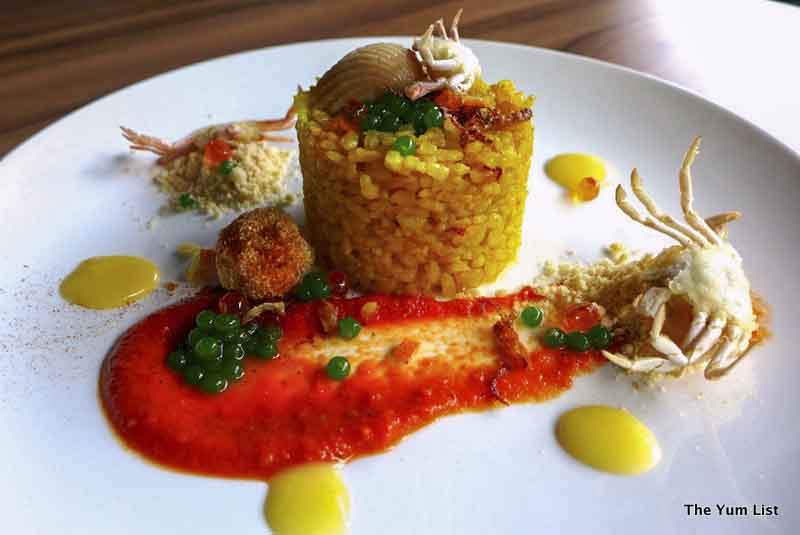 Tiki Taka serves a number of pizzas. Our western taste buds found the ingredients of high quality but an overwhelming number of flavours packed into each bite. Our Malaysian counterparts however, were devouring slices like nobody's business. We leave it to you to try them for yourself, and let us know what you think.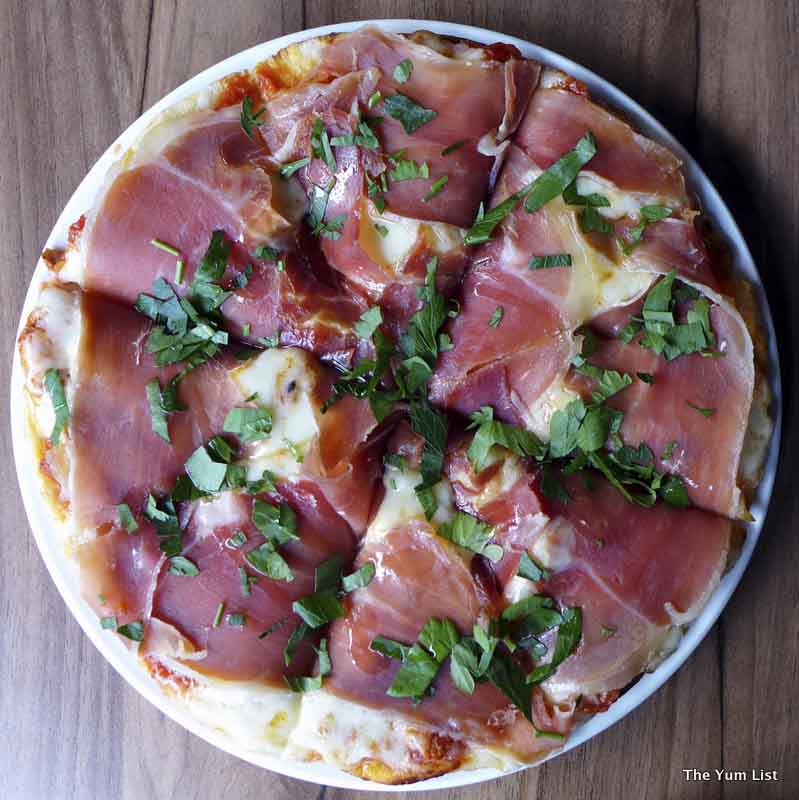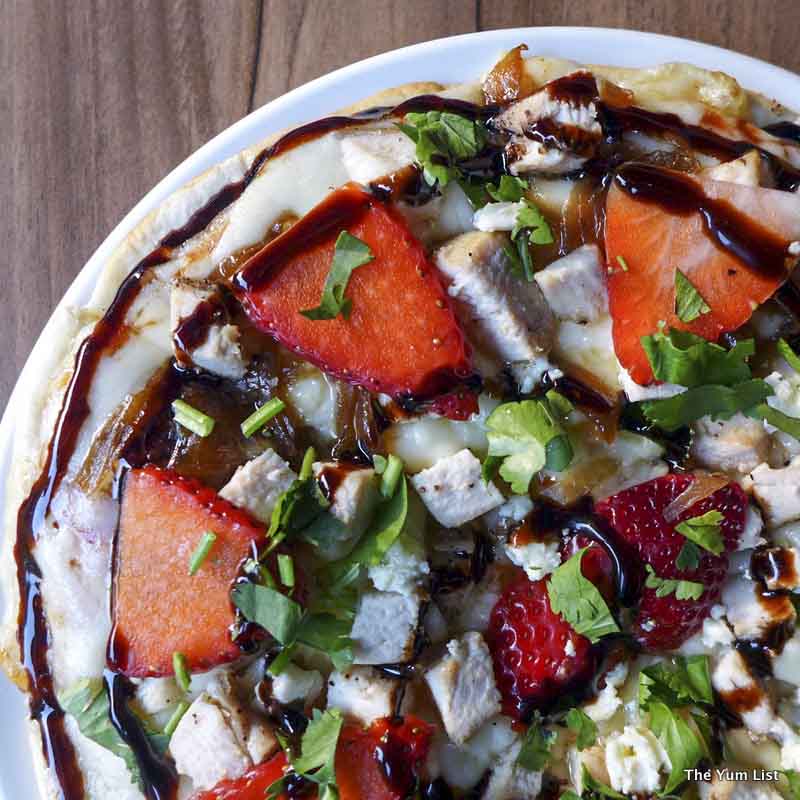 After these delightful savory adventures, I was eager to see where Chef Carrie would go on the concept of global tapas in the dessert realm. With the Ice Ice Baby (RM 12) I was pleasantly surprised. This succulent combo of mango sorbet, silky coconut ice cream, toasted coconut, crushed salty peanuts and crisp buttered popcorn was a fantastic combo that blended the cracker jack flavors of American food with the tropical icy treats of Southeast Asia. One dessert is never enough, so we ended on a thoughtful note with Nutella Bacon Wontons (RM 12).  Building on the success of the Nutella Bacon pincho, Chef Carrie has created crispy wontons with deep fried Nutella and bacon wontons dusted in snow sugar with a side of macerated balsamic glazed berries.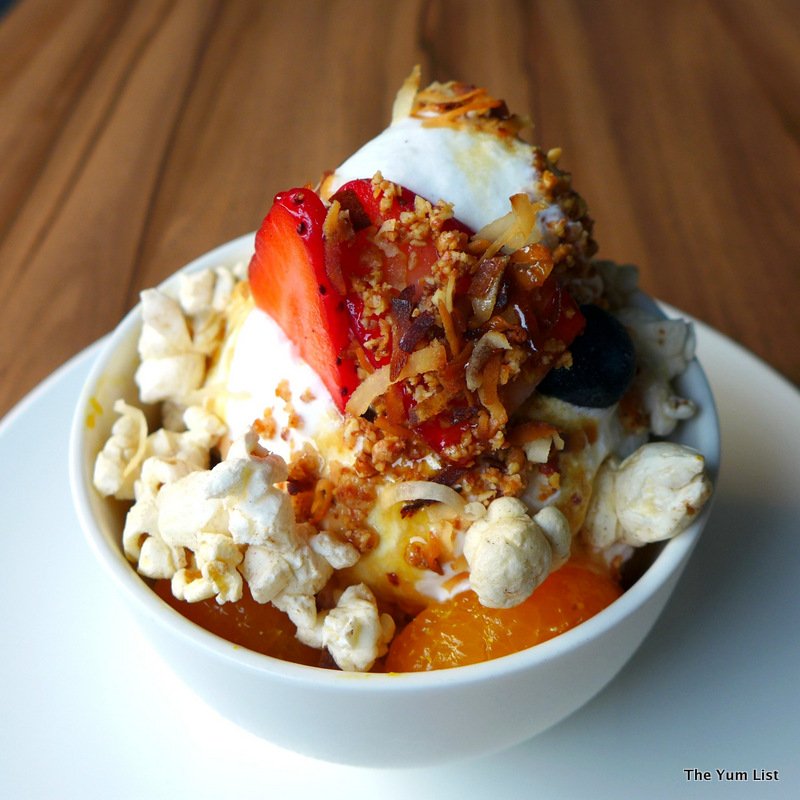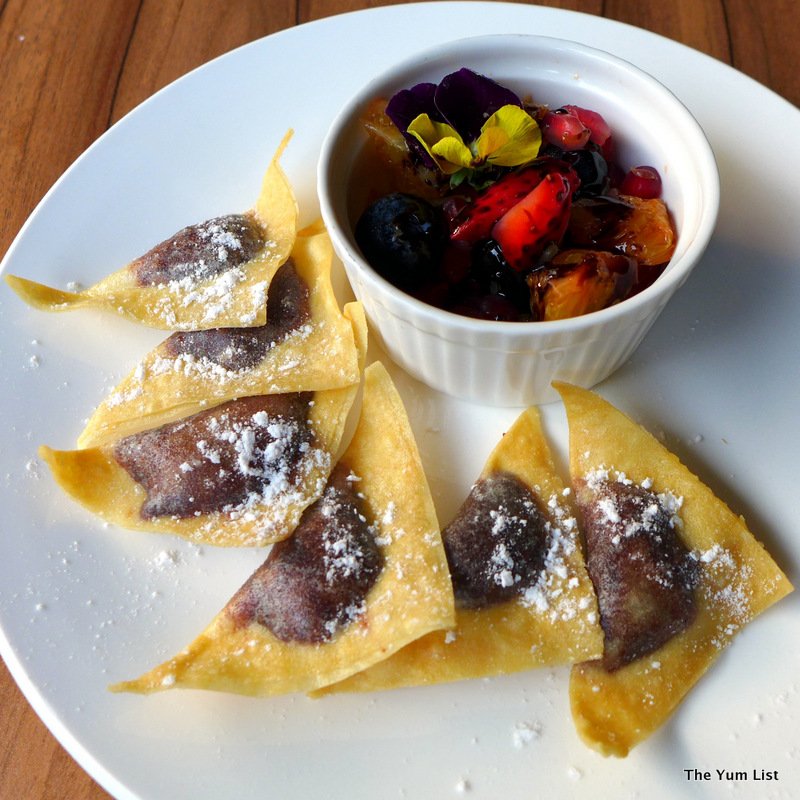 Tiki Taka is a great way to see if you could actually survive an around the world trip in terms of food. Plates take you on global adventures and introduce you to a wide array of international flavors. The beauty of the food is that the first bite may take you to one part of the world, but because of the complexity and layers of flavors, you may travel to several other destinations too before swallowing the entire mouthful.
Reasons to visit: Salted Egg Crab Bun; Nutella Bacon; Saffron and Squid Ink Pasta; Quinoa Garden; Singapore Chili Prawns; Ice Ice Baby.
TIKI TAKA
138 Jalan Kasah,
Medan Damansara
50490 Kuala Lumpur
Malaysia
+6 016 328 7438
www.facebook.com/tikitakamy/