Words: Monica Larrieu   Photos:  Monica Tindall
Riddle me this, what happens when you combine a Superhero-packed adventure with great food? Shazam! The DC Comics Super Heroes Cafe in Pavilion Mall, that's what happens!
This relatively new joint really packs the punches. Quietly tucked away behind the DC Comics store, the Cafe offers a surprisingly satisfying menu, with several appetizer, meal, dessert and beverage options, each and everyone carrying some Super Hero theme. And one has to admit, although it targets children and adolescents who enjoy all things DC Comics, the kid in all of us is drawn to, or simply is curious about what the Cafe has to offer.
I must confess, I did not personally expect much from themed-restaurants, especially those catering to youth, but Monica T., Caning A. and I were all in for a treat super-heroic  proportions.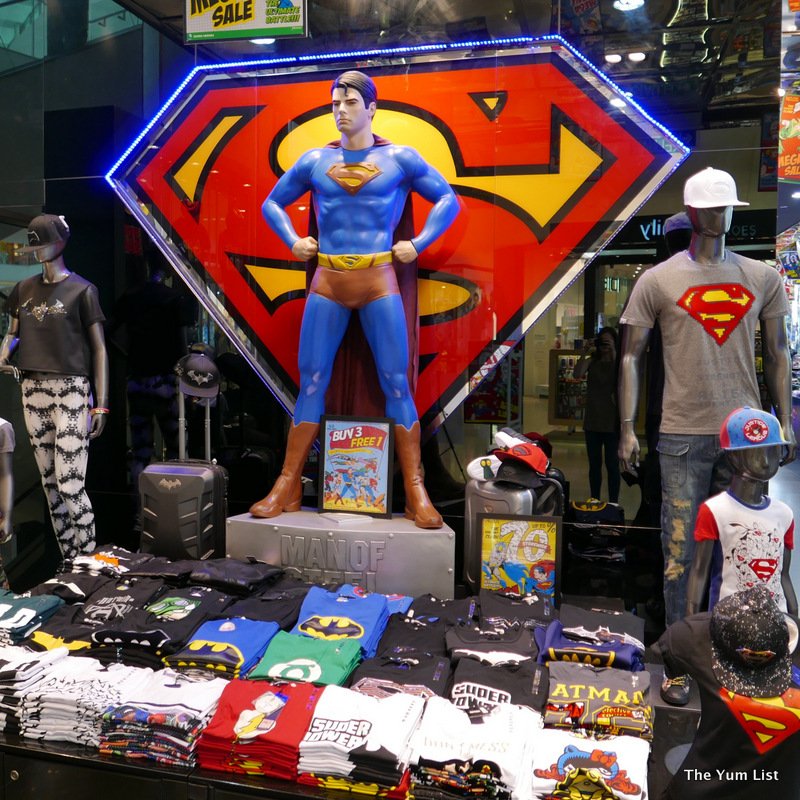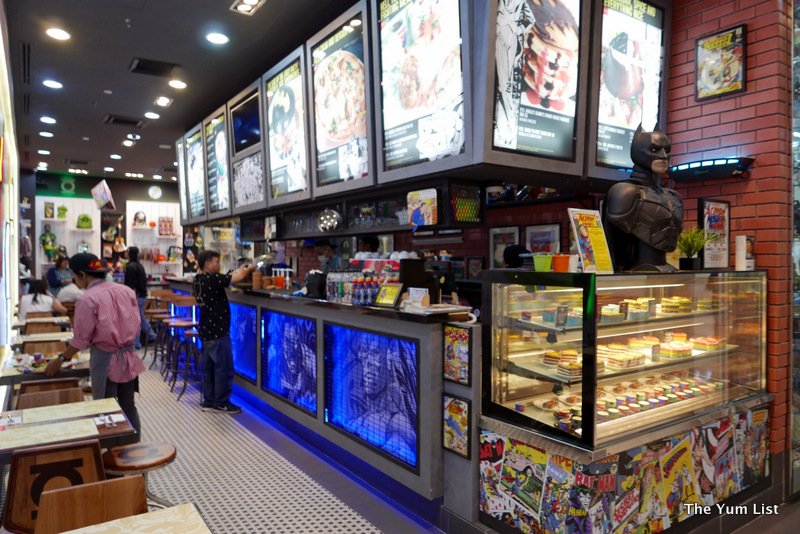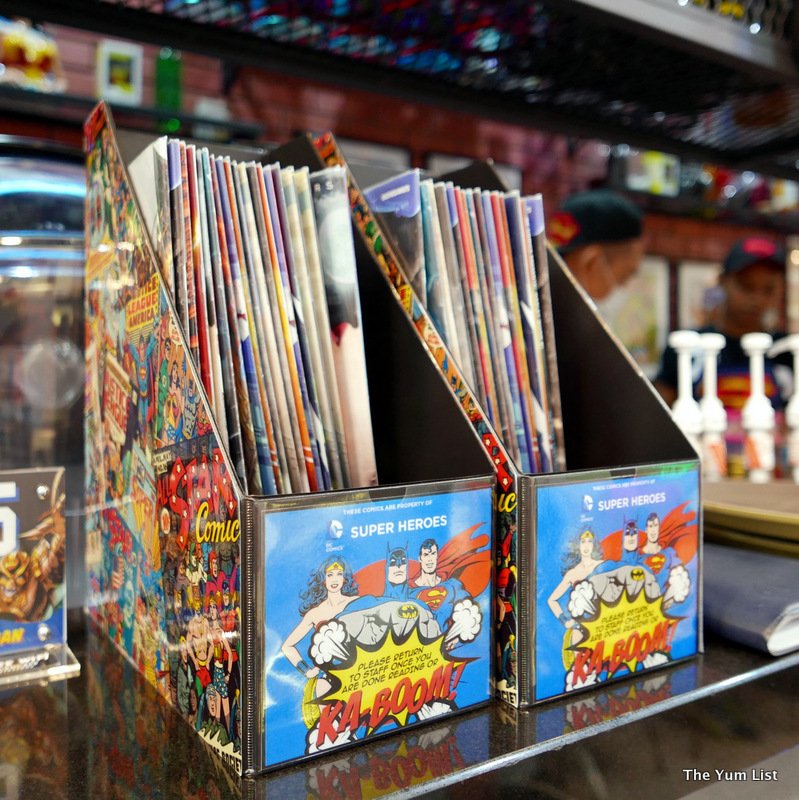 Starters
To start, the "From the Seas of Krypton" Seafood Chowder (RM 29) was a light, cream-based soup with a delicate seafood mix. Although the picture in the menu shows the chowder served in a black bamboo charcoal bread bowl, to chagrin they now only serve it in a regular bowl, as too many patrons were not consuming the bread bowl and became too wasteful.
The "Penguin's Attack Pack" Warm Smoked Duck Salad (RM 29) was served with garden salad greens, cherry tomatoes, and a light raspberry dressing. Tender pieces of duck here were the highlight, and the mild tang in the season complimented it beautifully.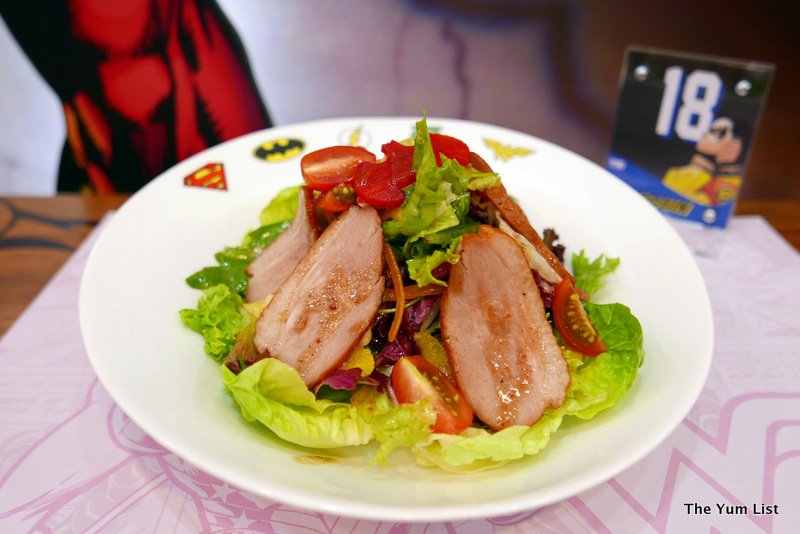 Main Dishes
Holy baked lasagna, Batman! The "Batpod" Lasagna (RM 29) was breathtakingly delicious. It tasted homemade and reminded me of my grandmother's lasagna from my childhood. Made with simple but key ingredients like bolognese sauce with beef, bechamel sauce, mozzarella, and the perfect combination of Italian spices. Although I was fully aware that the cafe is strictly a No Pork establishment, I am convinced their combination of spices held the magic formula for a near-chorizo taste. This is officially one of my favorite pasta dishes in KL to date.
We also got to sample the "Katana" Sliced Hawaiian Pizza (RM 39) which consisted of a thin crust and a light film of tomato sauce, cheese, smoked turkey slices, pineapple chunks, as well as red, green and yellow pepper slivers, and ultimately topped with black olives.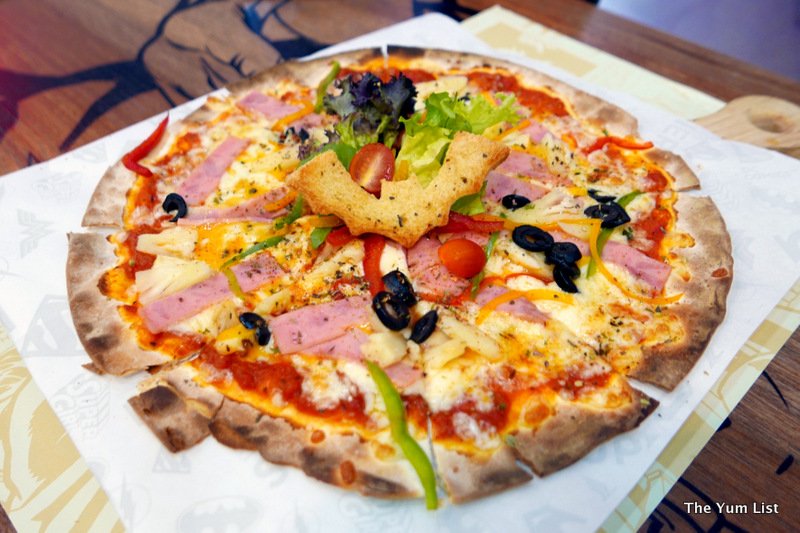 "I am the night!" Next up was the tasty "Black is the Knight" Squid Ink Spaghetti Aglio Olio (RM 33). Served with baby scallops, this black squid ink spaghetti was delicately tossed with olive oil, onion, garlic, parsley, basil, and with a final blow of a little red chili pepper.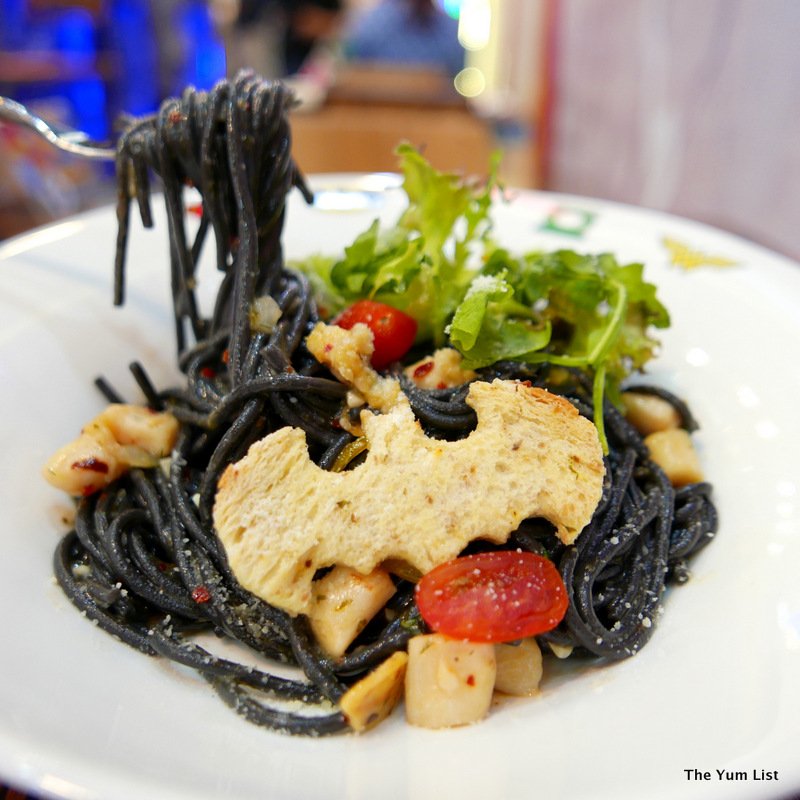 The "Dynamic Duo" Pounded Patty Burger (RM 38), made with a homemade ground chicken (not on the menu, but an option that is available upon request) was a welcome departure from the typical burger. The delightful burger was served with grilled pineapple, two layers of cheese and topped with a zesty ground chicken ragout. As accompaniments, it came with a sweet potato soup sampler and seasoned fries.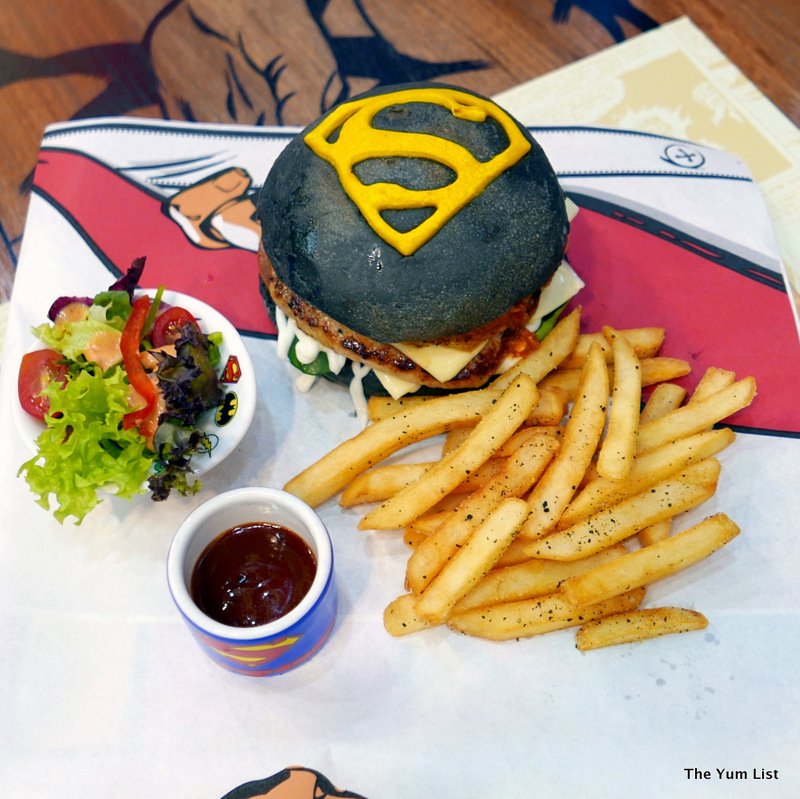 Dessert
Our sweet ending was an ice cream-filled crepe called the "Daily Planet Rush" (RM 18). Generously portioned, the crepe was drizzled with raspberry and chocolate sauces. It was light  enough to follow a meal and sweet enough to take care of a sugar craving. As was the case with almost all of the dishes offered at DC Comics Super Heroes Cafe, the crepe was topped with a Superman logo.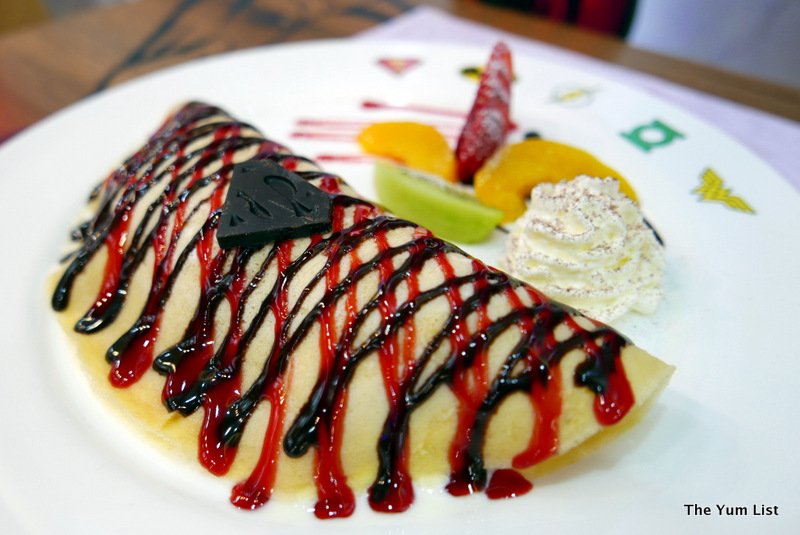 Beverages
The menu offers a variety of non-alcoholic beverages, including quality espresso drinks. We sampled the Caramel Diana Latte (RM 16.9) and a "Do You Bleed Latte?" (RM 14.9), each served with a cocoa powder stencil of a Superhero logo. Nicely foamed and well prepared the coffee gave us enough kick to carry on our Super Hero adventures for the rest of the day.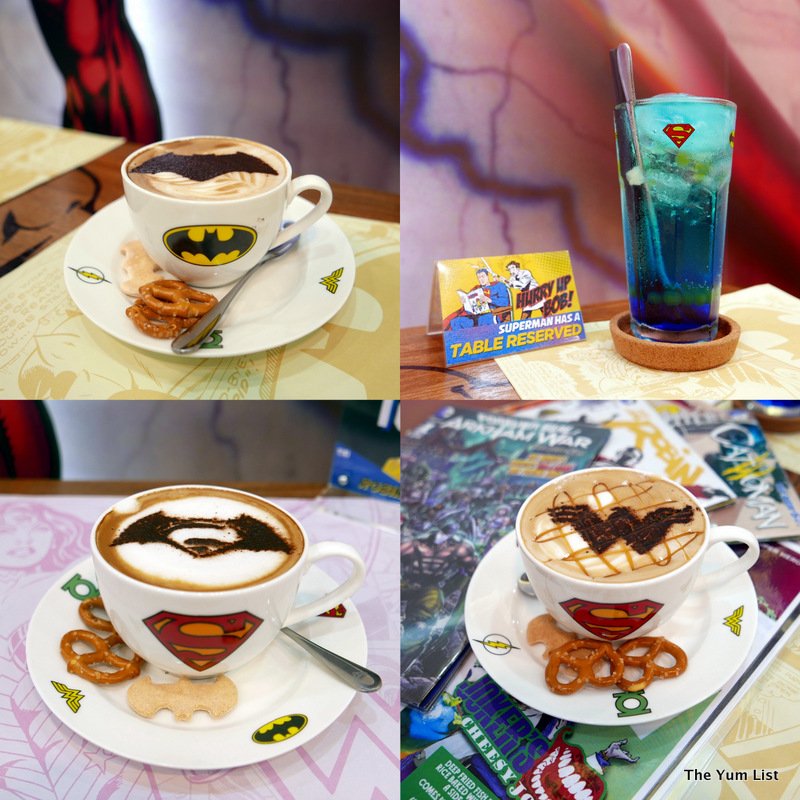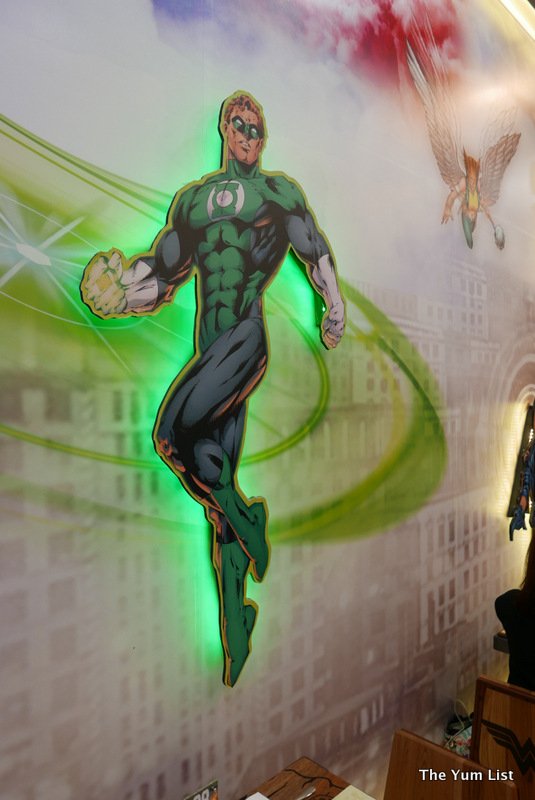 Reasons to visit: Surprisingly ample menu and options; unique themed restaurant; a heroic way to refuel for the rest of an adventurous day, with or without children, or to simply satisfy the inner kid in you.
DC Comics Super Heroes Café
Lot 5.11 Level 5,
Pavilion KL
168 Jalan Bukit Bintang
55100 Kuala Lumpur
www.facebook.com/dccomicssuperheroesmalaysia