Words: Alan Mclean   Photos: Monica Tindall
In the week that followed my visit to Luce Osteria Contemporanea I was waking up to thoughts of Italian pizza. But those were not the thoughts that troubled me. The challenge I faced was to say something meaningful about Luce's food, something that went beyond the invariably two-thumbs-up message of The Yum List. (Regular readers know what I mean. If you just parachuted into this page directly from a search engine, you need to know that The Yum List is not relentlessly positive because its writers have abandoned their gastronomic faculties in exchange for an occasional slice of pizza. It's because this is a recommendation site, not a review site). What some people say is that whether or not food tastes good is a matter of how people respond to it. The idea is that speaking about food, maybe 'this is delicious', really says something like 'I find this delicious'. And if that is right, we are not really saying anything about the food; instead, we are saying something about ourselves. But that just doesn't seem right to me. After my visit to Luce, I really didn't want to write about myself; I wanted to write about the food there. And this article for The Yum List is my honest best effort to do that.
Luce is a recently opened Italian restaurant at Old Malaya in Lorong Raja Chulan in KL, part of a new strip of bars and restaurants not far from Changkat Bukit Bintang. The place is the resolutely non-halal offshoot of the pork-free, critically acclaimed Zenzero at St Mary Place, KL.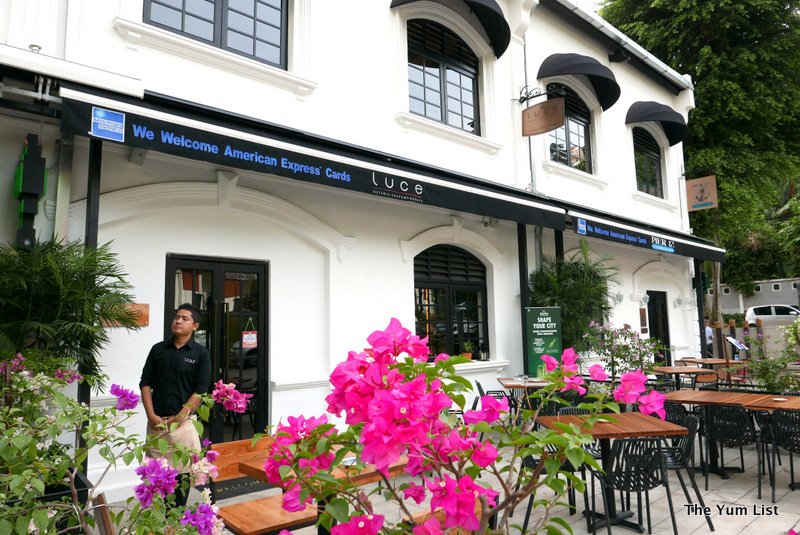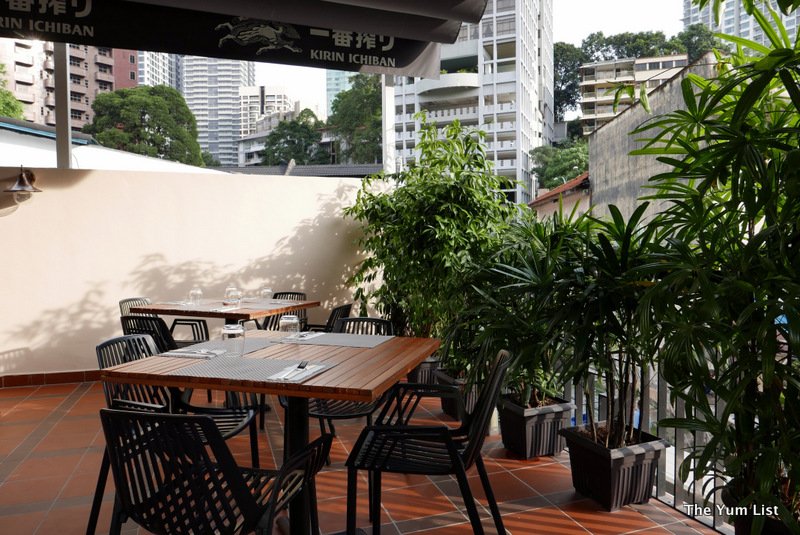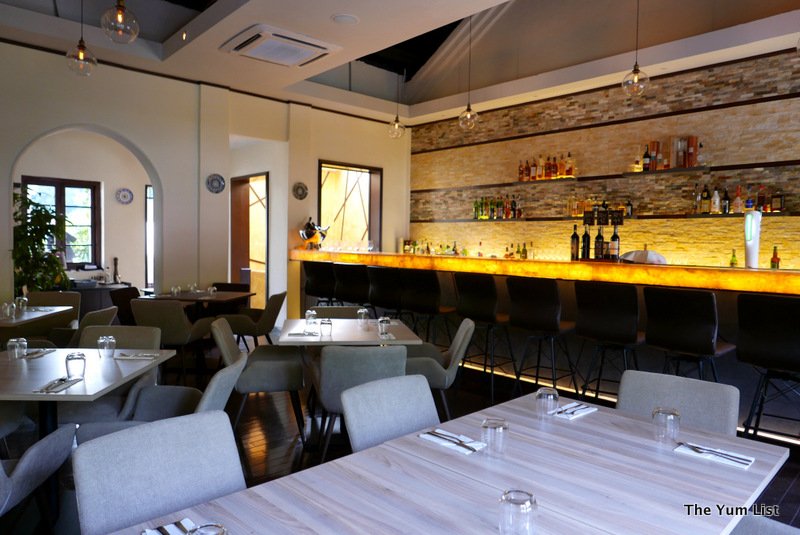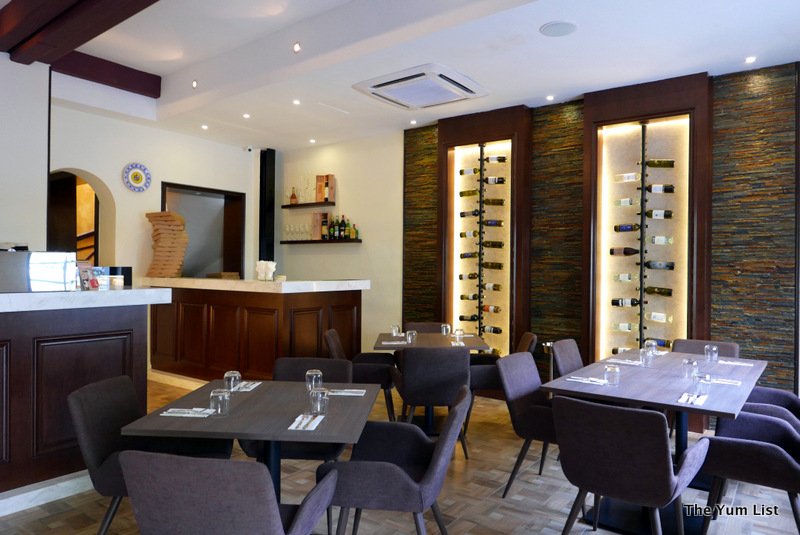 Arriving there soon before sunset, Lorong Raja Chulan seemed cute and welcoming. The tables outside Luce were bathed in tropical evening sunlight and the modestly proportioned ground floor eating area was dominated by sturdy white-topped bars, pizzeria style. I didn't linger but instead bounded upstairs to discover a larger dining space, with a long drinks bar where Monica was already hatching plans to proselytize the merits of pre-dinner cocktails.
First up was a Luce (RM33++) orange juice for adults, spicy with fresh ginger on a Bombay Gin base. Its thoughtful balance of sweet and sour was overshadowed only by Monica's favourite, the Negroni (RM49++), a brown and bittersweet concoction that somehow shone with light as it swirled around an extremely generous helping of ice. It was bitter, with dry gin, Campari and Vermouth over a base of Maker's Mark bourbon whisky – giving it Luce's own twist on the classic. As we drifted downstairs to sample the Pizza, I wound up nursing a well-chilled and seemingly flawless glass of Prosecco Torresella (RM42++). Our cocktail recommendation is the Negroni, but sample it only if you enjoy a bit of bitterness.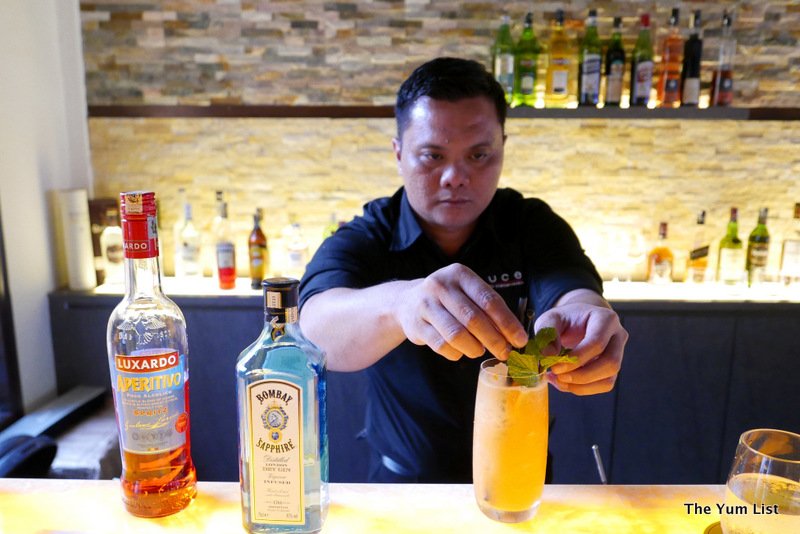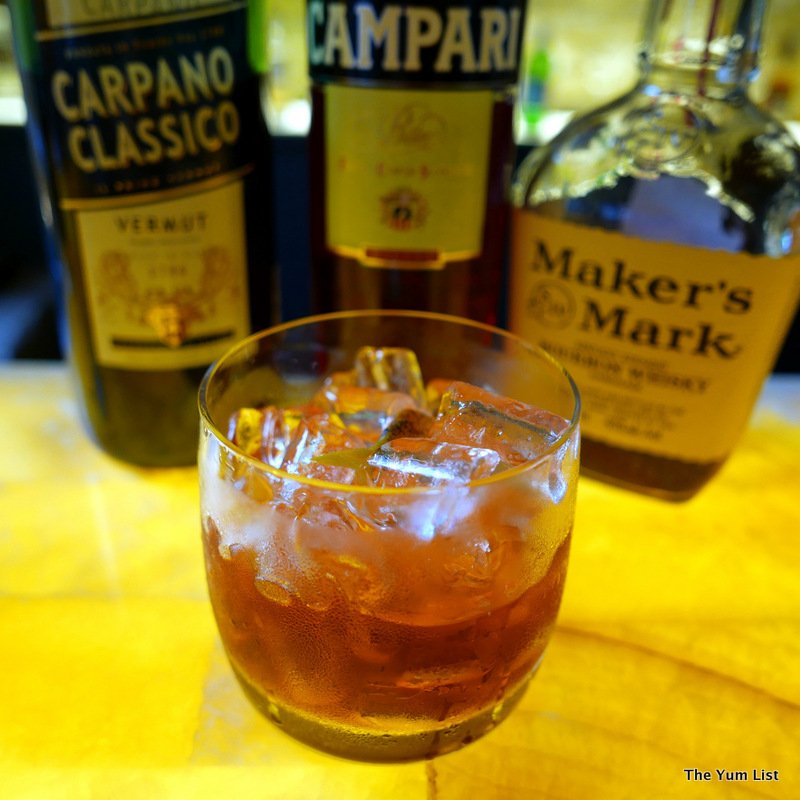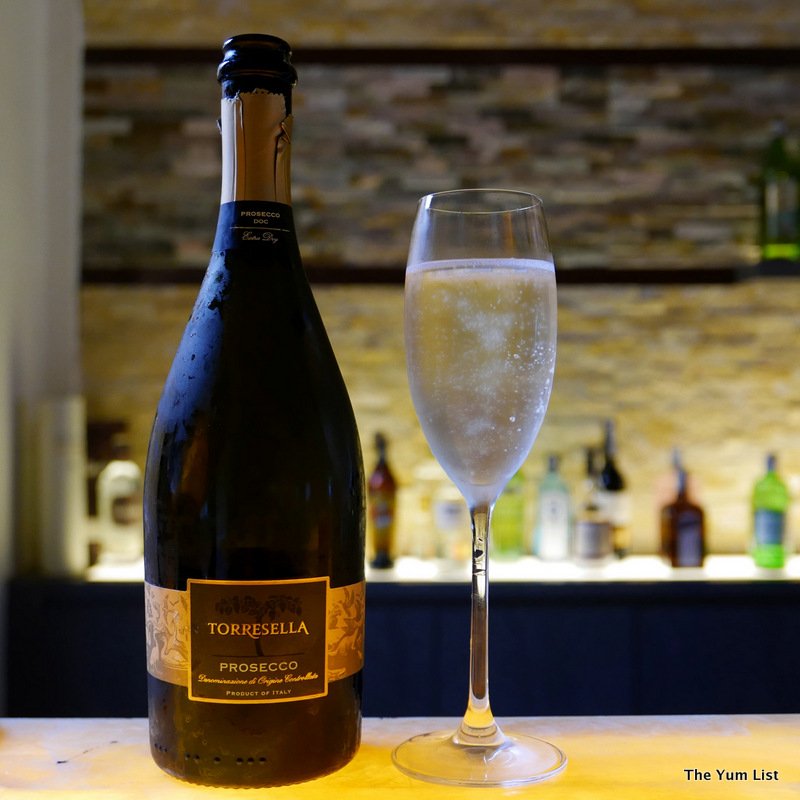 Roberto Guiati runs both Luce and Zenzero and he very much wanted Monica and myself to meet Cristian Grandi, who commands Luce's kitchen, as senior pizza maker (Pizzaiolo). Cristian is the real thing and his pizzas are just like the ones he was making in Italy three months ago. The crusts are thin, firm in texture and crisp around the edge. They have a bite that is neither spongy nor glutinous. Striking that balance means raising and resting the dough for around nine hours, after which it is rolled out by hand. The specialist flours he uses are imported from Italy, as are many of his other ingredients. Achieving consistency, though, is not simply a matter of following the formula he used back home. Success in this new environment, notably the unwelcome culinary interference from KL's humid but restlessly changing weather systems, means adjusting his formula with a focus on results and Cristian does that with an expert eye and a culinary sensibility that marks him out as a master of his art.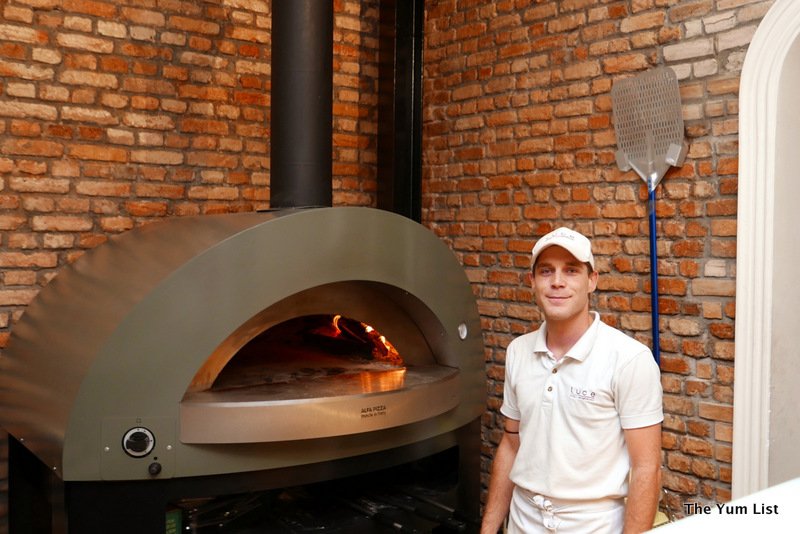 In terms of human health and happiness, there is nothing wrong with the renewed interest in gastronomic heirlooms of our rustic heritage. Fast food pizza and the frozen supermarket equivalent are huge in the States and these too are widely enjoyed in KL. Cristian's traditional handmades are an entirely different proposition. As his pizzas emerge from Luce's wood-fired oven, the toppings are light in texture, aromatic and rich with contrasting flavours.
When we told Cristian we'd like to try his food Italian style, we were expecting to hear about Italian fine dining, antipasti, primi, secondi and so on – but we were completely wrong. Apparently, eating 'Italian style' would probably mean getting straight into the pizza and washing it down with a few glasses of beer. We asked what beer exactly (dreaming of unexplored Italian brews) and he said… probably a nice cold Heineken (RM21++). Pizza might be a cornerstone of Italian cuisine; one of its sources, but it does not necessarily need to be one of the calorific courses of postindustrial fine dining. We skipped the preliminaries and settled down to some pizza, accompanied by a glass of wine (which, we were assured, is also an authentic way to enjoy pizza). But it was good to know that you can explore this great European tradition at a reasonable price, and in such a stylish but unpretentious setting.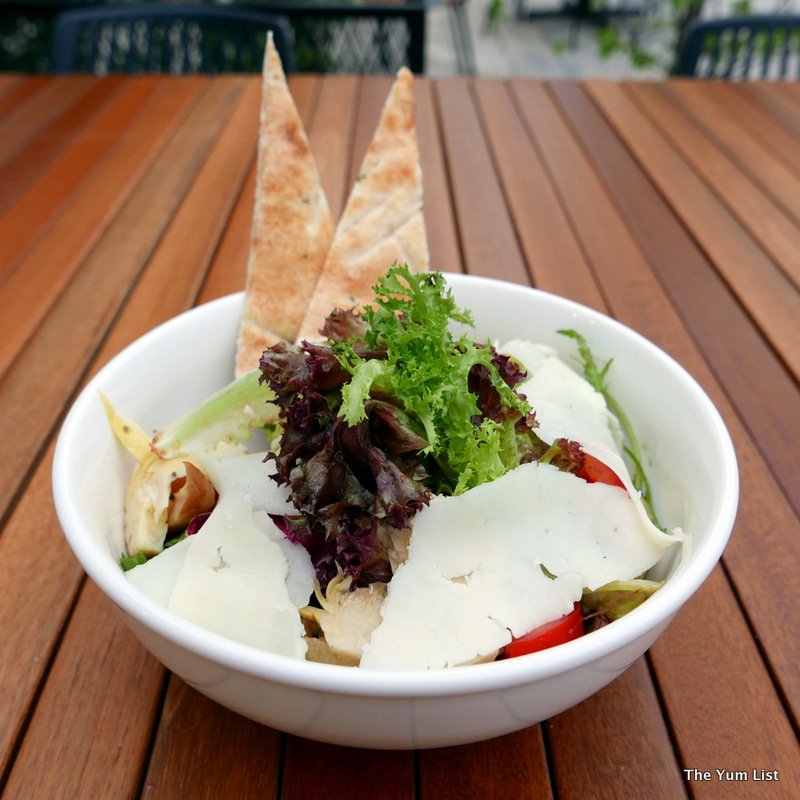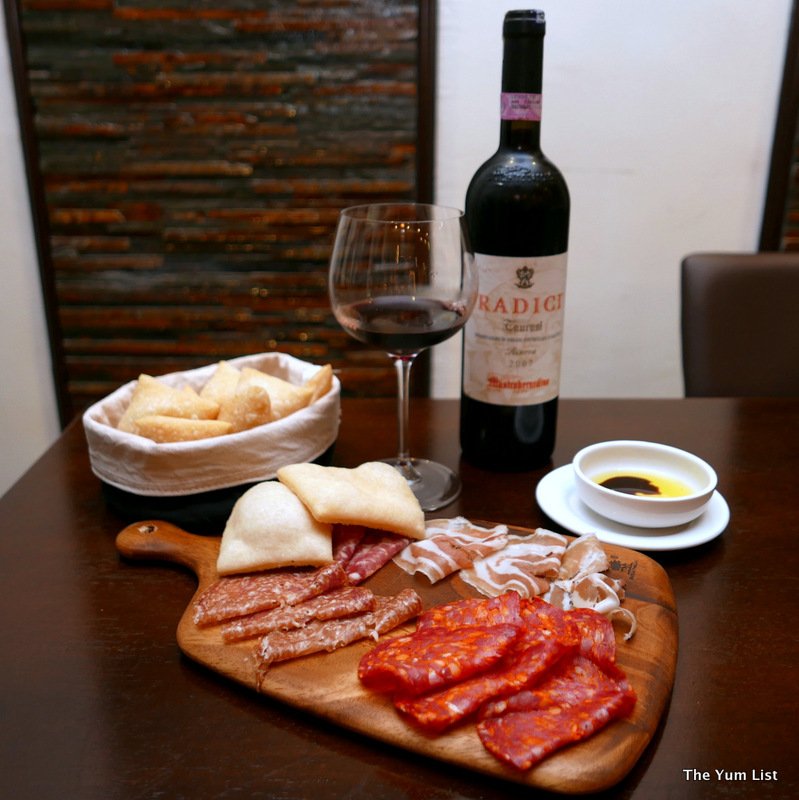 Pizza time. The four-sectioned Quattro Stagioni (RM42++) was a classic. Its four sections stood on a foundation of tomato sauce and mozzarella cheese with varied toppings of honey baked ham, button mushrooms, artichokes and pork sausage. It was pretty good, but for me, the contrasts were just a little too stark. My preferred four-way split pizza was the La Maiala (RM42++) with contrasting sections that were sometimes tasty in porky ways and sometimes bursting with astonishing flavours. Look out for the smoked pancetta and my favourite: spicy salami. This pizza is perfect as a taster or for a small group or a couple that (unlike a big crowd) probably can't handle more than two or three pizzas in one sitting. My favourite was Kavita (RM50++) one of the pizze bianche, meaning that no tomato sauce is involved. This topping was light and subtly balanced, without being squishy, with melted stringy cheese. Its porcini mushrooms, cherry tomatoes and eggplant were topped with baked but almost intact shavings of pecorino Romano cheese. I'm recommending the Kavita, especially if you can share it three or four ways, with a special word for the La Maiala, for intimate get-togethers or late-night beer snacks. (At Luce, the pizza oven runs hot till midnight every night.)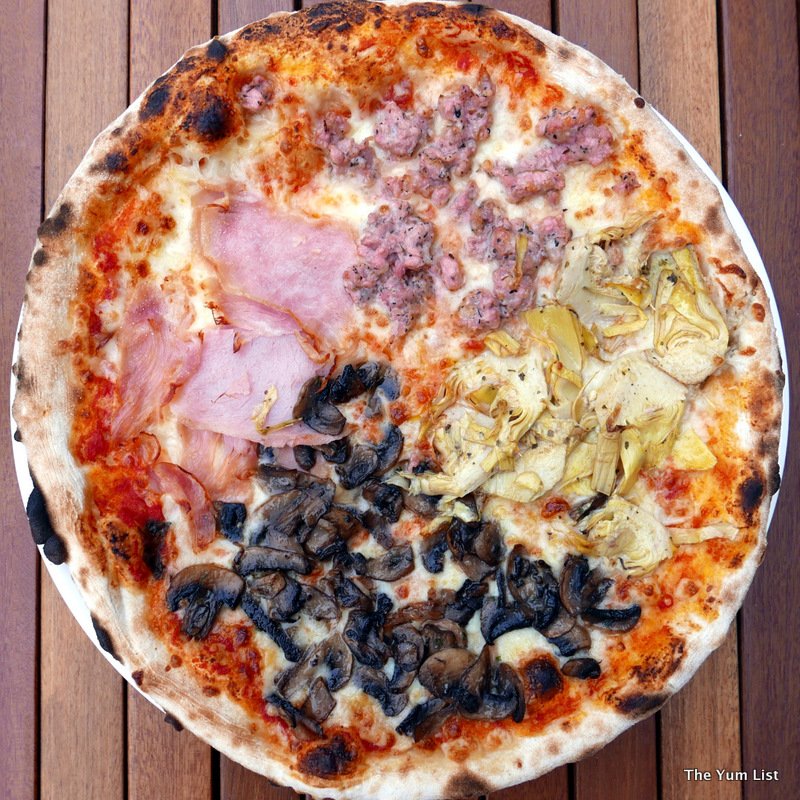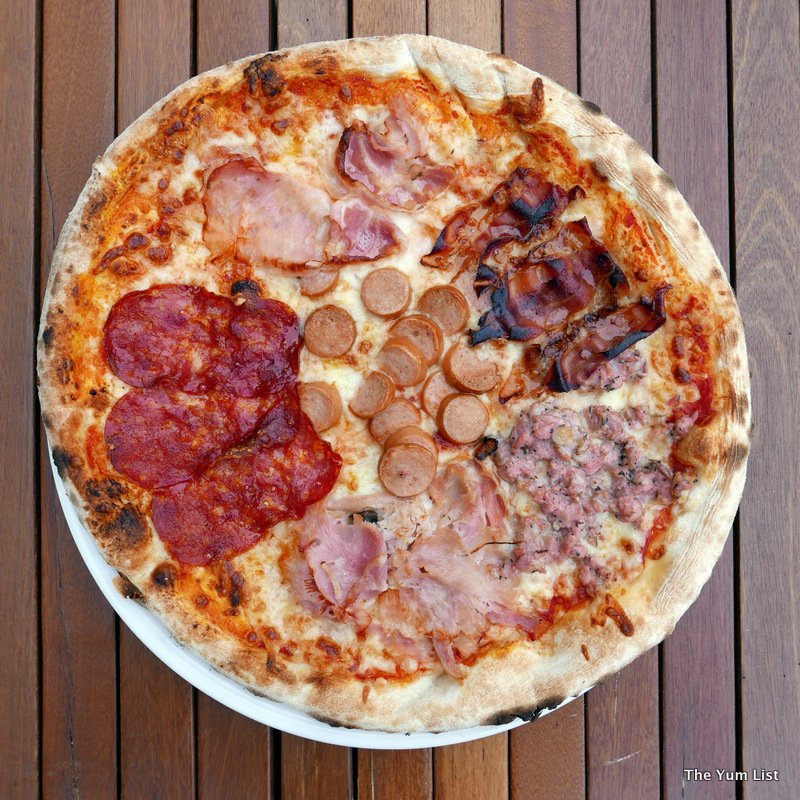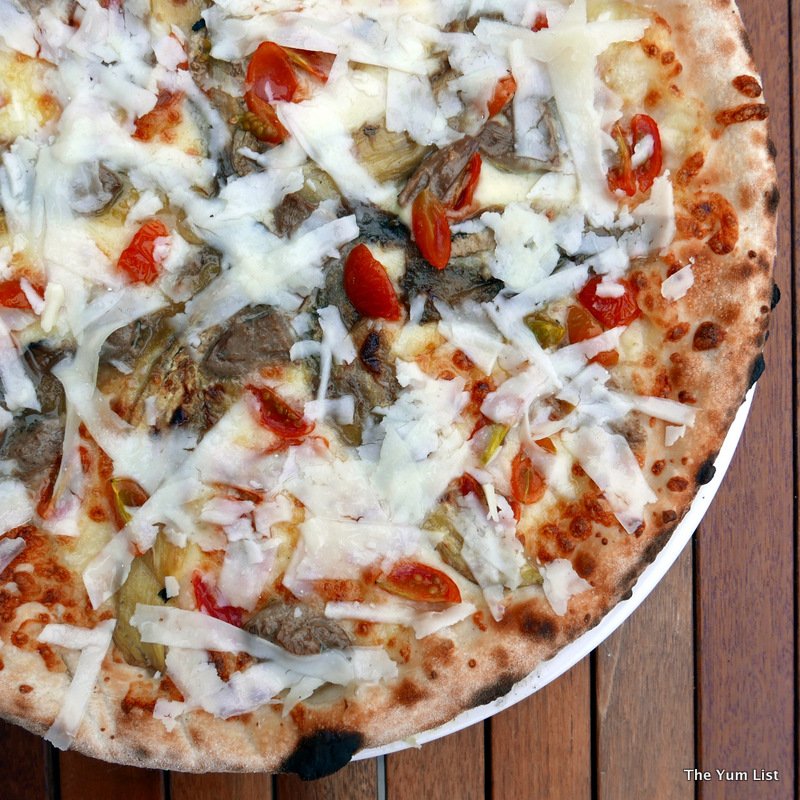 The pizza at Luce may not be everyone's favourite. I'm sure there are folks out there who'd rather have a filled crust from a fast food place, unctuous and gooey with melted cheese or an enormous slice of New York pizza delivered by motorbike. That's fine by me. What I am saying is that Luce has authentic rustic Italian pizza and if you are curious about what the Italian original is like, this is a good place to begin. If you already know that traditional Italian is your thing, well, you know what to do. But do it soon. Luce is still reasonably quiet, in an 'undiscovered' way. It makes sense to get there before the crowds do.
One of the things I respect is when a restaurant has a good selection of wines by the glass, especially when they are reasonably priced. I had a glass of Primitivo (RM38++), a dry red with dark fruit, balanced with tannin and not much else. Monica tried a white, the Orvieto (RM42++), which was more subtle than any white wine I've grabbed over the counter of KL's many bars but for me, it was just a little too light. The red Nero d'Avola (RM30++) was a touch sweeter than the Primitivo and significantly more balanced and complex. While the Primitivo's robust and strong flavour is a perfect accompaniment for pizza, it did not have much to say. On its own, a lot of people would find it raw, even a little astringent, but one of the joys of wine by the glass is that you can switch. I would happily have a glass of  Nero d'Avola as an easy-drinking pre-dinner wine and then move on to the Primitivo when the food hits the table.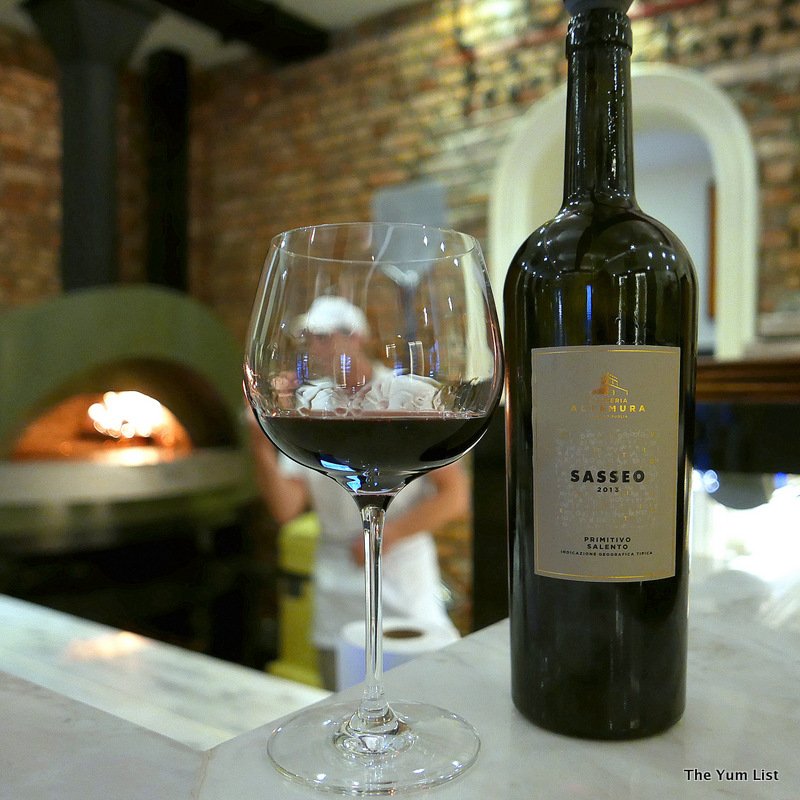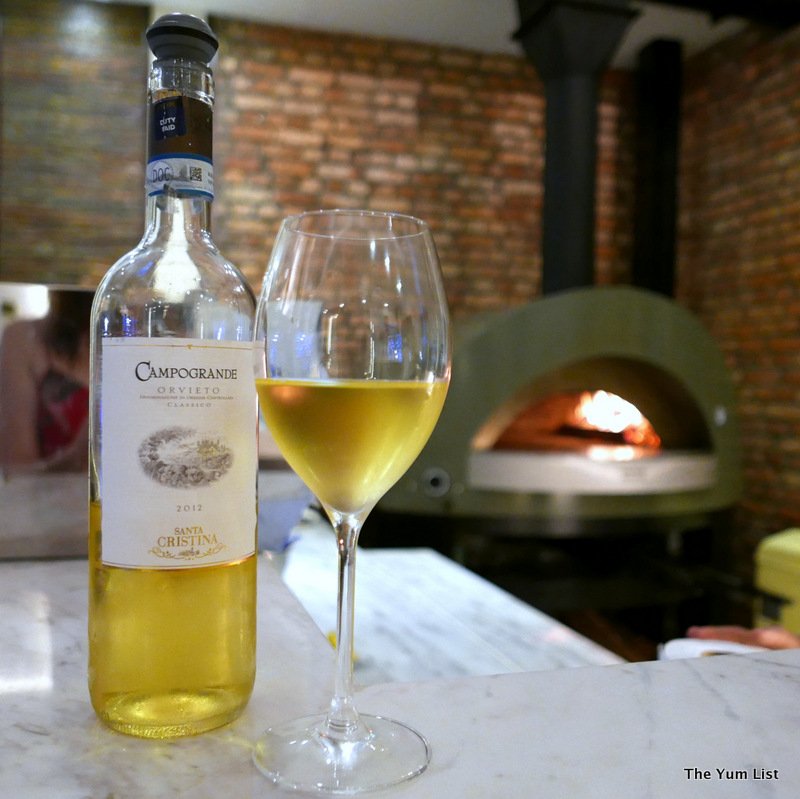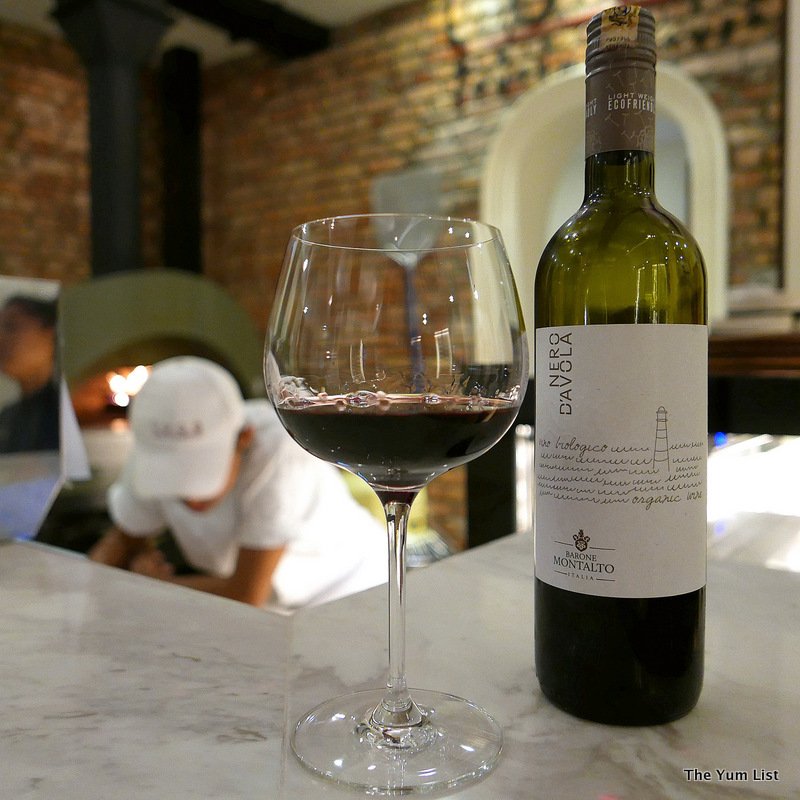 At this point in the evening, I would have been happy to rest my palate and recommend a visit to Luce for pizza and a cold beer or robust red wine. Then the desserts came out. They looked great and the taste was astonishing. The Bignè alla Crema (RM28++) looked and almost tasted like the common profiteroles you might be familiar with. The bignè are choux pastry lightly filled with pastry cream, topped with chocolate and vanilla ice cream. The Semifreddo al Mascarpone (RM28++) was even more distracting, a rich semi-frozen creamy temptation with caramel, dry fruits, flecked with walnuts and topped with whipped cream and Amarena cherries, it was miles better than ice cream and utterly satisfying. As the deserts dwindled, we asked how a meal like this would finish back home and out came the limoncello, a homemade liqueur made by soaking lemon zest in almost raw alcohol for more than two weeks. It was a heartwarming, a nicely rounded coda to a wonderful evening.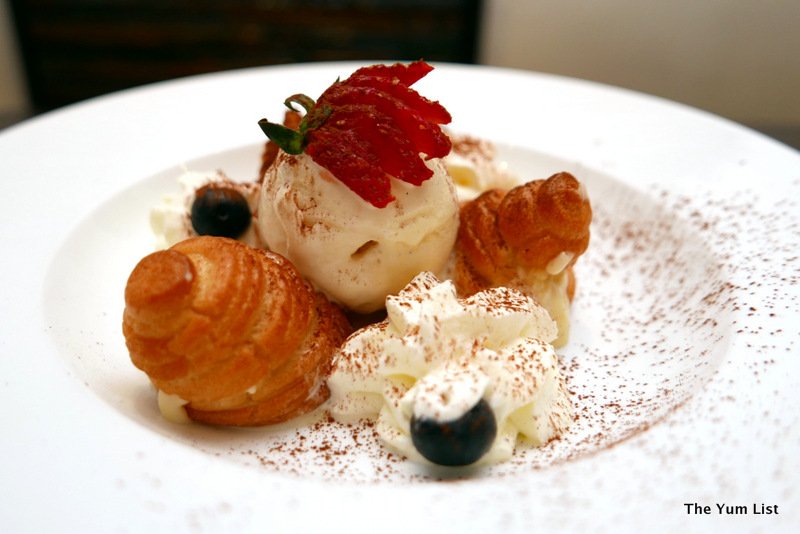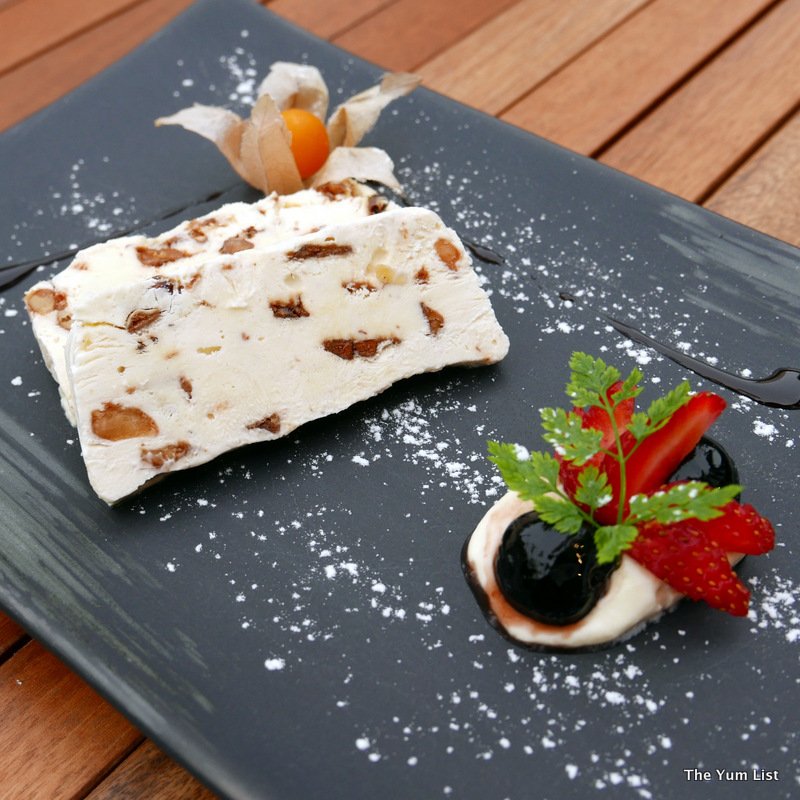 As we walked out into the balmy equatorial nighttime, KL Tower stood tall and broad-shouldered over Lorong Raja Chulan dramatically floodlit in purple and pink. Far beneath its protective gaze, the modest strip of restaurants and bars sparkled with electric lights and rang with gentle human laughter. But the tower's protective gaze was no comfort to me. As Monica reached into her handbag for her little digital camera, I gave out an inaudible sigh that meant something like "how can I find the words to say something more than I liked this place… you should try it".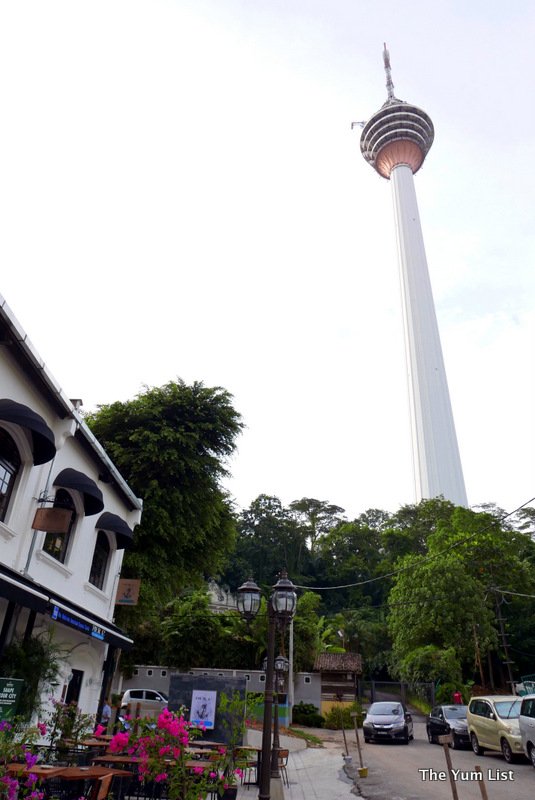 Reasons to visit Luce Osteria Contemporanea: some of the finest pizza on the planet, wine by the glass, scrummy desserts and homemade limoncello.
Luce Osteria Contemporanea
10 Old Malaya,
Loring Raja Chulan
Kuala Lumpur, 50250
Malayasia
www.facebook.com/luceosteria
+6 03 2078 8008