Words: Louise Miller   Photos: Monica Tindall
The bright and airy warmth of this healthy eatery provided welcome respite from the apocalyptic scale rainstorm that was raging outside on the afternoon of our visit. Aquamarine walls lined with pretty pallet shelves housing bright green Granny Smiths, plants and juice bottles created a first impression of a natural freshness that would undoubtedly be reflected in the menu.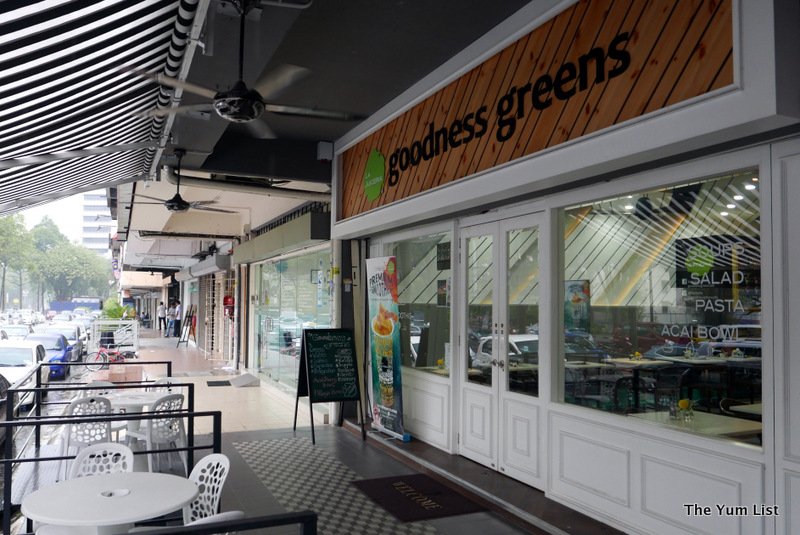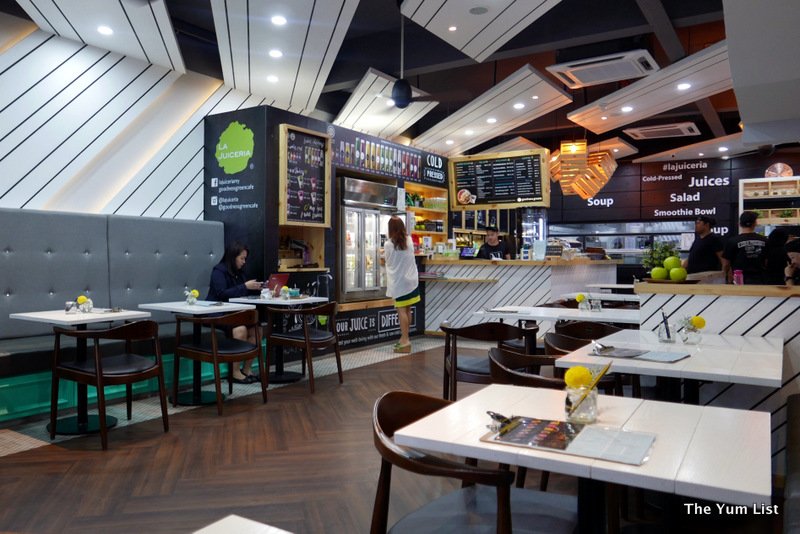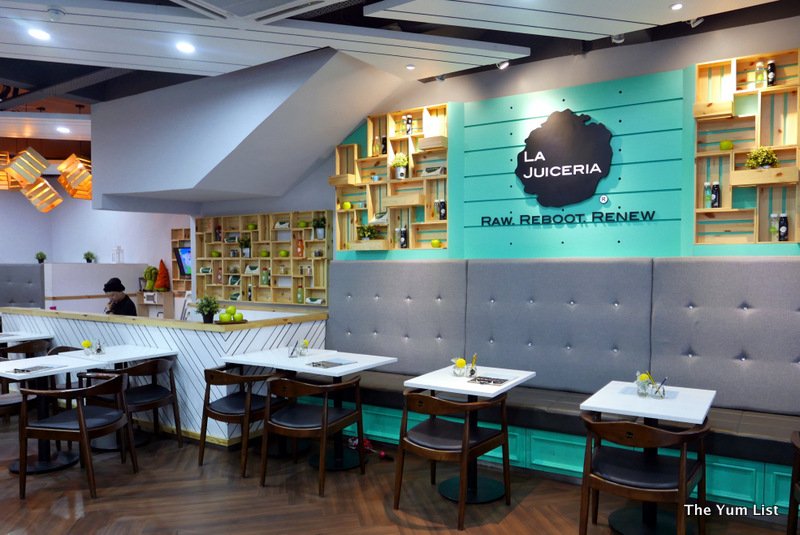 The café offers a wide range of juices, shots and slushies all cold pressed daily with no preservatives. We sampled the signature Goodness Greens juice (RM 12.99) composed of Japanese cucumber, spinach, kale, parsley, celery, apple and lemon – this was a refreshing and tasty start. Also delicious but with a serious kick were the two shots that we knocked back with gusto. Vital Shot (RM6) made with ginger, lemon and wildflower honey had a lovely gingery warmth and, according to the menu, boosts immunity. Its successor, The Defender (RM6) packed a more fiery punch with its cayenne pepper, turmeric root and ginger. A sip of these left us feeling sated and revived.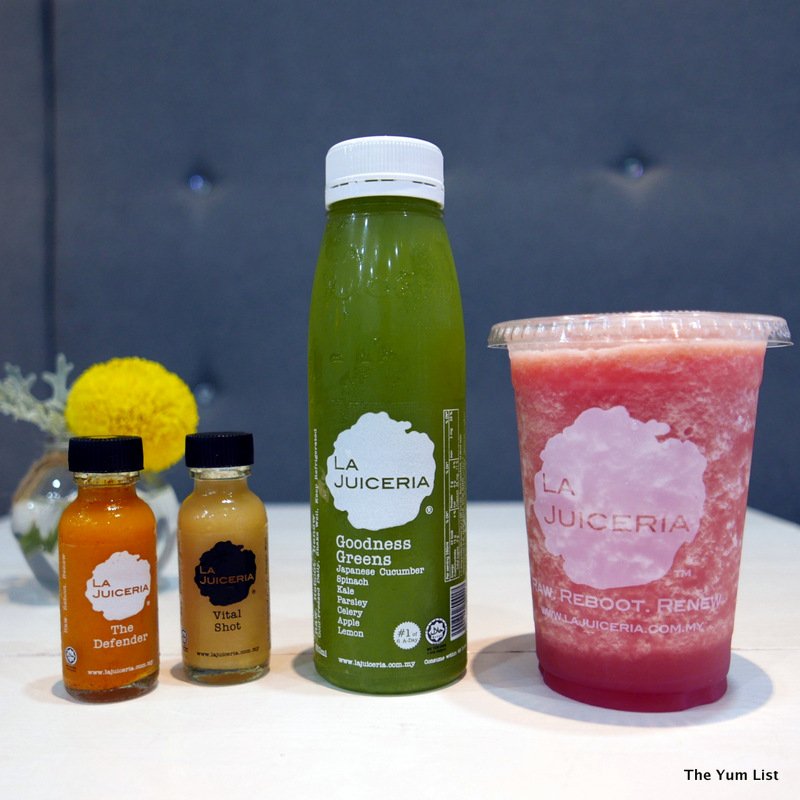 I had heard great things about Goodness Greens's Vatte (RM11) and having tried this before, Monica was insistent that we order one of these signature vegan lattes. Made with La Juiceria's homemade Almond Mylk, the coffee was smooth, full bodied and bitter sweet. The accompanying chlorophyll water provided a fresh contrast and is not only said to be energising but also have many other health benefits.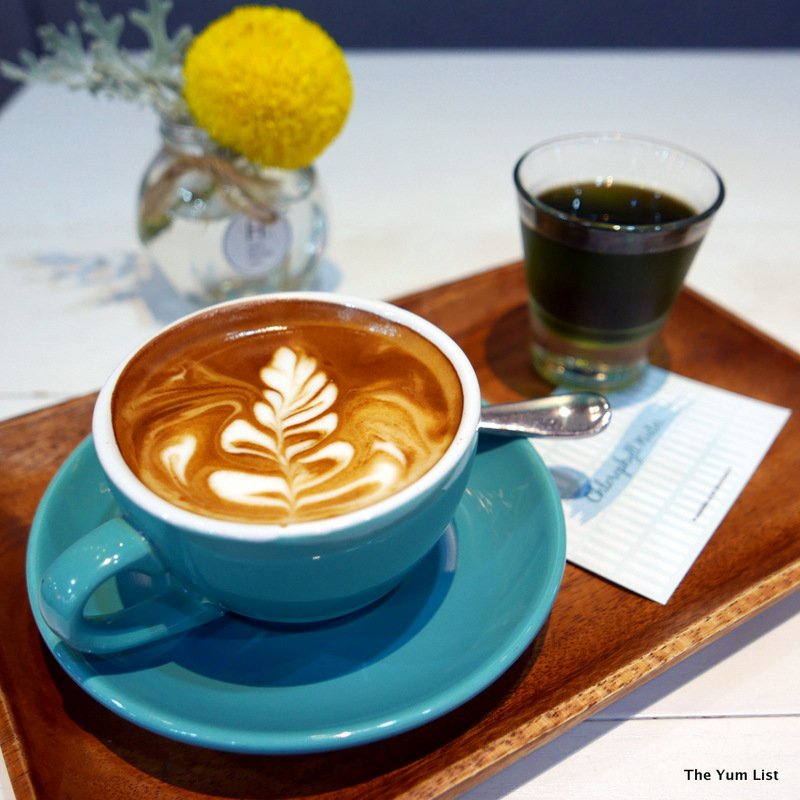 Now, rehydrated and bursting with liquid nutrients, it was time to enjoy a range of healthy dishes. The Summer Pasta (RM16.90) was a simple, hearty and wholesome dish in which delicate cubes of bell peppers, zucchini and mushrooms were entrapped in a mesh of tangled pasta made with olive oil and dusted with Parmesan.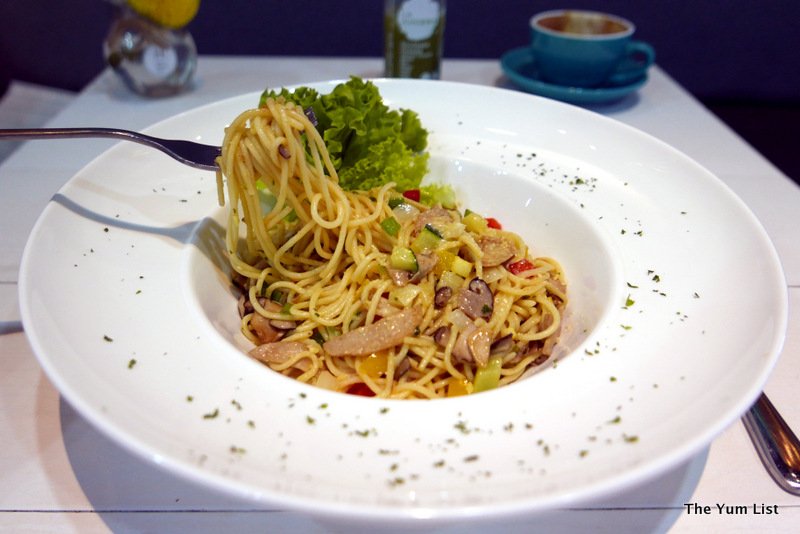 We were intrigued by the Nasi Lemak Wrap (RM21.90), Goodness Greens' take on the Malaysian classic. The wrap was stuffed full of chicken thigh meat, Japanese cucumber, omega egg, tomatoes, ikan bilis, nuts and lettuce and with quinoa as a healthier substitute for the coconut rice, this interpretation certainly presents a more nutritious way to enjoy the iconic dish. A spicy sambal dressing provided even more of a flavour boost to this generous meal. So generous in fact, that you could easily drop in to have half of it for lunch and take the other half away to enjoy later.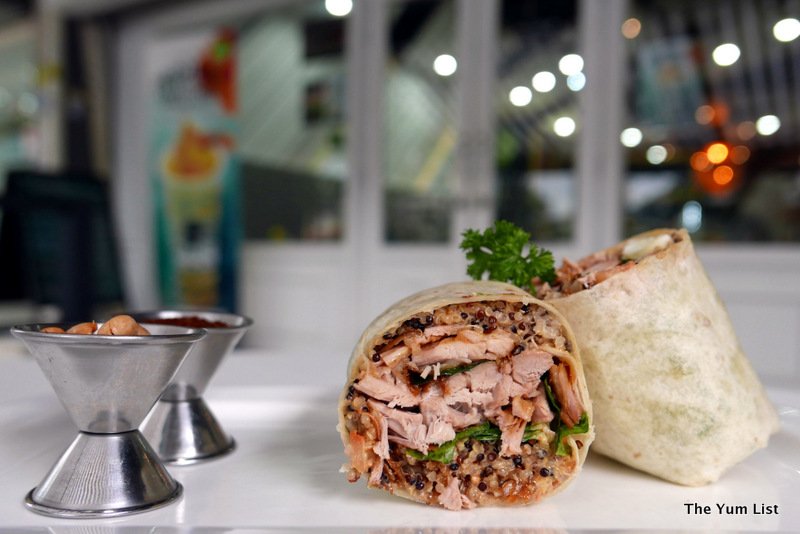 The GG Spinach Dip (RM15) seemed to epitomise the café's name and ethos. Dark and green and so very good, the puréed spinach was blended with cheese and was accompanied by baguette slices perfect for dipping.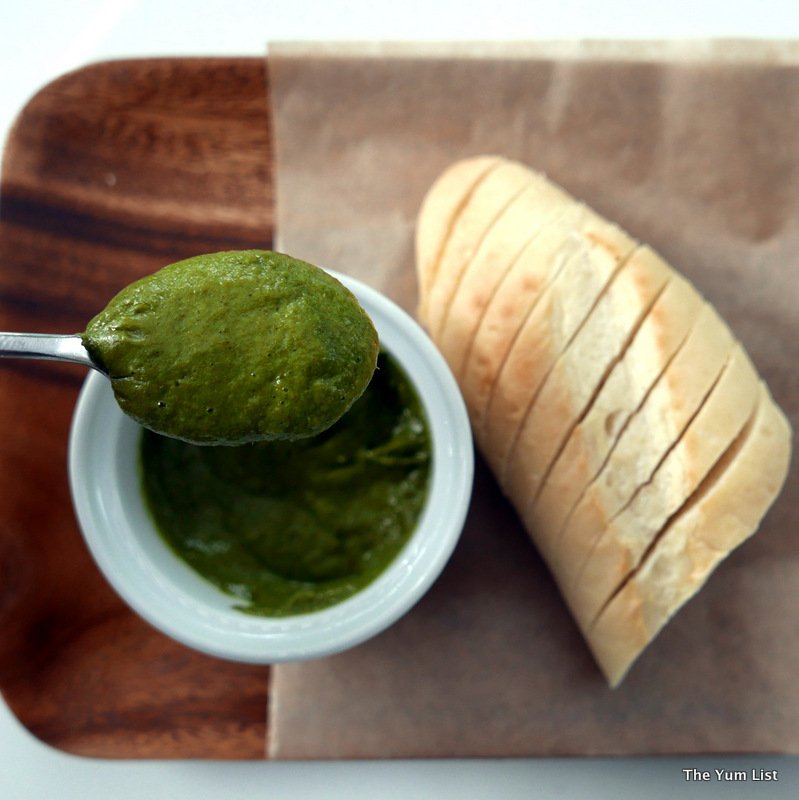 As you would expect from a café claiming to offer a multitude of healthy options, the wide range of salads on the menu did not disappoint. In addition to the ones listed on the menu, you can build your own from the extensive list of ingredients. If indecisive when it comes to these things, as I often am, go for one of Goodness Green's compositions: They have six signature calorie counted salads, on the menu that, for a extra RM2 can be put in a wrap. We opted for the Tofu Garden Salad (RM16.90), a bowlful of goodness in the form of mixed salad leaves, roasted turmeric cauliflower florets, roasted sweet potato, steamed broccoli, tempeh and slabs of organic tofu all drizzled with a maple balsamic vinaigrette.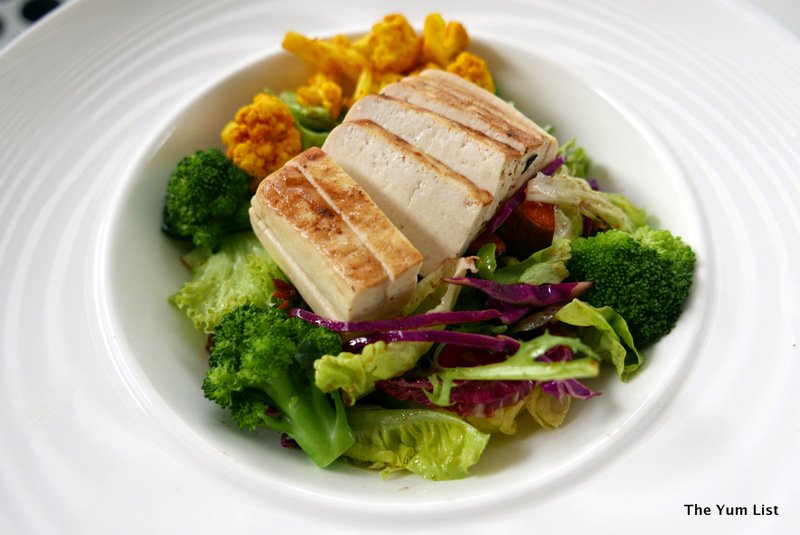 The Buddha Bowl (RM18.90) completed our savoury grazing and as its name suggests, achieved a perfect balance and great contentment as we devoured every last morsel! Made with brown rice, roasted pumpkin, bell peppers, lotus root chips, tofu, grilled mushrooms, french beans, pumpkin seeds, alfalfa sprouts and caramelised cashew brittle, this was a combination that when doused with a squeeze of lime and the delicious Thai red coconut curry dressing, really worked and kept us plunging in with our forks for more.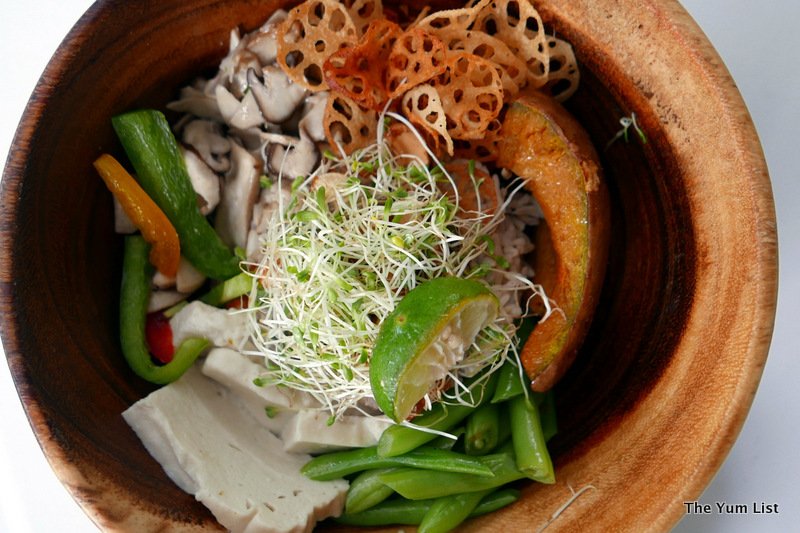 For dessert, we began with a trio of The Honest Treat's Rawesome Cake Slices (RM14.90 each). Made with natural and organic ingredients, these beauties are vegan, refined-sugar-free, gluten free and rather tasty to boot. Also available to buy as whole cakes, we tried slices of the Chocolate Orange, the Cendol and the Banoffee.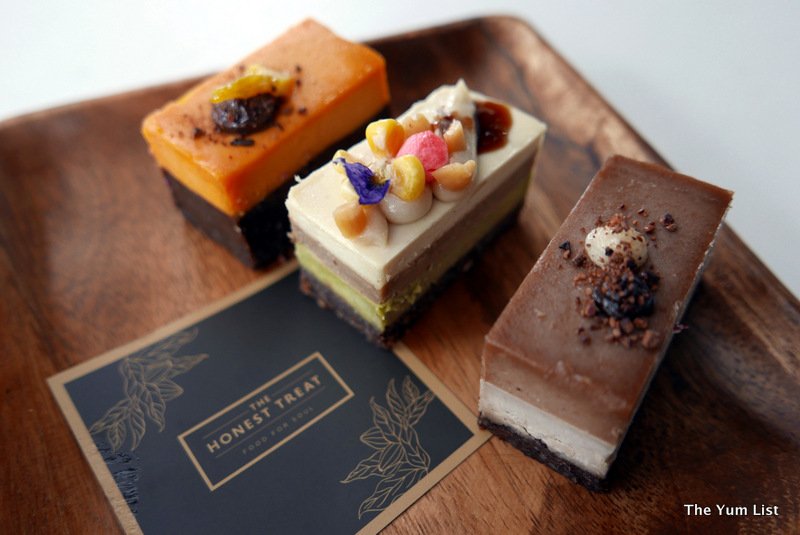 We ended with a yummy Raw C Pop (RM9.90) which had us both doubting the authenticity of the menu's claims that it was vegan, so rich and creamy was the Almond Mylk based ice-cream that if none the wiser, you'd believe you were eating the real thing.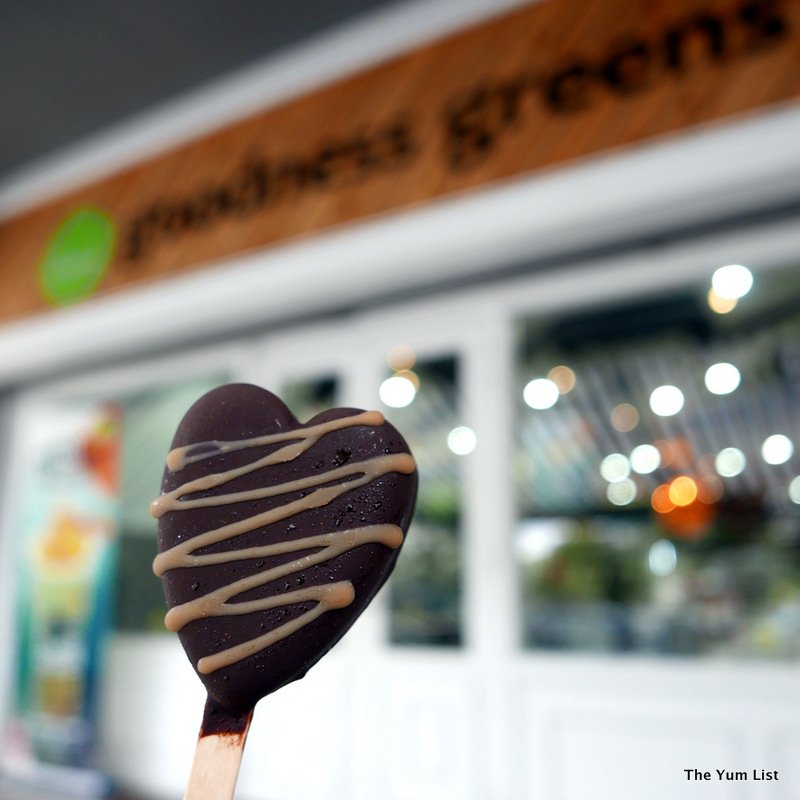 Not only does Goodness Greens offer a wide range of delicious options for the health conscious but it is a warm and welcoming place to hang out with kids. So child friendly is this establishment that I kind of wished I'd had a toddler or two in tow to provide an excuse to explore the great little play area. Equipped with a play kitchen and an array of appropriately vegetable themed toys, parents can relax in the knowledge that their children will be occupied and entertained while they sit back and enjoy their meal. Child and baby friendly bathrooms are worth noting too.
Reasons to visit: Delicious juices and shots; loads of vegan and gluten-free options; a child friendly environment with a great play area, washroom and changing facilities; don't miss the the Buddha Bow, Vatte and Raw C Pop.
Goodness Greens is open daily from 8:00am until 10:00pm.
*** Orders can also be made online and delivered to your door!
Goodness Greens Café
32 Jalan Datuk Sulaiman
60000 Taman Tun Dr Ismail
Kuala Lumpur, Malaysia
http://goodnessgreenscafe.com.my/