Words: Craig Selby   Photos: Monica Tindall
Ola Bowls … us over with Great Flavour
Shopping can be tough work! Lucky for us, Pavilion's latest kiosk, offers us reprieve in this hot Malaysian weather. In need of a tasty, icy cold snack to keep up the energy levels, we head upstairs to the connection at level 5, and it's Ola Bowls to the rescue! With their range of cold pressed fruit juices, coupled with six awesomely good smoothie bowls, they offer treats that not only hit the spot, but make it feel good too! Conveniently located in Pavilion (their first Ola Bowls outlet – watch this space) opposite the cinema entrance, they are easy to access, and well worth the effort to check out.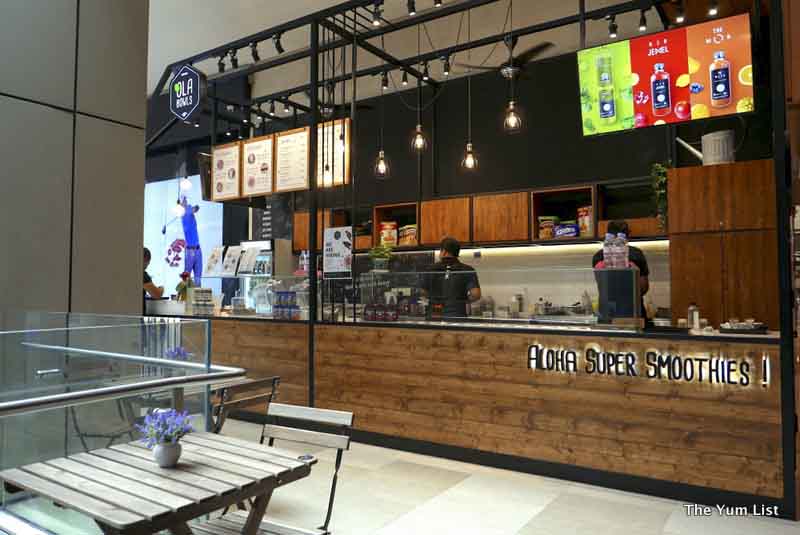 Sitting comfortably in a breezy open patio, doing a bit of people-watching over the weekend, we sampled their range of delicious smoothie bowls. I say we – it wasn't just me – there were in fact a few of us tasked with this endeavour. Pretty fortunate really, as the bowls are generous in both size and contents.
Ola Bowls has three health-oriented smoothie bowls, and three sweeter-steered versions.
So yup, we tried them all, starting with the healthier bowls: Super Dooper, King of Greens, and Tropical Passion.
Super Dooper is pretty impressive and not just visually. Packed full of texture and flavour, the Super Dooper has acai, granola, strawberries, coconut flakes, banana, and chia and pumpkin seed. Now, mix that all up together for a real power crunch that packs a super dooper punch!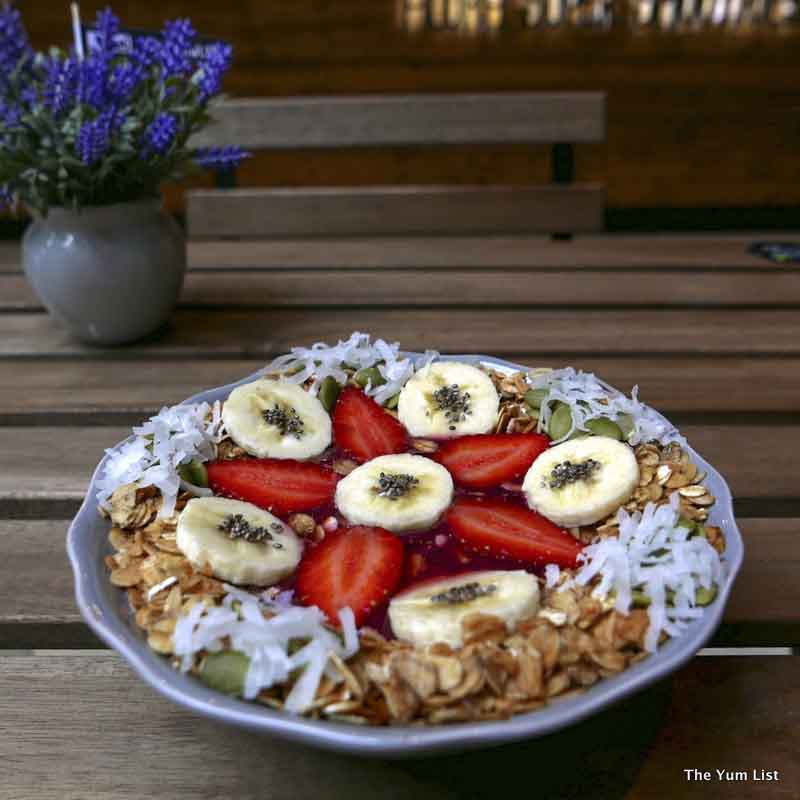 The King of Green ticked all the boxes for me – an avocado and banana blend (I love avocado), with goji berries, crushed almond, cranberries, and coconut flakes. This one ends up very creamy, with the nuts taking on an almost honeyed flavour. The sweet berry sorbet feels more like a fresh gelato, and the nutty textures add crunch to the smoothness.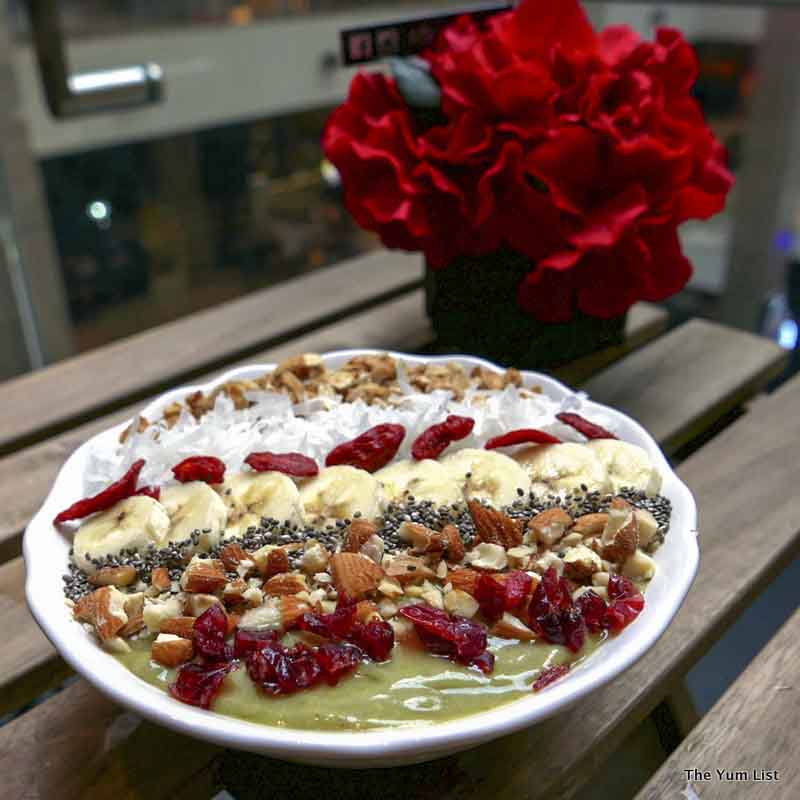 With granola freshly produced by a local company, combined with mango, we get the slightly tart, but incredibly delicious Tropical Passion. More towards a dessert, or an afternoon treat (well, it was afternoon), this smoothie bowl topped my list. The blend also included pomegranate, chia seeds, sunflower seeds, and pumpkin seeds. See, healthy can be delicious too!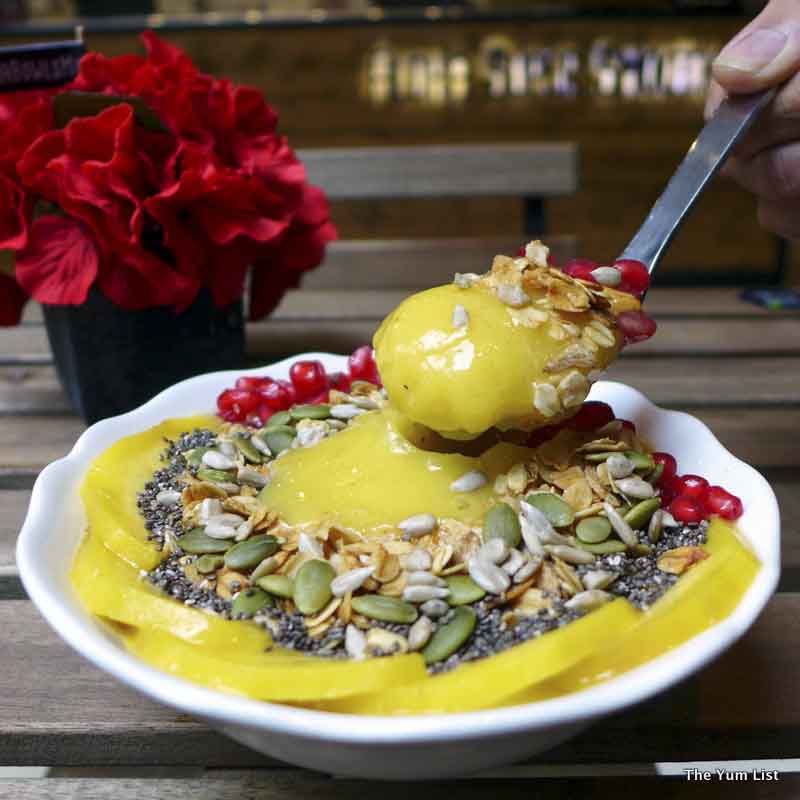 But enough of the super-healthy; they also sell smoothie bowls which are designed for those with a sweet tooth. Nutty Crunchy combines Nutella, strawberries and full-cream milk – oh, the strawberries give this bowl a distinctive tang. Top that with Koko Krunch cereal, cranberries, raisins and almonds, and you've got something sweet, healthy, and full of energy. Great for a power breakfast with a twist, Nutty Crunchy is the least sweet of the three. But don't get me wrong, it's definitely for those desiring saccharine pleasures.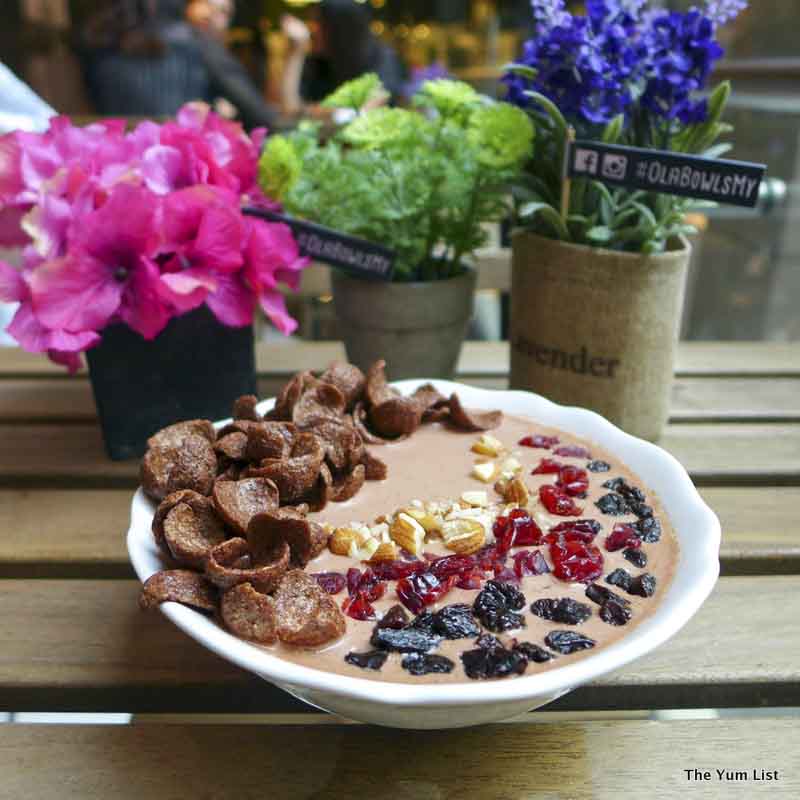 O' Time Favourite is probably more for the kids (including those 'big kids' among us). Imagine Oreo cookies, blended with Hershey syrup and full-cream milk. Add to that more Oreo cookies, strawberries, coconut flakes, and even corn flakes and you're in for a wild ride with your taste buds. Very smooth in taste, with a texture that is reminiscent of that of home made instant pudding, the O' Time Favourite is sweet, but not over the top.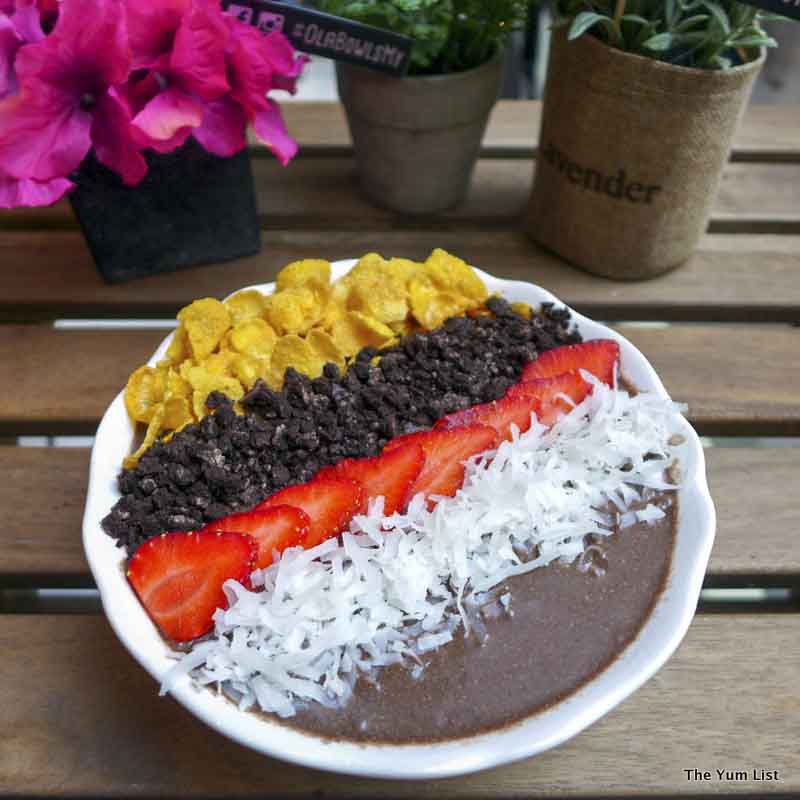 Last but certainly not least, was Peanut Trouble. Oh, and trouble it could be, in the right hands, of course. Peanut butter and v-soy milk blended with banana create the base to this bowl. Add muesli, granola, strawberries and pumpkin seeds, and it's a great snack for those who love peanut butter, as this undeniable star of the dish shines through in each and every mouthful.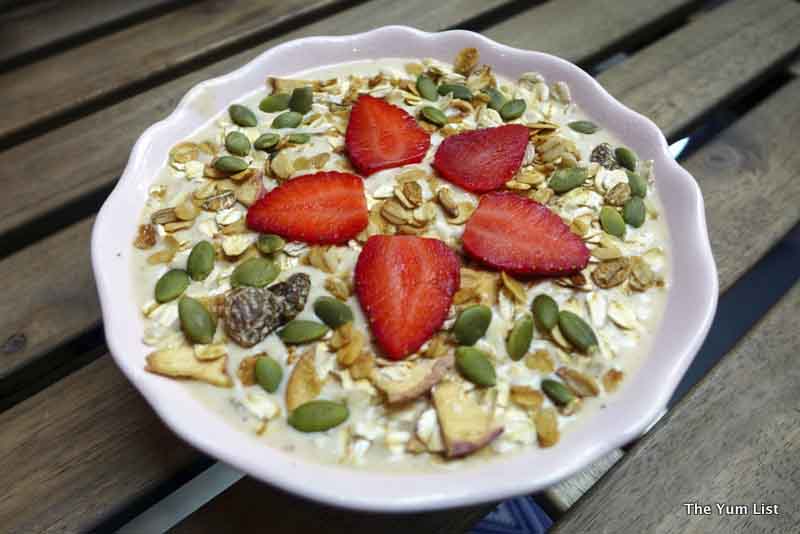 As delicious as all were though, I'll be sticking to the King of Green – just can't beat that combination of avocado and banana! What I really love though about all six bowls is the oodles of fresh ingredients. You can taste the freshness of the fruit in each one.
Definitely worth noting are their juice concoctions. We tried several. Ok, five. Great stuff. Each juice is made from quality fresh fruit, with no sugar added (thank you for this – loving this trend), and offers a distinctive yet balanced flavour. Whilst we each had our favourites, one thing we did agree on was that these are both value for money, and damn tasty too!
My favourites were the 'apple, pineapple, lemon, passionfruit and mint' – a very refreshing afternoon cooler, and the 'dragonfruit and red apple'. Both were low in natural sweetness, but high in flavour and thickness. Definitely no water added here folks. Monica enjoyed the 'spinach, romaine, lime, celery and apple' – and after a very persuasive conversation, I also found it "not bad" (read: yeah, pretty good, but I'd prefer not to admit to that). We also sampled their 'mango, orange, and blueberry', and their 'pomegranate, red apple and lemon' – both of which were refreshing and very well balanced to offer distinctive flavour.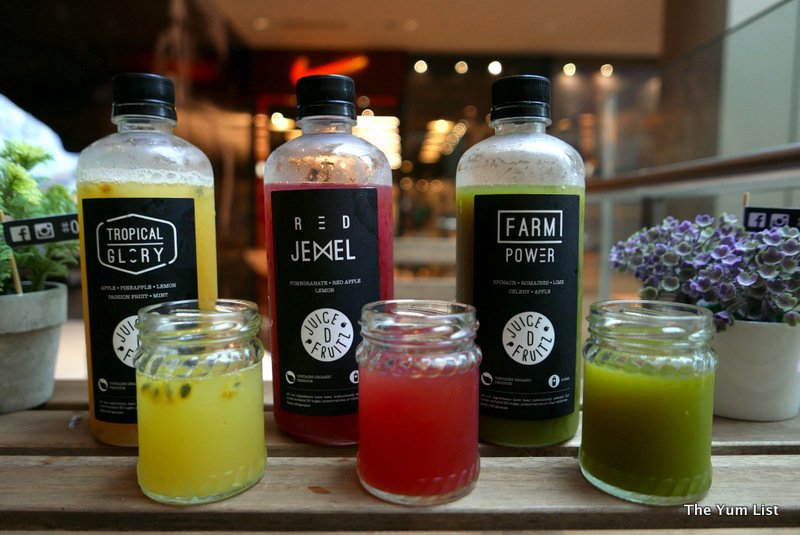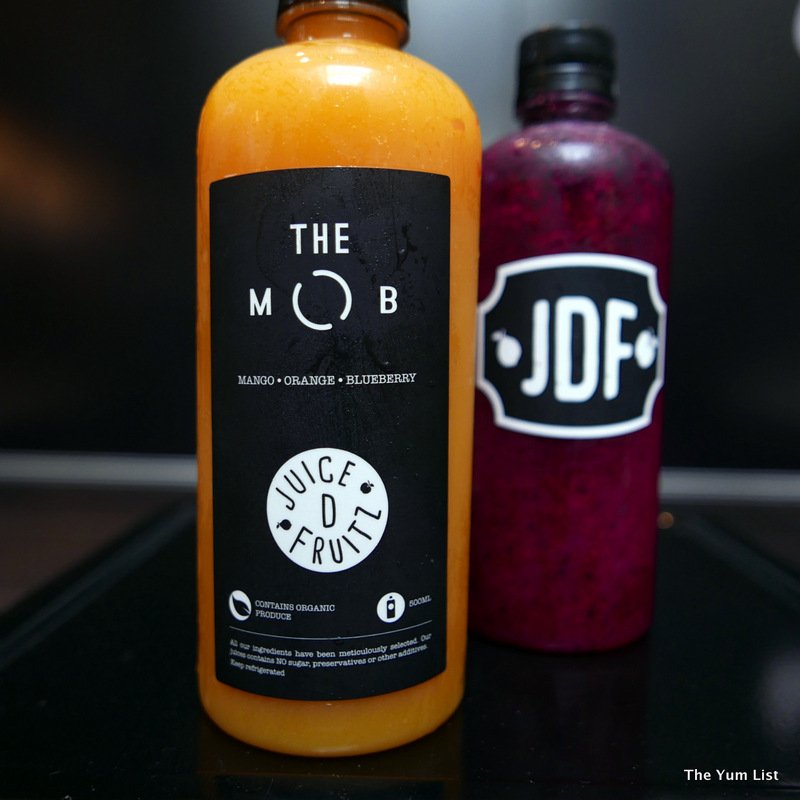 Whether we need a breakfast boost, a lunchtime indulgence, afternoon refresher, or after dinner palette cleanser, we find the juices and smoothies at Ola Bowls have fast become a favoured option.
Reasons to visit: finally a healthy choice in Pavilion; cold pressed juices; smoothie bowls – we each had a favourite, I'm sure you will too.
Ola Bowls
C5.06.00 Level 5
Pavilion, Bukit Bintang
Kuala Lumpur, Malaysia
www.facebook.com/olabowlsmy