Words:  Craig Selby    Photos: Monica Tindall
An old gramophone plays Chinese Opera in the background. It crackles, much like in an old movie theatre. Was this a time warp to 1916? Perhaps! Two huge mirrors on opposing walls provided much needed light and reflection in the musky, subdued yellow room. Wood paneling, heavy set furniture, antique light fixtures, calligraphy scrolls, family photographs, and well-worn but delicate porcelain tiles fill this Kuala Lumpur classic with more than a glimpse of the past. It could almost be mistaken for a museum.
One of the first restaurants I was brought to when I moved to Malaysia – by friends, friends-of-friends, even an ex-employer, was Old China Café. Hidden in a small lane a stone's throw from Chinatown, Old China Café had a mystical allure about it. Back in 2005 they still used the upstairs space – a few old leather lounge chairs, tables, old photos and paintings adorning the walls; but today the focus is downstairs.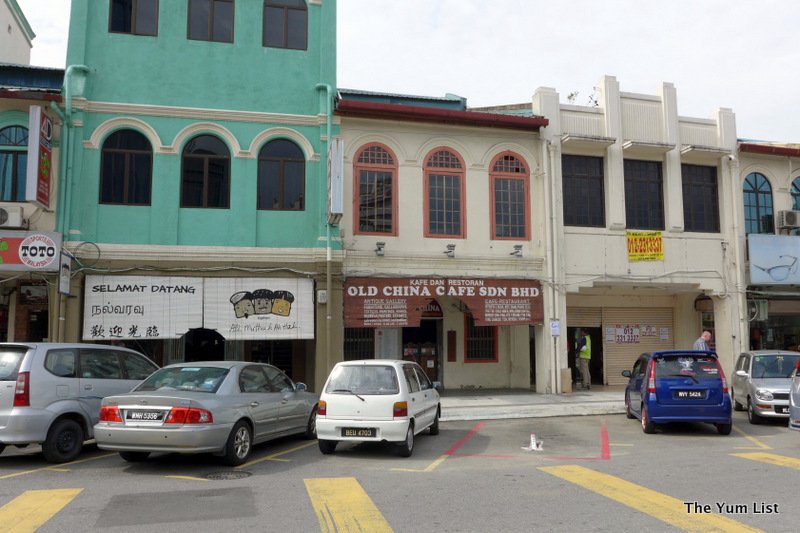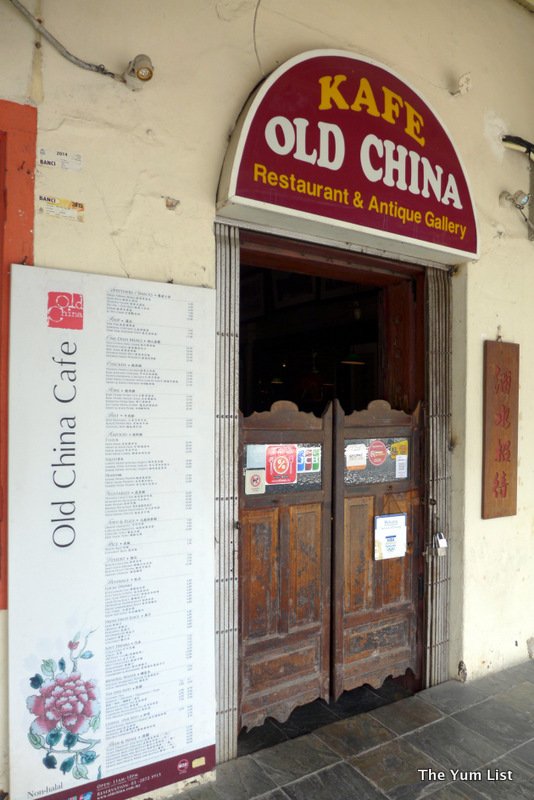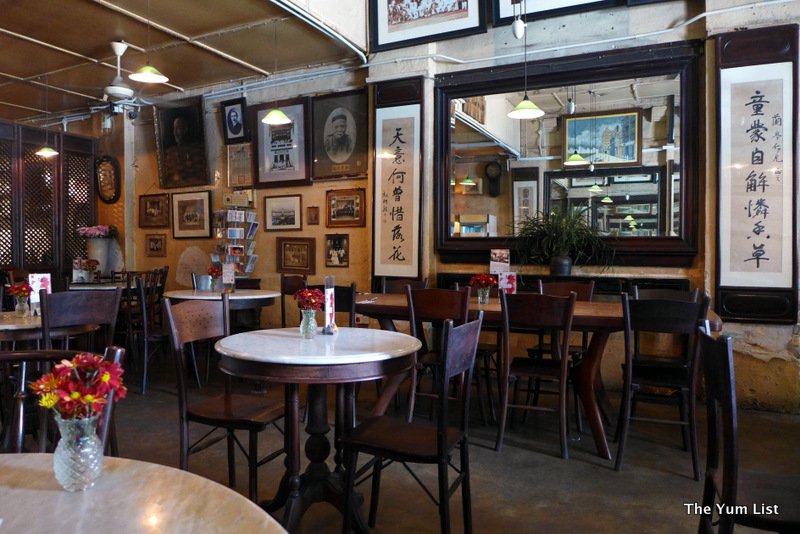 What makes it so special is not the physical glimpse into the past, but the delightful aromas wafting from the kitchen – 'generations-old recipes' for Malaysian favourites, dishes from the cultural melting pot that Malaysia has become.
We headed to Old China Café for a late lunch. It was a quiet day; a few travellers were sitting sporadically at the tables. One was doodling in her journal – enamoured by the quirkiness of the environment, and clearly inspired by the flavours she was experiencing. Others were chit-chatting and sipping their drinks. We caught up with the events of the past week, and admired the preservation of this little piece of history in the old heart of Kuala Lumpur.
Our drinks arrived. My home made, old-fashioned Iced Lemon Tea – sugar optional (great for those like me who shouldn't be drinking too much of the sweet liquid) – a gentle, cooling, refreshing drink served in a tall glass. Monica had Lemongrass – subtle and light with a hint of spice. Personally, I'll stick to my tea, but I am sure the lemongrass makes a perfect late afternoon pick-me-up too.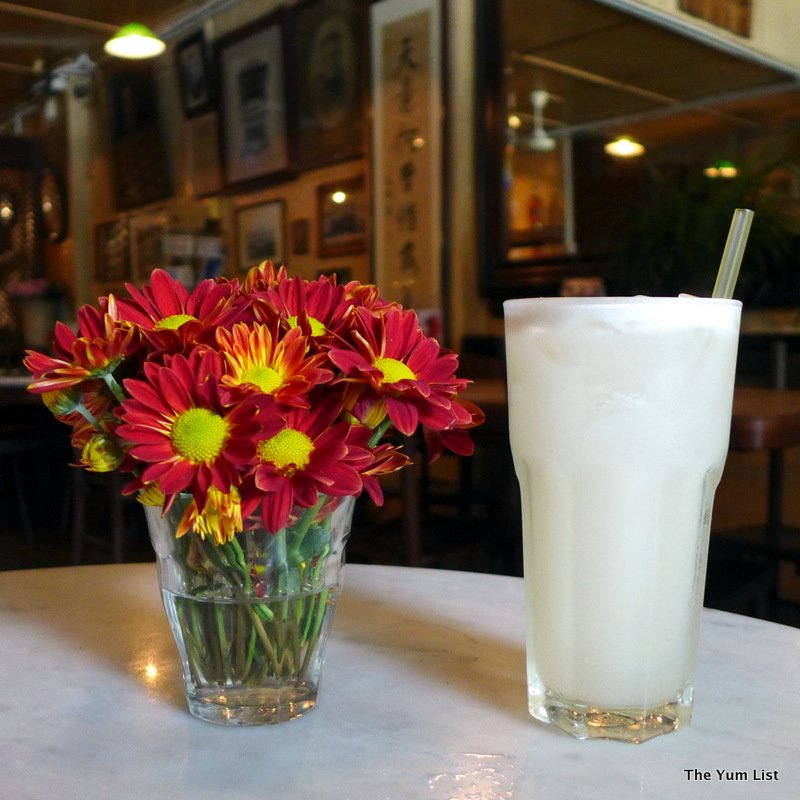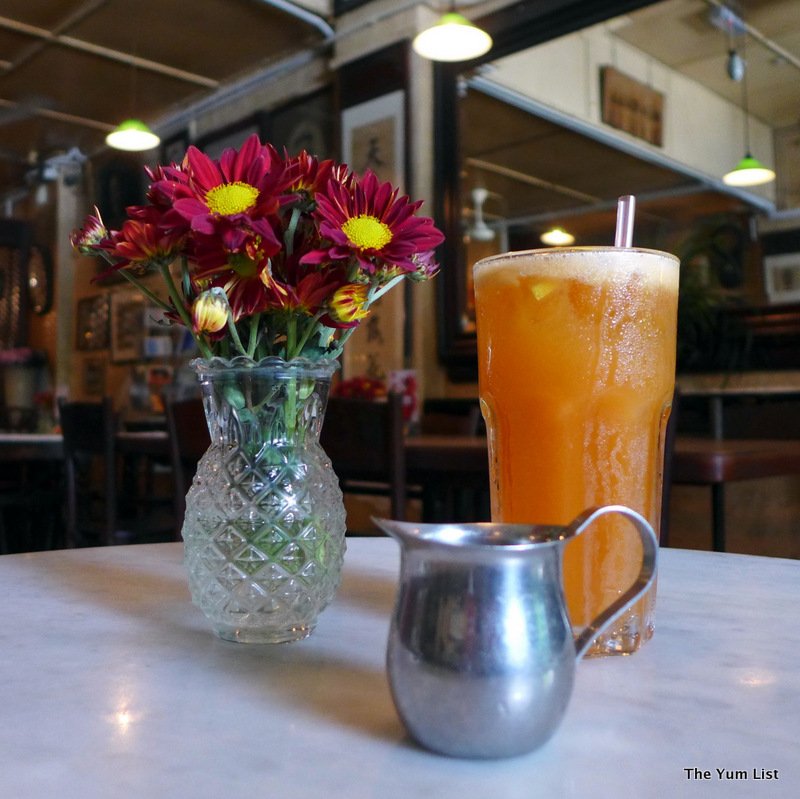 On offer for us were some popular favourites. The Nyonya Laksa, a well balanced, popular local dish, cooked in coconut milk, with tender pieces of chicken, and several large prawns, was mixed with two different types of noodles – yellow mee and vermicelli. Flat rice noodles can also be added by request. Elegant in flavour, with a punch smoothed over by luscious coconut milk, we noted that this would be a great introductory dish for visitors excited to explore Malaysian cuisine. The laksa offered up a hearty and aromatic start to our meal, and for those who like more spice, just ask the chef to add in a little more chilli – he won't disappoint.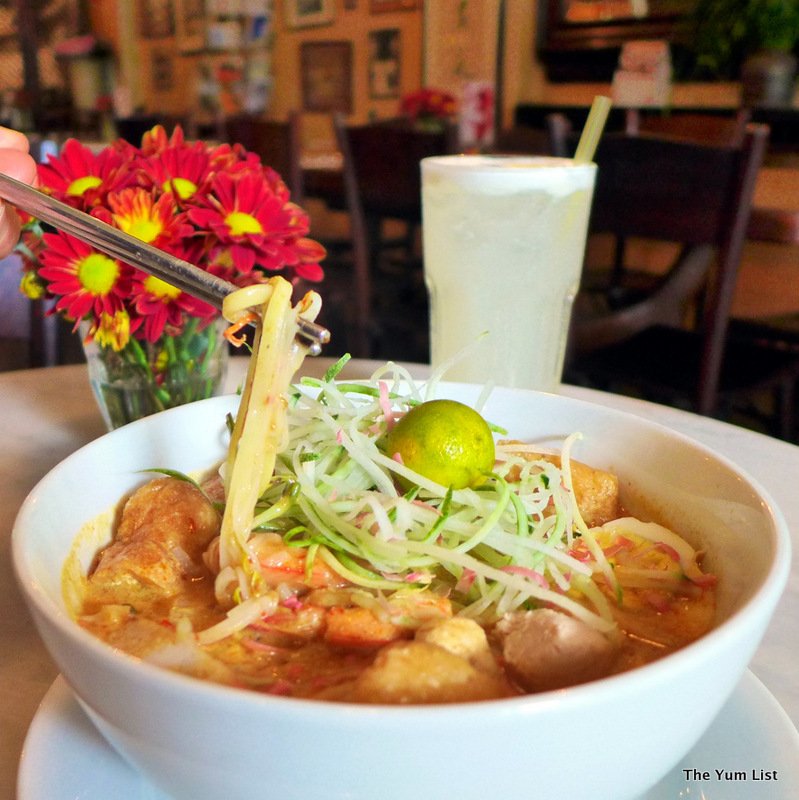 My favourite dish today was the Pork Pong Teh. Cooked in a different manner to which I am accustomed, this dish had a complex balance of flavour, with a sensible kick of spice. Tender pork belly slices, smothered and slow cooked in local spices, gave a new twist on what has been an old favourite of mine. Interesting to note was the use of banana blossom – adding to the uniqueness of the flavour.
The pork was served with another old-school staple – fragrant Coconut Blue Rice. Rice grains are coloured with the extract of a local flower, cooked with coconut, and served in a mound as a side plate – perfect material for soaking up sauce. The coconut seasoning shines through when paired with the pork and its delicious gravy – culinary bliss.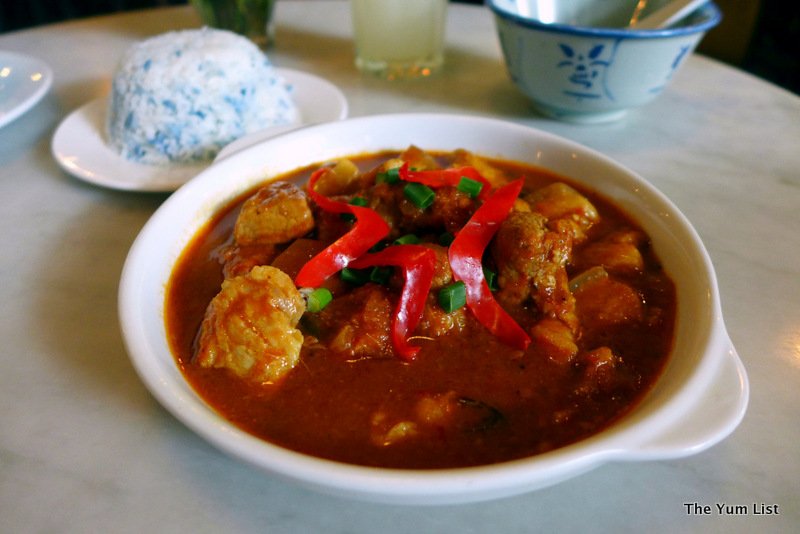 A medley of mixed vegetables was also served over vermicelli, providing a rewarding crunch to accompany the other dishes. A medley of tofu cubes, mushroom strands, sliced carrots and cabbage came in a light sauce. Mon expressed her appreciation for the veg.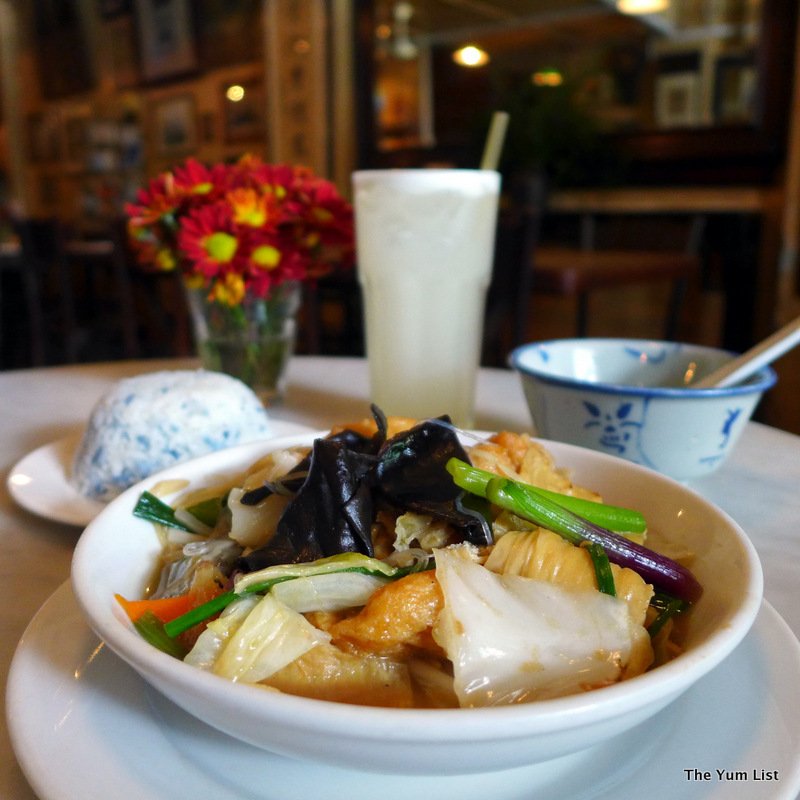 To finish off, Sago Gula Melaka. This all-time favourite is as simple as three ingredients – plump sago, coconut milk, and gula Melaka (dark palm syrup). Mix and enjoy. It's the elementary things in life that offer the greatest reward.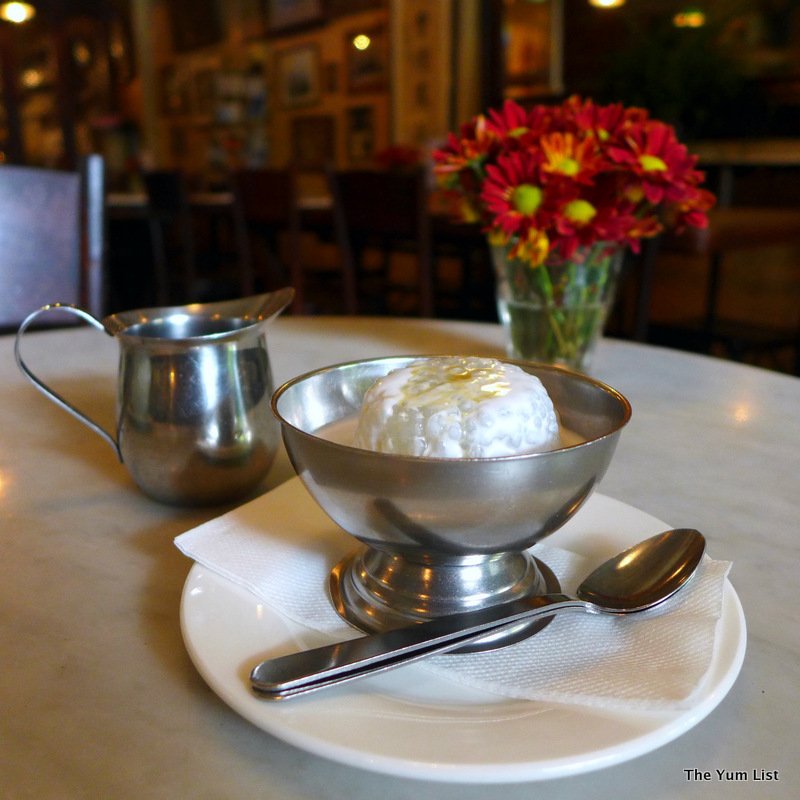 Old China Café is definitely a must-do in Kuala Lumpur. Whether a seasoned expat like myself, a newbie looking to explore, or simply needing somewhere distinctively local to bring friends; it introduces us to a simpler time in life, but one where food and sharing is of great importance.
Reasons to visit: charming atmosphere; great spot to entertain out-of-town guests; Pork Pong Teh and you must order the Nyonya Laksa.
Old China Café
11 Jalan Balai Polis
50000 Kuala Lumpur
Malaysia
+6 (0)3 2072 5915
[email protected]
facebook.com/oldchina.my
www.oldchina.com.my/cafe.html