Always on our must-visit list when in Ipoh, or more often on our way through Ipoh driving to Penang, is Burps and Giggles. Located in the old town, it's a fresh spark, and the start of a suggestion that the younger generation is ready to breathe new life into Ipoh's historical streets.
The greater façade looks close to crumbling, and here in lies the charm. Inside guests are greeted with an eclectic mix of old made new with eccentric repurposing of bits and bobs, transformed into attractive décor. The walls breathe creativity and we find ourselves wondering, "Why didn't I think of that?" as we take in the inventive design.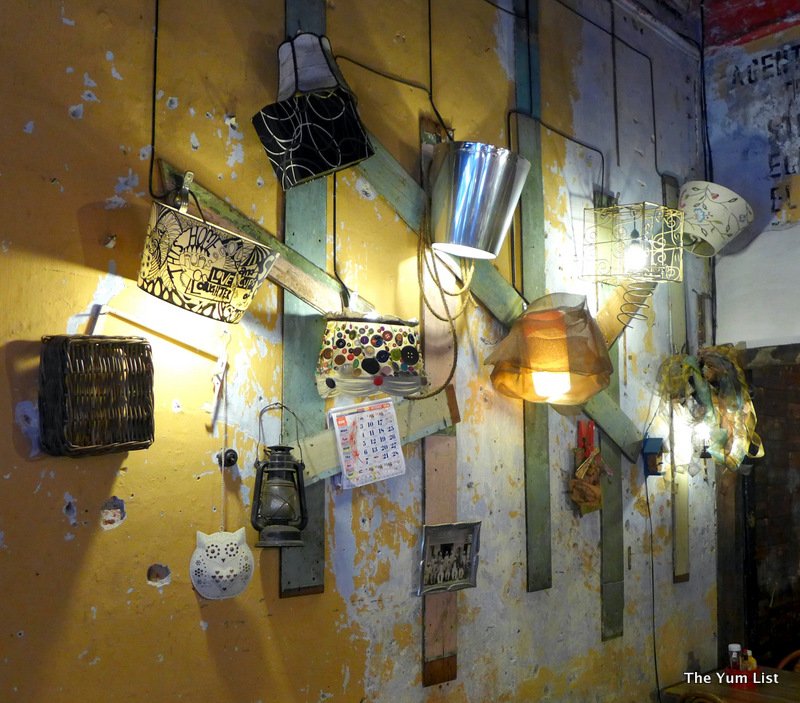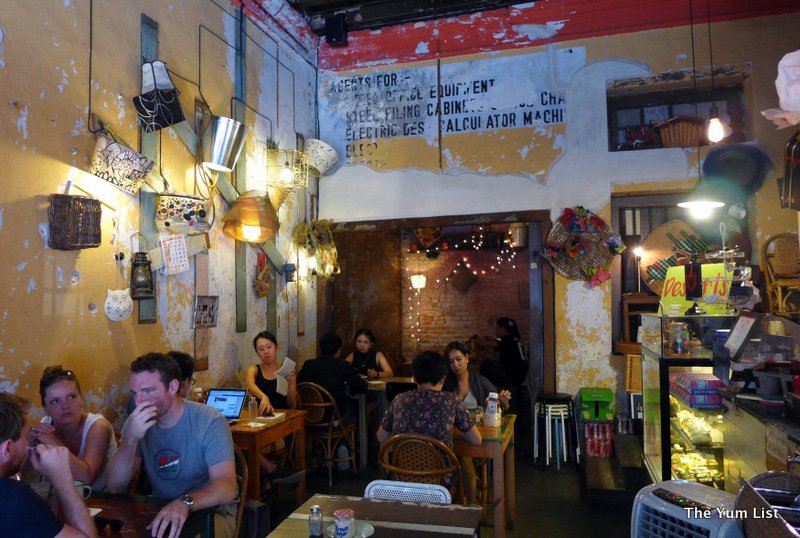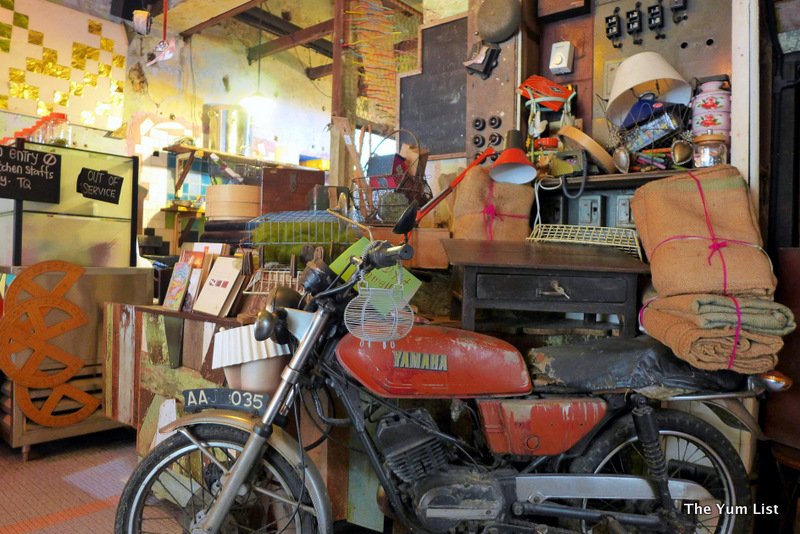 Giant murals paint a storm of colour and it's worth paying attention to the details as the walls are filled with cheeky quotes that should make even the most ill of humour smile. An artisan has taken over a corner of the café selling hand-made items and makes a spot of shopping a fun thing in which to partake while waiting for our order.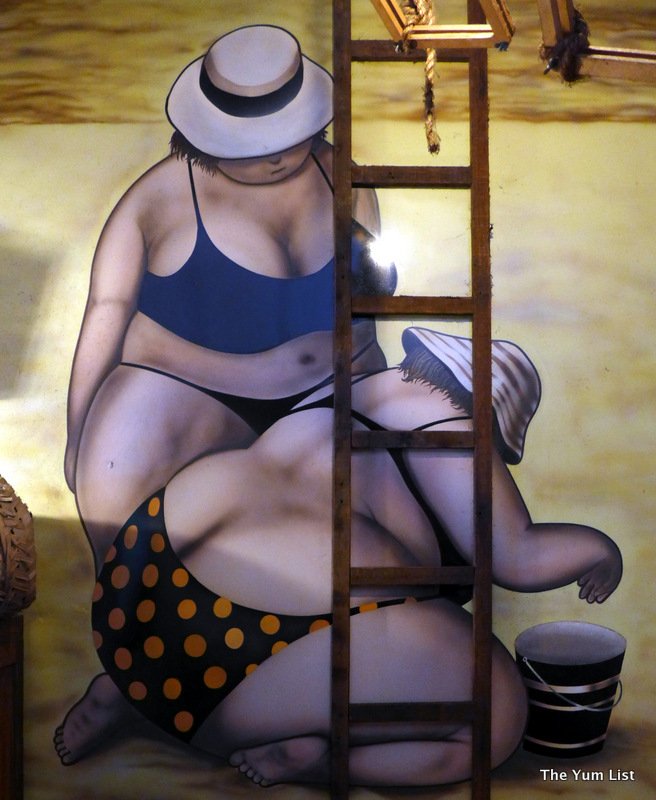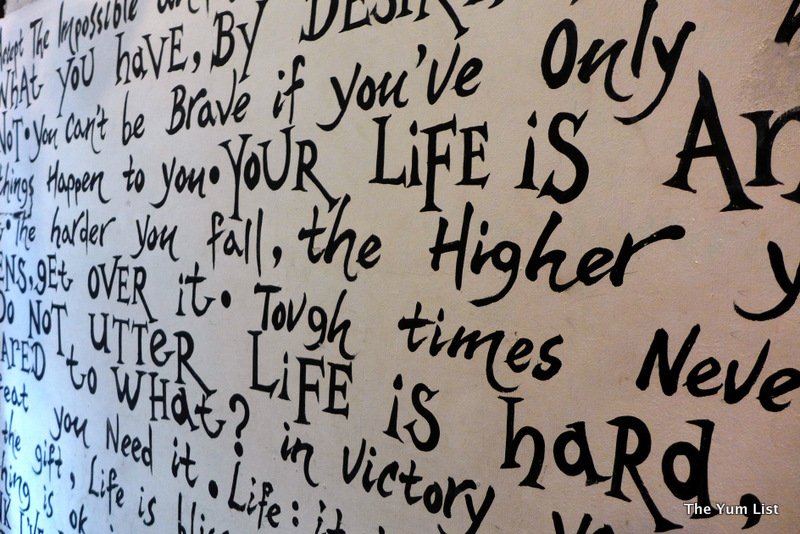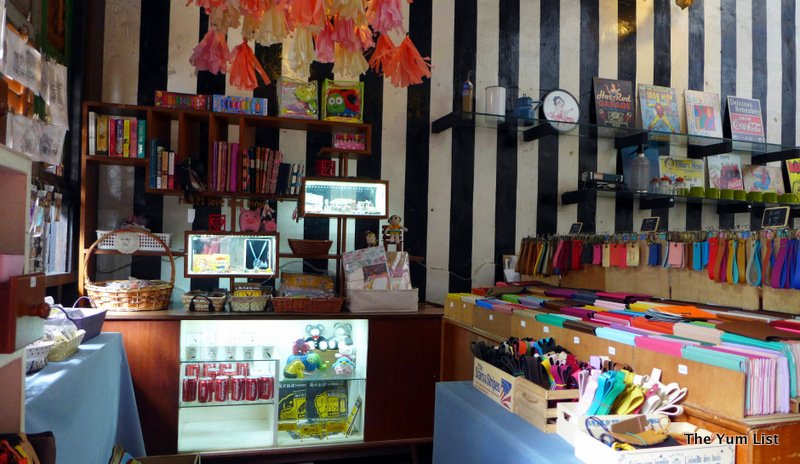 Burps and Giggles was one of the first cafes in town (besides Indulgence Restaurant on the road in) to serve quality espresso based coffee. We've already had our milky dose for the morning so I request an Iced Black (RM10) and hubby goes with a fresh Pineapple Juice (RM8). Both quench our thirst and we think they're reasonably priced for the quality.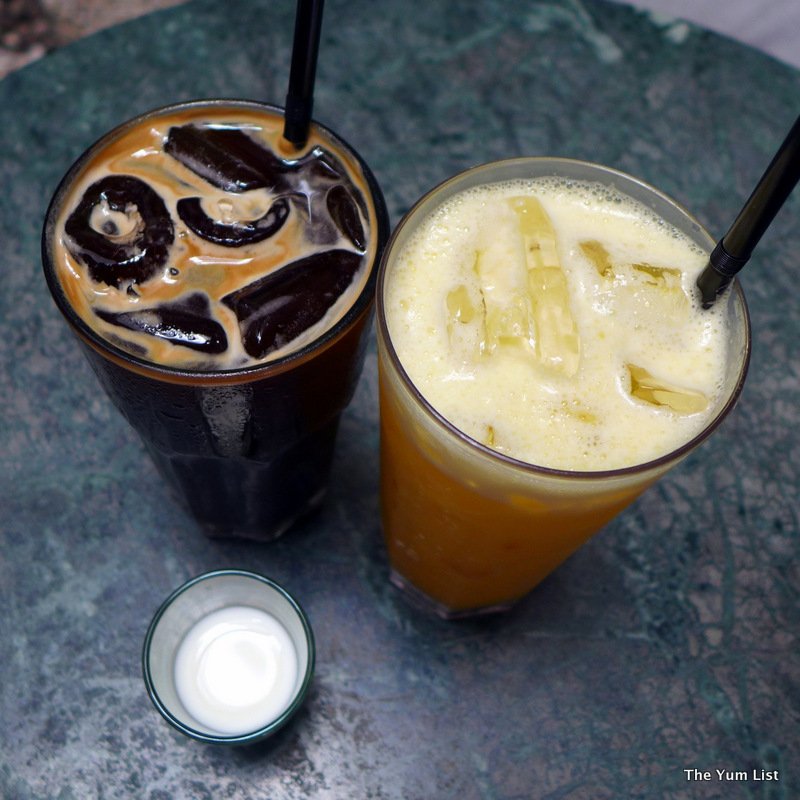 Giddy-Up (RM16), a bagel spread with cream cheese and topped with smoked salmon, is sided with a pear salad that complements and freshens the rich bagel nicely. I'm happy to report that it's a 'real' bagel – good texture, boiled then baked.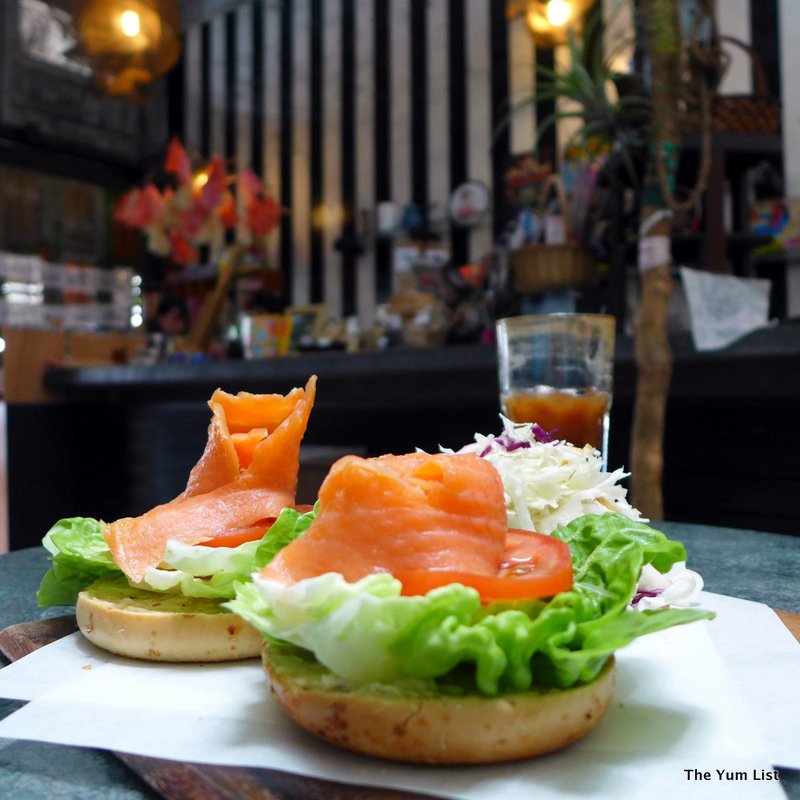 Hubby's been hankering for Fish & Chips (RM17) since we were recently reminded of times spent on the Aussie coast in a park with a paper parcel of the iconic meal. A giant hunk of white Norwegian fish is moist and flaky in a light crispy batter. Fat wedges, battered tomatoes and the house made tartar sauce make excellent companions. This is an excellent dish. If you like fish and chips, be sure to order it here.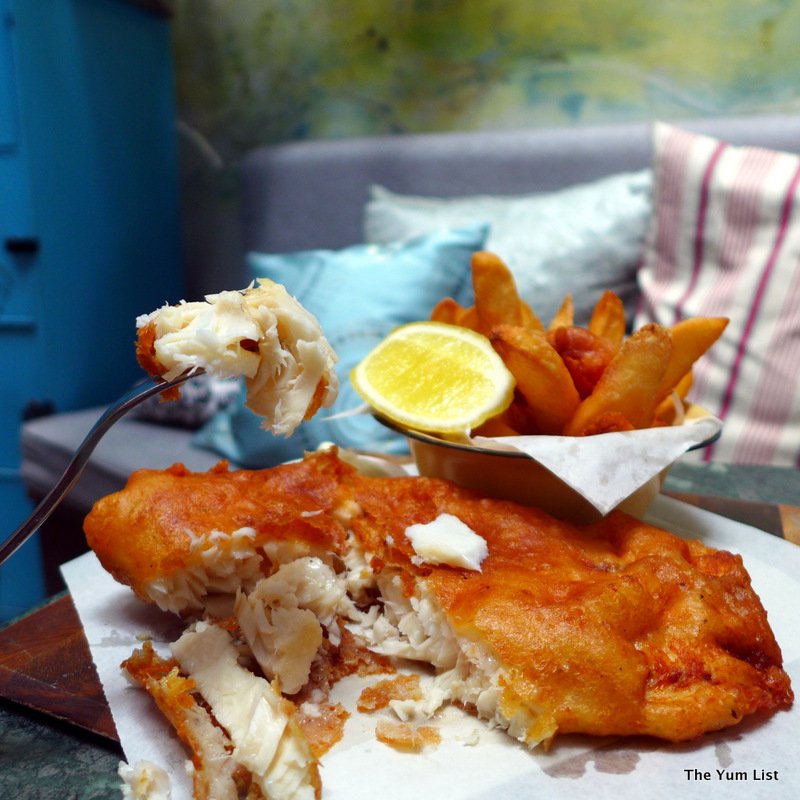 Pizza is new since our last visit, so the Mushroom & Cheese (RM17) is on our order too. Use of a baguette base gives us lots to bite into and it wouldn't be Malaysian unless there was a runny egg on top! Toppings are generous and small eaters might consider sharing. Actually that could be said for the three dishes we've had today. Portions are large, value for money. Friends might be wise to order a couple of dishes to share.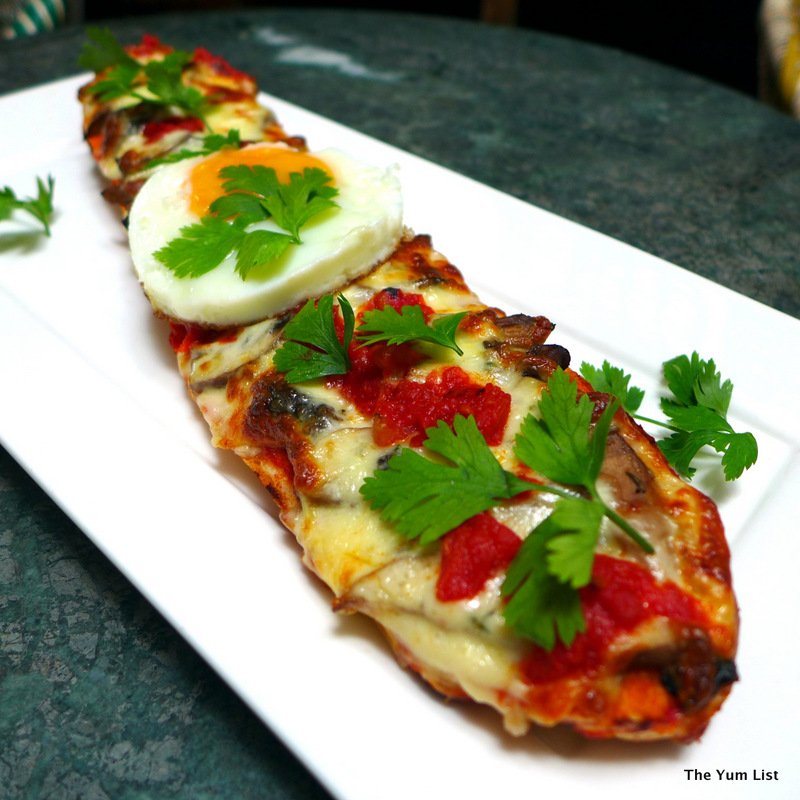 Do save some room for desserts though. The lady behind the menu, Julie Song, is wonderfully creative and often has new surprises in the cake display counter. Today though we try two off the menu, gelato and cheesecake.
Using the skill of a friend, Burps and Giggles serves locally made Gelato (RM14) mixed with Malaysian flavours. The Cempedak with seared Gula Melaka Bananas is the best seller, but not being such a fan of the mildly pungent fruit, I choose the Cendol Gelato with Atapchi and Longan instead. It's smooth and creamy and bursting with the sweetness of palm sugar and the richness of coconut milk. Decadent.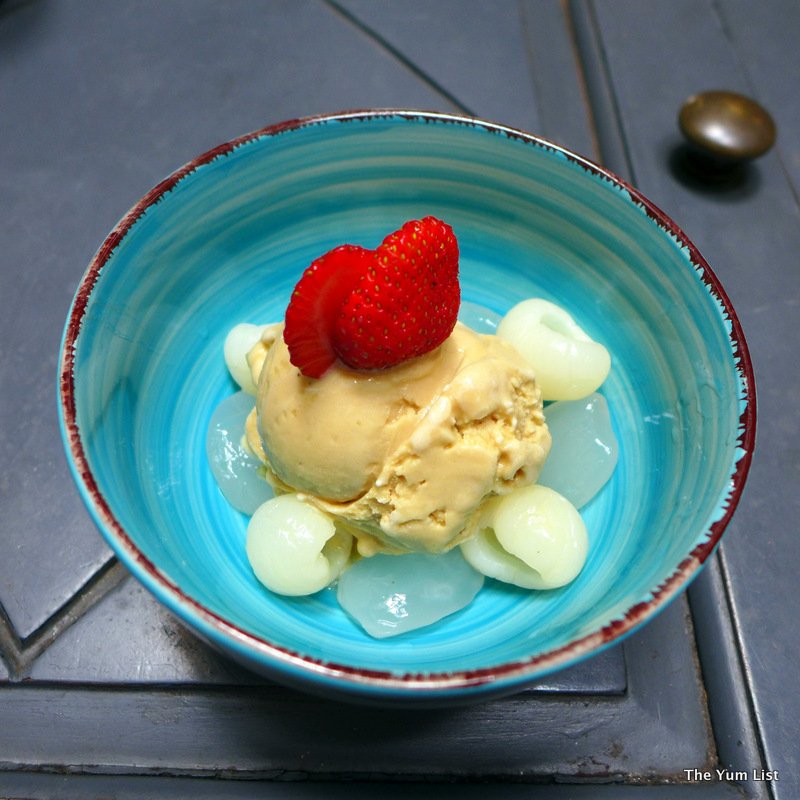 From "The Other Sweets" menu (which take about 15 minutes to prepare) we try the Hot Berry-Berries Cheesecake (RM15), straight from the oven. A pot of rich cheese is baked with a berry coulis centre. On the side is a shot of cream topped with strawberries. Hubby's tempted to take it in one gulp, but we learn that what most people do is pour the cream over the top of the dessert so we go with the crowd. Yum!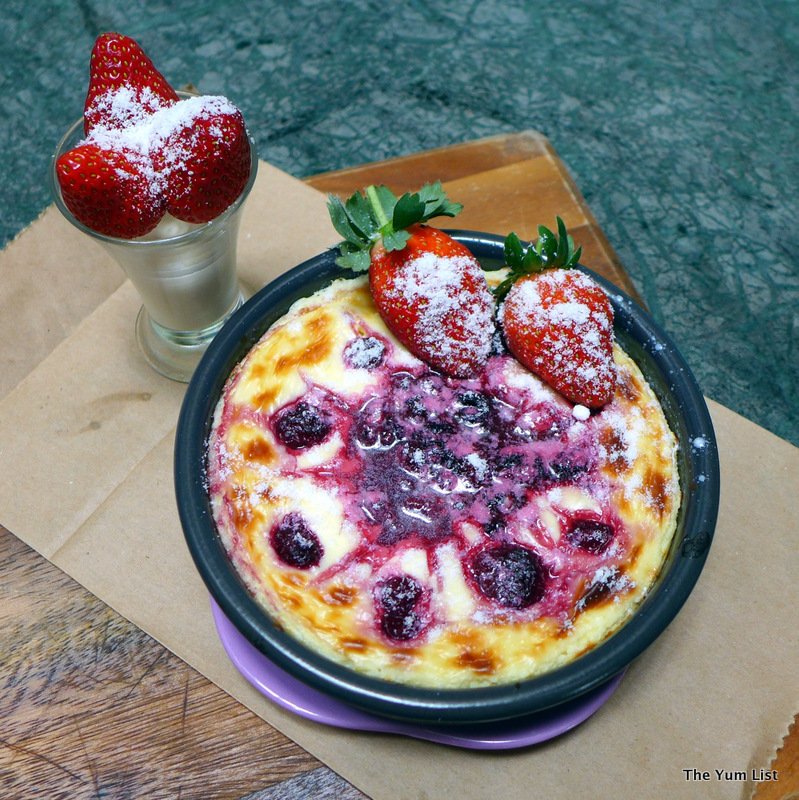 Living up to expectations, it's been another delicious and original experience at Burps and Giggles. Now to digest, we plan a stroll around the block. The surrounding streets have become a vibrant scene of pop-up stalls, artsy boutiques and generally hip, fun design. I'm sure if you visit, Burps and Giggles will soon too become one of your must-visits when in the area.
Reasons to visit: an Instagrammers heaven – so many nooks and crannies to capture; hearty value-for-money meals; fish and chips; good coffee; gelato with local flavours; berry-berries cheesecake.
Burps and Giggles
93 & 95 Jalan Sultan Yussuf
30000 Ipoh, Malaysia
+6 (0)5 242 6188
www.facebook.com/BurpsGiggles/
Closed Tuesdays
Open weekends between 8:30am – 8pm
Open weekdays between 10am – 6pm
Street parking during peak hours can be difficult to find, but there is a paid lot not far away.