There's no doubt that we're spoiled for choice when it comes to spas in Malaysia: from an affordable foot rub to a full luxury experience you can find it all here. Centres that provide a full range of spa services, beauty treatments, expert consultants and fitness classes – a complete profile of wellness offerings – all in one beautiful location however, are few and far between. EOS Wellness sets about to change that though by offering a one-stop wellness centre right in the heart of Kuala Lumpur.
The corner lot of St. Mary's Place, provides a discrete entrance directly from the car park. Soft neutral hues are immediately calming upon entering EOS Wellness, and after being greeted by smiling staff, I'm swiftly escorted to a private seat where my initial consultation begins.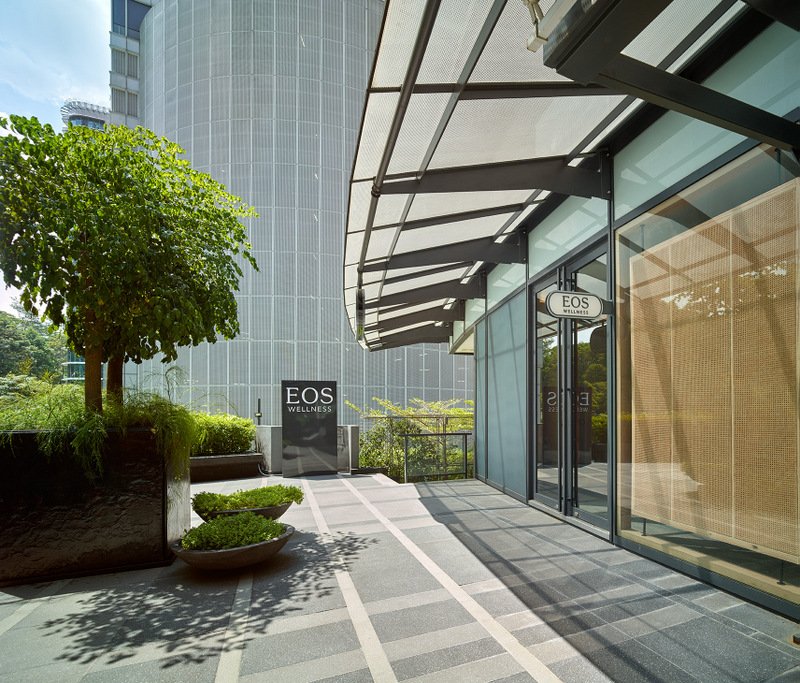 As I'm booked in to experience some of the latest technology in facials and body treatments offered uniquely by EOS Wellness in Malaysia, alongside a short lifestyle questionnaire, my skin is also photographed and analyzed. Following the results and a discussion about desired results with my consultant, the preferred treatment is decided upon.
EOS Wellness hosts six spacious treatment rooms all with large en-suite facilities (there are fitness spaces too but today I'm focusing on the spa side of things), two of which cater to couples. All spa sessions begin with a foot scrub ritual, and end with tea in the relaxation lounge if so desired. Robes, disposable underwear (nice mesh ones, not those horrors that resemble puffy baby diapers) and a few basic bath products are all provided.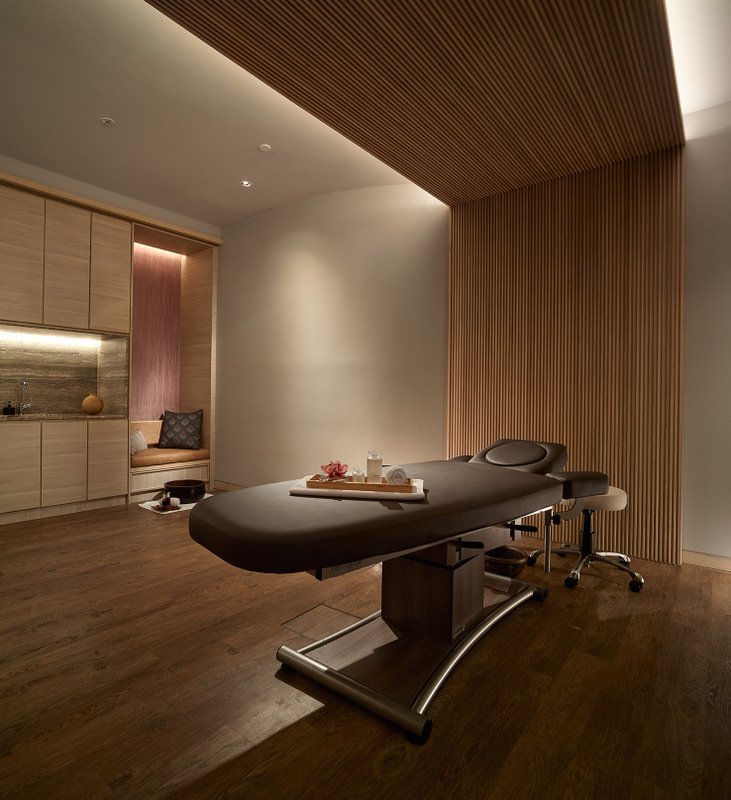 Besides, my facial I've also got a massage and scalp treatment on the agenda. There are a good number of distinctively different massages on the menu and it's hard to choose just one. The Float & Flow (60 minutes, RM530) is something I've yet to try so am interested in the new experience. Using a Gharieni's 360° Floating Bed from Germany, I feel almost weightless as the therapist rocks me to and fro, and gently rotates the bed in a circular motion. Joint release skills, physical therapy, Trager's psychological integration, general osteopathic treatment and Professor Eyal Lederman's harmonic technique combine to provide a much less-complicated-than-it-sounds experience. I get into the flow of the session and feel it has aided with joint mobilization, some muscle release, and in general has been a gentle and relaxing session.
My dry ill-treated Caucasian head of hair could sure use some tender loving care, and the Scalp Awakening (30 minutes, RM180) treatment sounds like a good chance for revival. Formulated to stimulate the "scalp to revive blood flow and encourage hair growth," a moderate pressure massage with a blend of Ayurvedic natural oils is definitely de-stressing. I feel absolutely pampered with my neck and décolletage also receiving attention, completing a well-rounded experience. Reading the description on the menu I was expecting to have a lot of oil in my hair, but this was not the case. The oil was used on my body, but I didn't feel the need to wash my hair before leaving, which is sometimes the case with such therapies.
Facials have certainly changed since I was first following the do-it-yourself guide from beauty magazines as a teen (anyone remember Dolly from their youth?). The quality of products has evolved and so too has the use of technology and research in their development. EOS Wellness has an excellent selection to choose from including products of high standard by Sundari and also the integration of applied sciences with their collection of Meso Anti-aging Facials.
EOS Wellness is the sole supplier in Malaysia of medical cosmetics by Mesoestetic, a Spanish brand, with their signature equipment, the PhotoGen and TMT System providing results-driven anti-ageing facials. All sessions begin with a comprehensive consultation detailing lifestyle, diet and analysis of the skin, before a personalized diagnosis is come to and individualized treatments recommended. My dry ageing skin can use all the help it can get, so I'm recommended both the Meso Lift (60 minutes, RM1000) and the Dermal-Redefine Enrichment (30 minutes, RM500) to enhance results.
The Meso Lift undertakes to renew and repair my dermis with the effect of rejuvenation and a boost in firmness. The Mesoestetic StemCell Regenerative formula is delivered to the face and neck in order to protect the skin's cells and improve its self-repair potential. A regenerative massage technique utilizing circular upward strokes, aids the absorption of the highly concentrated plant cell extracts said to be beneficial especially to stressed and over-exposed skin.
Enrichment of the work already complete is seen with the power of phototherapy. Claimed to be the most versatile medical-aesthetic platform available on the market, the Photogen System assists in dermic contraction and stimulation of collagen. In turn a lifting effect is achieved.
As with most non-invasive techniques, a number of treatments are recommended for optimal results. I do note however immediate effect, after even just one session, with a notable tightening of the skin, and a visible difference in moisture.
*Post note: My skin is sensitive and the evening following the treatment my skin was a little red in appearance with small bumps on my lower cheeks and neck. I took anti-histamine and applied a cream for skin irritation that I had at home and the redness and bumps disappeared after about 48 hours. It's something to consider if you have sensitive skin when planning your social schedule.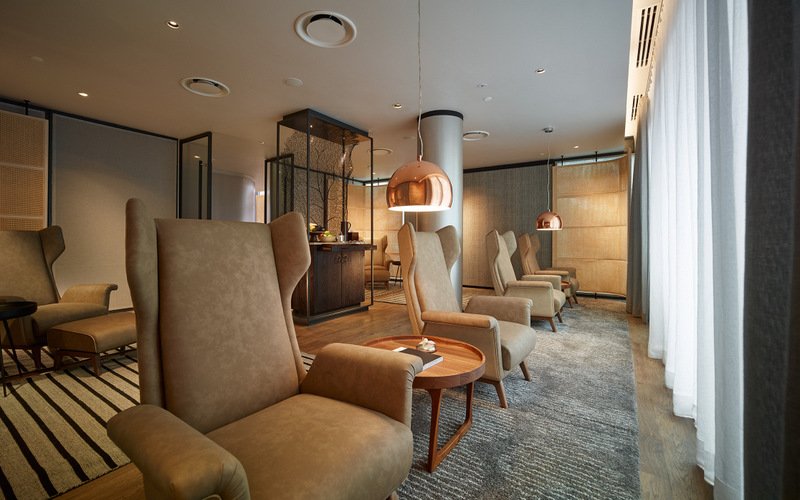 The experience at EOS Wellness was professional and warm. They've combined the best of European technology, with the care of Asian hospitality. A good number of unique treatments on the menu too, make them well worth a second look.
Reasons to visit: high-end treatments incorporating the latest in technology; convenient location in the city centre with parking and a discrete entrance; the only place in Malaysia with Mesoestetic technology from Spain; a one-stop wellness location.
Special offer: Mention "The Yum List" to enjoy 30% off on a la carte treatments (first time visit) and 30% off on retail products during the same visit.
T&Cs:
–          Mention 'The Yum List' and show a screenshot of the blog post to enjoy discounts
–          Only for ala carte treatments, not applicable to Signature Series and other promotions
–          Advance booking is highly recommended
–          Discount is valid for first time visit only
–          Valid until 31 December 2016
EOS Wellness
A-0-10 Ground Floor
St. Mary Place
1 Jalan Tengah
50450 Kuala Lumpur
Malaysia
+6 03 2023 2182
[email protected]
www.eos-wellness.com
Spa: 10am to 10pm
Fitness: 7am to 10pm