While Kuala Lumpur is yet to claim a Michelin Star of its own, it certainly has no shortage of Michelin-starred chefs traveling to the city. Most recently, Yuichi Kamimura, the admired star of Kamimura French restaurant in Sapporro, graced the kitchens of The Saujana Hotel Kuala Lumpur.
Spending much of his childhood in his family's restaurant in Japan, Yuichi's passion for food was kindled from a young age. Meeting the famed chef, Tetsuya Wakuda, early in his career in Sydney, proved a significant turning point for the youthful chef.  An apprenticeship ensued for the following five years, and chef Yuichi returned to Japan with renewed energy and direction. Becoming acutely aware of the high quality ingredients found in Hokkaido's pristine natural environment, he vowed to showcase his devotion to the region's farmers, fisherman and producers through his degustation menus.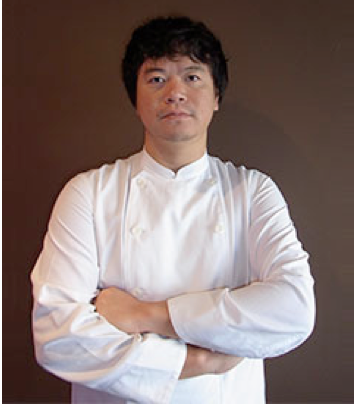 Consistently going beyond the expectations of diners, The Saujana Hotel Kuala Lumpur has a reputation for hosting highly acclaimed chefs and beverage experts. Maximizing chef Kamimuri's time, the chef and team at Saujana delighted guests with menus in both their Japanese outlet Kogestu, and their Italian restaurant Senja. It was on the final night of Kamimuri's visit that we were fortunate to dine on a six-course menu prepared by the Michelin-starred chef, which was paired with Saujana's very own wine collection.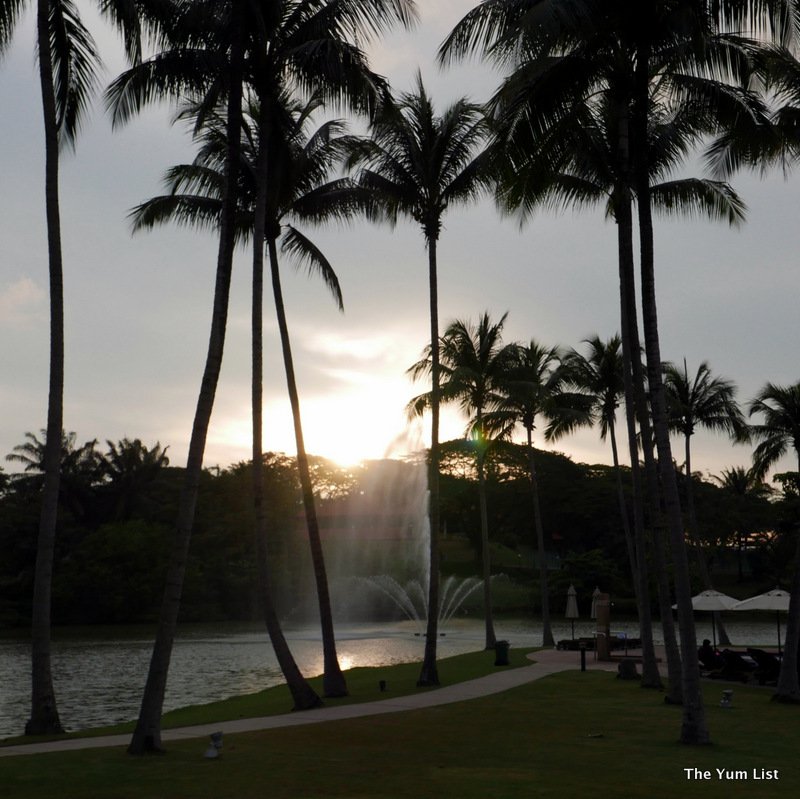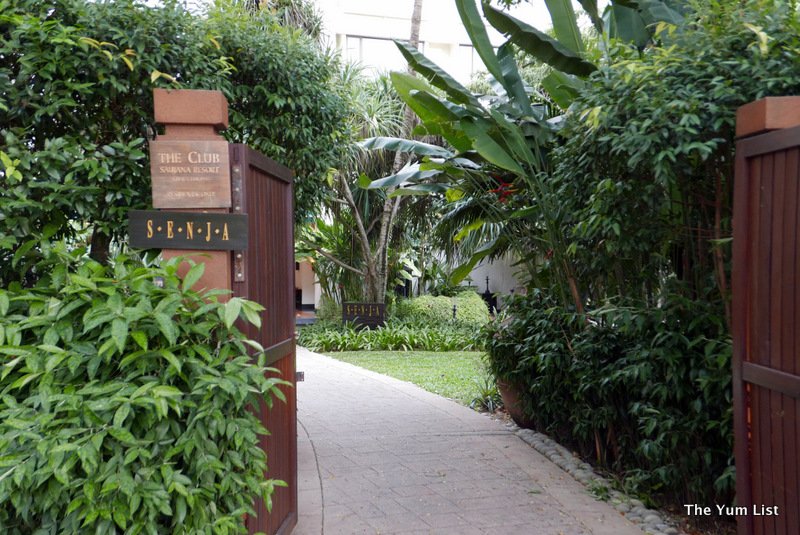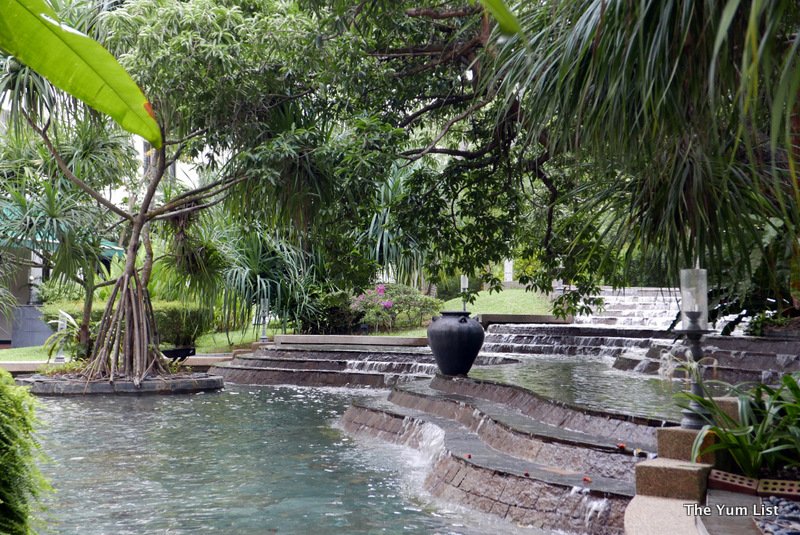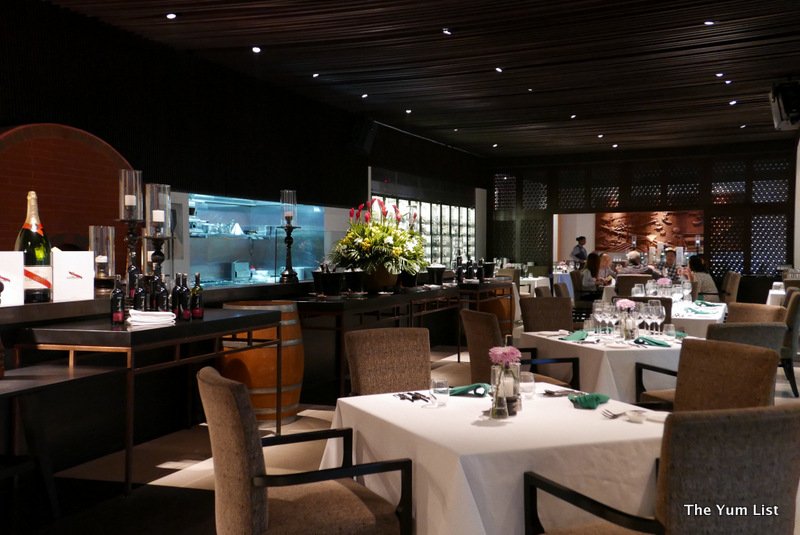 To begin, a double walled glass held a curious composition of Cured Flounder Sashimi on Seaweed with Sea Urchin and Lemon. Deep maroon, white and vibrant orange offered contrast in colour, just as much as the ingredients themselves provided variance in texture and flavour. I often sneakily grab a quote from hubby as he's mumbling or shouting a dish's favourable attributes, but he was ahead of me this round already demanding that I quote his first impression that the "sashimi is a sure sign of an exquisite menu to follow."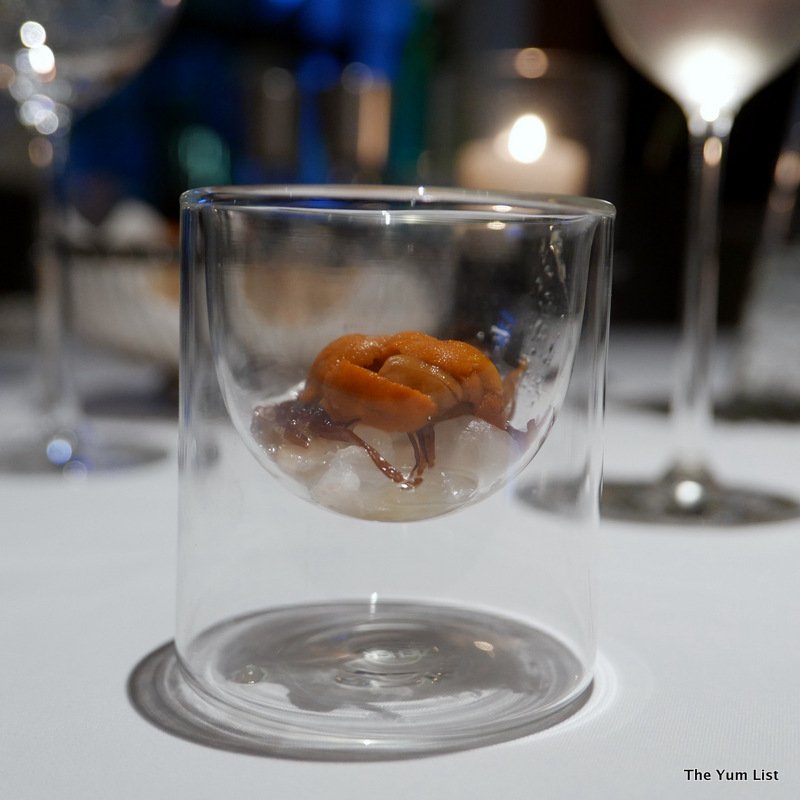 A tropical fruit nose is mirrored in the palate with the pairing of the SHR Wine Collections Sauvignon Blanc Semillon 2014 that rounds off with a mild spice. The Semillon in the blend smooths out the acidity of the sauvignon blanc to make a nicely balanced mouthful.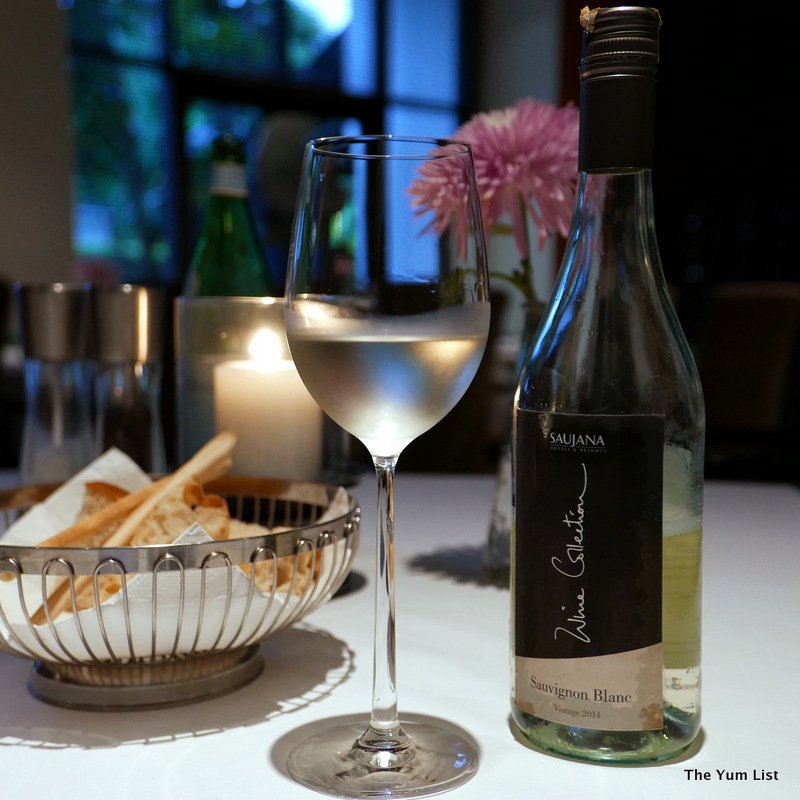 The first wine lingered into the second course, proving an equally adept partner for the Marinated Prawn Sashimi, Cauliflower, Herring Roe and Konbu with Carrot Sorbet. Micro greens wove a lacework of vegetation around the circumference, and the mound of white flesh and cauliflower cubes in the centre were blanketed in a sea of orange by the sorbet. Light, fresh and delicate.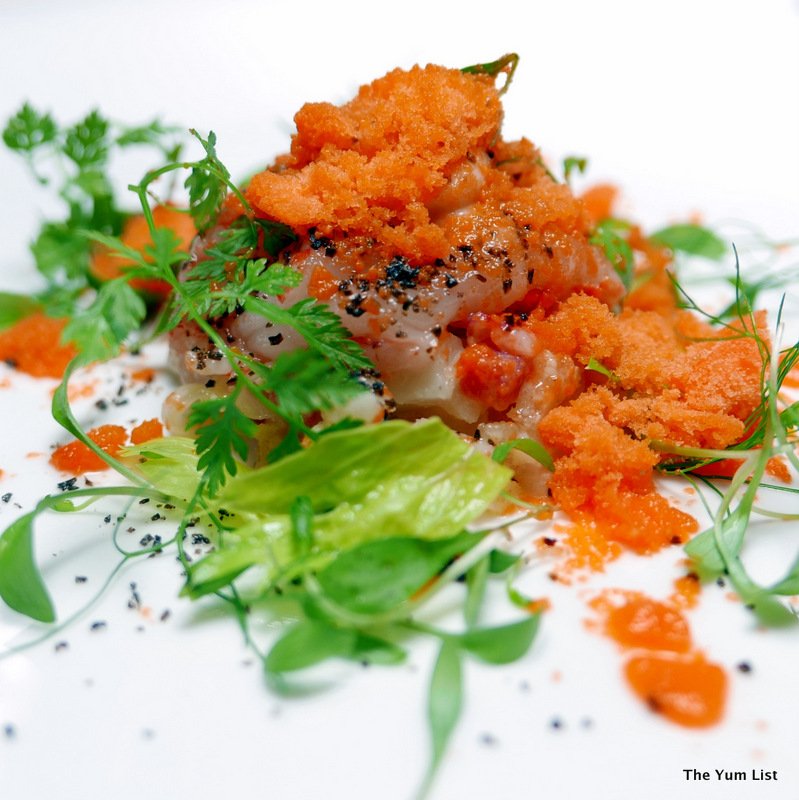 I have to admit that the Chinese Cabbage and Soy Milk Soup did not sound terribly appealing to me. I'm happy to be proven wrong however, and the lightly textured cream turned out to be a pleasantly delicious surprise. The mild buttery notes of the SHR Wine Collections Chardonnay 2014 mirrored the soy milk, and harmonized the mild pungency of the cabbage.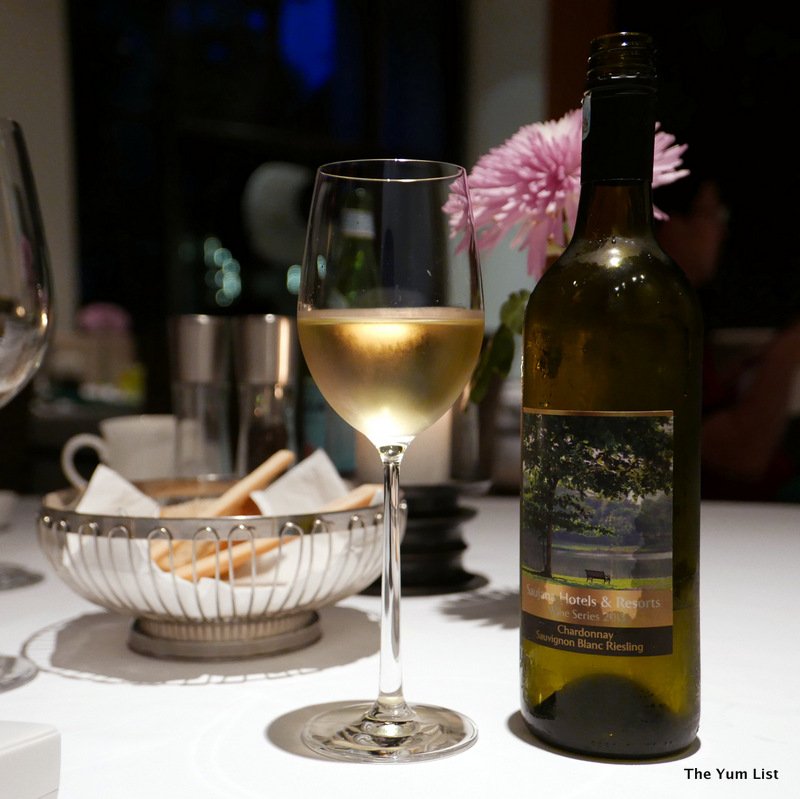 Chardonnay is a classic pairing with salmon, and so it follows that our glasses were refilled with the same for the next fish course of Grilled Salmon with Smoked Salmon Roe and Butter Powder. The moist flesh was deliciously pink atop a knoll of creamy and firm-to-the-bite risotto. This was my most-liked dish on the menu.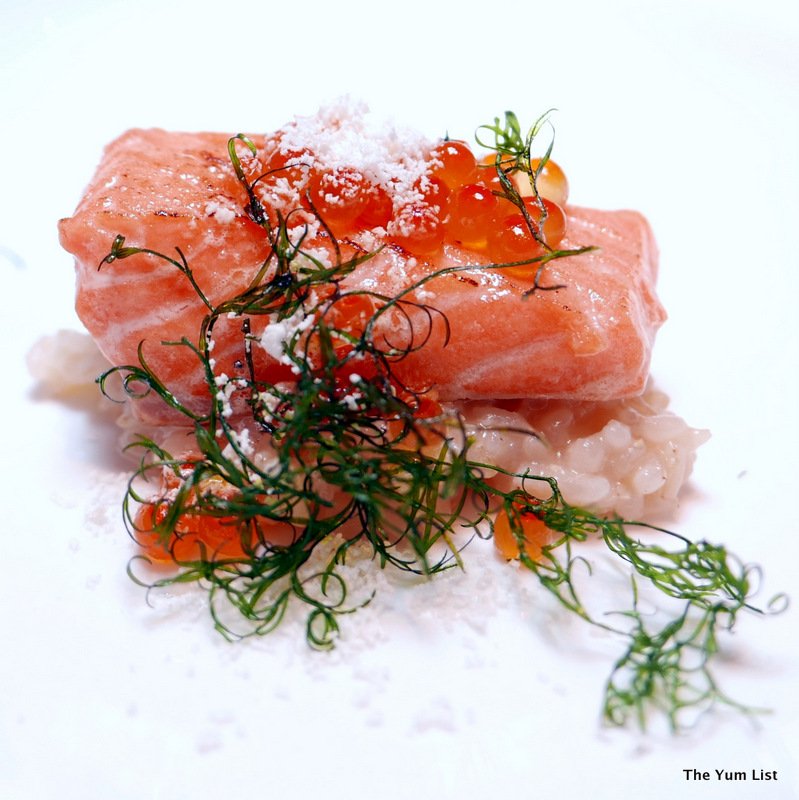 Hubby's favourite however, was (to no surprise) the meaty main: Chargrilled Wagyu Sirloin with Hashed Potato and Veal Jus. This was no ordinary hash. It was elegant, finely shredded potato in a golden crust. Hubby had been uncommonly quiet (well not quite quiet, but less loud than usual). The steak however brought the superlatives to a return. And then, the live music began. A vocalist crooned "Besame Mucho," and this combined with the fondness for the main course had him back on full speed (or I could say volume). "Oh this course was fantastic. The meat… so tender. The potato… mmm." It continued.
The steak dish seemed not only deserving of praise but also of two wines! The opportunity to contemplate one plate with two wines is a wonderful opportunity to refine the palate (and well, drink two glasses!) and we found fun in biting, sipping, biting, sipping and comparing the experiences. SHR Wine Collections, Shiraz 2014 proved of fuller body and the attractive light peppery finish provided a wonderful spice to the meat. The Frankland Estate Olmos Reward 2006 on the other hand, a blend of merlot, cabernet franc and cabernet sauvignon, was of a more medium body with fine tannins, earthy notes and a lingering finish.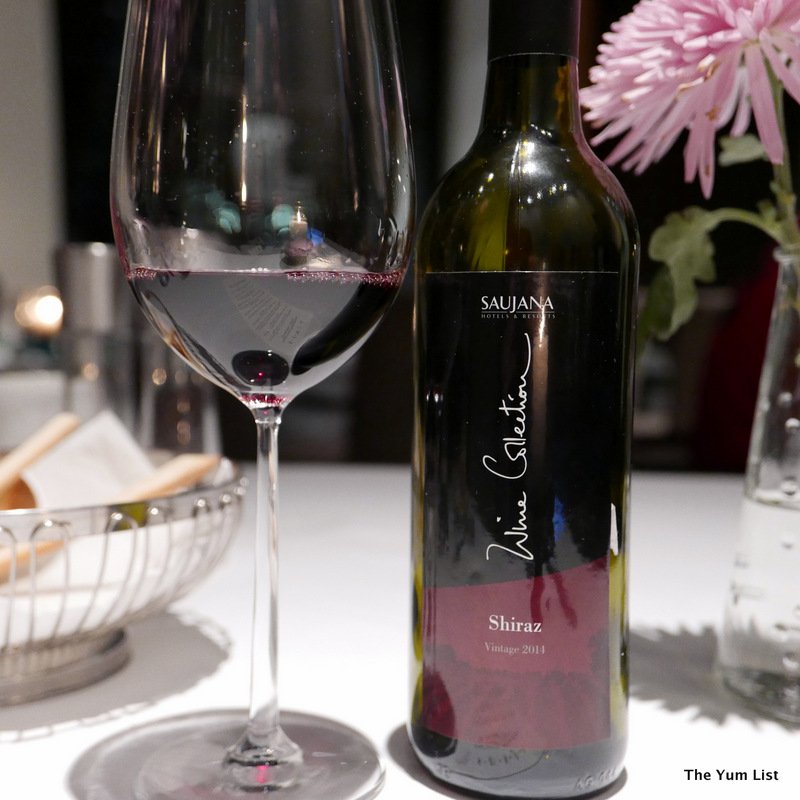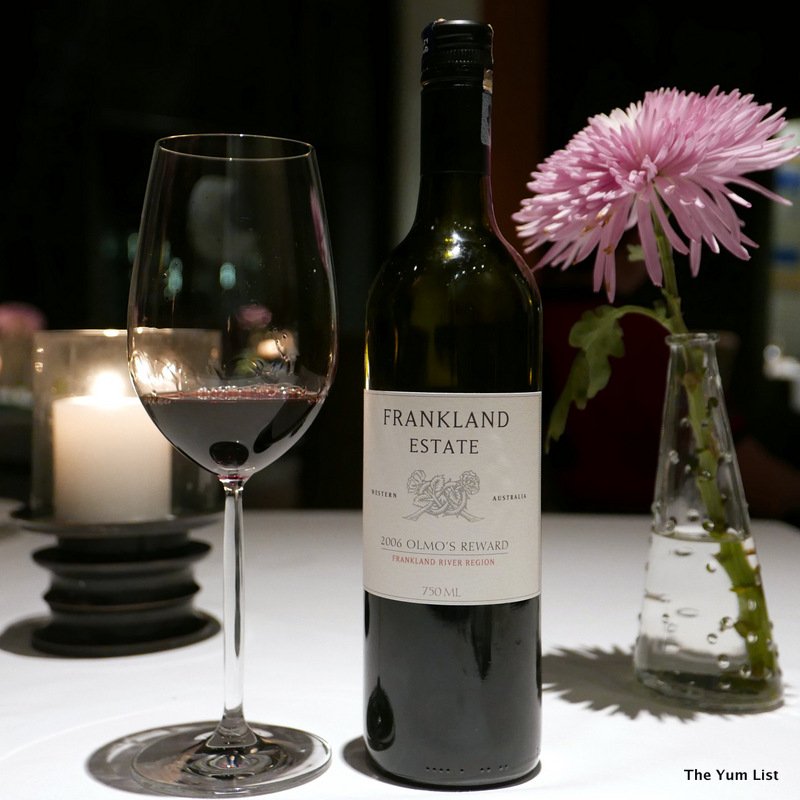 The ending, Mango Sorbet with Cheese Mousse and Milk Powder, just like the soup, had me curious as to my probability of finding enjoyment. But, once again, an agreeable surprise was found in the smooth fruity sorbet, light airy mousse and caramelized fragments of broken nuts: a delicious end to a thoughtful meal.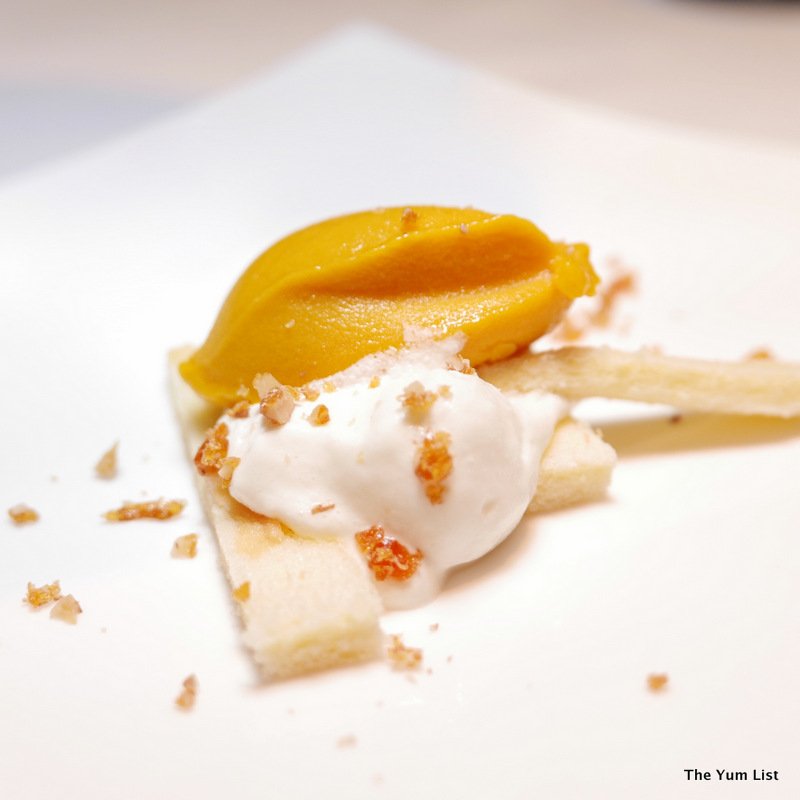 Reasons to visit: world-renowned visiting chefs are a frequent occurrence at The Saujana Hotel Kuala Lumpur; beautiful environs of Senja – looking out onto a water feature surrounded by lush landscaped gardens; good wine selection; good service.
The Saujana Hotel Kuala Lumpur
Jalan Lapangan Terbang SAAS
40150 Selangor Darul Ehsan
Malaysia
+6 03 7843 1234
[email protected]
www.shr.my
Keep in the loop of upcoming events by signing up for the Saujana newsletter here.