Words: Claire Matheson  Photos: Monica Tindall
In all the greatest cities of the world, rooftop bars have become the hottest place in town, be it New York, Paris, Bangkok, Shanghai or Melbourne. Yet despite KL's spectacular skyline, there are only a handful of rooftop drinking spots to choose from, and of these, fewer still which cater to a range of budgets.
On the edge of KLCC, thirty-floor stories up, newcomer Roofino is set to become the most happening spot in town. With 360 degree views, it is perfectly positioned with the entire city laid out before you on one side, and Malaysia's equally impressive mountain ranges stretching out into the distance on the other. Whether you want to watch the fiery golden sun setting over skyscrapers, or the next wet season thunder and lightning storm roll in, this is the place to do it – and with affordable menu pricing you can afford to indulge more than just a little.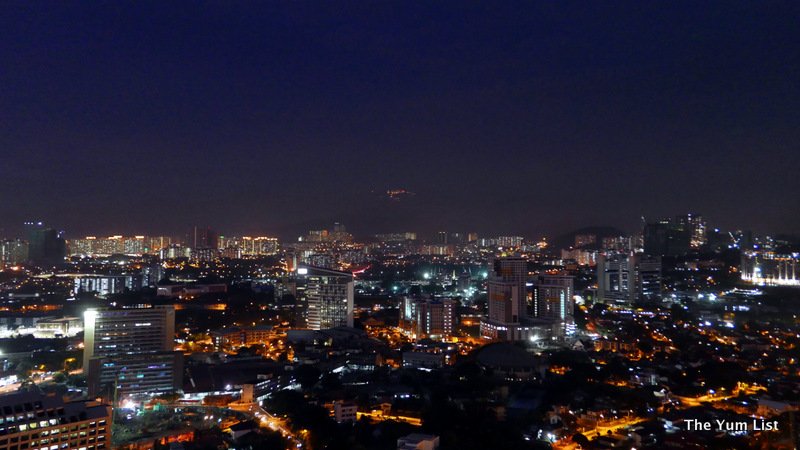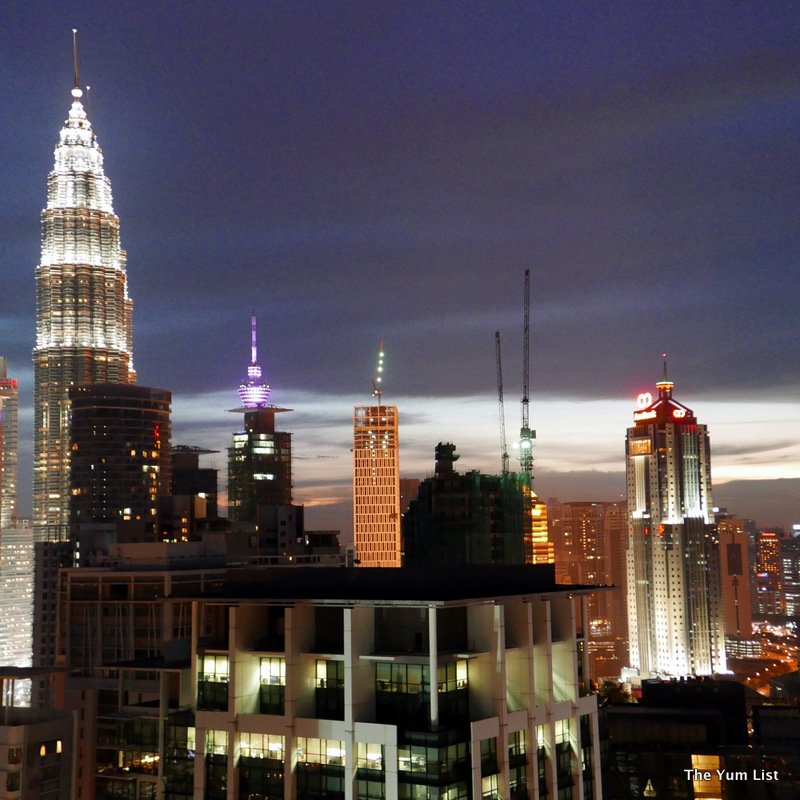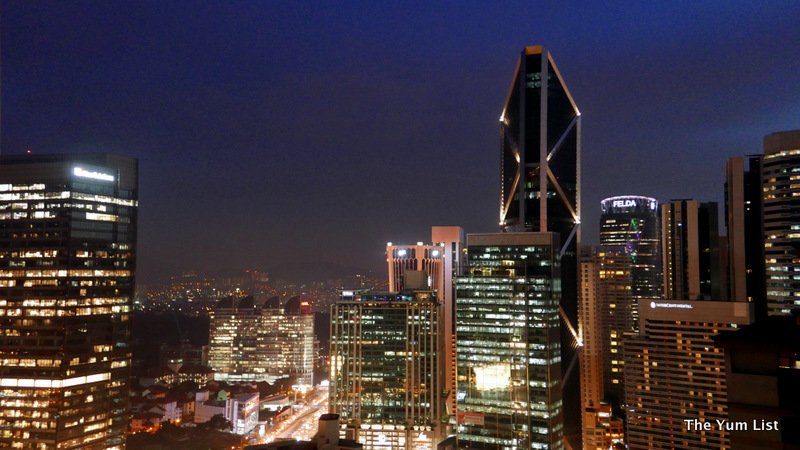 Located in the newly opened office block tower of Trillion KL, Roofino can be found a few doors up from the Intermark or a short 10 minute walk from the Twin Towers. Kevin Lai, a veteran of the Modesto group, and the spearhead of Roofino, meets with us to take us on a tour of his new tour de force. Exiting the lift, you are immediately greeted by a playful mix of colours. To the left, the bar and lounge area open up into arrangements of deep, soft, high-backed couch settings in neutrals, limes, purples and splashes of warm tones. Artwork abounds, but your eye is instantly drawn to the wall of soaring glass windows, framing the city skyline where the city's iconic buildings line up before you.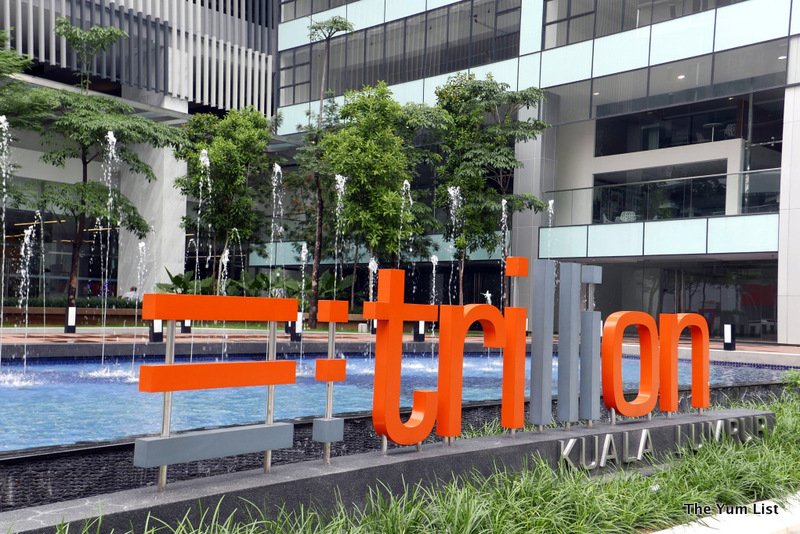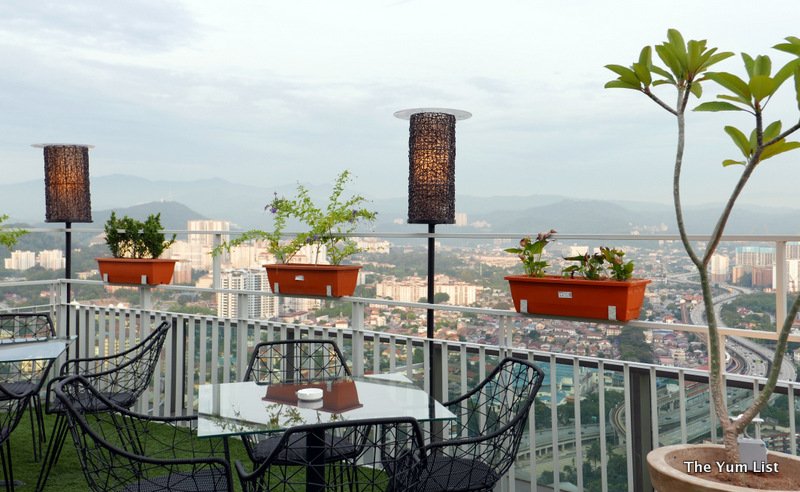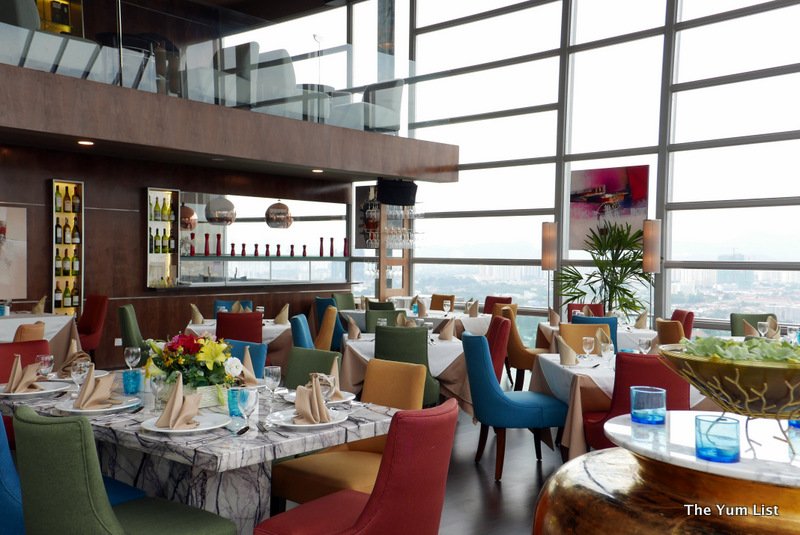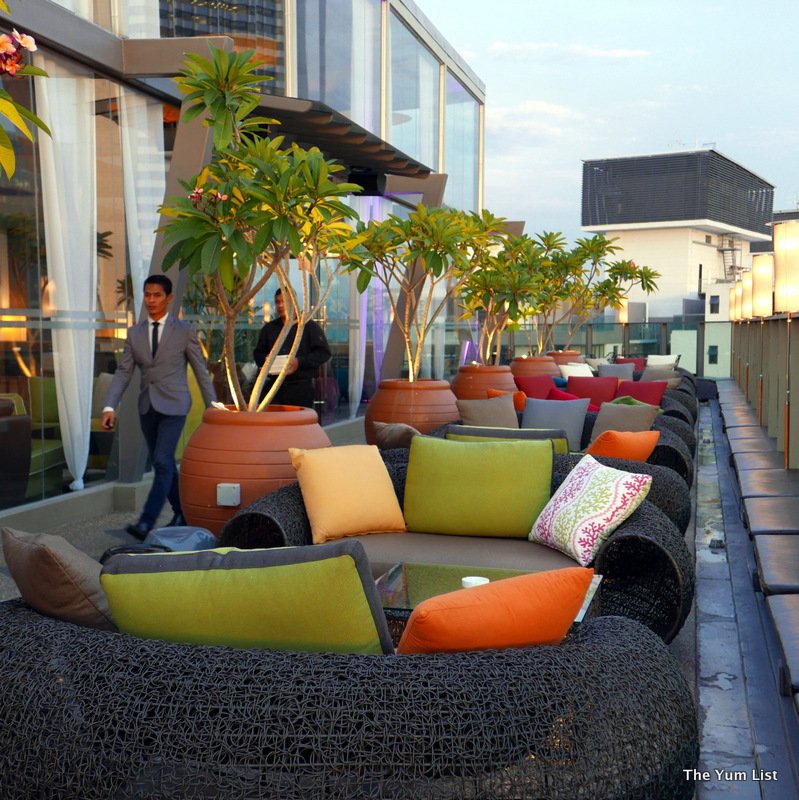 Outside, a wide terrace runs the length of the building and is framed by rows of outdoor couches and frangipani trees. An outdoor bar with cooking stations is being set up, and will be operational in the very near future. The lounge furniture can be covered at a moment's notice with the threat of rain, and uncovered again just as quickly, so even if a storm is looming, your evening plans won't be interrupted. In fact a storm may just be the highlight, as you will be able to watch it pass over in all its glory.
I would take a moment to talk about the view, but frankly, there just aren't the words to do it justice.
Heading through to the other side reveals the restaurant, and while we were impressed before, this is where the wow factor lies! Here the view isn't just from side to side, but above you as well. Designed to mimic the look of a conservatory, white steel window frames hold glass panels in place across two joining walls and the ceiling above you, enveloping you in light. The restaurant looks out over an astro-turfed rooftop garden dining area, and the lush, verdant mountains beyond. For an even more spectacular view, head up into the mezzanine level, or VIP space, where a seductive lounge and private bar is perched seemingly in the clouds.
The result is breathtakingly jaw dropping.
We pick a set of couches to watch the sunset from and Kevin brings out a bottle of Italian Tormaresca Chardonnay, which is incredibly easy to drink, along with a smoked duck pizza. The pizza has a super thin, crispy crust, loaded with cheese and thick cut slices of smoked duck. Even when you tell yourself you've had enough, you can't help going back for one more slice.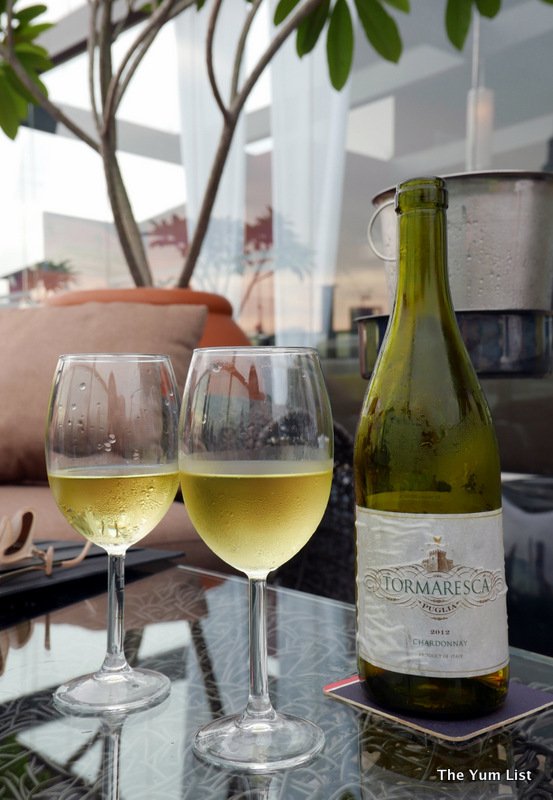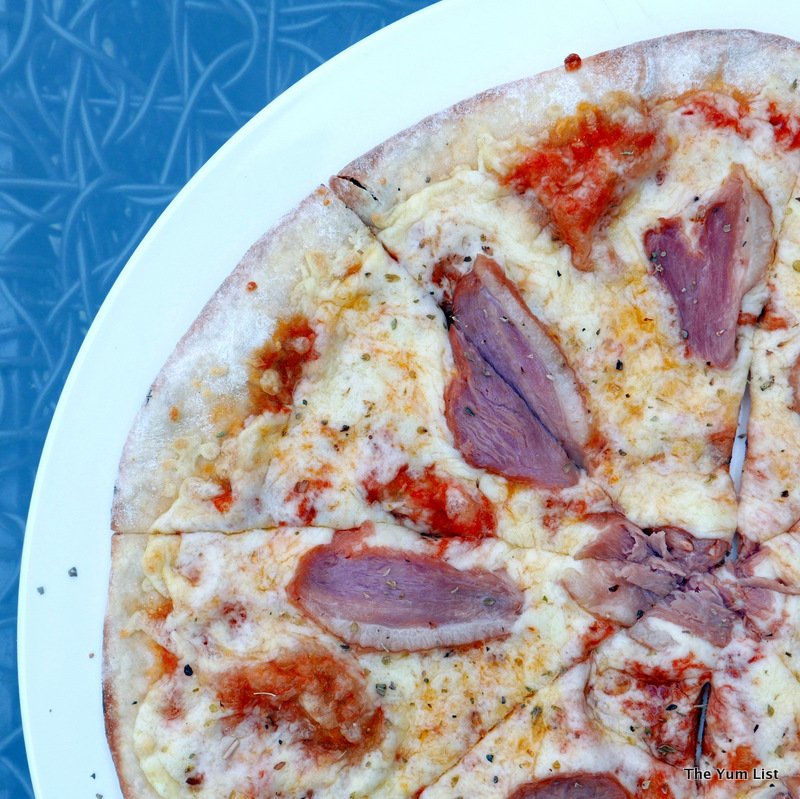 Kevin explains that just a few months ago, the space was nothing but bare concrete, open to the elements. This allowed them to create a design from scratch that utilised as much of the stunning views as possible. Roofino aims to fill a gap in the market for affordable luxury. Five star service with a much more attainable price tag.  Views like these shouldn't be reserved just for special occasions, but for everyday drinks, dinners after work, and weekend entertainment.
The overall concept is a fusion of East meets West, but with every dish offering something different. Last calls for dinner are at 10:45pm, and the bar stays open until 3am. Resident and guest DJs start playing chilled house music through the impressive sound system from 8pm until 10:30pm, when they kick it up a gear and get the place pumping.
As the sky turns to yellow and gold, we begin with a smoked duck salad (RM32). Slivers of thinly sliced, lightly cooked duck together with peppery arugula, sweet balsamic vinaigrette and creamy yet sharp parmesan form a great combination.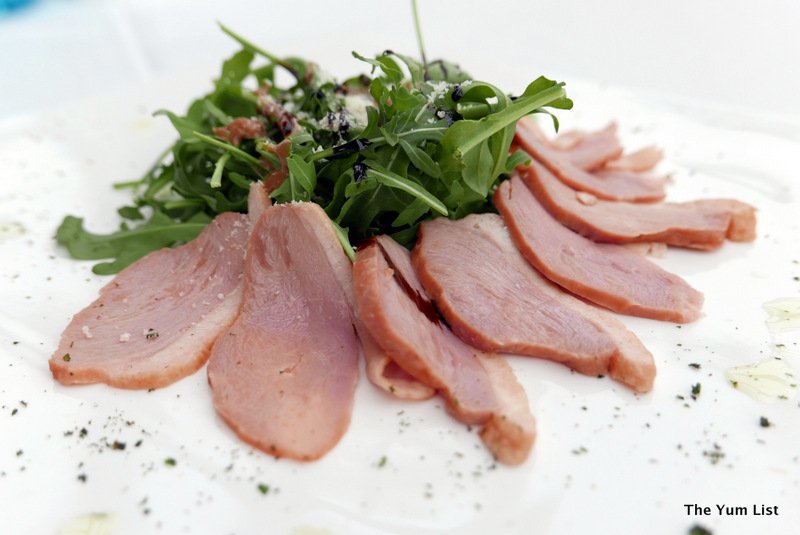 Shards of orange slice through the clouds as the sun starts its descent and we turn to starters of our own. As soon as you take the lid off your French Onion Soup (RM18) the rich, comforting aroma hits you. Onions are sautéed until caramelised and then a mix of secret ingredients are added to produce a clear broth that is thick and meaty with flavour.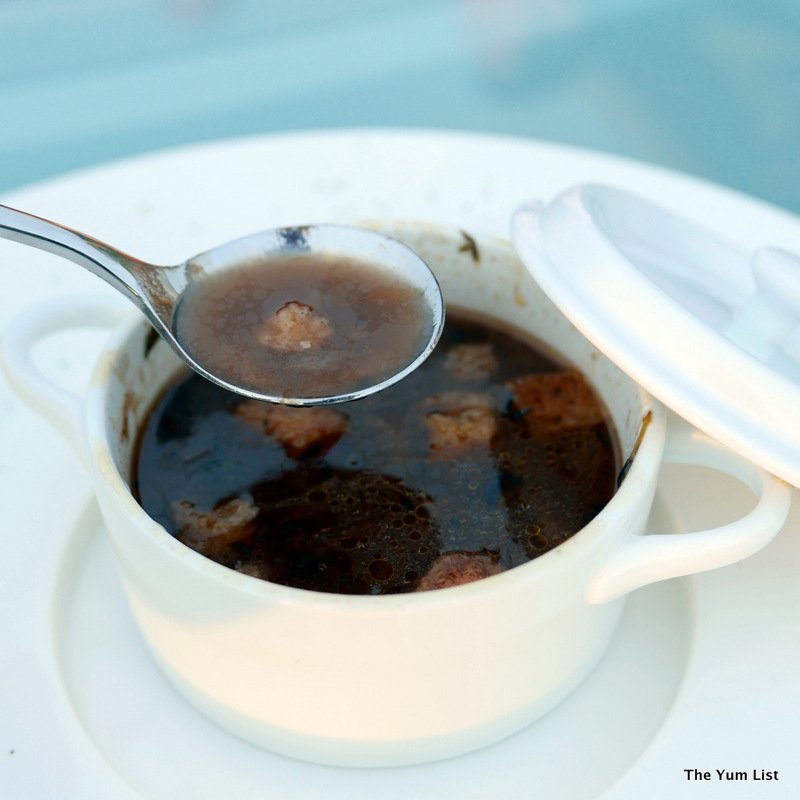 The clouds turn pink around us as we embark on our main dishes. Penne Pasta (RM36) with generous heapings of tomato sauce, green birds eye chilli and rough cut pine nuts create a lovely playfulness of spice and crunch. Spaghetti Marinara (RM48) full of muscles, calamari, prawns, octopus and clams is given a fresh herbal twist with the addition of Vietnamese mint to the tasty marinara sauce.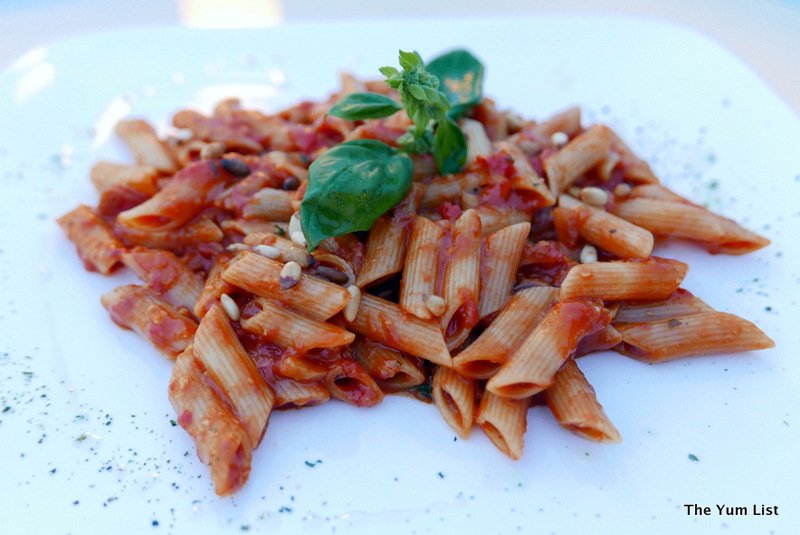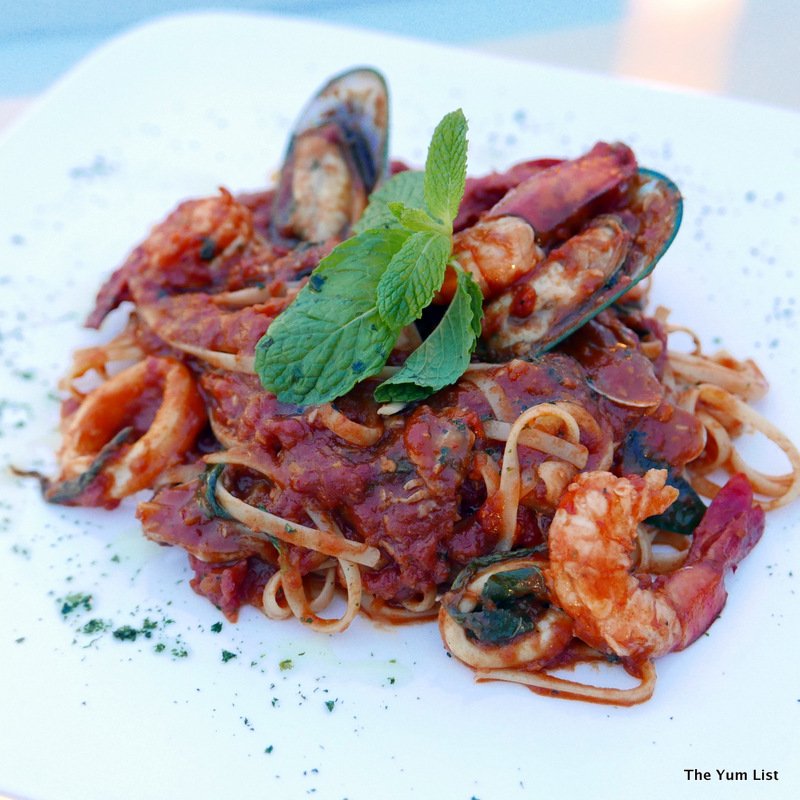 Twinkling lights start to come on in the growing dusk, bathing the city in a warm glow as we are served plates of New Zealand Lamb Chops (RM88) and Australian Black Angus Tenderloin Steak (RM118). The lamb is beautifully cooked with a slightly pink centre, sitting atop a bed of potato mash and seasonal vegetable salsa. Lamb chops are a favourite of mine, as any meat served on the bone tends to be richer and more intense, and these are superb, with a strong and smoky chargrilled flavour. The Tenderloin Steak is equally well cooked at a lovely blushing medium rare, and comes with al dente angel hair pasta lightly tossed in oil, and ratatouille with eggplant, zucchini and a rainbow of capsicums.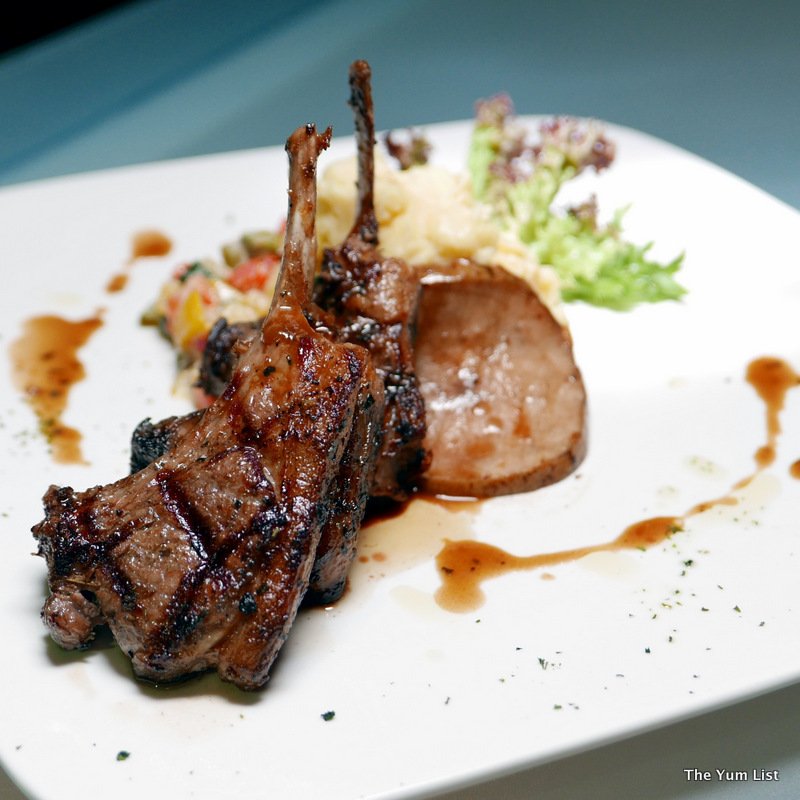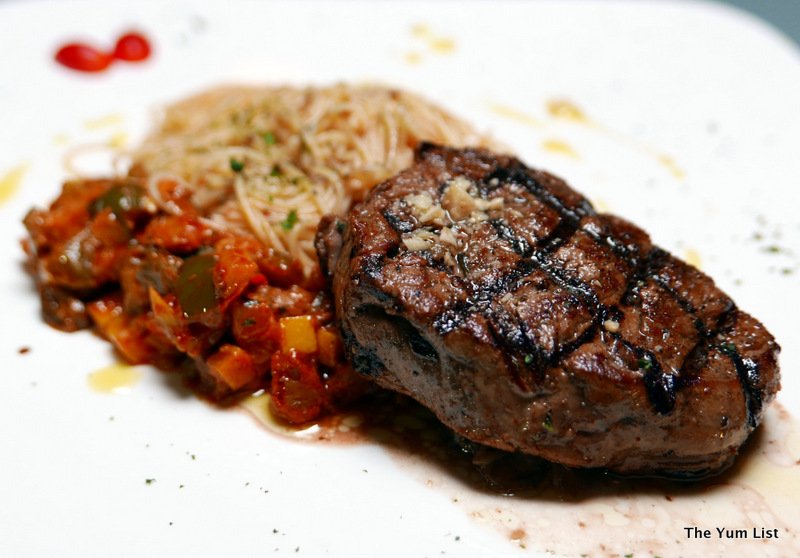 The terrace lights come on as we sit back to enjoy the sparkling city in front of us. Cocktail glasses of thick, decadent, milky chocolate mousse (RM20) complete with whipped cream, berry coulis and fresh strawberries appear before us. Spooning up the velvety foam, there is a hidden treasure trove of blueberries in the base of the glass. Pure heaven.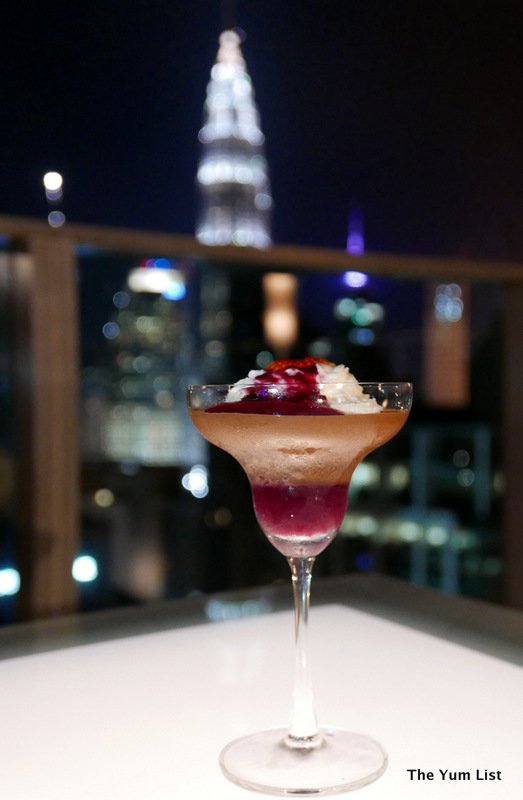 Throughout the meal, Roofino's attentive servers have discreetly provided outstanding service. Replacing cutlery, topping up water and wine, and draping napkins before melting into the background.
Roofino have some incentivising Happy Hour drink specials, starting at only RM12 for beers and RM18 for house pour wines. Bottles of wine start at around RM90. Check out Roofino's Facebook page for upcoming events and special offers, like the free bottle of sparkling rose for groups of 6 ladies this Friday night.
Come for cocktails at sunset, stay for dinner, and dance until the wee hours of the morning.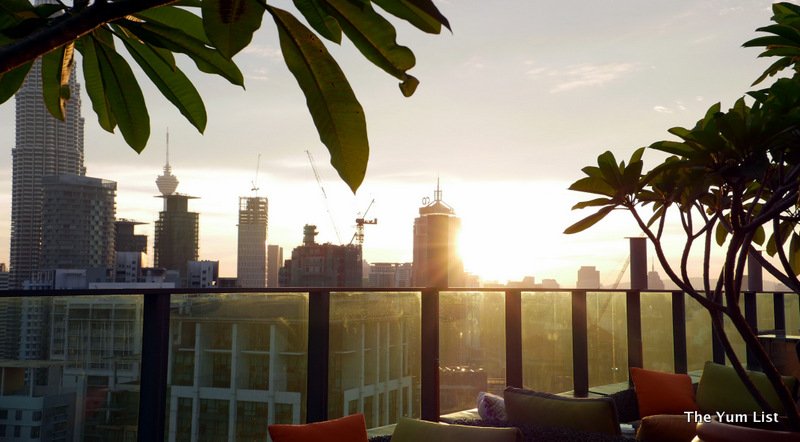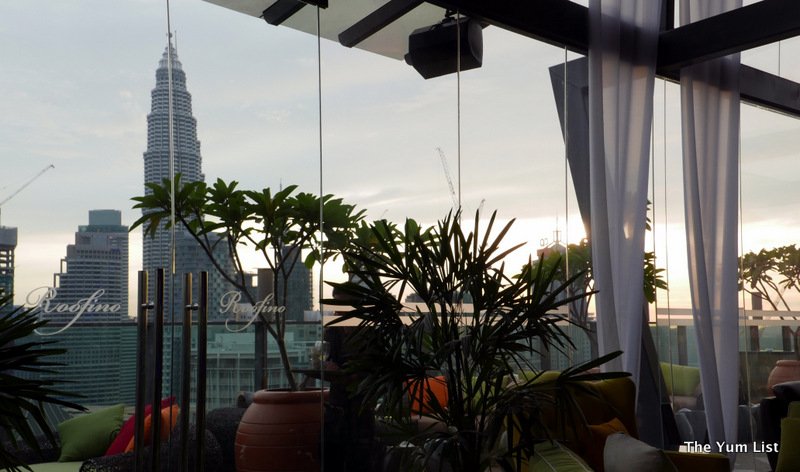 Reasons to visit: The view is undoubtedly the superstar of the evening! Pizzas and drinks on the terrace, followed by French Onion Soup and the Black Angus Tenderloin on angel hair pasta were all unanimous winners. This is our new favourite happy hour venue!
Roofino Sky Dining and Bar
34th Floor, Trillion KL
(same row as Intermark and Double Tree by Hilton)
Jalan Tun Razak,
50400 Kuala Lumpur
Malaysia
www.facebook.com/roofinokl/
Instagram: @RoofinoKL