Words: Caroline Lee Photos: Monica Tindall
KomPassion, the love-child of Chef Nikom, sits right in the middle of a typical row of suburban life in Damansara Kim, modest and unassuming, much like its owner, revealing none of the sumptuous delights that we were about to sample.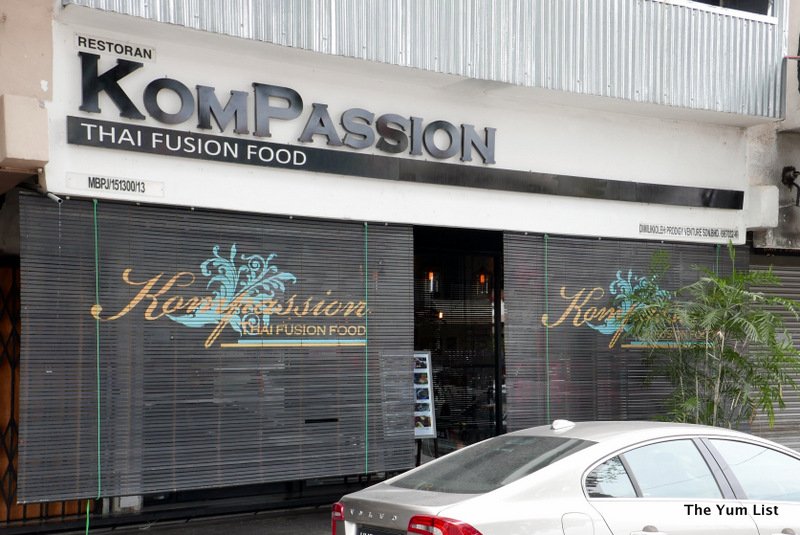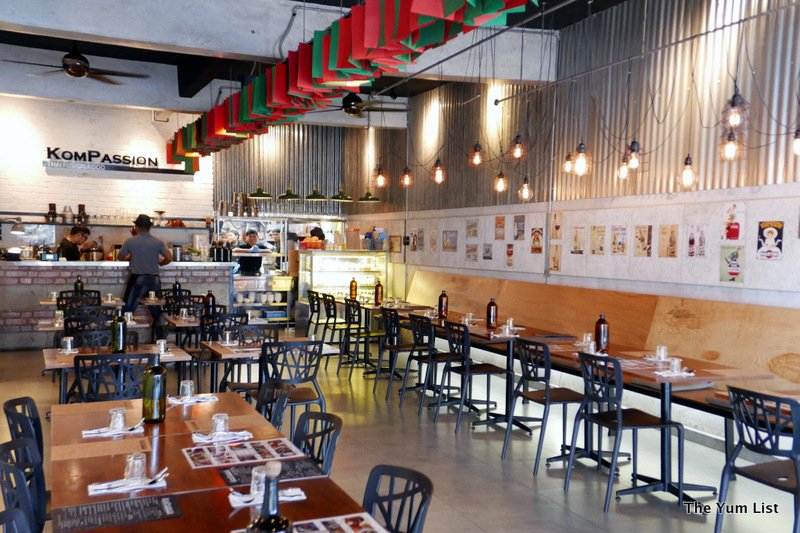 With an extensive menu ranging from Starters, Salads, Curries and Soups to Individual Meals and specially created KomPassion Specials for sharing, it was impossible to choose so we wisely allowed the host to do so. The Crispy Boneless Chicken (RM 28) was the first to arrive. Luscious nuggets of crispy (as promised) on the outside, wonderfully juicy and impeccably seasoned nuggets of chook with deep fried lime leaves made for a truly moreish nibble.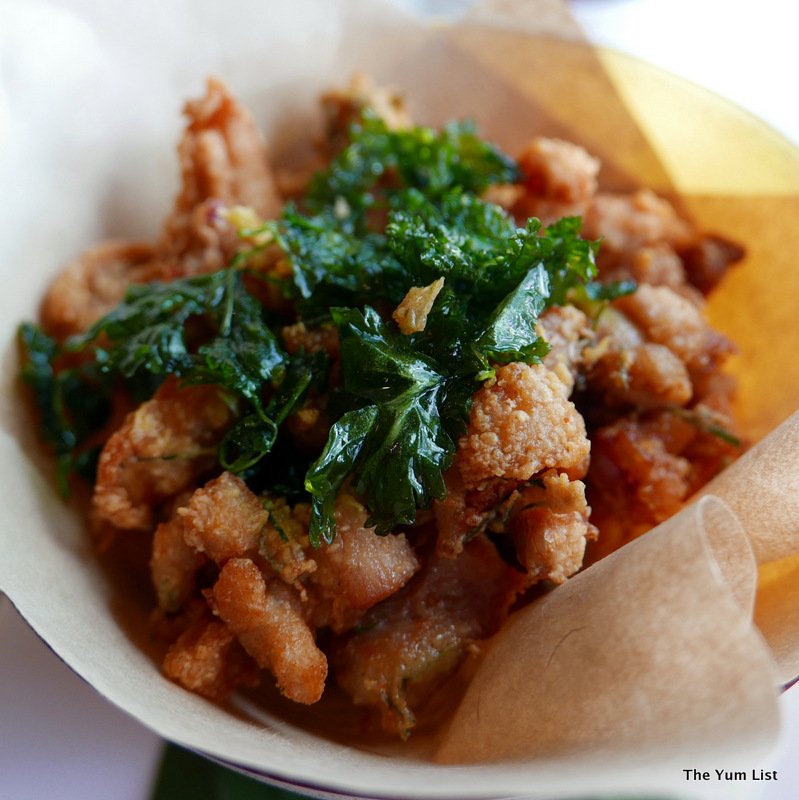 Salads are something special at Kompassion, and we found much more variety than you would in your average Thai joint: but then again, Kompassion never claims to be ordinary. First a Grilled Shabu Shabu Salad (RM20) highlighted the best of Thai freshness in its sparkling mix of green mango, lemongrass, mint, coriander and red onion – the perfect salad for a warm balmy afternoon. The Mixed Mushroom Salad (RM15.90) depends on what's fresh in the market and our visit's selection was enoki and oyster in a heap of crunchy purple cabbage, carrot julienne, cherry tomatoes, alfalfa sprouts, coriander and mint all dressed up in a silky dressing (did I taste butter?) with ebiko on top for a splash of colour.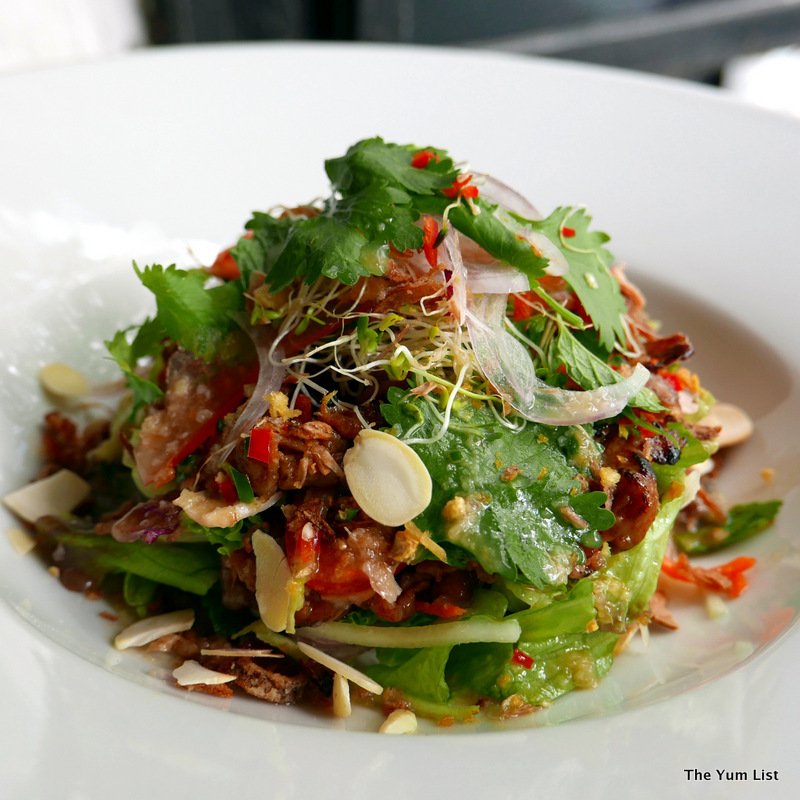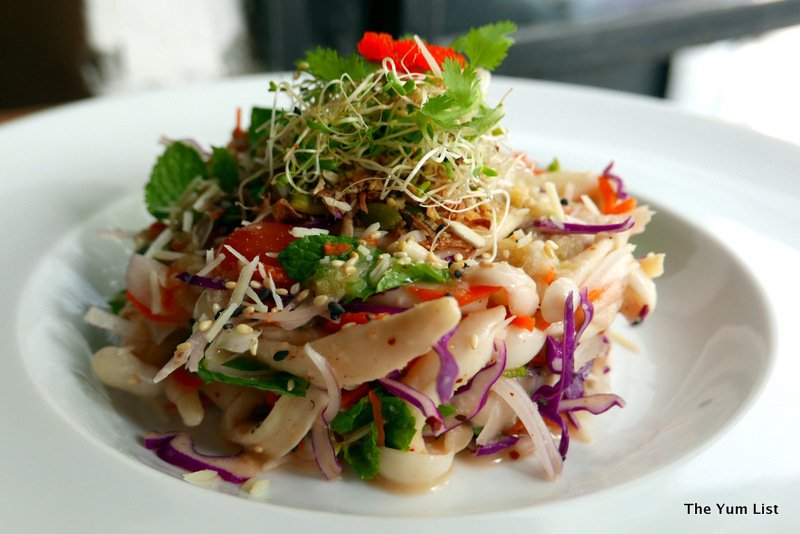 Speaking of colour, a very special must try beverage is the Blue Flower Sparkling (RM10), which was truly the prettiest drink I've ever seen. The enchanting blue hue comes from the butterfly pea flower which is boiled to extract said colour then poured into a glass of soda finished with a squeeze of lemon, which then turns the blue into a magnificent royal purple! Quite the chemistry lesson.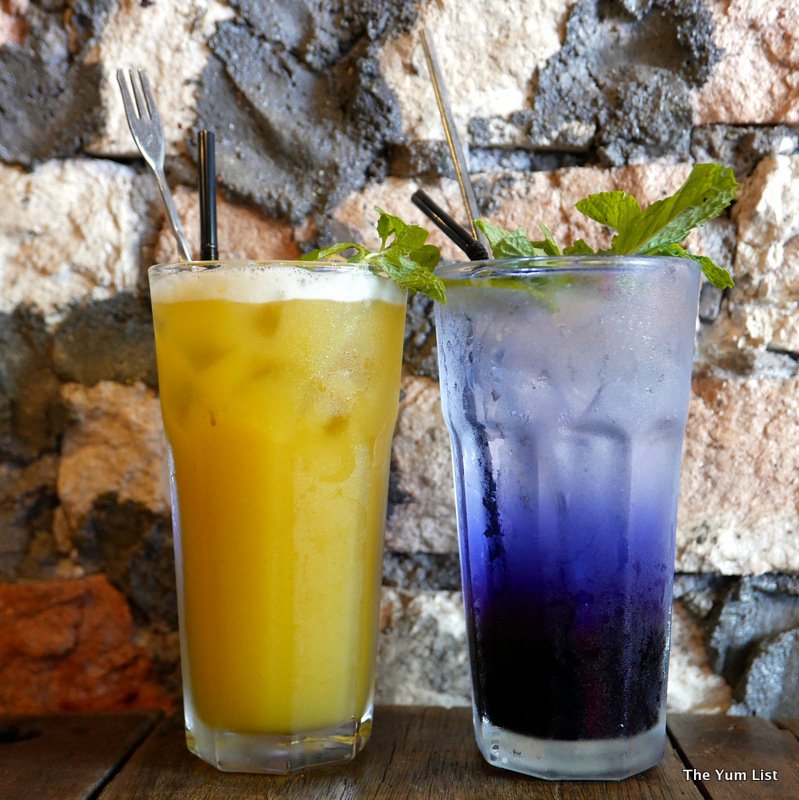 The drinks list did not disappoint by coughing up the bog standard tired offerings – instead, the mocktails, mixed fruit juices and smoothies all described quintessential Thai ingredients and are of course fresh off the press. Thai coffee and tea are also available (RM8.5- RM13) as well as Singha beer (natch!) and for all you BYOBs out there, please make a very happy mental note to self because corkage is only RM10 a bottle!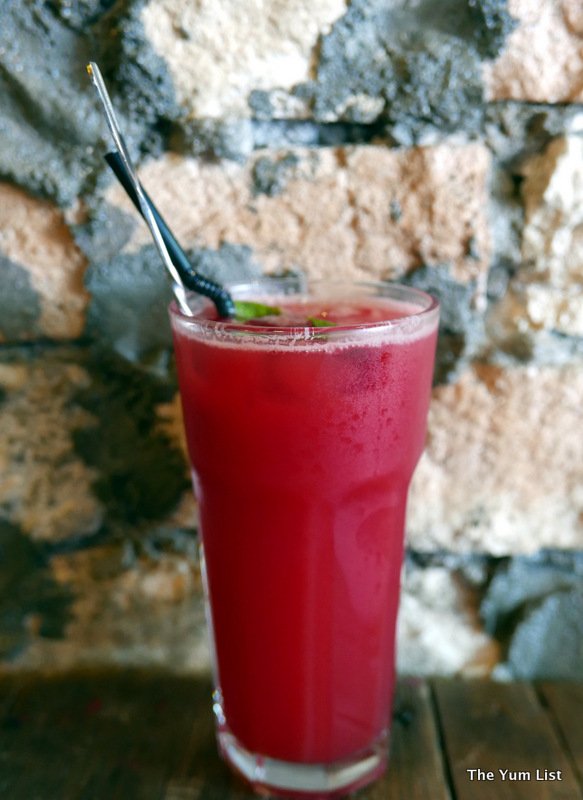 With the opening act having successfully done its job to soundly whet our appetite, the main stars of the show continued with equal fervour. A huge sharing portion of Double Cooked Pork Belly with Soft Shell Crab (RM65) descended onto our table and while Monica took her happy snaps, I took the opportunity to have a little chinwag with Chef Nikom and discovered that the pork belly for this dish is actually triple cooked! First of all, the belly is poached, then baked and finally fried. If there was ever a time to throw calorie concerns out the window, this would have had to be it. I speared a slab, dunked it into the accompanying pot of creamy caramelised green curry (which was made thicker than your regular lava pool by the cooked-in chunks of aubergine) and the very first mouthful sent me straight to oink heaven. It took much effort to move onto the other side of KomPassion's version of Surf n' Turf, which was the soft shell crab, thoughtfully served in bite-sized pieces. The crunchy crustacean also had its own cup of condiments and this one packed quite a punch with its blend of ginger, chili paste, coriander and olive oil.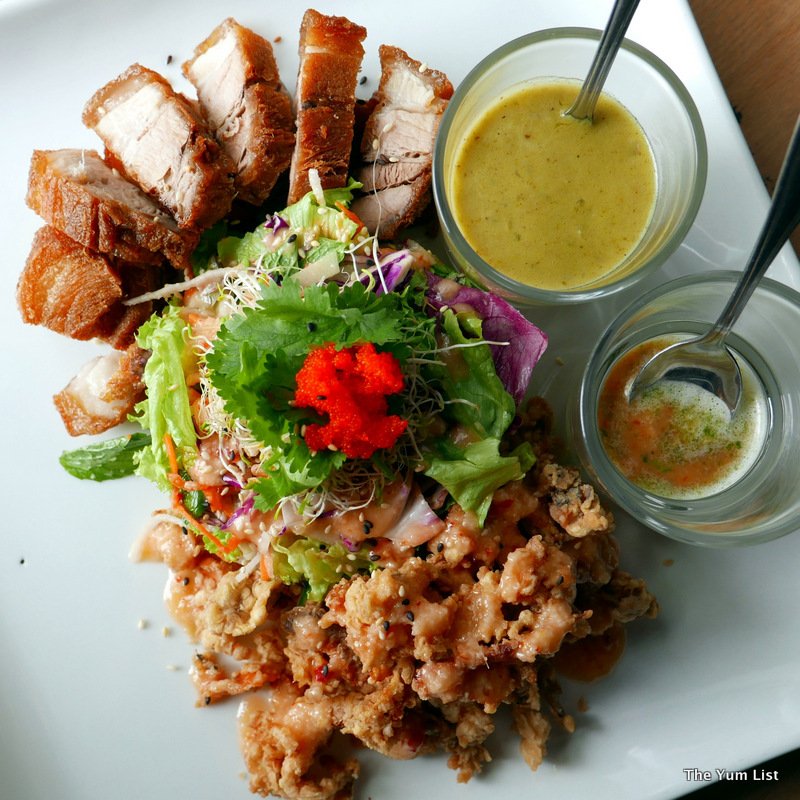 Grilled Fish Fillet with Miso Paste (RM50) continued the offerings and this was definitely one of the stars of the afternoon. Don't let the simple description fool you – the sea bass was succulent and generous, grilled with lashings of butter (always a winner), enhanced with the nuttiness of miso and crowned with a Thai-style tomato salsa. There was also an underlying familiarity in the overall look and taste of this dish that I couldn't quite put my finger on until our charming chef told us that he had channeled all the elements of the Nyonya favourite, assam laksa, into it. This was fusion at its best – all elements distinctly Asian yet culturally different, working in perfect harmony together.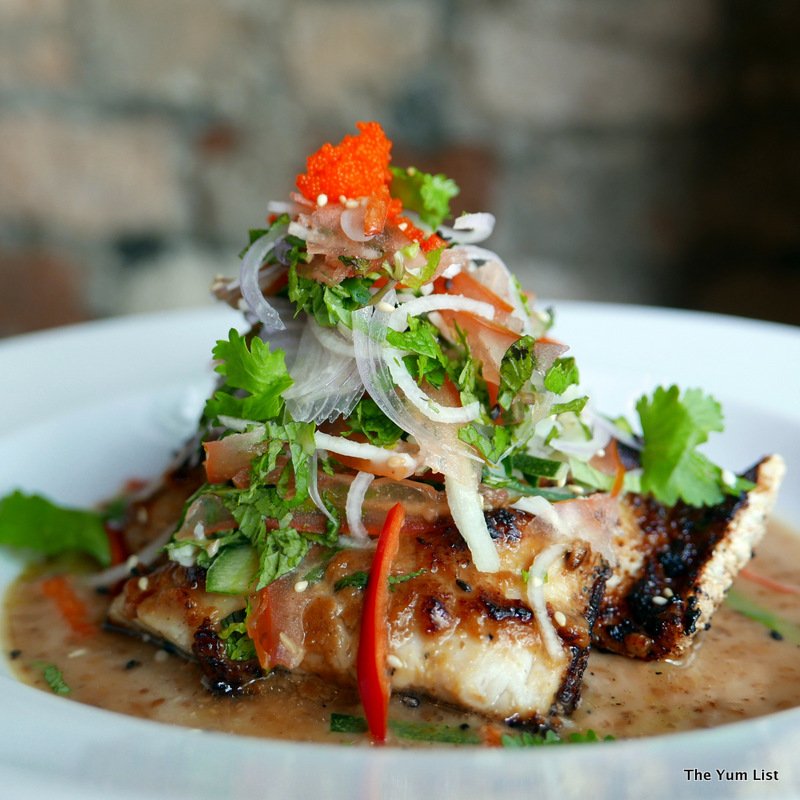 Other KomPassion Specials which caught my eye on the menu were Smoked Duck with Pomelo Salad (RM 70) served with assorted seeds and nuts and Special Grilled Pork Ribs (RM50). The latter is grilled with their in-house BBQ sauce which spoke of an interesting combination of Indian and Korean flavours but alas, neither time nor stomach space was on our side.
If you are more of an individual meal sort of person, there are no less than twenty set meals to choose from. All set meals are served with a side salad and include a choice of refillable lemongrass Green Tea (hot or cold) or Thai Iced Lemon Tea. Having said that, at such reasonable prices ranging from RM13.90 to RM22.90 (in fact all but three dishes are priced below RM20), a great communal option is to order a whole stack of these individual meal sets to share!
The Stewed Pork Belly Rice (RM18.90) was a stack of hale and hearty homey goodness and at that price, great value for money. By this time, the tastiness of the dish was pretty much a given (and clearly it was another winner) but what started to really come through for me was the amount of attention to detail in presentation each dish showed. Instead of plonking the typical semi-orb of rice, meat and veg in yawn-worthy clock-wise fashion on a plate (it is "only" a set meal after all), this tower of yum had a square base of white rice layered with a mix of Korean red and black rice, followed by an egg fried to shape and then topped with a thick slab of the dark and handsome hero of the dish. Nothing fancy, but just so pleasing to the eye in its clever simplicity.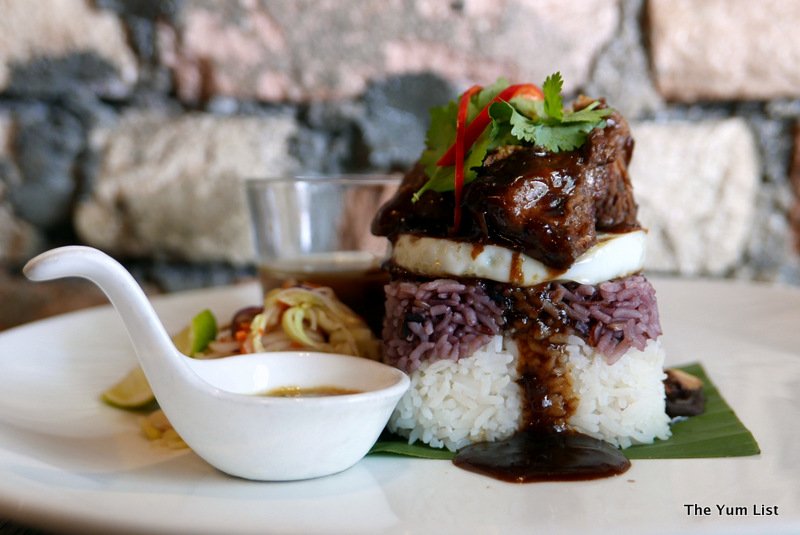 No Asian menu is complete without a noodle dish and if that's your thing, try the Stir Fried Angel Hair with Green Curry and Grilled Fish Fillet (RM20.90). The pasta, brimming with shrimp and vegetables, was piled high in a deep plate with just one side filled with the signature fragrant mild curry – so clever, I thought, to serve it like a curry noodle yet preserving the aglio olio-ness of it all (did someone say fusion?) A good-sized portion of pan-seared sea bass perched on top with a sprinkling of crunchy bean sprouts and ebiko finished off this joy.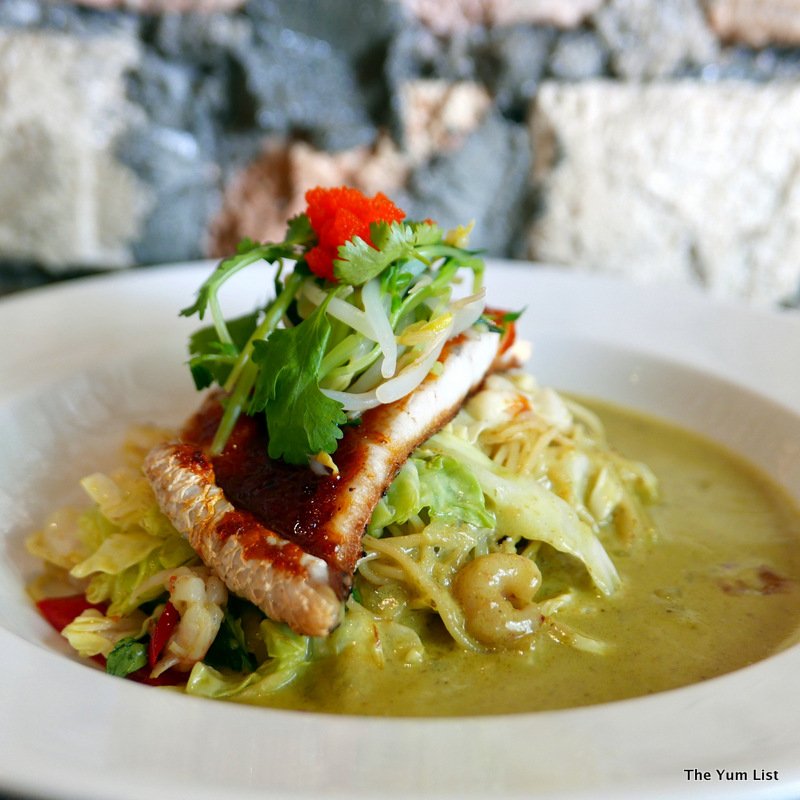 There are three types of curries on offer – Panang, Hang Laey and Green, each of which is offered with chicken, tofu and veg and also pork. We hadn't had a vegetarian dish yet so we sampled a Tofu and Vegetable Panang Curry, a type of red curry, fairly thick and creamy with coconut milk, slightly sweet with a nutty flavour.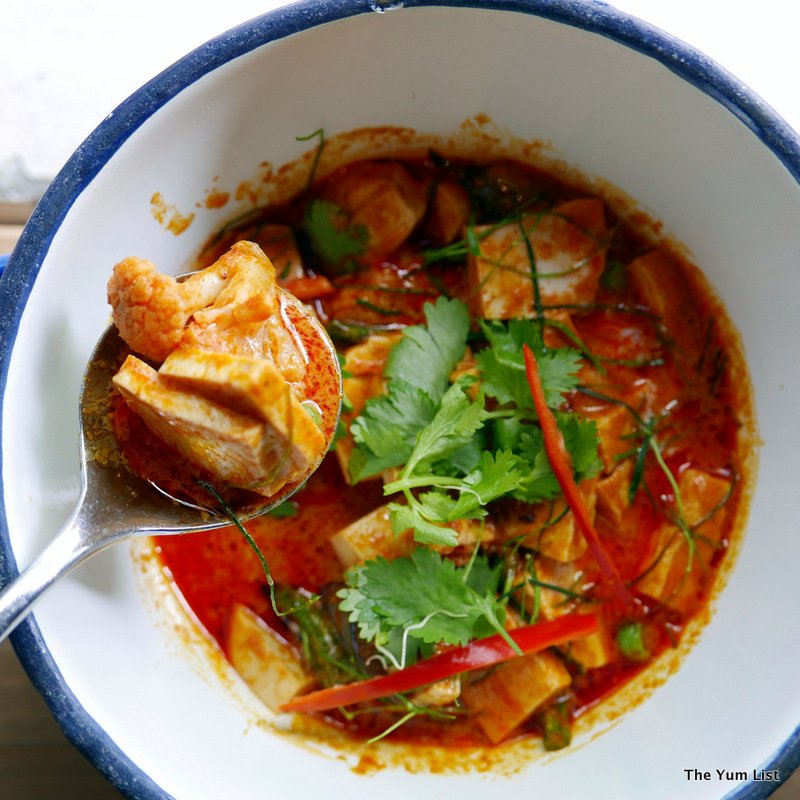 We finally got to desserts and although we were bursting at the seams, the house favourite, Coconut Gelato (RM10) with red rubies, jackfruit and basil seeds was too pretty to resist. We were advised to eat this gorgeous sweet as fast as possible as the house-made gelato melted quickly but truth be told, the cold creamy coconut base was such a nice luxurious change from the thin liquid that red rubies often come with, that I was quite content to take my time to savour every last decadent drop. The Pandan Gelato (RM10) was the take on everyone's favourite childhood serve, the cendol and true to fusion form, it came with chunky sea coconut, corn and dried apricot in almost equal proportions and almond flakes thrown in for the crunch.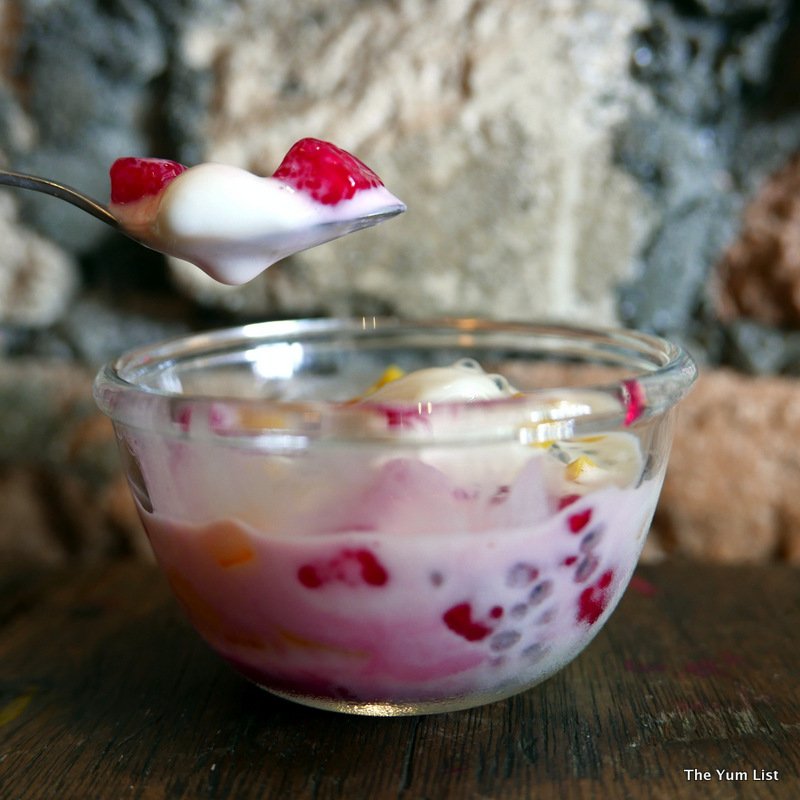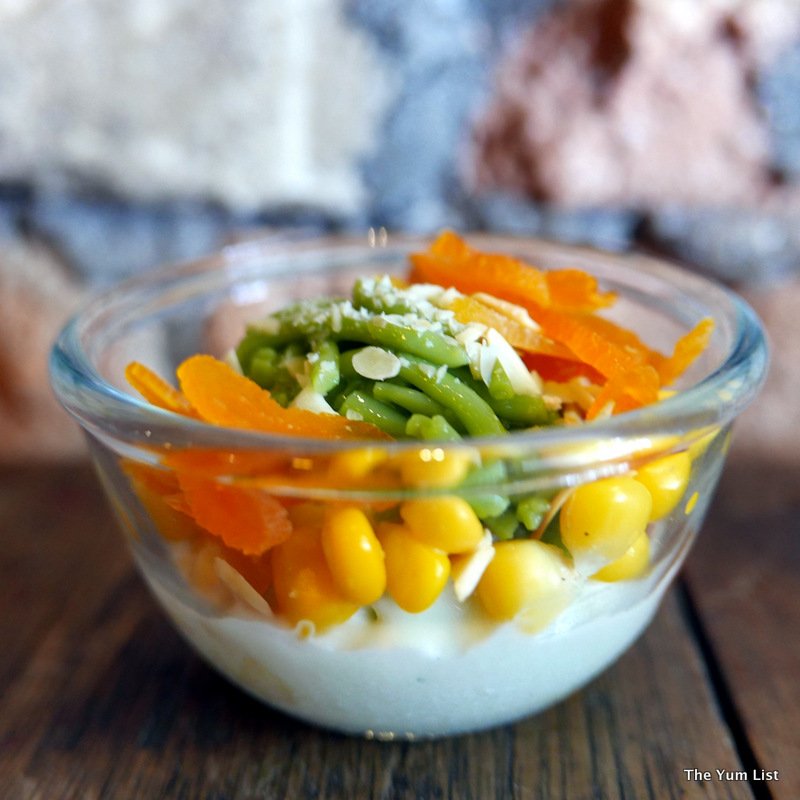 It's a fascinating experience that KomPassion offers. Familiar, yet unexpected. Simple, yet complex. Traditional yet modern. Chef Kom, as he introduces himself, is a gem of a chap and if you ever have the privilege of meeting him as I did, you will find him endearing, honest with a quiet demeanor that seems to suggest that there's a whole lot more to discover. Much like his food.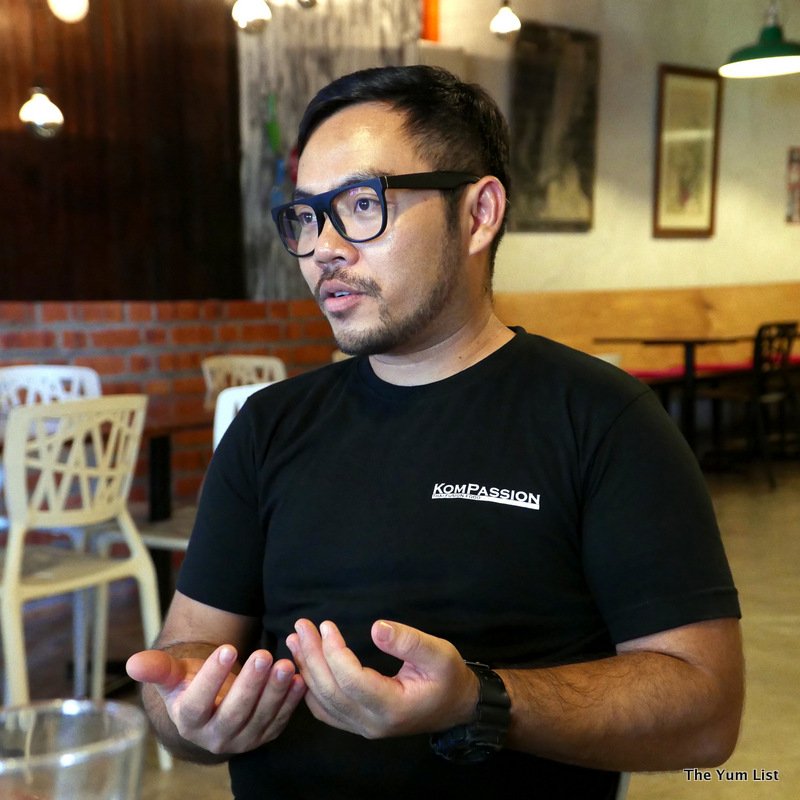 Reasons to visit: Comfort food in a comfortable setting at comfortable prices. The really good news is that the menu is so extensive that you can keep going back again and again, safe in the knowledge that you'll get a simply delicious meal every time. It'll be like coming home.




KomPassion Thai Fusion Food
5 Jalan SS 20/11, Damansara Kim
47400 Petaling Jaya,
Selangor, Malaysia
+603 7731 9256
@Kompassion.DamansaraKim
www.facebook.com/Kompassion.DamansaraKim
Open: Tuesdays – Sundays; 11.30am – 2.30 pm, 6pm -9.30 pm