Words: Hannah Staley     Photos: Monica Tindall
It's not often that I get to indulge in an extravagant Sunday brunch with bountiful offerings of delicacies from across the globe, free flowing drinks and live music. My Sunday afternoons usually consist of coffee, bagels and newspapers, which although lovely, I'm happy every once in awhile to rise for a special occasion requiring an extra bit of lippy, heels, a beverage with a bit more sparkle and food that can be savoured with special people.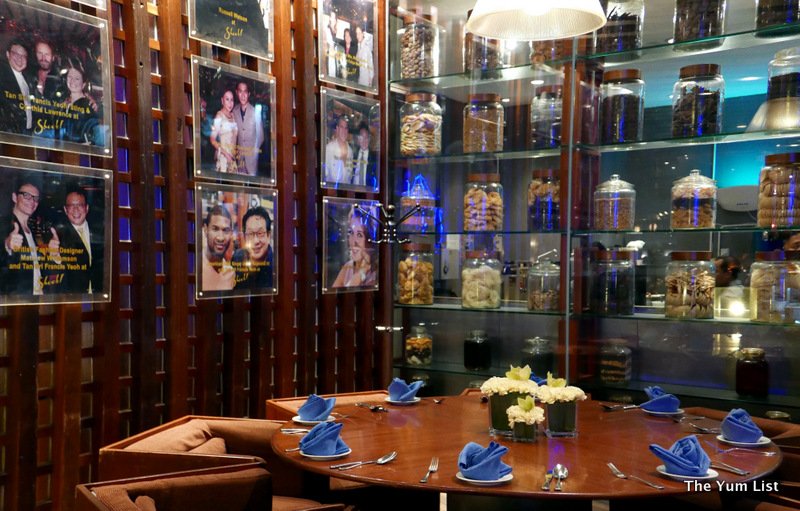 This occasion happens to be Shook!'s new Seafood Sunday Brunch replacing their hugely successful Mad Hatter's theme. This sees a slight shift in style with more focus on quality food and beverage, and a little less drama than the previous theatrical concepts. It is still however, one of the most indulgent and entertaining brunches in Kuala Lumpur.
Set within Feast Village at Starhill Gallery the ambience fits the fast approaching holiday season and the restaurant has an opulence of festive liveliness with friends and family coming together maintaining a contagious buzz for the whole three hours of merriment.
The food is served buffet style with a variety of live stations around the room offering a plethora of cuisines with specialties cooked a la minute. Of course, as the name tells, seafood is a highlight and display after display showcases some of the ocean's best gems. There's enough variety however to ensure that non seafood fans won't go hungry, and just the sight of the grill station and lamb on the spit reassures all diners that red meat lovers are going to be equally as happy. As soon as we are seated prompt polite waitstaff fill our glasses with prosecco (the free flow option also includes red and white wine, beer and a selection of cocktails), which gives us time to contemplate a plan of attack.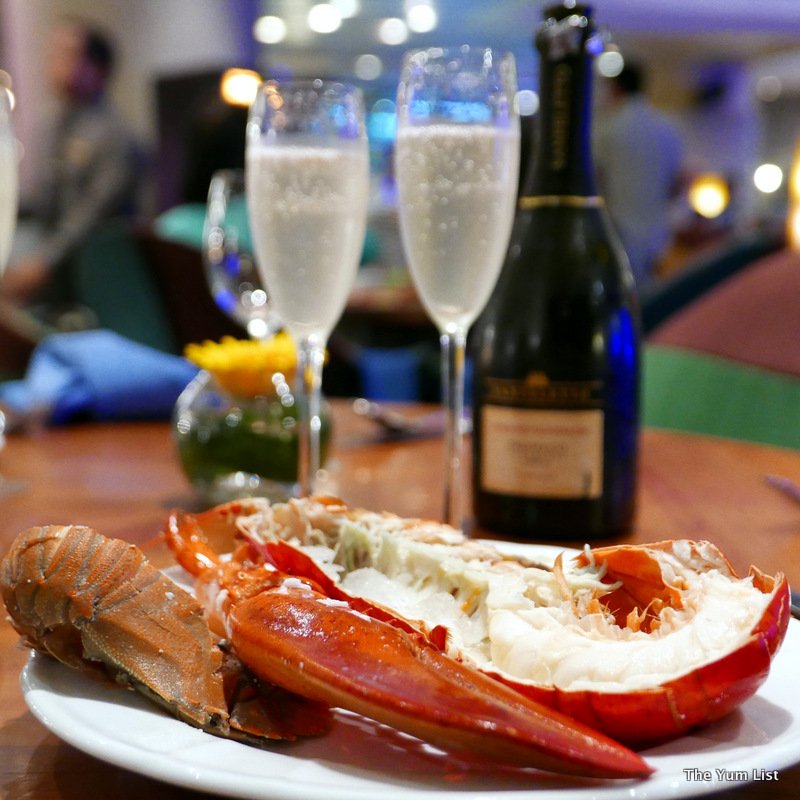 I head off to satisfy my eyes as well as my belly passing carved ice sculptures, giant fish, a lamb on a spit, a walk in-wine cellar and an extremely impressive fresh shellfish station displaying large ice buckets of Boston lobster, slipper lobster, oysters, venus clams, blue mussels, scallops, flower crabs and crayfish. Making a mental note to leave room for the shellfish I return with a plate filled with a range of sushi, light and crisp tempura and a selection of perfectly cut slices of sashimi.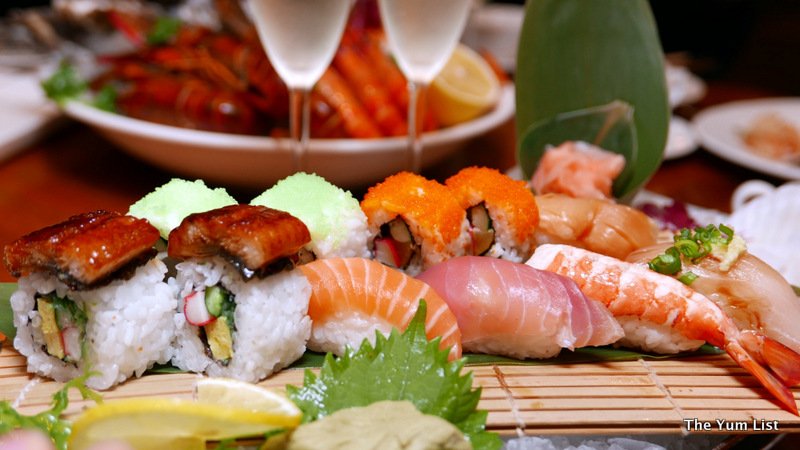 As if the waitstaff can read my mind a show stopping shellfish platter is brought to our table with crab claws, crayfish, oysters, New Zealand mussels, slipper lobster, clams and lemon wedges nestled in shaved ice and accompanied with thousand island, Thai chili, cocktail and mignonette dressings. Tucking into this crustacean extravaganza the freshness is evident. The beautiful white meat from the lobster and crab is deliciously tender, and the oysters are slightly salty making them the ideal accompaniment to the extra dry San Feletto Prosecco. As I slip and sip, one of the highlights from the Shook! menu, Dancing Prawns with hot mayo, appears at our table. Monica's eyes light up and she informs me they're her favourite. I can instantly see why. Plump shelled sea prawns deveined and deep fried to a lovely light golden colour are blanketed in a sweet, tangy and mildly addictive hot mayo. Be sure to place an order for these if you visit.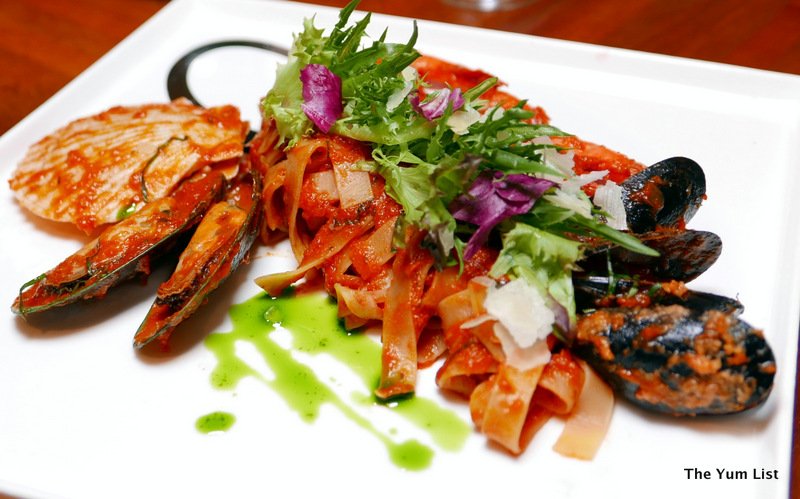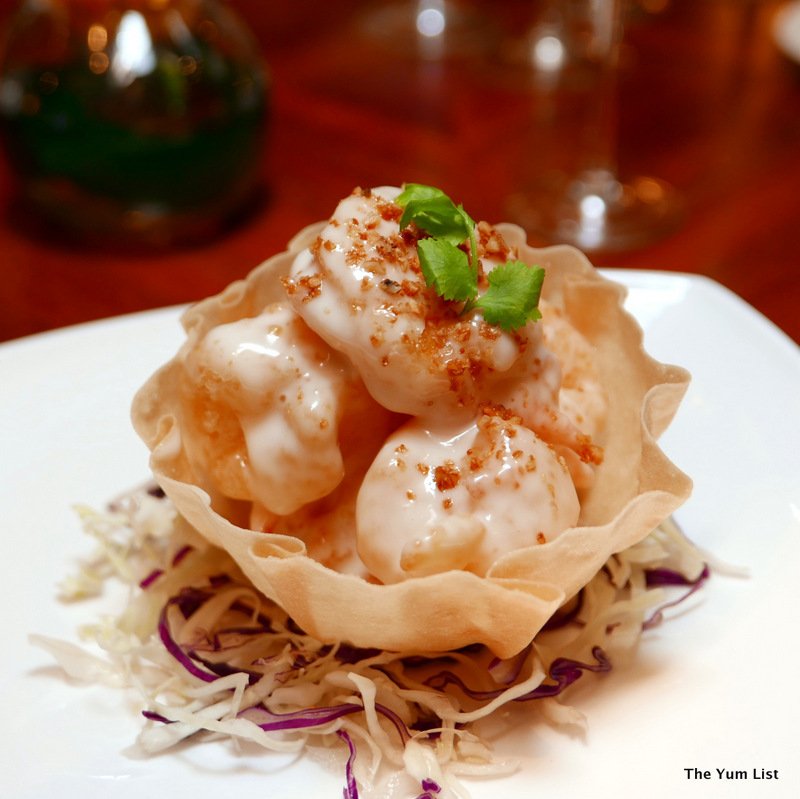 Plates and shells efficiently cleared mean it's time to head to another station and I opt for some succulent lamb hot off the grill, with a medley of nice crisp vegetables.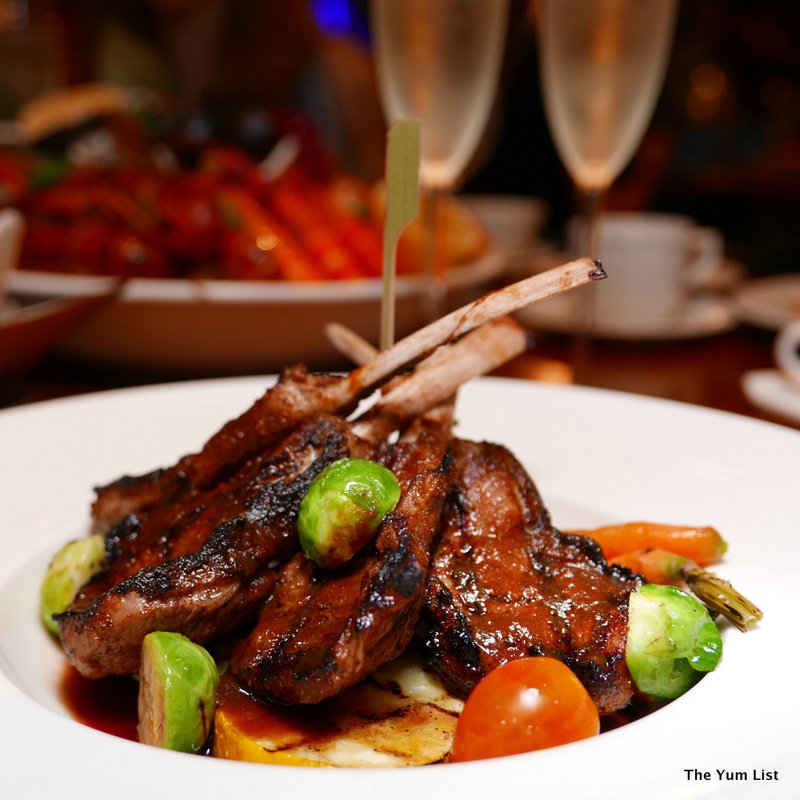 If this was a typical Sunday I would normally be heading to a yoga class and looking forward to a nice healthy salad for dinner but as this is a 'special Sunday treat' and I can see there are still more tempting treats on offer I whimsically push all thoughts of yoga and salad to one side, grab another plate and allow myself the privilege of sampling the phenomenal array of both soft and hard cheeses, accompanied with bowls of dried fruits, nuts and olives.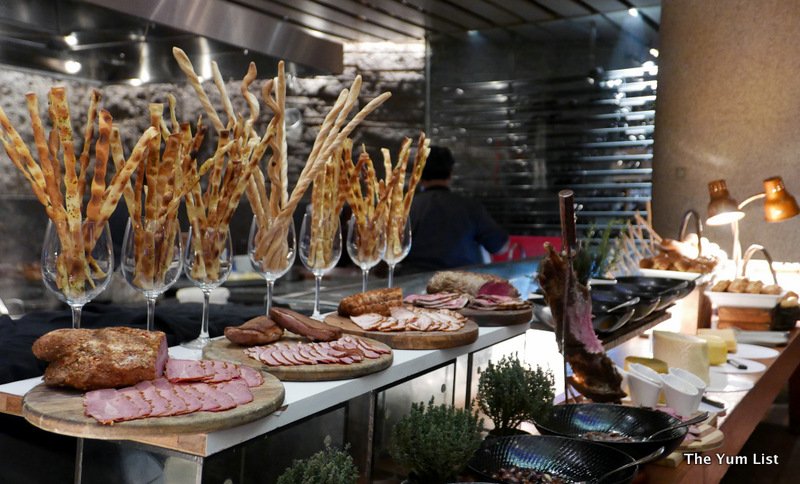 I finally make my way to the dessert station where there are a vast display of different temptations to try. A festive Christmas tree of macarons catches my eye. Chocolate mousse, mini tarts, panna cotta and chocolate cupcakes tempt my taste buds. Whilst Monica shares another favorite with me, a lovely light airy choux bun filled with Opalys cream.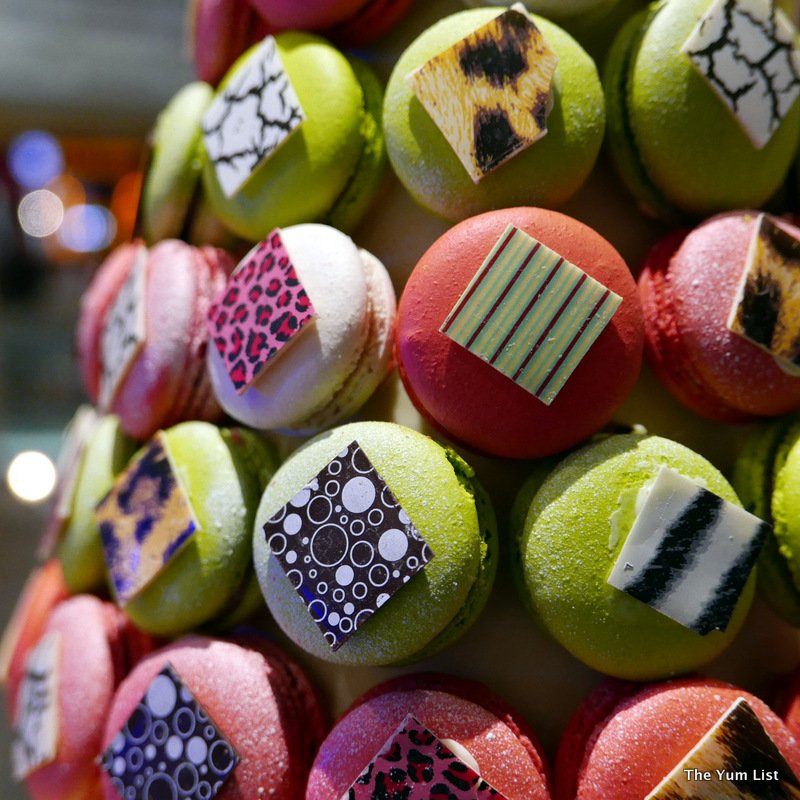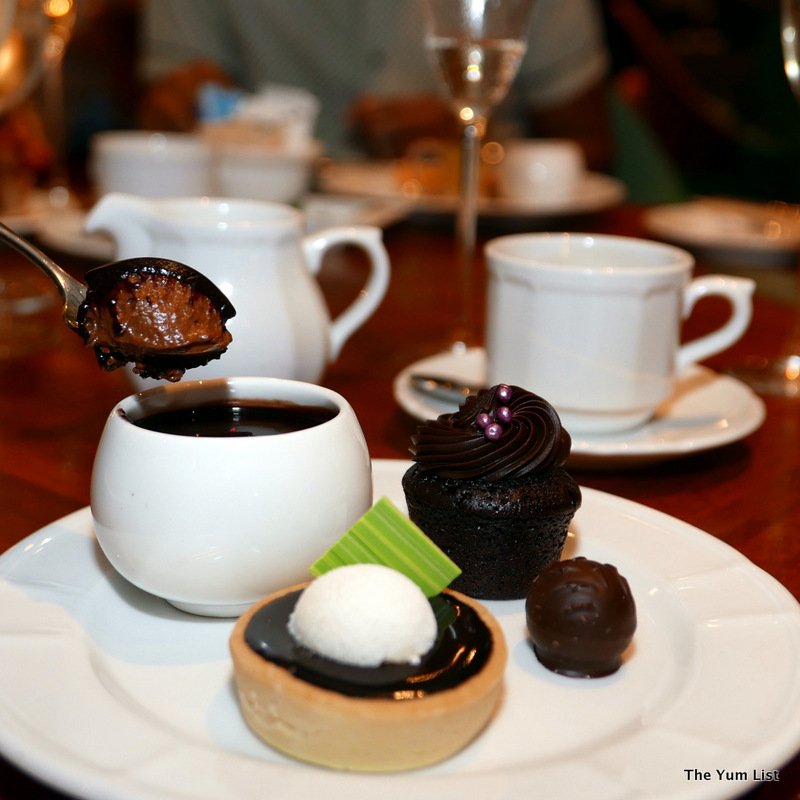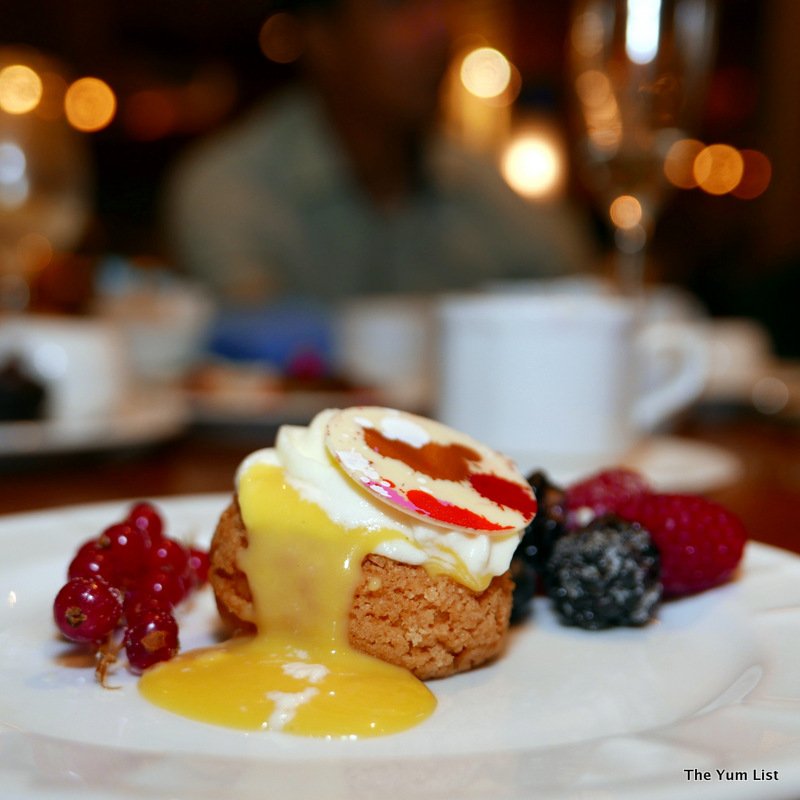 Shook!'s Seafood Brunch runs every Sunday from 12 noon to 3pm. Those wishing to indulge in the free flowing alcohol pay RM238 nett per person and those not wanting alcohol pay RM188 nett per person.
Reasons to visit: abundant, fresh seafood; must try the dancing prawns; inviting environment with live music; dessert station; lively happy crowd.
Shook!
Feast Village, Starhill Gallery
181 Jalan Bukit Bintang
55100 Kuala Lumpur
Malaysia
www.starhillgallery.com