Words: Matt Jones     Photos: Monica Tindall
I have to admit, whenever I descend an escalator to a basement food court and find myself in what feels like a culinary desert of Subway sandwiches, a 7-11 and a noisy local noodle shop, my appetite tends to wane. So what a surprise and delight to find Baba Nyonya hidden amongst the rubble, greeting me with a handmade bamboo bike and a hand-painted promise that "Nothing brings people together like good food" at the door.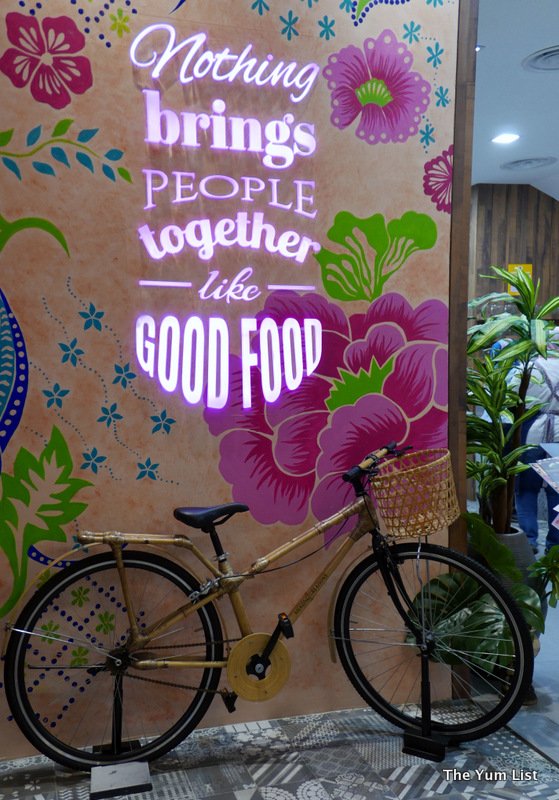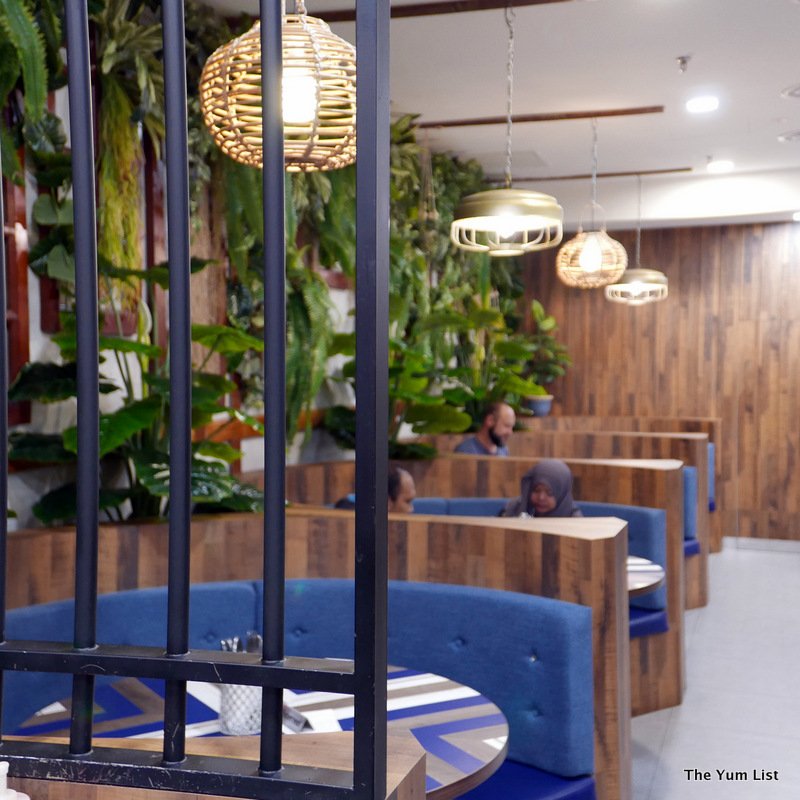 Sporting a pan-Asian eclectic décor, this almost brand-new gem is a polished Chinese/Malay mix of home-style and traditional delights. The open drinks area at the front and semi-open kitchen at the rear add to the welcoming ambience, and after being led to our booth (there are different styles of tables to choose from) and presented with the menus, my appetite quickly returned.
A warm smile and a "What would we like to drink?" from the first member of our attentive waitstaff led to a thorough 'oohing and aahing' as we perused the nearly four pages of drinks menu. A House Specialty section alongside the usual kopi and teh selections featured mason-jarred juices, glistening from the pages like semi-precious jewels, beautifully photographed in all their colourful glory. We opted for the Pandan Kasturi; a gorgeous emerald and lime green concoction replete with a pandan leaf and a lime wedge, the House-recommended Markisa; a refreshing mix of passionfruit, lemon, lime, lychee, calamansi juices and soda water, and a Lemon and Mint Fizz (all juices RM10.90, and all freshly squeezed). Ask for no sugar if, like me, you prefer the naturally flavoured less sweet option.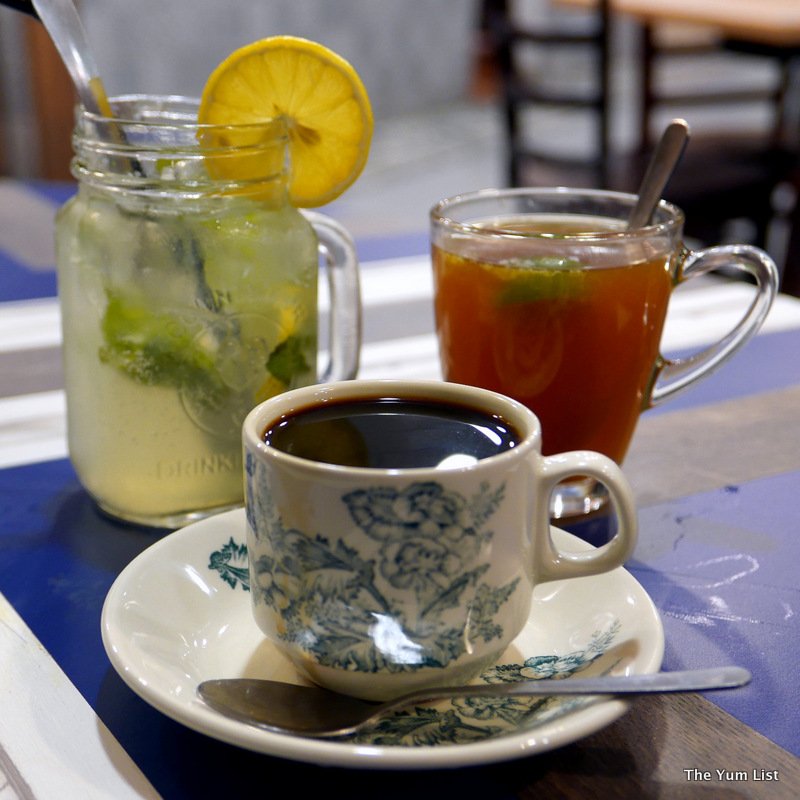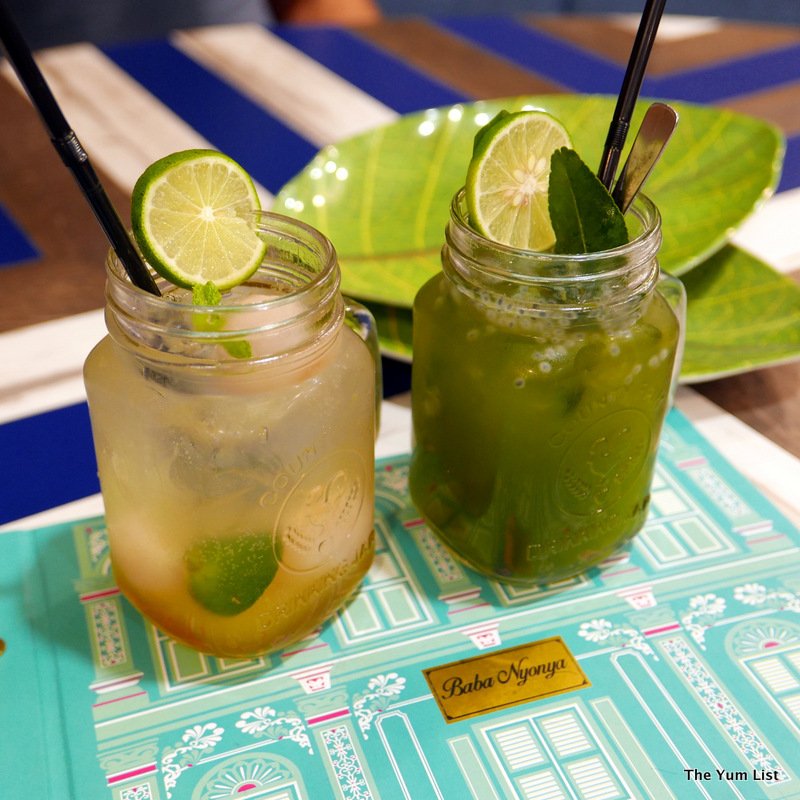 Back to the beautifully bound and presented tome of a menu, delightfully accented with real batik lining on the inside covers (a testament to the attention to detail we noticed in almost every element of Baba Nyonya's drinks and dishes), it was difficult to limit ourselves to a meal-size selection, so we enlisted the help of Nyonya herself. House recommendations are highlighted in the menu with little green and red lanterns, so we opted firstly to go with the Salted Egg Sotong + Brinjal; a salted egg-battered mix of deep-fried eggplant slices and octopus chunks with a hint of chilli and a scattering of curry leaves (RM21.90), and the Flying Fish; a whole butterfly-cut local Sea Bass deep-fried and lavishly dressed in a "three Rasa sauce" (sweet, sour and spicy), with garlic, chilli and coriander garnishes (RM56.90/whole fish, RM29.00/half).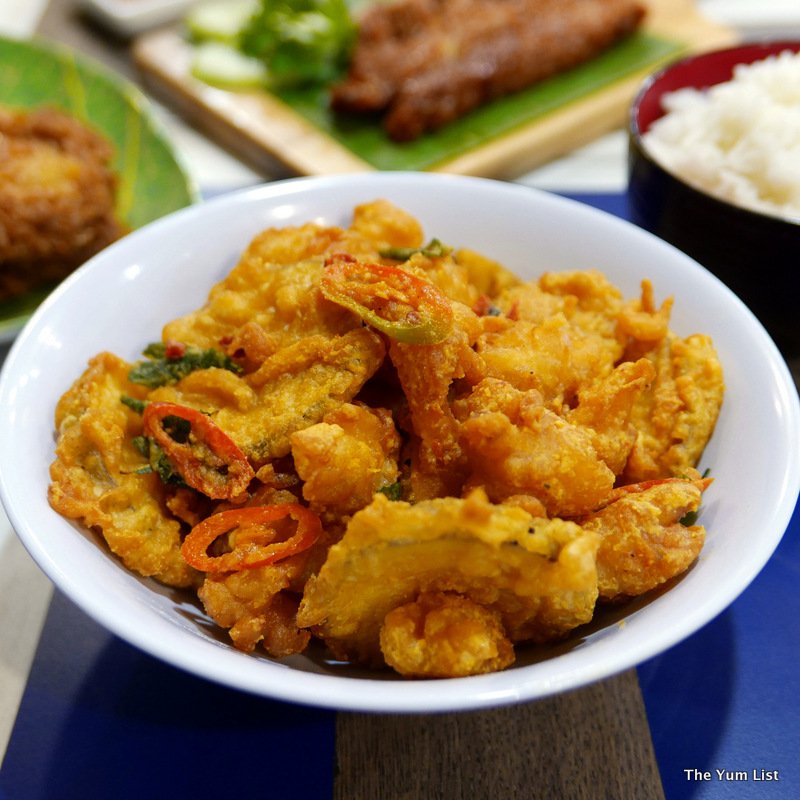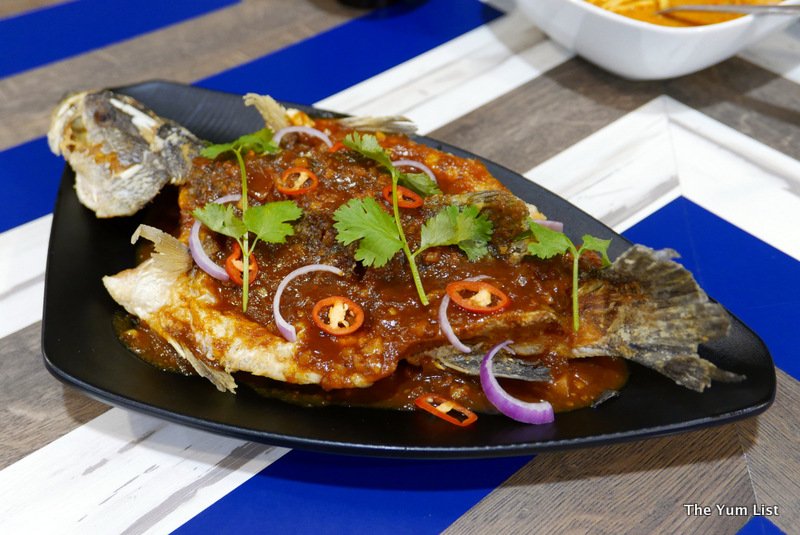 For those of you who can handle some extra heat (like, a LOT), head for the Curry Mee. Essentially a Malay-inspired laksa of tangy yellow noodles in a coconut-creamy broth, with citrusy notes and a big fat kick of chilli, the dish is complete with bean sprouts, sliced chicken, deep-fried tofu pok and (serendipitously) cockles (RM12.90).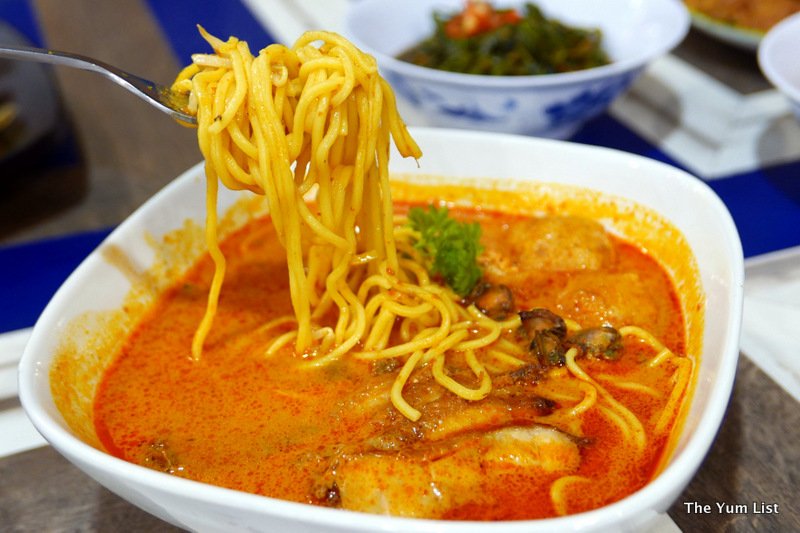 My personal favourite (if I was forced to choose one above the rest) had to be the Chicken Kapitan Curry; chicken pieces so tender they fell off the bone in a smooth and creamy light chilli sauce (perfect for the faint-hearted like me). Imbued with curry leaves that give the warmth without the kick and finishing with a lemongrass/lime after note, this coconut, garlic and lemongrass dish did it for me (RM27.90).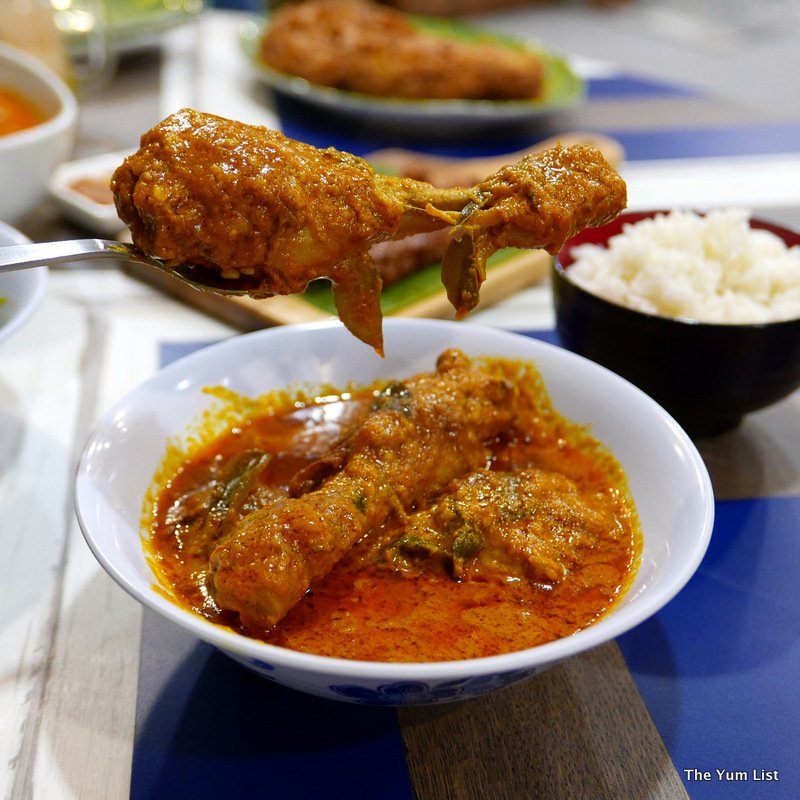 Just when I was at the point of needing to undo a belt notch, Baba (Malay for 'dad') and Nyonya ('mum') took the time to join us and feed us with some of the inspiration behind the menu and the concept. Authentically and distinctly Chinese Malay, the traditional Nyonya food originates from Malacca (Baba our chef's home town). We were held hostage as a plated selection of Kuih (local sweets) arrived, but given that I could hardly move by that stage anyway, I did what anyone in their right mind would do under the circumstances and tried all four. Bite-size colourful morsels of deliciousness; desiccated coconut wrapped in a green pandan pancake, layered red bean and sweet potato pastes, a miniature doughnut, and a glutinous rice flour confection, at only RM1.00 per piece! Browse the full 13 piece collection in the window display at the front and take a box home with you.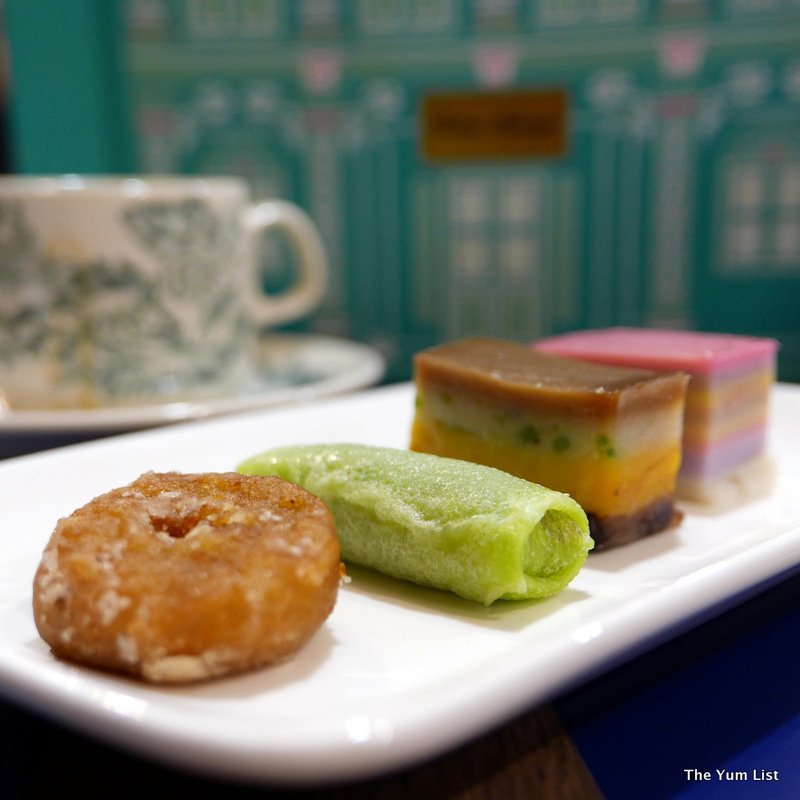 An extensive menu without being overwhelming, Baba Nyonya runs the gamut from a tapas-style selection of Small Bites and Daily Bites for sharing (from RM6.90 – 11.90/dish) to full-size chicken, seafood, vegetable, rice and noodle dishes. Manager 'Nyonya' shared her personal favourites; Salted fish in Clay Pot (RM58.90/whole, RM29.90/half) and the Sweet and Sour Fish Clay Pot.
The second of two branches (with three more to open this year), Baba Nyonya Avenue K launched in November 2016, and is open from 7:30am until 10pm. A simple breakfast menu consists of Nasi Lemak or Assam Beehun (spicy rice noodles), both priced at RM2.50, and peak time is usually lunch.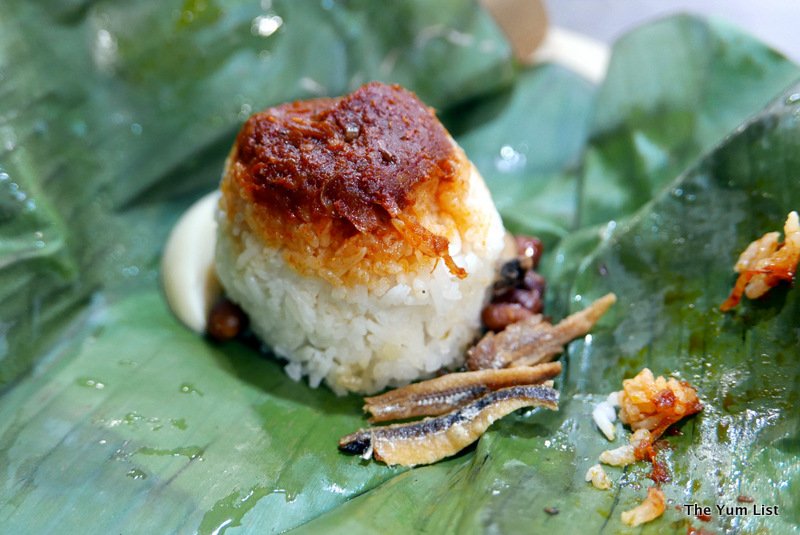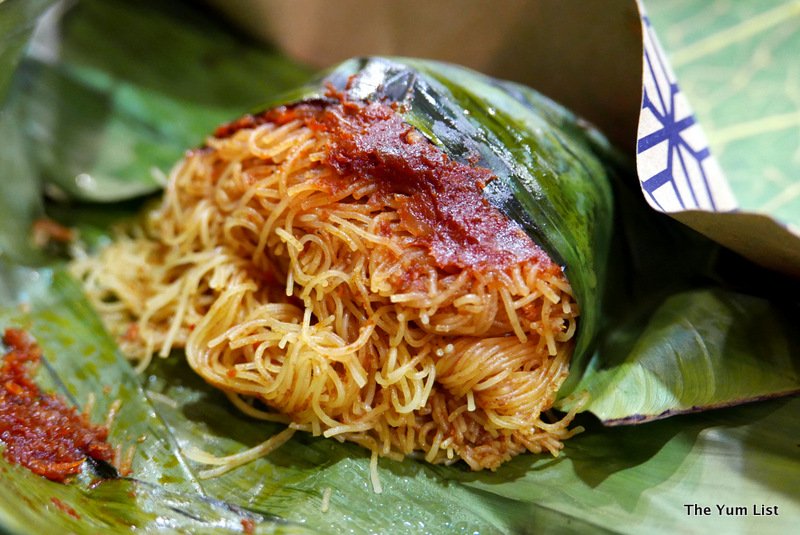 Reasons to visit: From the generous portions to the relaxed ambient vibe, attentive and extremely fast service (almost all our dishes arrived within ten minutes), I can't wait for my next visit to 'Mum and Dad's'.
Baba Nonya Avenue K
154-158 Jalan Ampang
55000 Kuala Lumpur
Malaysia
+60 3-2181 5544
www.facebook.com/sambalchillirestaurant/