Words: Aisling Cullen    Photos: Monica Tindall
The year of the Fire Rooster is nearly upon us. The rooster is a plucky animal sign that is forthright and uncomplicated. He is an animal that loves to preen his feathers, dress impeccably and bathes in compliments. So what can the rest of the Chinese zodiac animals expect? I can't predict horoscopes, but what I do know is that there will plenty of celebrations and food on the horizon.
Chinese New Year will land on the 28th January this year, but the festivities in restaurants all over KL have already begun. Monica, Caning and I were invited to celebrate in the Ritz-Carlton this year in Li Yen Restaurant, a glamorous venue that showcases award winning Cantonese cuisine.
There are three set lunch menus available and three dinner menus. We indulged in Dinner Menu B, set at RM2,388 per table of 10 which is not bad considering the amount of food dished up – nine courses in total.
We started with a highlight – Prosperity Yee Sang with Tuna. If you haven't yet tried Yee Sang, do. It's a must-try while in Malaysia or in Singapore – you won't find it widely in China as it originated here. Each ingredient has a meaning behind it (for example, we were told that the peanuts symbolise nuggets of gold that pave your floor). The salad is neatly laid out with each ingredient separated individually, and then the fun part is that you and your friends grab some giant chopsticks and toss it into the air, shouting your wishes by saying what you want in the year ahead.
After enjoying the sweet and crunchy Yee Sang, we sat down to a more mellow and flavourful Double Boiled Chicken Soup with Fish Maw, Dried Scallop and Conch. The soup is intensely flavoured and there are generous pieces of protein in each portion.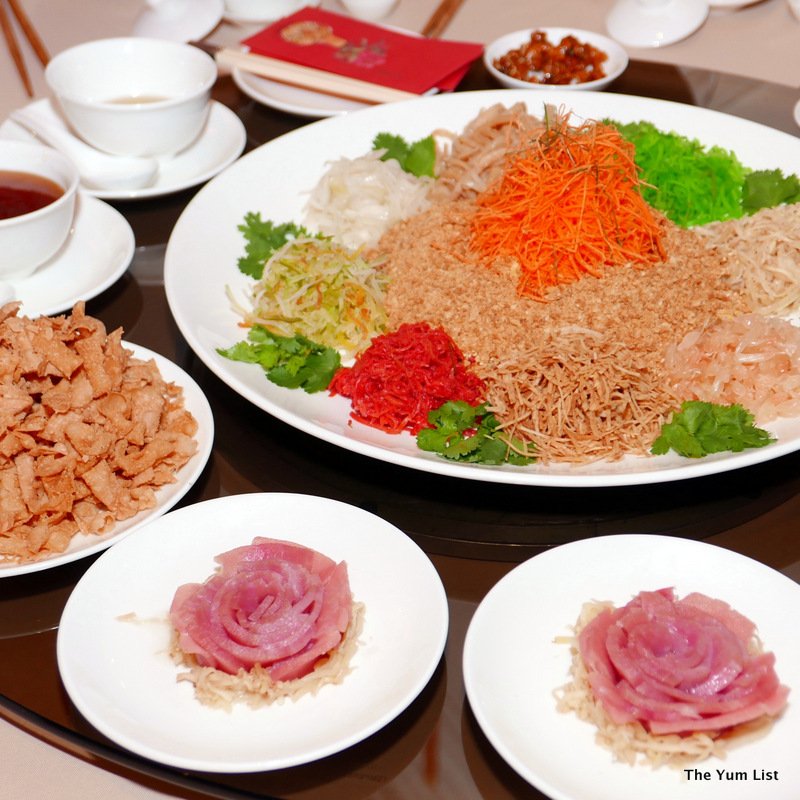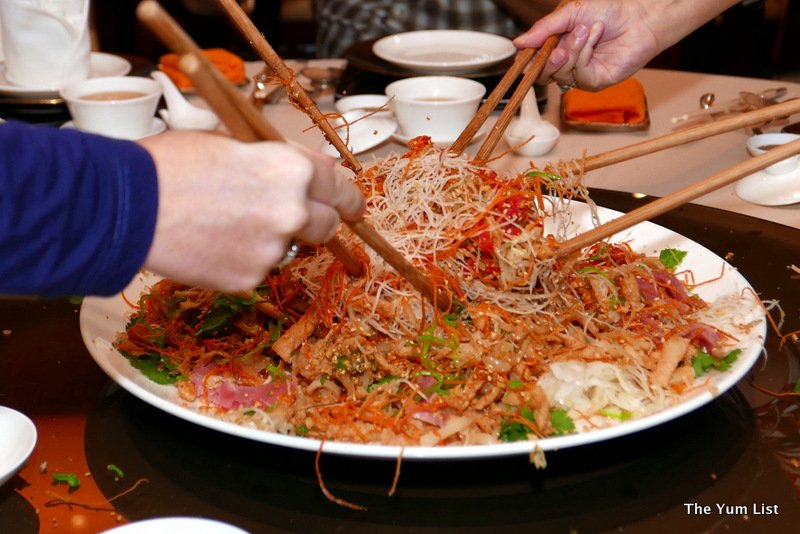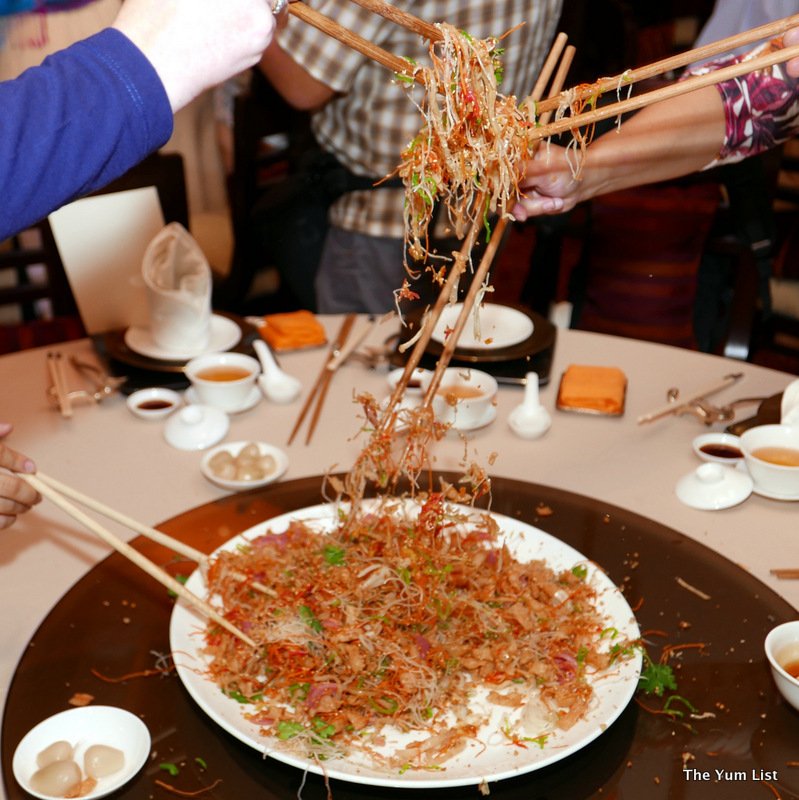 One of my favourite Chinese dishes is Steamed Bamboo Fish with Superior Soy Sauce. And, the head chef at Li Yen really knows how to cook this one. The white fish was incredibly tender and the light soy broth had a rich distinctive flavour to it.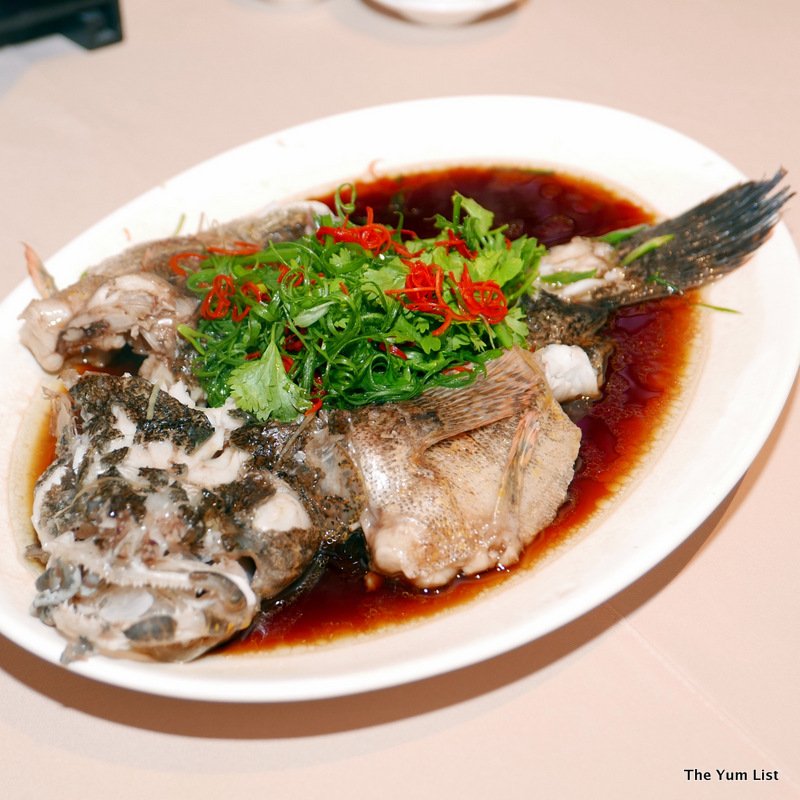 Our next course was Braised Sea Cucumber with Broccoli and Mushrooms. Sea cucumbers have been revered by Chinese chefs since ancient times and is seen as a delicacy in this part of the world. Personally I was not wowed by its thick, gelatinous texture (I'm guessing this is something you grow up with) but the brown sauce served with the broccoli and mushrooms was really delicious.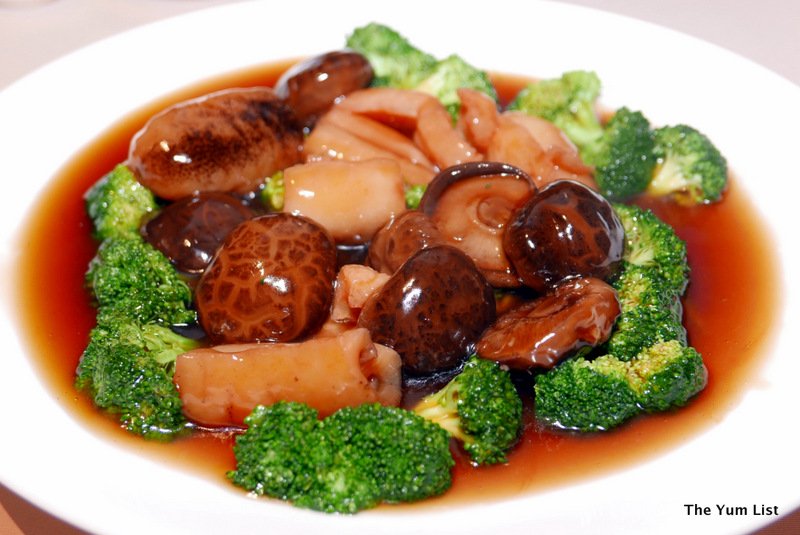 Another course rolled in: the Simmered Chicken in Bouillon. The chicken was moist and flavourful from being slowly cooked and absorbed all the flavours from the bouillon.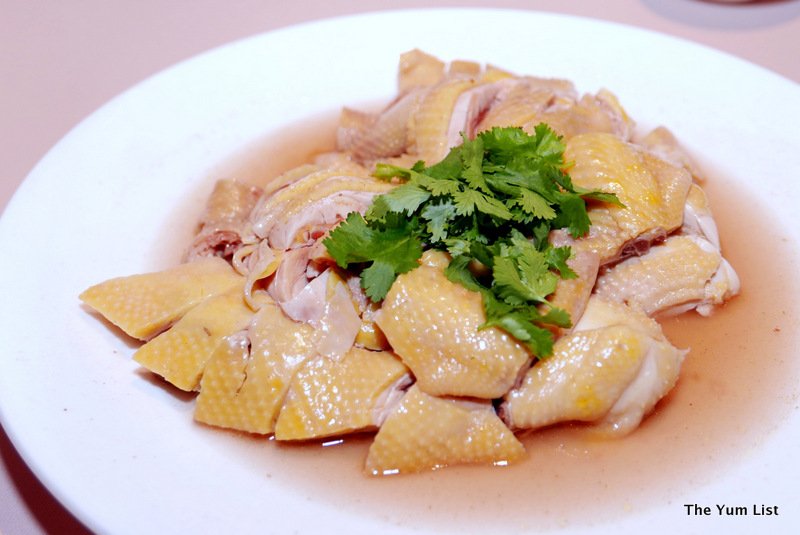 A Chinese must-have at any meal is pork, and the Braised Pork Knuckle with Brown Sauce is one of the most popular ways to cook it in Chinese cuisine. There is a thick fatty layer that sits on the pork hiding a generous portion of meat underneath. Goji berries, carrots and Chinese lettuce were accompanying components of this dish.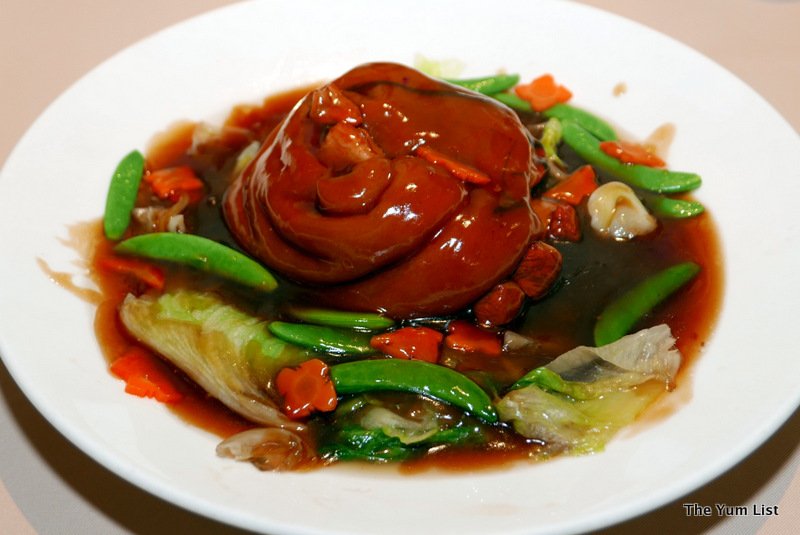 What I love about Chinese banquets is that countless dishes can be served but the really filling ones are left until the end, so you can enjoy each dish and not feel stuffed. The presentation of the Lotus Leaf Wrapped Fried Rice with Fresh Prawns was eye-catching and innovative. Tasty fried rice was mixed with chicken, prawns and mushrooms – a perfect way to end all of the savoury courses.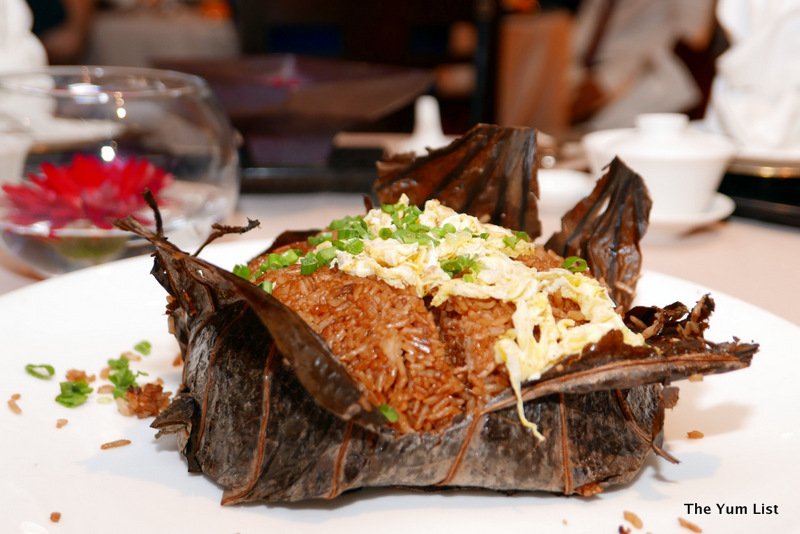 With just enough room for dessert, we indulged in some Double Boiled Almond Tea with Glutinous Rice Balls. The rice balls soak up the not-too-sweet almond tea and when we bit into them, there was a smooth black sesame paste which lifted the dish wonderfully.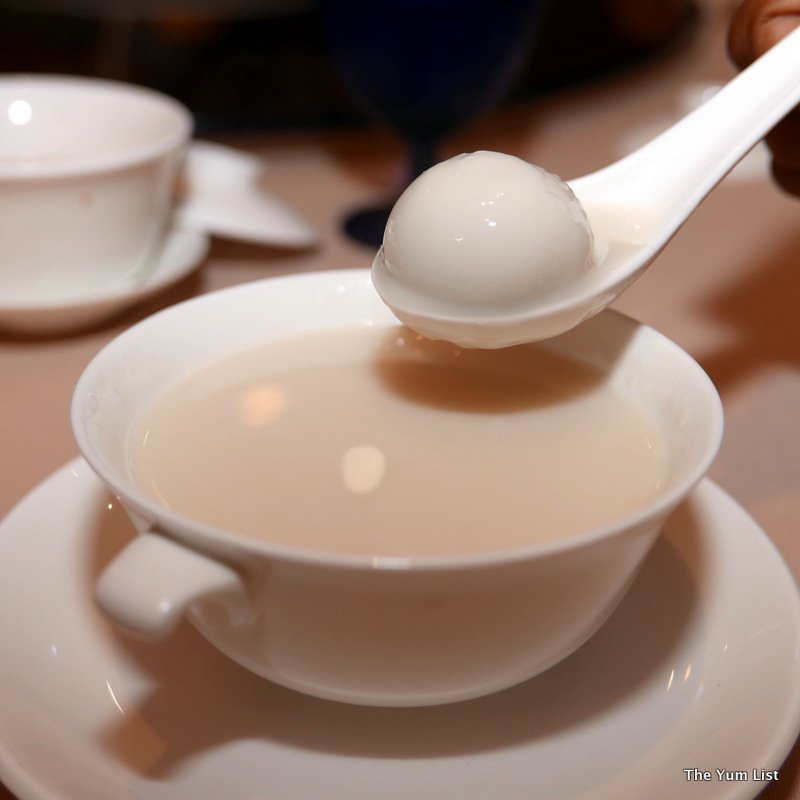 Just as we thought the meal wasn't going to end, we were served the final course of Deep Fried 'Nian Gao' with Yam. Nian Gao is a typical Chinese glutinous rice cake with brown sugar that when heated turns into a sticky caramel. Stuffed into slices of yam and deep fried, this is a decadent and moreish treat.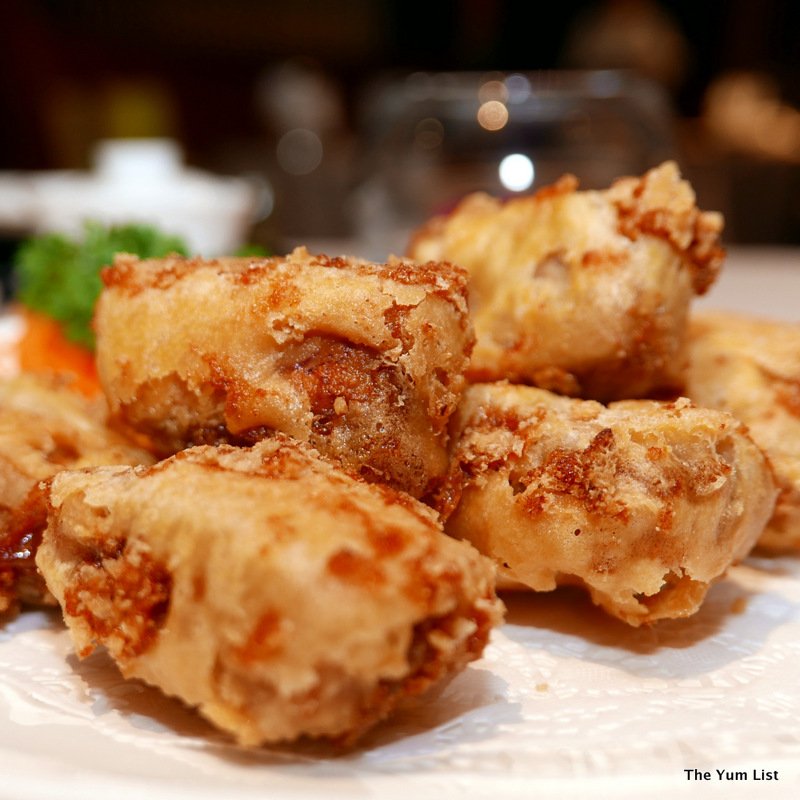 Throughout the dinner, service was efficient and quick, and the staff were very helpful in explaining each dish. The Ritz-Carlton Kuala Lumpur hosts a fun and delicious evening that is perfect for experiencing Chinese New Year's festivities in style.
Reasons to visit: elegant room and atmosphere, award winning Chinese cuisine, tasty Yee Sang, great service.
Li Yen, Cantonese Cuisine
The Ritz-Carlton, Kuala Lumpur
168 Jalan Imbi
55100 Kuala Lumpur
Malaysia

www.facebook.com/RitzCarltonKL
+6 03 2142 8000
www.ritzcarlton.com/en/hotels/malaysia/kuala-lumpur
*non-halal