Words: Craig J Selby   Photos: Monica Tindall
Looking for tasty pork dishes and some specialty beer? Don't want the hassle of city parking? Well, we might just have the place for you.
Nestled in the growing backstreets of Tropicana, where there is still plenty of free car-parking, but only a stone's throws away from many popular residential areas, is Gold Bar – a relatively new bistro and wine / beer joint – and well worth a visit.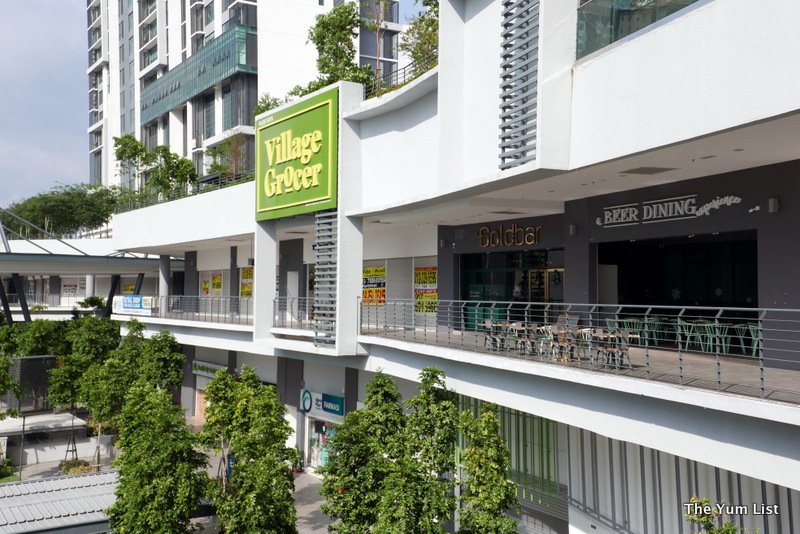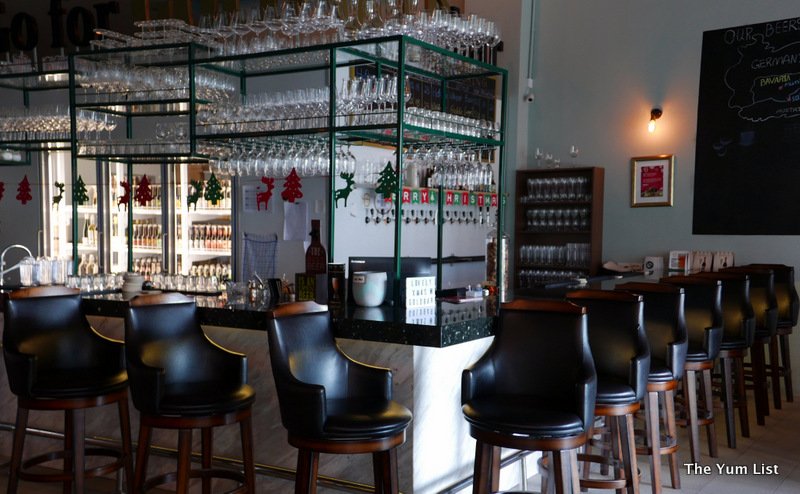 Gold Bar serves a quality, pork-oriented menu, but certainly has something for everyone. It also offers a good selection of beer and craft beer; some, not seen elsewhere. Oh, it has wine too; can't forget the wine. They are more towards the old world wines here, so you'll see a hardy selection of French and Italian bottles, with a few others thrown in for good measure. This selection rotates regularly, so do let them know if you find your favourite in the cellar.
We went there to 'sample' some of their specialty tipple – beer – but came away with massively bloated stomachs, happily of course, and a doggy bag for supper. Yum!
If you're heading to Gold Bar, come with a healthy appetite. Portion sizes are generous; the dishes taste great; and even with friends in tow, be prepared to loosen the belt buckle a notch or two.
We sampled several of Gold Bar's most popular dishes, including all three of their Sharing Platters. Oh yes, go for the sharing platters – they are really great value!
The Gold Bar Platter – their biggest – is a trio of succulent crispy pork belly, roasted sliced duck, and BBQ pork shoulder. The crackle on the crispy pork makes that distinctive sound as you bite into each piece; and with a great balance of crackle, pork, and a hint of fat for flavour, this is a great dish to enjoy with one of their lighter chilled beers. The sliced duck was tender and tasty, and came with a flavourful dipping sauce; and the BBQ pork shoulder reminiscent of the local favourite, char siew. Four of us devoured the platter – so it is definitely one for sharing with friends. The more the merrier.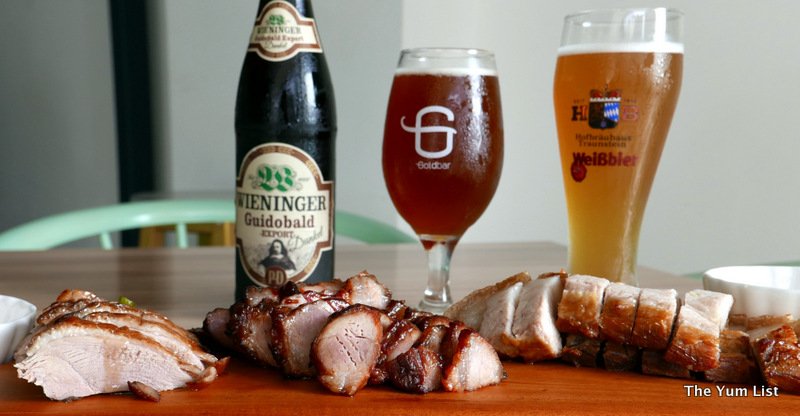 Something a little different was Standing Chick. Whole spring chicken, roasted vertically, and plated in the upright position. Probably the first time I have seen chicken presented in this manner. It's served like this to make it easier for guests to simply pick the meat off the bone. And, for those of us who might be a little OCD (or just plain reluctant to eat with our hands), plastic gloves are provided for each patron to make the experience authentic, but not sticky. It's these little details which stand out.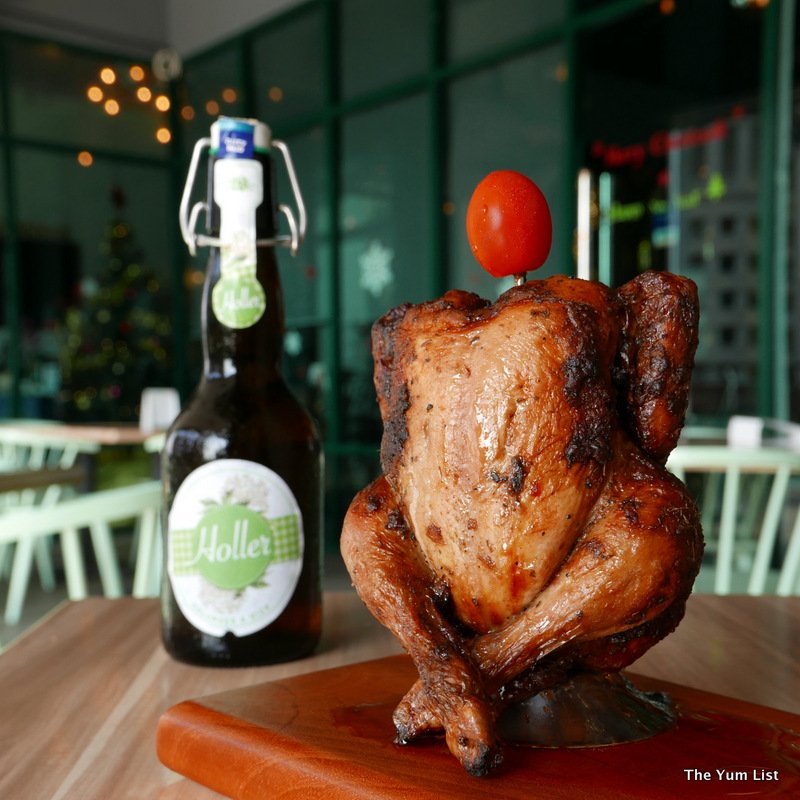 See Food Pasta is their third platter. Lightly cooked pasta, smothered in a seafood assortment including flower crab (it was staring me in the face when served), prawns, clams, mussels, and scallops – a seafood lover's dream. The seafood was fresh, tasty, seasoned beautifully, and cooked to perfection, Again, definitely one for sharing – unless of course, you are very very hungry.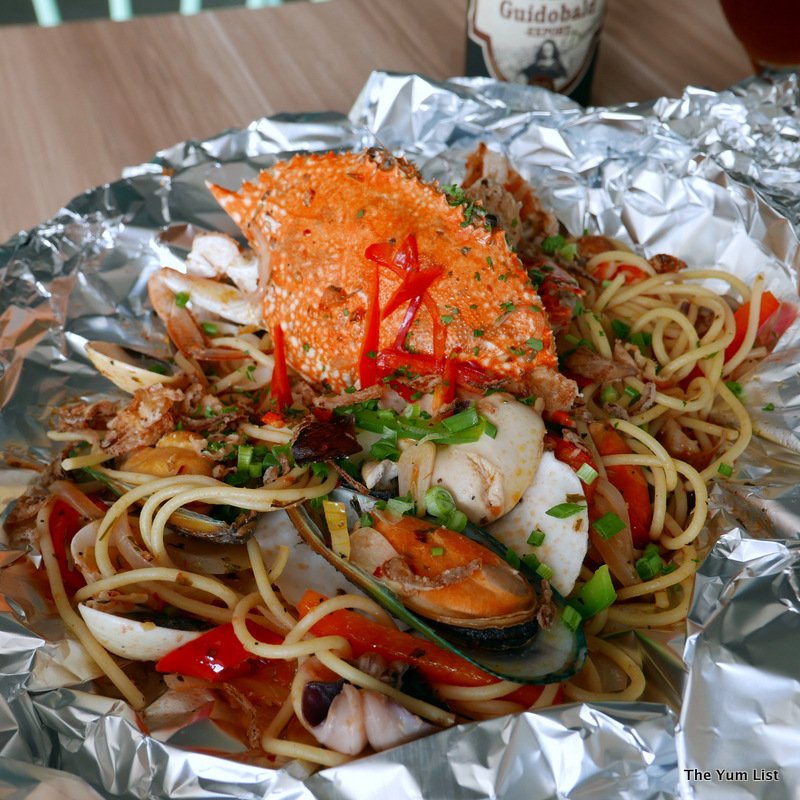 For individual orders and smaller snacks, Gold Bar has a range of western and eastern-inspired dishes. Popular are their Thai Pork Neck, fried Calamari, Lamb Burger, and the house BBQ Pork Ribs.
Almost a platter on its own, the BBQ Pork Ribs were huge. Dry rubbed with an assortment of herbs and spices before being slow cooked, the tender pork literally falls off the bone at touch. Generous in its serving, there is certainly plenty to go around the table. Despite having the unique spice rub, the flavours don't overpower or complicate – they compliment the pork well, and offer a nice subtle texture to the dish.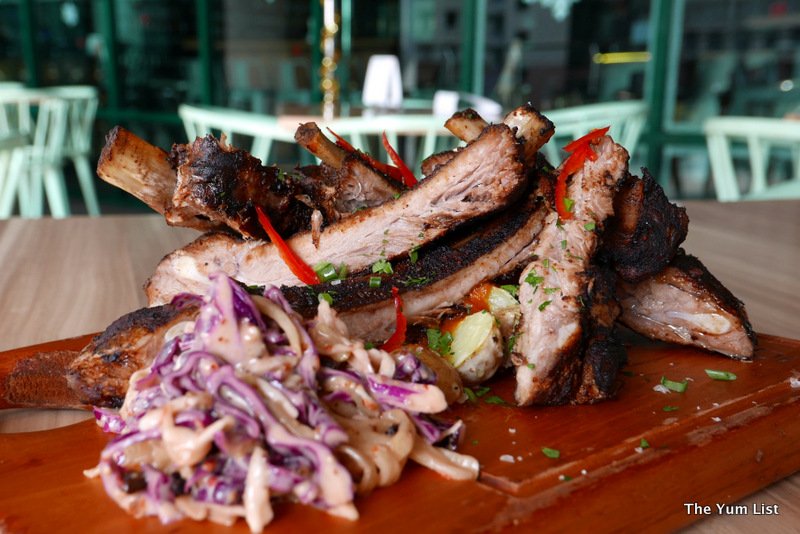 The Thai Pork Neck, Tomato Bruchetta, and the Fried Calamari furnished great side dishes (they are appetisers, actually), and each offered a quality, authentic taste. Chunky tomato pieces adorned the Bruchetta – just how I like it – with an extra large helping of added pepper, just for my own taste.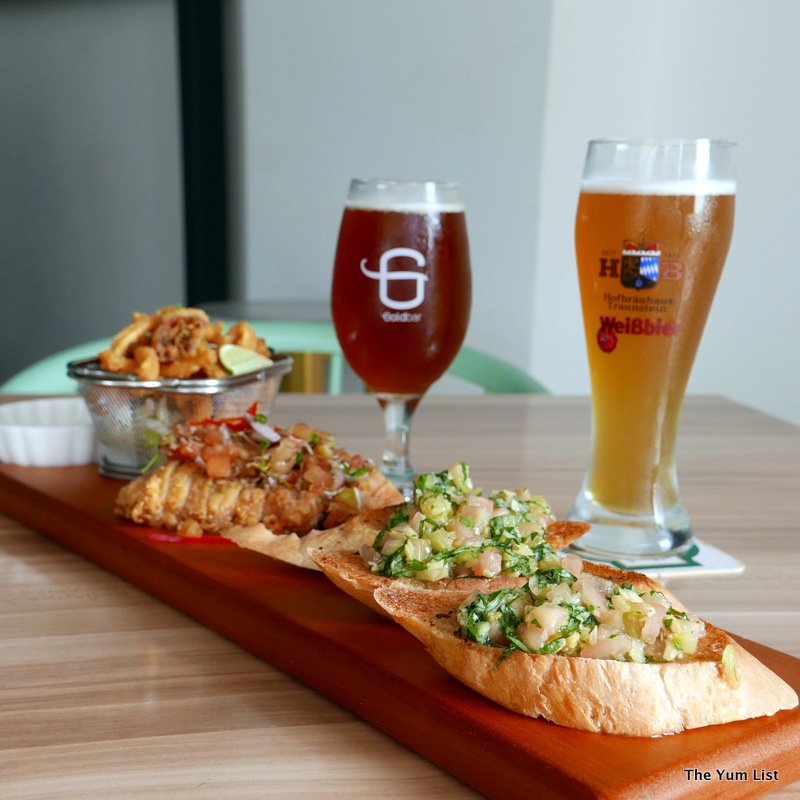 Gold Bar's Lamb Burger also offered up something unexpected. A huge, juicy, and properly cooked (not over, not under) lamb patty – I'm talking thick, not you're usual fast-food style – can really be a meal on its own for someone. Nicely seasoned, with the usual condiments, the burger is one to return for. I think you'll find it hard to find elsewhere in KL a lamb burger this generous and tasty.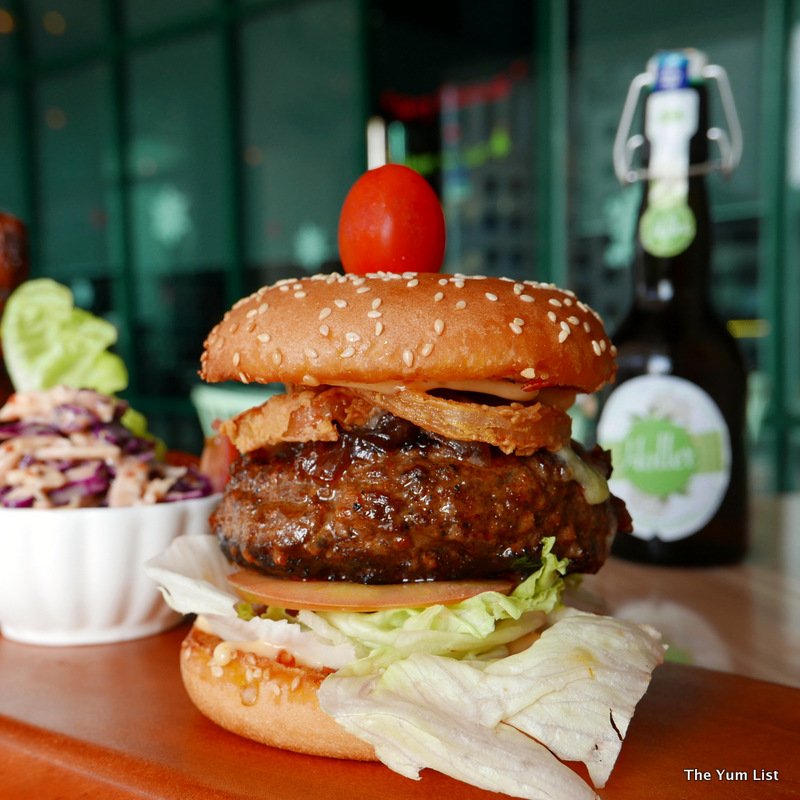 Of course, one can't enjoy all this food without the help of a little liquid lubrication. Whether you seek something gentle, perhaps a chamomile tea, or something a little more robust, Gold Bar's selection is pretty impressive. With a beer selection of over ten on tap, and a further twenty by the bottle – their selection is one to envy. We enjoyed our beer as a flight – sampling a small range from light through to dark. One the light end of the scale was a 'beer, lemonade and cider' – Weininger Holla – a refreshingly light and vibrant drop. A little unusual at first; not quite being what I'm used to, it actually is a great afternoon drink for these balmy hot days. With only 3% alcohol, it will also make the drive home a lot less stressful.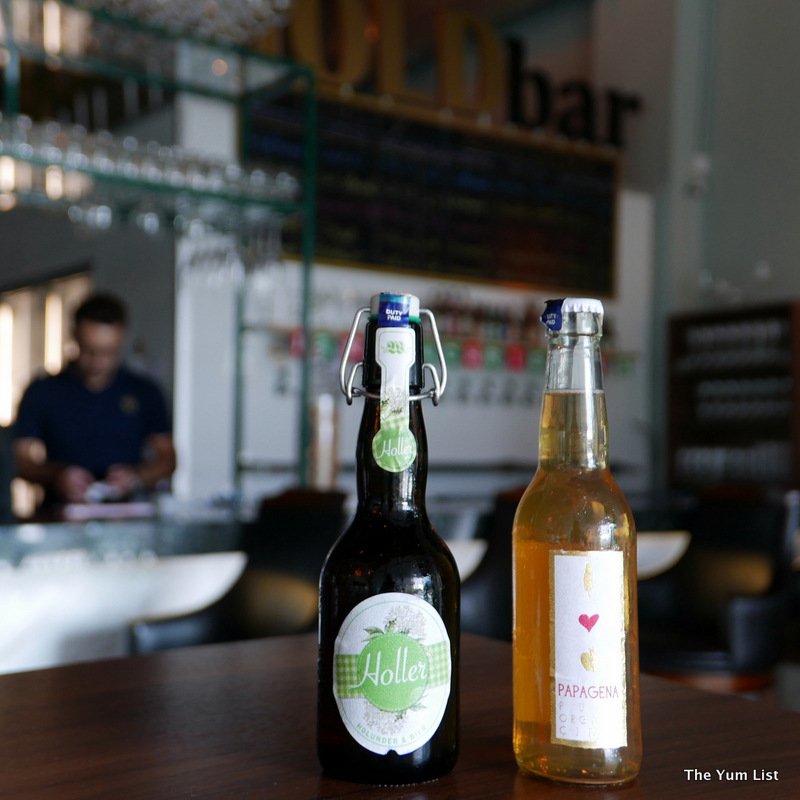 As for the full-on beers, HBTS Weissbier Hell can be considered a medium – quite robust, but not too strong to knock one out. For those who like something that packs a bit more of a punch, Steiner Stoaner Pils Zwerg will do it. Just try ordering that name after a few pints. To me, this was a stronger beer, and probably more suited to evening drinking. However, that's just me.
Horny Betty (oh, she's a beer, don't worry) was perhaps the most interesting though. Hidden from us until right at the end of our experience, Ms Betty was ceremoniously placed at the head of the table. Somewhat strong (did I say somewhat), this is just one of those "must try" beers – a step aside from the typical beer one gets at pubs or drinking joints.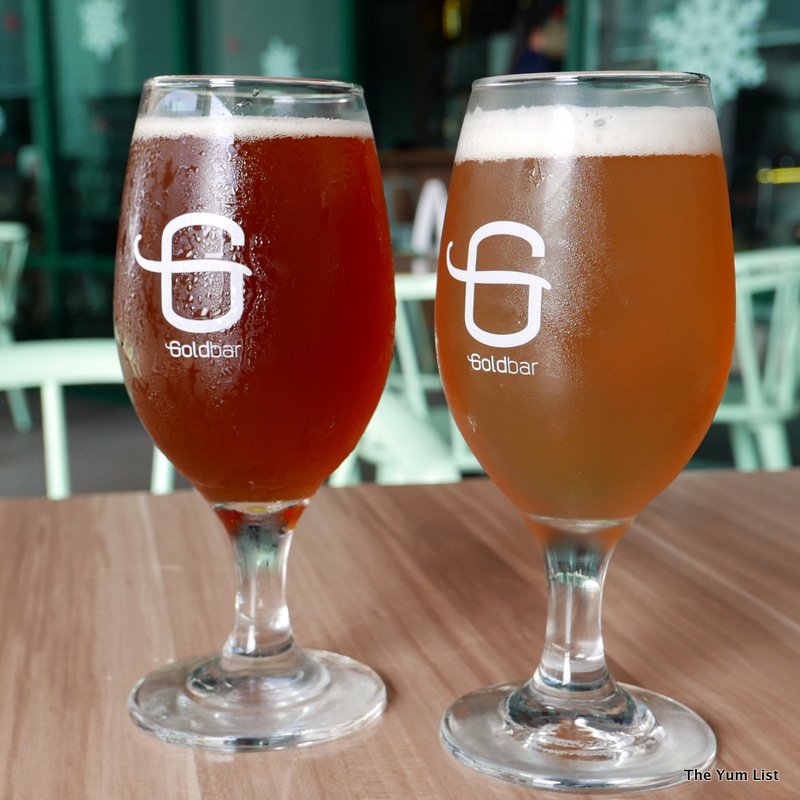 Overall, Gold Bar is a very chill place to sit back with friends and enjoy conversation, food and beverages. There a 'no rush' feel about the place; service is friendly and attentive, the restaurant is spacious and offers different zones for you to enjoy, and the atmosphere is modern and fun. Definitely worth trying, and certainly reinforces my awareness that there are many hidden gems out in the suburbs.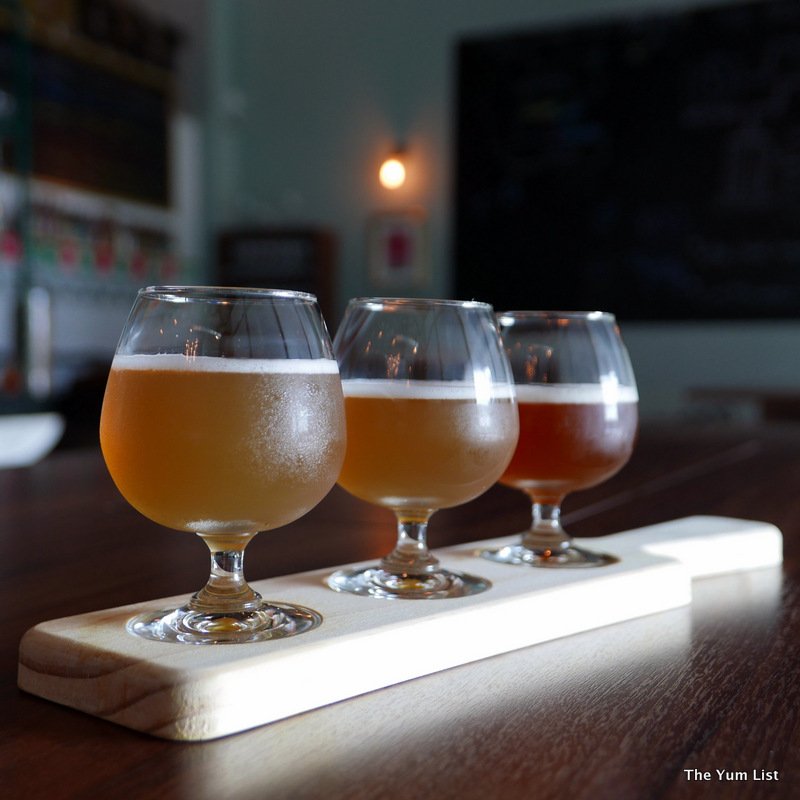 Reasons to visit: unique craft beers not found elsewhere in KL; value for money prices; the sharing platters are perfect for a group of friends and family.
Gold Bar
P-01-17 Tropicana Avenue
12 Persiaran Tropicana
47400 Petaling Jaya
Malaysia
https://www.facebook.com/mygoldbarpj/
http://7goldbar.com/
[email protected]
+6 03 7453 6808