Words: Louise Miller    Photos: Monica Tindall
Just as I'd ruefully renounced Yum Listing privileges for the month of January in favour of seriously clean eating, calorie restriction and a generally saintly and wholesome lifestyle, Monica tempted me back to the light side with the magic word 'Superfoods'. No stranger to La Juiceria, I knew that I was in for a delicious dinner with no risk of piling back on the few pounds I'd already worked hard to shed.
Like its sister branch, Goodness Greens in TTDI, Superfoods is light and welcoming. The decor is an attractive contrast of purple walls lined with pale wooden pallet shelving and monochrome tesselated tiles. This is embellished further with luscious bursts of green foliage that encapsulate the freshness of the eatery's ingredients.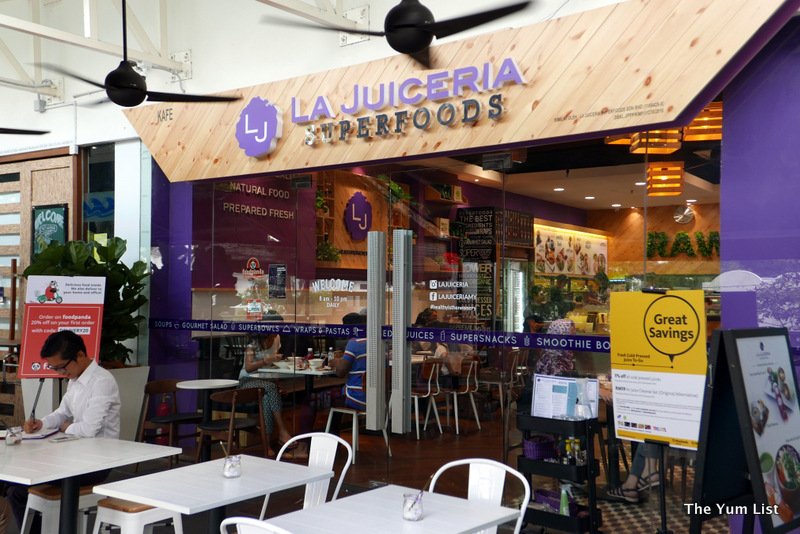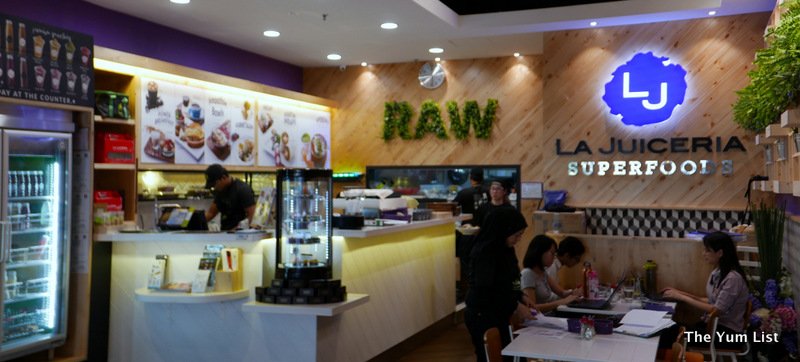 We began with a Vatte (RM11) and a Premium Chai Latte (RM14). The first, a double shot espresso with La Juiceria Almond Mylk, was rich, full-bodied and bitter sweet. It was served with a shot of chlorophyll water that, according to the little information card with which it was presented, keeps the consumer energised and hydrated whilst improving the quality of red blood cells. The latter, La Juiceria's take on Masala Tea (also made with Almond Mylk) saw a complex spice blend of cardamom, cinnamon, star anise, cloves, peppercorns and ginger with Australian Bushland Honey provide a soothing aromatic warmth to the Black Ceylon Tea. We loved both of these.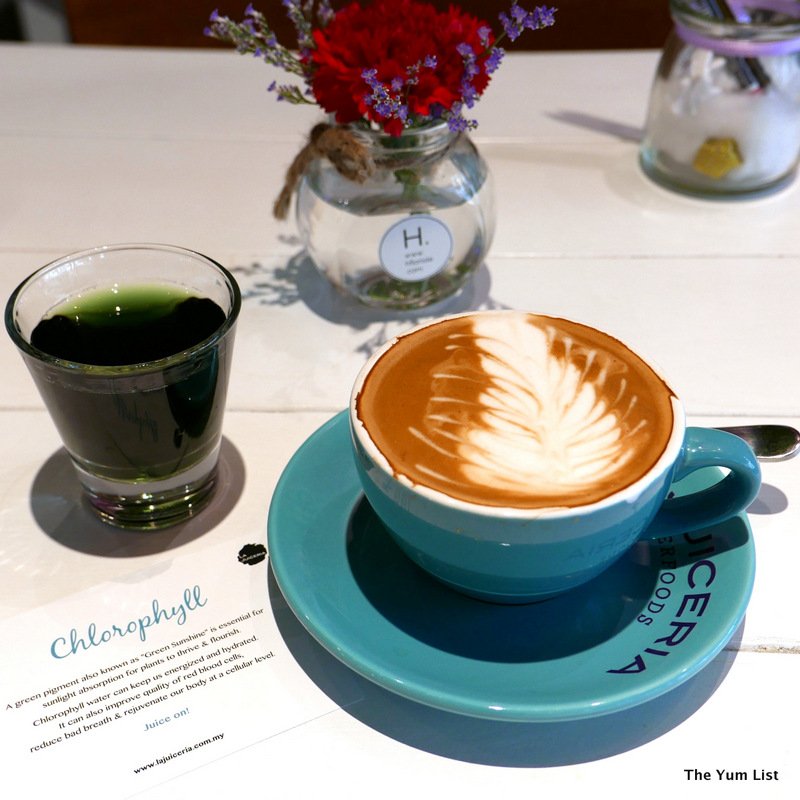 Since we had come primarily to sample some of the new entries to Superfood's menu, we began with Smoked Duck Soba (RM18.90): a heap of charcoal soba noodles with mixed salad leaves, a soft boiled kampung egg, slices of tender pink smoked duck meat all scattered with sesame seeds and drizzled with a sesame shoyu dressing.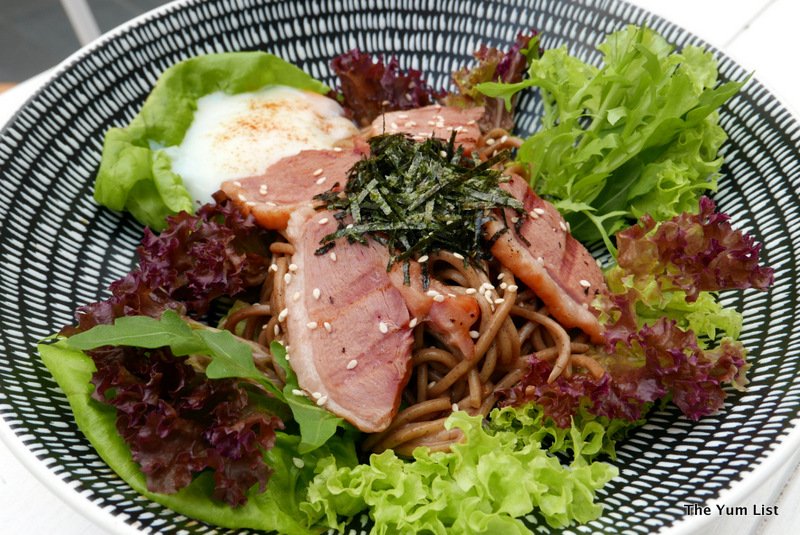 Now available all day, the breakfast menu has welcomed the new addition of Smoked Salmon Quinoa (RM25.99): a super tasty and protein packed salad of quinoa laced with tangy pesto dressing and accompanied by delicate slices of smoked salmon, a mound of scrambled kampung eggs and a slice of high fibre bread with butter – a breakfast of kings for sure.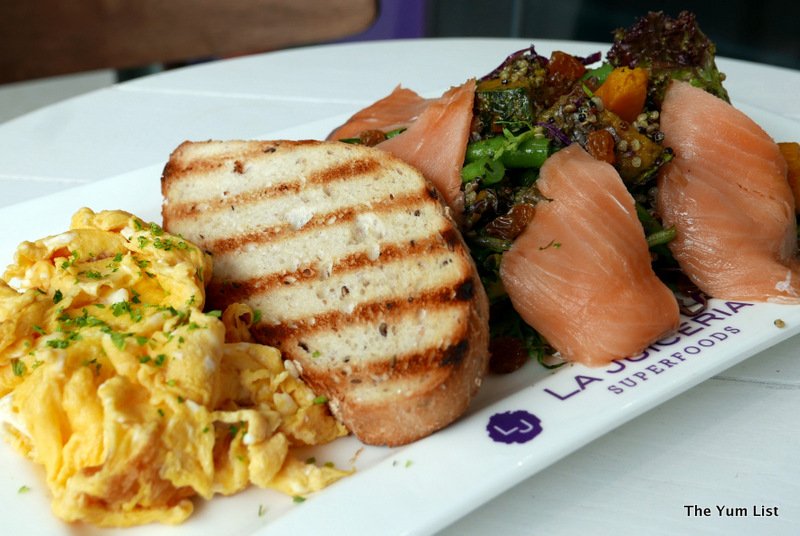 More protein packed goodness was in store in our salad course since we opted for the Protein Power Bowl (RM18.90). This pretty composition brought together protein powerhouses brown rice, quinoa, tofu, almonds, chickpeas and alfalfa sprouts with wedges of roasted pumpkin, grated carrots and mixed mushrooms. We generously doused the salad with the accompanying gently spiced warm dhal curry sauce and devoured with glee.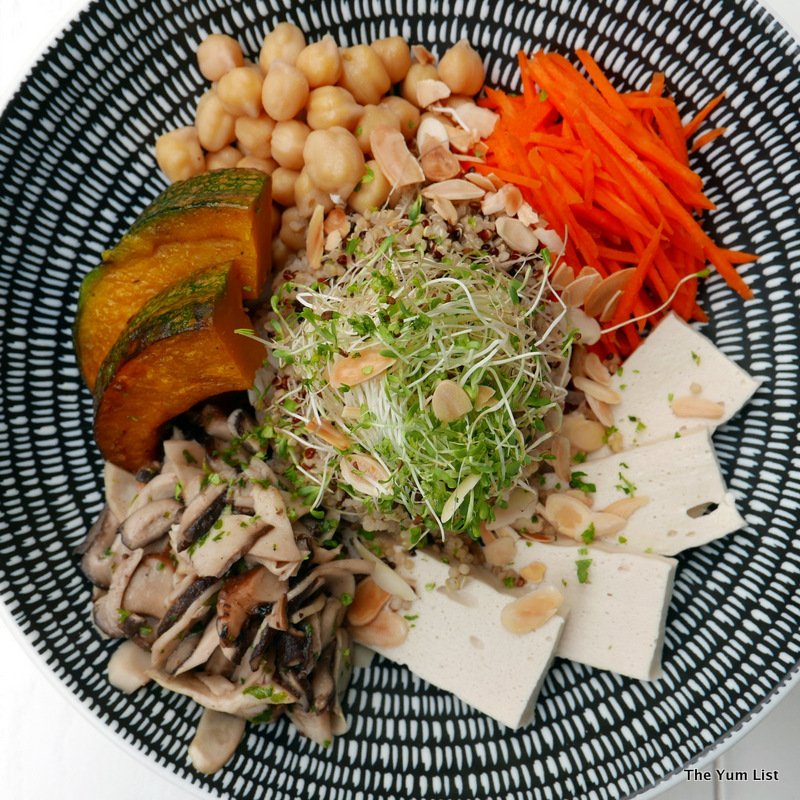 Intent on sampling something from each section of the menu, it was now time for pasta. Now, I'm all in favour of breaking culinary rules –  I like creative interpretations of the classics and unexpected fusion twists but the very thought of a bolognese sauce made with chicken had my hair standing on end and my toes curling in my flip flops! If Monica hadn't chosen Bolognese Chicken & Grilled Veggies (RM20.90) I would have avoided it like the plague and what a sumptuous treat I would have missed. The sauce was so damn good, we couldn't stop dipping in for more. Rich with the minced chicken and tomato flavours, the Bolognese struck a perfect balance with an underlying sweetness lifted by shreds of sun-dried tomatoes that added further depth to the dish. If like I was, you're a Bolognese purist, be prepared to be converted and very pleasantly surprised.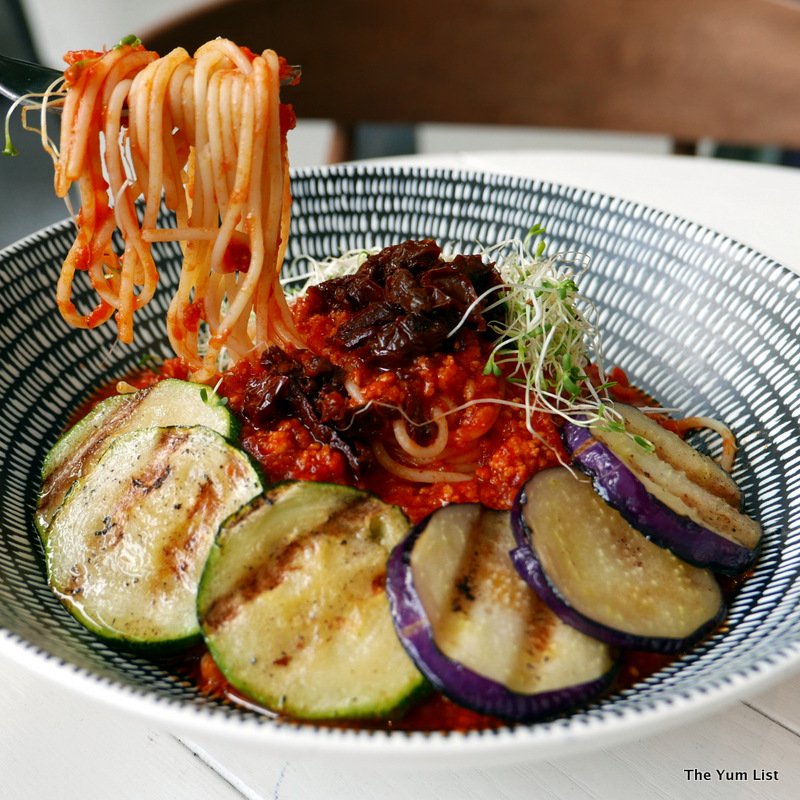 Now time for sweetness, we were presented with the Açai Berry Bowl (RM24). Now the açai berry seems to be getting a lot of attention these days since they've been touted as the superfood extraordinaire bursting with antioxidants, fibre and heart-healthy fats. I guess it's an added bonus then that it's so delicious. As tasty as it was beautifully presented, this dessert marries the Brazilian berries with bananas, maple syrup, cacao nibs, premium granola, strawberries, bee pollen, dessicated coconut and chia seeds – a winning combination that had us both smiling as we savoured.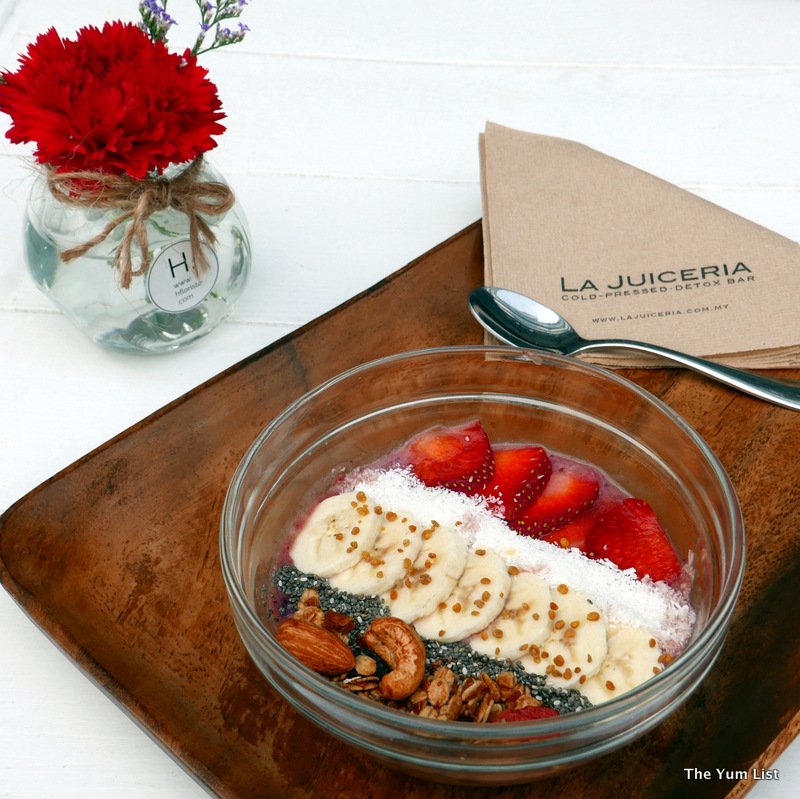 Superfoods also offer a range of raw desserts that are handcrafted by The Honest Treat. We chose Raspberry Chocolate (RM14.90)- a perfect rectangular slice composed of a rich, organic dark chocolate layer, paired with sweet and sour raspberry toppings. If raspberry and chocolate don't float your boat, there are six other raw cake slices to choose from. We challenge you not to be tempted by something here.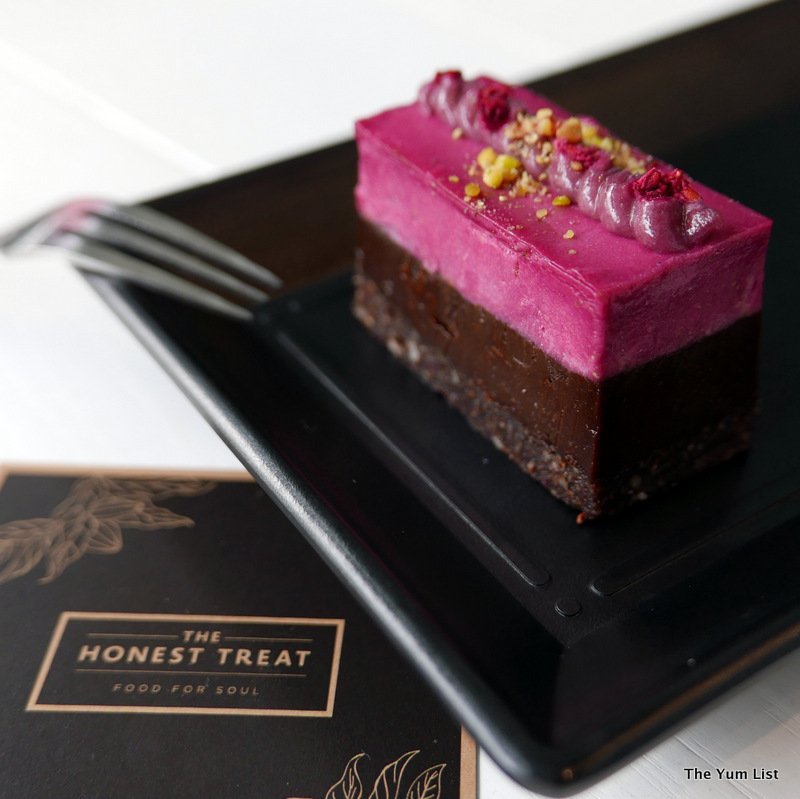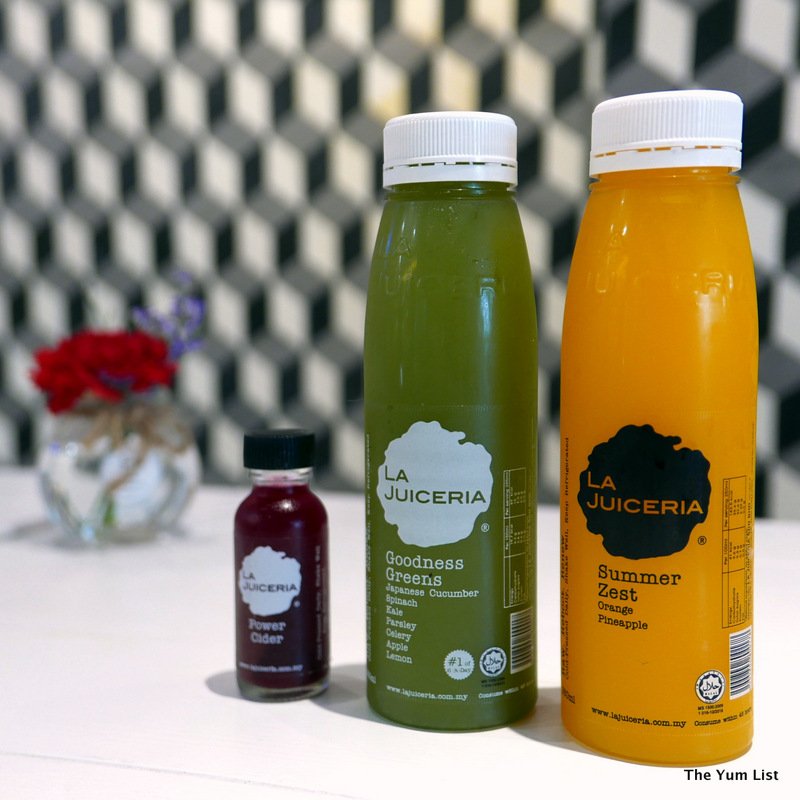 Reasons to visit: Delicious and nutritious food with loads of vegetarian, vegan, lactose and gluten free options. Smoked Salmon Quinoa, Chicken Bolognese & Grilled Veggies and the Açai Berry Bowl. Great juices, shots and hot drinks too.
La Juiceria Superfoods is open daily from 8am – 10pm
La Juiceria Superfoods
G-2, Level G, Verve Shops
Jalan Kiara 5
50480 Kuala Lumpur
Malaysia
+6 03 6280 6381
www.lajuiceria.com.my