Words: Patricia Podorsek      Photos: Monica Tindall
Great new cafes are popping up all over KL, stretching even to the far reaches of the city. 103 Coffee Workshop recently opened a new outlet in Cheras Selatan, new territory for me, and I was happy to have the chance to explore a new part of our fair capital.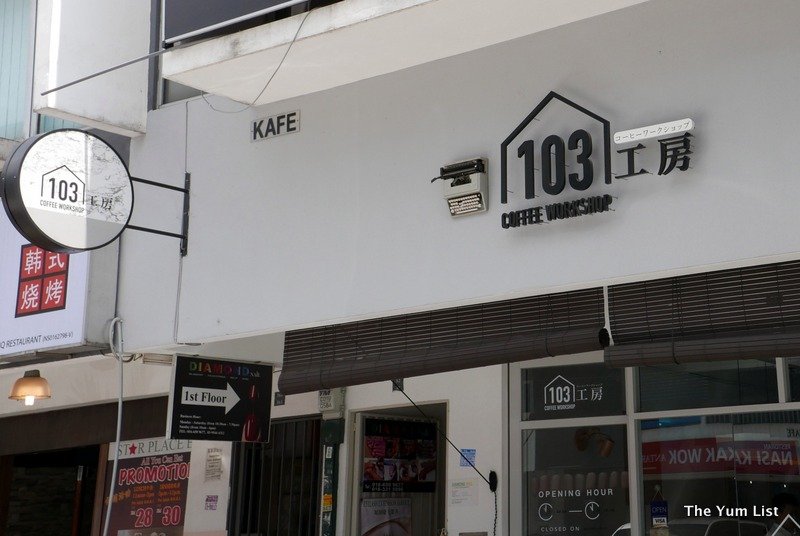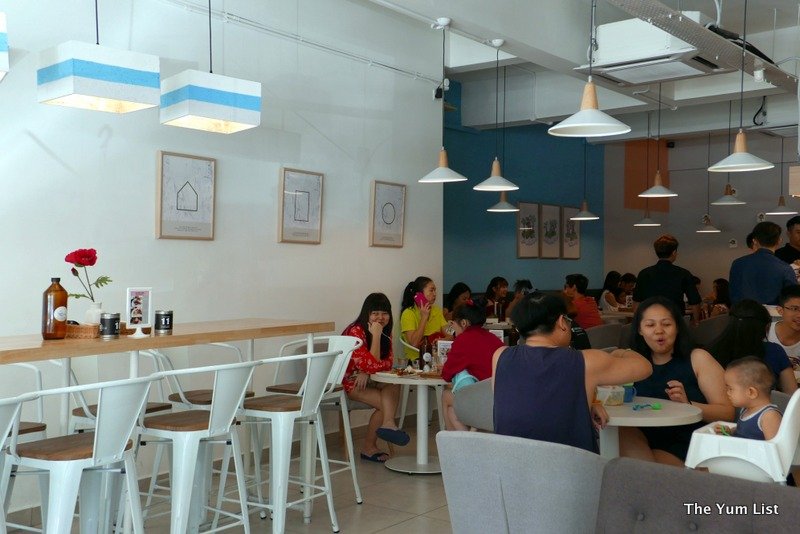 103 Coffee Workshop C180, as it's known, offers all-day Japanese brunch and a full menu that is Asian fusion, with some Thai, some Western, and some Japanese influences. Head Chef Rudy, one-quarter Japanese by ancestry, likes the delicate flavor and color of Japanese cuisine. You can see this popping up in many of the dishes that grace the menu.
Take, for instance, the Yuzu Pizza (RM16.90). This unique pie starts with a thin glaze of yuzu mayonnaise on a wheat tortilla. The little bit of citrus is a nice complement to the toppings, sesame-karaage pork, kizami nori and bonito flakes. This may seem more Japanese than not, but the addition of a mozzarella-cheddar blend brings this right back into the land of international cuisine. I just put it right back into my tummy!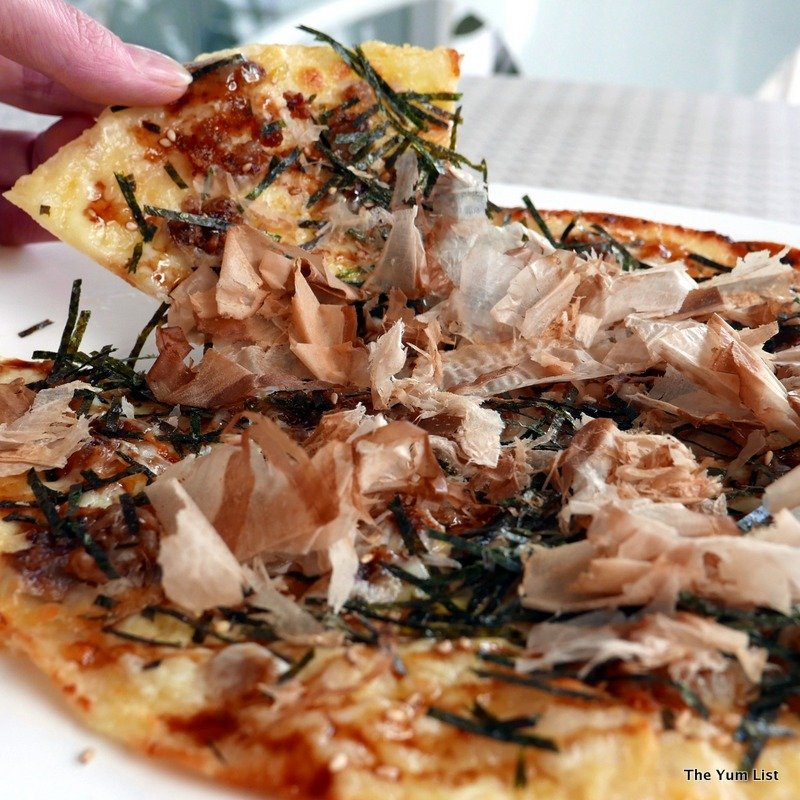 Off the pasta menu, the Buta Yaki Salted Egg Yolk Pasta (RM20.90) pulls together spaghetti with Japanese-style gingered pork slices and curry leaves. Under cover of shaved salt, runny egg, and heavy chili, this dish packs a power punch to the taste buds. A dusting of sour plum powder adds just a hint of sweet tang.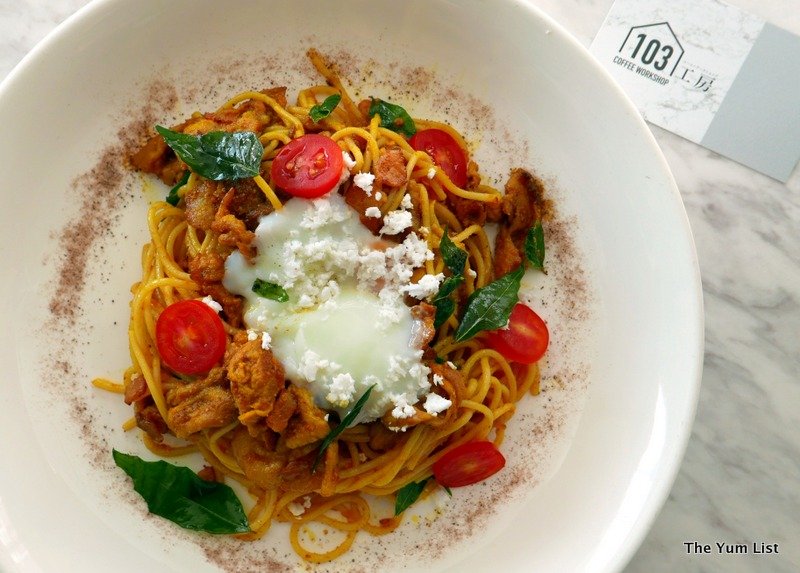 Part of 103's mojo includes regular competition among the kitchen staff for new experimental combinations. The winners of these friendly contests generate new menu items every two months or so. This is good news for patrons who like novelty and variety.
One example of this exciting fusion is the Asian Green Pesto Pasta with Sweet Thai Chili Chicken. Lemongrass creates a citrusy pesto that's fresh and flavorful, and combines nicely with the chili sauce on the chicken.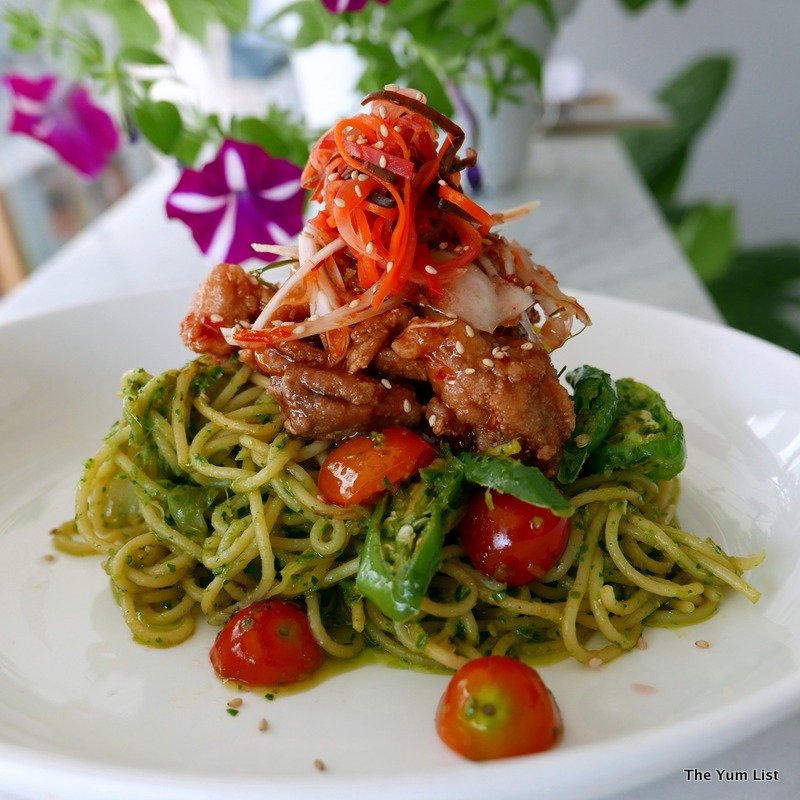 Although it's named the Daimanzoku Kai, or Japanese Big Breakfast (RM 28.90), I think a better name might be FEAST! Generous portions of sausage, seaweed scramble, karaage chicken skewers, three types of salad, a rice cake and more create a meal for king. Not only is this is an excellent choice for guests who want to share, it also offers the chance to sample many of 103's flavors in one go.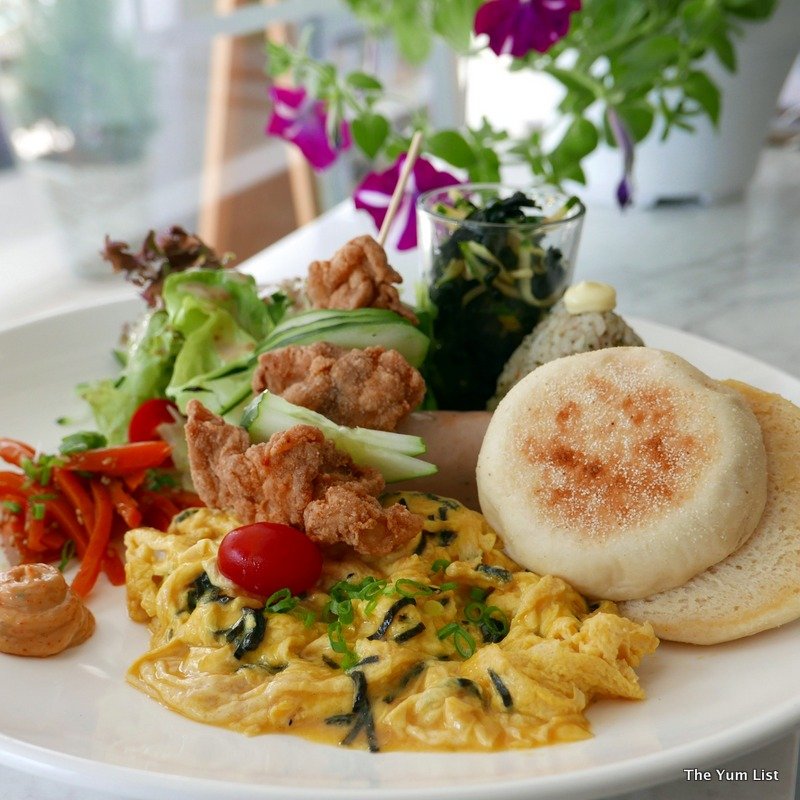 But our favorite meal for the day was Goma Yaki Udon (RM16.90). Fat noodles are sauteed in Japanese sesame sauce and topped with pickled radish, two types of grilled mushrooms (shitake and shimeji), carrot threads and chopped scallions. This one had us fighting over the last bites on the plate.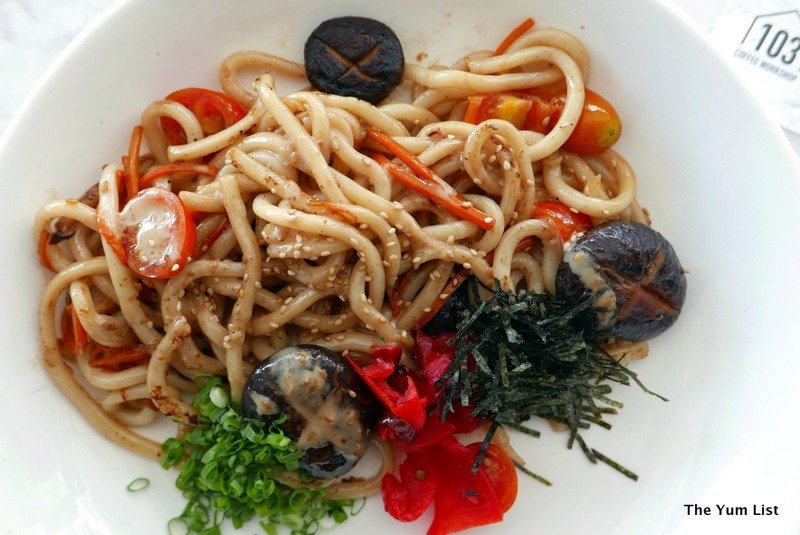 With all of this food variety, it might be easy to forget that the name of this cafe is COFFEE Workshop. Shelley is the head barista at 103 Coffee Workshop and the creativity seen on the food menu extends to the java bar as well.
The Strawberry Latte (RM 14.50) begins with a whole strawberry crushed into milk with a little sugar at the bottom of the cup before adding a flask of espresso. The result is cold and refreshing, while retaining a dense coffee flavor with a little fruity flair.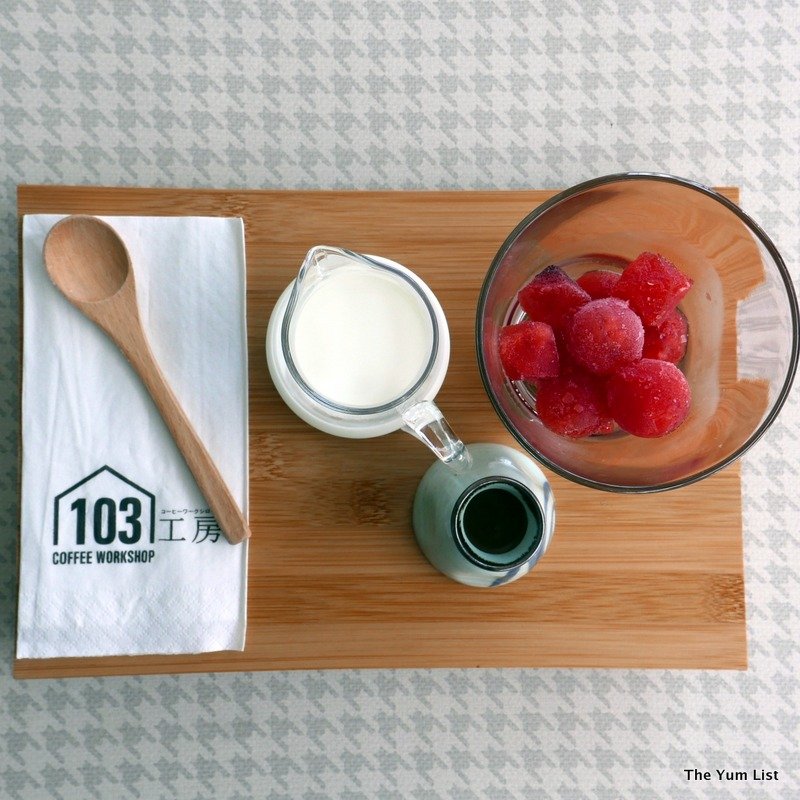 The more conventional Flat White (RM12.90) starts with a double shot of ristretto espresso and adds a line of milk. The finish is smooth and a little smoky. For a more Asian bent, guests can try the Matcha Latte (RM13.90), creamy sweet green tea.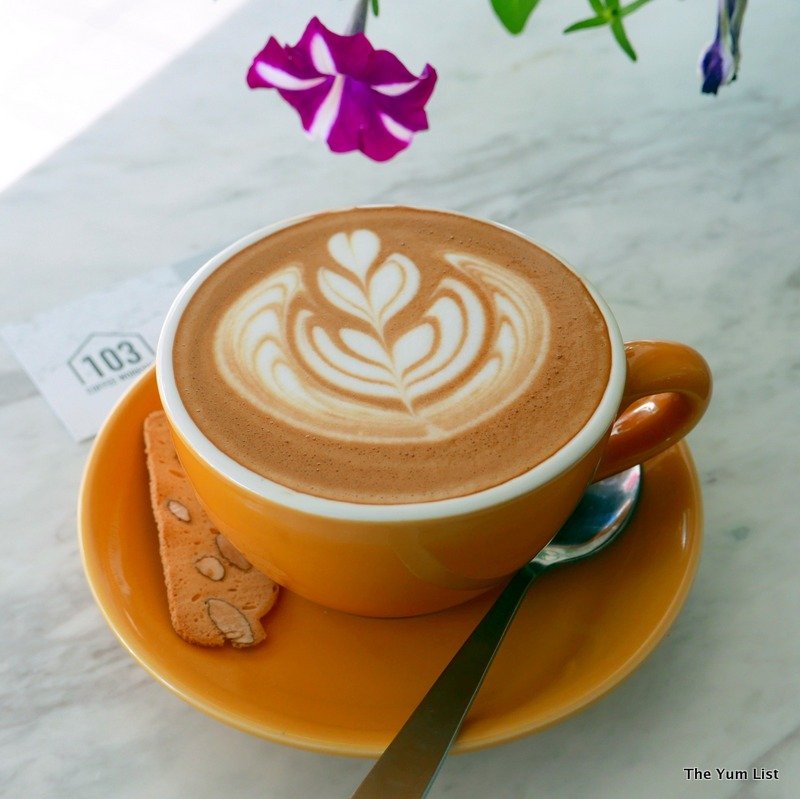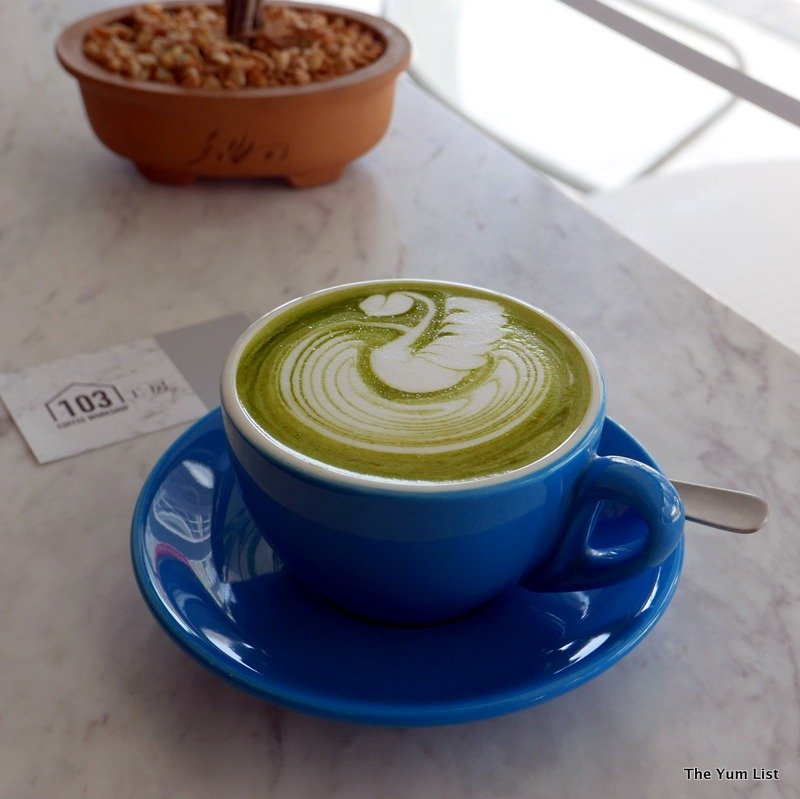 For those looking for interesting brews, 103 Coffee Workshop offers three options for preparing small batch single-origin coffees: Chemex, Aeropress and Pour over. Prepared in a Kalita beaker-style filter, we sampled the Kenya Kirura AA with its overtones of blackcurrant candy and a black tea finish: Aromatic and delicious.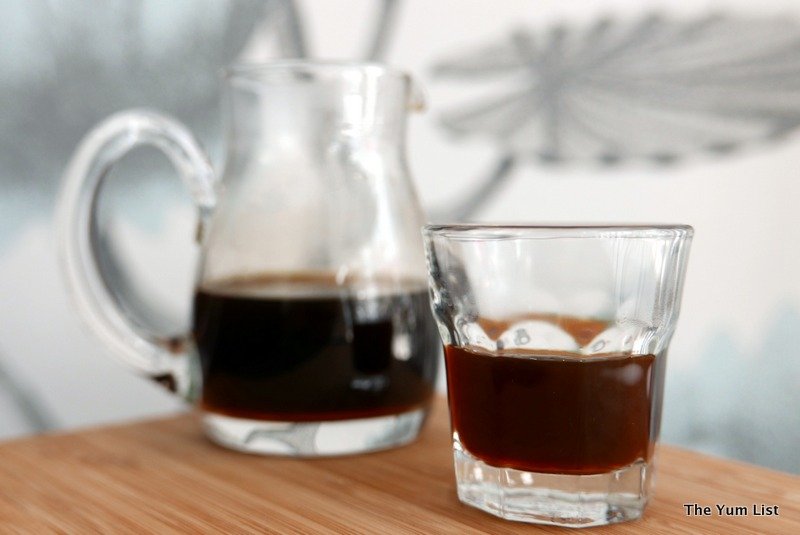 You'd expect the desserts at a cool coffee cafe to be a highlight and you won't be disappointed by what you find here. The Banana Toffee Waffle (RM21.90) tops a crispy waffle with banana chocolate gelato. Tasty enough right there perhaps, but then they add caramelized banana and honey jackfruit for extra sweetness. Sprinkle peanut crumble and bits of banana rum toffee on top and you've got an effect that is close to perfection for banana lovers.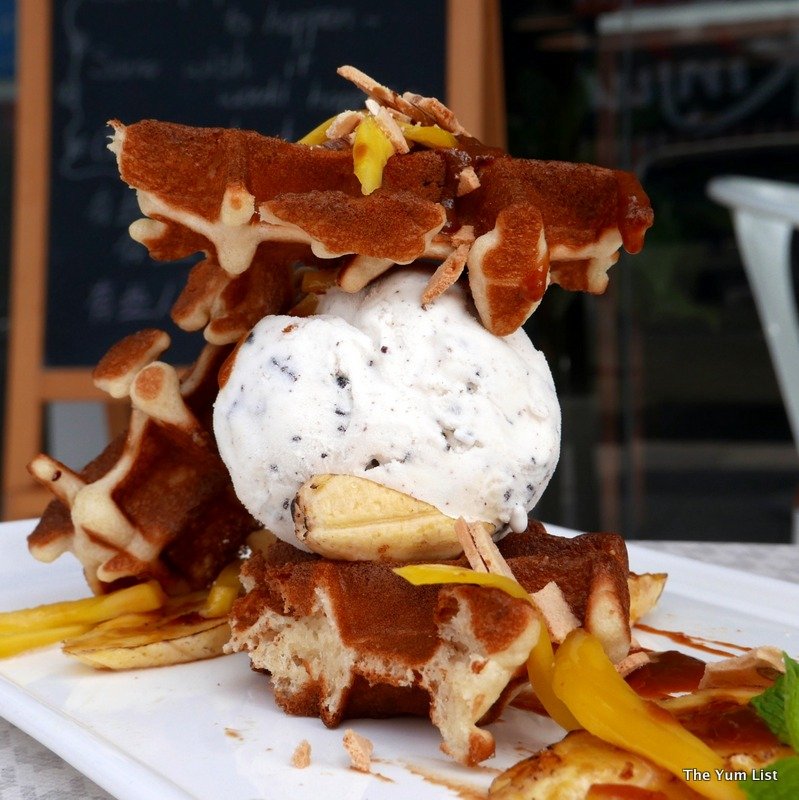 And while I do love banana, maybe not as much as macadamia! The only thing I can say about the Macadamia Affogato (RM18.90) is Fab Fab Fab! A piece of rich chocolate toffee is adorned with macadamia gelato, baptized with espresso, and then crowned with cornflakes for a bit of crunch. I know it's cliche to say something like "I thought I'd died and gone to heaven", so let me say instead that Monica had to hold me back from licking the bowl.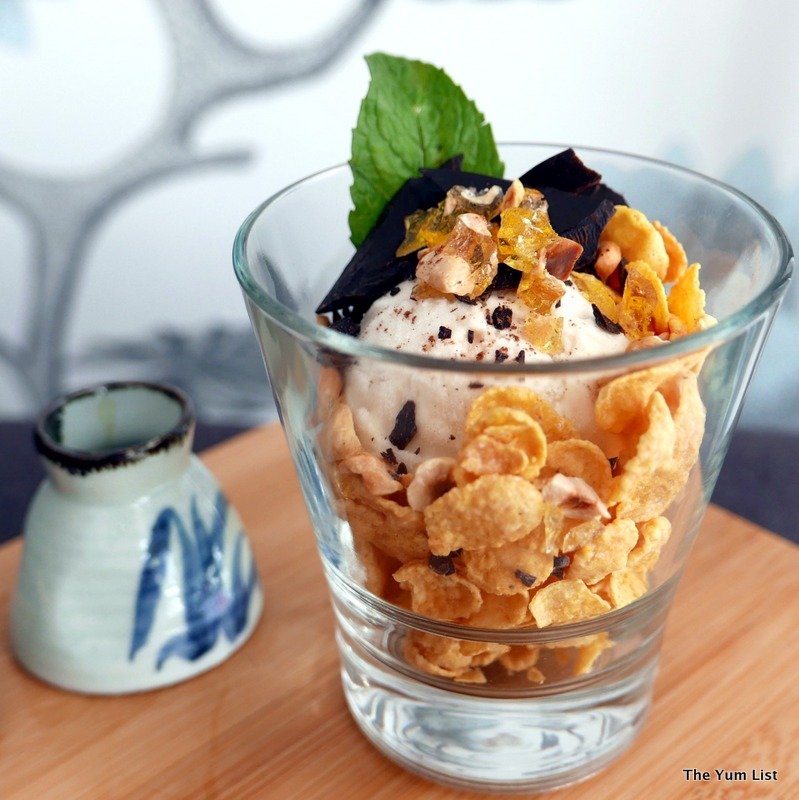 Cafe treasure hunters are always on the lookout for new places to drop a joe, but any intrepid soul looking for new territories to explore in KL should program their GPS to Cheras Selatan for novelty of food and location.
103 Coffee Workshop is open 11:30 am – 10:30 pm Monday, Tuesday and Thursday; 11:00 am – 11:00 pm Friday and Saturday; and 11:00 am – 10:00 pm on Sunday. They are closed on Wednesday.
Reasons to visit: Single-origin freshly brewed coffee, Goma Yaki Udon, and Macadamia Affogato
103 Coffee Workshop, C180 Branch
No. 3-G, Jalan C180/2
43200 Batu 9 Cheras
Selangor, Malaysia
+6 03 9081 5789
www.facebook.com/103balakong