Words Margaret Elizabeth      Pictures Monica Tindall
Hurry to Makan Kitchen at DoubleTree by Hilton Kuala Lumpur for the Absolute Thai Buffet Dinner (RM 135 nett per person), available from March 3 to April 30. This buffet is more like a sumptuous banquet than a buffet thanks to the canny culinary skills of Chef Jib, Head Thai Chef for Conrad, Bangkok and Cluster Sous Chef Chu for Hilton and DoubleTree by Hilton Sukhumvit Bangkok.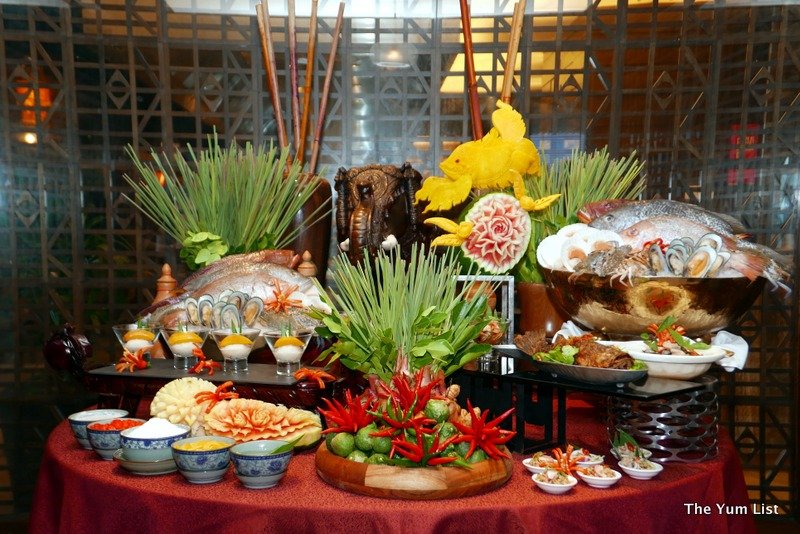 Meeting Chef Jib as she worked, I was struck by her absolute passion for flavor and precision. She was rapt in the preparation of a fresh salad dressing that we were to eat moments later. Her nimble fingers pulled and pinched precisely the right amount of herbs and blended exact quantities of chili and lime. She did not look away from her pestle and mortar until a bright smile broke over her face and she gave it a deft taste test. Bravo Chef Jib!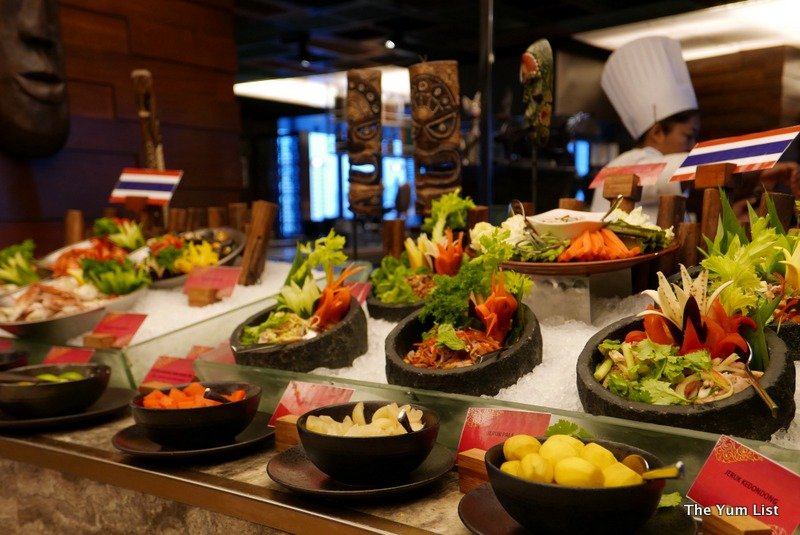 The Makan Kitchen is beautifully situated between two panoramic views. On one side a cityscape gives way to the distant green hills of Selangor and on the other, the stunning, no matter how many times I look at them, Petronas Twin Towers. Chef Jib is renowned for her fruit and vegetable carving and she has created a centrepiece so colourful and vibrant that it reminded me of the sense of awe I felt standing on the seabed of a coral garden looking up through the sea.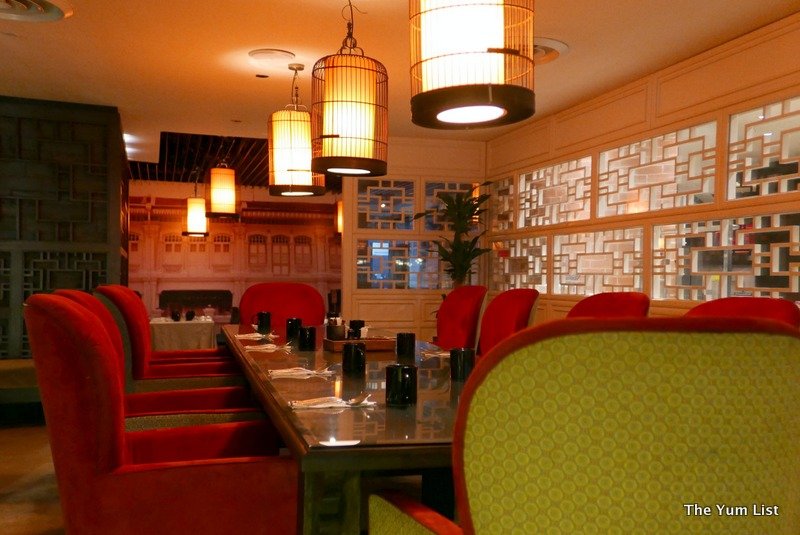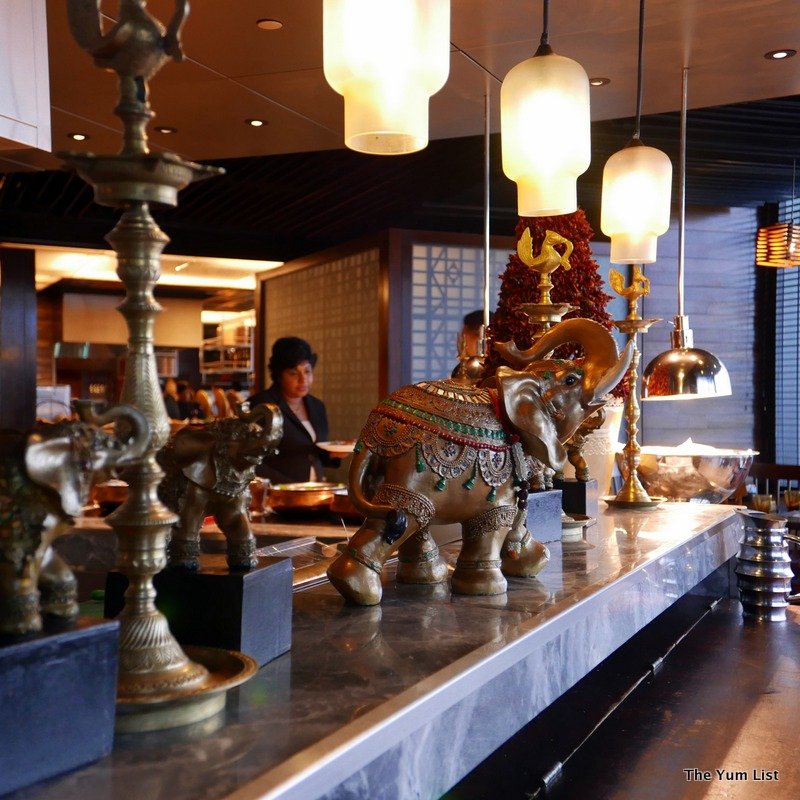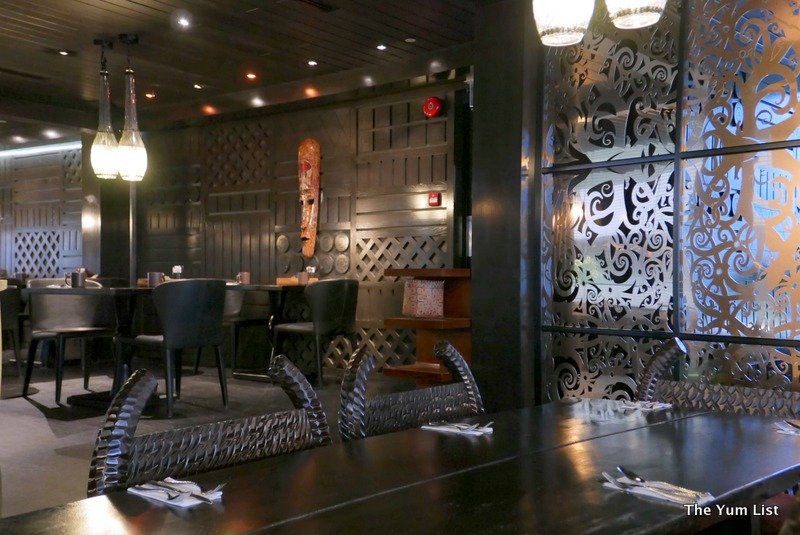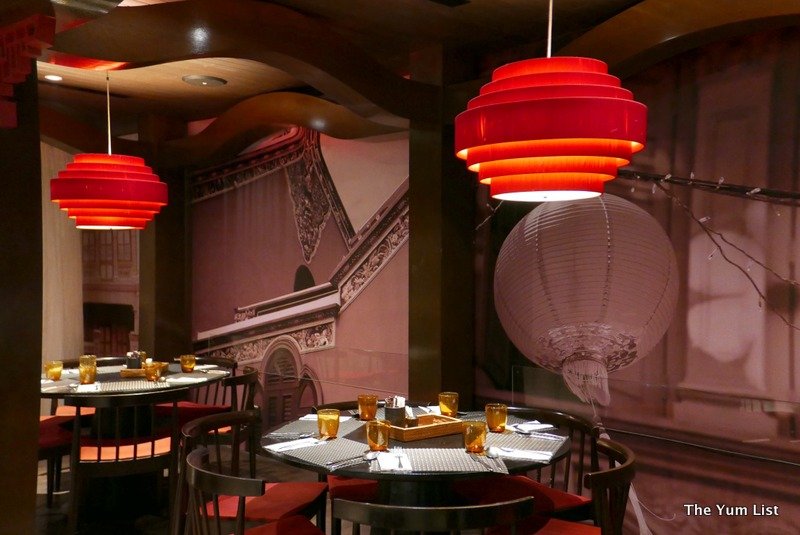 Having delighted my eyes it was time to delight my belly and dive into the appetisers. An authentic Thai menu over a number of courses seeks to balance flavours and textures within and across courses. Colour, aroma, presentation and freshness are equally important to achieve the optimum synergy of the senses. Chef Jib delivered.
So let us begin with appetisers. Som Tam Thai, Papaya Salad, with dried shrimps, roasted peanuts and a chilli – lime dressing. There was a lightness of touch to the salad dressing that is often missing in a regular Thai restaurant. The ingredients of the entire dish harmonised well together and looked beautiful on the plate. I wanted to eat more but I didn't want to fill up too soon.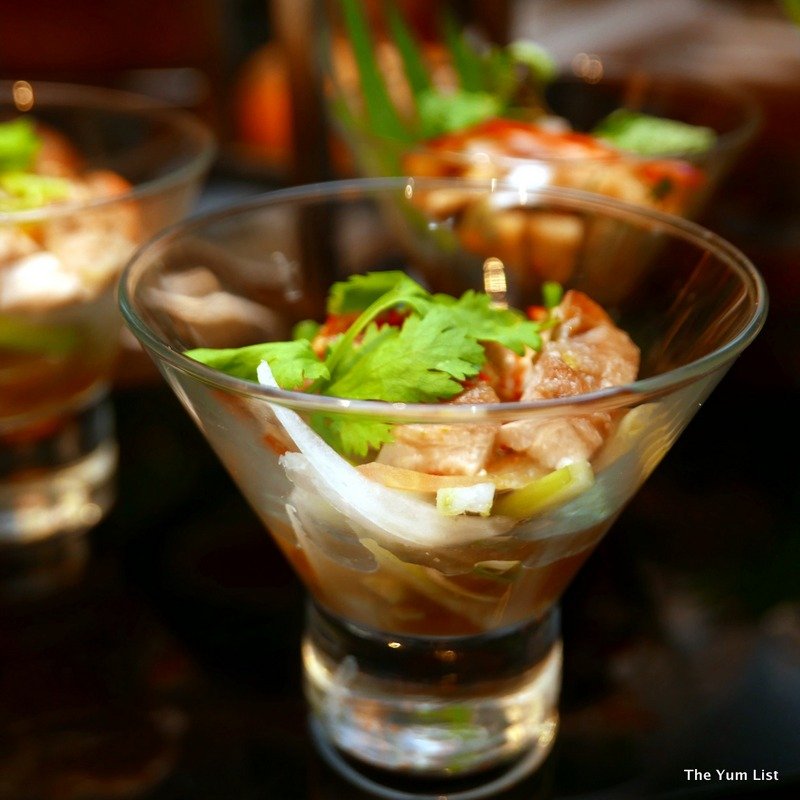 Gung Che Num Pa, raw tiger prawn with premium Thai dip really grabbed my taste buds. I am a lover of sashimi so this cousin dish is right up my street. The texture and freshness have a flavor on their own and adding the dip elevated those flavours up the Richter scale. I kept alternating dip, no dip because I couldn't get enough and liked both ways.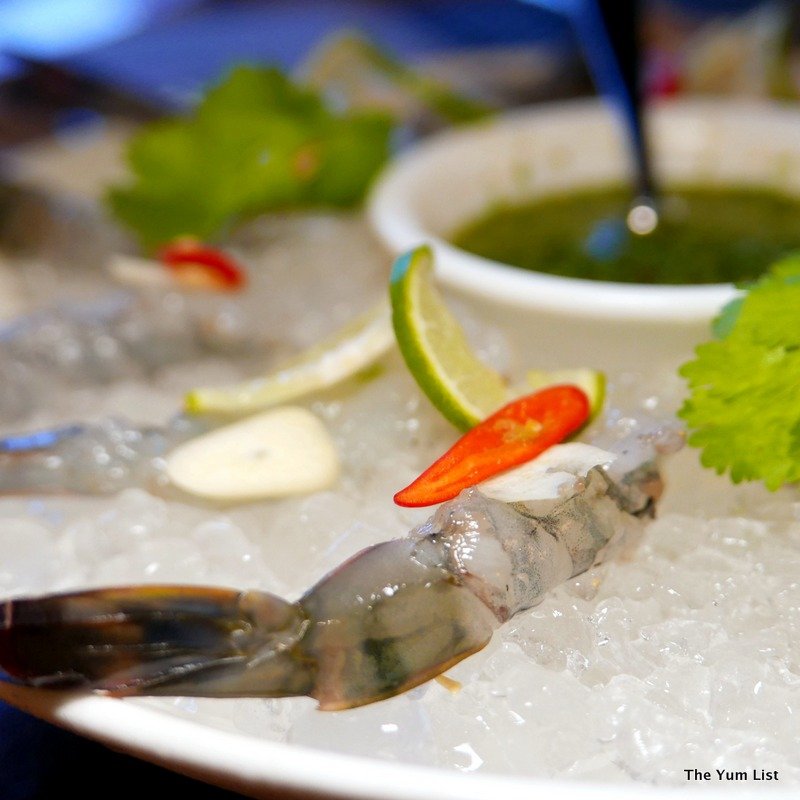 Moving on to the soup, River Prawn Tom Yam Gung, a prawn soup infused with lemongrass, kafir lime and galangal was one of those food lover moments that you know you are born for. The switch between tastes from raw tiger prawn to the taste of the ocean in the soup was a sensation of a lifetime. This started Monica, Caning and myself off on an amusing journey through our similar food stories from experiences around the world and across time. Fun.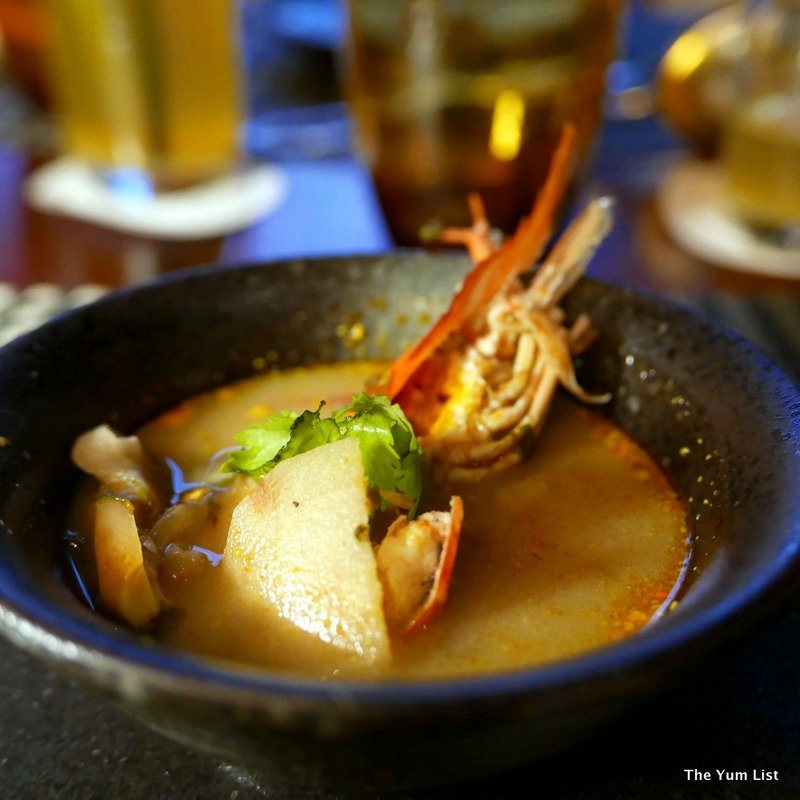 On to the mains, Pla Neung Manao, steamed sea bass with fragrant lime broth served with Khao Suay steamed white rice which was presented in an elegant fish shaped platter and superbly garnished with fresh herbs. The broth was divine and I appreciated the seeming simplicity of it all. As the produce is fresh and of top quality, subtle fusions of sauce enhance the fish rather than hide its essence.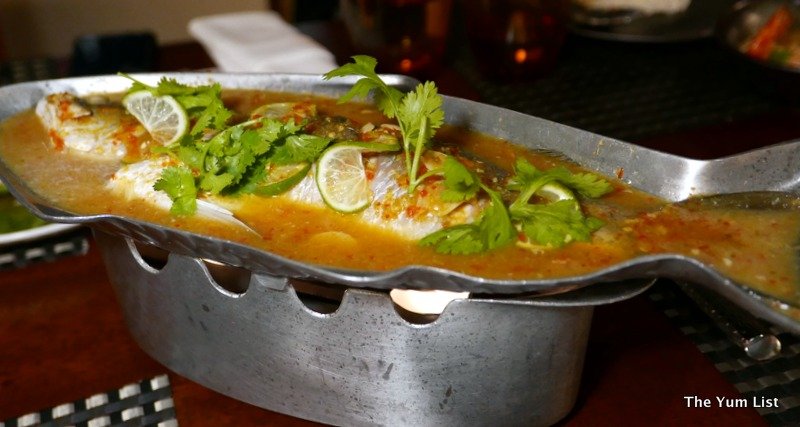 Nam Tok, grilled black Angus Thai beef salad, was another top ticket item. The beef was medium rare, caramelised on the outside and warmly pink on the inside. It looked lovely on the plate nestled against the reds and greens in the salad. I particularly enjoyed the contrast between cold salad and hot meat.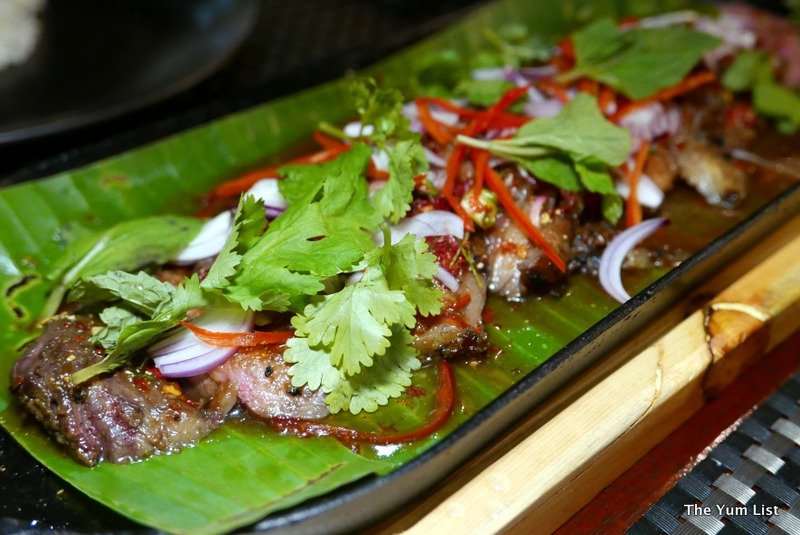 I was so happy that the buffet was not too grand to embrace that most famous Thai dish, green curry chicken, Gang Kiew Wan Gai Thai. There is a lot of variety across the world in what you get when you order green curry chicken and I was pleased with the authenticity of this version. The miniature eggplants were succulent and the curry was delicately balanced with a hint of fresh, coconut creaminess. The lightness of the curry allowed the other ingredients to shine.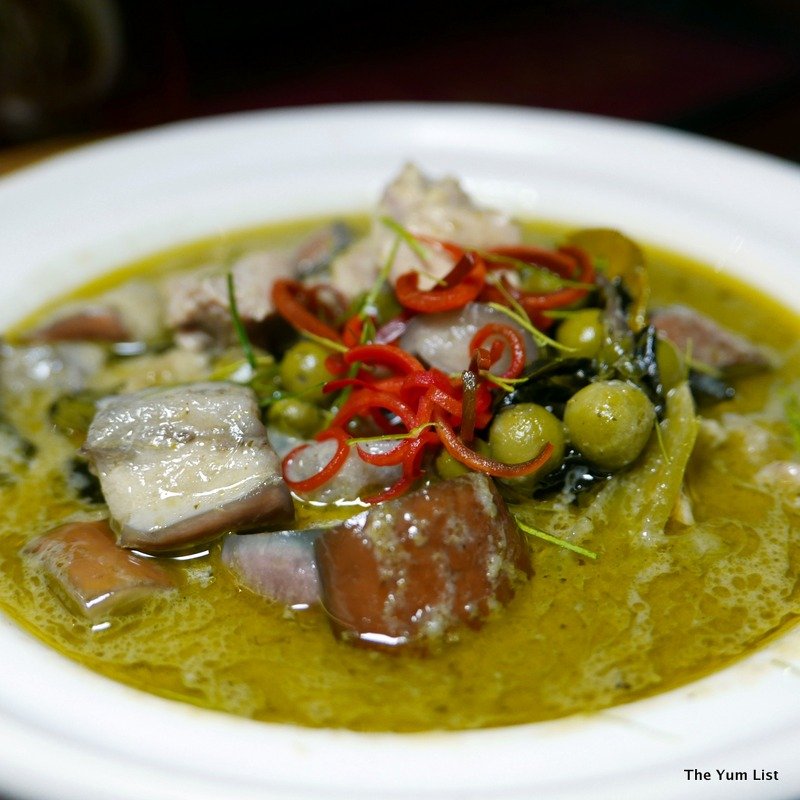 If every veggie dish was like Raul Muong Xao Mam Tom, stir fried morning glory with chilli and shrimp paste, I could possibly become vegetarian. I had many helpings because I loved the delicate bite of the shrimp and chilli with the slightly chewy crunchiness of the morning glory. Again, it was fresh, fresh, fresh with every bite. Every dish was artistically presented but there was something extra appetising about green and red colours together.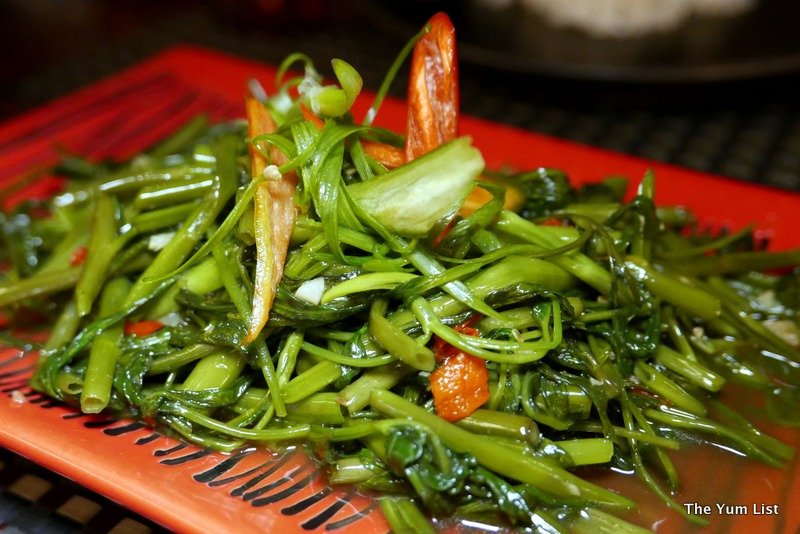 I was very proud of myself for actually having any room for dessert. The servings were plentiful, so it was an act of strength on my part not to run my race too fast. Yes, we had the ubiquitous mango sticky rice, Khao Nieaw Mamuang Chokanan, presented as part of a trio of desserts on a glass server, along with Sangkaya Fukthong pumpkin custard and Tub TimKrob red ruby and jackfruit in coconut milk. This was a clever idea on the part of the chefs to introduce us to new desserts that we may have overlooked in the stampede to the mango sticky rice. All three desserts were delicious and I love, love, loved the pumpkin custard. I get very excited when I find a food new to me and this is new one, woo hoo.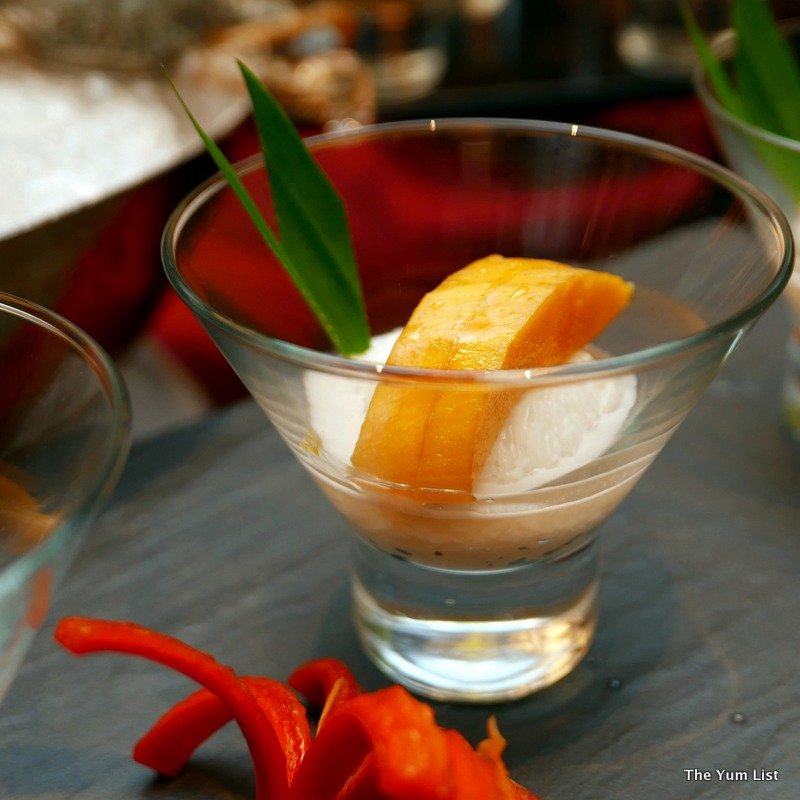 This buffet was a joyful experience- every dish was perfectly executed and delectable AND there's more… you can visit the buffet as many times as you like, so need for restraint.
Reasons to visit: to savour the joys of a master chef and unique flavor transitions from raw tiger prawn with premium Thai dip, through prawn soup infused with lemongrass, kaffir lime and galangal to grilled black Angus Thai beef salad.
Makan Kitchen
Doubletree by Hilton Kuala Lumpur
The Intermark
348 Jalan Tun Razak
50400 Kuala Lumpur
Malaysia
+6 03 2172 7272
www.flavoursbydoubletreekl.com