Words: Margaret Elizabeth     Photos: Monica Tindall
Situated in the leafy yet bustling former Art Printing Works site in Jalan Riong, Bangsar, is Pulp by Papa Palheta aka Pulp; an eco system that is everything coffee. The interior cleverly incorporates a coffee lab, serious behind scenes work spaces and a modular coffee serving station that opens up to enable coffee addicts to stand, 360 degrees and watch the alchemy of coffee bean transformation. Design lines are clean, stylish and inviting. But first, I am going to tell you an Epicurean tale of passion, espionage and love. So you can sit back and enjoy the tale or skip to coffee and food pairings. Just follow the pictures.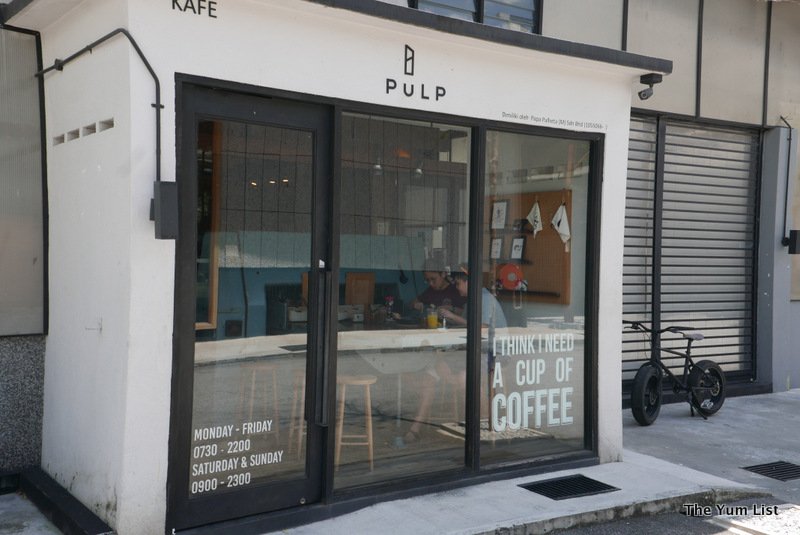 Enter Marcus Foo, a man who imagined a life beyond hedge funds. Marcus was given a bag of magic beans – no wait that's another story. Marcus was given a professional coffee making, machine. Intrigued by the bitter horror of his first attempt with supermarket coffee beans, Marcus took the machine apart, questioned the pros, and researched online to discover that coffee machines need to be cleaned and serviced, regularly. One simple truth and a passion was born; leading Marcus to travel to coffee farms around the globe, seeking the best beans and helping farmers to improve agricultural practices though education in sustainable farming and fair trade pricing.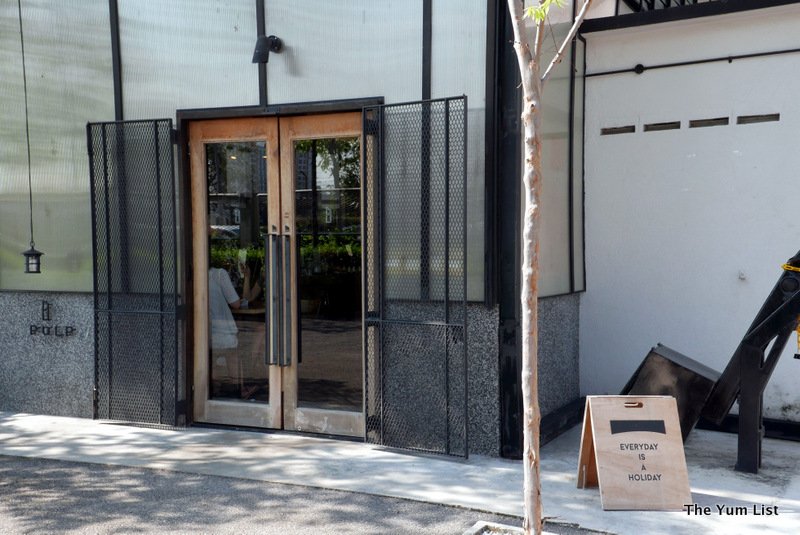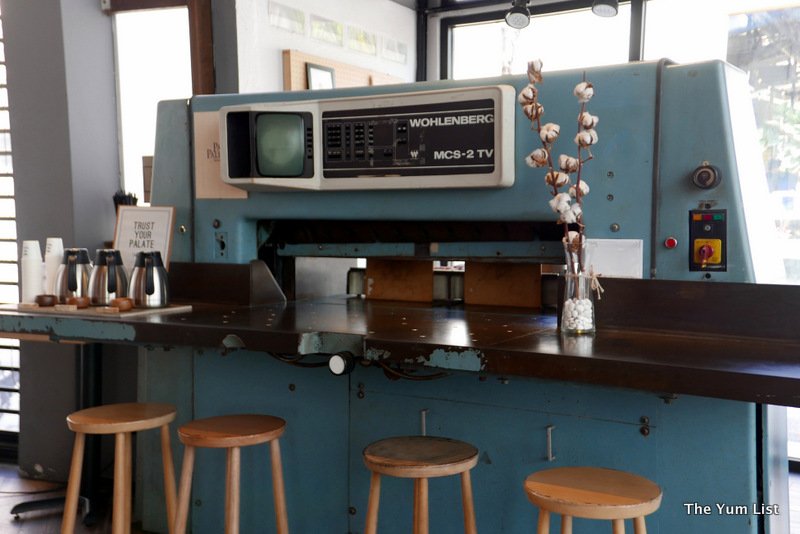 The company's name was inspired by the legend of Colonel Franciso de Melo Palheta, a diplomat in 1700's Brazil, who was similarly enthralled by coffee. Colonel Palheta undertook a secret mission to French Guiana to get his hands on coffee beans. Inconceivable, a Brazil without coffee! This James Bond of coffee failed at subterfuge but love saved the day. Charmed by dashing, passionate Colonel Palheta, the mayor's wife smuggled coffee beans in a ceremonial bouquet and so fast-forward to Marcus Foo, his state of the art coffee machines, C-Program education platform and small batch, speciality beans, roasted by his cousin in Singapore.
Inspired by that tale Monica, Caning and I embarked on our journey at Pulp by Papa Palheta with new dishes to be added to the already popular All Day Grub menu in March 2017.
Reflecting Pulp's roots in Singapore, Chef Jimmy presented chilli crab in a charcoal bun: all the yumminess of chilli crab without the work of the shell. In keeping with the artisan ancestry of this Art Printing Works area, the hot dog style, charcoal bun is walked from a local bakery to Pulp by Papa Palheta, daily. Jimmy's riff on chilli sauce is sweet, tangy and served in generous proportions. The balance of earthy charcoal undertones was a blissful fusion moment. Served with crispy steak fries and home made coleslaw, chilli crab on charcoal bun makes a satisfying evening meal or lunch.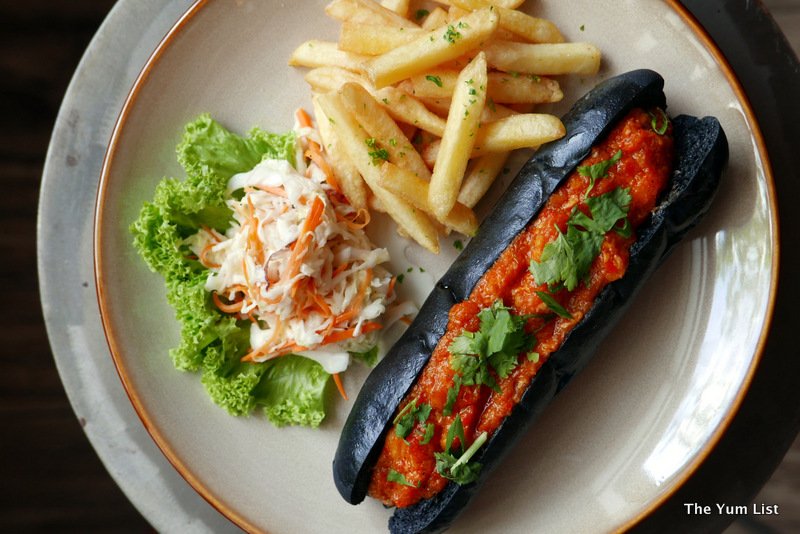 Throw Back wings are made from the sought after Throwback house espresso blend that Jimmy has infused into a unique barbecue style sauce for chicken wings, served with cooling cucumber. Jimmy has a genius for transforming sweet and sour tastes with a little something else going on in the there. The wings were meaty, juicy and delish. Deep-fried, then bathed in Throwback Sauce, a sauce so delightful we wanted to buy it! You can't, so you will have to go to Pulp by Papa Palheta to try it.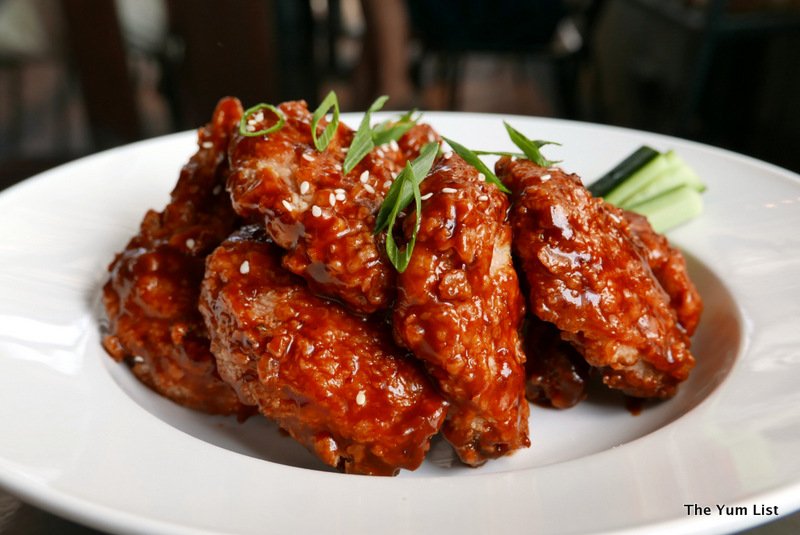 My pick of the day was chicken rice. Crazy I thought to put chicken rice in a coffee establishment in Malaysia. How fantastically wrong I was. Jimmy's, synthesis of Korean, Thai and Malaysia is a Korean rice bowl- inspired creation. The chicken was tender, perfectly cooked and had a pleasing hint of charring on the skin. The aromas from this dish were heavenly wafts of fresh, local herbs and red chilli served with perfectly separated rice, cucumber, carrot, coriander and the ubiquitous, Malaysian fried egg.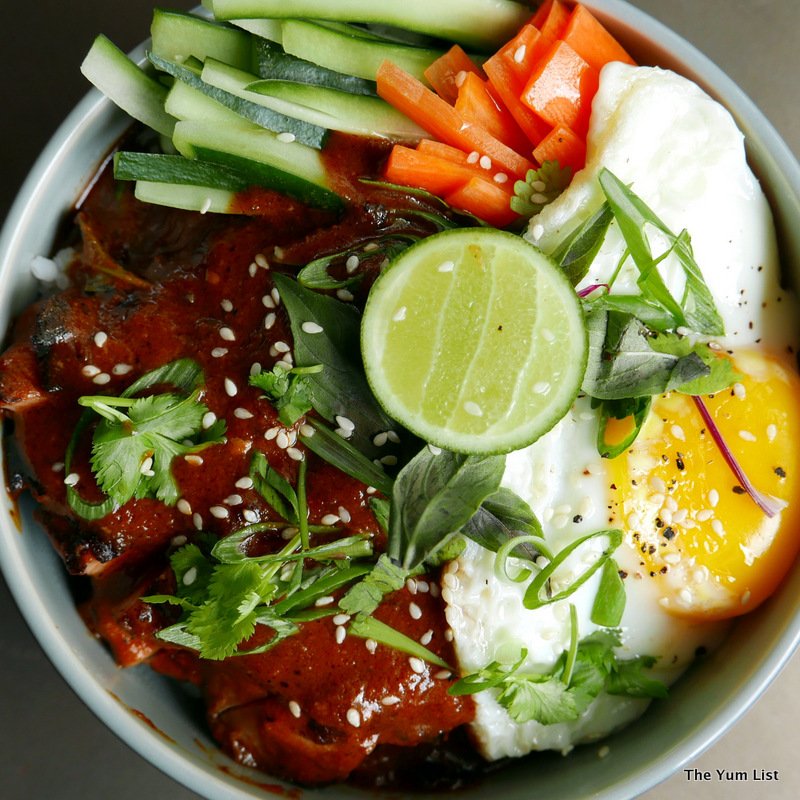 From the popular and continuing All Day Grub menu we sampled a re-visioned version of Avocado Open Sandwich, RM 25. Gloriously, smashed avocado with a piquant tang of blue cheese, sun dried tomatoes, accompanied by sweet potato chips and salad of crispy mixed salad leaves. The colours were appetising and perfectly showcased by the background simplicity of a grey plate. The artfulness of that aesthetic was very satisfying.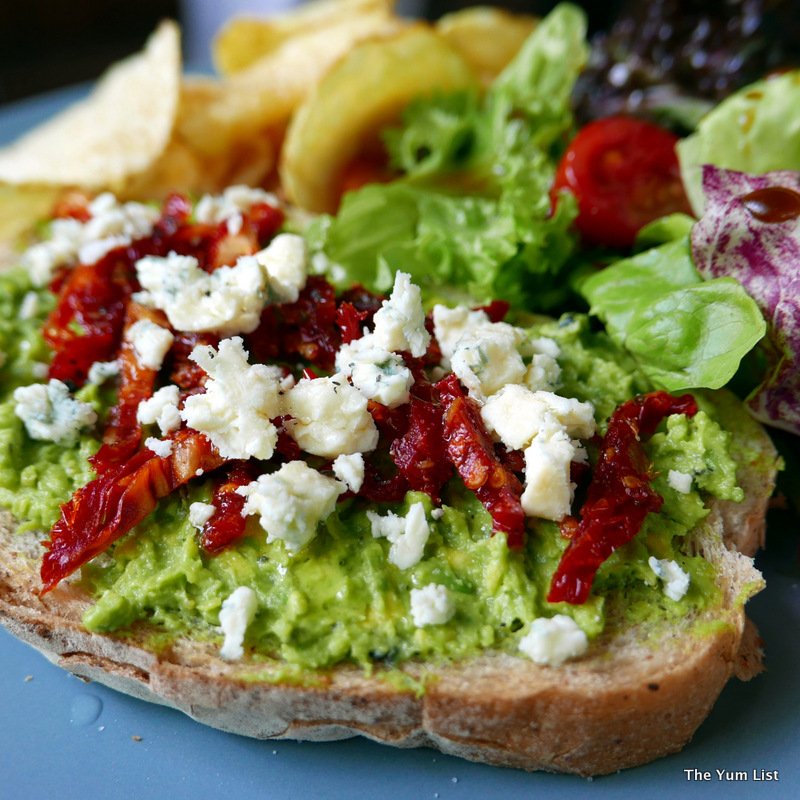 Another much loved dish from the current menu is Chicken Quesadillas, RM 30. Sour cream, beautifully browned tortilla flatbread stuffed with savoury chicken replacing the previous beef salami version.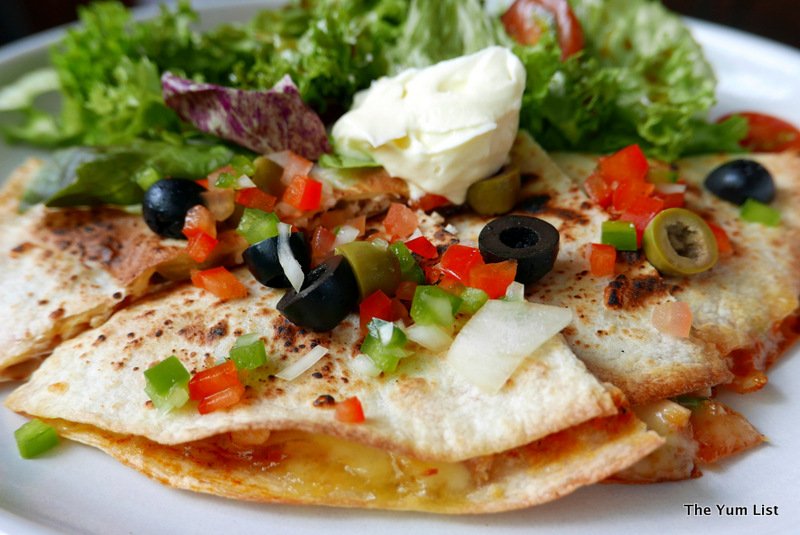 Next we met Carmen, Head Barista. Her knowledge and passion about all things coffee has been honed through rigorous Pulp by Papa Palheta training. From the cleanliness of an untainted coffee cup, through sustainable coffee bean production, to water temperature and perfect consistency. It can take more than a year to attain full barista accreditation from Pulp by Papa Palheta. An interesting note: some well known brands send their people to Pulp by Papa Palheta for training and coffee education.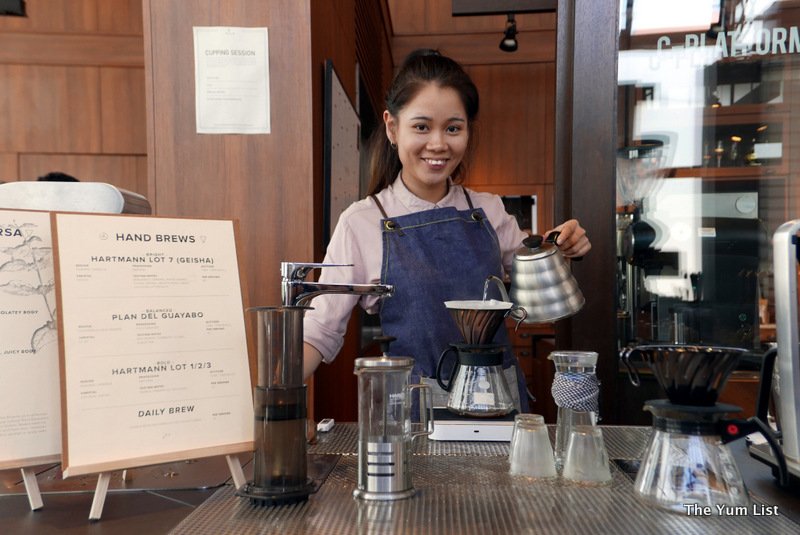 My first choice was my original coffee passion, flat white RM 12, made from Pulp's house blend. I am so picky with my flat white that I ask for milk on the side in new establishments so that I can adjust the flavour myself. As you would expect, Pulp by Papa Palheta nailed it first time. My coffee was smooth, fruity and acidic and I loved it.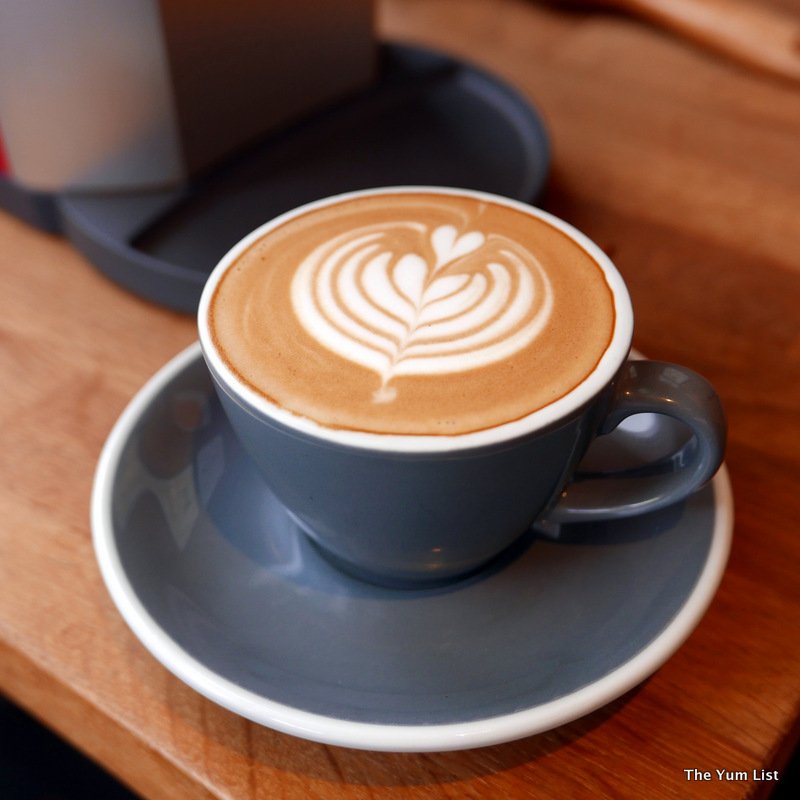 I have never been a fan of cold, milky coffee until I met Carmen. This was the second surprise of my visit and it came in a bottle. This cold brew was pleasantly sweet, with a round, satisfying coffee milk ratio, RM 15. If you like a full hit of coffee flavour there is a no-milk, cold brewed option from Suke Quto, Ethiopia that was equally thirst quenching, RM 15. Hard choice.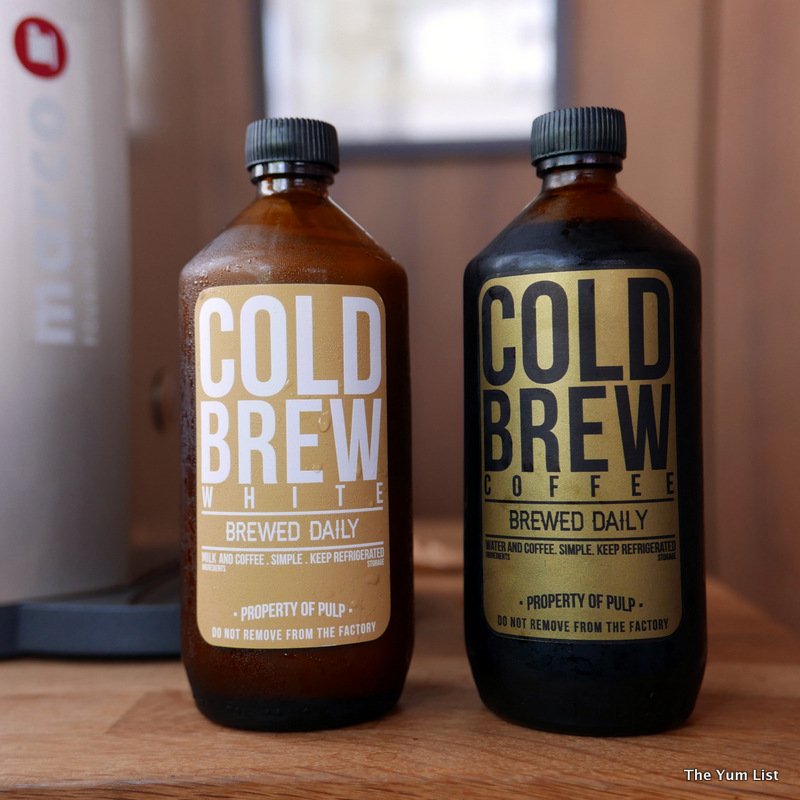 Suke Quto coffee from the Sidamo region of Ethiopia beautifully evoked rural Africa. The serving jar was clothed in black fabric, belted with a lilac tie and served on a wooden platter with an earthenware cup. This coffee was medium bodied with a citrus acidity and candied sweetness. A coffee information card with tasting notes accompanied my coffee offering coffee education alongside a great brew. Seasonal Specials are priced from RM18 to RM55.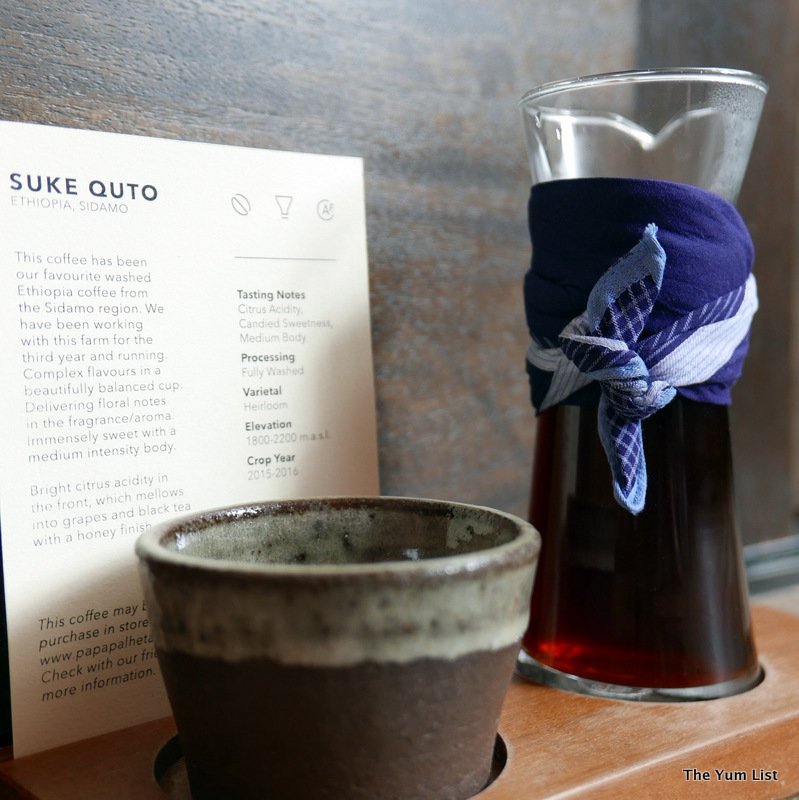 My number one coffee of that day connected directly back to my Irish genes. Nitro Black Matter, a 100% nitrogen infused, chilled coffee with a nutty chocolate sweetness, blended from Panama Red Trogon and India Thippanhalli Estate beans, RM18. Pressurised gas bubbles forced through the coffee solution resulted in a settling process similar to the head forming on a pint of Guinness. Could this be the reason that that this coffee has been nicknamed by devotees as Halal Beer? Rest assured it is 100% coffee.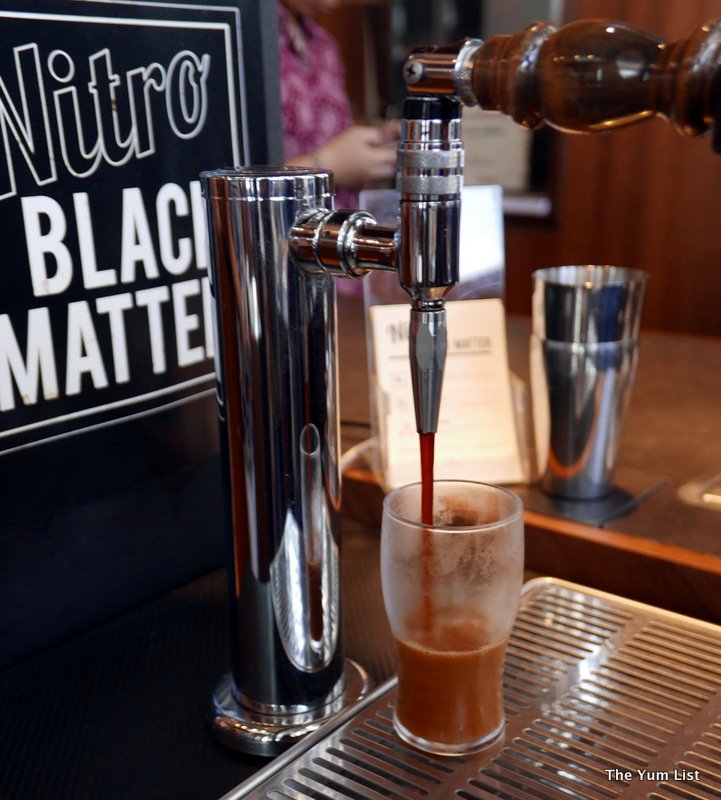 Our visit was about food and coffee but there is so much more to Papa Palheta. I loved the compact, coffee education C-Platform so much that I nearly bought the cutest Reg Barber Tamper even though I don't have a professional coffee machine… yet! For purchasing a wide range of coffee making equipment, coffee education or barista training check out the Pulp website.
On our way out we stood by the chic and iconic Pulp sign to be snapped with Marcus. A definite "go back to" place. Just ask my friend Geoff who travels half way across KL to get his coffee fix here.
Reasons to visit: All things coffee, but especially the Black Matter Coffee; Chilli Crab in a Charcoal Bun; easy parking. The popular All Day Grub menu continues alongside a wicked cake selection. Al fresco seating and extended menu coming soon.
Pulp by Papa Palheta
29-01 Jalan Riong
,Bangsar
59100 
Kuala Lumpur, Malaysia
www.facebook.com/PULPbyPapaPalheta/
+6 03 2201 3650
Opening Hours
Monday to Friday
7:30am to 10pm
Saturday & Sunday
9am to 11pm