Chambers Grill
Monica Tindall
Chambers Grill is the carnivore's cave at Hilton Kuala Lumpur – a very shiny and stylish cave that be. Wooden tables, comfortable seating, subtle lighting and a glass-doored wine cellar all lead to the focal point: the grill.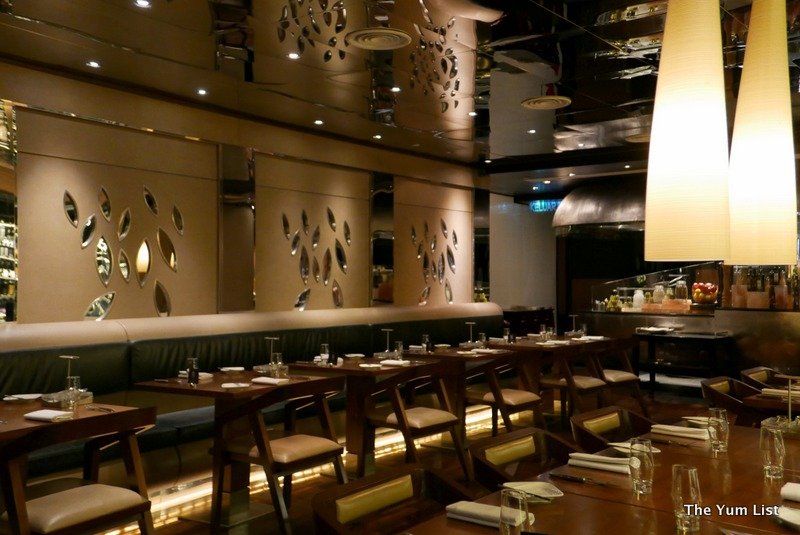 The feature kitchen resembles a huge metal egg divided in two – the top hanging from the ceiling, and the lower nested on the floor. In between, flames, flying condiments and tong twirling chefs act behind a glass wall. A charcoal-based grill is on one side searing up the meats, and a lava stone barbie on the other lightly scorches veggies and dessert.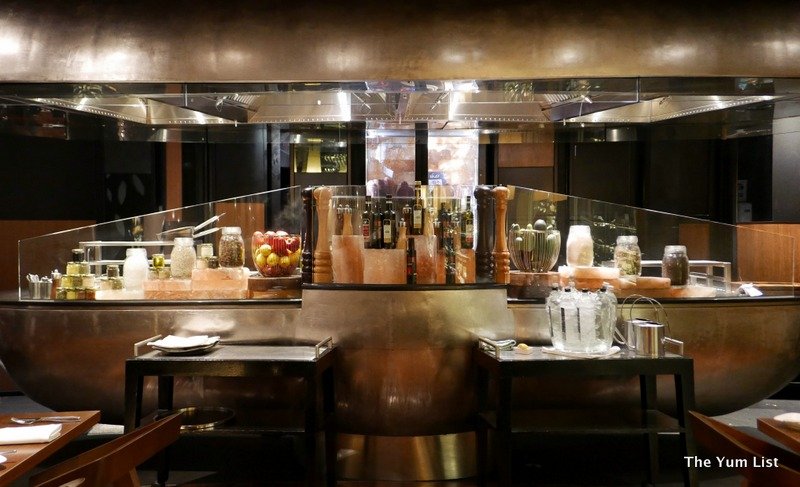 The concept at Chambers Grill is clear: it's all about the meat. Australian Wagyu and Australian Black Angus are the protagonists and a beautiful looking Himalayan rock salt ageing room keeps meat-loving friends salivating.
The menu is comprehensively carnivorous and well explained with quotes and tips from the chef sprinkled throughout. Every night there's a special that's not on the menu, and as we're settling into our seats, our friendly (and we soon find out very knowledgeable) waiter Adham, brings us the goods on a chunky wooden chopping board. Tonight's special, the Porterhouse (1KG RM540), also known as the "king of all steaks", is a larger version of a T-bone carved from the tenderloin. It's been dry-aged for 17 days with Himalayan rock salt in a climate that slowly soaks up excess moisture and intensifies the flavour. I could be mistaken, but I think hubby has a little foodgasm just at its sight. His eyes are certainly bulging as he rushes in to make the decision for both of us, "We'll have that!"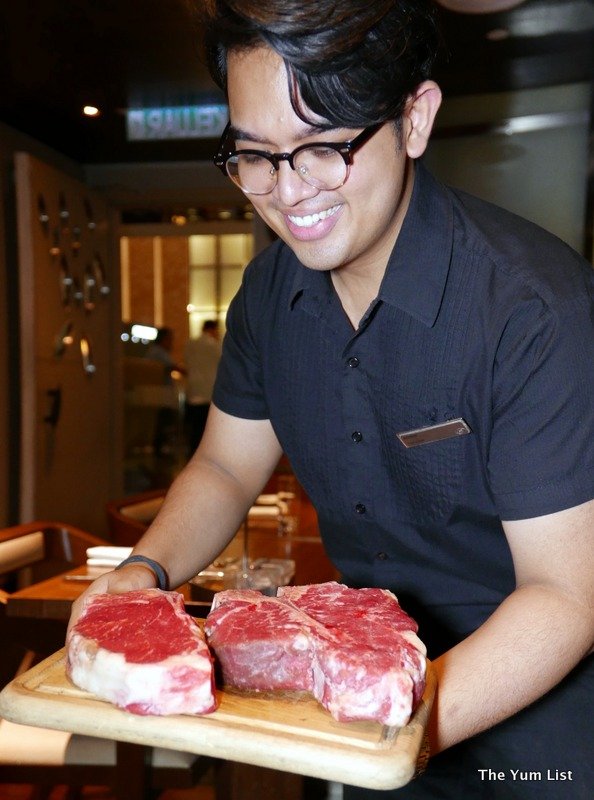 The main taken care of, onion focaccia with Mediterranean butter (beaten with thyme, Cajun spice and chilli flakes to bring out the flavour) sates hunger pangs as we browse the rest of the menu. To balance out our half cow, I order some starters, soups and vegetables in an attempt to provide some plants with our meal.
The Hokkaido Bay Scallop (RM48) is the chef's recommendation at Chambers Grill and comes in a serving of two. A green pea mousseline, beurre blanc, potato straws and crispy beef bacon partner it. While its complements are certainly fine renditions of each recipe, the scallop is so voluptuously seductive, that nothing else is needed. Hubby is lucky that I've only had one beverage this evening and am still in a state of polite control so don't nab his portion while he's still caught in a drooling daydream over the presentation of the Porterhouse.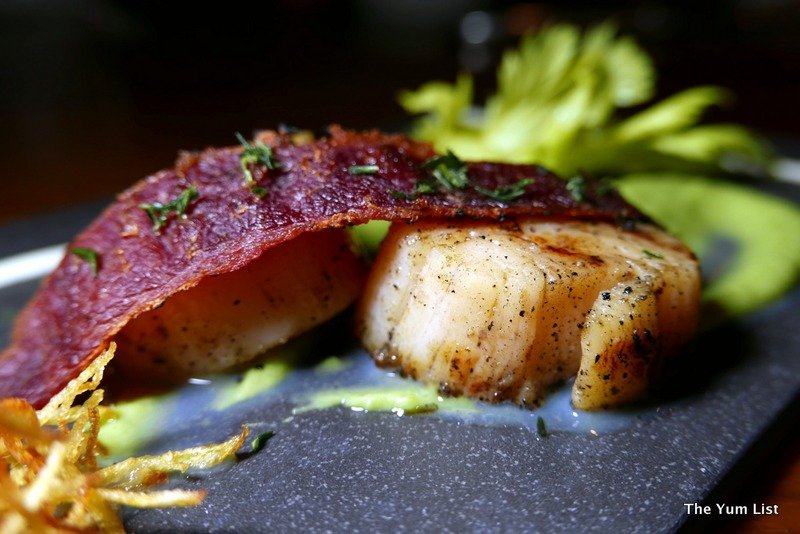 Sticking with the Japanese theme, Hokkaido Pumpkin Cream Soup (RM42) is lusciously topped with toasted pumpkin seeds and finished off with a swirl of the same seed oil. It's thick, full-flavoured and a beautiful preface to the king-size feast that is to come.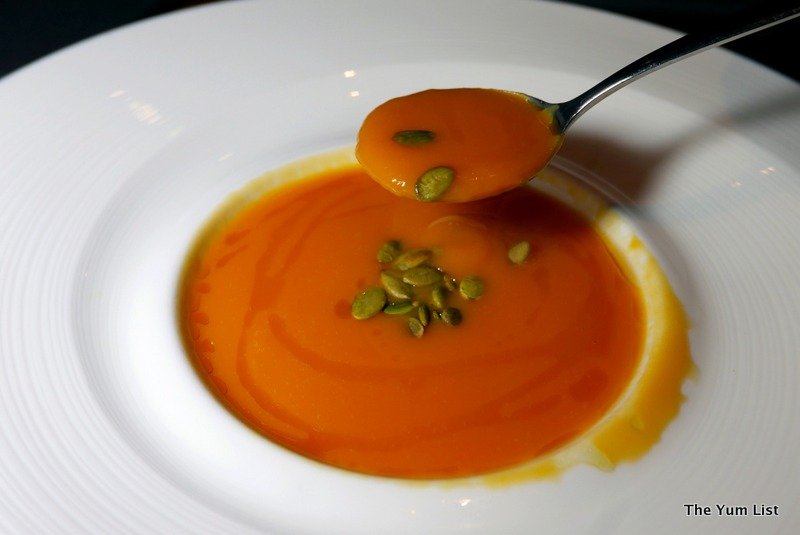 While the Hilton Kuala Lumpur has a fabulous wine list with labels from around the world, I find it hard to go past a good Aussie Shiraz for a good Aussie steak. Teusner's, 2014, The Rievke (RM66) from the Barossa Valley is a trusted drop. It's rich, full-bodied and I find a nice balance of fruit and spice in the finish. Chambers Grill staff provide buxom glasses to match the experience.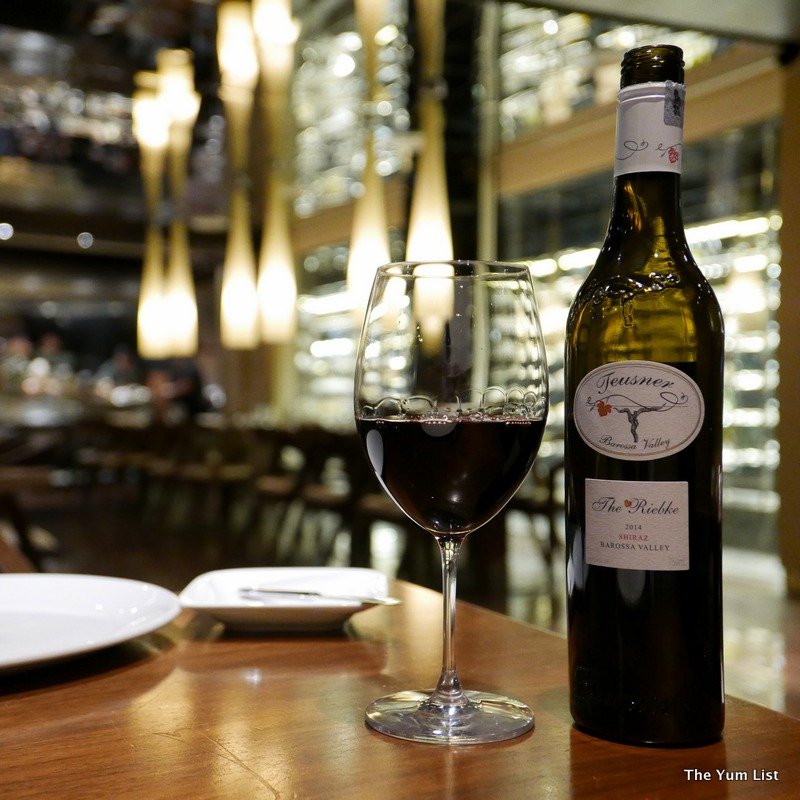 And, now time for the steak. It's been conveniently sliced for us, with the bone making a centrepiece and roasted garlic, Café du Paris butter, corn and herbs strewn amongst the pieces. We were given the option of having it sliced or doing the carving ourselves. I guess for some, that act of slicing into the steak is part of the encounter. We're happy to be pampered however and the slices have been invitingly laid across the platter making for better photography anyway.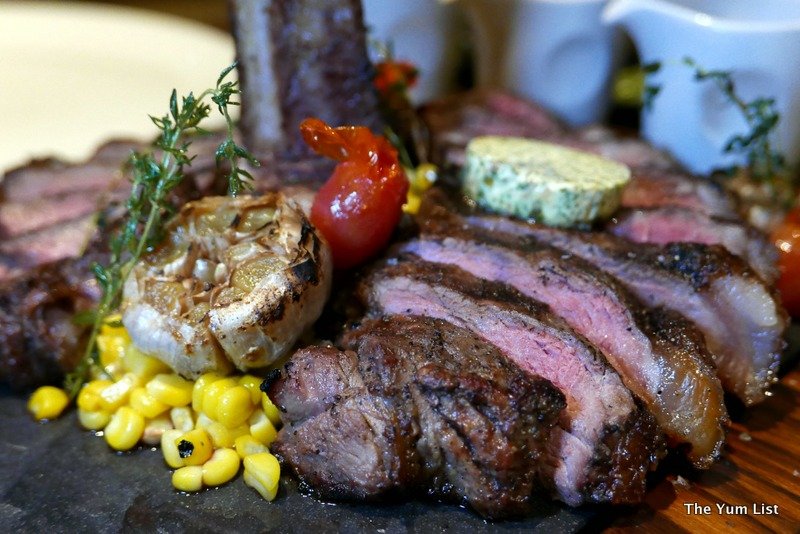 Himalayan rock salt, red wine salt, smoky Viking salt and black pepper come as possible enhancers. Steak also comes with a choice of one sauce. The list is composed of two handfuls, so we needed some counsel. Our helpful waiter at Chambers Grill detected our distress earlier in making a decision and has brought us a trio of the most popular for sampling: Béarnaise, beef jus and mushroom. Mustards further add complexity with Dijon, English, yellow and whole-grain available too. The suggestion is to experiment. Try the steak by itself. Sprinkle some salt. Add a dash of mustard. Dip a piece in sauce. Find your own heaven basically.
Hubby remains staunch in his perception that good quality meat shouldn't be spoiled with additional seasonings. I, on the other hand, layout a scientific plan for tasting; cutting up small pieces and sampling them with each of the complements. For both of us, it's very satisfying, and we're pleased with the quality of the meat, the precision in cooking and the side offerings too.
Char-grilled Asparagus (RM24), Seasonal Char-grilled Vegetables (RM20) and Sauteed Mushrooms (RM2) make tasty companions. All are clearly fresh and all sport the scars on their skins and smokiness from the grill. While hubby might not be able to go meat-free, I could easily make a meal of these.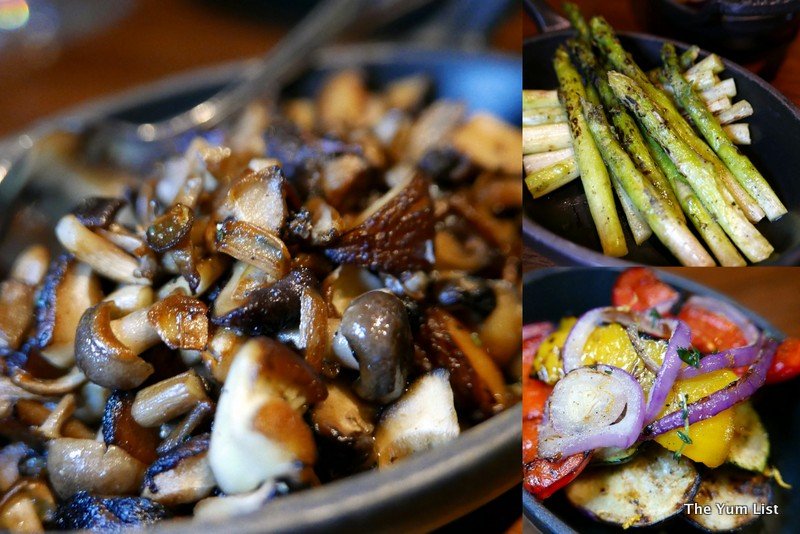 Hard to believe we have room after that monster steak at Chambers Grill, but as you know there's always another stomach for something sweet. Hubby's pick is the Bourbon Vanilla Crème Brulee (RM32) featuring Cointreau marinated forest berries and raspberry sorbet. It's fired upon arrival with a flaming of liquor dramatically fired over the top. The rich custard flaunts a delicate bruleed top. Hubby congratulates himself on the selection.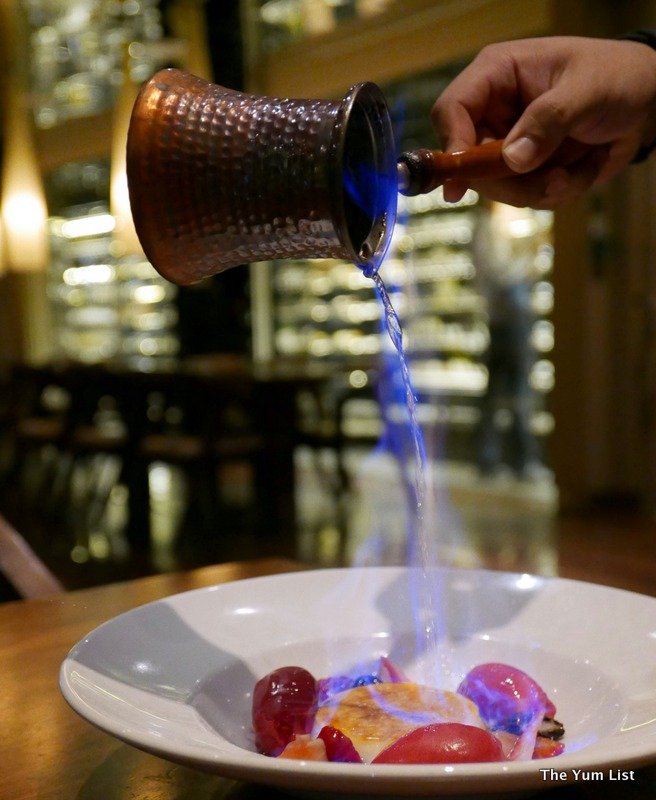 In a feeble attempt to counter all of that beef, the Lava Stone-grilled Sarawak Pineapple (RM30) is my choice (never mind the peppermint jelly and coconut ice cream that goes with it). Both fresh and dried pineapple provides graduated depths of flavour, and both recipes we'd order again.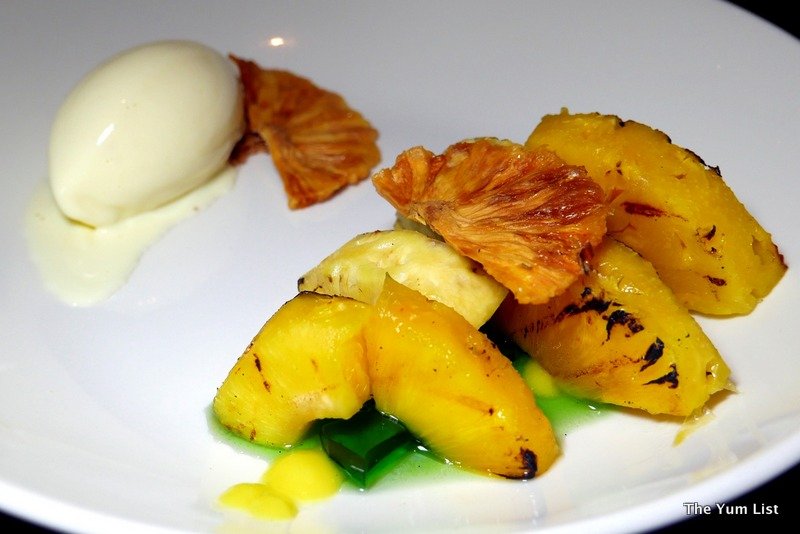 Our final indulgence at Chambers Grill (it is Friday evening after all) is a 2009 Fonseca LVB Port (unfiltered RM35). Full, rich-bodied, fruity, intense, yet not overly sticky: it's the final note that concludes this meal and leads us off onto other adventures at the Hilton Kuala Lumpur… but more on those in another post.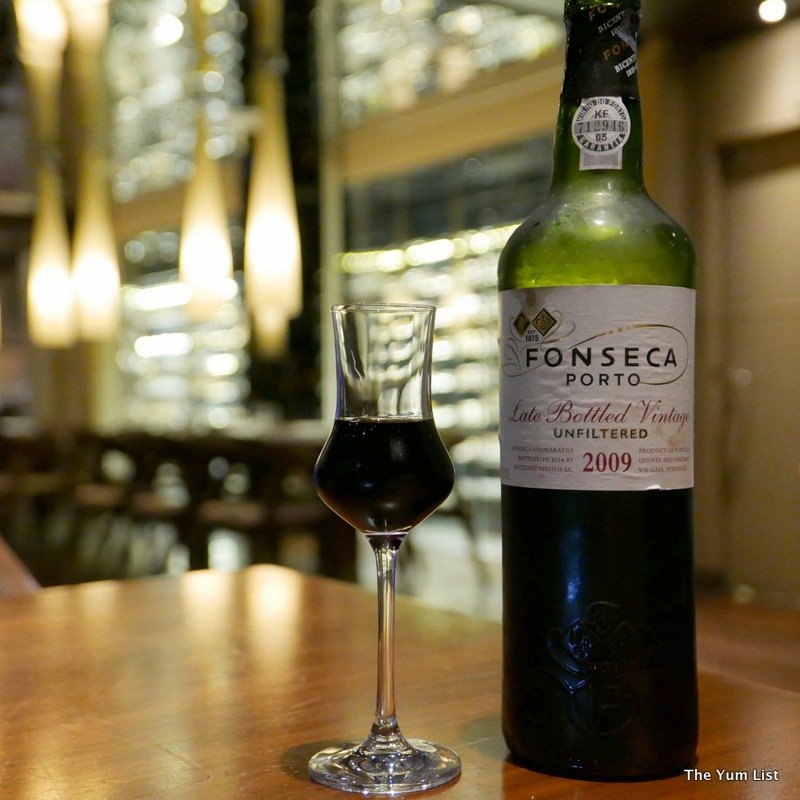 Reasons to visit Chambers Grill: carnivore's delight – you must come here for the meat!
Chambers Grill
Hilton Kuala Lumpur at KL Sentral
3 Jalan Stesen Sentral
Kuala Lumpur 50470
Malaysia
+6 03 2264 2264
[email protected]
http://life.hiltonkl.com/Restaurants/Chambers-Grill/