Words: Heather Onderick   Photos: Monica Tindall
Say the word "Nadodi" aloud.  It's playful, it encourages one to wonder and imagine just like it's meaning in Malayalam which is nomad or wanderer or gypsy. Kuala Lumpur's newest Indian high end dining establishment encourages just that: a journey across Southern Indian and Sri Lankan cuisines that inspires one to explore uncharted territory.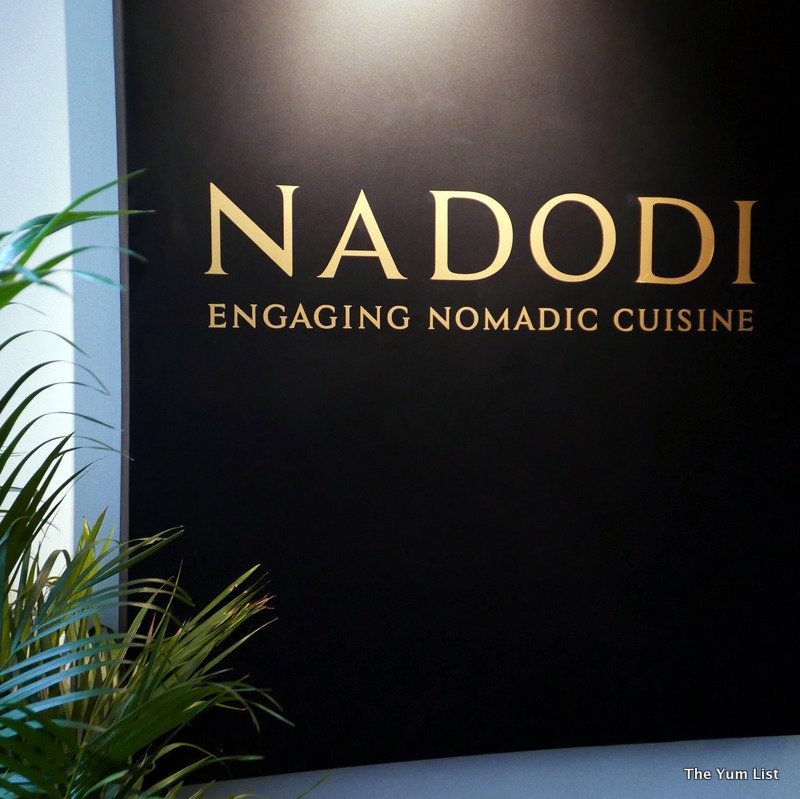 Nadodi is located walking distance from KLCC hotels and metro station. If you are a local and are driving to this busy part of town, do not fret, as valet parking is available for diners. Step off the elevator into Nadodi's creative space and take in the thoughtful design of this modern restaurant. It's full of different spaces for all occasions. It has private rooms for diners seeking a more intimate experience. One private room includes a window that looks into the kitchen for those die-hard foodies wanting the 'chef's table' encounter. In the main room, while there's ample space, tables spread around in an a L-shape for a more private evening. Chic dark marble, luxurious table cloths, and notable images from a primary investor who has a strong passion for photography, create a contemporary but comfortable air.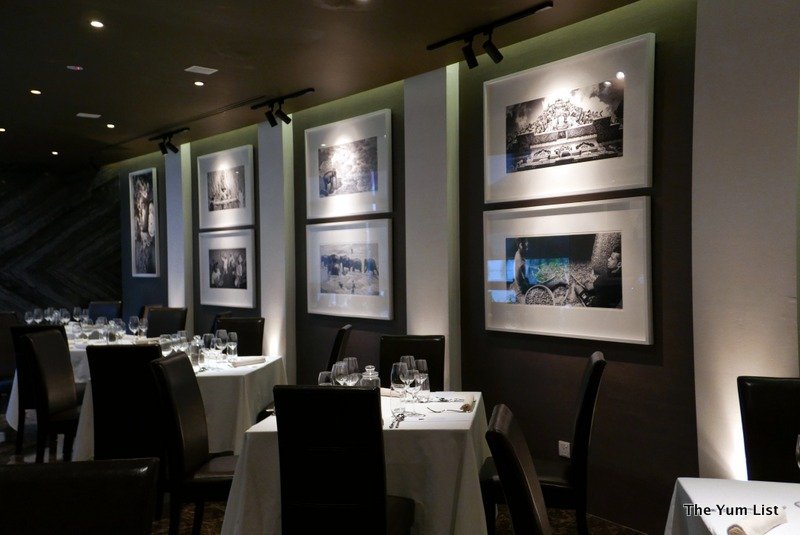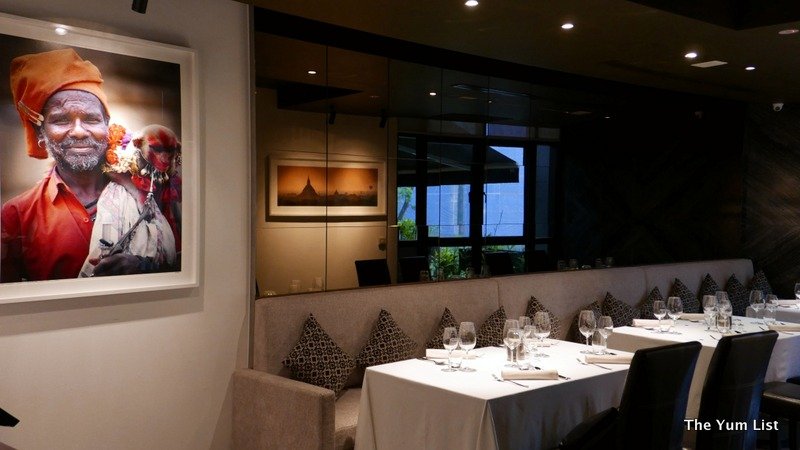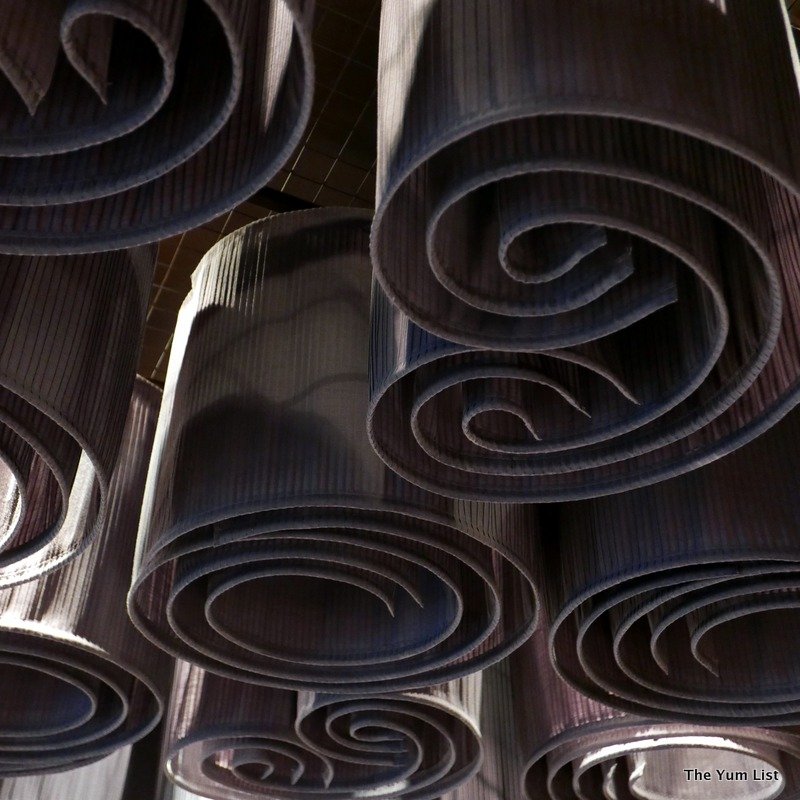 One of Nadodi's strengths is that it aims to heighten the diner's senses in all possible ways – beverage included. Akshar, the bartender, immediately challenges our comfort zones, on presentation of the tortoise shell egg served on a bed of sticks. This cocktail, the No Name, shows that the lively staff caters to both the curiosity and prior knowledge of its guests when it comes to exploring the food and beverages on offer. This mix is earthy in flavor, with a gin that has been saturated in truffles for 48 hours. Combined with a sweet and sour syrup and dried aromatic basil, my senses begin to understand this dining experience is not going to be one for the faint hearted. For those questioning their commitment to unusual cocktails, the Yazh, (RM 60), is a more subtle alternative. Served with sunset colored flowers and a side of honey caviar, it's light and fresh, made with sauvignon blanc, passionfruit juice and a dash of whisky.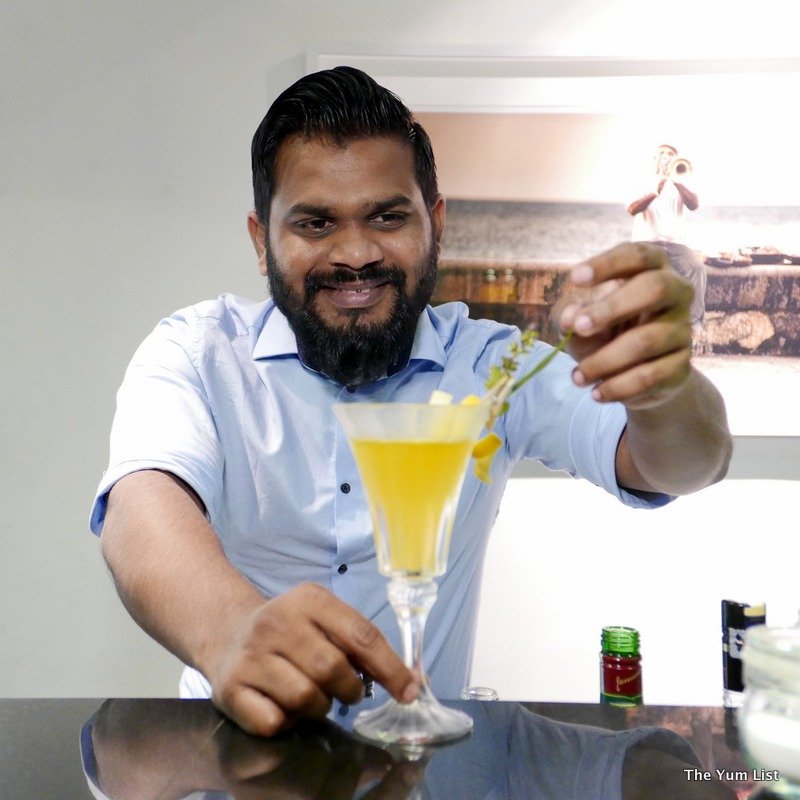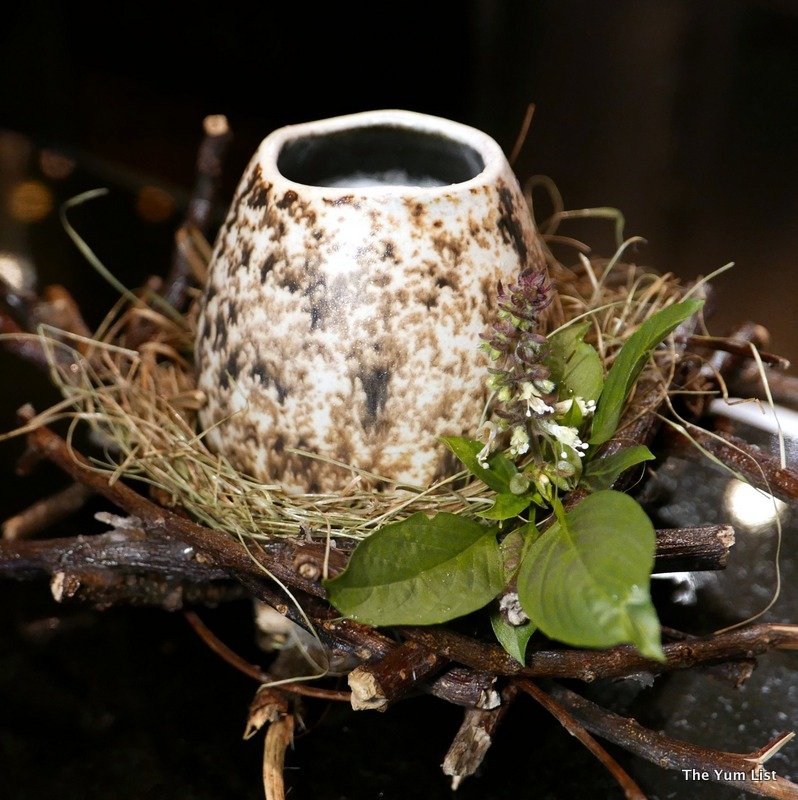 With our palates awakened, we are ready to embark on the 10 mile journey (RM320). Nadodi offers three different degustation menus. The 7 mile journey caters to lighter eaters and maybe those on first dates getting to know each other (and possibly not yet sure of how much time they want to spend together). The 13 mile journey is alternatively an experience for those who may be hungrier or who have already tried the 7 or 10 mile journey and just can't get enough!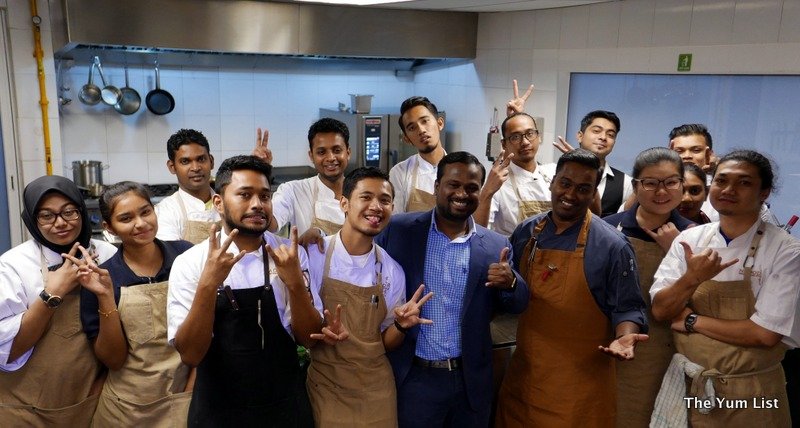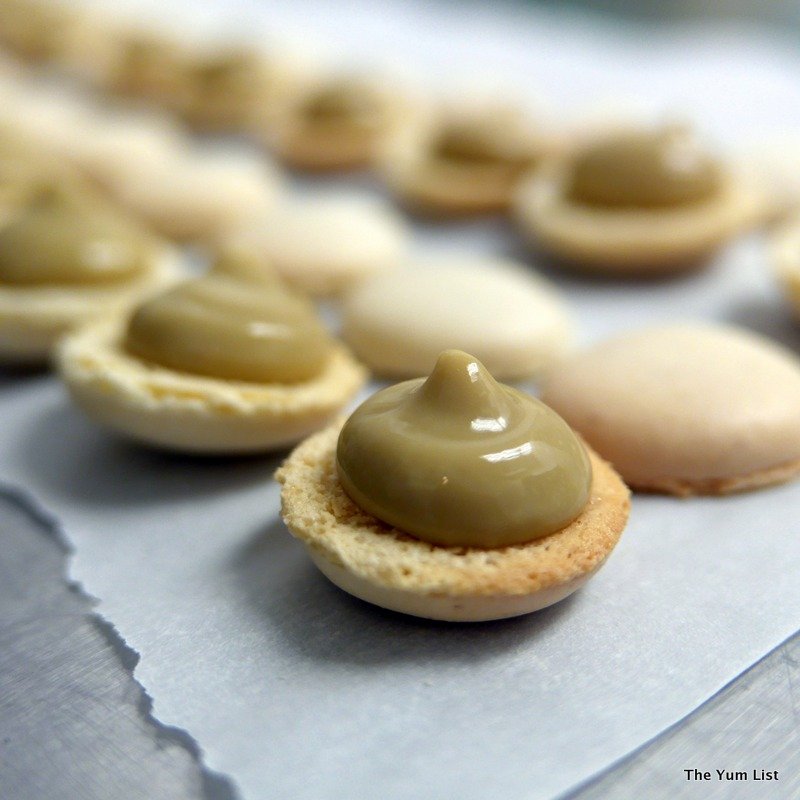 Our adventure begins with a simple amuse bouche. The lively waiters ask us to guess what this dish should be called. It is a simple introduction to what will eventually become a grandiose meal. It's served on a dehydrated paper-thin chip seasoned with mustard seeds. On top lies a powdered curd that embodies a tinge of sweetness. Monica, Caning and I all feel that as the journey continues, the spectacle grows with each course we sample.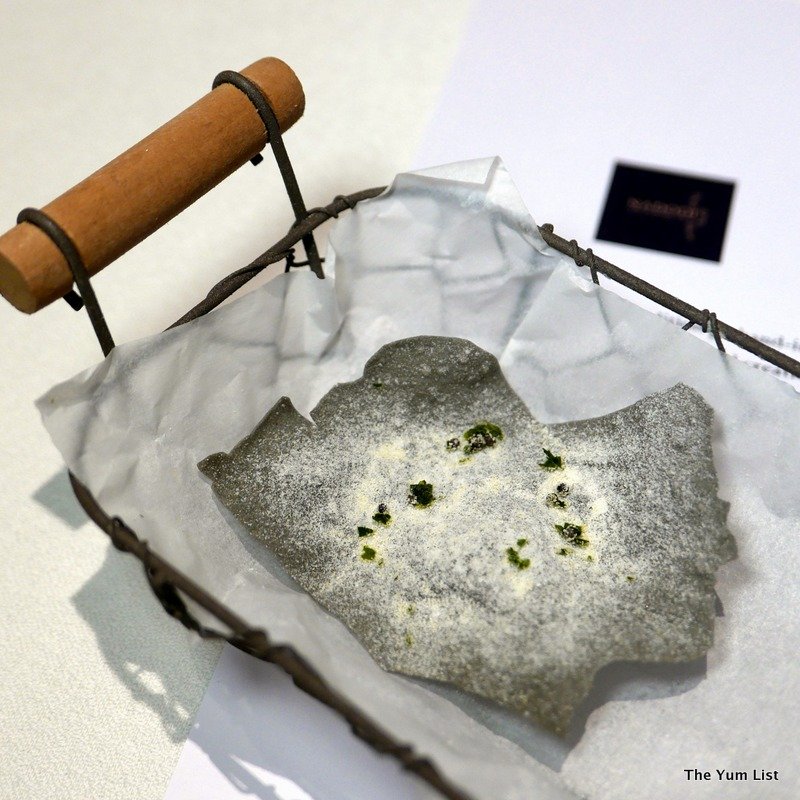 The Lactose Free is the first of our stops on the 10 mile journey. The zen presentation of this course echoes the blends of flavors, tucked into a smooth slate colored stone, it features an edible rice paper cone, filled with coconut milk rice and a dollop of homemade sambol made with chili, lemon and coriander.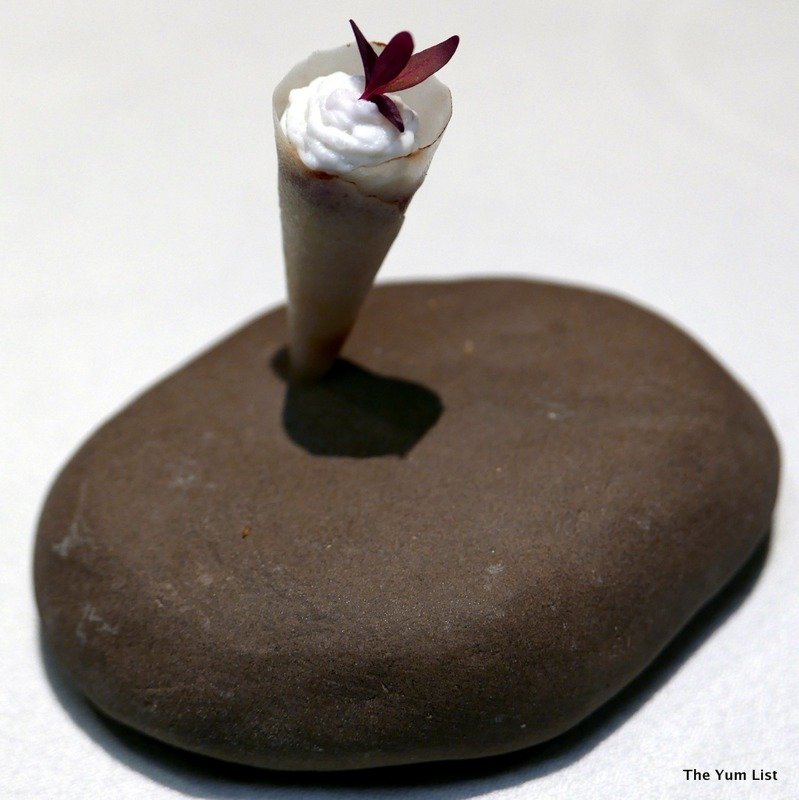 Following the Lactose Free, we move on to the Malayali Trade. Served on a large wooden spoon, with raindrops of pumpkin, carrot and coconut cream covering a tempered red rice square, the serving crackles and pops in our mouths. With roots from Kerala, the rice is served afloat a small puddle of chili yogurt that lightens the spirited Indian spices.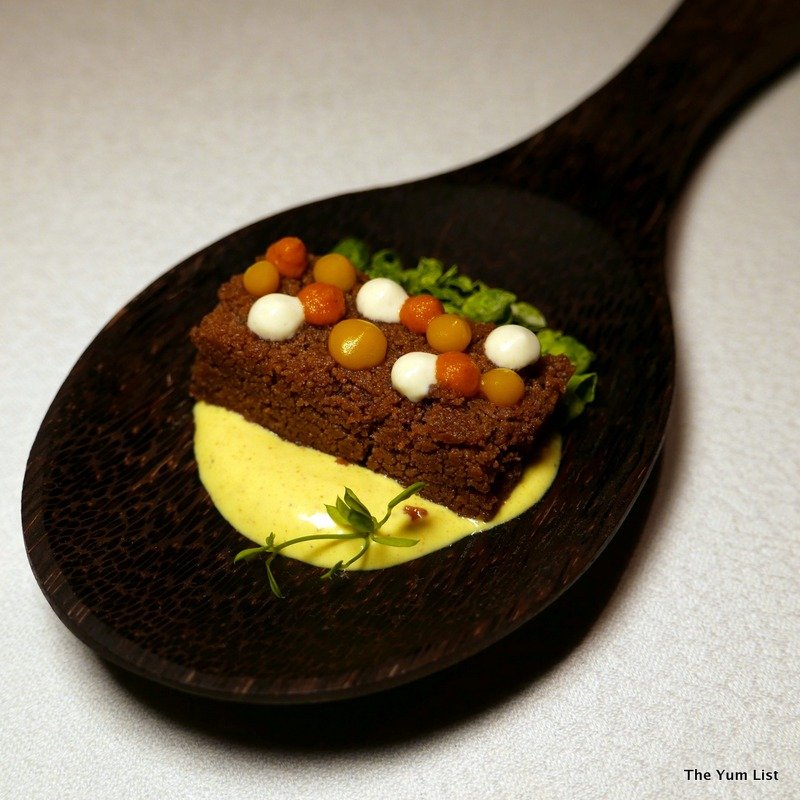 We enjoy these dishes with a glass of Champagne, Pol Roger, or the option of a Pouilly Fuse glass of white, both fluffy and fruity to counter the strong Indian seasonings.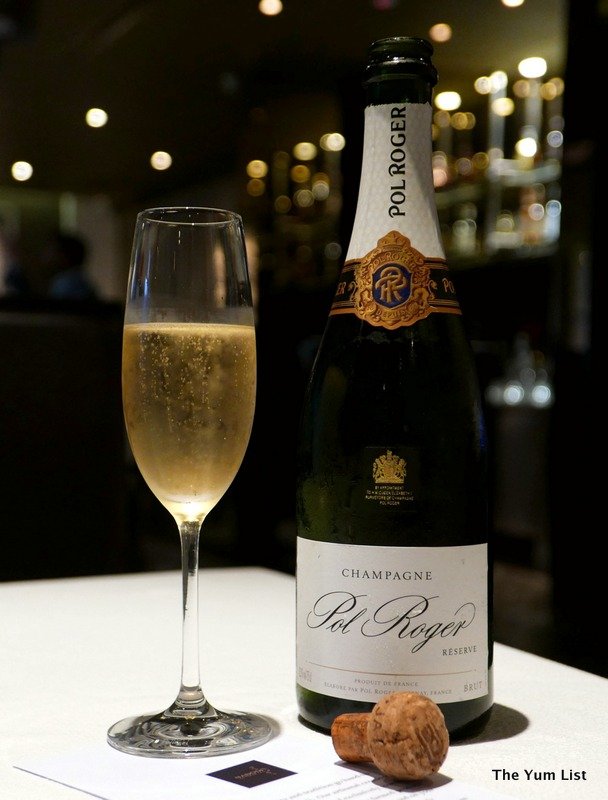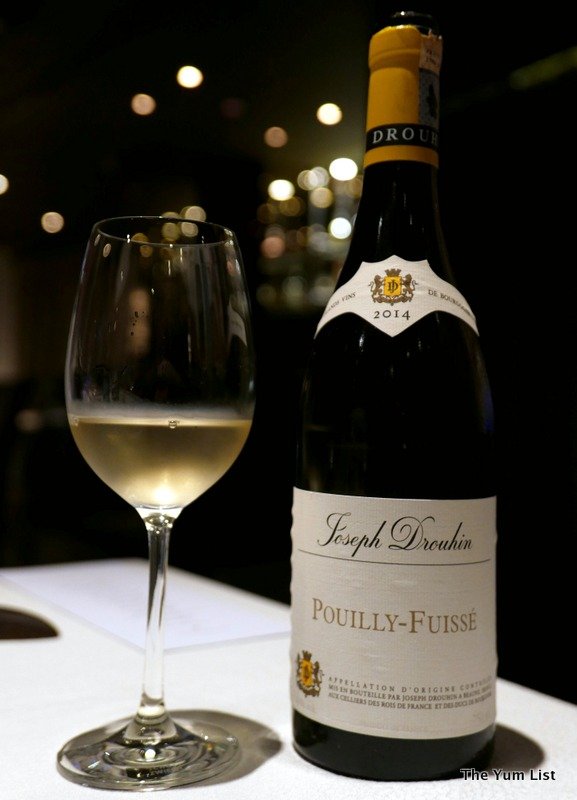 What Came First? arrives next, tantalizing our minds of what flavors we would actually be tasting. This egg Kalakki, features an egg mousse, dried savory chicken skin and the crumble of the famous Chicken 65 from Central Southern India tech hub, Bangalore. Best eaten with a spoonful of mousse dipped with the chicken crumble and a little bite of chicken skin, this offers the diner an experience of deconstructed meets self-construct, challenging you to create the flavors and combinations that work best for you.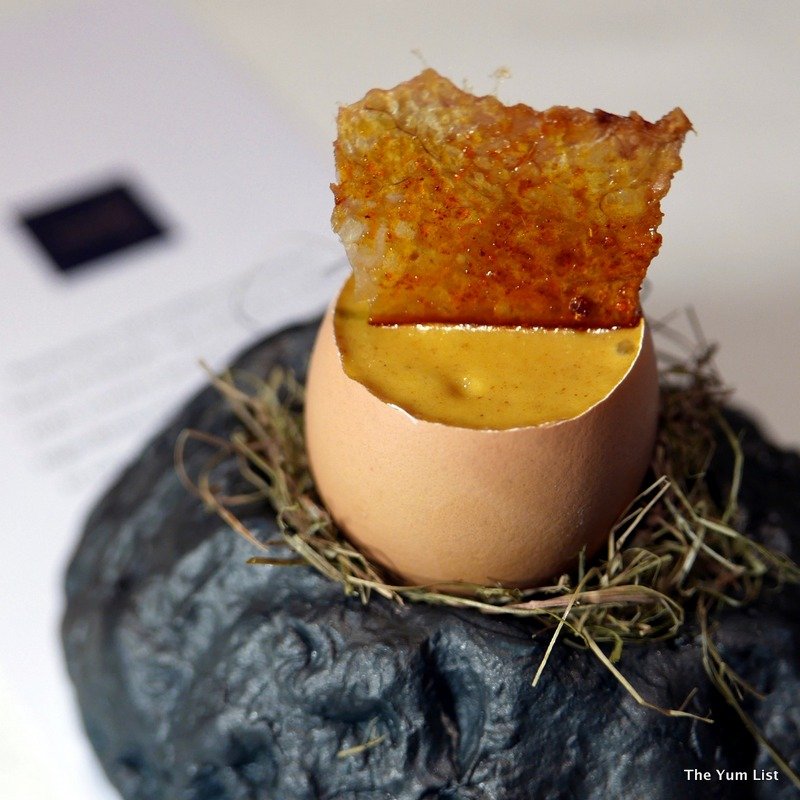 After a brief stint in Central Southern India we return to Kerala's rivers with the dish, Fishing the Backwaters.This features a Lemon Sole, a flat, light and tasty fish, topped with a wafer like lemon meringue flavored with ground fennel. The lemon in the meringue has a candied taste and compliments the fresh fish flavors, meanwhile essences of cilantro bring another tang to create this unique delight.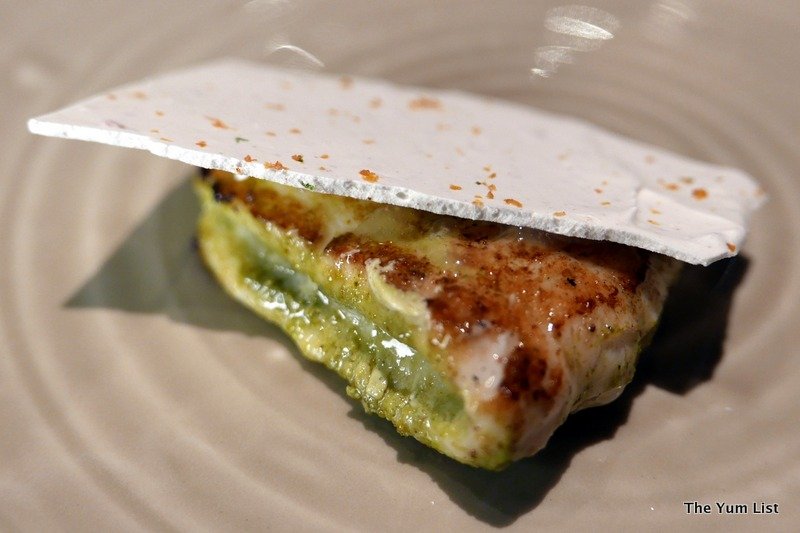 Kerala's fish has me craving more seafood flavors and Chef JE's itinerary catered to this planted seed, with the next plate, Out of the Shell. From the Kochi rivers to Chennai's famous beaches, chef brings us Chettinad Scallops, enriched with peppercorn spices and a tart and tangy tamarind foam, which epitomize the spicy seafood barbecue tastes you can have around Southeast Asia.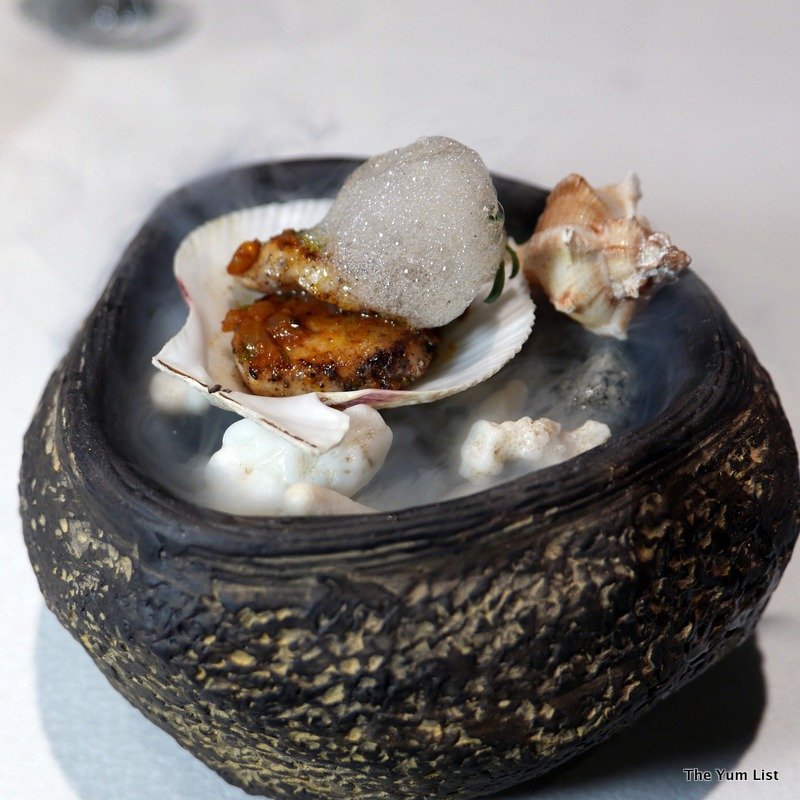 Nadodi is a place for foodies and lovers of stories. Throughout each course of the 10 mile journey, Chef JE has a story for you, if you want to hear it. One of my favorite stories is from the following course, Monsoon Ritual. Traditionally, this soup was served in India to ensure the health of young children before the humid and heavy rains of the monsoon came. It is served in a ceramic bowl with a tablespoon of lentils cooked in ghee, and a little bit of spiced oil to stimulate the senses. The real truth of this course comes in the broth which includes heirloom, cherry and vine ripe tomatoes, cumin seeds, peppercorns, spices and is warmed up in front of you. Chef JE aims to take the traditional palate cleanser often served in the form of a sorbet or cold soup and challenge it with this compound in which you can taste the story.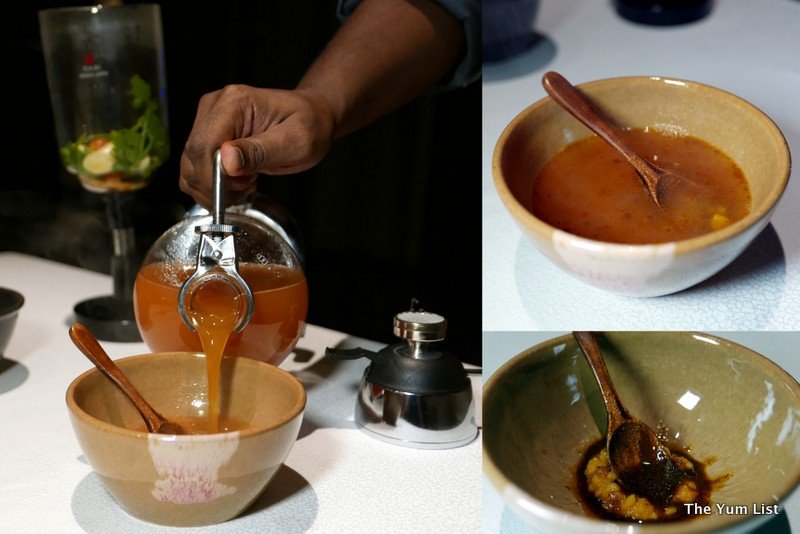 Moving from the vegetable garden to the farm, the Silence of Our Lamb, served atop a hearty gravy, made of onions, and curry leaves and accompanied by a curry leave ash, the tender lamb offers something for the nomadic carnivores at the table. This dish also offers the diner a time to savor each bite in the way that works best for his/ her tastes.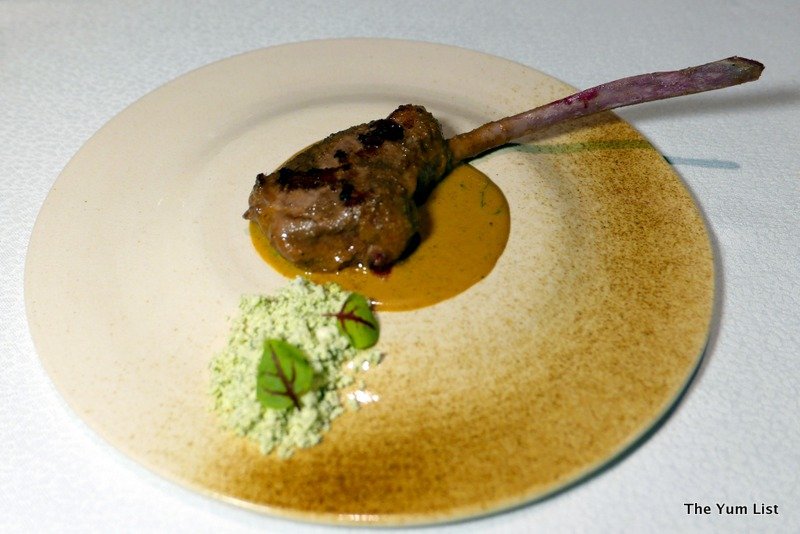 We are three more stops until the end of the journey and when I see the next plate, I am highly intrigued to know what lies inside. The Nomad's Globe, is a golden vase that looked almost like an artefact from a Star Wars set, but when open presents itself to be an artistic and modern version of the Indian tiffin. Layer one of the tiffin includes a spherified yogurt with onions, in other words a molecular take on the traditional side of Indian raita. Layer two of the globe includes a fried eggplant in a creamy, cashew-like curry. One small spoonful of the eggplant dipped in a touch of curry and served with the chewy, short grained biryani, accompanied by delicious dried fruits and served in layer three of the tiffin sends my taste buds awry. Swirling spices and textures dance on my tongue capturing the reasons biryani is known as a festival food.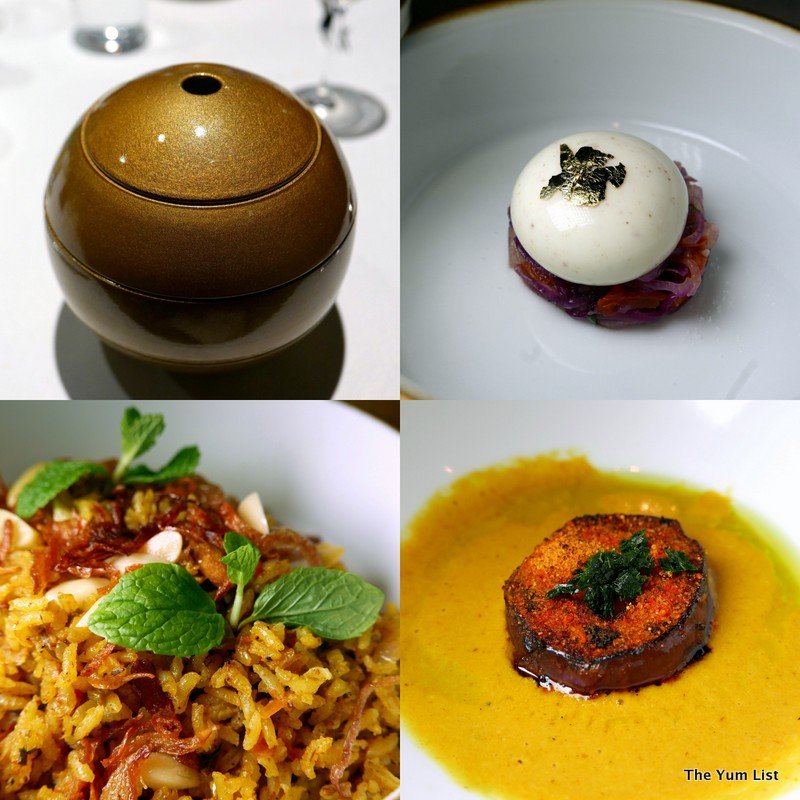 Alas, the time has come to move onto different lands and so we took off to the tea fields of Sri Lanka with the Kandy Tea Story. Luckily, we are able to sample three very different teas. The first is a chamomile sponge cake, followed by a cool peppermint tea cased in a chocolate ball. Finally, for those who prefer something more traditional, an edgy and ambrosial Earl Grey tea comes in the form of a macaroon. All three are sprinkled in semolina dust which offer a little bit more sweet if you so fancy.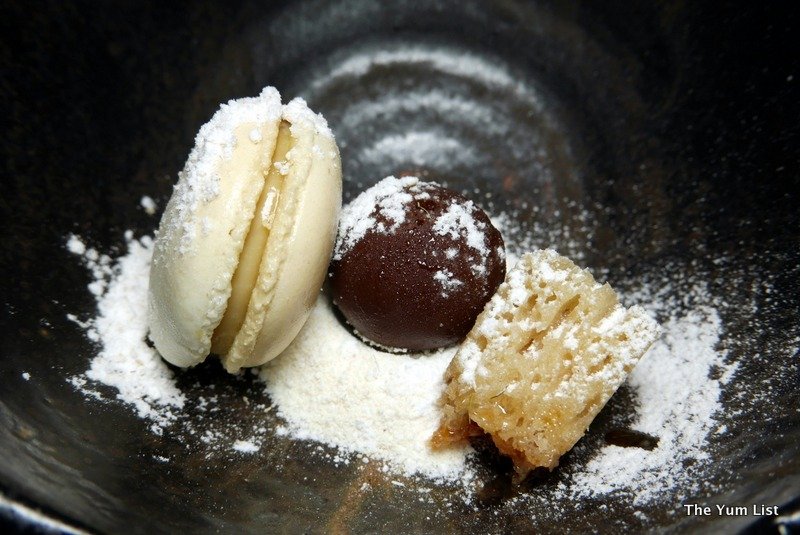 Our journey is ending and it was clear with the Mind of a Coconut that chef wants to end on a simple note. All of Nadodi's dishes are served with carefully selected plates, cutlery, etc and this finale was no different arriving in a small coconut sized cup. In the cup lies a half a scoop of Tulsi, Holy Basil coconut ice cream, over a cane sugar crumble and crushed iced apples (sea coconut). It is a pleasant end to the meal cooling down and ultimately helping our stomachs rest after a long journey.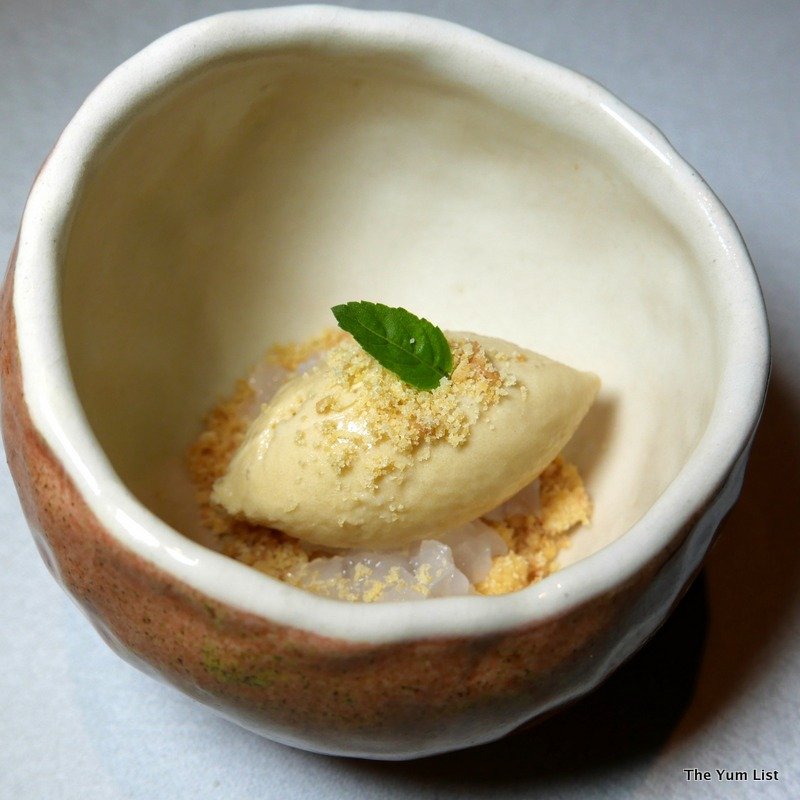 Although we have finished the food journey, mixologist Akshar has two more stops for us to help us process and digest our long adventure. We first travel back to one of Chennai's famous beaches to experience Magalchi, which translates to happiness. This creative cocktail is served in a steaming conch shell. This gin based cocktail has lingering essences of betel nut, rose petals, cardamom and saffron to help warm the body and aid digestion.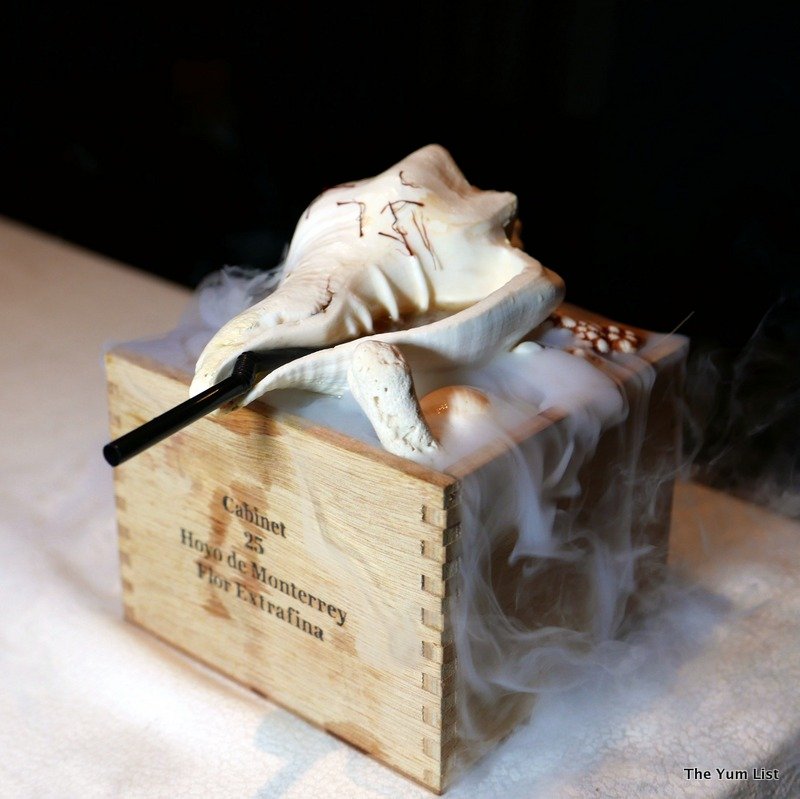 For those who prefer coffee at the end of a long meal, the Madras Centre, is served featuring cold South Indian filtered coffee. To get the right froth, it is poured multiple times similar to a teh tarik, and when sipped, the bitter chicory flavors of the coffee beans surface alongside the sharpness of the added vodka and the Bailey's touch of creaminess.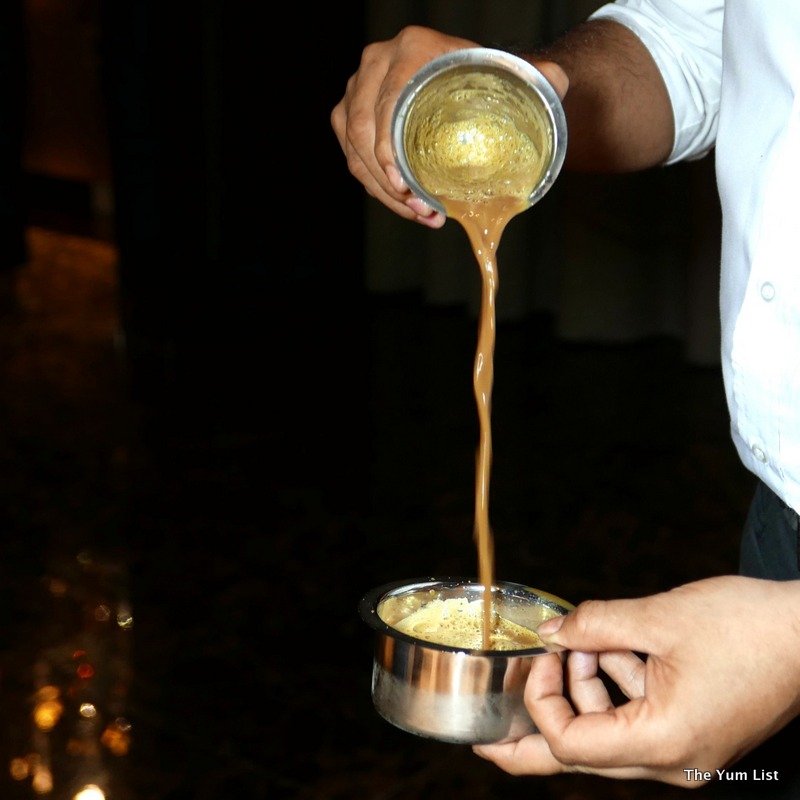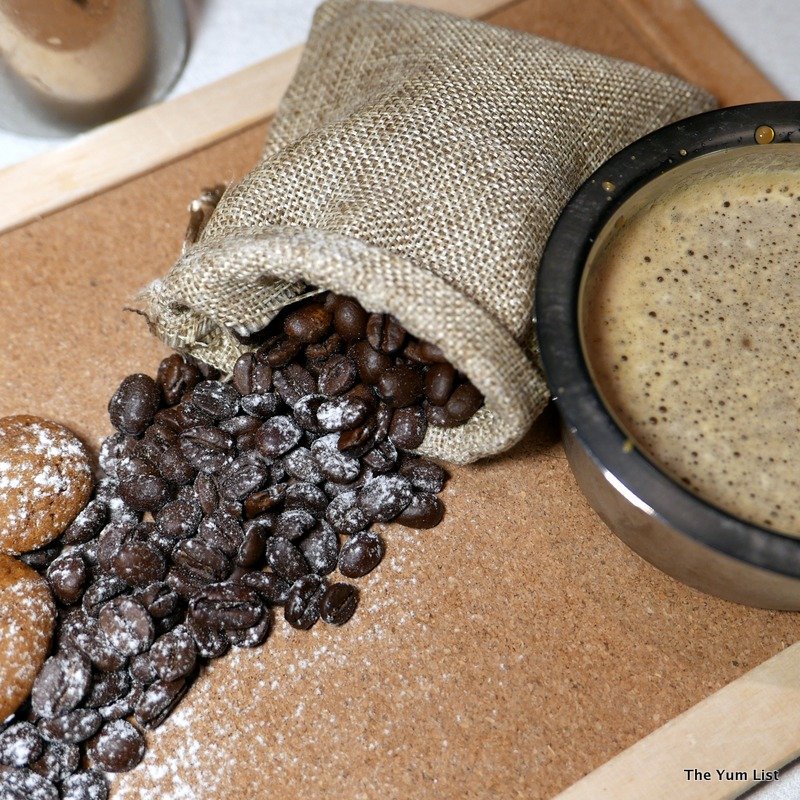 India's rich landscape offers some of the most diverse topography in the world which allows for culinary adventures like ones at Nadodi to be possible. Nadodi offers a memorable experience for diners. Similar to an incredible vacation with a multitude of noteworthy stops, the 10 mile journey challenges you to think about possibility within the world of Indian cuisine. Chef JE and his crew encourage their guests to take risks and be open-minded just like any good nomad would.
Reasons to visit: A menu and experience truly unique for Malaysia, if not all of Asia. A must-try encounter for serious foodies.
Nadodi, Engaging Nomadic Cuisine
183, 1st Floor, Jalan Yap Kwan Seng, Mayang
Kuala Lumpur 50450, Malaysia
www.nadodikl.com