Words:   Patricia Podorsek      Photos: Monica Tindall
Growing up in the shadow of the Ford Rouge Plant, immigrants dominated my neighborhood. Families arrived from all points of the globe to work at the factories of industrial Detroit: Greeks and Mexicans, Lebanese and Poles. Not surprising, then, it was two Italian families that gave me my first jobs, one at a small pizzeria called The Dearborn Villa and the other at an Italian-American banquet hall. These families gave me a deep appreciation for homestyle Italian cooking, kitchens where meals are fired with love and the legacy of simple, high-quality ingredients.
Now living in KL, I still love the chance to experience family-style Italian food. Recently opened at Glo Damansara Mall is Modi & Rosa, the brainchild of Cavaliere Modesto Marini, the same man who brought us the splendor of Marini's on 57, but with an ambience suitable for the whole family. The name of the restaurant combines a piece of his own name with that of his wife, the rose of his world.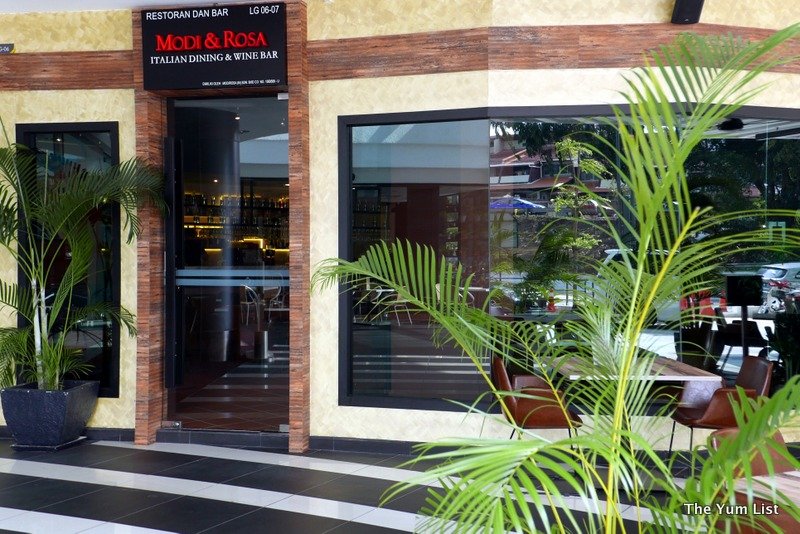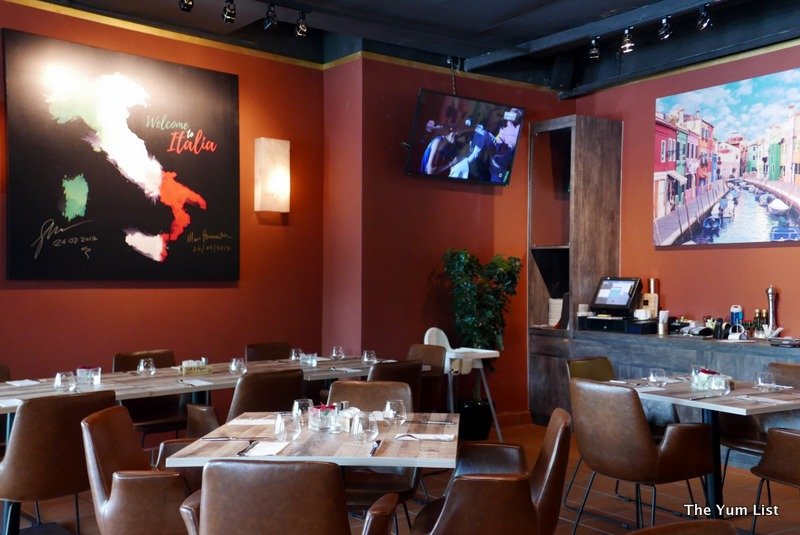 Modi & Rosa sits in a pleasant neighborhood, largely a Chinese-Malay mix with some Japanese and expats tossed in. Trimmed by plenty of trees with easy road access, Damansara Glo is a new mall, opened just eight months ago.
Thirsty from the drive and a day at work, we were ready to dive into a refreshing glass. We dipped first into the pool of classic aperitif with Aperol and orange juice in colorful split layers. Then we jumped continents to have a Caipiroska, the cousin of Caipirinha, a light and bubbly vodka cocktail with lots of lime. Modi & Rosa offers a full suite of classic cocktails.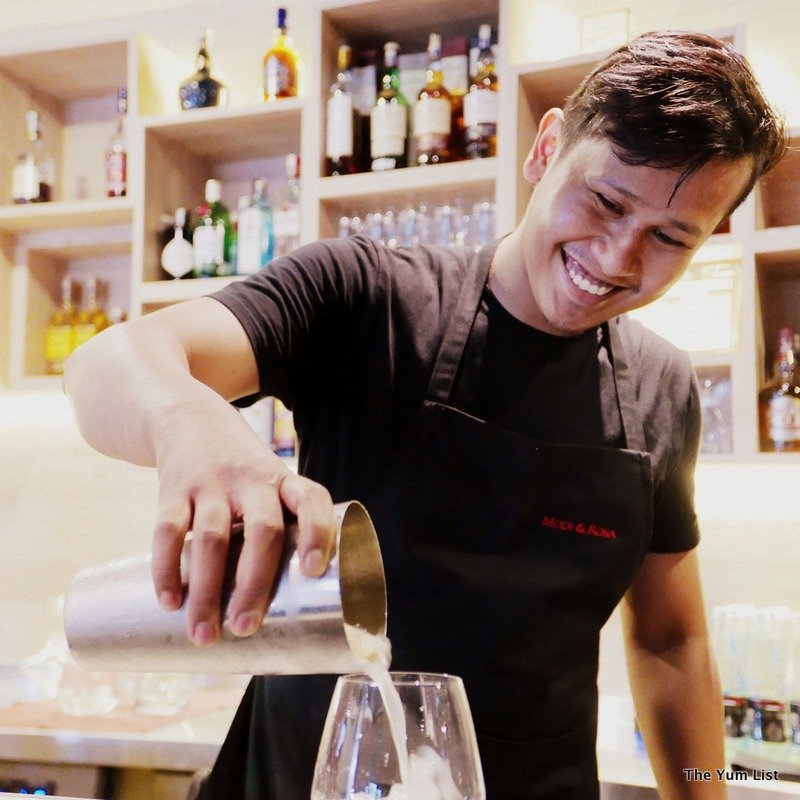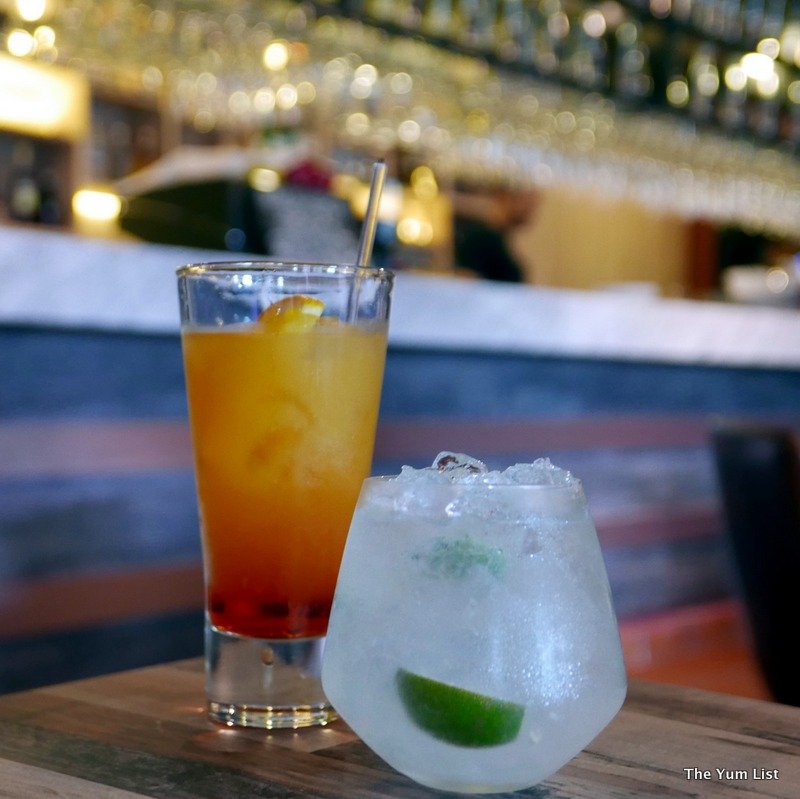 No Italian meal begins without a little antipasti. Soey, business developer, recommended Tuna e Tartare di Pomodoro (RM35). When I see the word "tartar", I always think "raw," but here a deep pink tuna fillet is pan-seared to give a smokier flavor than pure sashimi. The fish is topped with some very nice marinated tomatoes, olive oil and a little salt. Garnished with shredded basil and a drizzle of balsamic, our palates were certainly primed for more yumminess to come.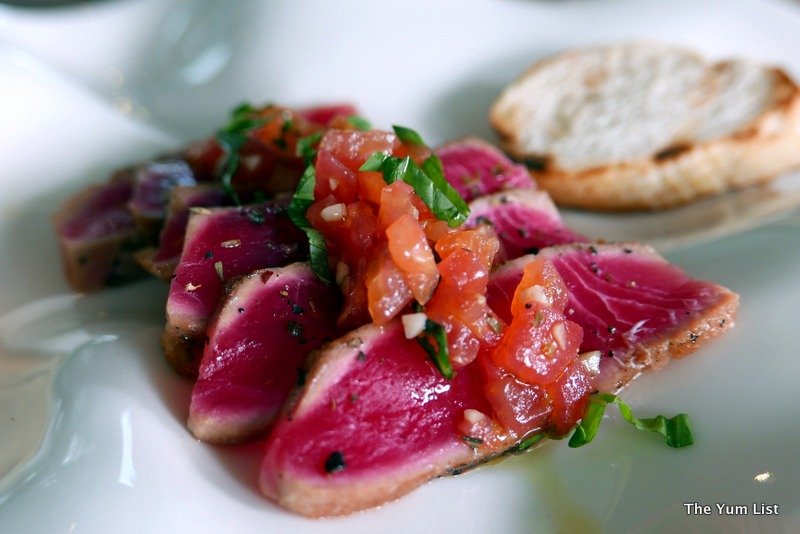 At Modi & Rosa, the classic Italian soup, Minestrone di Verdure (RM16) delivers potatoes, carrots, and red beans in a super fresh tomato base. The thin shaving of pecorino cheese melting on top adds depth to the vegetables. The soup was a nice complement to the crispy table bread accented by dried rosemary, paprika and a little chili.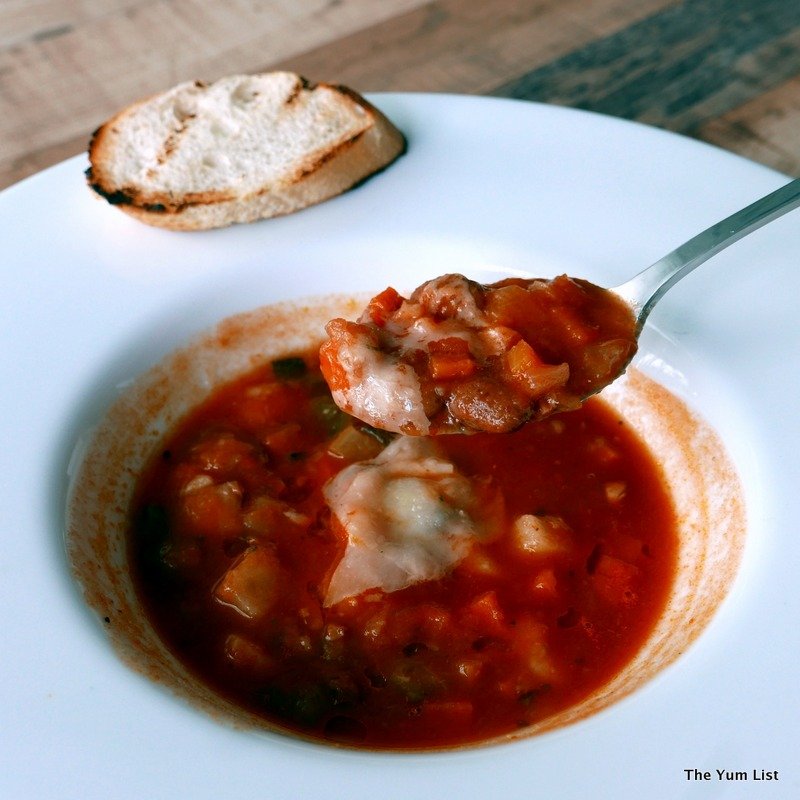 Off the pizza menu, we tried the Pizza alla Modi Rosa (RM38). Very thin crust with crispy edges is dressed with a little tomato sauce and mozzarella. This may seem like standard stuff, but the addition of a little truffle oil, along with fresh arugula and some pecorino shavings, brings all the flavors alive in a way that pops off the plate into taste bud heaven. Soey recommended that we drizzle the pie with chili oil for extra yum capacity, and she was right.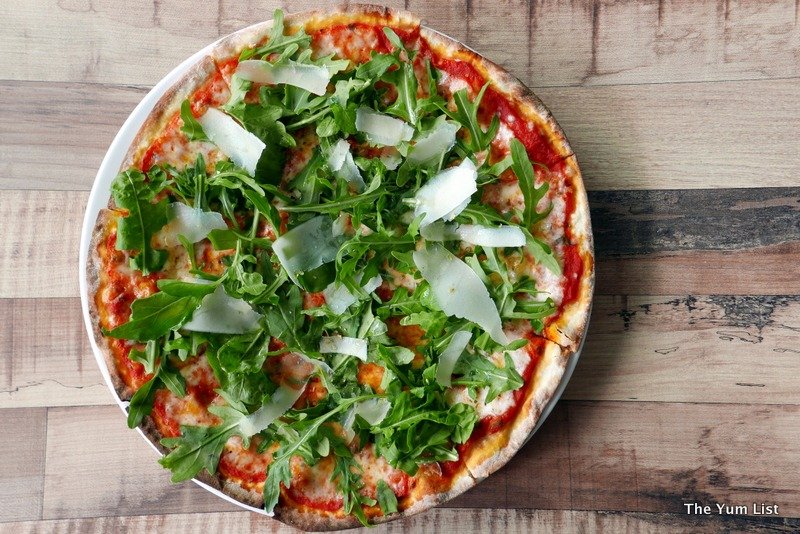 In keeping with the namesake theme, our next foray was the Linguine alla Modi Rosa (RM55). Morsels of squid, prawn, mussels and fish sauteed with tomato and stock produce a clean seafood flavor to sauce al dente noodles. Capers add salty bites and a little chile kicks at the end. This is one satisfying plate of pasta.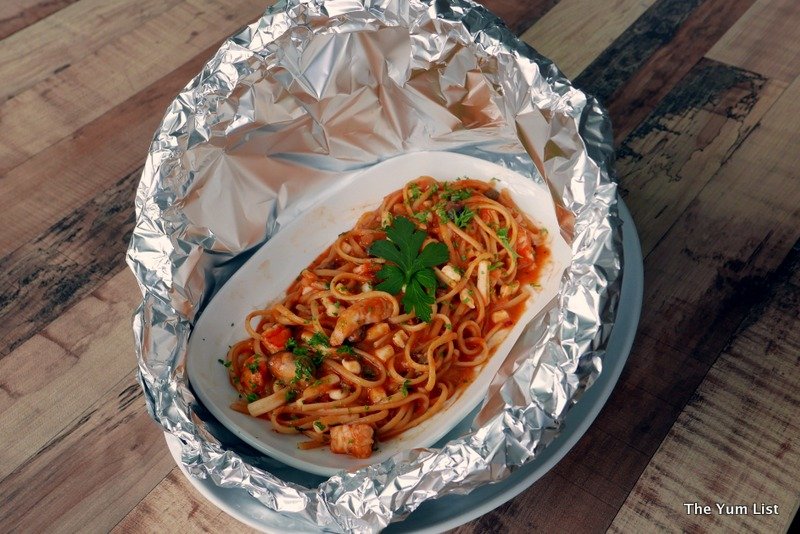 More luxurious is the Ravioli al Tartufo con Crema di Spinaci (RM36). These pasta pillows are stuffed with mushrooms, breadcrumbs and a little cheese that create earthy undertones to the plate. The sauce is creamy, and the spinach keeps it from being overly rich. As with the pizza, the addition of a little truffle oil elevates the dish into new layers of complexity. The result was amazing.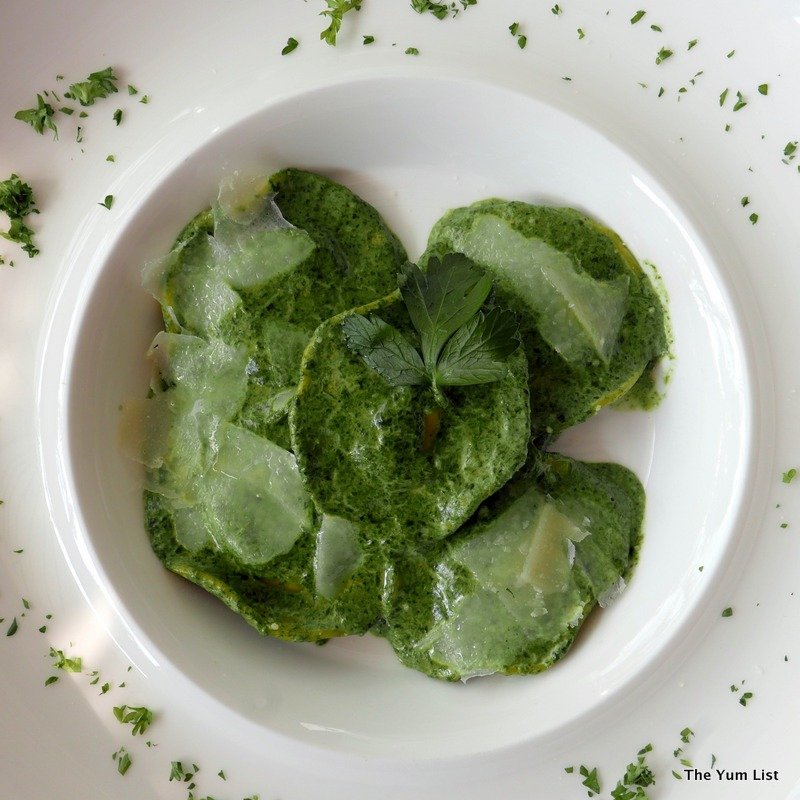 Guests looking for more substantial mains will find cash in the Stinco D'Agnello al Forno (RM 48), oven-baked lamb shank with herbs. Given how easily the meat slides off the bone, it seems like the meat is baked for days! With a generous grinding of black pepper and some very creamy potatoes on the side, this homestyle meal is dressed for Sunday roast.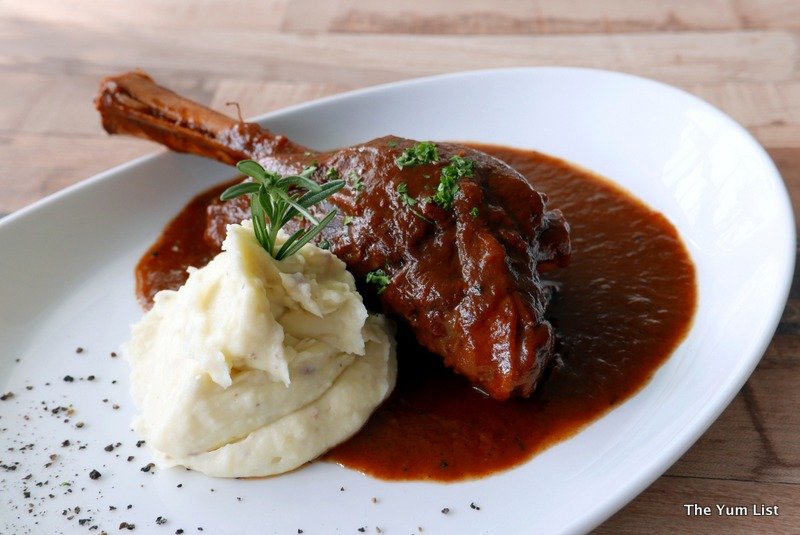 And speaking of Sunday, Modi & Rosa invite weekend guests to enjoy activities for wee family members. Coloring, balloons, and other activities keep the little ones happy while the adults can enjoy their meal leisurely.
And one fine way to linger over the meal is with a good wine! Modi & Rosa pours a Querceto Chianti and a Modello Delle Venezie Bianco Masi for house wines, and showcases an extensive list of other wines from around the world.
We sampled the 2014 Chilean Narrow Valley Cabernet, a very aromatic red with plum and vanilla undertones. The Pearly Bay Chenin Blanc/Chardonnay blend from South Africa was citrusy with an oaky depth. After-work drinkers will be happy to know that Happy Hour wines change daily.
To go along with those Happy Hour wines (or beer or other cocktails specials), served weekdays from 3:00 – 9:00pm, Modi & Rosa features a tapas menu, including bites like calamari fritti, grilled shimeji mushrooms, and a cheese platter for sharing.
Soey recommended we try the Open Beef Sandwich with Goat Cheese (RM35). Here a roasted green chile sits atop very tender meat and creamy chevre: Savory tang and pepper in a bite-sized package.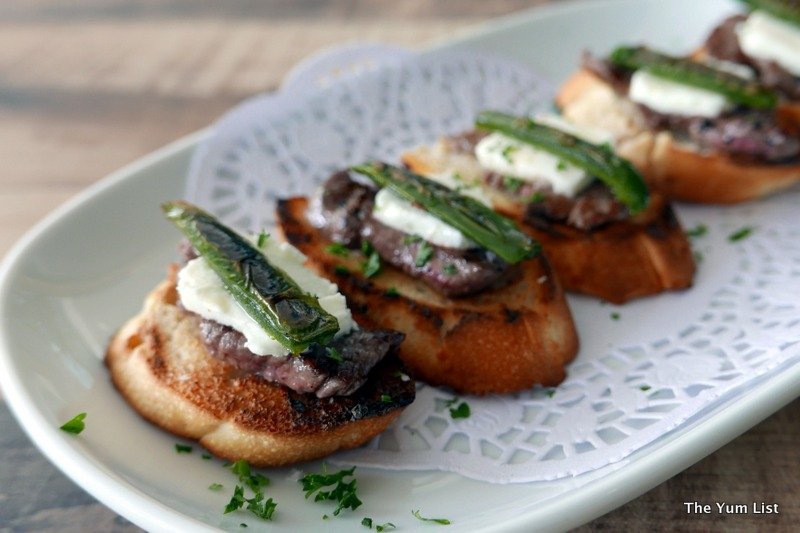 Other great tapas include the Sausage Platter (RM 18), chips of smoked sausage served with thin slivers of pickles and pickled onions. The Fried Baby Shrimp (RM 18) goes down with beer like popcorn bites in a crumbly batter. But my favorite off the Tapas Menu is the Cecina, Rucola e Grana (RM35), beautiful trunks of dry-aged cecina stuffed with cheese and rocket for a multi-dimensional one-bite snack.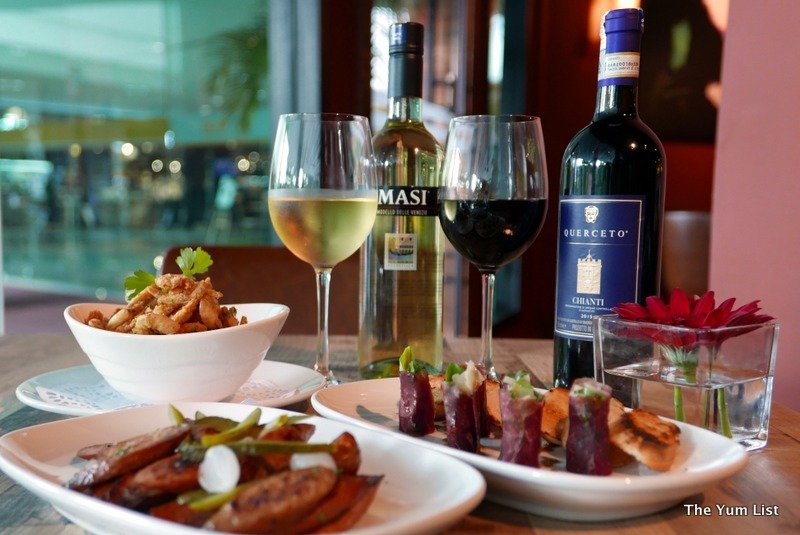 Ready for something sweet to finish the meal, we tried the Panna Cotta alla Noci e Miela (RM 17). Smooth milky panna cotta is dressed with the crunch of walnuts and subtle clear wild honey. Softly sweet, we enjoyed this best with a sprig of mint leaf to round out the flavor.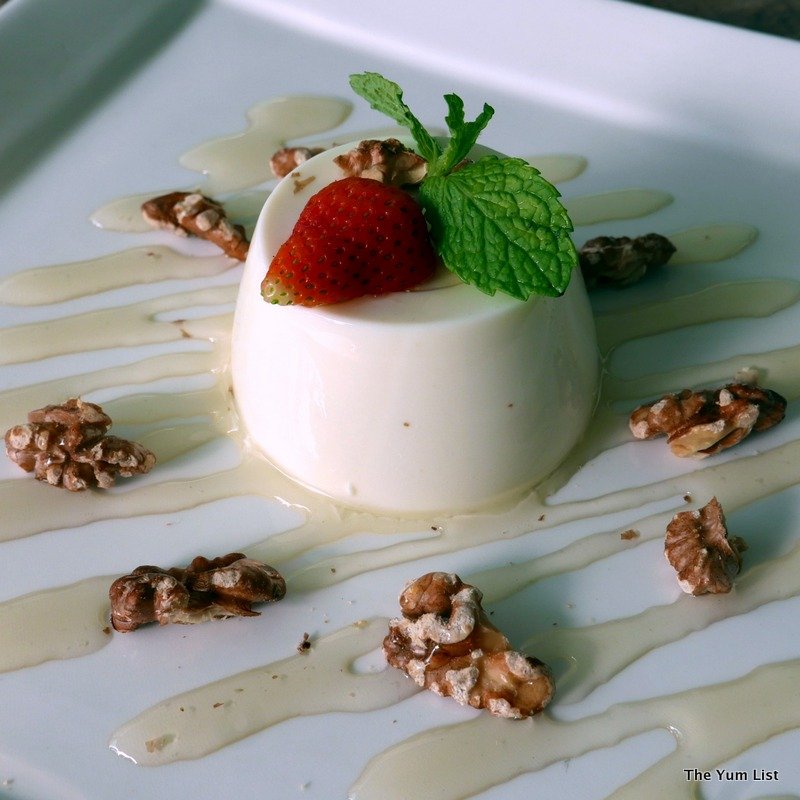 Never one to turn away coffee or chocolate, I fell in love with the Tiramisu alla Modi Rosa (RM20). Perfectly layered, this dessert is a terrific balance of coffee, cream and cake, with just enough cocoa dusting to give me all my favorites at once. Divine.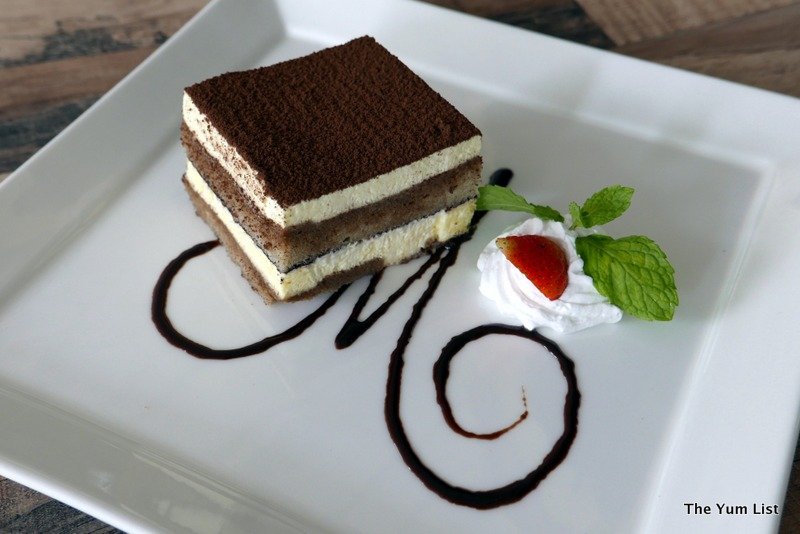 It's easy for people to think they're an expert on Italian food. Pizza, sure: Thin bread with mozzarella. Pasta, no problem: Cook noodles, add sauce. But Marini and his crew know the secrets of homestyle Italian, just like the families I knew in my younger days: Kitchens where meals are fired with love and the legacy of simple, high-quality ingredients. At Modi & Rosa, enjoy the quality of a full Marini menu in a space designed with family and friends in mind.
Modi & Rosa is open seven days a week. Kitchen hours run 11:00 a.m.  – 2:30 p.m. for lunch and 6:00 p.m. – 10:30 p.m. for dinner. The wine bar is open for drinks, tapas and pizza from 12:00 p.m. – 12:30 a.m. Soon they will add a breakfast hour at 10:00 am for coffee, croissants, and panini.
Reasons to visit: Mushroom ravioli in creamy spinach and truffle sauce, killer thin-crust pizzas, and tiramisu to make you weep. Good happy hour options and a terrific wine selection as well.
Modi & Rosa
Glo Damansara Mall, LG.06
699 Jalan Damansara, Taman Tun Dr Ismail
60000 Kuala Lumpur
+60 7733 1719
www.modirosa.com