Spanish Breakfast Bangsar
Words:  Claire Matheson
Photos: Monica Tindall
There are two kinds of people in this world: those who like to share their food, and those who don't. I fall firmly into the first category. I am incapable of sitting through an entire meal at a restaurant without swapping plates with someone. Because of this need to share my degustation experiences, Spanish tapas is one of my all-time favourite meals. Best eaten with like-minded, adventurous people willing to tempt their tastebuds with new delicacies, morsels of mouthwatering flavours, bits of this and bits of that, all washed down with a decent glass of Spanish red.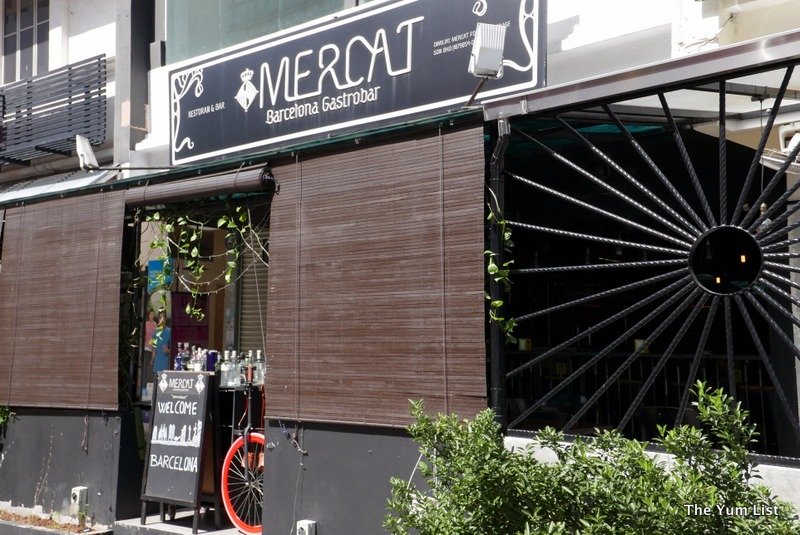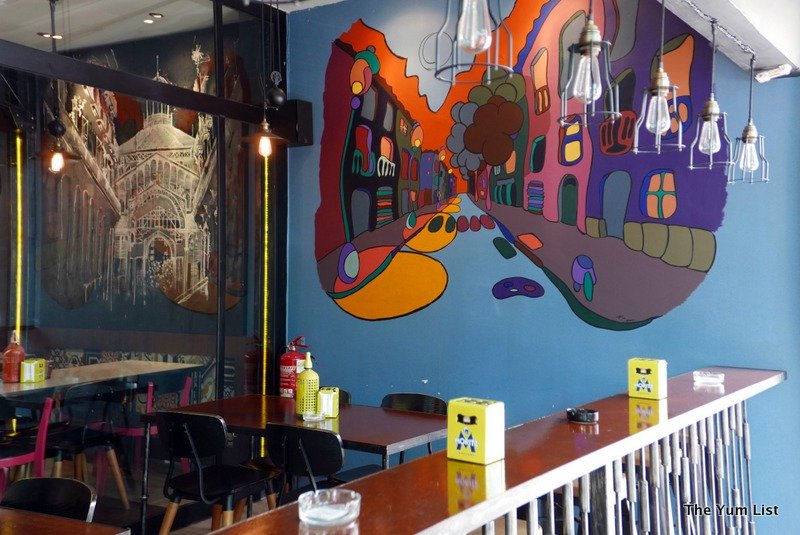 It is no wonder then that the first restaurant I ever chose to go to after arriving in Kuala Lumpur was the Barcelonian styled Mercat Gastrobar. Located in the heart of Bangsar, the welcoming al fresco atmosphere and creative vibe play backdrop to an authentic menu showcasing the best of Catalan fare.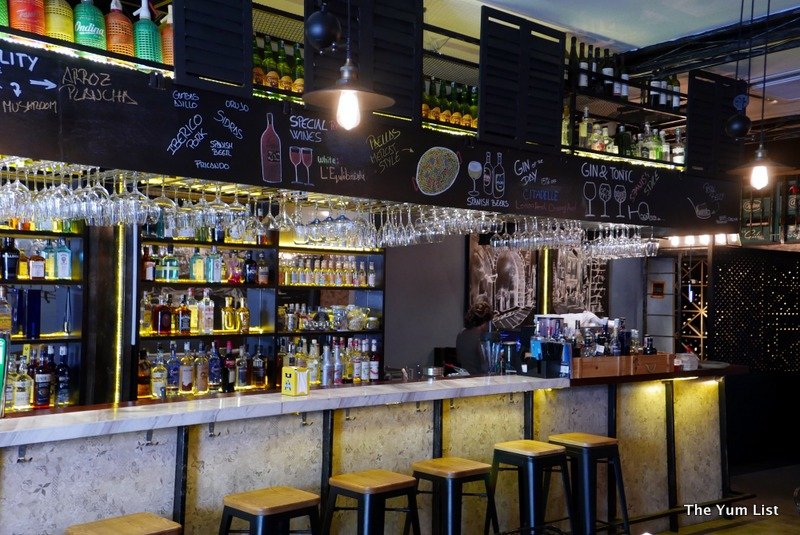 Spanish tiles, large communal-style tables and whole wall artworks enhance the effortlessly cool factor already in play from Mercat's history as one of the first, and best, gin bars in KL. Their weekend gin special for ladies is a clear reason to visit: between noon and six in the evening, ladies can get two shots of Spanish style gin and tonic, for only RM15+. Gins on offer change weekly, are imported directly and are further enhanced on Sunday afternoons by a live DJ set.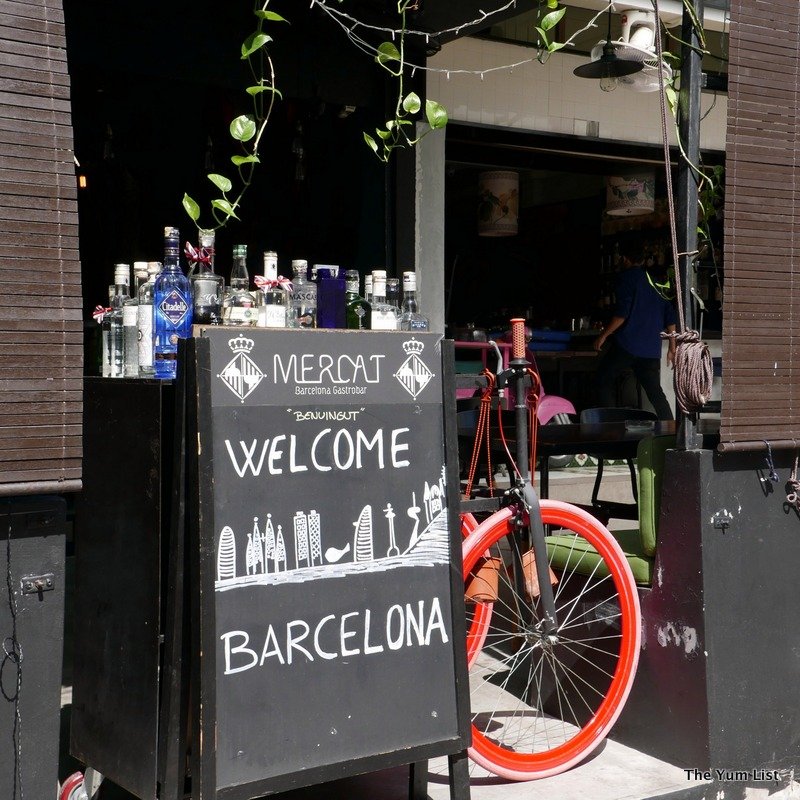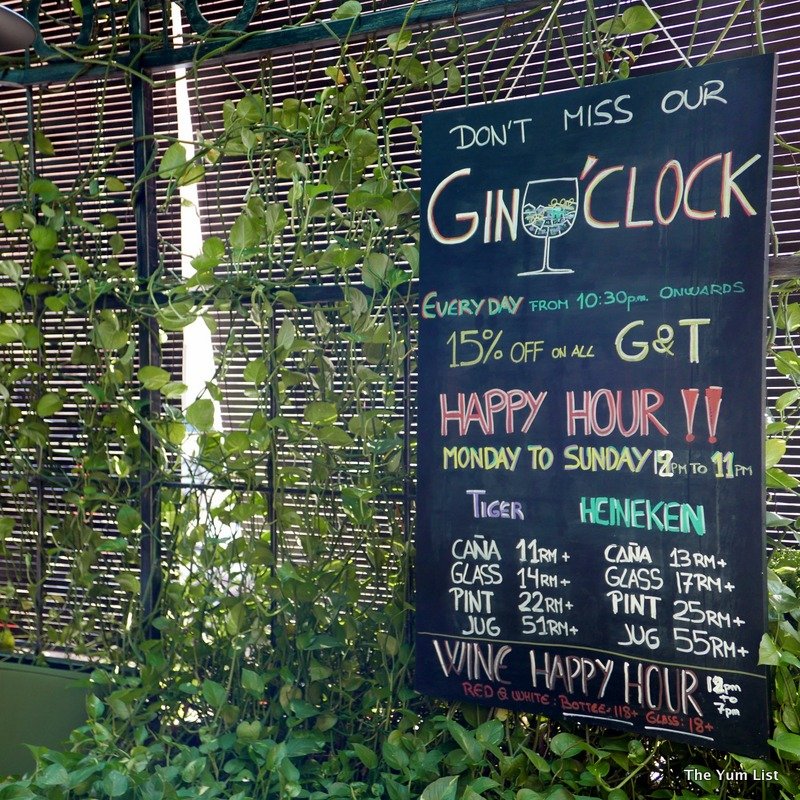 If Barcelonian tapas, Spanish gin and wine, and Iberico pork, the greatest pork in the world, are not enough to tempt you, then Mercat Barcelona Gastrobar has just introduced another reason: breakfast! Served Monday to Friday from ten, and from nine on Saturdays and Sundays, their menu offers a range of Catalan breakfasts including an option to design your own, as well as healthy 'Mercat jar' choices, breakfast smoothies, and Juan Valdez coffees.
Starting with a rich, strong and smooth flat white (RM15), my inner Australian coffee snob is sated. We also select two of Mercat's best smoothies (RM18 each). Made with tangy natural Greek yoghurt and high-quality Australian milk, the Bananas 'bout Orange combines a refreshing citrus orange juice base with energising banana, while the blush pink Tropical smoothie builds on a strong and juicy watermelon base with sweet and sharp fresh pineapple.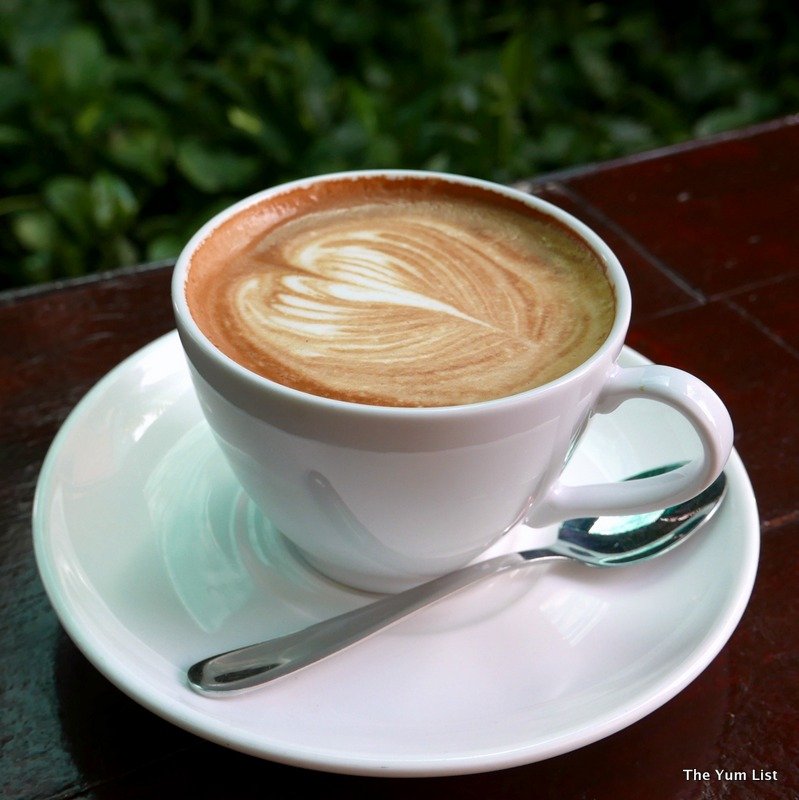 Iconic to the Catalonian region of Spain and the city of Barcelona, Torrada is a style of serving toasted bread topped with crushed tomatoes, olive oil and garlic. While it would be easy to eat a whole loaf of the rustic farmhouse white bread made from imported high-quality flour on its own, the additional flavours are incredible and go perfectly with slices of Iberico ham and other Spanish cured meat specialities. Mercat has a number of Torradas Catalanas options on their breakfast menu, priced between RM14 and RM29, each served with a side of Catalan white beans tossed with parsley and more garlic and olive oil.
Paired with the most sensational, smoky Spanish bacon the Catalan Torrada with Spanish Bacon (RM24) is my pick! In my opinion, no breakfast is complete without bacon, and no one makes bacon like the Spanish. Rich, full-bodied and perfectly cooked, the intensity of flavour makes me feel like I've been eating watered-down bacon all these years. Chef David Caral explains that when it comes to Spanish pork, the taste is so pure that very few other ingredients, if any, are needed.
The Torrada Pincho Moruno (RM27) is different from any other breakfast dish I've tried. Skewered pork is marinated with heady spices from the South of Spain where there is a strong Arabic influence. Cumin, cardamon and other Middle Eastern spices are used to create a layered medley of aromas and tastes. The dish echoes many of the flavours of Moroccan cuisine while remaining true to its Spanish roots.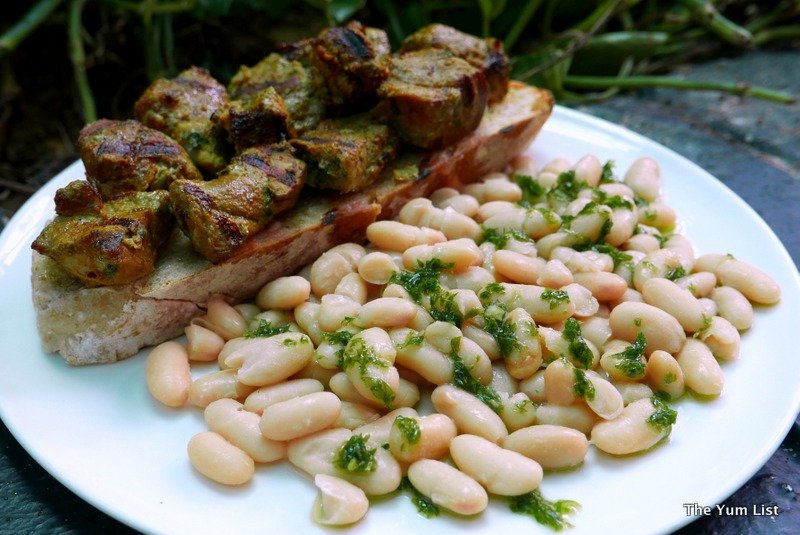 If you can't decide what to order, the Catalan Breakfast (RM29) will serve you a portion of everything. The plate is loaded with Spanish bacon, Botifarra Catalana sausage, York ham, mixed mushrooms, Catalan white beans, two farm-fresh free-range eggs, and a slice of the tomato and garlic smeared Torrada bread. Hearty, wholesome and full of intense flavours, you may not be hungry for many days after gorging yourself on this feast! The imported Botifarra sausage is another pork hero and is available on its own Torrada (RM28) if the full Catalan Breakfast is too big for you.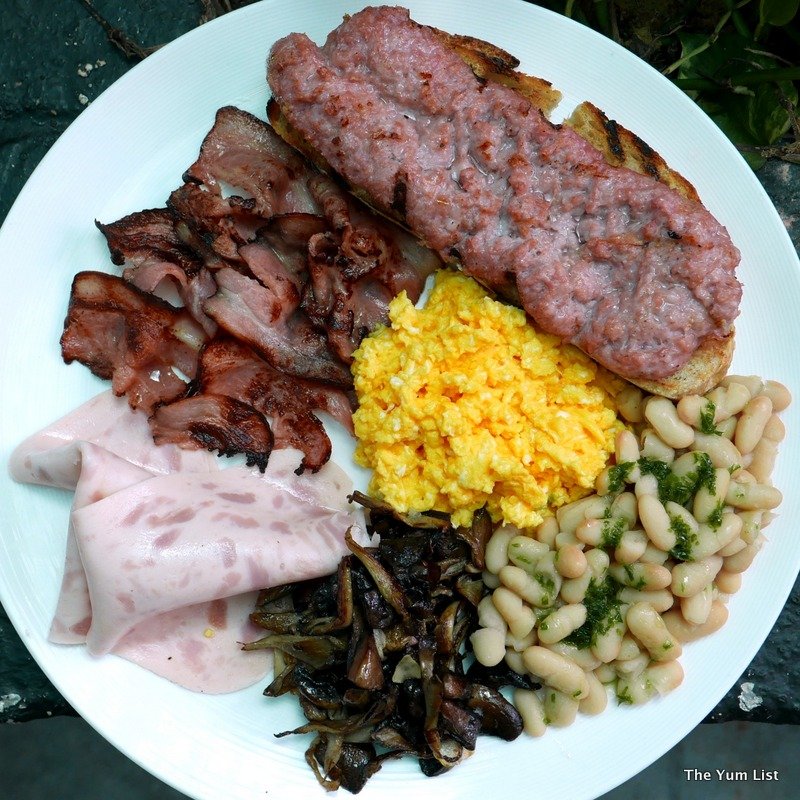 If you're after a healthier option, Mercat makes a range of natural Greek yoghurt and fruit-based breakfasts served in jars. Generous portion sizes mean you will stay fuller for longer and won't be reaching for the snacks later on. The granola, yoghurt and homemade red fruits coulis (RM19) is a firm favourite, the crunchy granola contrasting with the creamy and sharp unsweetened yoghurt. It is further layered with tangy ribbons of red fruit coulis made from strawberries and raspberries, with subtle hints of orange citrus and cinnamon. We also try the chia seed, dragonfruit and almond jar (RM19), the ingredients creating contrasting textures to excite your palate, again layered with yoghurt and coulis. Refreshing, invigorating, and healthy!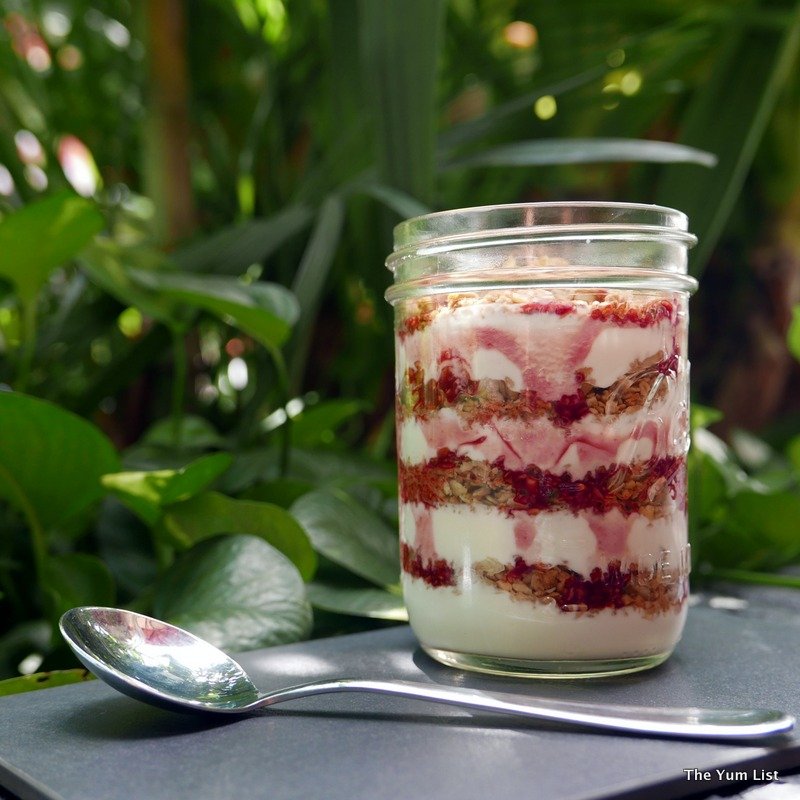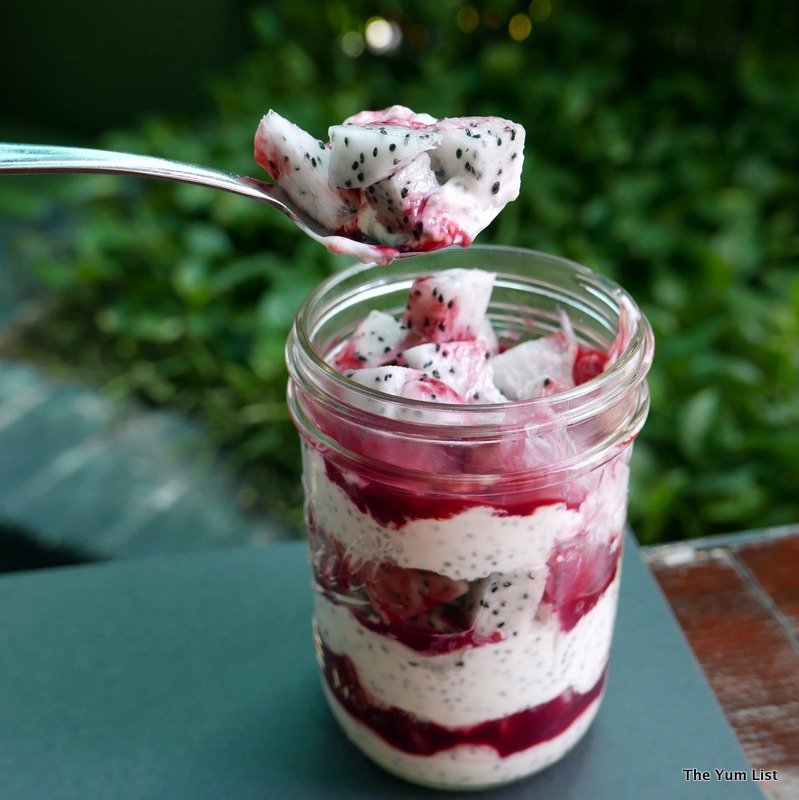 Chef David Caral is a firm believer in bringing people together through a shared love of food. His use of pure and well-sourced flavours, traditional methods and ingredients will have you swapping plates and eating off each other's forks, sparking conversations and bringing joy through a shared experience. Eating at Mercat is more than just a meal, it's an adventure in exploring Spanish degustation, where you have to try a bit of everything on offer.
Reasons to visit have a Spanish Breakfast in Bangsar: Authentic Barcelonian cuisine with traditional Catalan flavours. Try the Torrada with the Botifarra sausage, the Iberico ham, or the Spanish bacon! Trade in your daily chain store coffee for a proper Juan Valdez coffee!
Mercat Barcelona GastroBar
51 Jalan Telawi 3
Bangsar Baru, 59100
Kuala Lumpur
Malaysia
+6 032 201 5288
http://mercat.my