Words: Heather Onderick Pictures: Monica Tindall
Exciting things are happening in the newly opened wing of Pavilion Elite, and one of them is the attractive new digs of Acme Bar & Coffee. When the owners have backgrounds in architecture and fashion, you're just about guaranteed a restaurant and bar that is pleasing to look at, at the very least.
At Acme Bar & Coffee in Pavilion Elite, you can dine or sip in the environment of your choice. On the far end of the restaurant, lies the mirror room, which looks like the setting for an Alice in Wonderland dinner party, complete with iridescent mirrors, brass lines and tasteful flower arrangements. If you aren't with such a big group, you might choose to sit in the salon, where you can watch mixologists design aromatic and artisanal cocktails. Find yourself needing an element of open air or a cigarette, and you can move onto the slightly elevated terrace surrounded by water features and shades of greenery in well thought out corners. The terrace and entrance into the restaurant are reminiscent of a New Orleans shophouse. Finally, to prove there is indeed something for everyone, you may go into the well-lit back room, with accent lighting, high shelves and tables that fit groups of all sizes.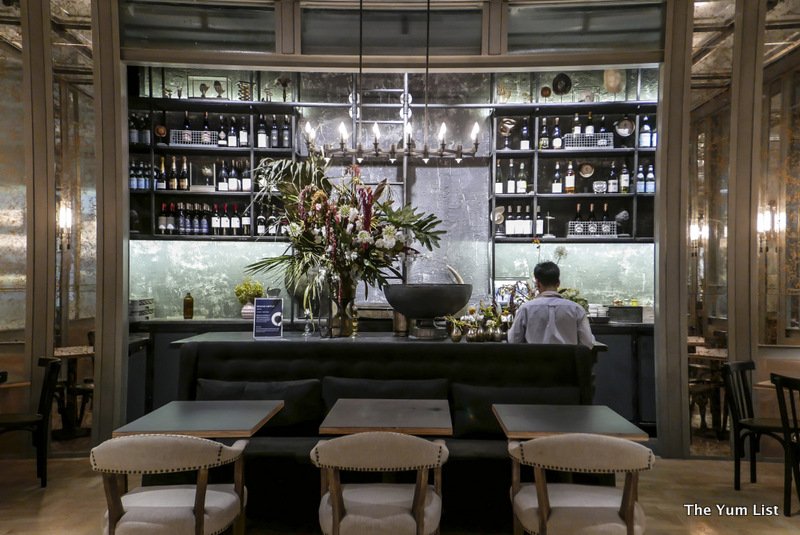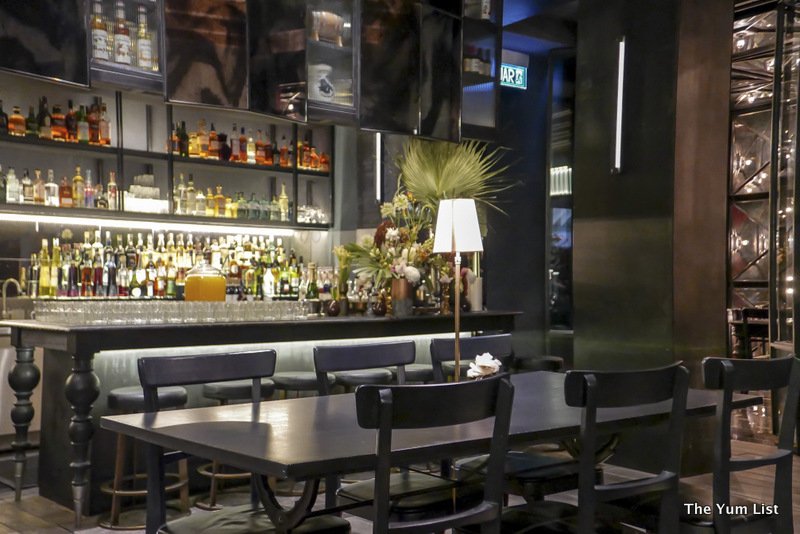 Those of you though, who have been to Acme Bar & Coffee in Troika or Bangsar know that the decor is not the only reason people come in throngs to the more fondly named, ABC. The simple and honestly good food, blending eastern and western flavors with grace, is just as equal attraction.
Monica, Caning and I sit down to enjoy the new spring menu, with a few house specials thrown in. We start off by indulging in some amazing cocktails, some of which have yet to hit the menu. First up is the pearly colored, Rosemary and Guy (RM 39). This grappa based gem is aromatic and smooth, a nice aperitif to start off the meal. Up next is a cocktail inspired by our south-east Asian neighbor, the Thai Dragon (RM 37), which offers fiery chili-infused whiskey, blended dragon fruit juice, fresh lemon, cashew and is topped with delicious toasted coconut chips. The chili whiskey cuts the sweetness of the fruit and the coconut chips offer a welcome layer of texture to the drink's complexity.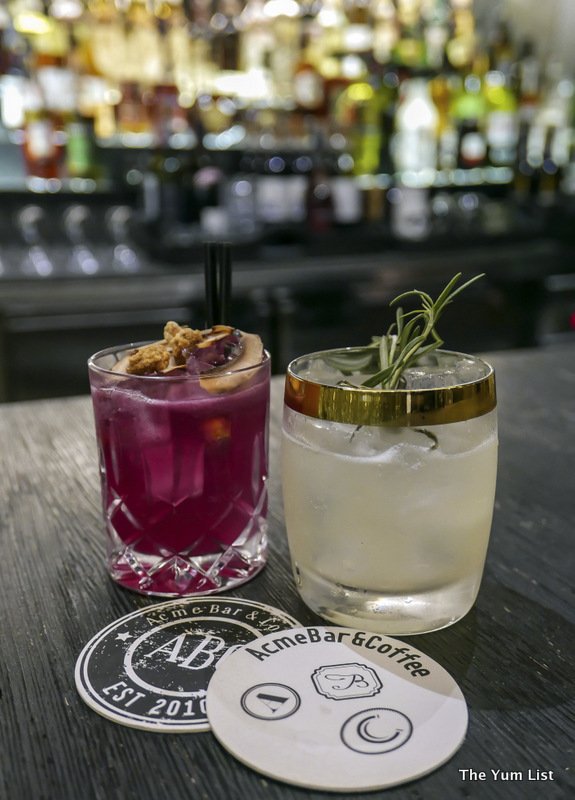 Our second round gives us the chance to try some soon-to-be-introduced cocktails. The bartender's own recipe blends forest berries and rum to make the Dragon Kiss, a delightful beverage perfect for the tropics. While I would happily order the first three all over again, the Gin Basil Smash, is my most-endeared – a delightful tonic of elegantly balanced ingredients. Landing somewhere between a refreshing limeade and an Italian herb garden, this drink sends a jolt of happiness through my veins.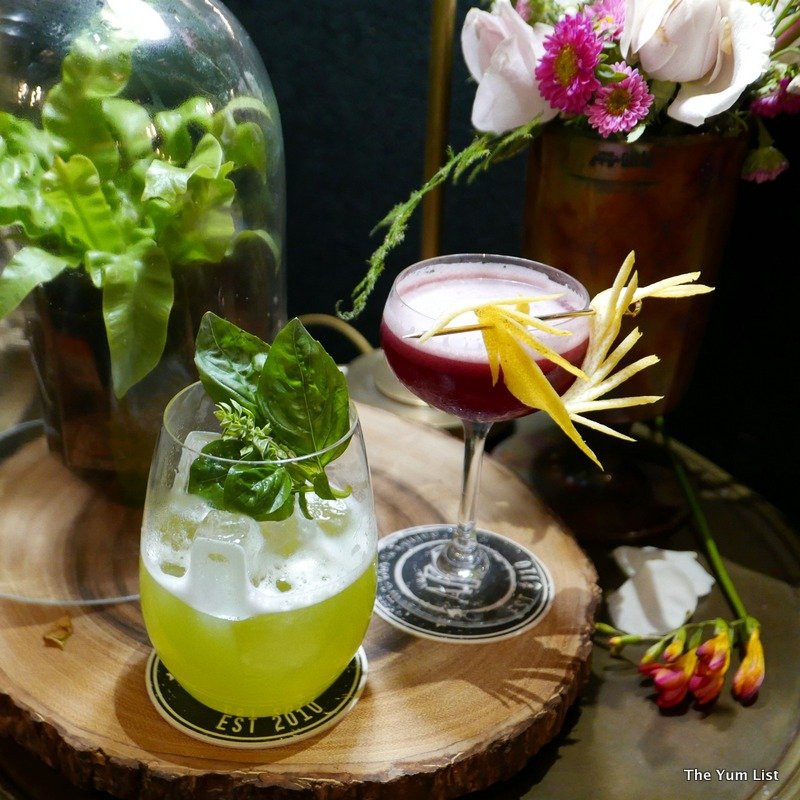 Our first plate is the Fried Rice Roll (RM 23). Without quizzing the chef, I'm guessing this dish might be inspired by a Korean kimbap triangle. It consists of fried rice rolls, wrapped in seaweed, stuffed with salmon, tangy pickled ginger and deep fried in a pleasing batter. One dip in the wasabi sauce or anchovy dip and you'll find it hard to resist eating the whole plate of these.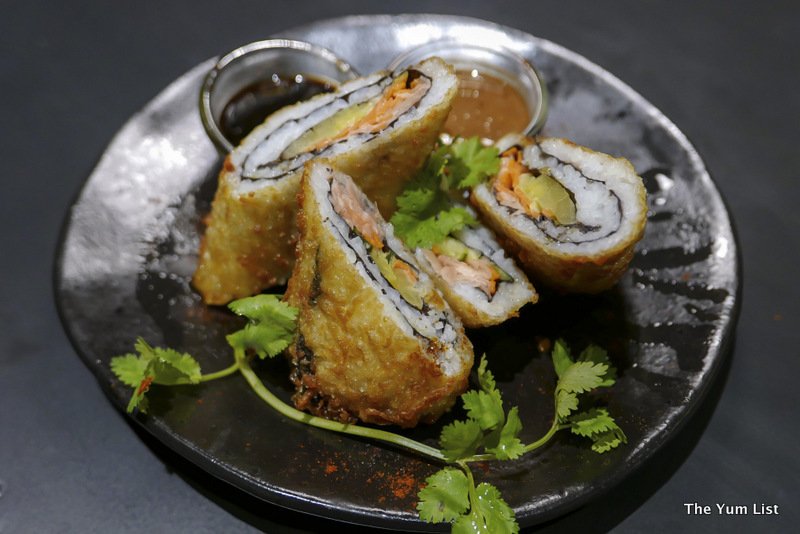 Our guilty pleasure is further indulged with the Spicy Chicken Bites (RM 25). This crispy, lightly spiced chicken is served with an addictive coriander mint yogurt sauce that helps cut the spice for those who are not enamored by spicy food. Your vegetarian friends can get in on the action by sampling the buttery battered onion spaghetti strings the chicken is served over – absolutely delicious.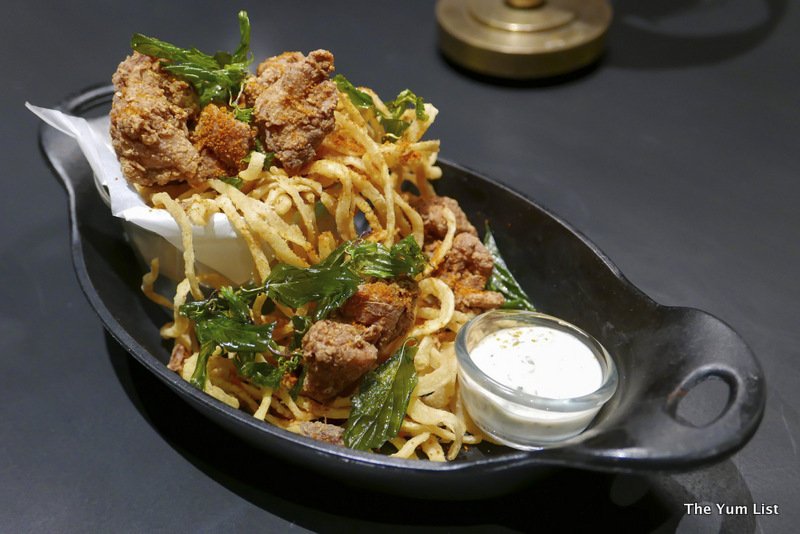 Many of Acme's dishes are trending favorites. Try their Tuna Poke (RM 29), which has ruby red tuna chunks, served with a mild corn salsa and crunchy turnip chips. This dish is a good option if you want a little bit of health alongside the comfort food goodness of the fried plates on offer.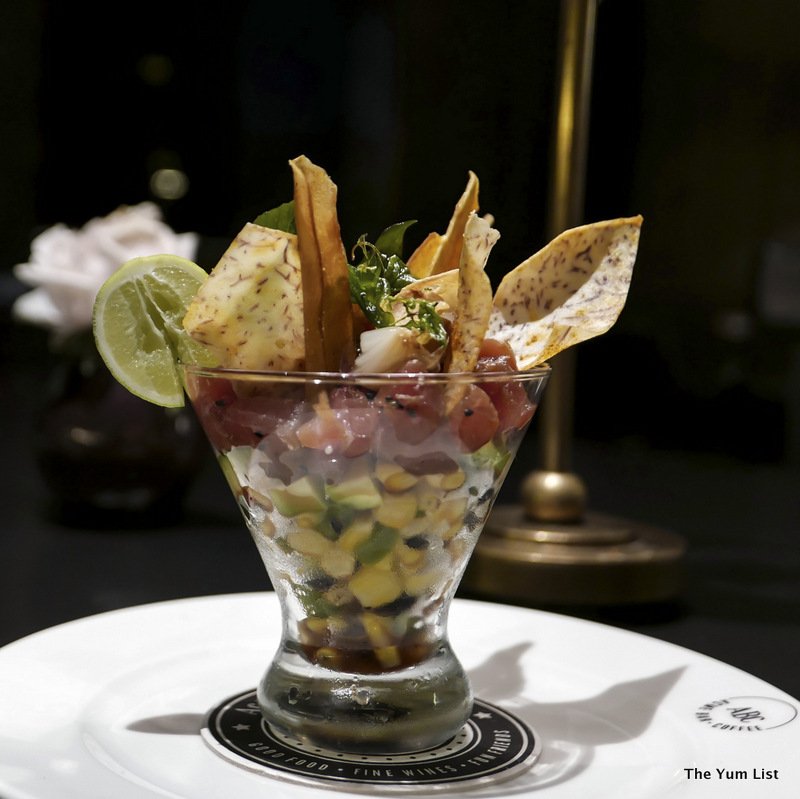 We are treated to a plate of the Blackened Beef and Chicken Satay, just to remind us of the possibilities of the good old slow cooking Josper oven they have out back. The oven makes these satay sticks, marinated in a spicy turmeric galangal sauce, more succulent than anything I have tried on the streets of Kuala Lumpur.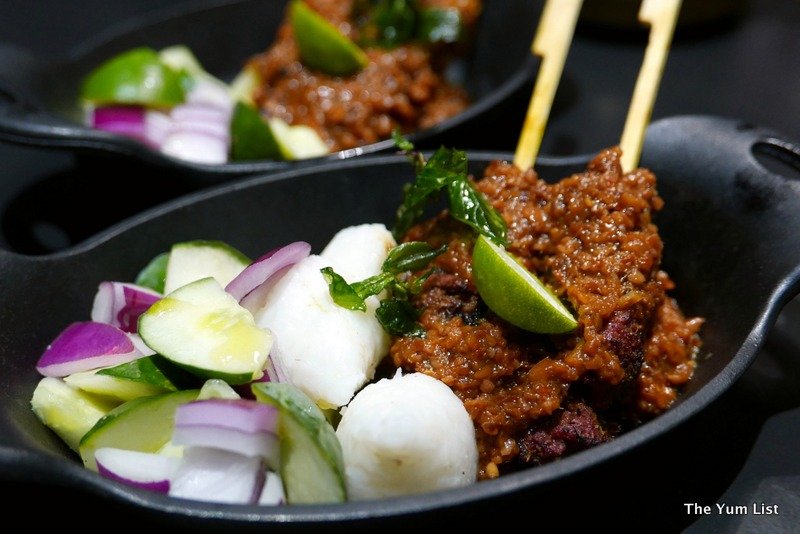 We flip flop between street food favorites, adaptations of American comfort food, and healthy plates. The next dish is the fresh and lively, Chicken and Kale Taco Salad (RM 35). It's made with crunchy Brussels sprouts and leafy crisp kale. The lime chicken and creamy Parmesan coating, balances out the spicier, fried dishes, making my body feel clean. I would happily eat this salad for lunch for the next week with the high quality and culinary preparation that clearly goes into it.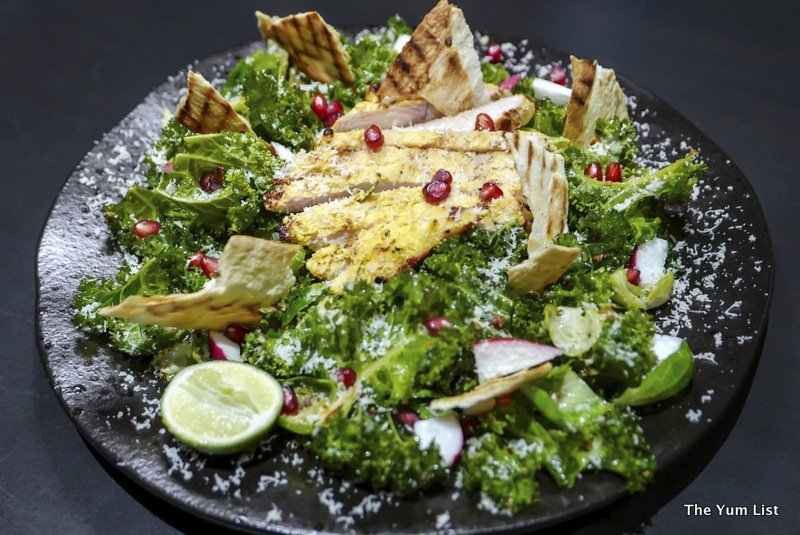 From this point on, we dig into the new spring menu's main dishes. The Spring Noodle Bowl (RM 35) is something I would have craved back when I lived in Barcelona as it includes a multitude of Asian flavors layered all in one recipe. At the bottom of the bowl, we find the chewy chili oil noodles, topped with tart lime chicken, and sprinkled with pickled ginger and daikon. The flavors are well-balanced and nothing is too overpowering.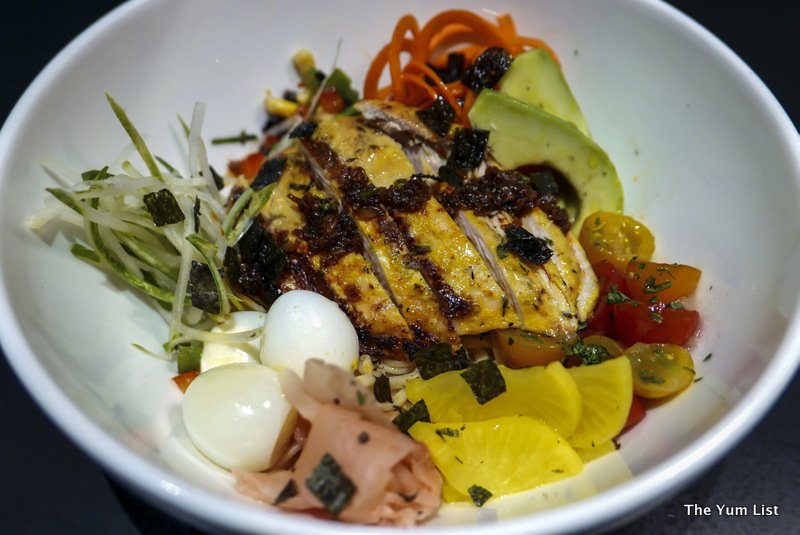 The next plate is a well-executed fusion plate, Blackened Salmon Steak (RM 59). This juicy caramelized spicy miso salmon is luscious and the savory essence of the miso marinade is matched with wonderful chunks of creamy avocado (they must use nearly an entire fruit in this plate – luscious!).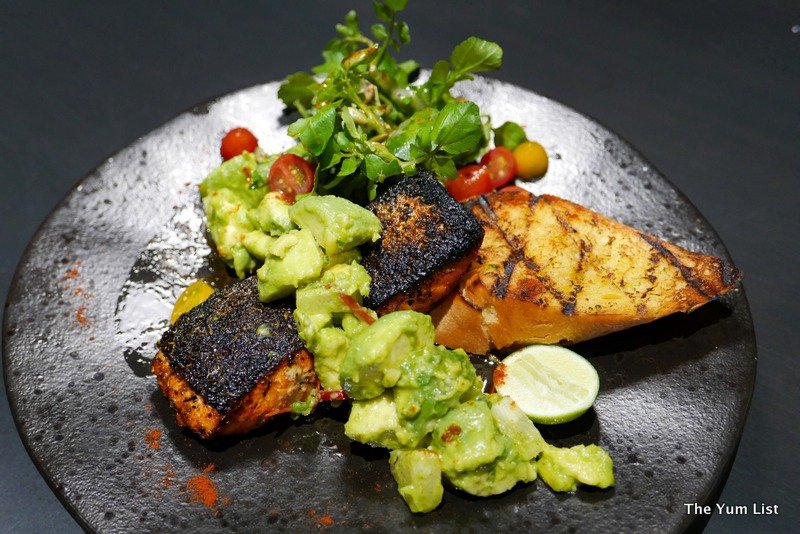 Finally, we try the newly designed platter called Sea to Land (RM 99), which is intended for sharing. This plate offers tender lamb chops, lime chicken and ripe tomato salad. It allows diners to taste some of the standout features of the main dishes without ordering individual mains – and do believe that is is a sharing portion, not be taken lightly, but ordered with friends.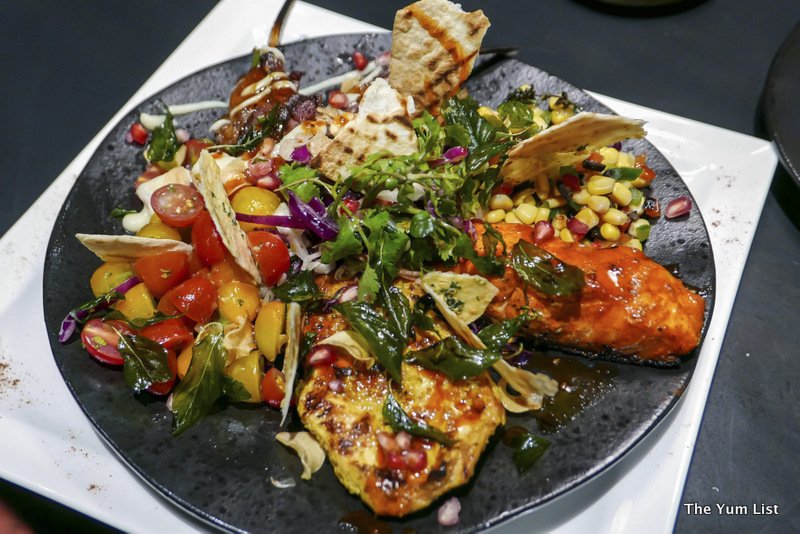 By this point, the room in my pregnant belly is decreasing, but I hold my ground determined to power through the dessert course.
We wanted to sample the special dessert Tea Set offering (RM 25), which is a good reason to stop by and see this beautiful cafe and decide whether or not you want to indulge in a full-course meal at some point. The tea set offers a selection of petit fours. You may choose three and there are selections of nutty, chocolatey, fruity and more. It is also inclusive of a coffee or tea of your choice. If you are craving an afternoon pick me up while doing some power shopping in Pavilion, make a pitstop at Acme for this offering.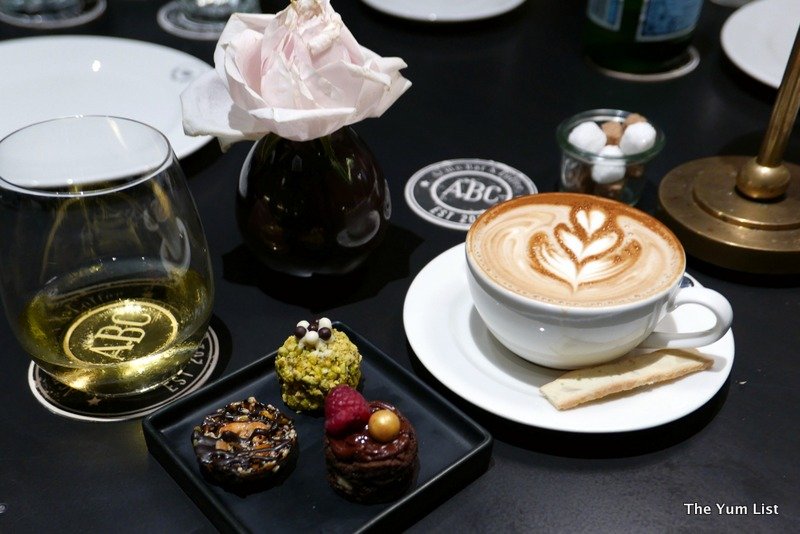 In addition to the tea set, we sampled the final two new offerings of the Spring Menu. The purple swirled Blueberry Apple Crumb Pie (RM 17), topped with a unique sour cream ice cream and drizzled in a caramel sauce, was a testament to the restaurant's strength in combining both eastern and western flavors effortlessly in a modern version of a coffee cake. The final treat was equally as mind-blowing, the Sizzling Coconut Nangka Brownie, with a hand pouring of gula Melaka syrup. If you have dreams of toasted coconut, this special blonde brownie is for you, overflowing with shortbread flavors, shredded coconut and a scoop of simple jackfruit ice cream on top, both Caning and I nearly licked this plate clean.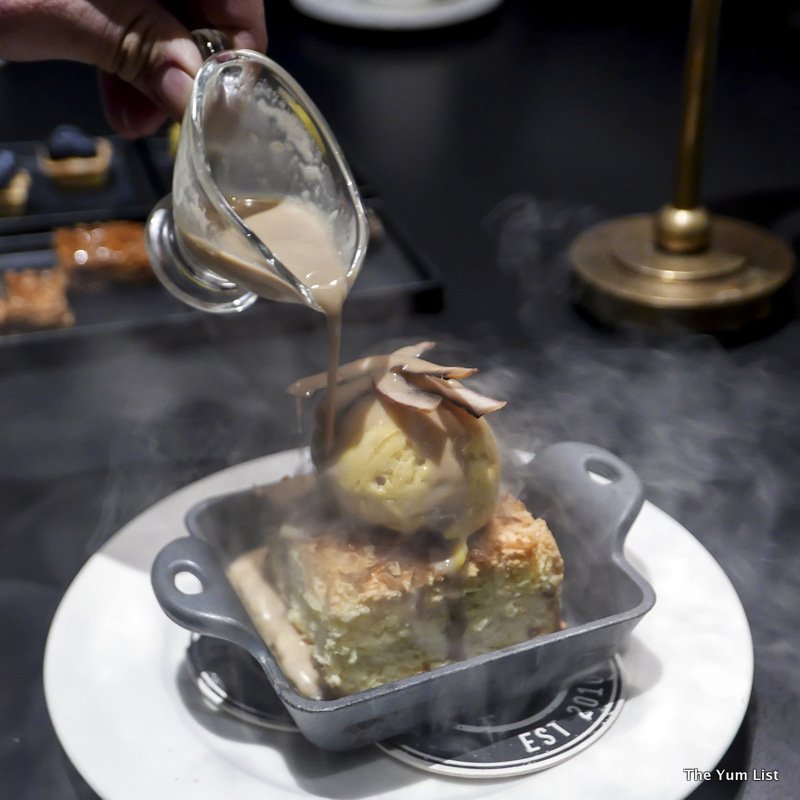 Acme Bar and Coffee is an experimental restaurant filled with people who really want to create complex, layered plates that cater to a variety of palates. Service is friendly and the setting… well… just come see for yourself!
Reasons to visit: a beautiful setting – don't miss a peek inside the private dining mirror room; versatile space suitable for cocktails, afternoon tea, or an extensive meal; must-orders are the Chicken and Kale Taco Salad, the Blackened Salmon Steak and the beautifully crafted desserts that blend distinct flavors eloquently.
Acme Bar & Coffee Pavilion Elite
3.100.00 Level 3 Pavilion Shopping Mall
Jalan Bukit Bintang
55100 Kuala Lumpur, Malaysia
http://acmebar.coffee/
+60 3 2110 3373