Joanna McCall and Monica Tindall
Atelier (meaning workshop or studio) stood out for me from the moment I arrived at the doorstep in the ever-changing Bangsar neighbourhood. Here, they've done away with the standard potted plants that line an uneven street and replaced them with brand new pavement, a manicured lawn and grape vines. The entrance further impresses with a bespoke water feature, adding a sense of relaxation and escapism.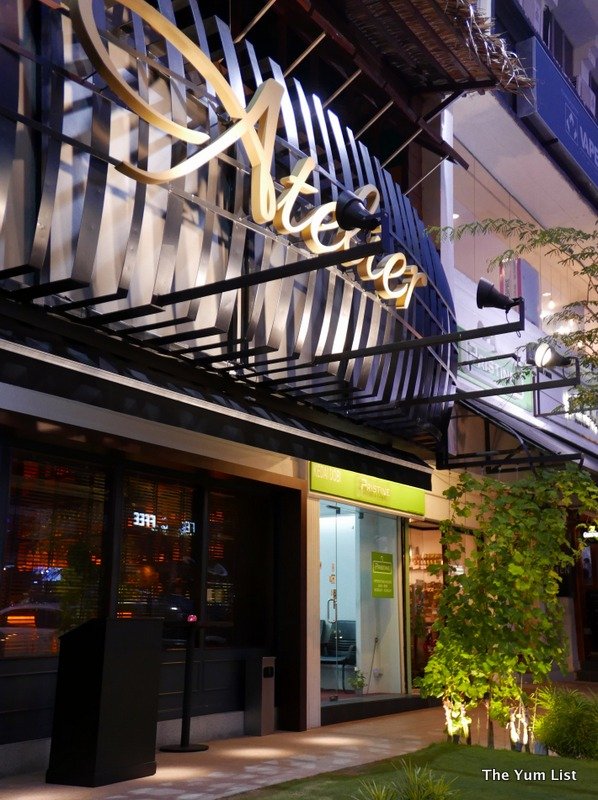 The interior is sophisticated with relaxing jazz music and gorgeous soft furnishings complemented with specially sourced crockery, cutlery and glassware. Walls are lined with cushioned fabric, which not only adds to the air of luxury but also doubles up as soundproofing, preventing any of the outside hustle and bustle from intruding within.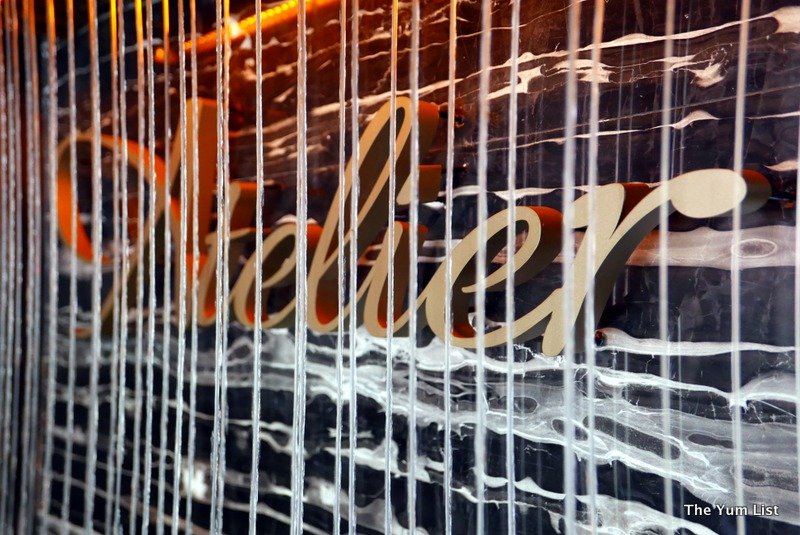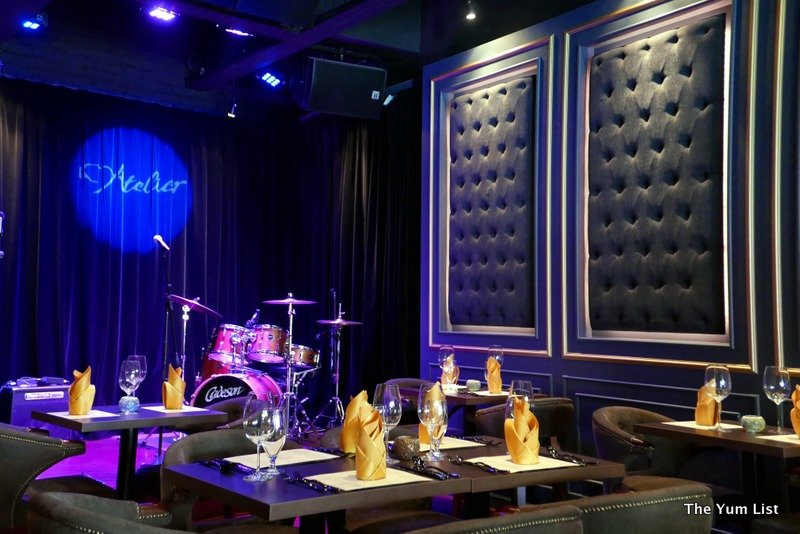 A small stage in the corner plays host to a live jazz band every Friday and Saturday night, and a quality sound system ensures the music is engaging, while still enabling guests to hold a conversation. I was also delighted to find out that the venue is strictly non-smoking. It is so rare in KL to find a nice cocktail bar where you can listen to live music, chat to friends and not get a face full of cigarette smoke. Hooray! (Smokers, there is a lovely garden out front for you.)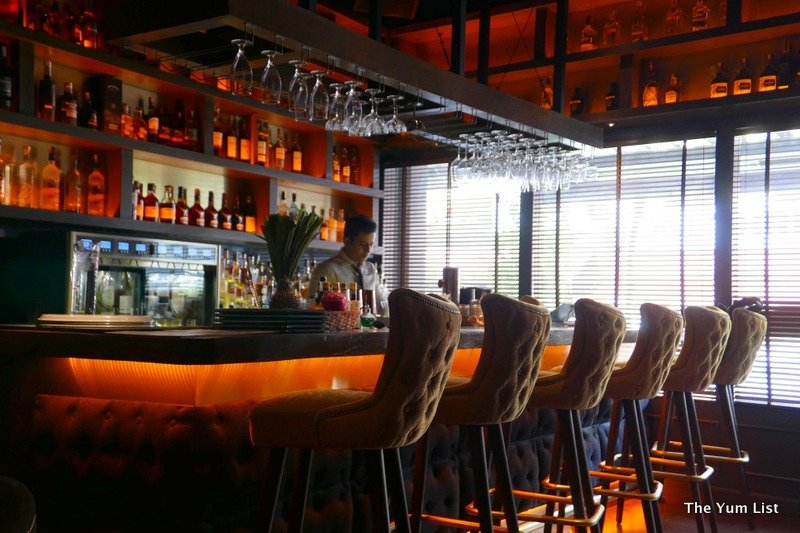 Food and beverage at Atelier on Telawi is a creative collaboration between chef Aidil and mixologist Imran, who have each both been given free rein over their menus. The cocktail list changes every week and the food offerings every five weeks. Cedrick, the manager and sommelier, also brings flair to the team with his clear born-for-the-hospitality-industry charm. And, after you've opened your appetite with a cocktail from Imran and are ready for some wine with your dinner, this is the man to call upon.
Starters
A handful of starters all sounded so delicious, it was difficult to narrow it down to only two for sampling. Air Flown Hokkaido Scallops (RM38), my personal favourite, were cooked to perfection and encrusted with black volcanic salt flown in from Pompeii! A gorgeous pumpkin puree bedded the molluscs and was strewn with colour and crunch in the form of micro greens and roe.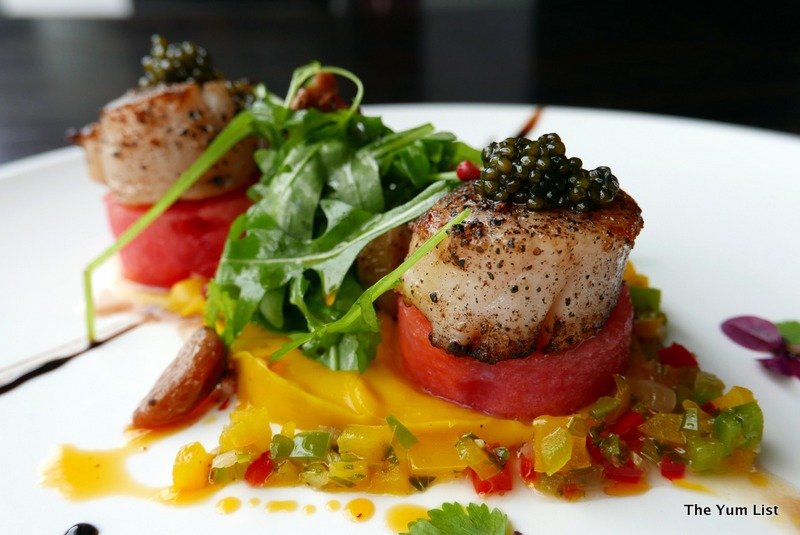 The Cream of Wild Mushroom Soup (RM38) consisted of four different types of mushrooms, some of which originated in Norway. The soup was topped with a fresh morel and accompanied by sourdough toast and a selection of pestos. We all agreed it was one of the best mushroom soups we've had – rich, creamy and full of earthy flavour.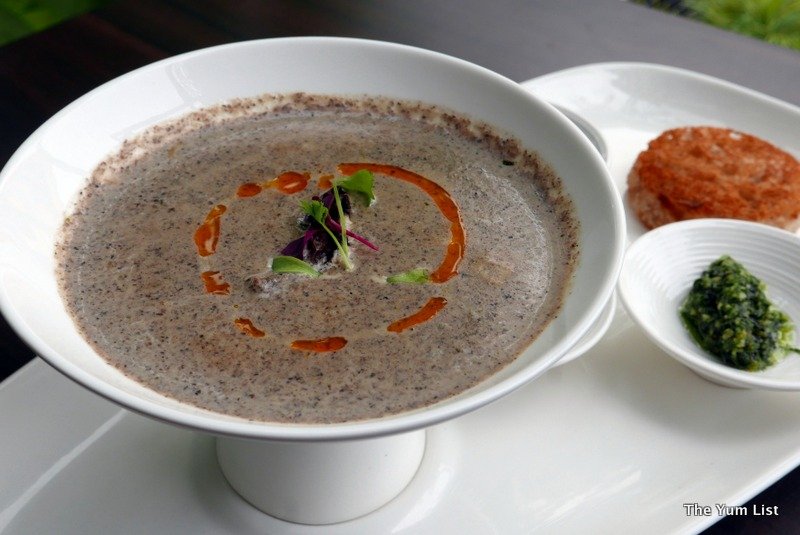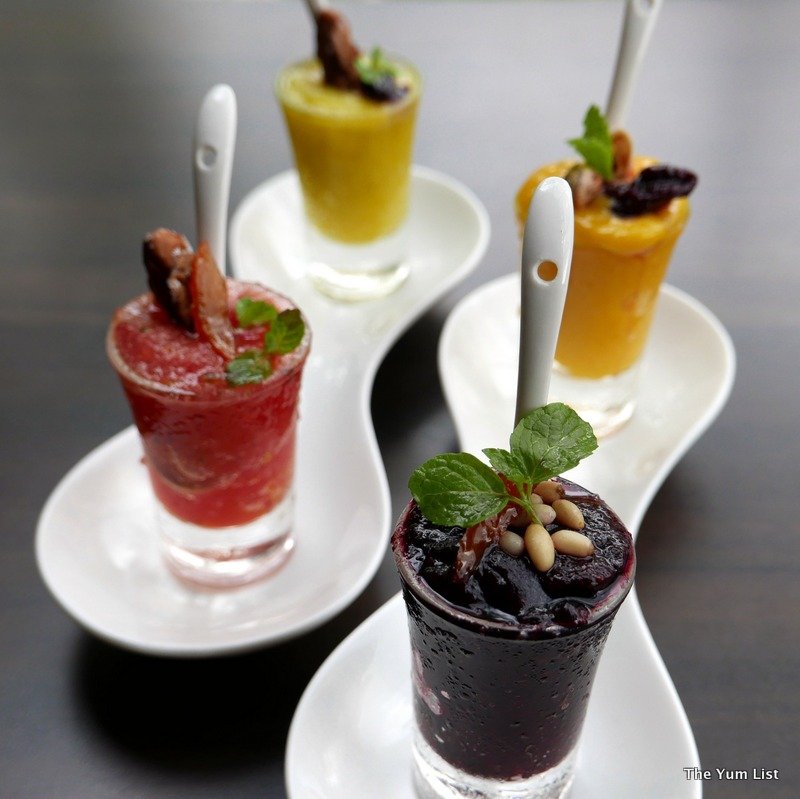 Mains
Of the four main dishes we tried, the 120 Days Grain Fed Black Angus Beef Tenderloin (RM110) was clearly the star of the show. Pan seared medium rare, the quality of the beef spoke for itself. It was great to see the chef allowing the ingredients to do the talking without over-complicating them. This was also the case with the Wild Catch Rainbow Trout (RM60) – lightly cooked fish perfectly paired with delicate vegetables such as heirloom carrots and spears of white asparagus.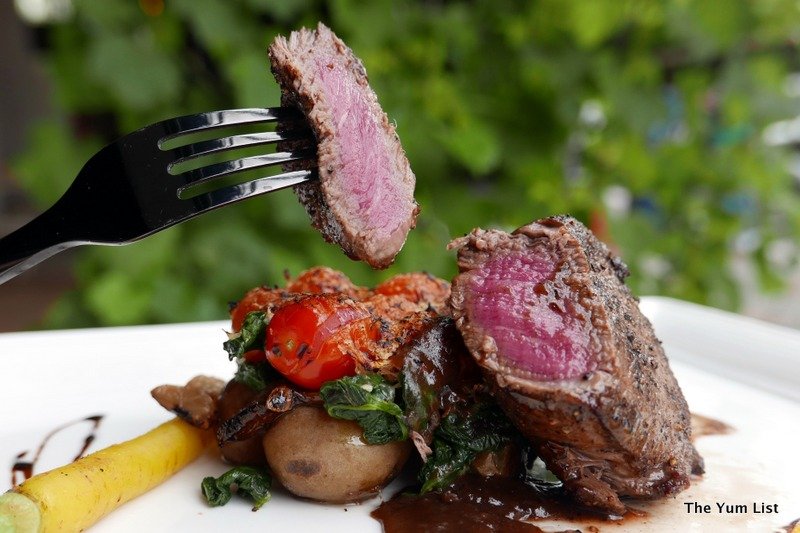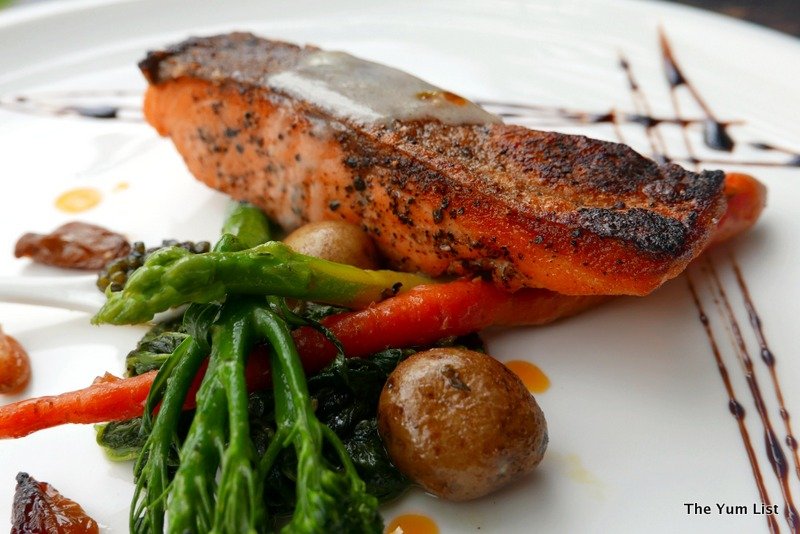 We tried two pasta dishes – the Classic Italian Styled Carbonara (RM40) was served the traditional way, with no added cream, and was topped off with crispy beef bacon and truffle shavings. The Farm-Raised Smoked Duck (38) had a spicy kick to it, which went well with our chilli-infused Borneo Sour cocktail (more on the imbibement later). The duck was succulent and smoky, having been prepared over smouldering oak.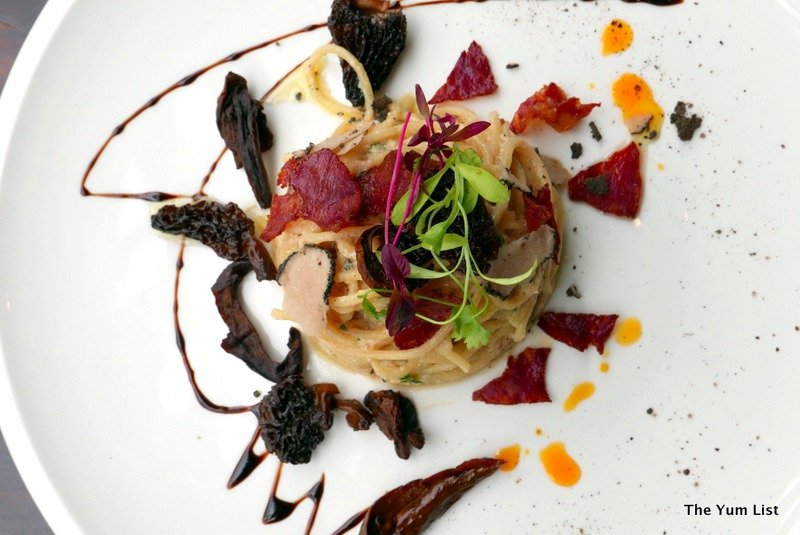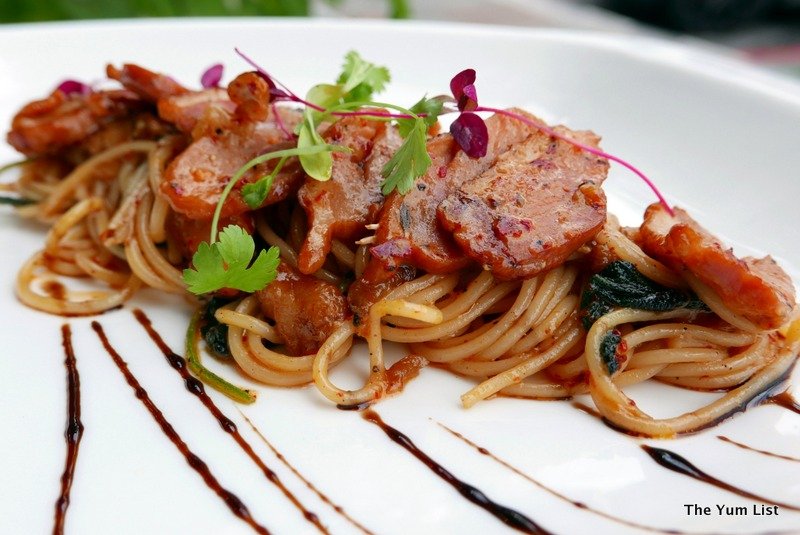 Dessert
Who doesn't love a good chocolate cake?! I was in heaven eating the Double Chocolate Lava Cake (RM26) made from 80% Belgium dark chocolate and served with homemade vanilla gelato. The cake itself was rich and moist and the dish was further lifted by a port cherry reduction, mixed berries and peanut butter. Don't dismiss the garnish: not only is it beautiful but incredibly tasty too.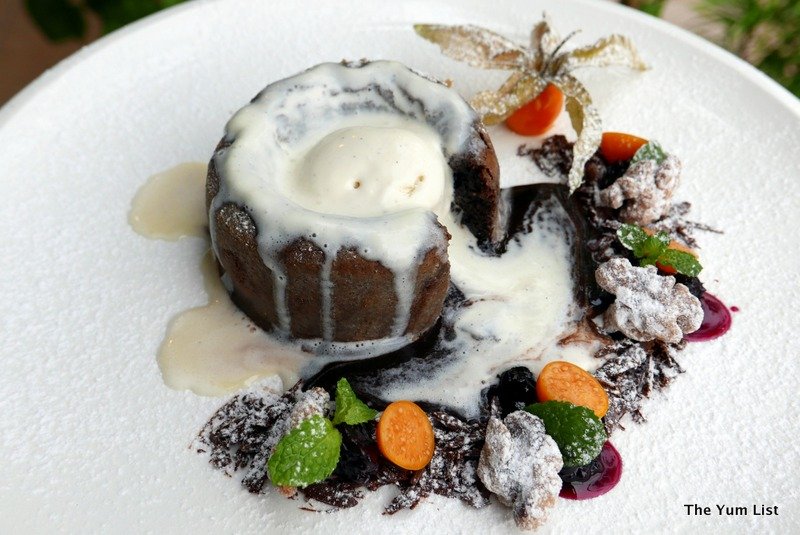 The Crema Catalana (RM22) was deliciously creamy (thanks to the meticulous care of the chef who insists on straining it three times to get that velvety smoothness) with a crispy caramelized sugar shell on top. Candied walnuts and gooseberries added some crunch and zest, and the accompanying strawberry macaron and orange, mint and truffle praline were luxurious treats!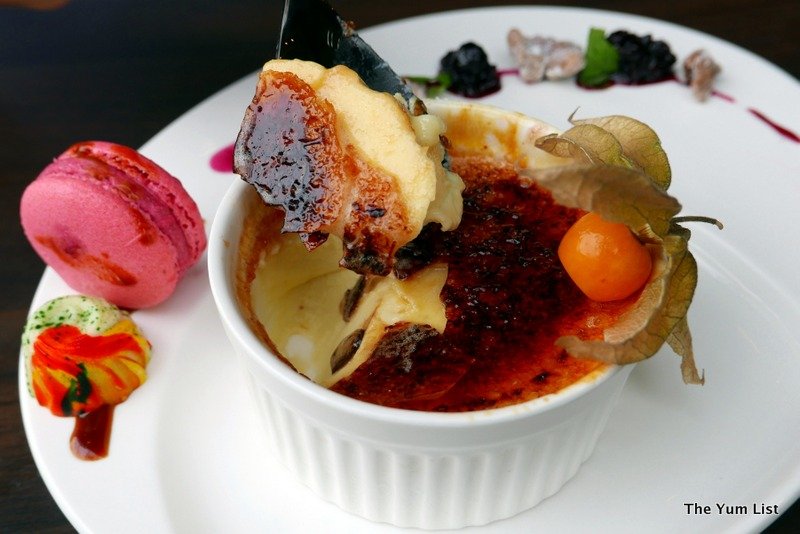 Best Dinner Date Deal in the City!
Atelier on Telawi offers a three-course set menu for RM100 including a glass of wine. Pair this with the live jazz music Friday or Saturday evening and you have yourself perfect date night material.
Cocktails
That set menu can only be made better by starting (and ending it) at the seven-seater bar, or Imran's Studio as it's more fondly known. Here you can choose from one of the weekly specials (RM38) or ask for your very own bespoke cocktail based on your favourite tipple (from RM40).
Imran's cocktails were creative, exciting, bold and most important of all, tasty. He is passionate about using local, Malaysian flavours and in-house infusions. For example, the Borneo Sour made from chilli infused Tuak – a sticky rice wine sourced from Sarawak. I'd never tried Tuak before but it was delicious – a cross between sherry and a very sweet white wine, I could have easily drunk a glass of it on its own! This was paired with lime, elderflower and egg white for a silky, refreshing finish.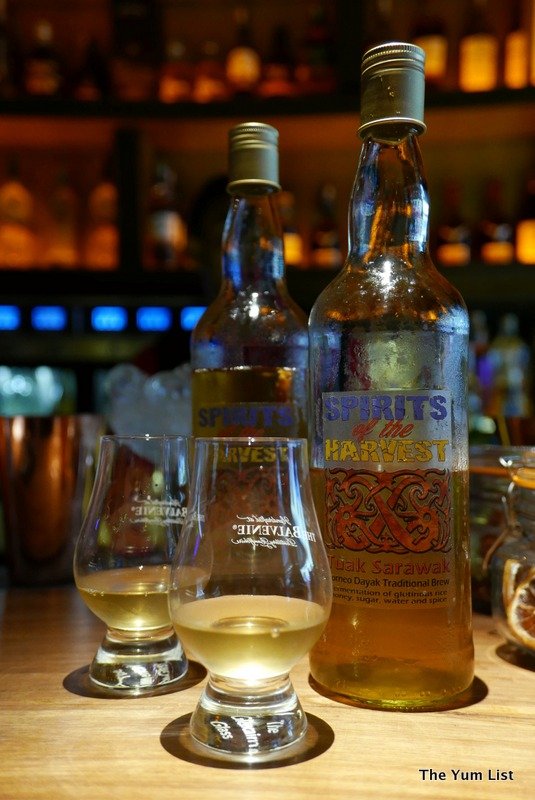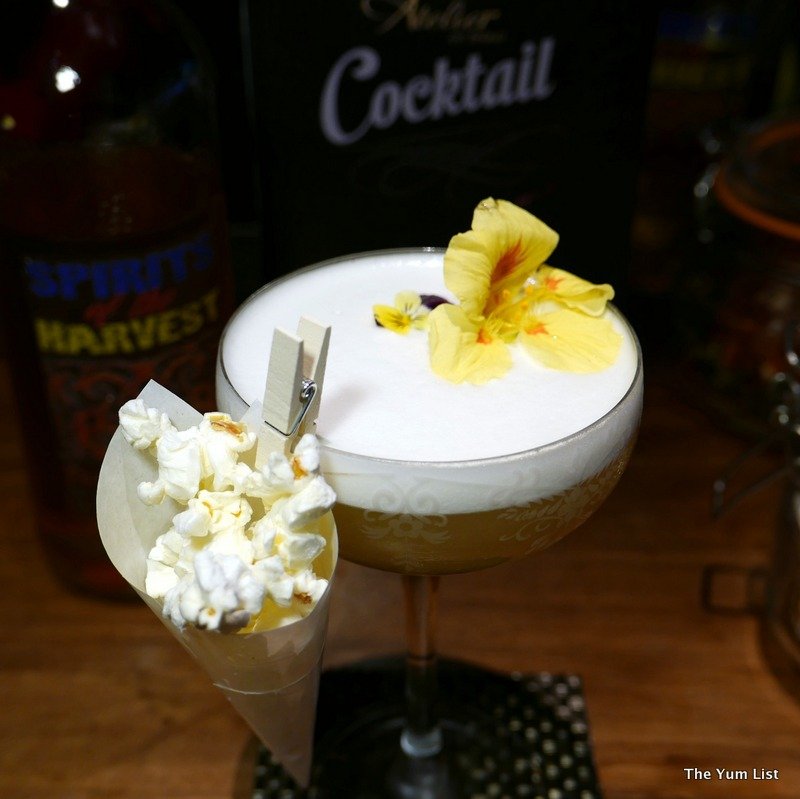 El Guapo, which translates to 'handsome one,' was a classy concoction of El Dorado 12 years old rum and homemade Falernum liqueur, served with a dusting of cinnamon and a side of surprisingly tasty white chocolate filled olives. The drink was chilled using a large ice ball from their very own ice ball maker – one of many gadgets belonging to the team at Atelier.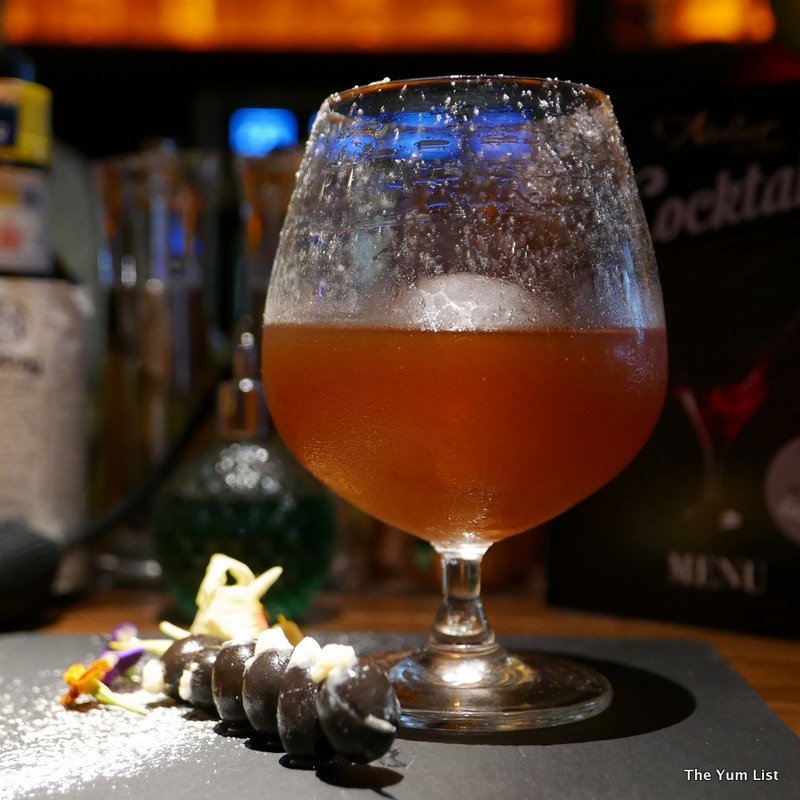 With G&R (Guava and Rum) Imran shows off love of molecular gastronomy to produce a side of saffron caviar to accompany this tropical, fruity drink. Smokey Leaps was a dark, peaty combination of whiskey and brandy served with dehydrated dragonfruit and a selection of homemade jams. Last but not least was Imran's favourite, The Malaysian Lady, a fine tribute to Malaysia including local flavours such as pandan syrup, cendol ice cream and moist young coconut, creamy and refreshing all in one.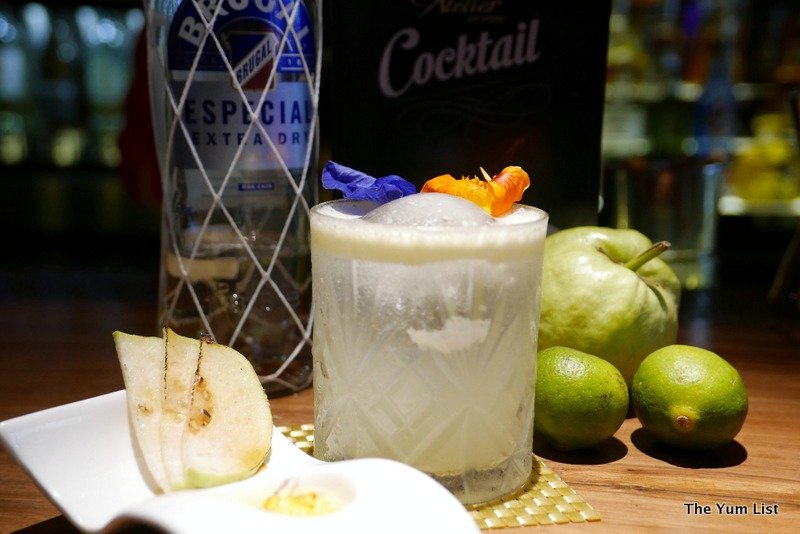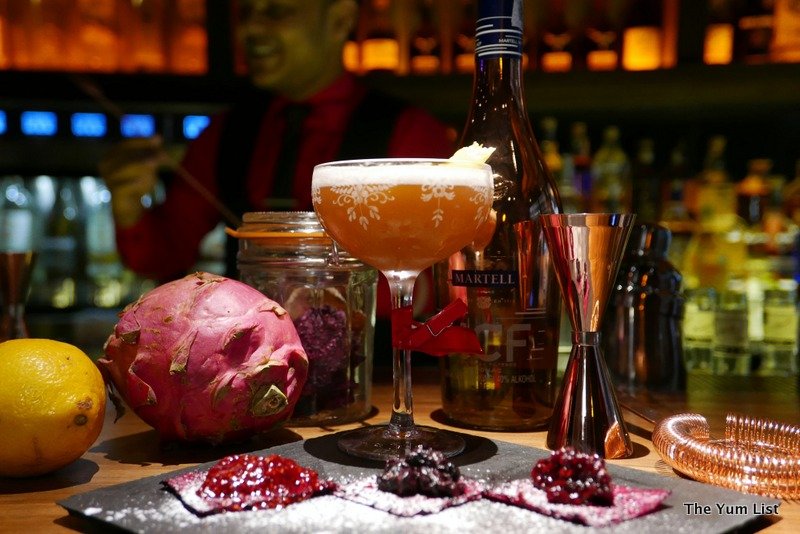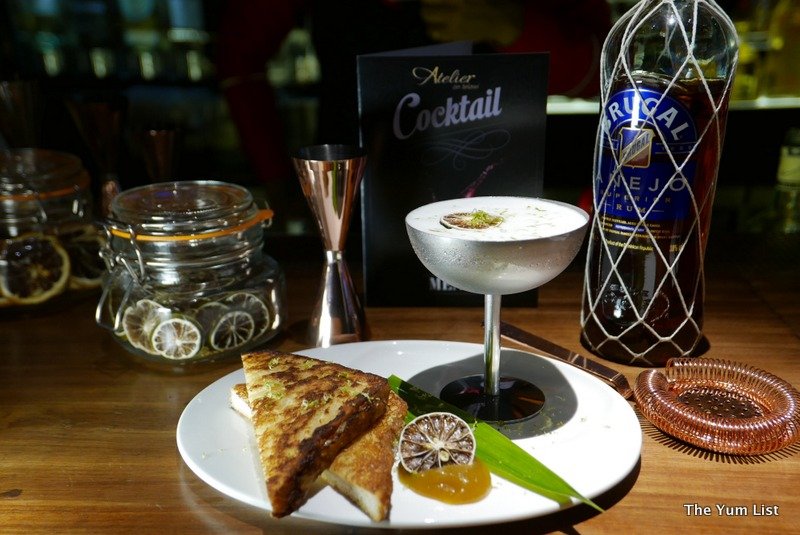 Reasons to visit: Excellent value set menu (3 large courses + a glass of wine RM100); perfect for date night or an evening with friends; smoke-free venue (thank you!!!); live jazz music Friday and Saturday evenings; everything was expertly executed but really don't miss the scallops, beef and you must try a dessert!
Atelier on Telawi
9 Jalan Telawi 2
Bangsar Baru
Bangsar, 59100
Kuala Lumpur, Malaysia
www.facebook.com/AtelierOnTelawi