Words: Richard Koret       Photos: Monica Tindall
Nestled two floors below some of Kuala Lumpur's toniest hotels on the exclusive Starhill Gallery Feast Floor, Enak KL offers the only authentic Malay cuisine among the dozen plus high-end restaurants. Laid out with rich maroon tones, with several curtained-off private rooms flanking the understated dining room, this 12-year-old Bukit Bintang institution has evolved slowly with refined interpretations of home cooking from the southern Malaysian state of Johor. The family hails from Muar adjacent to neighboring Malacca, a storied town with a distinguished food tradition that prides itself on its lineage of talented chefs … and accordingly discriminating diners.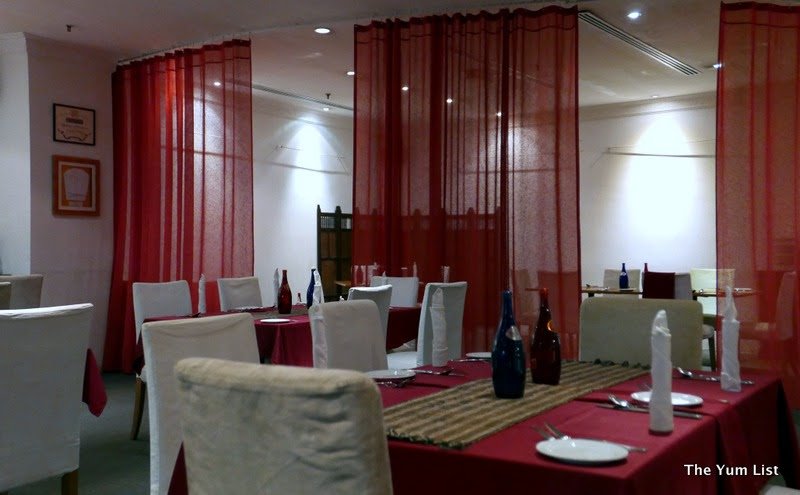 The inspirational source of the traditional Malay dishes at Enak is 73-year-old Fawzia Abd Ghani, who for decades preserved her secret recipes in a stack of handwritten notecards and papers before restaurateur daughter Sherena Razaly took upon herself to organize her mother's ancestral culinary heritage into a manageable collection of quantifiable and replicable classics and innovative enhancements of the tried and true. Naturally, the menu was not allowed to be served to the public till the revamped traditional dishes were evaluated not only by a selection of local foodies but also by the even tougher panel of Muar elders, including Fawzia herself, the most exacting critic of all.
My companions started our Malay adventure with a selection of mocktails. My personal favorite was the Pineapple Tart, a variation on the Pina Colada, with the supplement of mango, coconut cream and sago pearls. Stir well for the full effect. Also distinctive was the Tembikai Splash, combining dominant watermelon with lychee and mint accents. Carrying on the British tradition was Teh Tarik, with a base of milky ice tea from Enak's secret blend and subtle herbal extracts.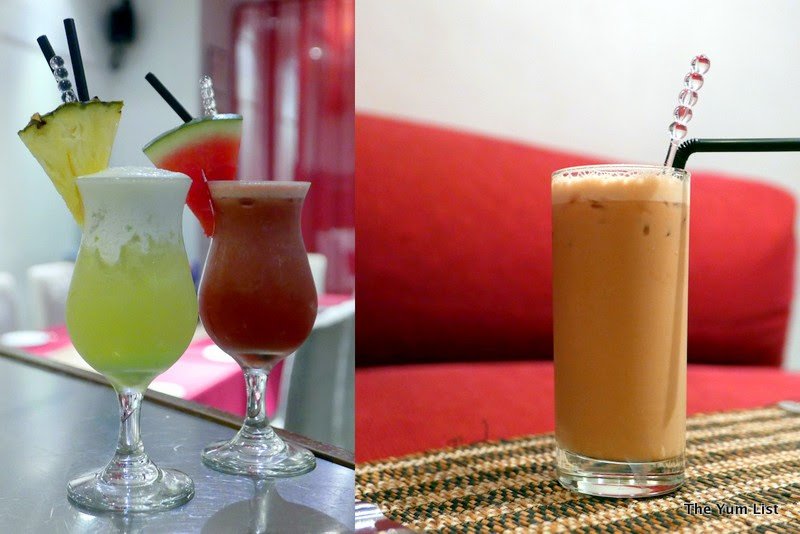 Next came an appetizer of chicken and beef satay (6pcs for RM24, 12 for RM36). The meat was tender and lean, supplemented by an exquisitely subtle sauce of traditional blended peanut base with a not-too-sweet mélange of spices, complemented by traditional crudités of onion, cucumber of rice cubes for refreshing counterpoint to the sauce. Enak did not fall into the pitfall of allowing a pool of oil to be suspended on the sauce, a sign of inferior preparation. Theirs had a creamy complex consistency which enticed dipping, with or without the meat! Two small chilis, red and green, invited the bold to compare which pepper packed the more potent punch. Spoiler: green started fast and furious, but red finished stronger.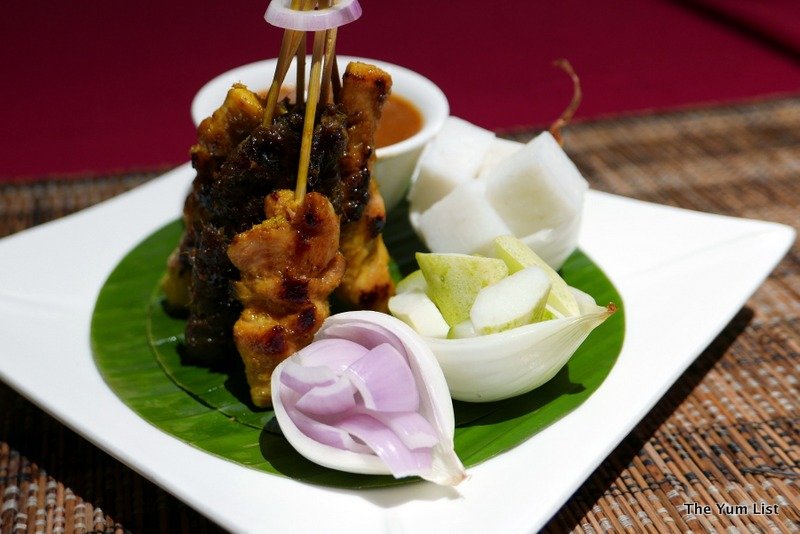 Also weighing in on the spicy side was a Kerabu Mangga Muda (RM18), a veggie-only green mango salad accompanied by fragrant chilis, onions, and a liberal sprinkle of lime. A Sambal Bowl (RM12) comprising Bajak, Belacan and Hijau, was served with fresh greens for dipping.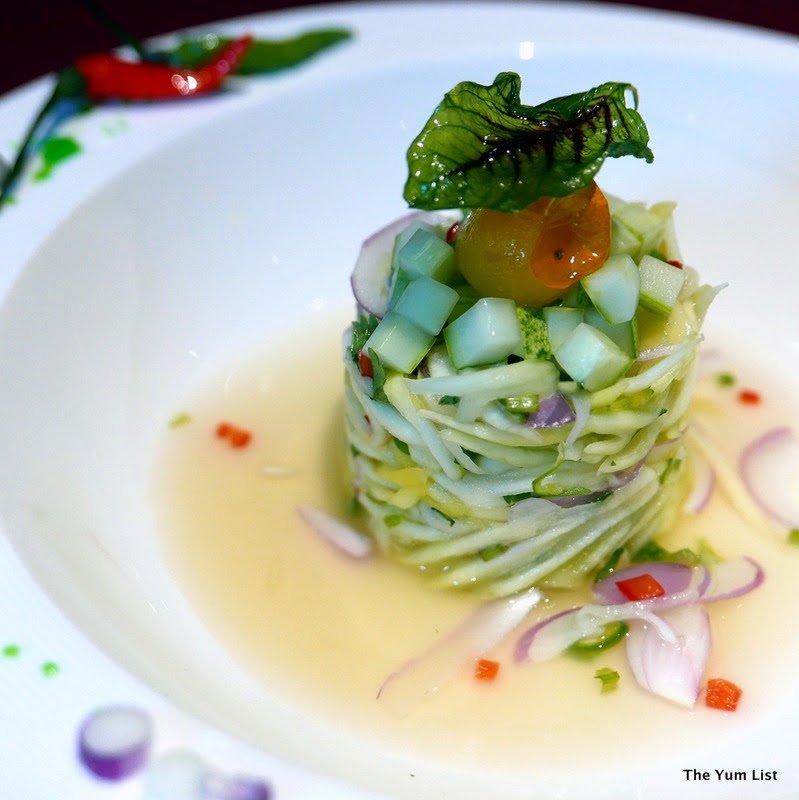 Then came the mains. Simple but precisely prepared was a Tauhu Telur (RM18), silky tofu cubes deep fried in egg white combined with quail egg, made a superb contrast, astonishing the taste buds with the play between the creamy interior and the tangy crust. Another vegetarian entrée, Terong Belado (RM18), provided a distinctively Malay variation on ratatouille, with aubergine sautéed with fresh red chilies and an equally robust tomato sauce.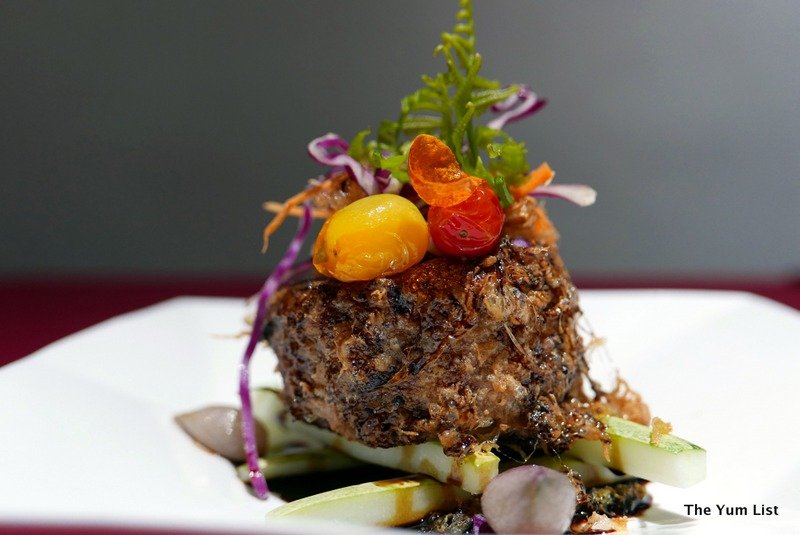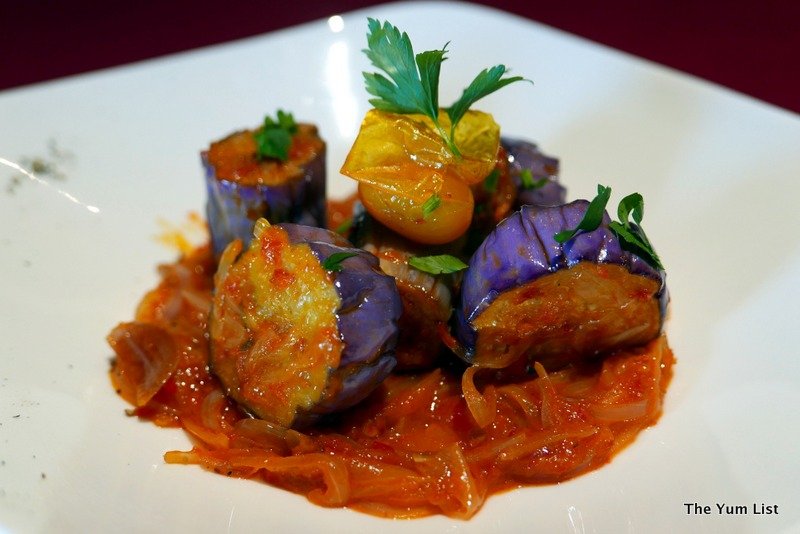 The two standout meat dishes were saved for last. The Ayam Panggang (RM32) was a succulent whole chicken leg, superbly marinated in a spice rub and barbeque-roasted to perfection. Served with coconut, chili and a roasted peanut sauce similar but subtly different from what accompanied the satay.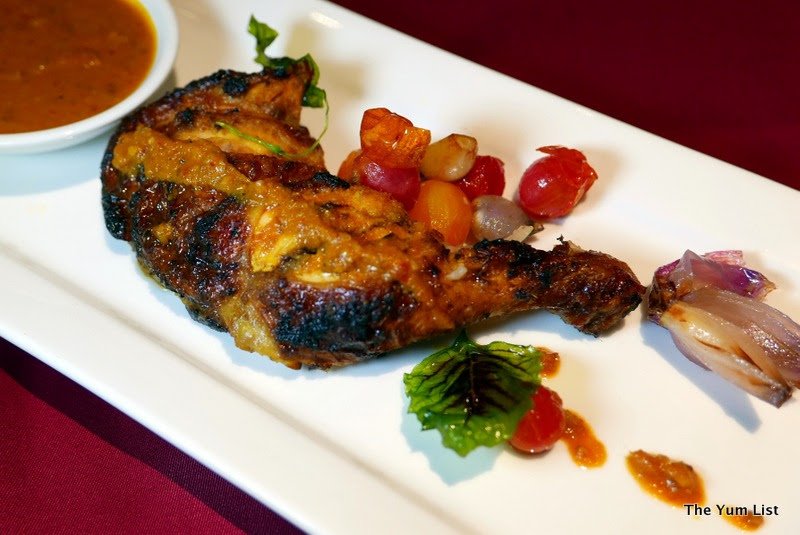 Rivaling the roasted foul was an outstanding Rendang Padang (RM36), a generous slice of prime Australian topside – essentially a tender chunk of beef rump, slow-cooked in fresh coconut cream, herbs and spices. Oz met Johor in an especially pungent collaboration of western ingredient with eastern preparation.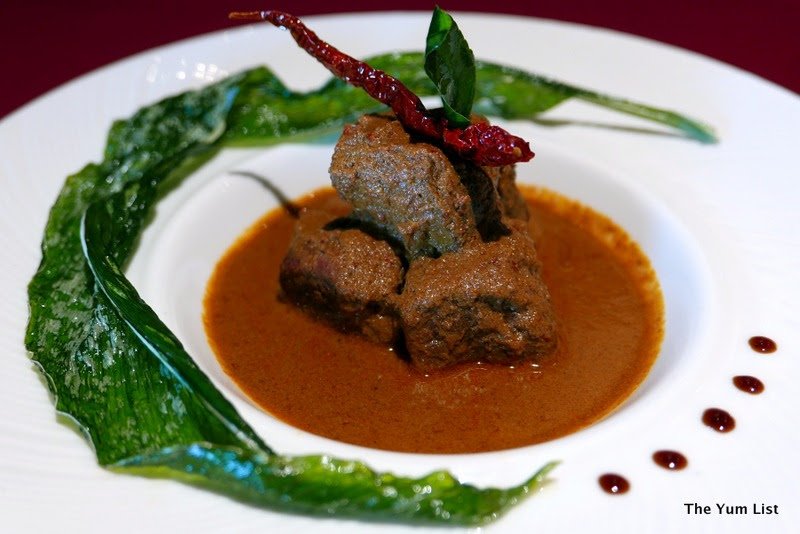 Last but not least in our lineup was a generous portion of Manisan Kelapa Muda Enak (RM21), a sinful signature dessert, with custard encasing reduced young coconut covered by a whipped and lightly burnished meringue.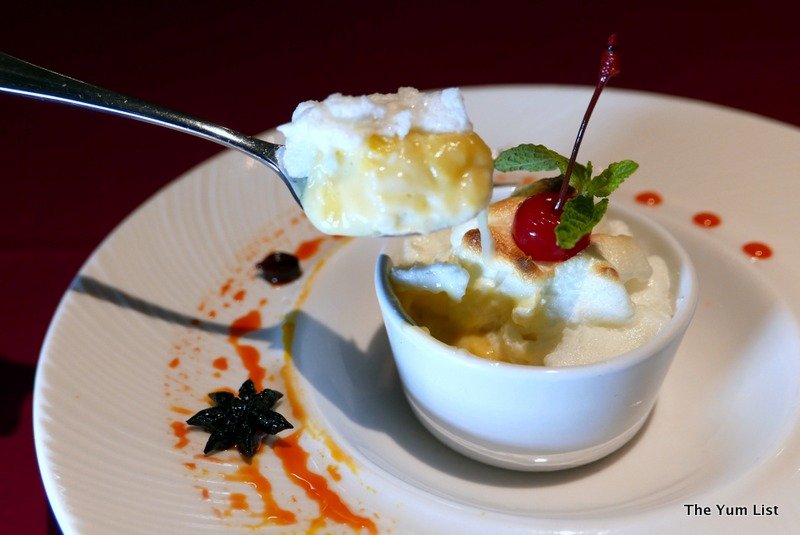 What is truly remarkable to anyone not steeped in Malay, and specifically Johori cooking traditions is the way in which a handful of simple local ingredients – peanuts, coconuts, chilies, mangoes – can be prepared so distinctively in various permutations to create a delightfully broad range of titillations to the taste buds.
Enak's standard menu, which changes only moderately from season to season – a testament to the enduring success of its beloved staples among devotees – will be available till the end of May, when it is succeeded by the restaurant's legendary festive buffet.
Reasons to visit: For those with a hankering for authentic Malay cooking experience, blending Malaccan and Johori culinary traditions with modern fusion accents, Enak KL offers the big city equivalent of a home-cooked meal prepared with subtlety and restraint. Warmly recommended are the satay, roasted chicken, and Australian topside. And give the Pineapple Tart a bud-tingling taste to start – (and perhaps conclude!) – your feast.
And for this upcoming season of choices, Enak's Buffet (29th May – 21st June) will showcase a medley of culinary classics and favourites, including their much requested, but only available once a year – signature bread & butter pudding with gula melaka.
Enak KL
LG2, Feast Floor, Starhil Gallery
181, Jalan Bukit Bintang
55100 Kuala Lumpur, Malaysia
www.enakkl.com