Monica Tindall
We first tried Gastro Sentral a few years back when the lobby of Le Meridien Kuala Lumpur was freshly renovated. Back then it made a positive impression, but with the number of new eateries popping up around KL it's been a while since our last visit. On a recent staycation we made a return, and were far from disappointed that we did.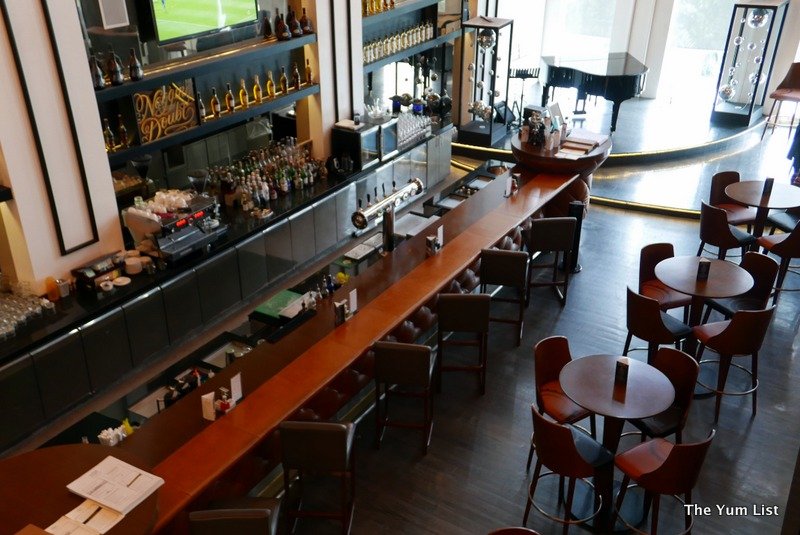 The pub experience is taken up a notch at Le Meridien Kuala Lumpur's Gastro Sentral. While there are all of the bits you'd expect from a bar – sports screens, extensive drinks lists and beer on tap – metallic frames, double story ceilings and trendy lighting add a sense of sophistication. A semi open kitchen lines one wall and a lengthy bar the other. Guests can choose booth seating, a stool at the bar or casual dining tables (our preferred spot is by the window with blinds that can be raised or lowered to individual preference). Stylish setting aside however, it's the food that elevates the experience. Expect LARGE portions, decadent upgrades and attractive presentations.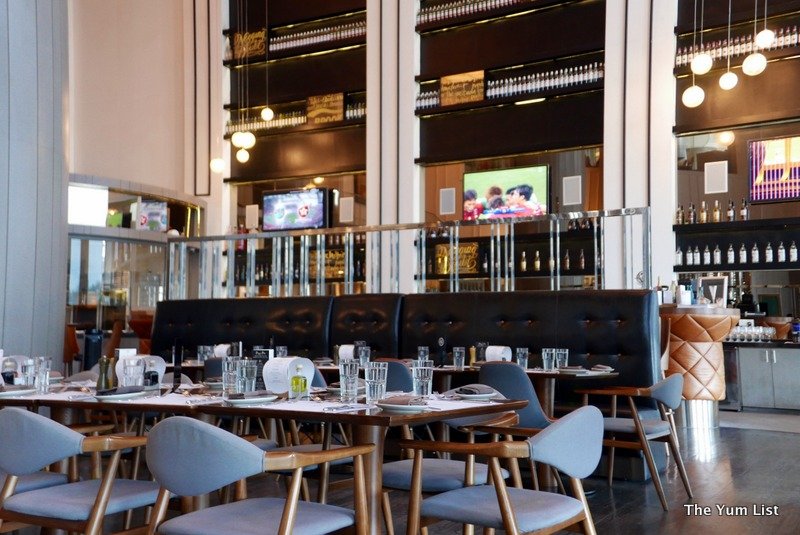 A signature of Gastro Sentral is their freshly baked rosemary bread served hot in a tin. It's crispy on the outer, soft and airy within, and perfect for taking the edge off hunger while waiting for the meal to arrive. In all honesty however, I'm a simple gal at heart, and a tin of this bread and a glass of red wine is a happy meal for me.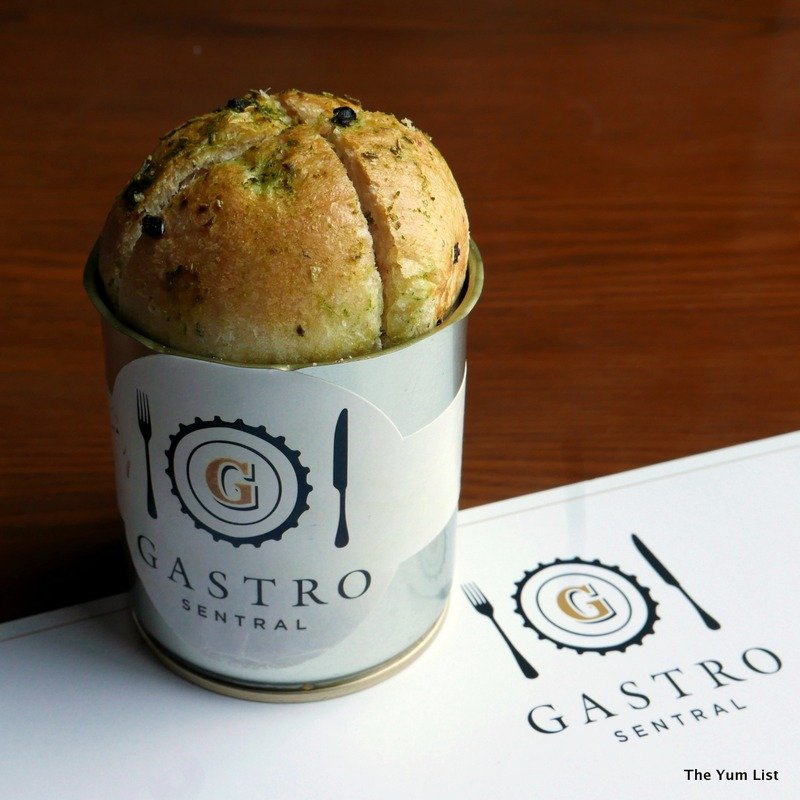 I'm looking for some meat-free options and the all day brekkie selections catch my eye. Fluffy Gastro Pancakes (RM38) come with buttered banana, butterscotch sauce, berry compote, maple syrup, ice cream, honey Chantilly cream and vanilla pod sauce. I was imagining a little stack of pancakes with a few of the sauces drizzled over the top or in compote dishes on the side. What I get however is a massive wooden slab covered with two enormous and wonderfully aerated pancakes. Our eyes pop when they arrive and hubby is quick to assure me that I need not worry; he'd be pleased to help me out in making short work of these beauties.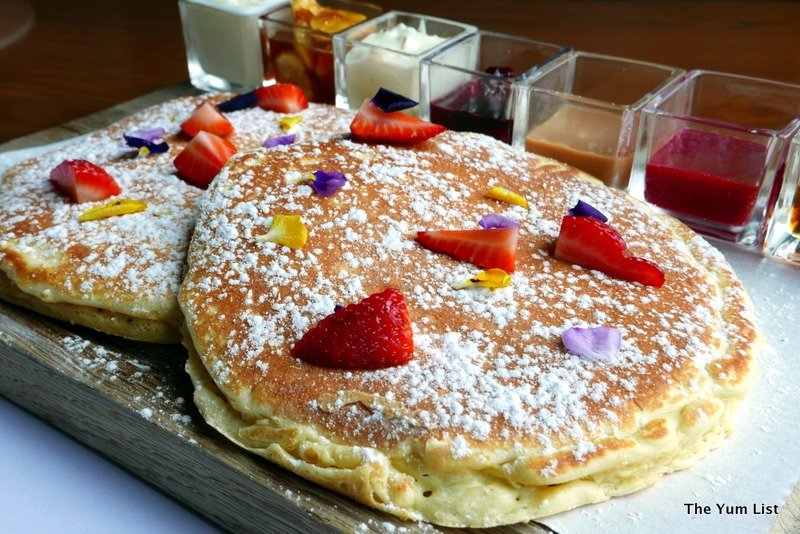 From the Soups & Salads section of the menu, the vegetarian option is an Arabic Lentils Lemon Soup and Zaatar Bread (RM35). Comforting and nicely balanced with lemon, salt, a mild spiciness and herbs, the soup is a good choice for a main for someone like me who is not a huge midday eater. It's loaded with chunky tomatoes and topped off with a fresh garnish of coriander and mint. Delicious!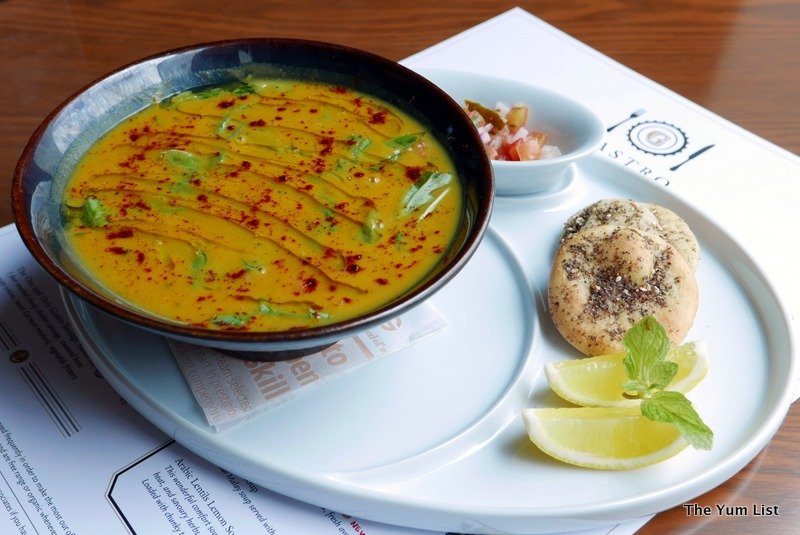 Smoked Norwegian Salmon Flake (RM52) is a pretty looking salad layered up with large slices of heirloom tomatoes, fennel, rocket, orange and avocado. A sweet and tangy honey-mustard vinaigrette enhances the flavours – it's another excellent choice.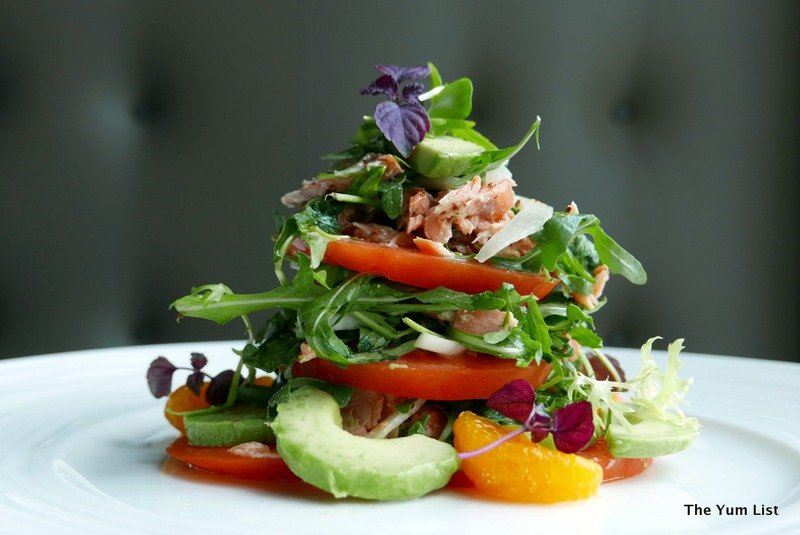 Despite my best efforts to encourage hubby to eat more veg, he is a meat man through and through, so it's no surprise that the Burger @ Sentral (RM52) is his pick for the main. A 200g patty of Black Angus beef is grilled imparting a seductive suggestion of charcoal in the meat. The toasted sesame bun is further stacked with Monterey Pepper Jack cheese, pico de gallo, shredded lettuce and Chipotle aioli. Slices of jalapeño and a pear-celery slaw accompany the burger, and, as if a side of steak fries were not enough, there's a cheesy topping making the entirety of the dish even more hedonistic. "It's the bomb!" verifies hubby.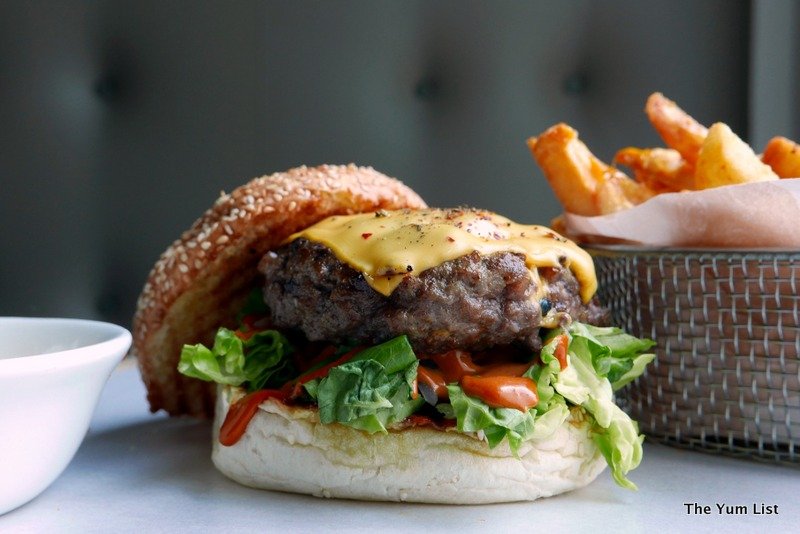 Counting the pancakes as dessert, we skip the sweet section of the menu and share a Kiwi Melon Smoothie (RM30) to end. As you might imagine, it's a blend of kiwifruit, honeydew melon and apple juice. It doesn't say so on the menu, but I'm sure there's a scoop of ice cream in the mix as the blend is very creamy. With its natural shamrock hue, you might say it's an alternative to a 'green' juice.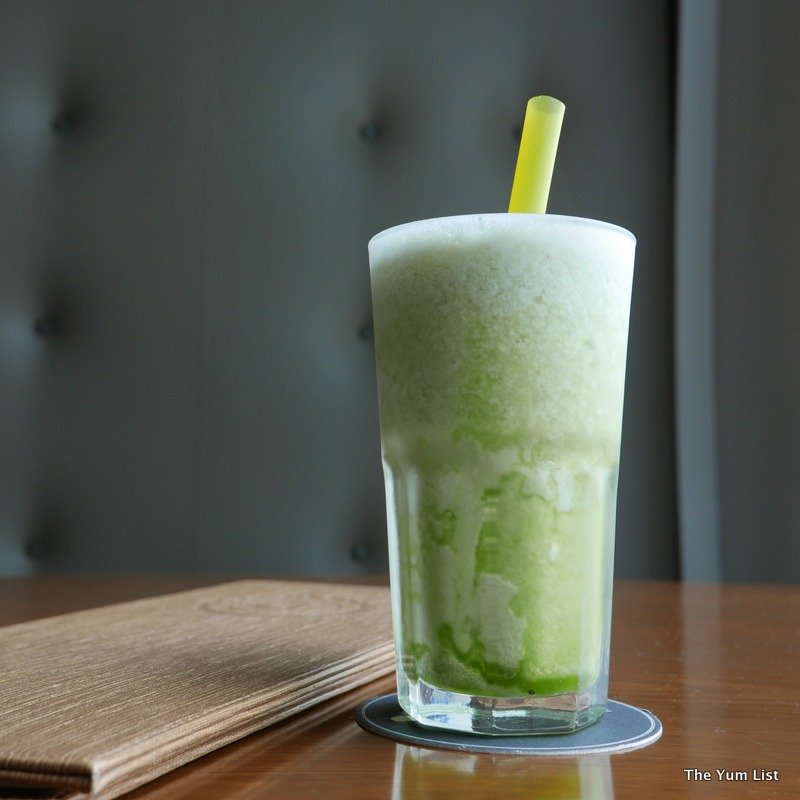 Gastro Sentral has proven a cheery place for lunch. Great setting, value-for-money portions, and fun food presentation make it a place to which we must remember to return more often.
Reasons to visit: an upscale pub experience; large portions and fun food presentations; good menu variety.
Gastro Sentral
Le Meridien Kuala Lumpur
2 Jalan Stesen Sentral
Kuala Lumpur, 50470, Malaysia
+60 3 2263 7888
www.lemeridienkualalumpur.com