Words: Aisling Cullen Photos: Monica Tindall
Do you ever get café fatigue? Are you tired of hearing that another coffee house has opened up nearby with roasted beans from the hills of Indonesia? No? Neither do I! I love to see new independents bringing their inspiration to the table (literally) and offer a great alternative to Starbucks.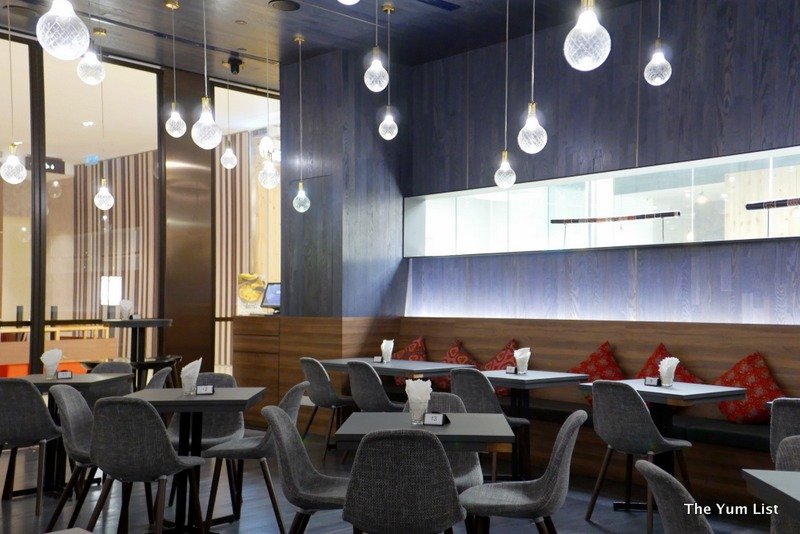 Monica and I tried out J&D Espresso, a recently opened café on the seventh floor of the new wing in Pavilion (take the escalator near COS and you can't miss it). After a stint in Sydney, the owners of J&D took their knowledge of Australian coffee culture and opened their first outlet in Bandar Utama in 2012. Pavilion Elite is their second outlet, and there are a few gems on the menu worth checking out.
First is the coffee. J&D's tagline is 'Bloody Good Coffee' and it certainly is. Using single origin beans by De Gayo, the Cappuccino (RM11) and Flat White (RM11) were both beautifully smooth and well executed. Furthermore, the fluid matte polish of the grey slate cups is a pleasure to drink out of.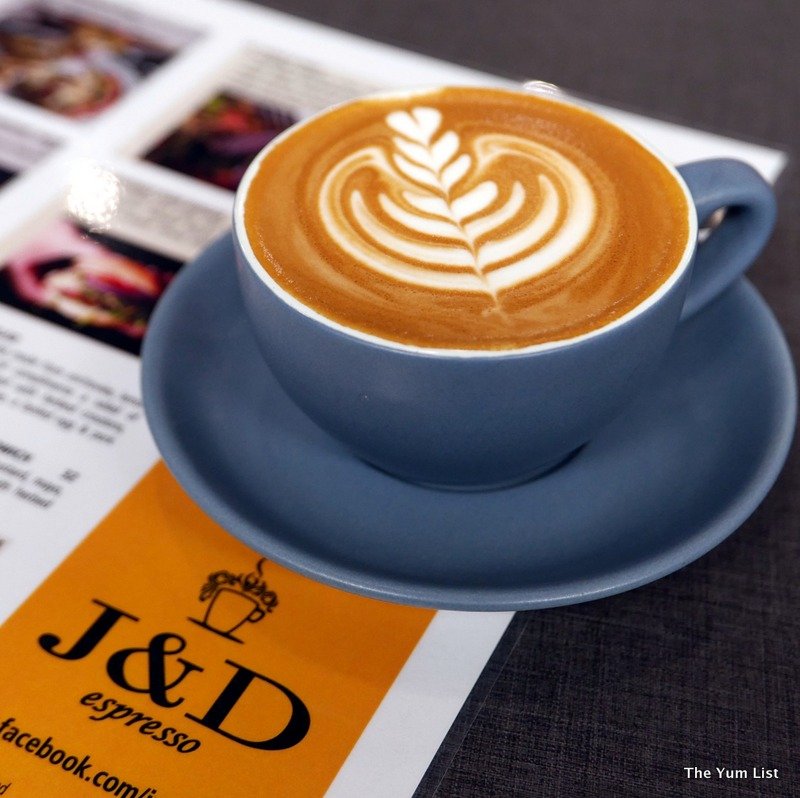 Feeling hungry we perused the menu, which is quite heavy on pork. If you are a meat eater, there are plenty of bacon and pork options, including their signature Gourmet Pork Burger (RM25). This burger is stacked high – the juicy patty is served on a soft white bun with cheddar cheese and salad, plus a side of crunchy herbed fries. This is a bestseller at J&D.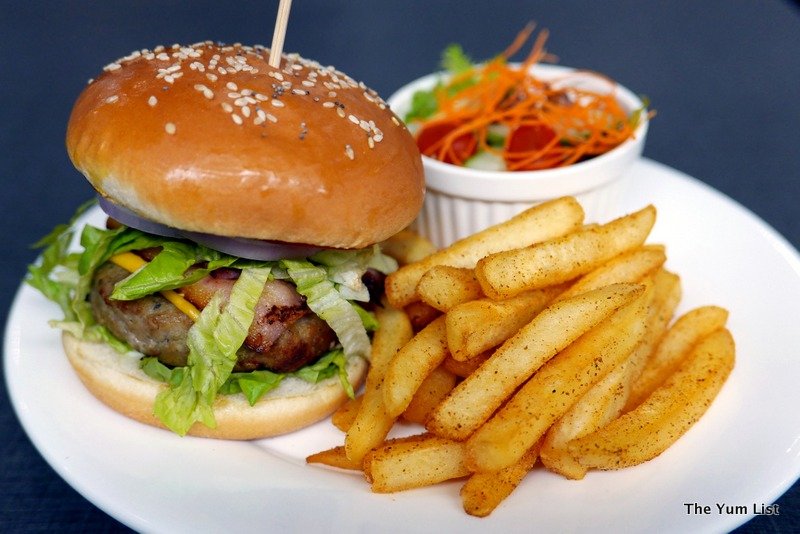 We also noticed their all day breakfast menu, which is served from 10am. One of my favourite dishes was the Pancake Stack (RM21). Warm fluffy pancakes are served with a sweet mixed berry compote, salted butter and Anzac crumbs. Monica explained to me that Anzac biscuits (please be sure to say 'biscuits' not cookies or risk offending an Aussie 😉 are famous in Australia and New Zealand, and are made from oats and golden syrup. In this dish they are broken up into crunchy pieces that are hidden under the fluffy pancakes.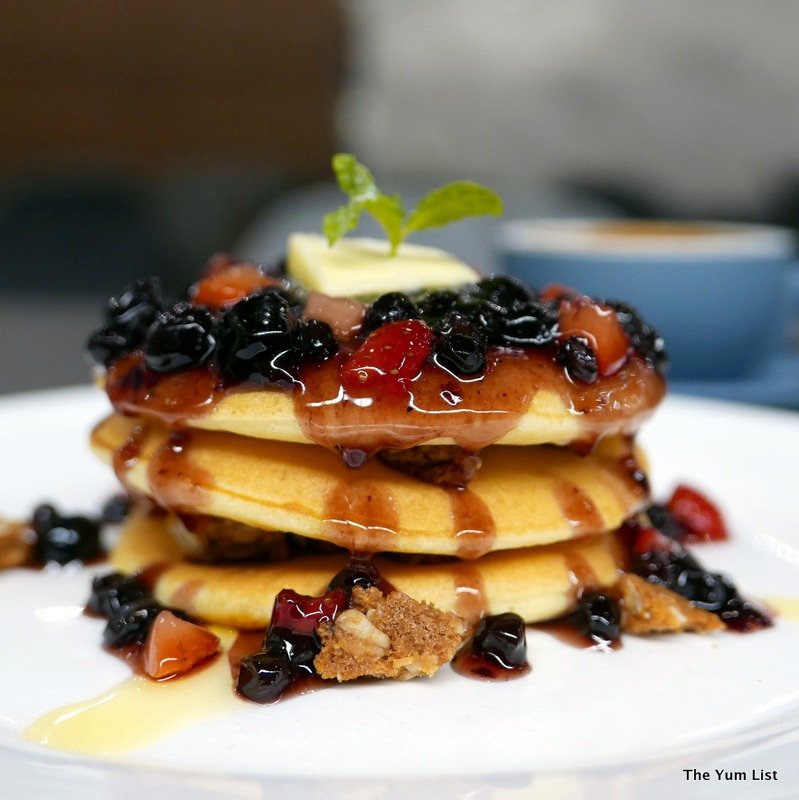 There are a few pasta options on the menu, and here we tried the Smoked Salmon Pesto Spaghetti (RM30). A rich and creamy basil sauce covers the pasta and is topped with freshly grated Parmesan and smoked salmon. This dish was deliciously more-ish and comforting.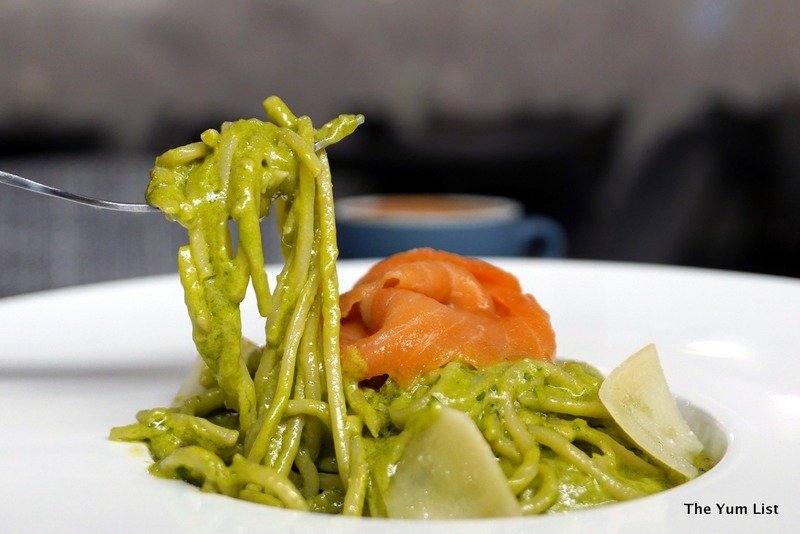 For the crispiest deep fried batter, try the Vodka Battered Fish & Chips (RM34). I read that the alcohol in vodka evaporates fast in the fryer, cooking the batter more quickly and making the batter extra crispy. It works! The fish here has the crunchy and crispiest batter I have tried so far, and the fish stayed moist and flakey inside.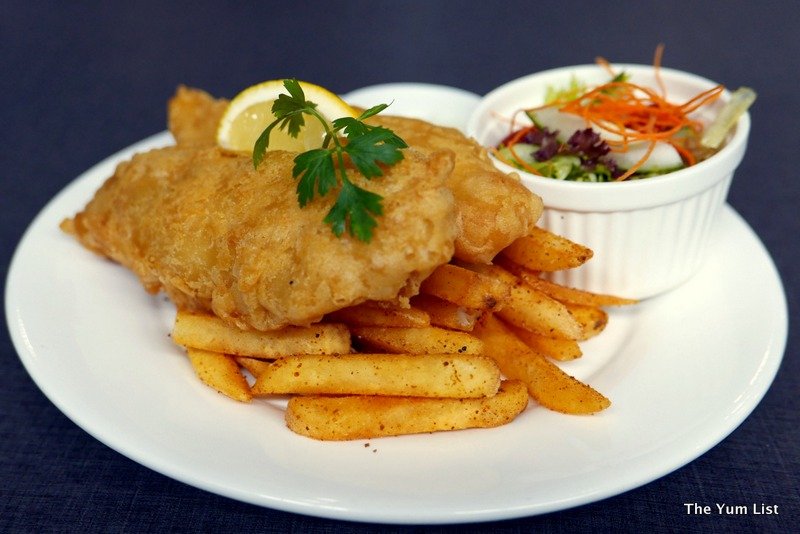 The dessert menu changes regularly, and for this review we tried an Oreo Cheesecake (RM13), which was creamy with a crunchy base. We also had a Molten Chocolate Lava Cake (RM13), a favourite of mine. J&D got the recipe for this cake just right, and delicious warm chocolate oozed out of the soft shell.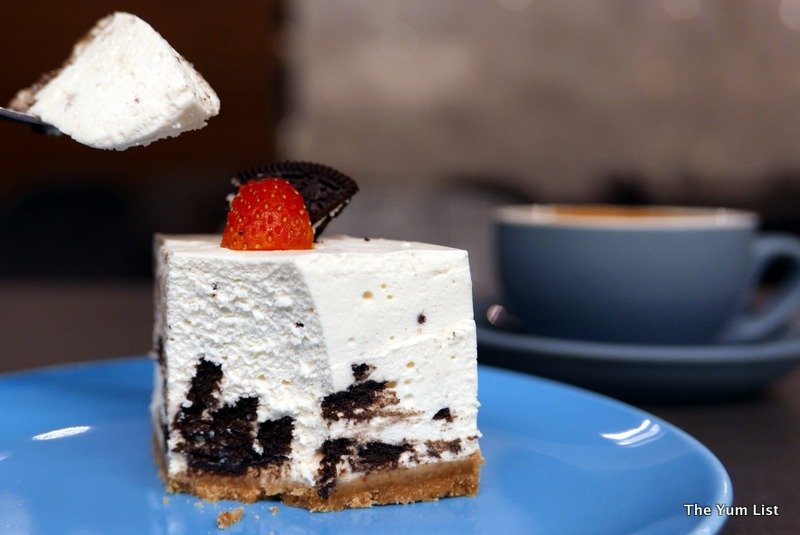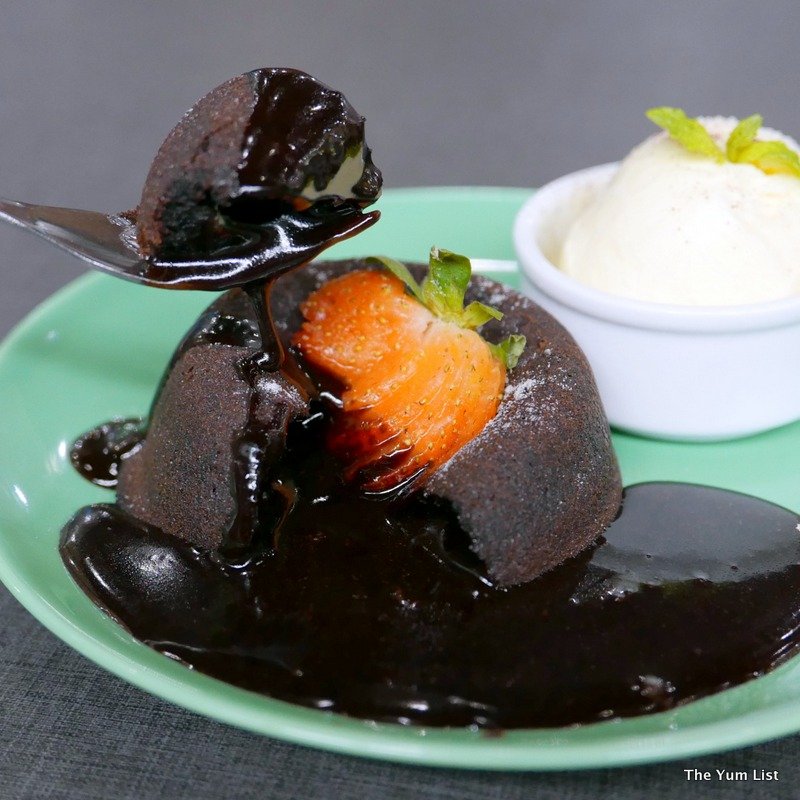 So if you are looking for a respite away from the hustle and bustle of Pavilion mall, check out J&D Espresso. It's another good coffee house to add to your growing list.
Reasons to visit: Bloody good coffee, each dish is well executed, Pancake Stack with Anzac Crumbs, relaxing environment away from the hustle and bustle of Pavilion mall.
J&D Espresso, Pavilion Elite
LOT 7.105.00 Pavilion Elite
168, Jalan Bukit Bintang, Bukit Bintang,
Kuala Lumpur, Malaysia
+6 03 2110 5918
www.jnd.com.my