Words: Heather Onderick    Photos: Monica Tindall
Songs from The Clash are gently playing in the background. The classic clean black lines, white tiles and waffle shelves full of European wines, accompanied by a few longer sprawls of trending cookbooks and jars of pickled creations give light to the owner's Scottish roots providing a cozy but sophisticated and hip environment. For foodies, Sitka eating house and wine bar has the feel of a European upmarket wine bar, or chic deli you stop at on the way home. It's located in Plaza Batai, a re-enlivened row of shophouses in Damansara. For me, it seems a great place to come to indulge in a quiet or lively glass of wine and perhaps a snack that the chef might be trying out for his next menu.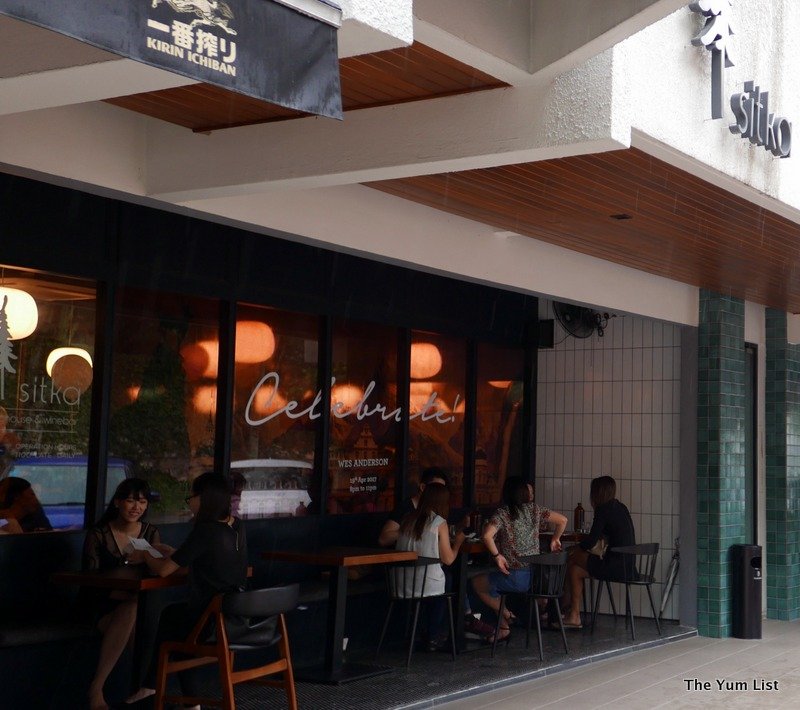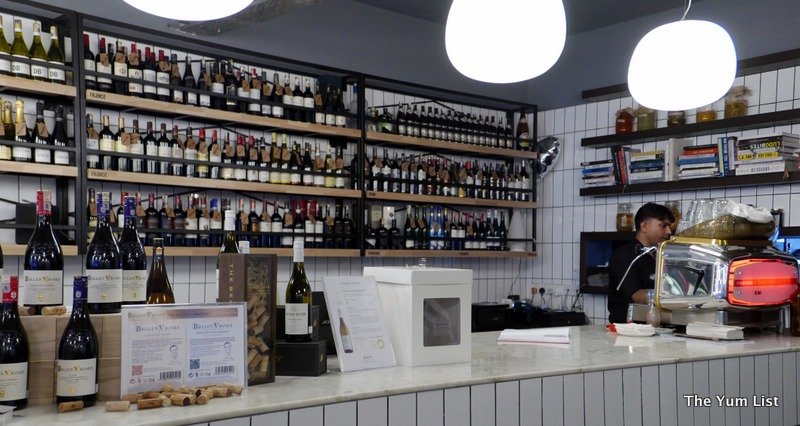 Chef and owner, Christian Recomio's, vision of bringing modern Asian flavors to Kuala Lumpur palates is ambitious but successful. For those of us who know Asian food, we know that balance is integral: aromatics, sweet, spicy, salty and sour, all must be thoughtfully measured. At first Sitka's carefully crafted dishes seem to have a lot going on, but the chefs are determined to bring harmony to the complexity through countless taste tests and acknowledgment that even perfection can be better.
It's a hot day in Kuala Lumpur and we cool down immediately with a house made Lemonade (RM 12), sparkling, refreshing and just what I need before the plethora of plates comes spouting out of the kitchen. It's a holiday and so why not enjoy a glass of wine with lunch, Monica orders the Hole in the Water, Marlborough Sauvignon Blanc (RM 22). It's a typical New Zealand white, crisp, fresh and dry with melon overtones to complement the sapid plates we are about to encounter.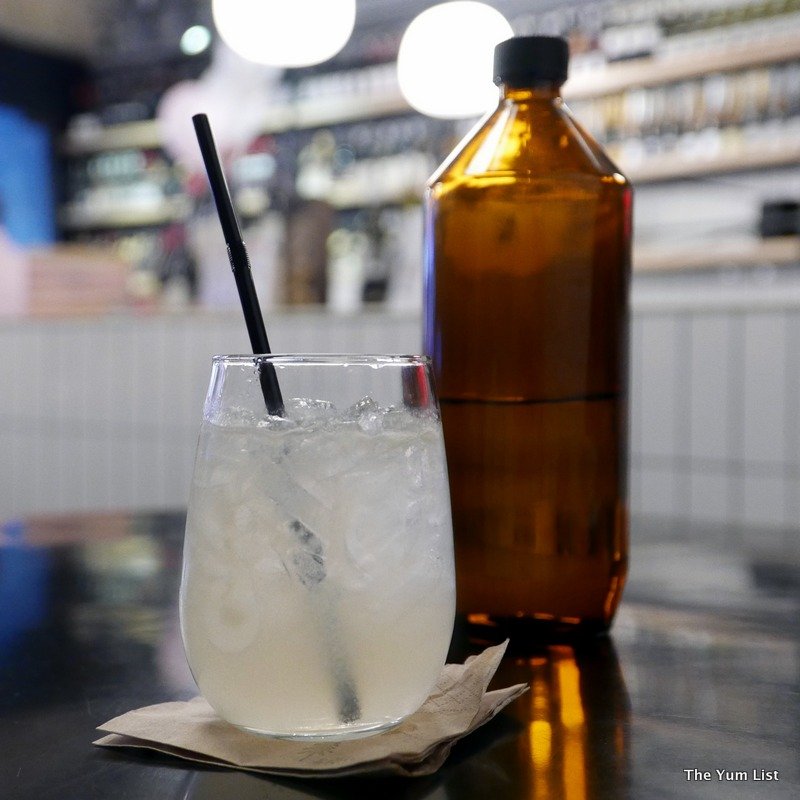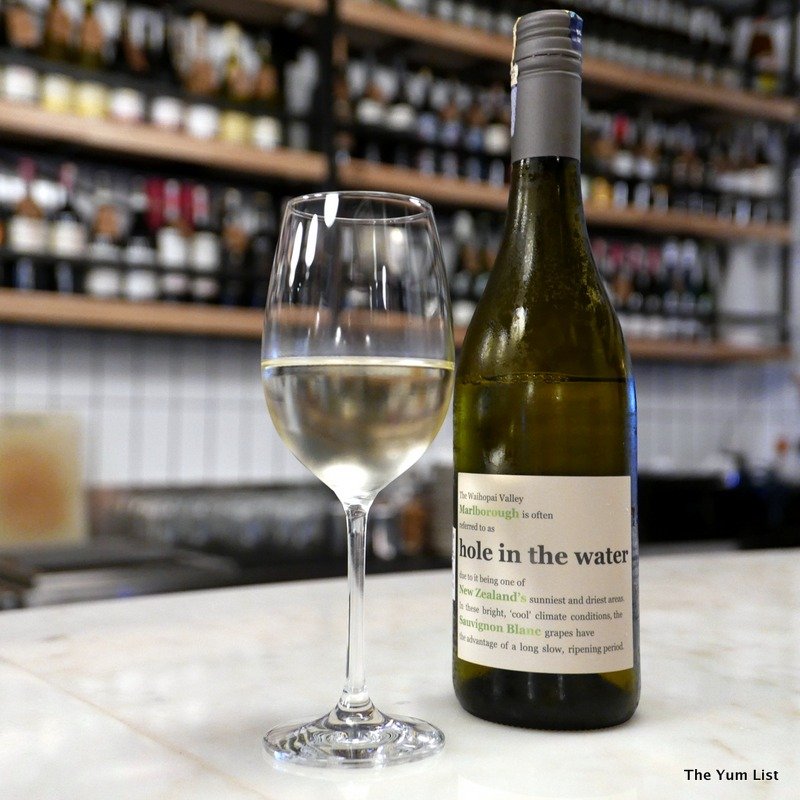 To start off, we are introduced to the Tuna Tataki (RM 23). The beautiful cherry blossom pink tuna hails from Japan and is served at a temperature somewhere between a ceviche and sushi.  Marinated in a Ponzu Yuzu Koshu, drizzled with golden pepper oil (fermented citrus flavor) and sprinkled with an indigenous looking ice plant which adds natural earthy, salty flavors, this is a must order on the snack menu.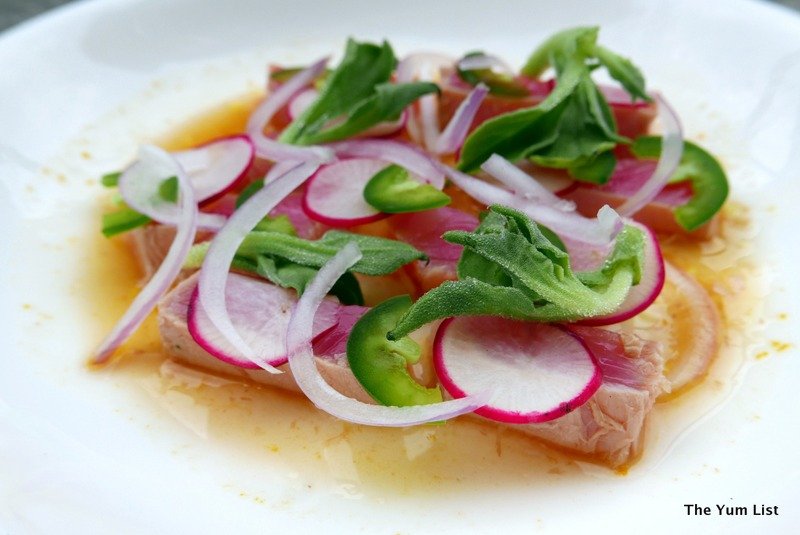 The Torched Salmon, Snow Pea and Spicy Yuzu Aioli Salad (RM 27) is a local favorite. With speckles of pickled mustard seeds, crispy, clean snow peas and other local veggies, this dish is simple but effective in capturing an equilibrium of water: salmon, earth: snow peas and Yuzu, and the wind in the light aioli dressing.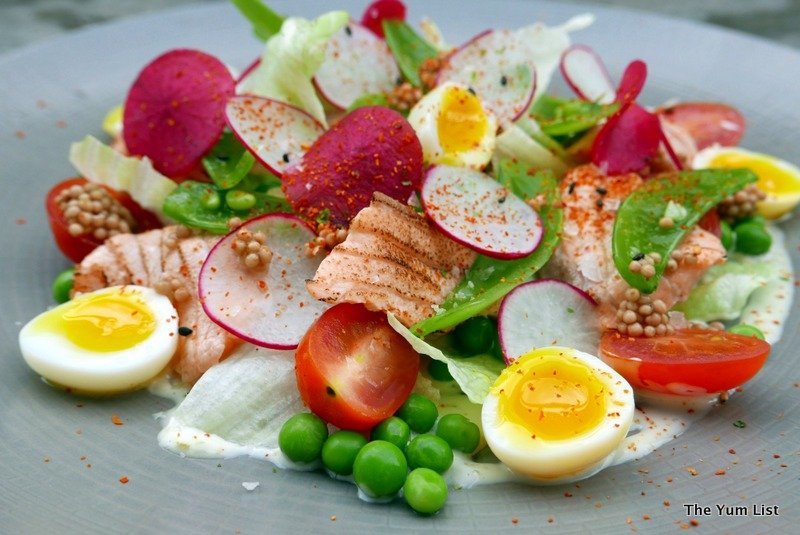 The final entry of this first round of plates is the Prawn Wonton (RM 18). Tossed in an unforgettable tom yum butter sauce, it is spicy and chewy and playfully captures one of the highlights of Thai Cuisine.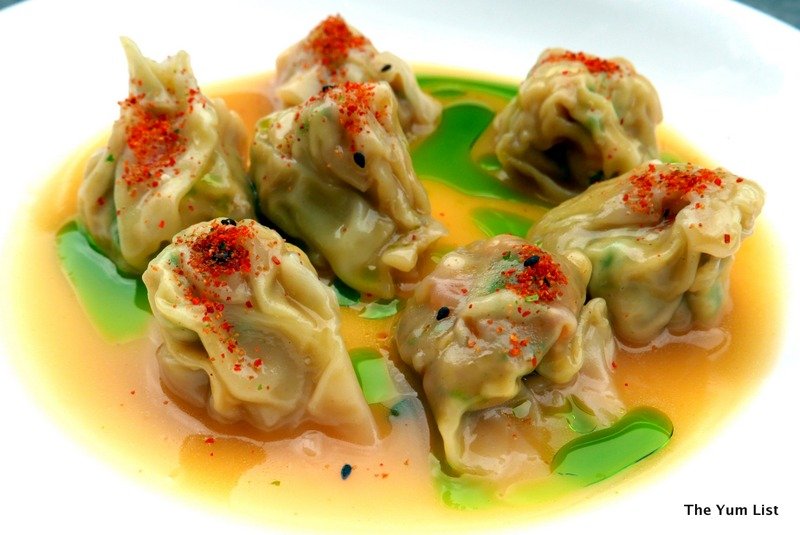 Owner Christian is not shy about learning successes from favorite local restaurants. He acknowledges the importance of recognising success in a sauce or a plate and then using it as a starting point to help build his own interpretations. This comes out in the Chicken and Chive Dumplings (RM 18). KL locals who frequent a popular dim sum restaurant may notice similarities in the chili sauce head chef Kim has created. However, he believes he has elevated the overall experience by adding the flavors of crushed charcoaled spring onions to his sauce and building his dumplings with rich and tasty chicken fat.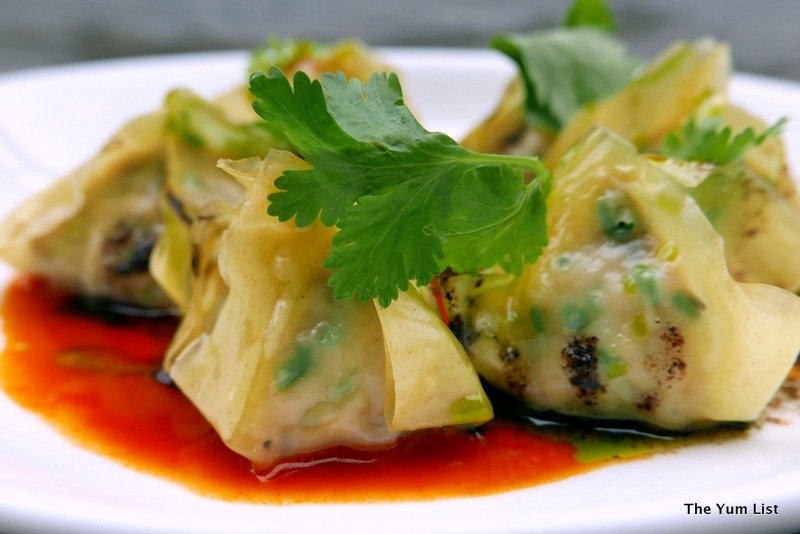 Asians love their Wagyu Steak and the chefs at Sitka acknowledges that infatuation with two plates on offer featuring Wagyu. We try the Seared Wagyu Steak with Zucchini (RM 38). This house favorite is served with a unique Asian chimichurri made from yuzu kosho, Thai basil, garlic and fresh coriander, and like any good paleo dish, served with tasty grilled zucchini cubes.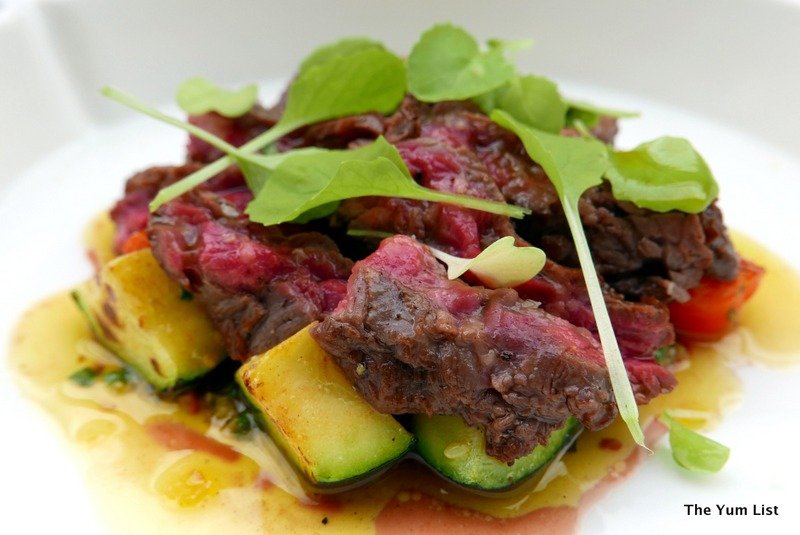 There's something for everyone on order at Sitka as demonstrated with the Sesame Crusted Local Seabass (RM 34). This fluffy fish features a crumby sesame crust and refreshing side of spicy green mango snow pea salad.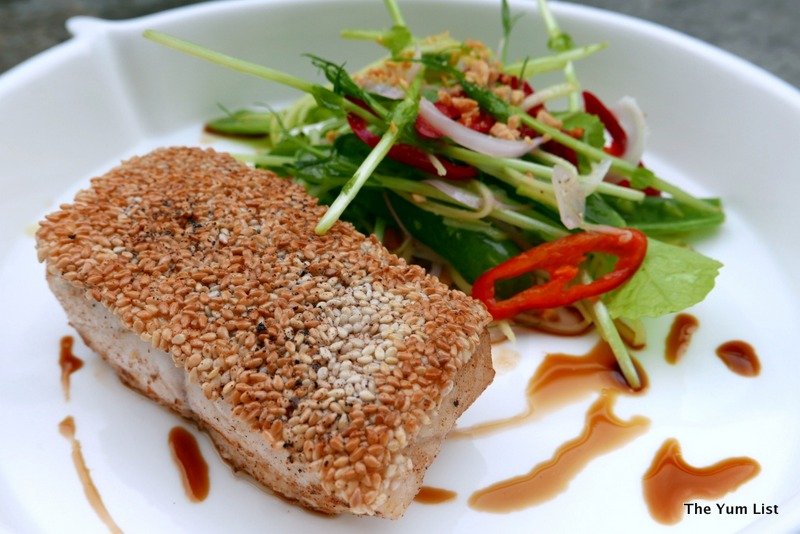 As the plates cascaded out, my stomach's smile mirrored the one on my face. These dishes were unique, personally built interpretations, based on research of both Asian street food and trending Asian flavors. The Minced Lamb "Chinese Bing" (RM 18), was immensely representative of that. Bing translated stands for Chinese biscuits, a favorite in north Xian street food culture. Chef Kim has created his own version of "the oldest sandwich in the world" with a Chinese bao dough that is steamed and then grilled and stuffed with the healthy and strong flavors of cumin seasoned lamb. Served alongside a cooling plain yogurt, this multi-textured bun truly embodies the ideals of modern Asian cuisine, using both old and new world techniques with combinations of thoughtful ingredients.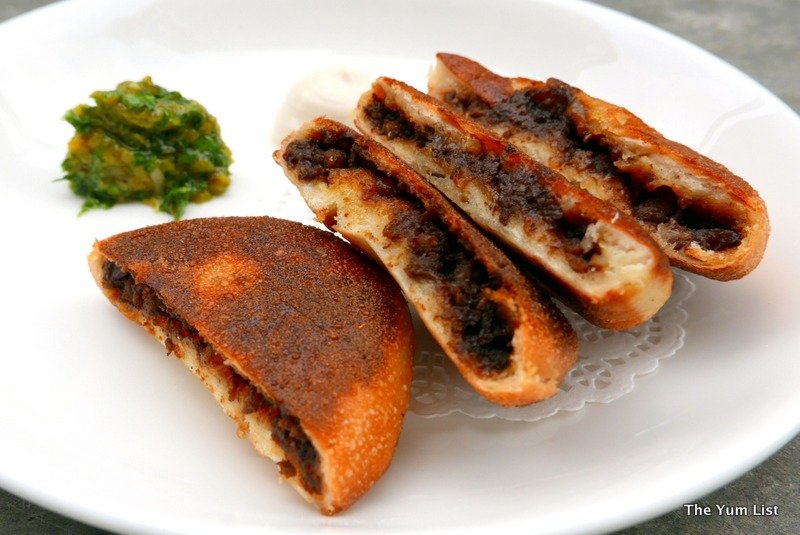 We finish up the mains with the Cold White Cut Chicken (RM 20). Unfortunately, the name of this plate does not encompass the glory of this dish. Served with a special house dressing with looming flavors of sesame, soy, rice vinegar and more. The dressing inspires the Asian food connoisseur to identify the ingredients and is elevated with a kick of the golden Szechuan pepper oil. This is chef Kim's successful take on the popular Chinese dish, drunken chicken.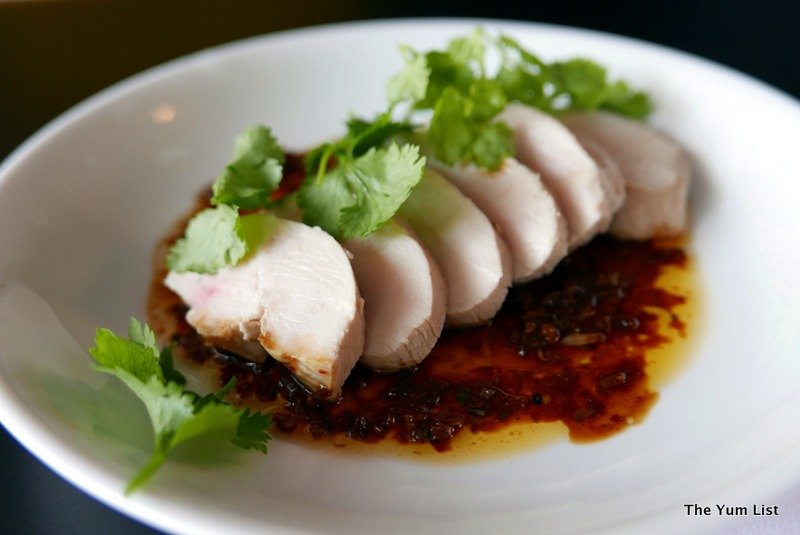 When presented with the dessert menu, we couldn't make up our minds, so chef graciously prepared all three options for us. The first was a luscious Butter Cake with Brown Butter Ice Cream (RM 18). After meals with complex but intriguing flavors, this was an ode to simple Scottish fare leaving the us with creamy, sweet and salty butter undertones on the tip of the tongue.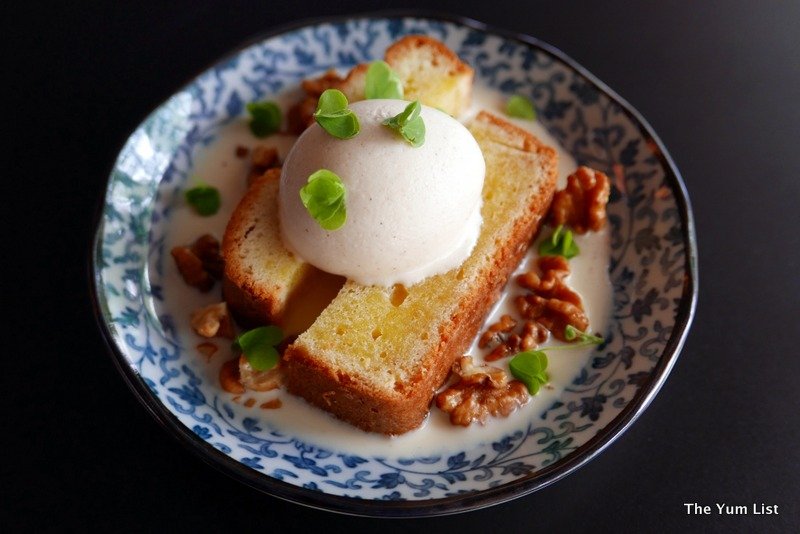 If you want to continue on the ride through Modern Asia, choose the Mochi, Mango Sorbet with Pomelo (RM 18). Topped with a homemade coconut milk whipped cream encapsulating the juicy mango sorbet atop sesame dusted mochi, this is a uniquely textured dish with a variety of flavors.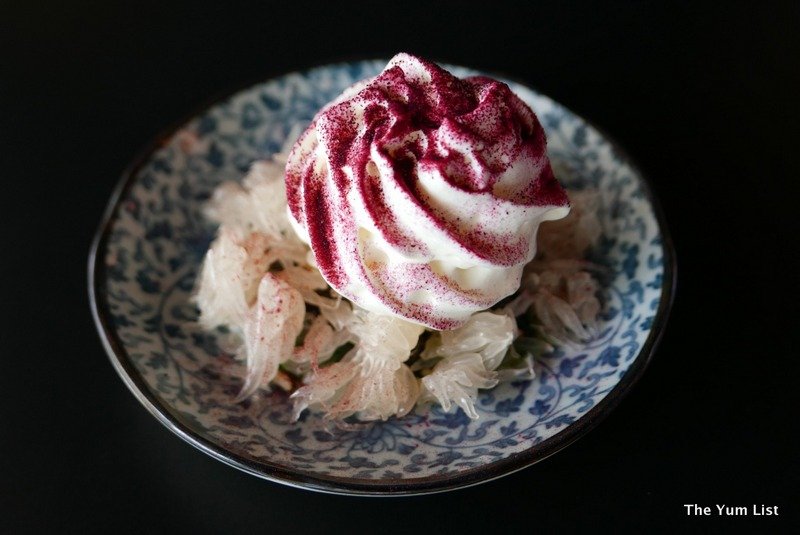 Finally, the perfectly-sized Chocolate Cremeux (RM 18), with Coconut Custard and Coconut Espuma, had me at first (and second, and third…) bite. The different textures of the coconut custard and silky coconut foam atop the salty, chocolatey-peanut crisp cream had me savoring every spoonful. Three days later, I am thinking about this dessert and when such satisfaction will return.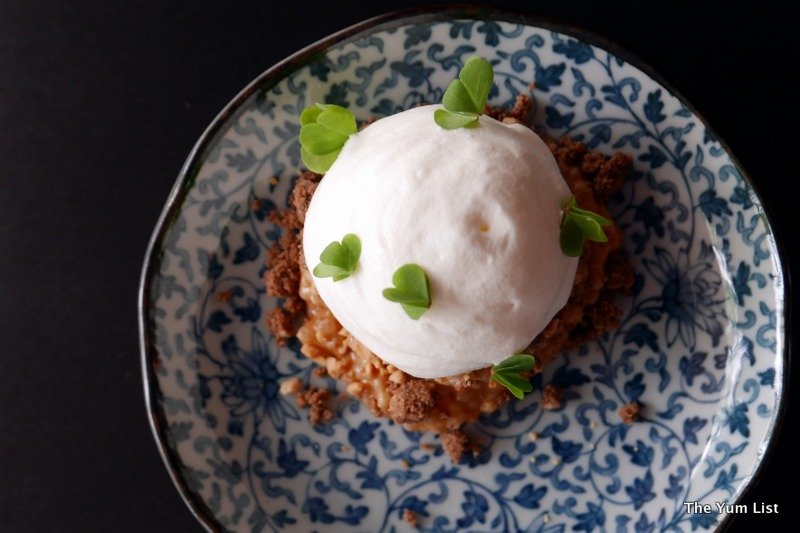 The truth is I have been to plenty of modern Asian and fusion restaurants in Kuala Lumpur, particularly places trying to combine Asian flavors with western cuisine. I've disappointingly found however, the trend to go overboard on ingredients, leaving diners confused as to where the dish originally came from. Sitka is different in this regard. The snacks and mains on offer are classic street food offerings or slight modifications. Thai, Vietnamese, Chinese and Japanese influences are thoughtfully layered with careful artistic construction.
Reasons to visit: My personal favorites were the Tuna Tataki, Minced Lamb Chinese Bing, and don't miss the Chocolate Cremeux.
Sitka Eating House and Wine Bar – Modern Asian Cuisine
8-5A, Jalan Batai, Bukit Damansara,
50490 Kuala Lumpur,
Malaysia
www.sitkarestaurant.com
+60 3-2011 1117