Words: Viktor Simonic     Photos: Monica Tindall
You've likely heard it before and you'll hear it again: Thirty8's major selling point lies in its awe-inducing 360o view spanning across KL's cityscape. As soon as we step out of the elevator its floor-to-ceiling windows draw us into an almost isometric viewpoint of the Twin Towers, the KL Tower and the surrounding skyline.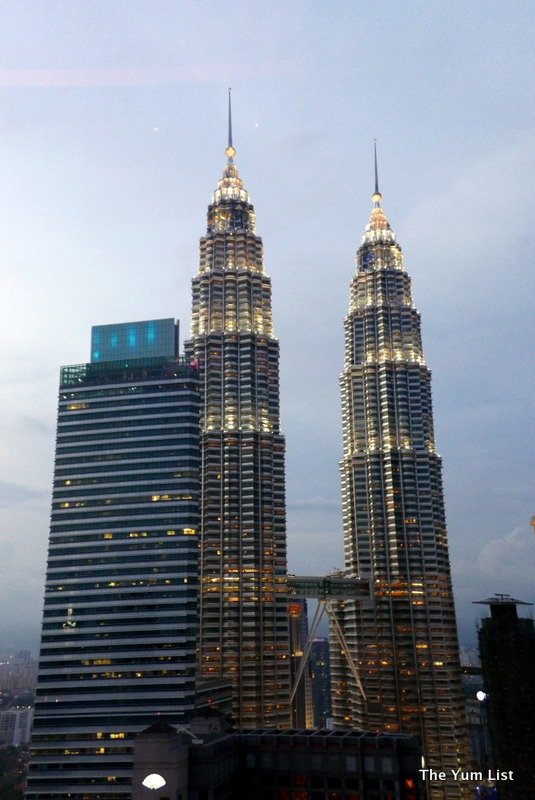 The interior whispers clean, refined class with its pale hues of white and greys trimmed with mahogany panelling and furnishings, giving an elegant feel that blends into its KL fringe. The abundance of natural light really helps one settle in as the warm glow of golden hour sets in and we're met with a serene sunset as we dine.
As we make our way around the floor, I notice Thirty8 boasts three different kitchens; representing Japanese, Western and Chinese cuisines. The idea being, that each cuisine 'category' is resplendent with its own style, staff and equipment set, leading to a specialty-based output. The Japanese kitchen is predominantly sushi-based, the Chinese wok and steam style, and the western kitchen is based around seasonal ingredients.
Executive Chef Tommy Franssila, born and raised in Sweden, welcomed us to the restaurant with a batch of deliciously crunchy, warm, house-baked bread and a trio of their signature Martini cocktails (RM 42) including; a Lychee Martini (vodka, lychee liqueur, lychee syrup), a Passion Fruit Martini (gin, fresh passion fruit pulp, fresh lemon juice) and a Cucumber Martini (gin, fresh cucumber cubes, fresh lemon juice and brown sugar) all of which presented a great kick of alcohol along with a vibrant, natural and fresh taste. A huge thumbs-up for the cocktails: they're reason enough to return for a follow-up visit.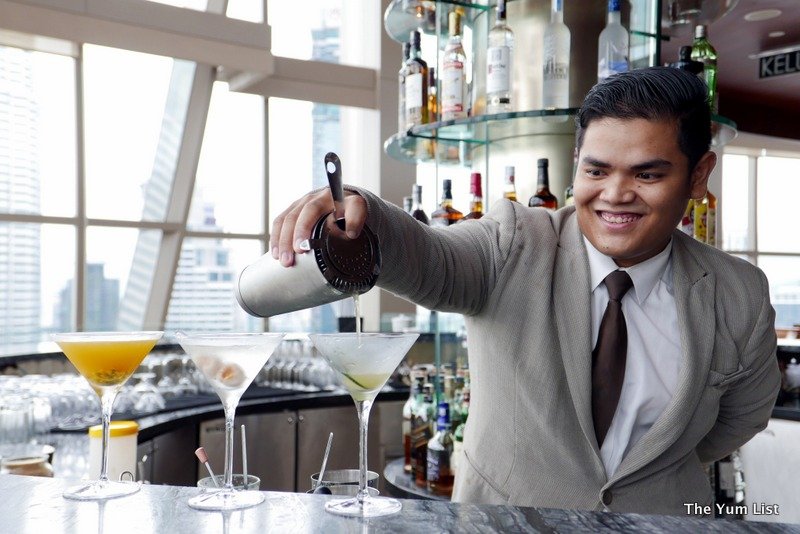 Thirty8 holds a 14-page drinks menu, so if cocktails are not your cuppa, there is always their rather excellent selection of wines and whiskies. As if reading my mind, Mon thoughtfully ordered both red and white wines to taste; a very light, fruity and rich red Chateau des Combes, Saint-Emilion Grand Cru (RM76 by the glass, or RM301 by the bottle), and a truly excellent chardonnay by Leeuwin Estate, Margaret River (RM84 by the glass, or RM336 by the bottle), which was also distinctively light with its hints of peaches and pears.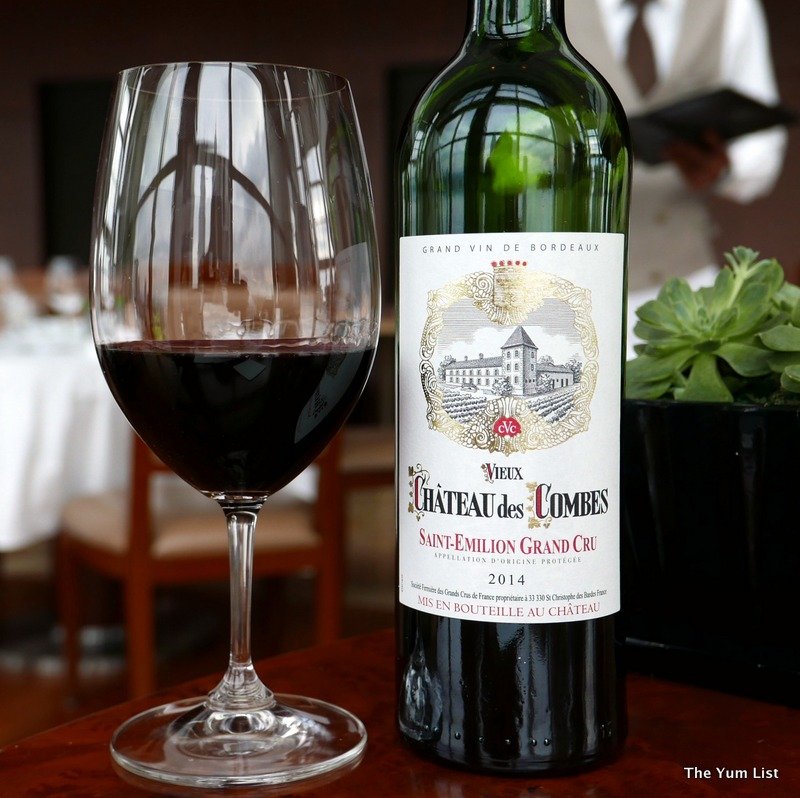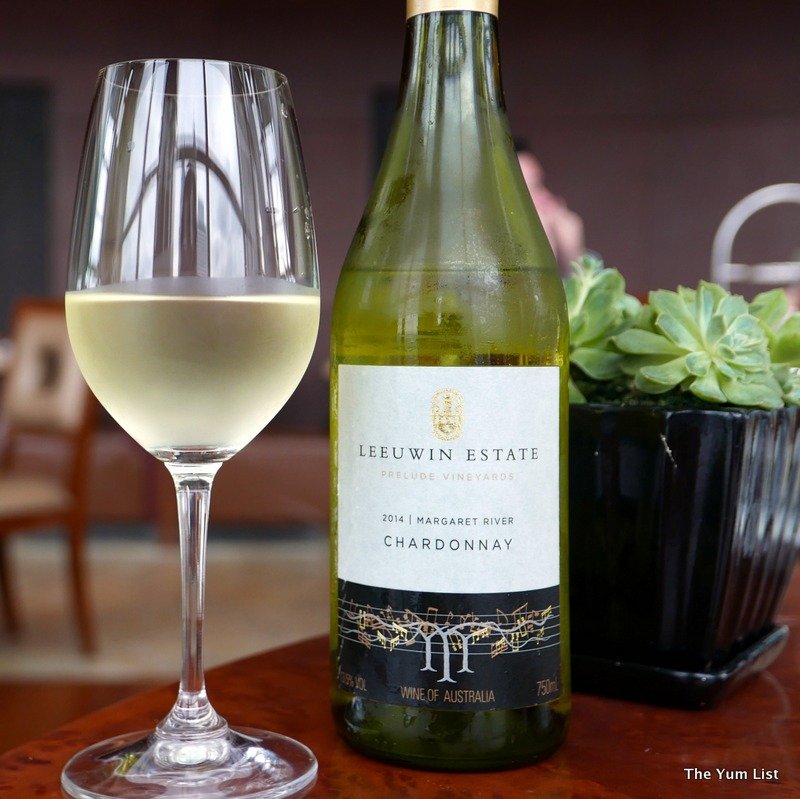 With presentation throughout that is nothing short of stunning, we were greeted with a recently revamped menu thanks to Executive Sous Chef, Stefan Beck from Germany. While Mon was snapping her shots, I tucked right into the Yellowfin Tuna Tartare with fresh mango and passion fruit condiment, crunchy vegetables and a light café lime oil (RM 74), which proved to be clean, crisp and incredibly vibrant, with a lovely light liquorice hit from the fennel. This was followed by the Black Angus Beef Carpaccio (RM 70), with quail egg, confit mushrooms, shaved Parmesan, in-house dried tomatoes and sturgeon caviar salt (produced in a Spanish organic sturgeon farm, 'Organic Frio'), frankly, a work of art on the plate. The beef was lusciously lean and beautifully complemented by its additions.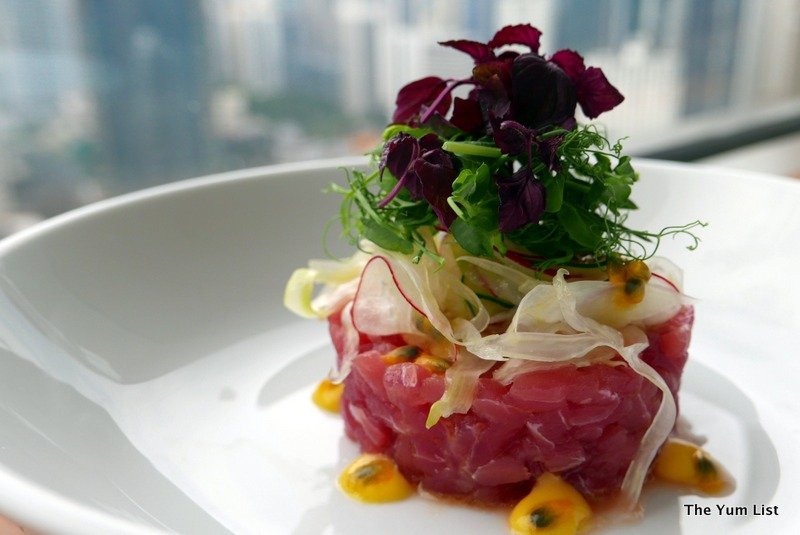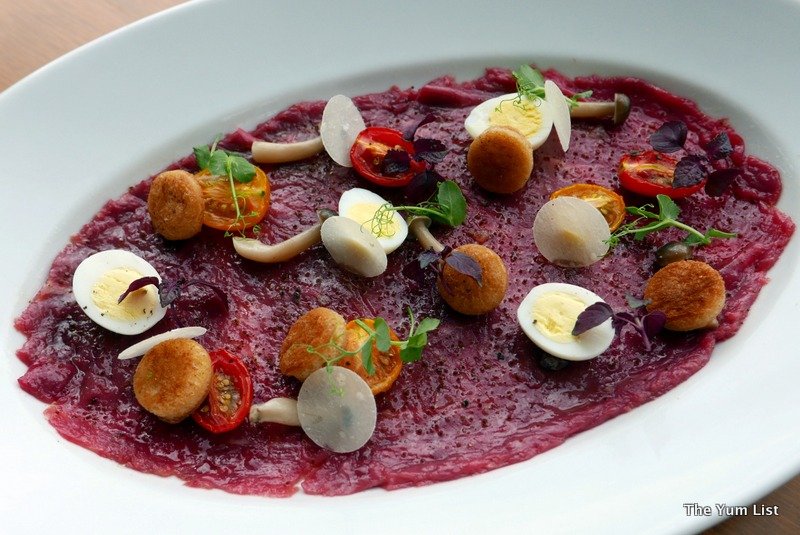 Lastly, for the starters, we had a taste of their limited time European Asparagus menu, which has been extended to the end of May, in the White and Green Asparagus Ragout (RM 45) with a gratinated egg, crispy organic quinoa and Mornay sauce. This was definitely the star of the starters. It had a luxurious melt, with the crunch of the quinoa providing a great contrast. Both Mon and I ended up requesting more bread to dip into the creamy goodness of the asparagus pot, egg soldier style!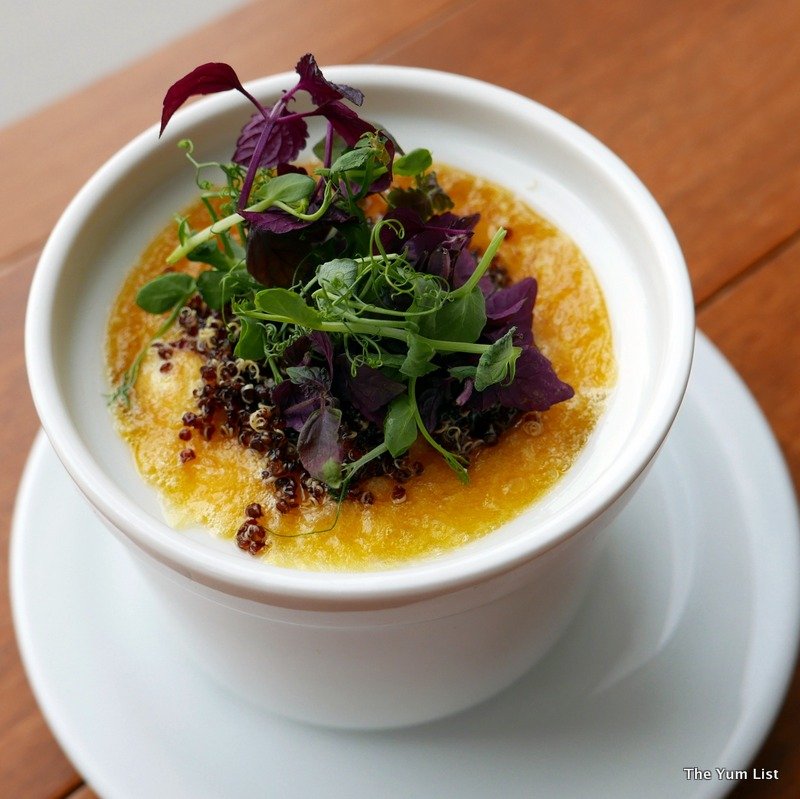 We then moved swiftly on to the mains, all served on hot plates and started off with both Caning and I's personal favourite, the exquisite Slow Cooked Australian Black Angus Beef Ribs (RM105), with a side of crushed sweet potato and parsley gremolata. The beef is slow cooked for 24 hours and finished on the grill and it is done so with detectable finesse – the meat melts in the mouth, with the redness bringing out the sear of the meat. It's a true showcase of quality ingredients met with expertise.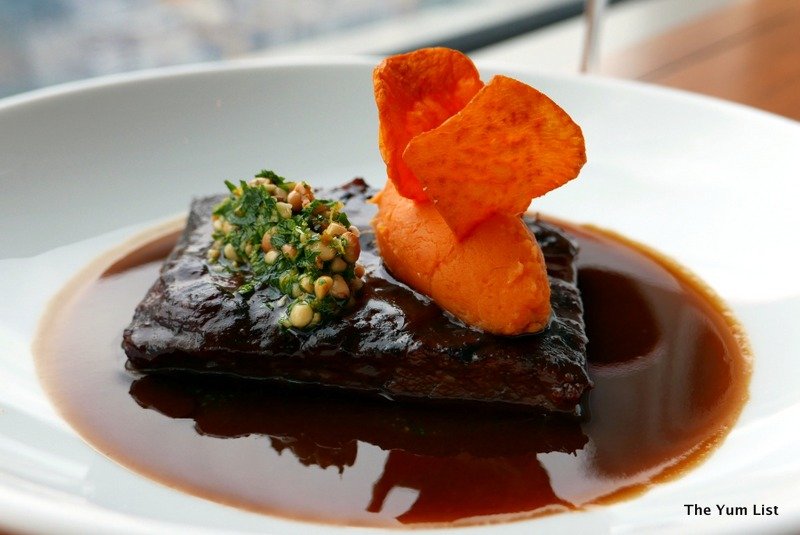 Once again drawing from the asparagus seasonal menu, we were presented with the Asparagus and Barley Risotto (RM70), which is wonderfully adorned with Chengdu black truffle, assorted greenery and crispy Parmesan. Stefan explained that the inspiration for replacing the traditional arborio or carnaroli rice with barley, stems from its common use as an ingredient in Asia – and I have to say, colour me converted. Not only is the risotto 'creamingly' excellent, but the slight crunch and enhanced texture given by the barley really impressed me. It will definitely inspire its use in my cooking, as it feels significantly less congested as a risotto compared with more traditional offerings.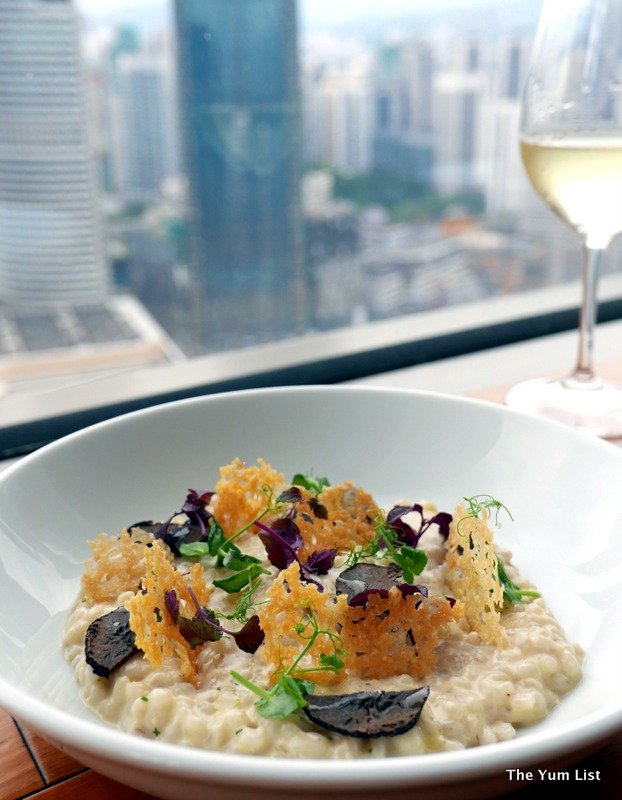 Next, was a taste of the Chinese kitchen, which included the Pan-fried Sustainable Alaskan Black Cod (RM 120), with a black bean chili sauce, served along with the Braised Tofu (RM 45) side, which includes mushrooms, Chinese cabbage, young corn and assorted peppers, chillis and other vegetables all doused in a light, fragrant sweet and sour chilli sauce. The fish was cooked to perfection, with a superb flake and both dishes were punchy, with crisp veggies and a creamy, milky tofu- definitely an exotic delight to tingle the senses.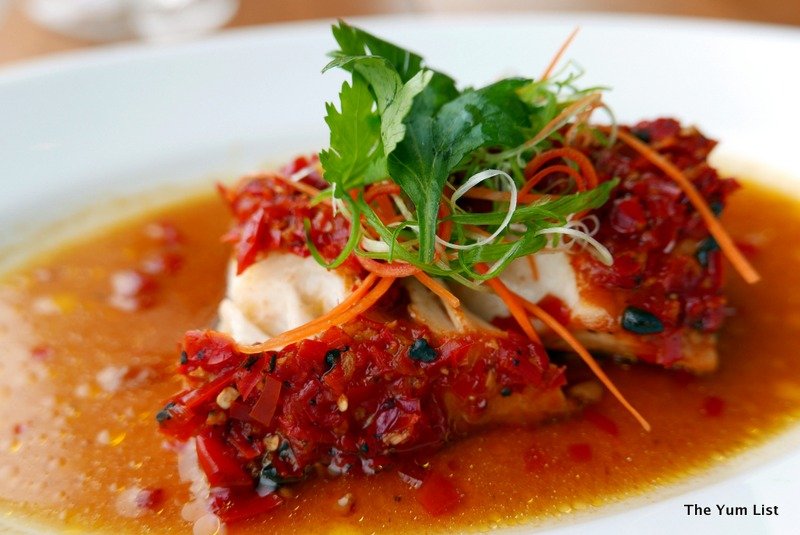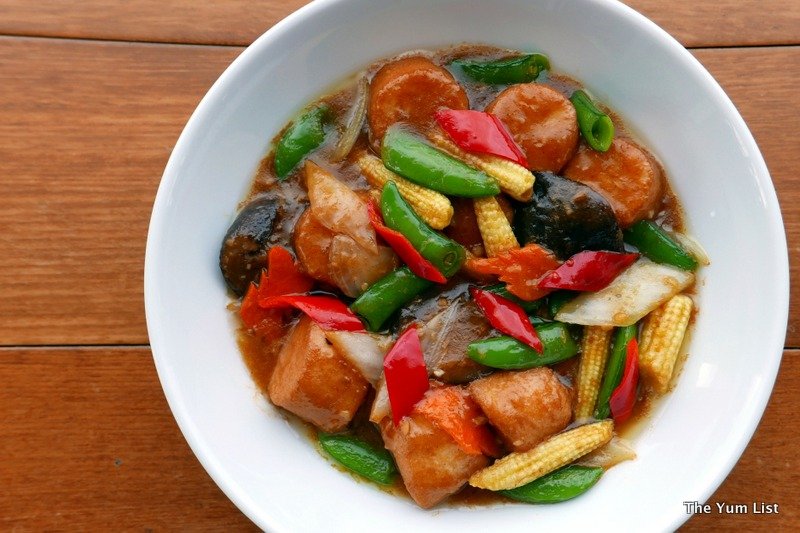 Onto my favourite course of the evening, the desserts. I'll start off with the salty-sweet deliciousness of the Cameron Highlands Strawberry Carpaccio (RM 46 also part of the seasonal menu), served with delightfully candied pistachio, a lemon sorbet and sprinkled with salt and pepper. This dish in my mind truly personified Asian flavours. The interplay of salty and sweet really surprised me, a definite unique combination that I wouldn't hesitate to recommend to anyone.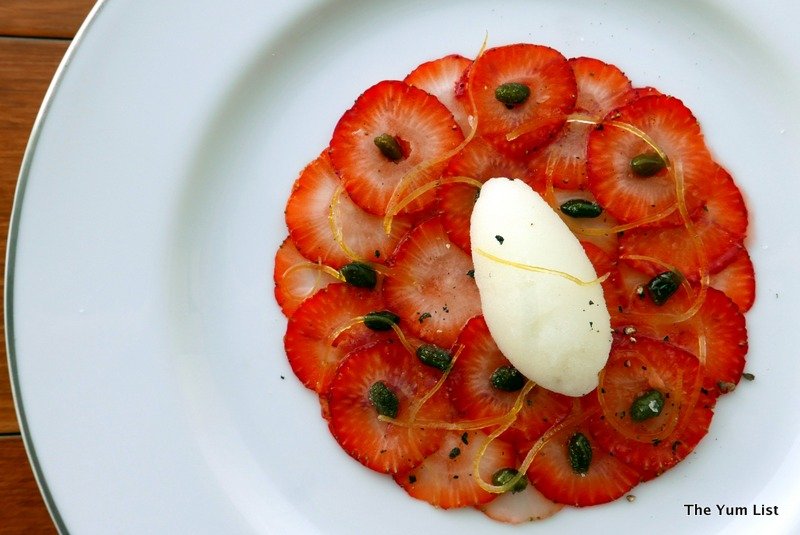 The creamy perfection that was the Lavender Cheesecake (RM 40) graced our presence next. I'm a big fan of cheesecake and this was easily the best I've had in town. It's easy to say it was the favourite for all three of us – in fact, Mon and I almost missed out, being busy writing and taking pictures as Caning just couldn't stop himself. A dreamily delectable dish served with marinated rhubarb and strawberries bringing back warm and cosy childhood flavours. A must if you make it to the Grand Hyatt.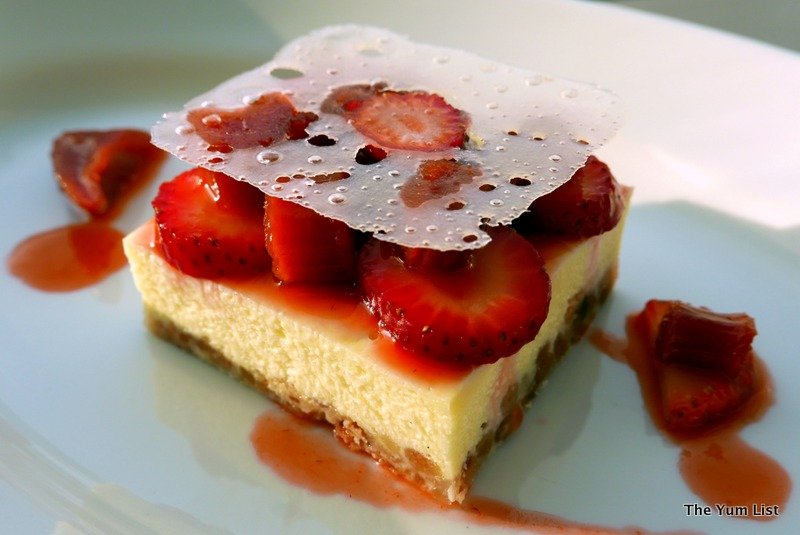 Lastly, we indulged in the Trio of Macaron "Sliders" (RM 45), which, inspired by burger sliders, consisted of raspberry lychee, green apple and coconut mango and passion fruit sorbets sandwiched in matching flavour macarons. Ample natural taste really stood out and the sorbets were delectably light. Definitely a great play on a sweeter variant of sliders.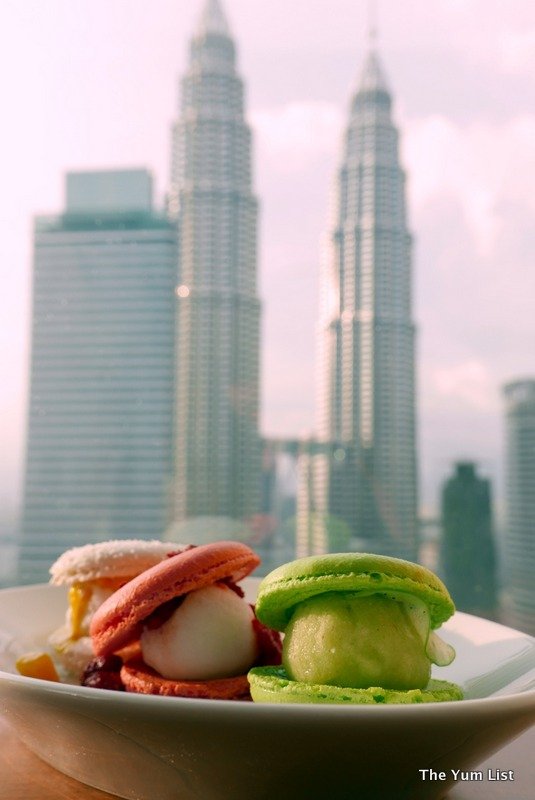 All in all, if you're looking for a 'fine-dining in the sky' experience, look no further than Thirty8. Elegant surroundings, stunning views, a demure ambience all matched with beautiful ingredients and artistic presentation makes Thirty8 a worthy contender for your attention.
Reasons to visit: spectacular 360o skyline views, excellent martinis, White and Green Asparagus Ragout, Slow Cooked Australian Black Angus Beef Ribs, and don't miss the Lavender Cheesecake!
Thirty8
Grand Hyatt Kuala Lumpur
12 Jalan Pinang
50450 Kuala Lumpur
Malaysia
+60 3 2182 1234
Breakfast: Weekdays 6:00 AM – 10:30 AM, Weekends & Public Holidays, 6:00 AM – 11:00 AM.
Lunch: 12:00 noon – 3:00 PM.
Afternoon Tea: 3:00 PM – 5:00 PM.
Dinner: 6:00 PM – 11:00 PM.
Serves alcohol. Pork-free.