Coquo KL is a place of personal conflict. One side of me wants to shout to the world about how great it is and tell every self-proclaimed gourmand to take a seat at the table right now. The other half desires to keep it quiet: my spot, where only an honoured few know of its existence. Well, I guess the blogger in me wins in this case, so, hush … I'm about to share with you a secret.
The Chef
Coquo is a Latin word for "I cook," and in this café the cook, chef Toni Valero comes to Kuala Lumpur with an incredible career history. Working in the former first and fourth best restaurants in the world (named by San Pellegrino), his training and attention to detail are flawless. We were first impressed by his cuisine at Ohla, a former Spanish tapas restaurant and bar at The Intermark. Today we revisit Toni in his very own kitchen at Coquo KL in Publika.
The Setting
Warm lighting, polished wood and dark hues communicate a mood of intimacy. Spotlights above the service bench draw focus to what's coming out of the kitchen, and for me, this is my preferred spot to sit: first witness to the action, and with the privilege of the chef delivering food directly to my table.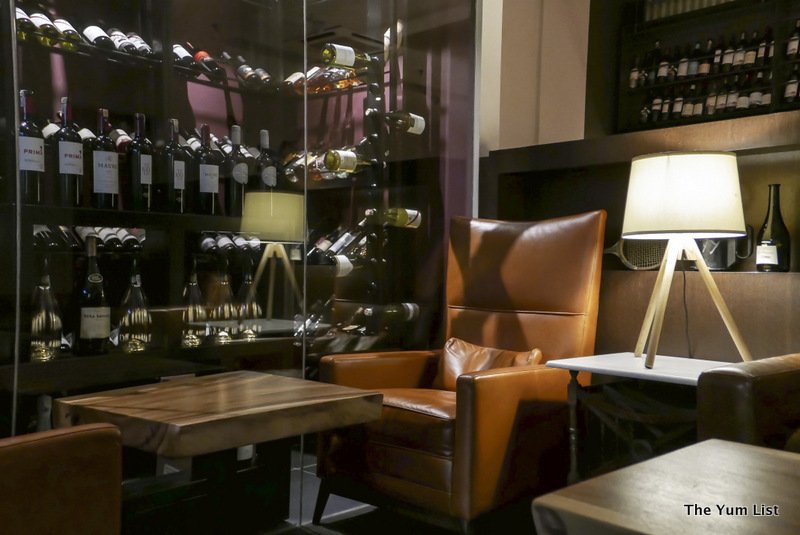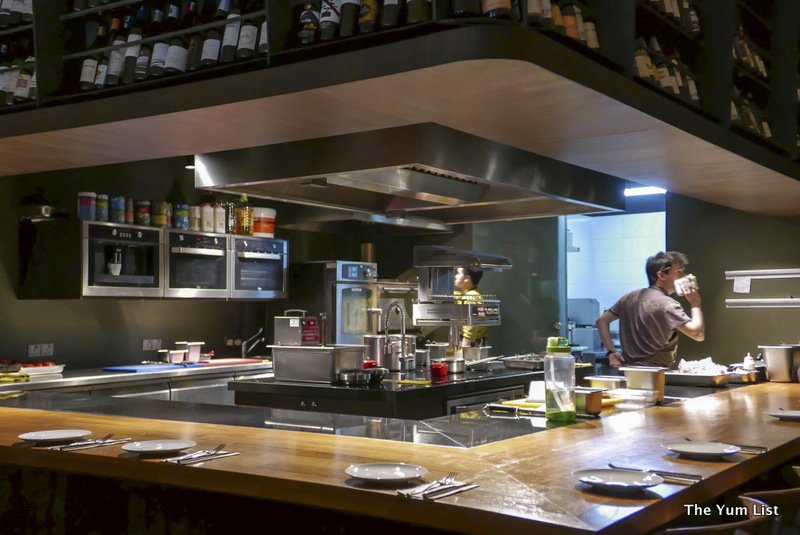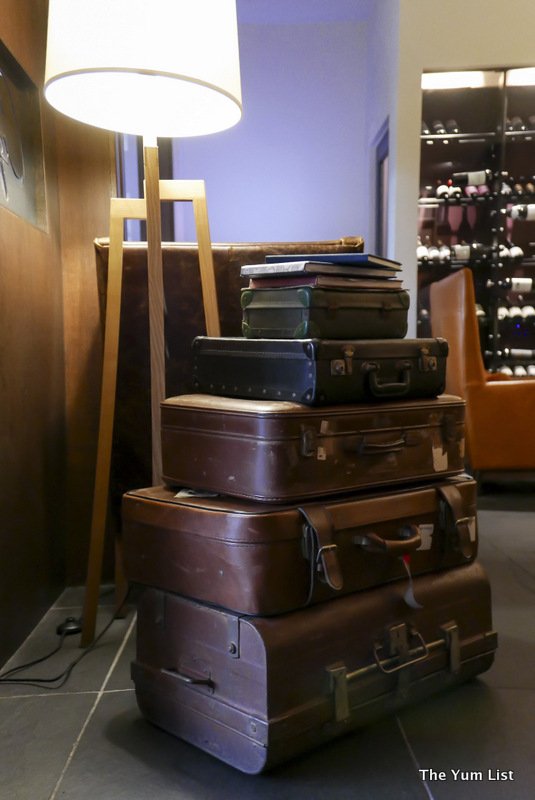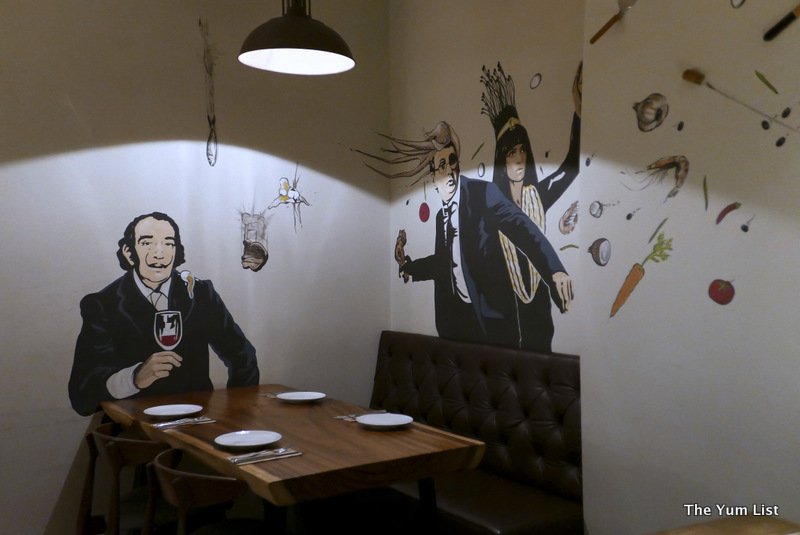 The Menu at Coquo KL
Continuing with his expertise in contemporary cooking techniques, Chef Toni brings diners his own interpretation of traditional Malaysian flavours and ingredients. You might say the menu reflects the best of cutting edge kitchen research expressed through a local lens. It's very fine food in a casual setting, and one that no epicurean should miss.
Plates to Share at Coquo KL – From The Sea
Our first dish, Prawn Carpaccio (RM38), is livened with miniature pearls of laksa caviar. Prawn crackers add crunch and intensify the taste of the sea, while spicy oil drizzled atop it all both moistens and adds heat. Toni declares it a "deconstructed Sarawak laksa." The way to eat it is to break off a piece of cracker, add some Carpaccio and then a few pearls of caviar. In this introduction, we can already see that there's much more to food here than meets the eyes.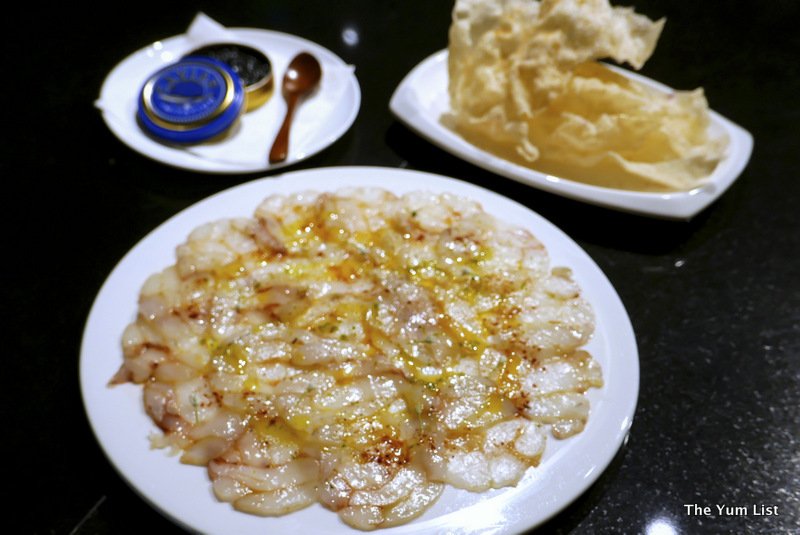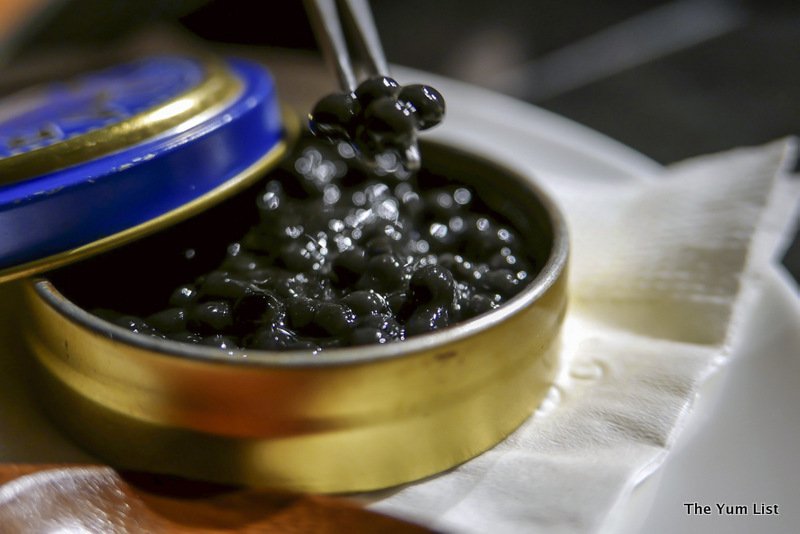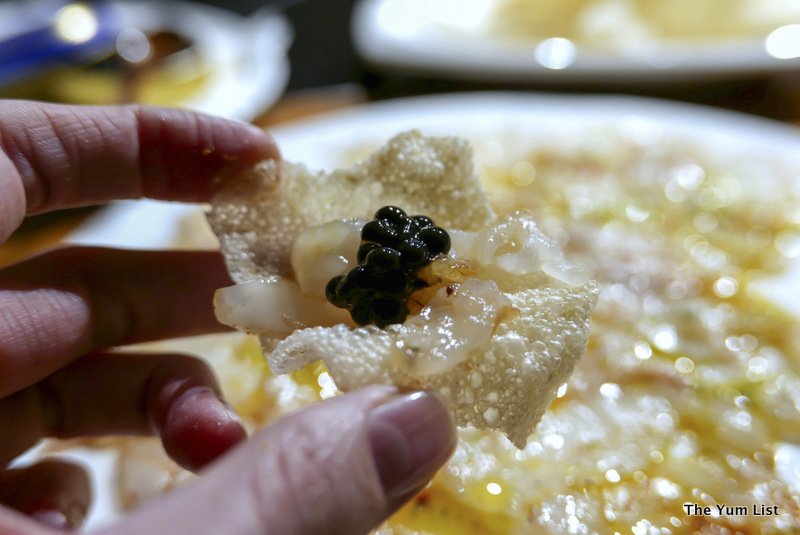 Confit Mushrooms (RM27) is a familiar base with the tradition of onions and finely chopped mushrooms making a duxelles that's served over the local king mushrooms. A truly Malaysian tincture is given with a 63° kampung egg on top (I've not yet met a Malaysian who didn't love to put an egg on just about anything they eat – rice, soup, noodles – all deserving). A blanket of milk skin hides the richness that lies beneath with pine nuts affixing further flavour and texture. Black trumpet broth is poured over the top. First a little is added. We mix it all together and then decide if we want more. In contrast to the preceding plate, which spoke of the ocean, this dish embraces the flavours of the earth.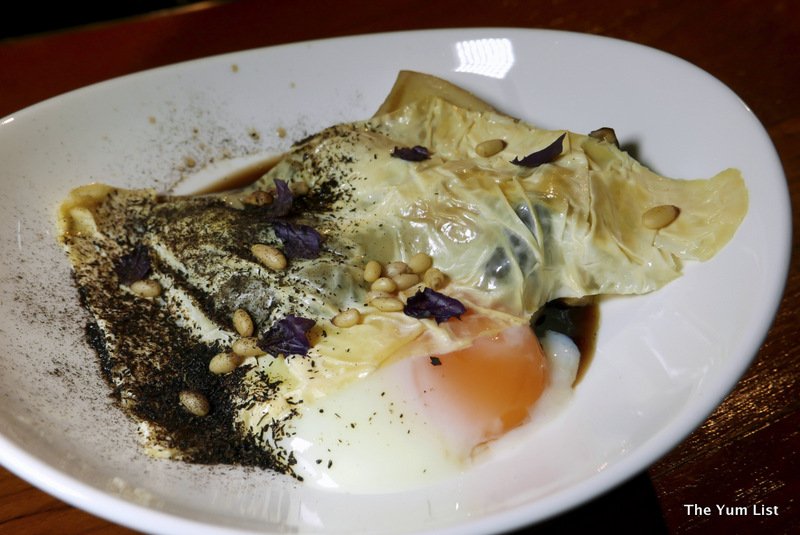 The next recipe unites two dishes I find scrumptious all on their own into one super elegant bite in the Chilli Crab Tortellini (RM39). As the name suggests tender handmade pasta envelopes encase a mildly spiced crab filling. A cheeky grating of "Crabmesan" (crab jelly – shred just like Parmesan) tops the pasta. The tortellini sit in a tasty coriander soup and a final dribble of chilli crab oil finishes it off. It's clean and refined – a graceful dish.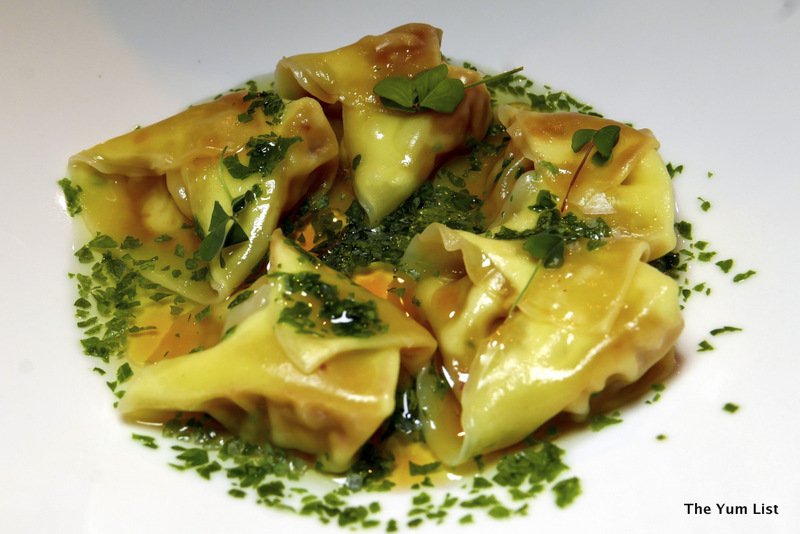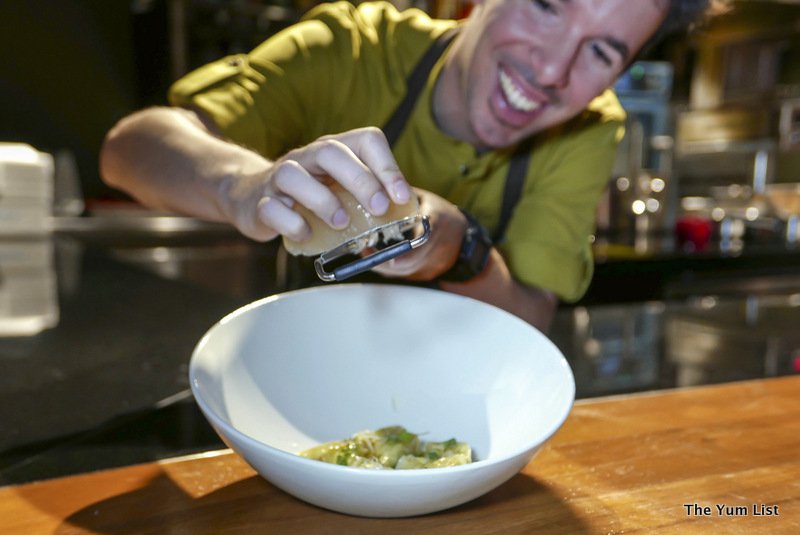 While Toni has been clear from the start that Coquo KL has nothing to do with Spanish cuisine, I can't help but make the connection with Octopus (RM36). Toni's locally galvanised version, however, sheds a whole new light on the possibilities. The dish is unveiled beneath a mask of wood smoke. Kristang cuisine has influenced this dish – caldeirada de peixe and rempah (mix of spices including mustard, cilantro, cinnamon, star anise and saffron) pay homage to the traditional fishermen's soup. The flavours are striking, not was I was expecting, and delightful all at the same time.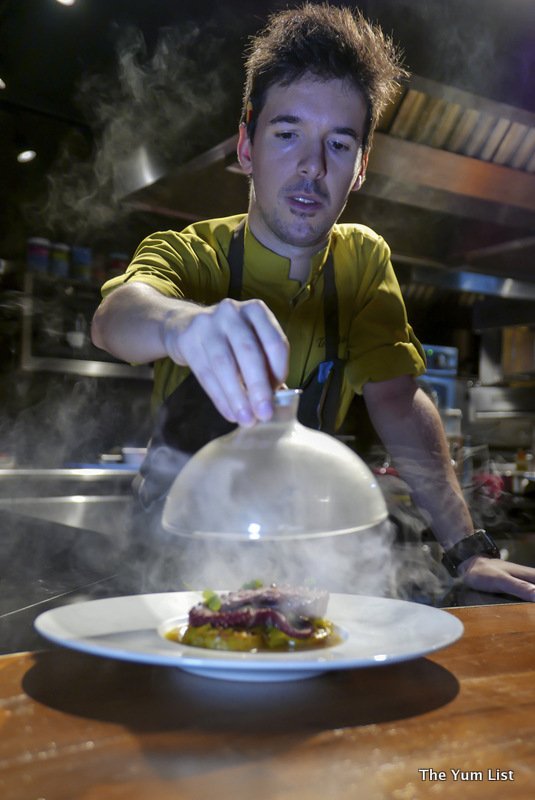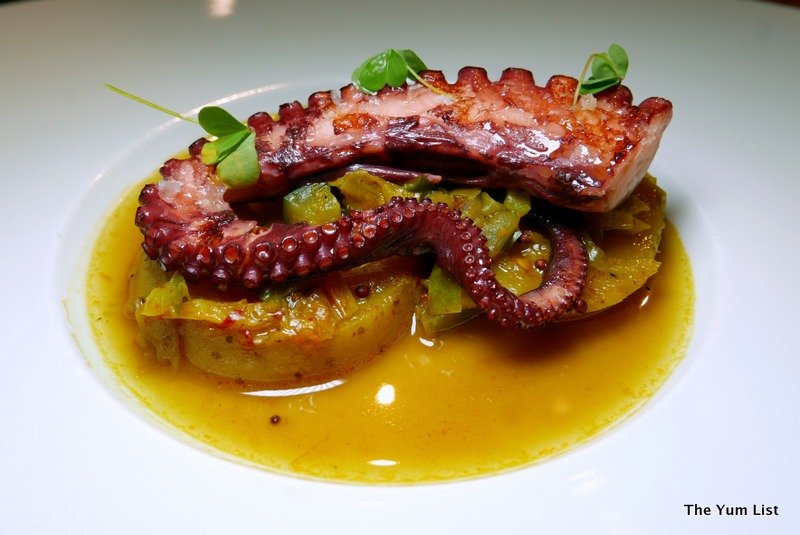 Hubby immediately takes a liking to the Mackerel (RM35). What appears to be a whole fish without the head has already been deboned and when we slice in we find the flesh moist and flaky. Basil leaves add colour to the surface and thick potato slices base it. Perhaps the most intriguing part of this dish, however, is the sweet confit tomatoes. Cameron Highland tomatoes are cooked in their own skin, trapping in and intensifying their natural sweetness.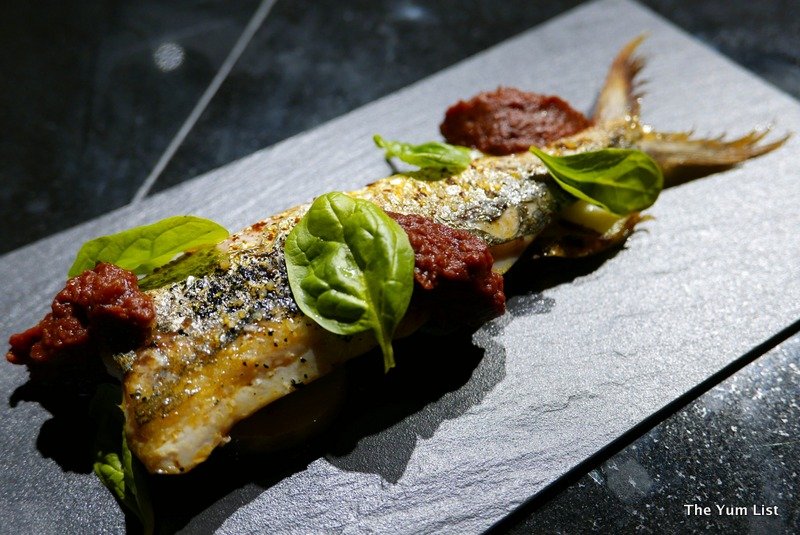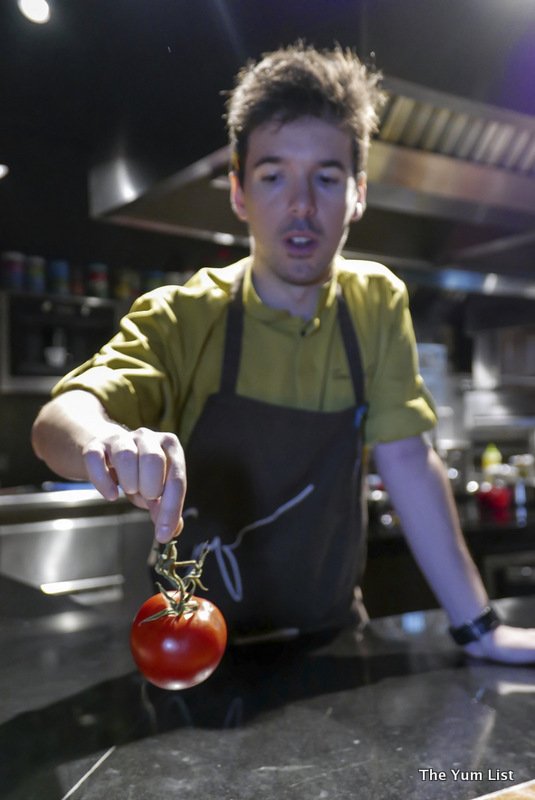 Plates to Share – Something Meaty
Baby Lamb (RM52) comes resembling a beautiful artwork on a round black plate. Slow cooked lamb from Spain that has been raised solely on milk is the core of the plate. A ring of colours forms concentric circles around the centrepiece: reduced milk infused with white Sarawak pepper is the immediate loop; a classic demi-glaze follows; then the rim is a sprinkling of house made yellow curry powder alternating with charcoal sand. The sand showcases a molecular technique using maltodextrin, a chemical that absorbs the fat of products and turns them into something approximating the texture of sand or soil. The lamb is extremely tender and swirling each forkful through all the sauces is a seductive pleasure leading up to every bite.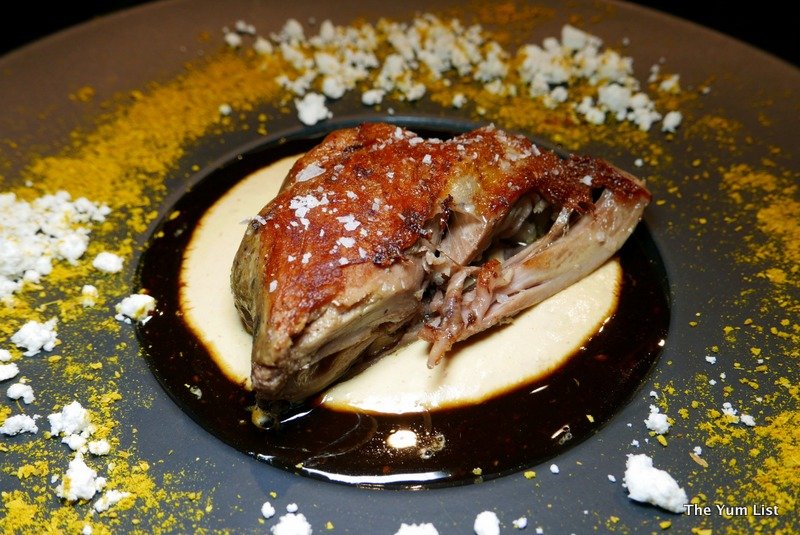 Chef is clearly excited about the last main. Hubby shares his enthusiasm, which has continued to grow progressively since the start. Voice louder. Movements grander. And, oh boy when Toni brings out the Belgium prime rib featuring a nice marbling and declares that this meat, tastes like meat – the gusto only rockets further. I don't share this carnivore adoration and can't help but me amused by the shared passion.
Prime Rib (150gm RM88) arrives on a wooden chopping board. Edges are caramelised, the immediate inner lightly cooked and the middle raw. The board is balanced with a classic rendang paste, still a little chunky so that it can be chewed. Finally, drops of watercress puree furnish a light bitter opposition to the sweet and savoury found in the beef and rendang. Flakes of sea salt can be included at will. There are multiple experiences to be had with this dish: tasting all of the ingredients on their own and then joining them in various combinations. Truthfully though, the meat is so tasty that it could easily be devoured all on its own.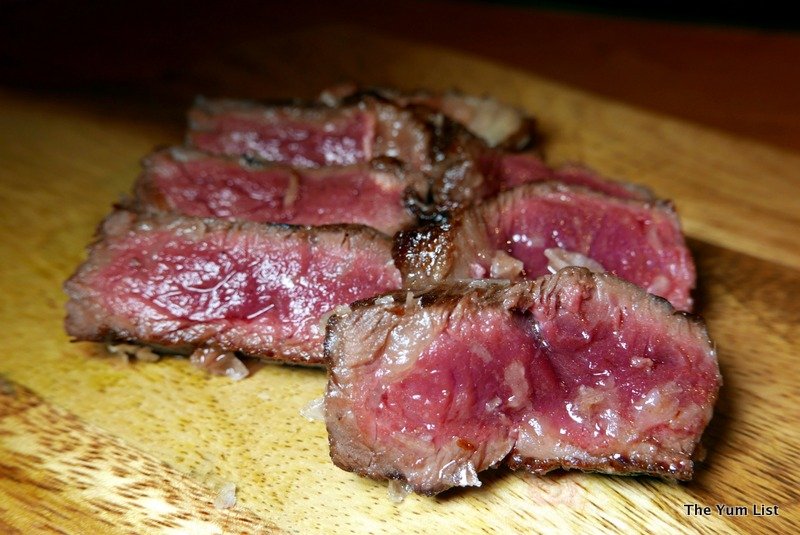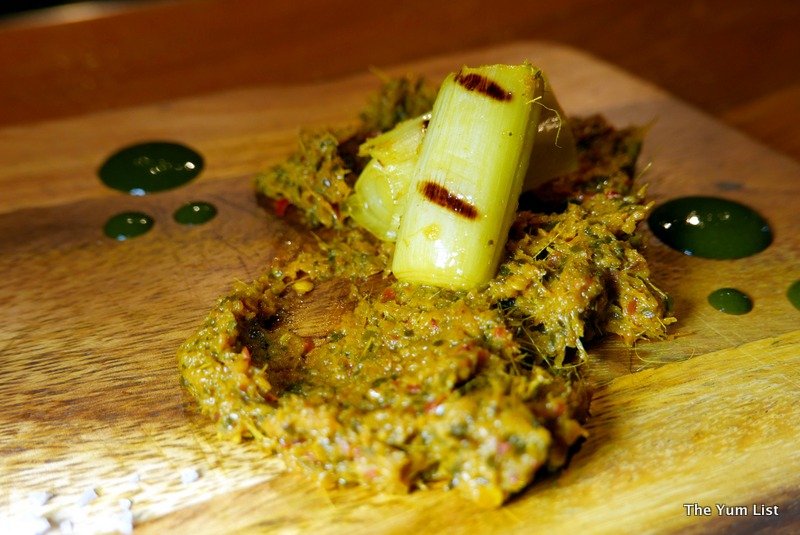 To Finish at Coquo KL
Admittedly, Curry Leaf Ice Cream ((RM22) is not something that jumps at me from the menu. I was not even enticed by the supporting ingredients of strawberries marinated with Szechuan pepper and jasmine green tea gelatin. Sincerely, none of it sounds appealing. But, therein, lies the challenge of a good chef – to change the perceptions of diners. To start, I try the ice cream. There's no sugar so it's not sweet and the curry leaf is just a whisper. Nothing offensive. Then the strawberries. Meaty slices, naturally sweet. Now together. Okay. I could be converted.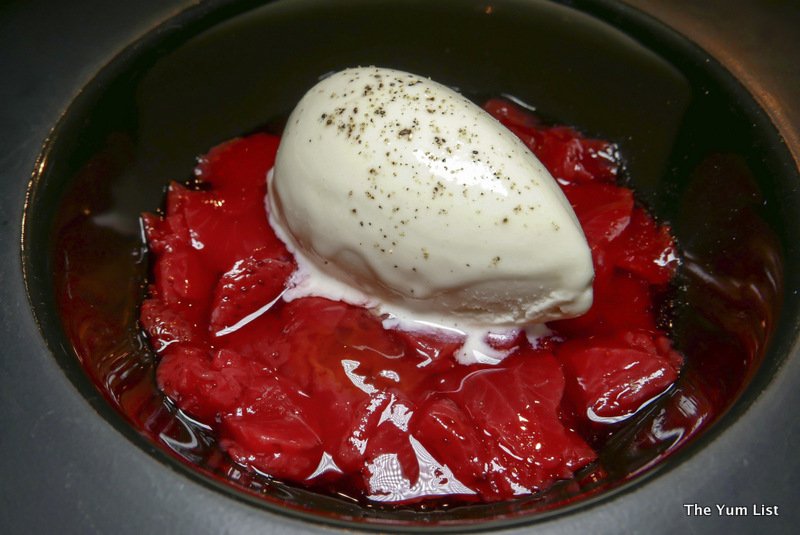 On the other hand, I knew I'd like the Lemongrass and Pandan Pannacotta (RM22) immediately. A velvety smooth rendition in the shape of a log with the smoothness of lemongrass and the almost vanilla-like flavour of pandan, backed up with a sticky mostillo, macadamia nuts and lime – really? That's an easy win. Absolute heaven.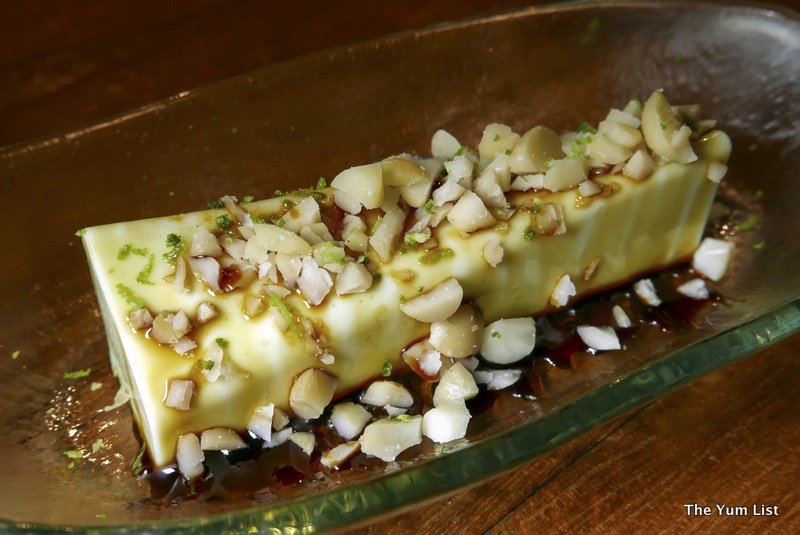 Bringing Malaysian Flavours To New Heights
Without a doubt, Toni Valero is one of a small but growing number of chefs in the country who are methodically bringing Malaysian flavours to new heights. Through contemporary techniques and a celebration of what's grown regionally, local ingredients are given the spotlight they deserve. It's exciting times for the culinary scene in Malaysia, and it's about time due recognition was awarded.
Reasons to visit: exquisite cuisine prepared by a chef with meticulous attention detail; reasonably priced; don't miss the Chilli Crab Tortellini, Baby Lamb and Pandan Pannacotta.
Coquo KL Restaurant and Wine Bar
D1-G4-6, Solaris Dutamas (Publika)
Mont Kiara
50480 Kuala Lumpur
Malaysia
www.facebook.com/CoquoKL/
www.coquokl.com
+60362112822
Find it: Across the road from Namoo on the Park (children's play area upstairs from BIG Grocers), you'll find Barfly. Take the elevator up one floor in the hallway running along it. Turn left, and left again, and there'll you find Coquo KL.