Words: Claire Matheson    Photos: Monica Tindall
Yalumba's Finest Composition. In Concert With Hilton.
Rich loamy soils over clay form the deep baseline. Undulating hills of verdant grape vines all in neat rows provide the rhythm. A variety of differing altitudes and aspects lend the key notes, with each microclimate lending a different pitch and tone to its instrument. This is the music of the Barossa and Eden Valleys; the home of Yalumba, where Samuel Smith planted his first vineyard one moonlit night in 1849. If you have not had the chance to visit Australia's oldest family owned winery in South Australia in person, this much celebrated name is bringing its musical notes to Kuala Lumpur with the help of Hilton Kuala Lumpur.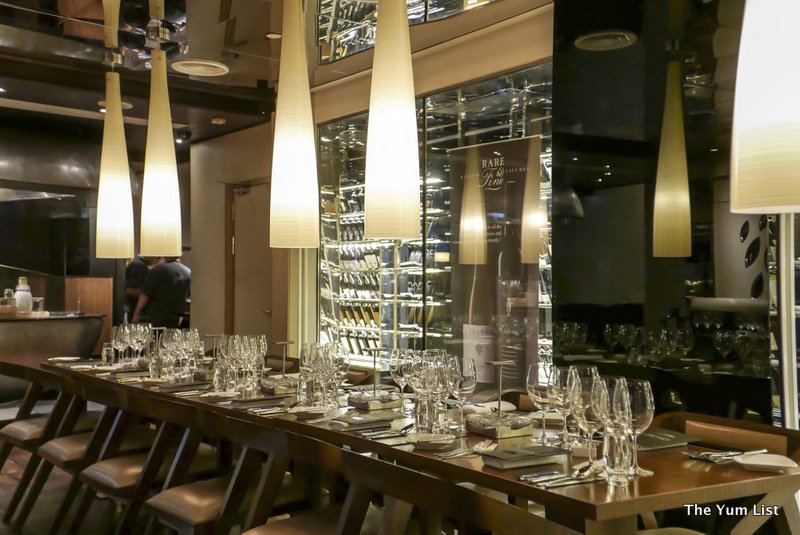 Yalumba
Long upheld as the darling of Australian viticulture, Yalumba has something new to celebrate. Though it's not their place at number 16 on Drinks International's 2017 'World's Most Admired Wine Brands' list, a title many others would crow loudly about. Nor is it the placement of not one, but six of their offerings on Matthew Jukes' highly regarded 2016/2017 '100 Best Australian Wines' list. Again, no small feat.
The Caley
Their newest accomplishment is even more impressive than accolades and awards. The unveiling of their most prestigious fine wine: 'The Caley'. Touted as a super claret melding the finest Coonawarra Cabernet with the richest Barossa Shiraz, it's effortlessly flawless palate is developed for five years before becoming available for sale. It is carefully orchestrated, subtle and refined yet mesmerising in its melody of balanced complexity. Priced at AUD$349 or a little over RM1,100 per bottle, the drop is named in honour of Samuel Smith's grandson, horticulturalist Fred Caley Smith, whose worldly travels led to Yalumba's early recognition amongst those in the know in global wine markets. Upon first taste, it earns the price.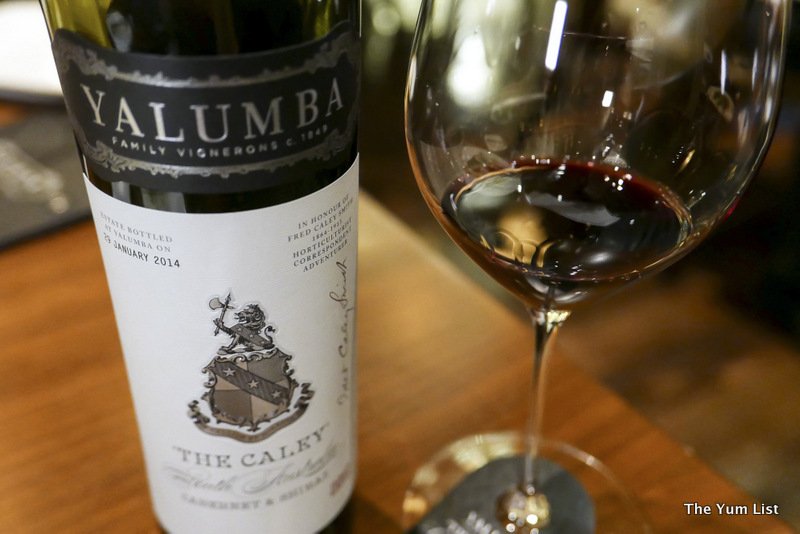 Yalumba Wines
Known for producing exceptional Cabernet Sauvignon and Shiraz blends, The Caley tops Yalumba's growing high end production of rare and fine wines. It is joined by names such as The Octavius Old Vine Shiraz, The Tri-Century Barossa Grenache, The Menzies Cabernet Sauvignon, The Virgilius Viognier, and a personal favourite, The Signature Cabernet Sauvignon and Shiraz – with over 50 vintages named separately to honour the people behind the iconic brand. Yalumba not only have their very own cooperage on site, one of only four wineries in the world to do so, they also have their own nursery, nurturing the highest quality through all parts of the production, from "nursery to oak, to bottle, to glass". Sustainable practices have formed a cornerstone of their 168 year history, and they have won a litany of awards in the field to prove their mettle.
Indeed, in any Australian wine shop worth its salt, Yalumba's bottles achieve top shelf status, and even their more affordably quaffable bottles, such as the Scribbler, Triangle Block, the Y Series and the Persuader are more highly regarded than many other vineyards' highest offerings. As an Aussie with a love affair with wine, Yalumba's wines are a playlist of life's best moments, evoking memories of first dates, family introductions, graduations and milestones. They are a favourite song that transports you back in time.
Yalumba Wines in Malaysia
With only a very limited number of bottles available for purchase within Southeast Asia, the privilege of hosting the region's introduction to this discernible new claret fell to the esteemed Hilton Kuala Lumpur, with Chef Marc Fery preparing an exclusive wine paired dinner at Chambers Bar and Grill. Yalumba have always preferred to let their superior grape quality speak for itself, quietly handing you a glass and then stepping back to observe your reaction. They have no need for flashy marketing campaigns when their product is so good. Even glassmaker Riedel has specially designed a new line of red wine glasses for optimum aeration to match the release and their glasses line the tables in the darky wooded and intimate Chambers' dining room.
Tasmanian Jansz Vintage Cuvee
Greeted with a glass of the 2010 Tasmanian Jansz Vintage Cuvee bubbly and morsels of bitey aged cheddar and dried fruits on gourmet pistachio bread. Providing the perfect cold climate for sparkling wine production, the Jansz has established itself in recent years as a go-with-everything sparkling wine. Justifiably falling within the pricier end of Australian production, those used to Éperney sourced bubbles will not be disappointed with the Méthode Tasmanoise. With 59% Chardonnay and 41% Pinot Noir varietals, oak-aged for six months, it has elements of sweetness and acidity creating a crowd pleaser for all tastes.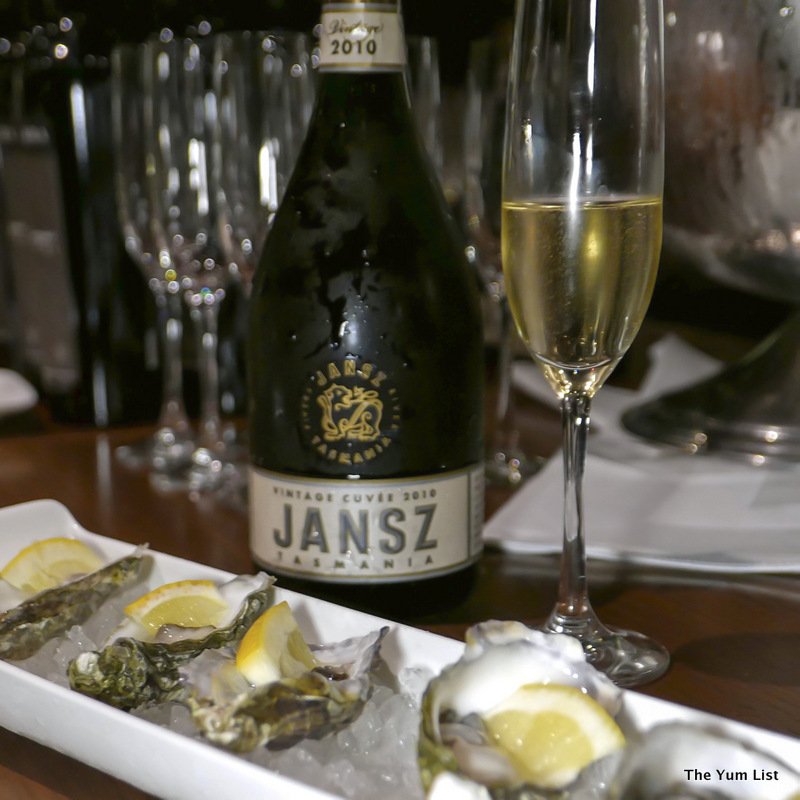 Virgilius Voignier
The appetiser of the evening is a thin cut and lightly seared scallop carpaccio, with an enrapturing texturised crayfish tartar and fine herb salad topped with a surprisingly subtle, tart yuzu vinaigrette. Light and enticing, it highlights the almost spritzy 2015 Virgilius Voignier. Originating in the Rhone Valley, the glass is exotic and textured with a hint of sparkly yeast fermentation. Whole bunch pressed through sequentially filled barrels, it is a wine well suited to Asian flavours and fusion. Tantalisingly seductive, it plays on the tongue.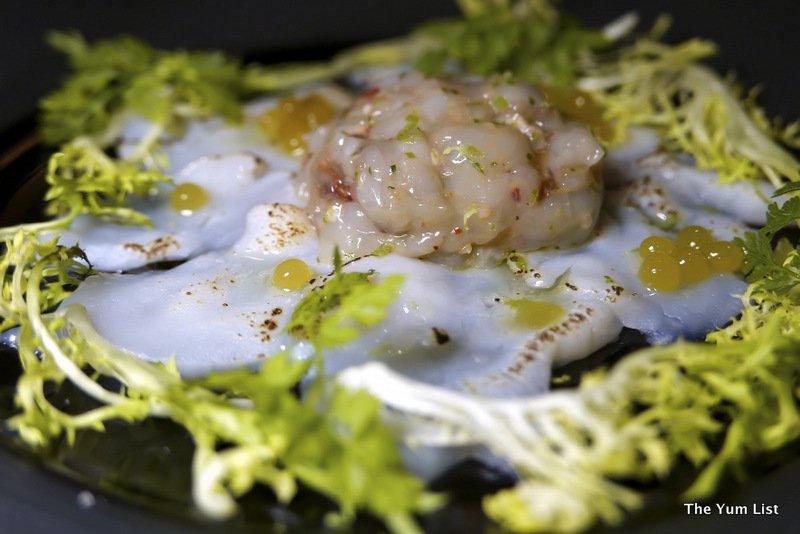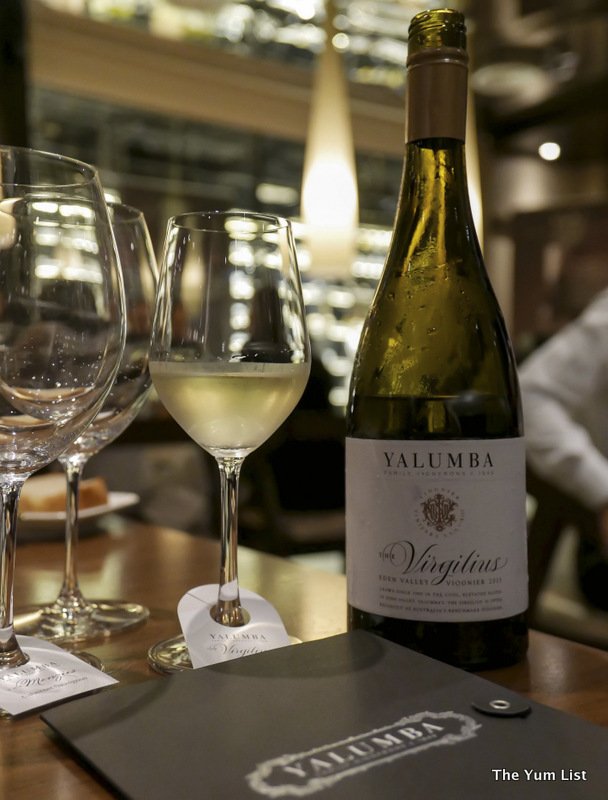 The Menzies Cabernet Sauvignon
The entrée is where Chef Fery shines. An oxtail risotto laden with tender and juicy slow cooked strips of steak, topped with charred minute steak, lightly seared on the outside with a plump red centre. The smoky meat juices sit in harmony with lashings of Parmesan cheese and fresh cracked pepper. Difficult to master, a risotto is a true test of a good chef. Usually served with light meats accompanied by white wine, this risotto is instead a robust version that sets off the colour and layers of a bold red.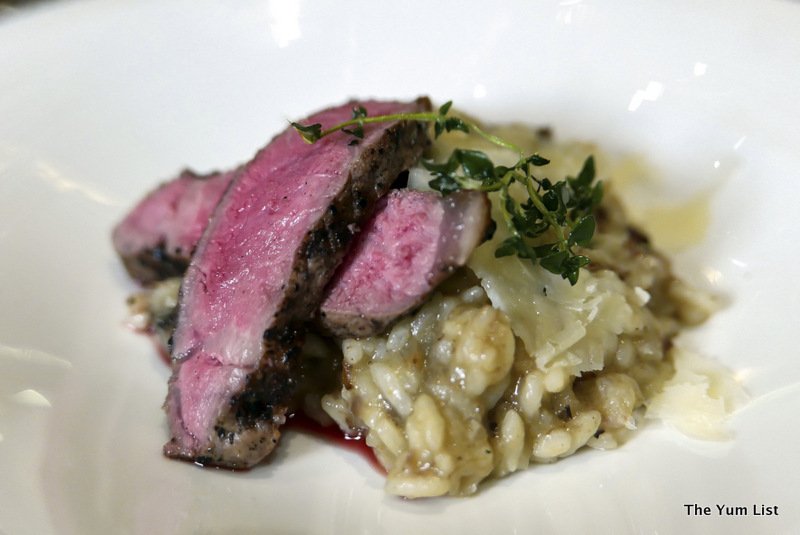 There is no better way to complement The Menzies Cabernet Sauvignon from the Coonawarra, as we drink both the 2012 and 2008 offerings. While only five years old, a relative adolescent in aged wine, the 2012 has all the character of national heritage, awakening the blood with the tenor of rich earthy, terra rossa soil, the alto of a faint tinge of eucalyptus and the soprano of bursting ripe fruit. It is Australia in a mouthful. I am transported to red earth, clear, never ending dusky skylines filled with stars and the wafting scent of gum trees. The 2008 is deeper, darker and richer, with more tannins and a generously rounded tone. A lower alcohol content brings forth stronger flavours. You can sip slowly and savour before refilling your glass.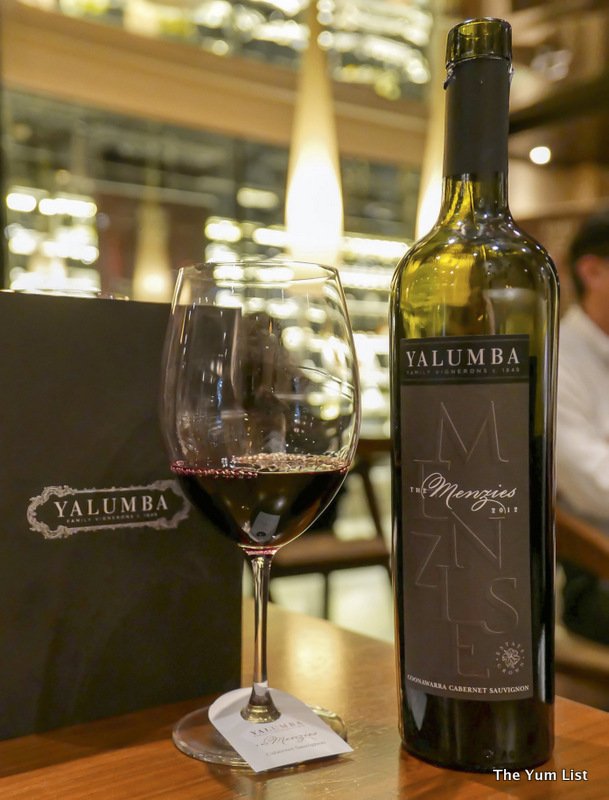 The Octavius Old Vine Shiraz
To up the ante, The Octavius Old Vine Shiraz is poured. Like all Yalumba wines, the providence is apparent in the drinking. Soil profiles, climate and varietals sing in the creation of a wine's personality. The Barossa Valley produces a throaty, meaty mouthful in Yalumba's Shiraz. When enclosed in the mouth the response is primal. You salivate, juices flowing, passionate and sensual. This is a true aphrodesiac. Pure pleasure.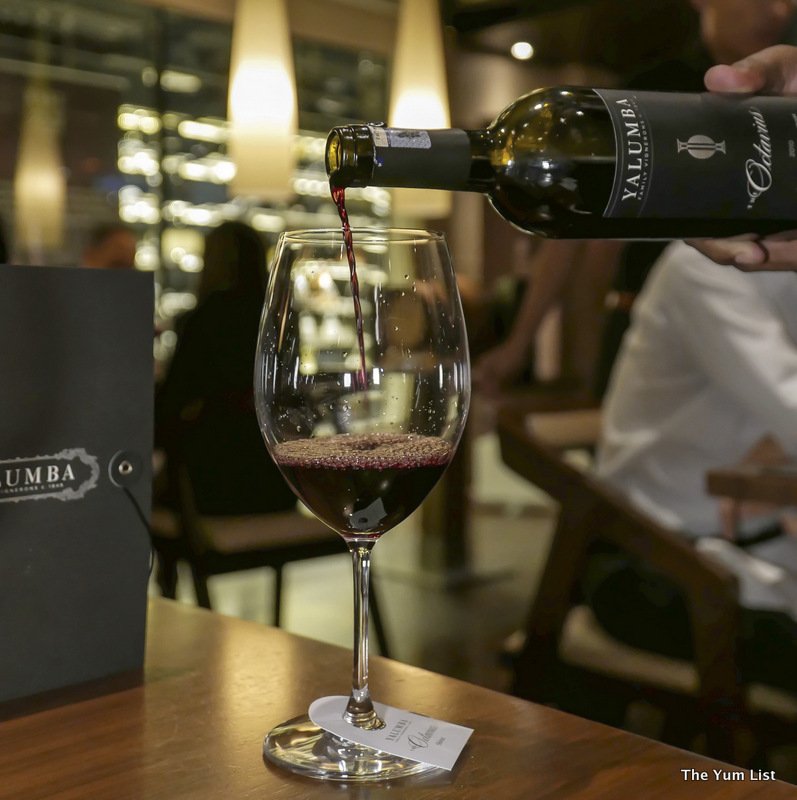 A main course of Australian grass-fed lamb loin is served, the ultimate red meat to revel in the savouring of a good red wine. Stronger and more loaded with taste, the grass-fed lamb is lightly seared with a delicious pink centre, sumptuously balanced with a lush mint pesto herb crust and a delicate smear of green pea puree; served alongside a medley of Spring vegetables, topped with a drizzling of lamb jus.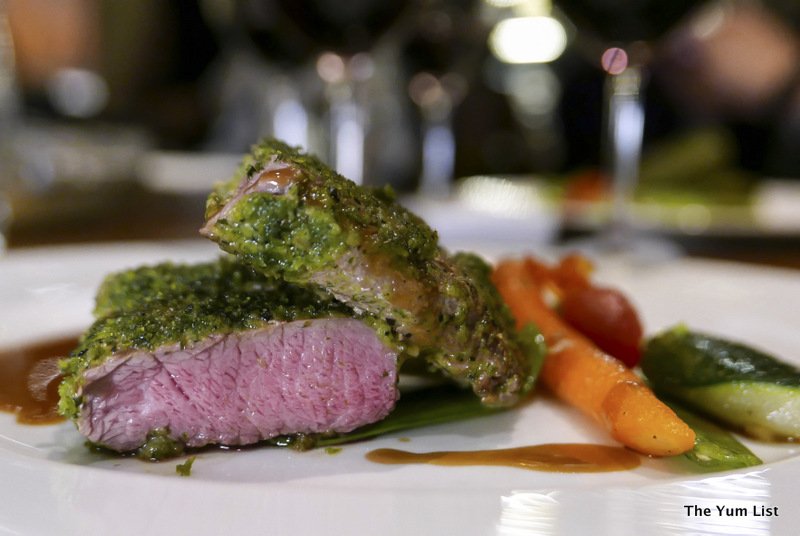 Yalumba's Signature
Yalumba's Signature series celebrates the blending of Cabernet Sauvignon's 'Mr Nice Guy' to give backbone and stability on the palate, with the bold and punchy Shiraz, the 'Bad Boy' of reds. It is a blend that has become iconic to South Australia, rarely produced outside Australia. Yalumba has been making their Signature since 1962, naming each vintage for a 'true believer' who has contributed to the quality of Yalumba wine. It's beauty comes from its transformation in the mouth, shifting and evolving between the subtle fruits of cherries, blackberries and currant tones, with underlying spice and faint herbs: vanilla and cloves.
Tonight we are being treated to all of Yalumba's best work, the 2012 Signature named for Robert Hill-Smith, is aged for 22 months in French, Hungarian and American oak barrels from Yalumba's cooperage. It is elegance and finesse in a glass. The 2008 Signature, named after Judy Argent, has slightly more Eden Valley Cabernet Sauvignon with 55% balanced against 45% Barossa Shiraz. With slightly more tannins, the extra years have been kind, producing a smoother and more refined mouthful.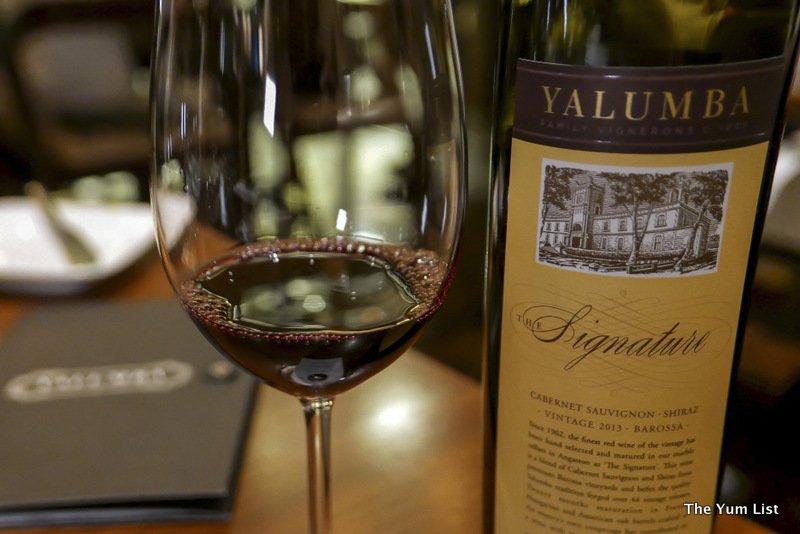 Plates of silky smooth French Valrhona chocolate tarts with buttery biscuit pastry are placed, set alongside a spooning of sour and sweet whole raspberries in sauce. They are presented topped in hazelnut crumble, velvety vanilla bean ice cream and a show stopping chocolate curl sculpture. A decadent overture to the announcement of the star of the evening.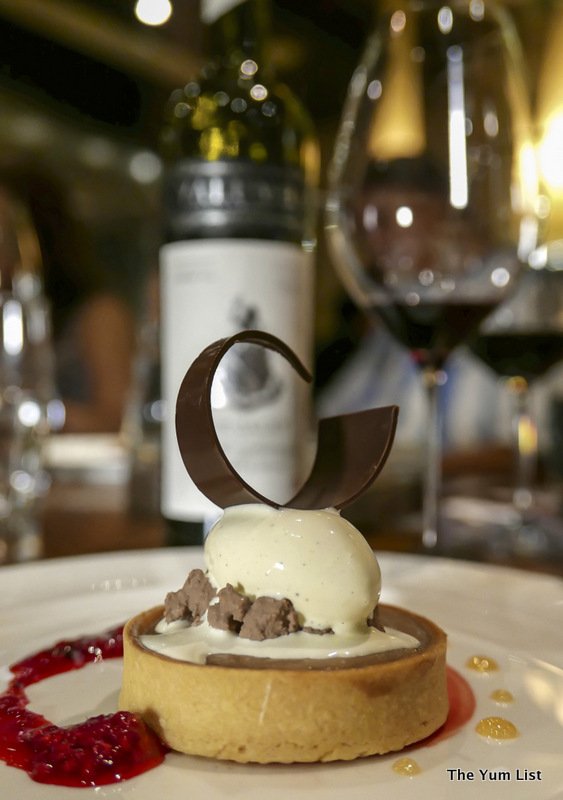 A Masterpiece
With only a single figure number of bottles making their way to Malaysia, a tasting of the 2012 masterpiece is a privilege offered to very few. Before taking the first sip, The Caley's scent should be breathed in deeply. The tones are subtle and harmonious. Each instrument can be faintly detected. Together they swell and intensify, in poised equilibrium. With each sip, black and red currants give way to savoury herbs, reverberations of fluid spice and cedar, finishing with a murmur of tobacco. Graceful yet powerful, it is well structured throughout, with long lingering lines that flow seamlessly. Generous and complex, it is a symphony.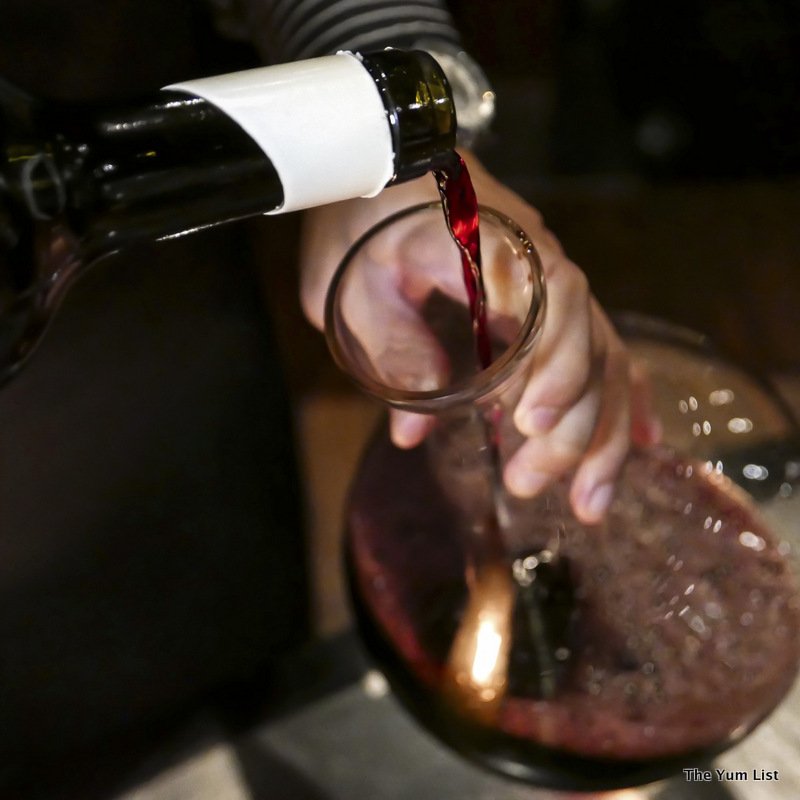 Yalumba sources its highest quality grapes from ten of the eighteen South Australian growing regions, chief amongst them the Barossa Valley, Eden Valley, Coonawarra and Wrattonbully areas. The soils here are some of the best wine growing soils in the world. Neighbouring warm and cool climates allow for specialisation in a range of varietals. Their wines are all vegan and vegetarian friendly, no animal products are used.
For the creation of the finest meals, like those served at Hilton's Chambers Bar and Grill, the highest quality ingredients are needed. Likewise, cultivating and sourcing Australia's highest quality grapes has always been at the heart of Yalumba's winemaking. The next time you have something to celebrate, a bottle of one of Yalumba's finest drops should form the centrepiece. Although it may prove difficult to get your hands on, procuring a bottle of The Caley, or any other of Yalumba's rare and fine wines, will become the music you remember the moment through.
Read about Chambers Grill regular menu here.
Chambers Grill
Hilton Kuala Lumpur at KL Sentral
3 Jalan Stesen Sentral
Kuala Lumpur 50470
Malaysia
+6 03 2264 2264
[email protected]
http://life.hiltonkl.com/Restaurants/Chambers-Grill/