Words: Patricia Podorsek         Photos: Monica Tindall
Relentless nomad that I am, it is never a problem for me to toss a toothbrush and a change of clothes into a bag and head off for some crazy adventure. Long hikes, palm-lined beaches, gritty markets… I applaud every new turn in geography. So imagine my surprise when I found myself on a whirlwind tour right here in KL, not one that involved a train, bus or plane, but one that transported me to the cutting edge of cuisine in KL. No suitcase required, just a trip to Mr. Chew's Chino Latino Bar.
Recently opened, Mr. Chew's Chino Latino Bar has already made a splash in the KL scene. The brainchild of the same folks who brought us Troika Sky Dining, Mr Chew's is more than just a bar: It is a destination into fusion and fashion.
Let's take a tour.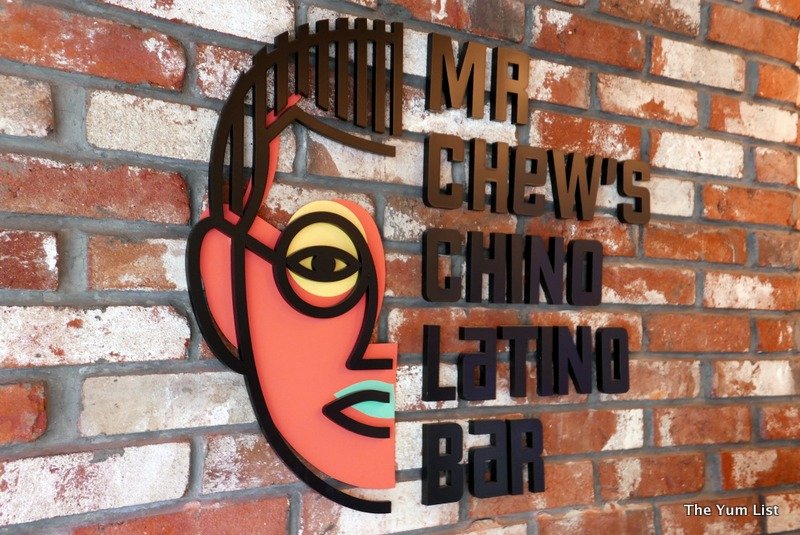 When the elevator drops you at the penthouse of the WOLO hotel, you shed the dust and clamor of Bukit Bintang and step into a chic loft, embraced by hot pinks and bold blues, Chinese silk and beveled glass. Rich multi-colored woods adorn cozy and colorful enclaves, intimate corners for cocktails and conversation.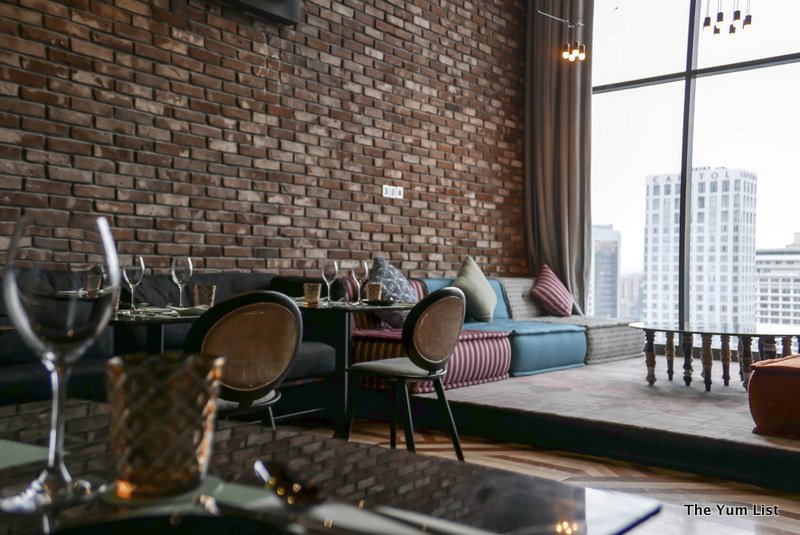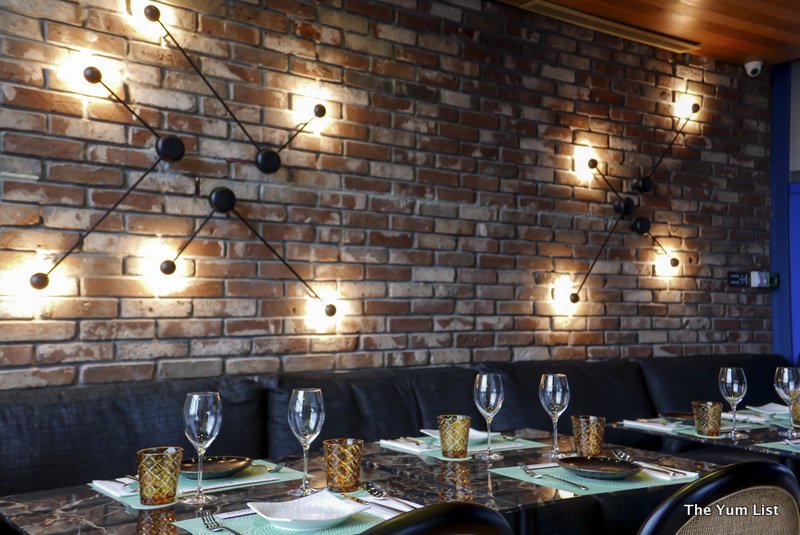 Stop #1: Mr. Chew's Chino Latino Bar
"Just torching the kumquat," were the words that greeted us as we sidled up to the bar, nestled under a giant portrait of a Chinese woman and her pet flamingo. The bartender Alex, (aka Long Daddy) was busy preparing the garnish for one on the many alluring cocktails on the menu. Other accoutrements – from vanilla pods to pink peppercorns – are arrayed in sixteen capped jars behind the bar and give you a snapshot of the foray into creative mixology.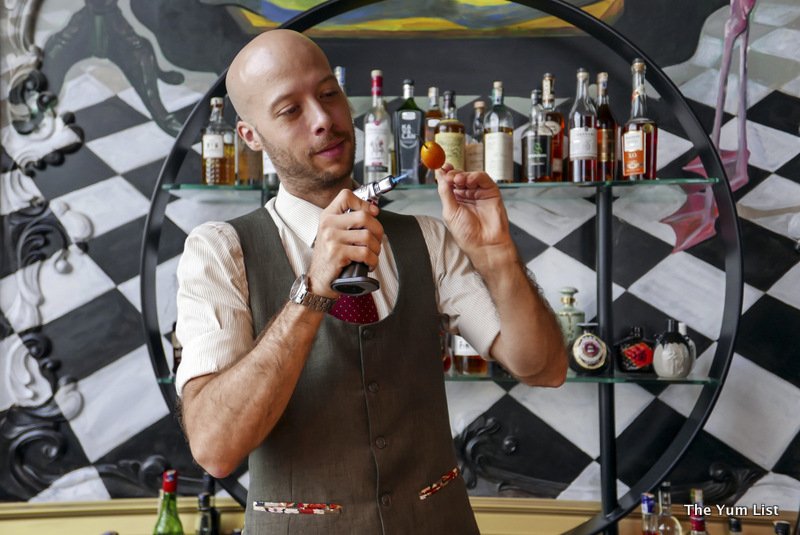 With a hot day still clinging to our tongues, we started with Mr. Chew's 'Take-Away' Gin and Tonic (RM42). Served in a paper carton, this zesty drink mixes a good pour of peppery Opihr gin with Aegean tonic and thin slices of guava. I'm pretty sure it is the only one like it in the city.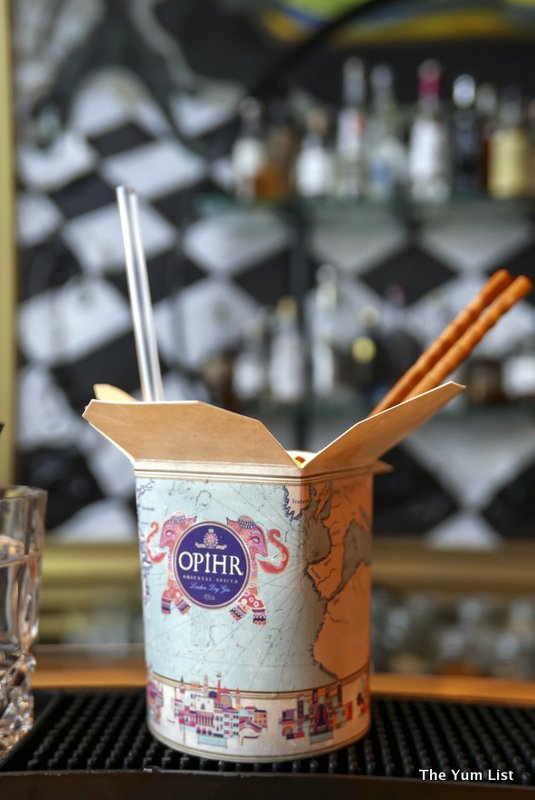 We followed with Spring Morning in la Casa (RM50), bubbles sweetened with a raspberry and chile shrub. The little kick at the end will keep you moving through the glass.
Nibblers may enjoy a selection of Asian pickles, any three from an assortment of pumpkin, young papaya, baby mushrooms and other fungi.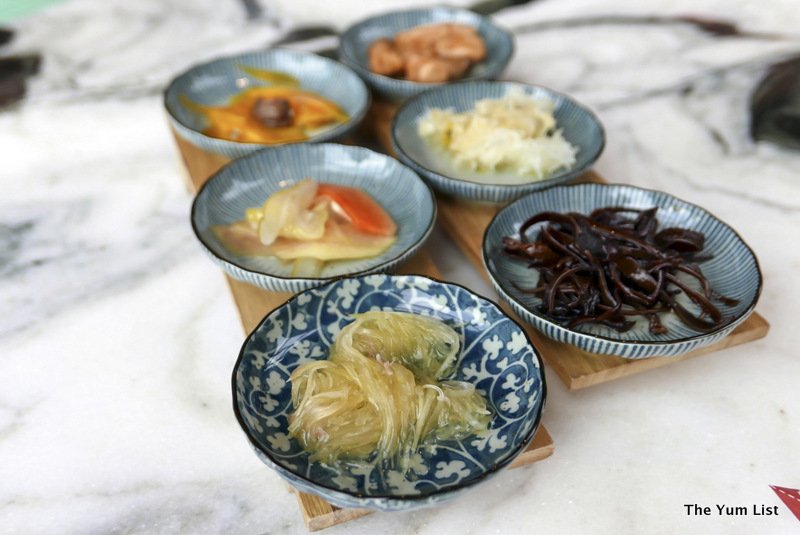 Stop#2: Salads and Raw Things
A place that revels in whimsical details, the 'greeter' as we moved on to the dining room was a set of chopsticks that came in a package that can be folded into a rest. We laughed trying to figure out who could screw up the directions first. Blue ribbon right here!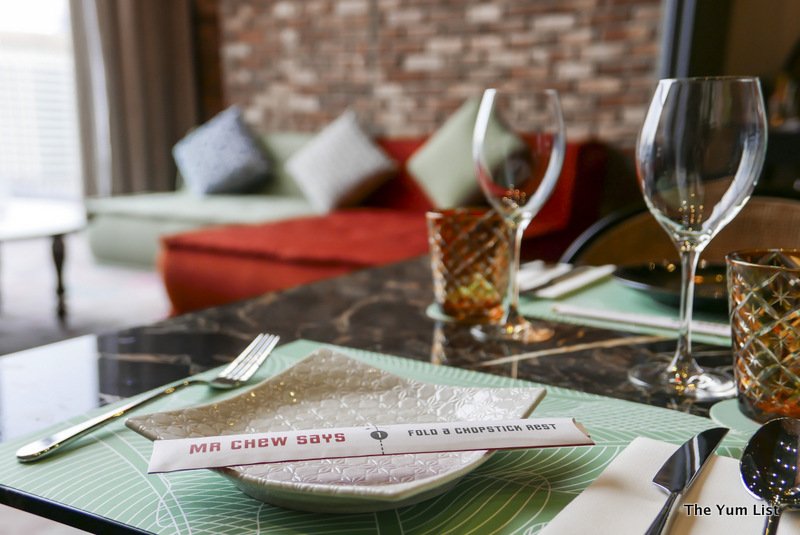 These very chopsticks came in handy for the number of small plates available for this part of our journey. The Salmon Ceviche (RM48) is an artful flower of thin sliced sashimi sprinkled with sesame, yuzu pearls and spring onion threads.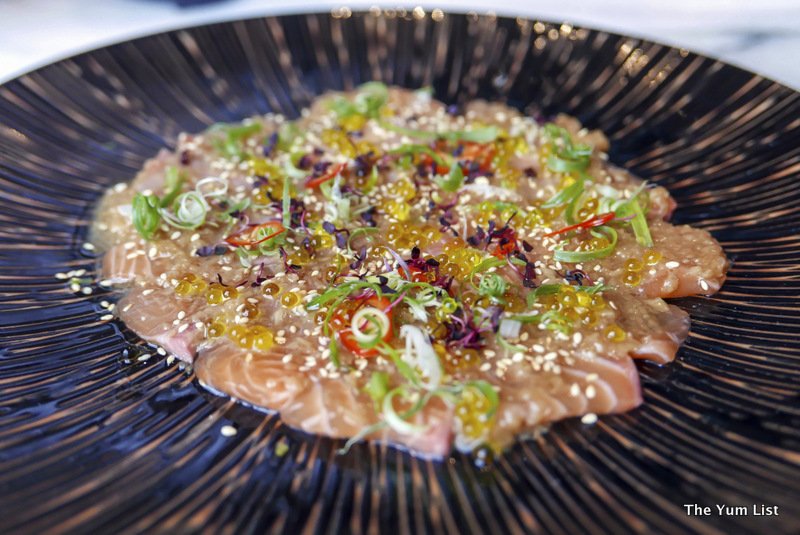 The Torched Wagyu Beef (RM75) serves very rare tenderloin with julienned sweet burdock. The dressing lingers with soy and pops with sesame.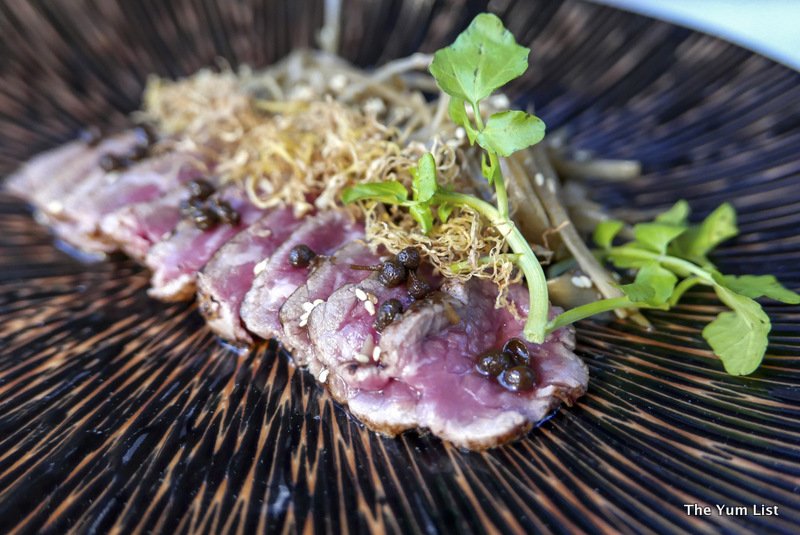 Mr Chew's Spicy Thai Fruit and Vegetable Salad (RM28) lives up to its name. Even by Asian standards, it is really spicy! The dressing adds tang, the peanuts add crunch, and small dried shrimp give it a kiss from the sea.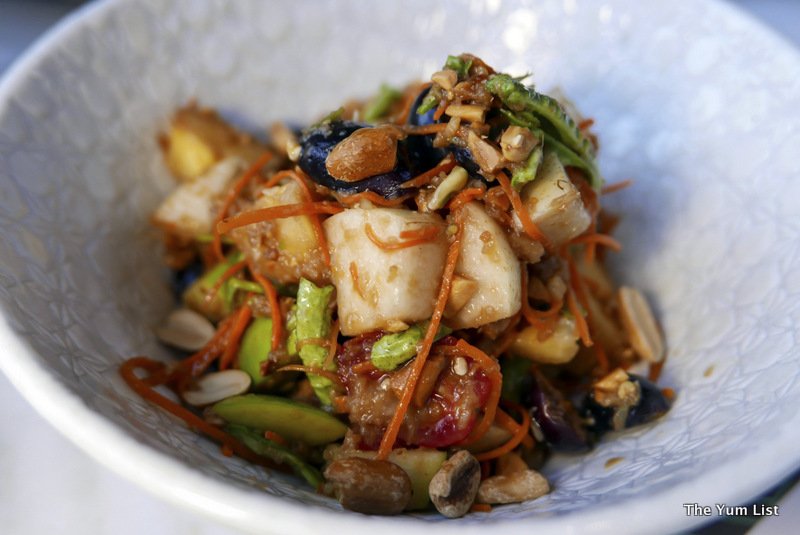 Most festive is the Everyday Yee Sang (RM32). Tossed at the table, with a bit of half-seared mackerel and dried seaweed for something new and different, this noodle dish is a fresh turn on an old favorite.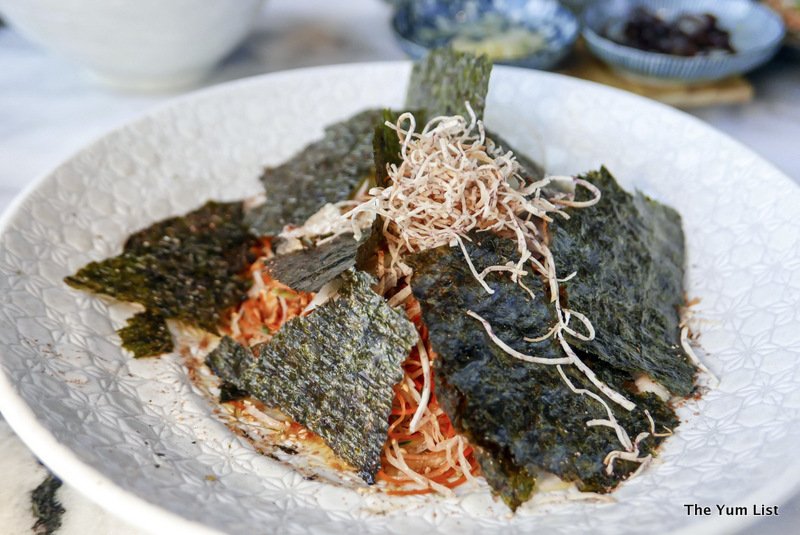 Stop #3: Small Plates
Moving along on our tour of the menu, our next station featured Century Egg Somen (RM18). Terrific texture on the noodles accentuates the egg, spicy tofu, and little bits of roe.
The Nori Tacos (RM28) are truly the Eiffel Tower of this stop. A signature item, this is the dish people return for again and again. Nori sheets are given a light tempura batter and stuffed with rice, fish, scallions and other sushi goodness for crispy perfection in a cute package.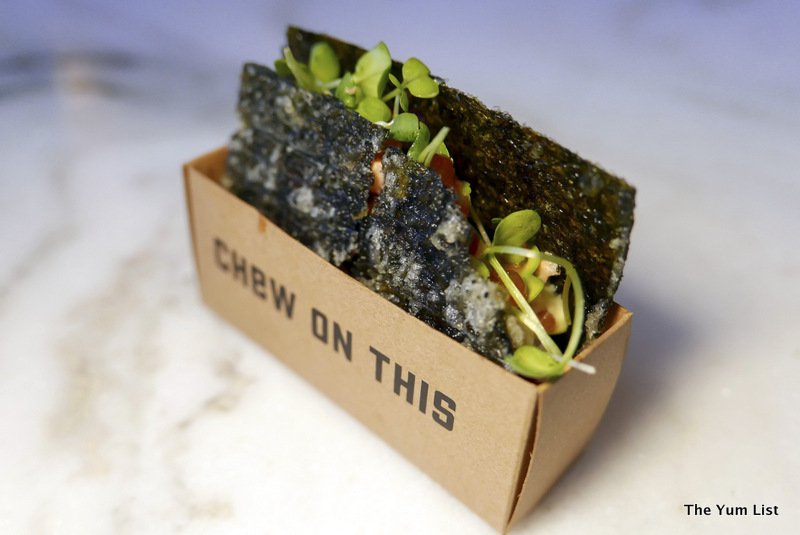 Stop #4: Rolls, Buns and Dumplings
Our culinary train moved on to a sandwich stop, but visitors can expect much more than your basic bahn mi in this location. The Softshell Crab Pancake (RM38) melds crispy seafood with zesty avocado and nori strips in a tight little package.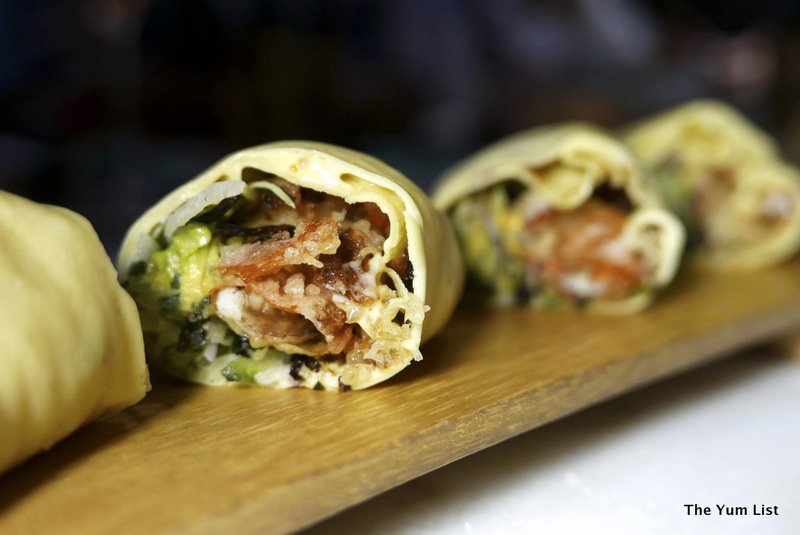 Another landmark, the wonderfully meaty Catfish Char Siew (RM20) stuffs barbecued fish with fresh green papaya salad and a sweet and tangy sauce into a soft bun with a crispy exterior. This Asian slider is not a monument to miss at Mr. Chew's Chino Latino Bar.
Stop #5: Fried Stuff
You might think we'd be road-weary by this point in the trip, but the soft pillows in the Salt and Pepper Prawn Tofu (RM36) were a terrific resting place.  Silky tofu is fried in the classic peppery batter and topped with papaya salsa. With both Chino and Latino elements, this is the dish that really lives into the spirit of the restaurant's name.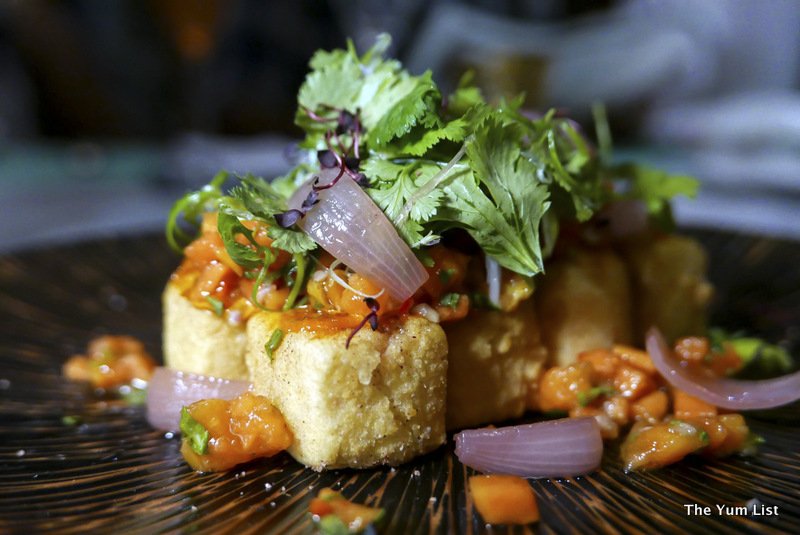 Stop #6: Bigger Things
Intrepid types love the thought of 'bigger and better things' so we were happy to arrive at this next stop on the menu. The Stewed Lamb Ribs (RM110) may arrive to the table slow-cooked in cast iron, but the tableside flambe is what sears the memory! Arborio rice in master stock add a creaminess to the gravy and edamame brings a splash of color and crunch.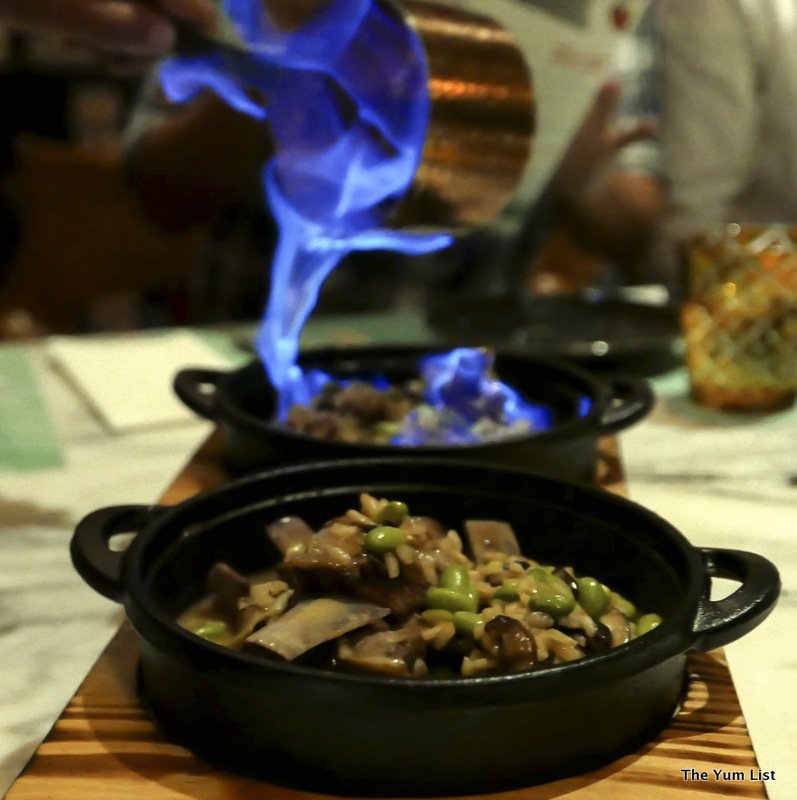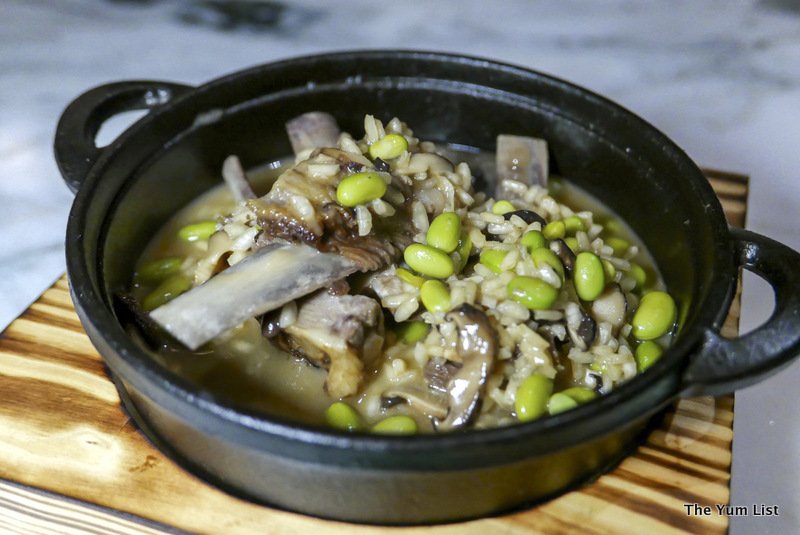 Best view on our trip goes to the Pan-Seared Barramundi (RM75). Crispy-skinned fish floats on spicy laksa and is capped with avocado salsa. Stunning and delicious.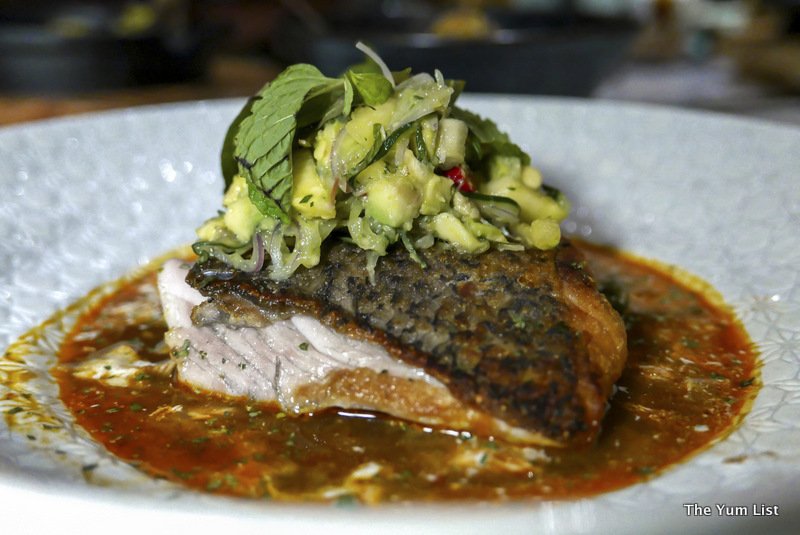 Stop #7: Sides
Cruising right along, Mr. Chew's Special Fried Rice (RM25) blends five types of rice with corn, asparagus and other vegetables. The combination of fragrant, black, brown, red, and basmati rice offers a well-scented side dish with a refined texture.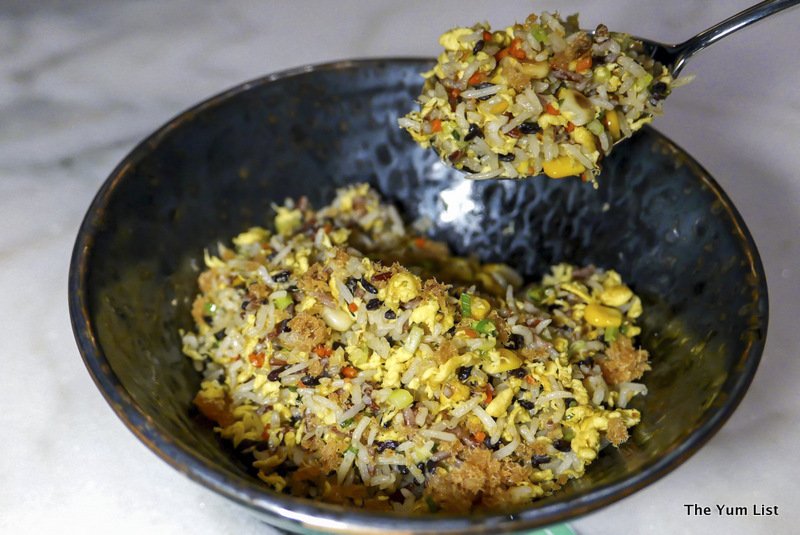 Wok-roasted Sweetcorn Kernels (RM25) serves small-farm bi-colored corn from Cameron HIghlands with butter, onions, and a little lemon for a fresh farm-to-table treat.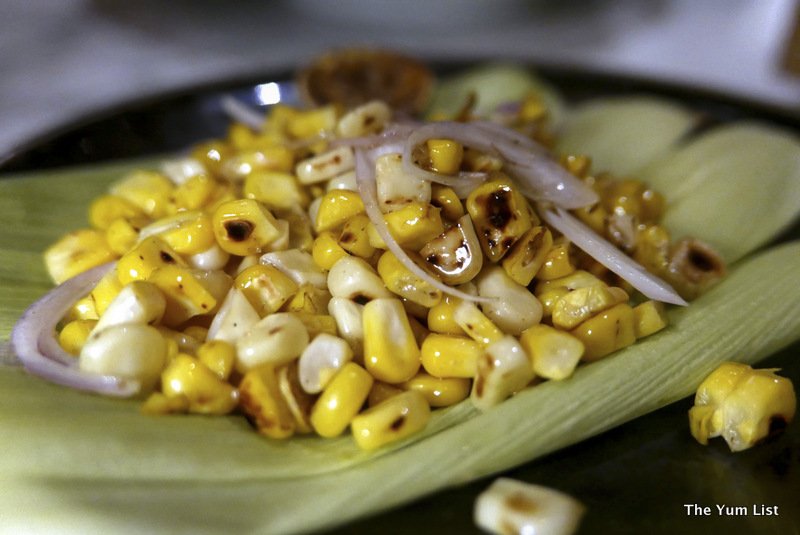 Stop #8: The Dessert
Arriving at dessert at Mr. Chew's Chino Latino Bar, you feel as if you've been transported to several places at once. The Banana Burrito (RM35) turns an thick crepe into a wrap for tonka bean ice cream, shaved gula Melaka, coconut and fried banana all laced with cinnamon for a multicultural bombshell.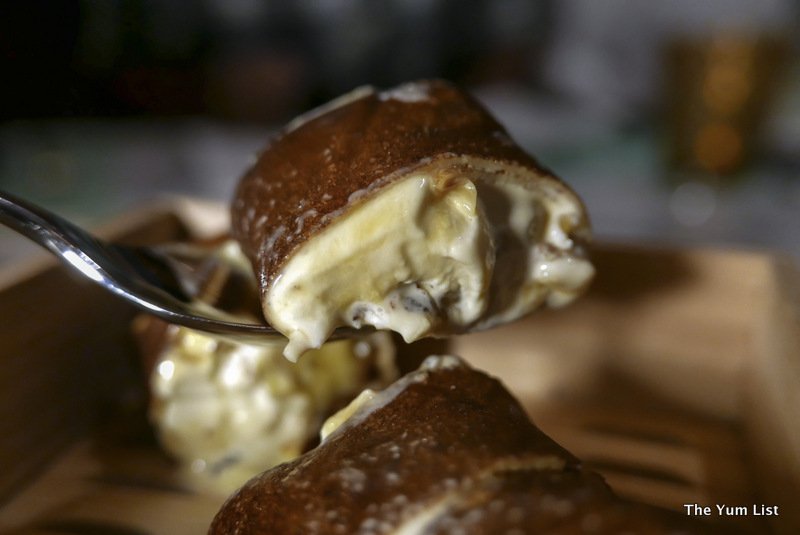 With similar fusion, the Mint Ice Kacang (RM35) drapes shaved mint ice with mascarpone and crowns it with almonds and dainty financier.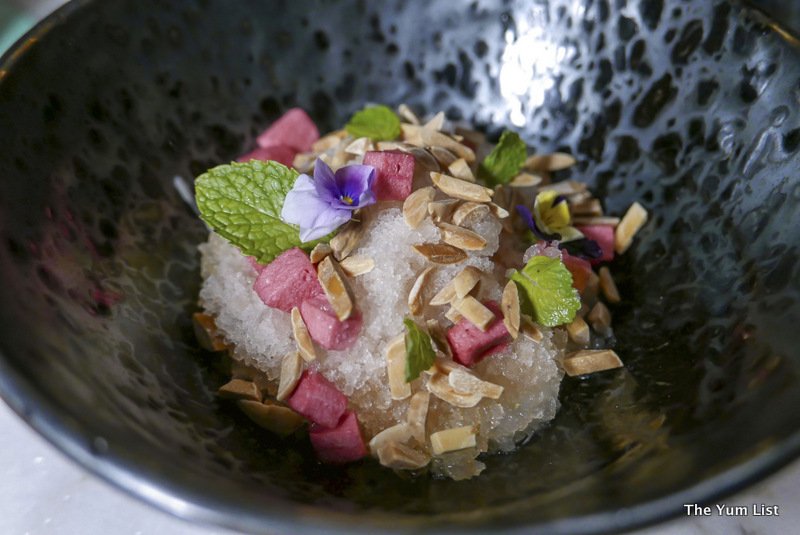 Stop #8a: The Dessert Bar at Mr. Chew's Chino Latino Bar
If you are someone who prefers to parachute right into dessert without the tangle of a full meal. Mr. Chew's Dessert Degustation might be the experience for you. Sitting at a special dessert counter, guests can enjoy six desserts with six paired cocktails for RM95. Non-drinkers can opt for tea at RM60. The Dessert Bar is open daily from 6:00 pm – 10:30 pm.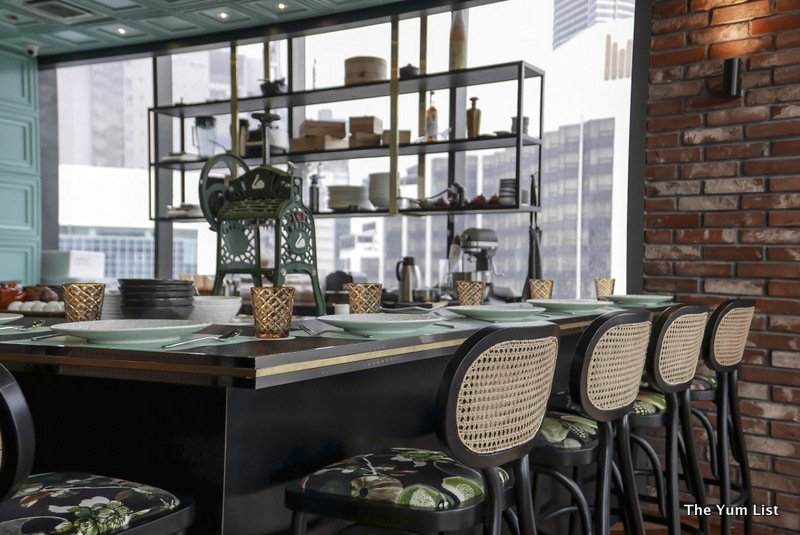 Stop #9: The Bar (Reprise)
Armed with a round trip ticket, we returned to our "home" at the bar. We found a terrific digestive in the Ancient Fashion (RM50), Akashi White Oak blended whiskey shaken over ice with 5-spice syrup, and ginger-cherry bitters. The flowered ice cube holds both the temperature and subtle sweetness in tact.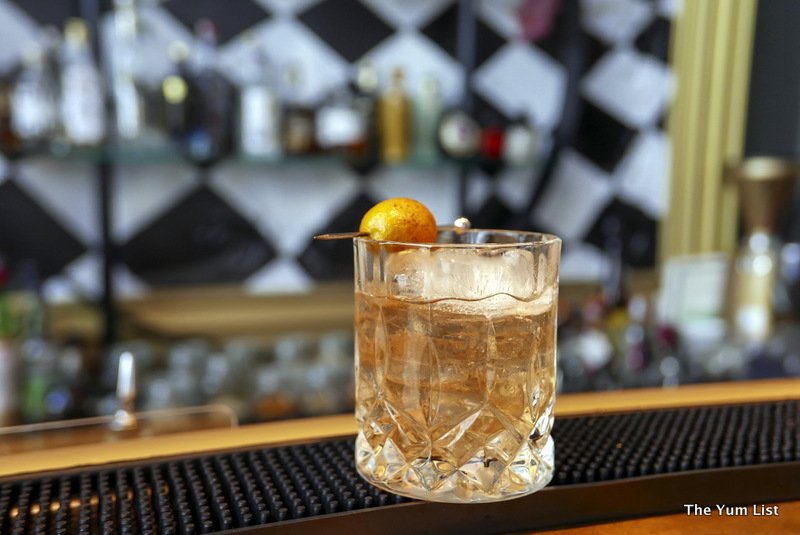 A sweeter night cap can be found in the fruity Jiangxi Fresca (RM38). Here the flavors of pineapple, lime and passion fruit are blended with rice-infused vodka that carries hints of vanilla at the finish.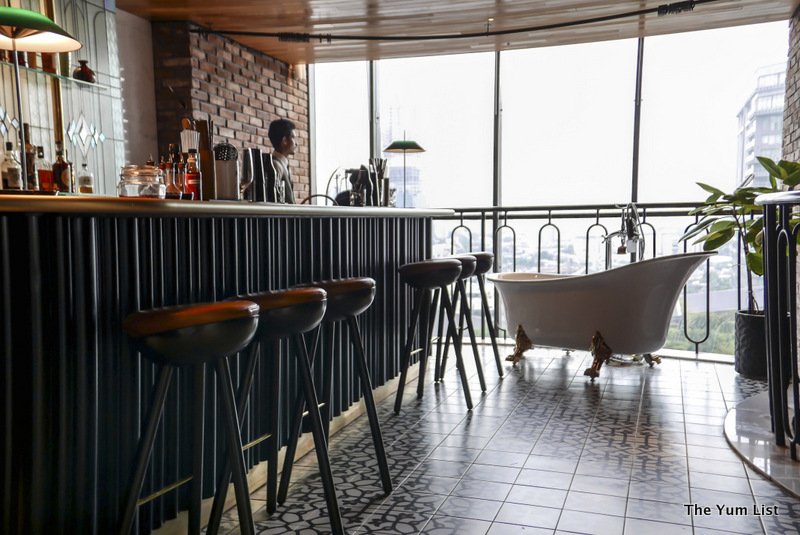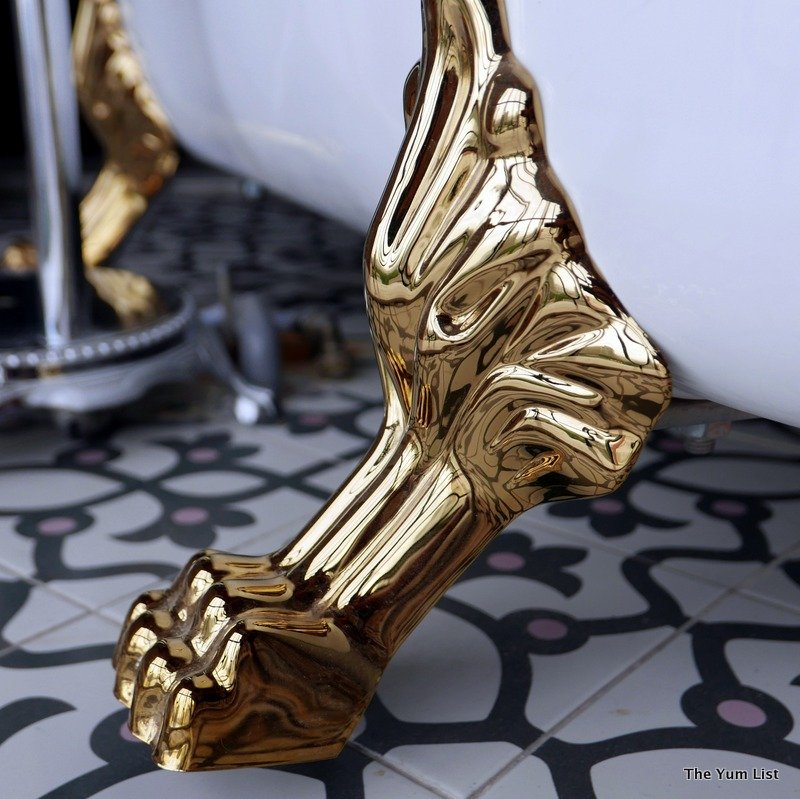 Armed with plenty of memories and savory souvenirs, we made the trip back down the elevator for the ride home. Food travellers will delight in the variety of experiences offered by a trip to Mr Chew's. Don't leave your palate passport at home.
Mr. Chew's Chino Latino Bar is open daily from 5:00 pm – 1:00 am. Dinner service from 6:00 pm, with the last order taken at 10:30 pm. Reservations are highly recommended.
Reason to visit: Descend to the cutting edge of fusion cuisine, from nori tacos to tofu with papaya salsa.
Mr Chew's Chino Latino Bar
The Penthouse, Wolo Hotel
Corner of Jalan Bukit Bintang and Jalan Sultan Ismail
Bukit Bintang, 55100 Kuala Lumpur
+60 3 4065 0168
www.mr-chew.com