Words: Louise Miller     Photos: Monica Tindall
* Since writing this article, Neroteca has changed names to Enoteca.
A friend recently asked me if I were restricted to eat from only one cuisine for the rest of my life, what it would be. For someone who usually deliberates far longer than most over food matters, I surprised even myself at how quickly I blurted with utter conviction 'Italian, every time'. It's not just the freshness and simplicity that I love about authentic Italian fare: it's the variety of textures and robust flavours, the healthy options alongside the ultra-decadent, the plethora of vegetables and herbs, meat, seafood or comforting carb-laden dishes.
I was, therefore, only too happy to sample the menu at Neroteca, Plaza Damansara's neighbourhood Italian eatery whose inviting atmospheric dining room, enticingly lined with wine bottles and verdant foliage promised a convivial evening ahead.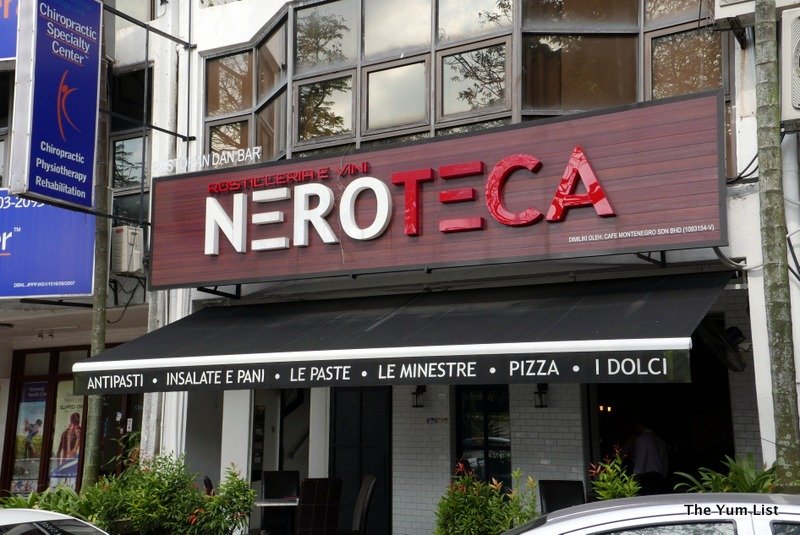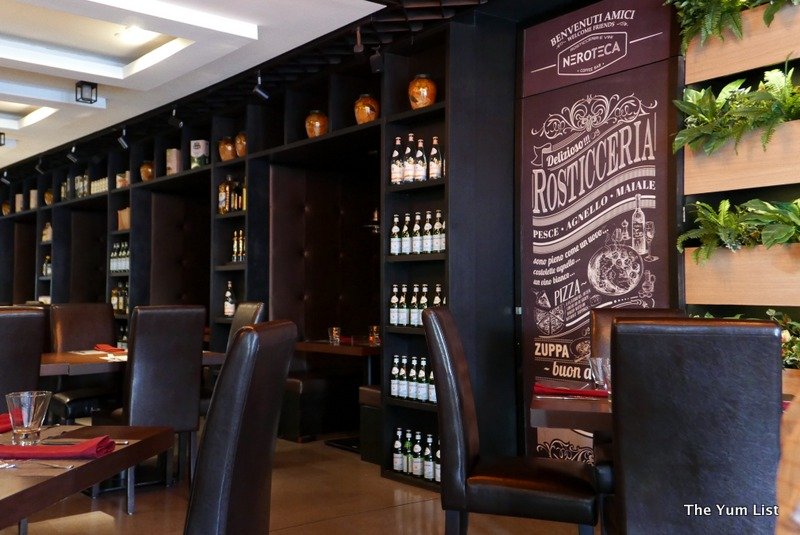 We began our grazing with a staple: the Caprese di Bufala & Crudo (RM38) epitomised the salad's iconic flavour triad of creamy buffalo mozzarella, carefully sourced juicy tomatoes with fragrant basil. Drizzled with extra virgin olive oil and topped with fresh salad leaves, this was a delicious way to kick off proceedings.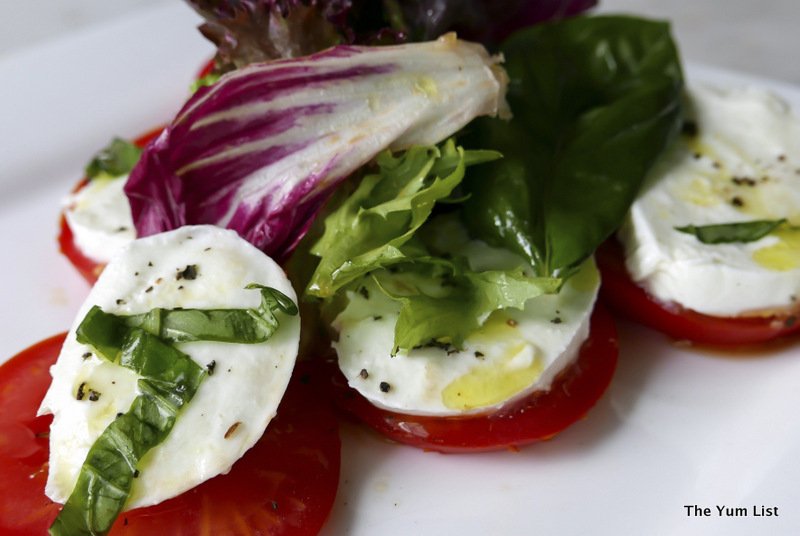 Another vegetarian choice followed: the Melanzane & Zucchine alla Parmigiana (RM39) was ingeniously served in a flaky filo basket, the succulent layers of aubergine and courgette topped with tomato sauce, mozzarella and parmesan which had been baked until golden brown and were rich in delicious vegetable goodness.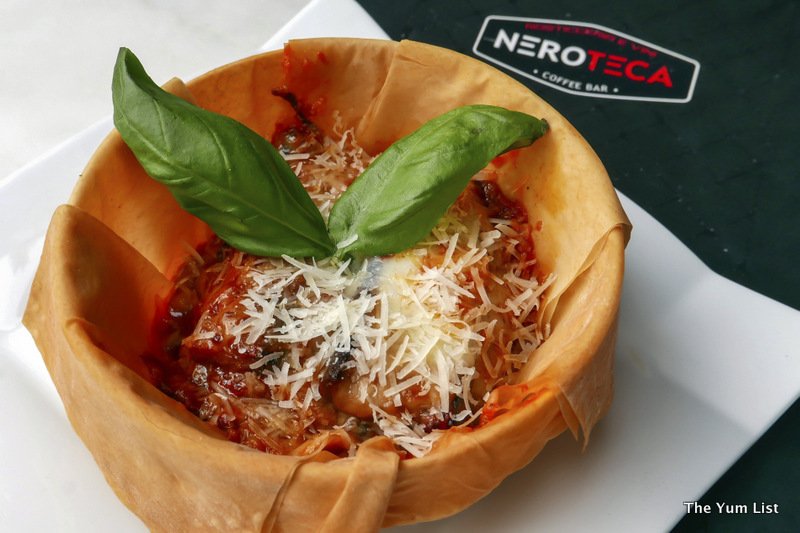 We sampled a couple of classic cocktails with our starters. The Classic Bellini (RM41), a blend of prosecco with white peach purée, was fresh and fruity and the Negroni (RM41), a combination of gin, Vermouth, Campari with an orange twist, was more complex and equally satisfying.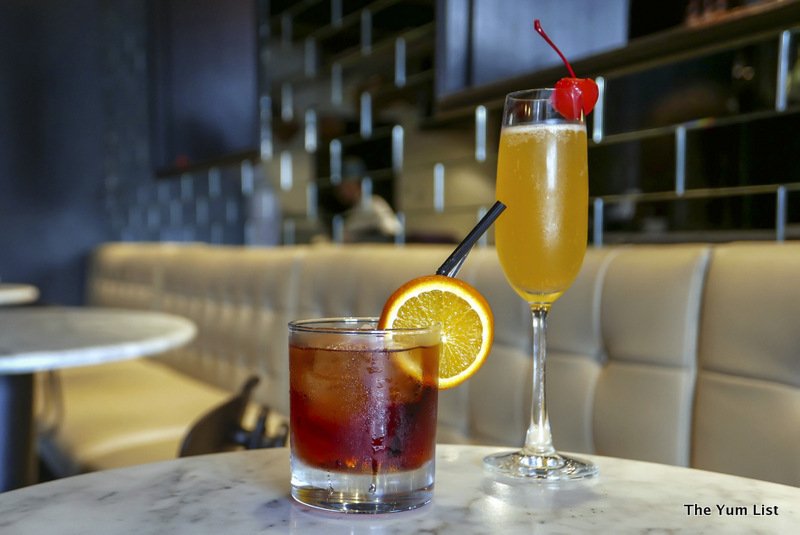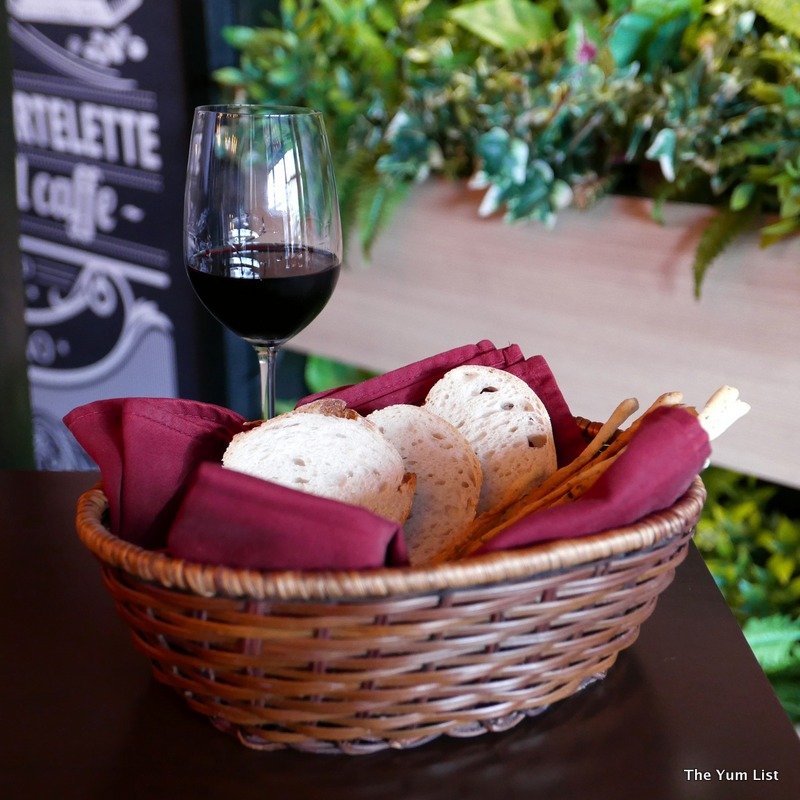 One of my all time favourites was served next. I had high hopes for the Spaghetti alla Pescatora (RM48) and it didn't disappoint! Fresh mussels, prawns, squid and Barramundi were all entrapped in a tangle of pasta with a gently spiced tomato sauce, each mouthful offering a succulent bite of fish wrapped in spaghetti all lifted by the sauce's subtle chilli heat.
The name of the second pasta dish had us a little confused for while. Chitarra alla Montanara (RM48) or 'mountain guitar' had us looking for something vaguely guitar-shaped amongst the spaghetti with porcini mushrooms and chunky homemade Italian sausages in brown sauce. None of us voiced this confusion for a while as we were far too distracted by the tastiness of this hearty dish which was yet further enhanced by a drizzle of truffle oil. It was only when we were shown the little contraption with which the fresh pasta is made on the premises that all became clear. The chitarra making device was a wooden frame across which were pulled taut wires and did indeed resemble a guitar – mystery solved!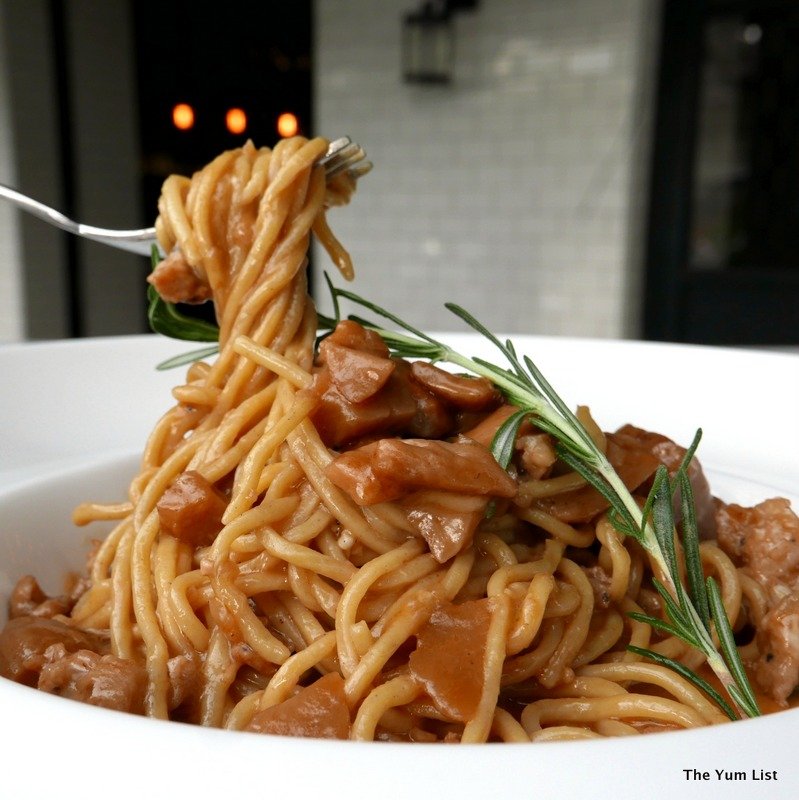 The cocktails now long sipped, we turned to Neroteca's extensive wine list and selected the house pour  2014 Riff Pinot Grigio to accompany the fish course. Great value for money at (RM25, RM55 and RM125 per glass, carafe and bottle) this was soft on the palate with gentle fruit flavours including notes of green apple, citrus fruit and honey.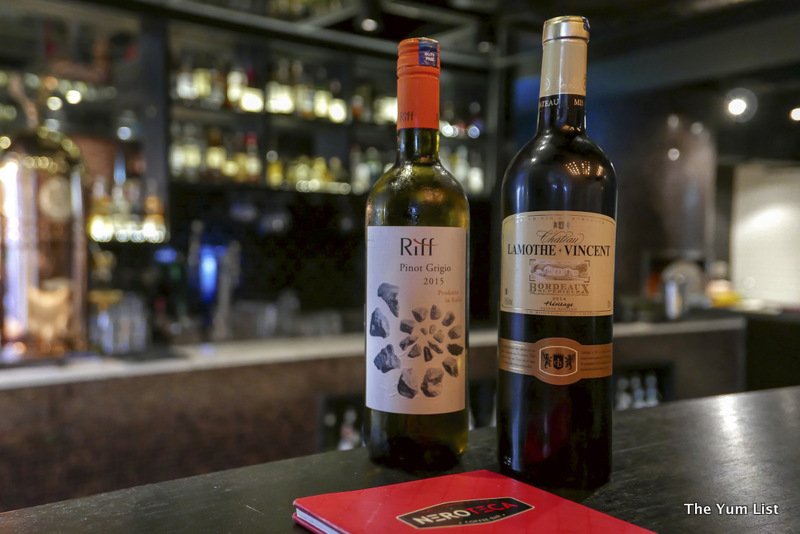 The said fish course, Cartoccio Di Branzino (RM68), was presented as the name suggests, in a paper parcel, and thus instilled the added anticipation akin to unwrapping a present. The seabass was perfectly moist having been infused with lemon and Mediterranean spices and steamed inside the parcel alongside tomatoes, olives and capers –  a must for fish lovers.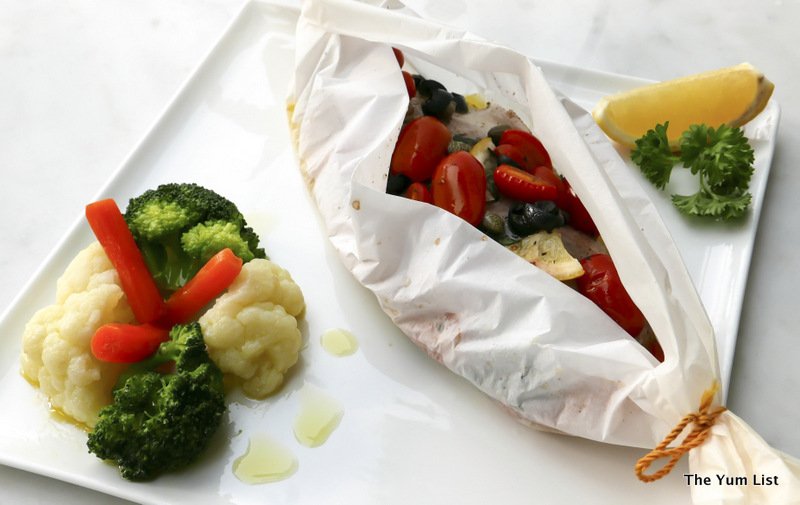 Neroteca caters equally well for carnivores as proven by our next and final savoury dish. Filetto Iberico in Crosta con Salsa Ai Porcini (RM72) was a real show stopper: succulent Spanish Iberico pork tenderloin was cooked to perfection inside a puff pastry casing and served with a toothsome porcini mushroom sauce steamed vegetables and roast potatoes.  Utterly delicious, hearty yet sophisticated – this was one of the meal's many highlights.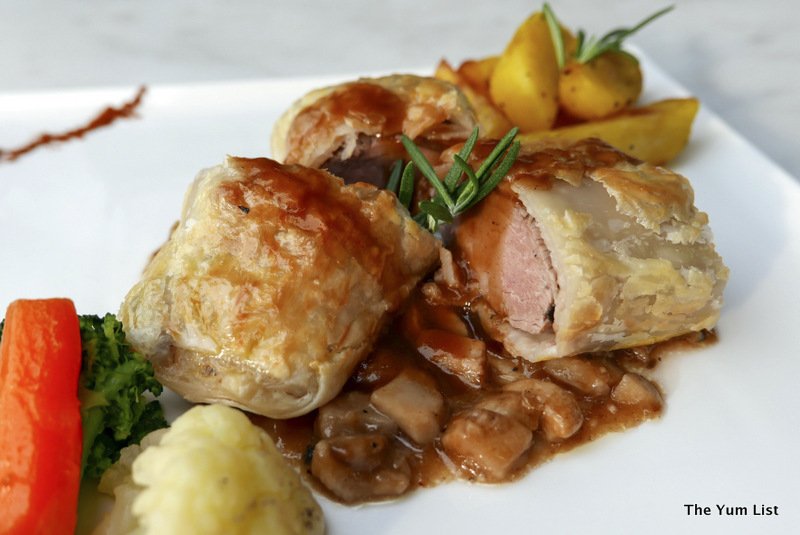 We paired the pork with a 2013 Château Lamothe Vincent Héritage AOC Bordeaux Supérieur (RM140). Full-bodied with spicy and toasted woody notes, it was a fitting partner for the meat and earthy mushroom flavours of the dish.
We concluded our feast with a couple of desserts: Tiramisu Classico (RM24) was an authentic rendition of this iconic dish, mascarpone topped the coffee and Grand Marnier infused ladies fingers to provide a creamy yet light treat for the meal's finale. The Sbrisolana was reminiscent of a cherry crumble, with its moist almond and fruity centre beneath a crunchy topping and drizzled with crema Inglese, this was comfort food at its best.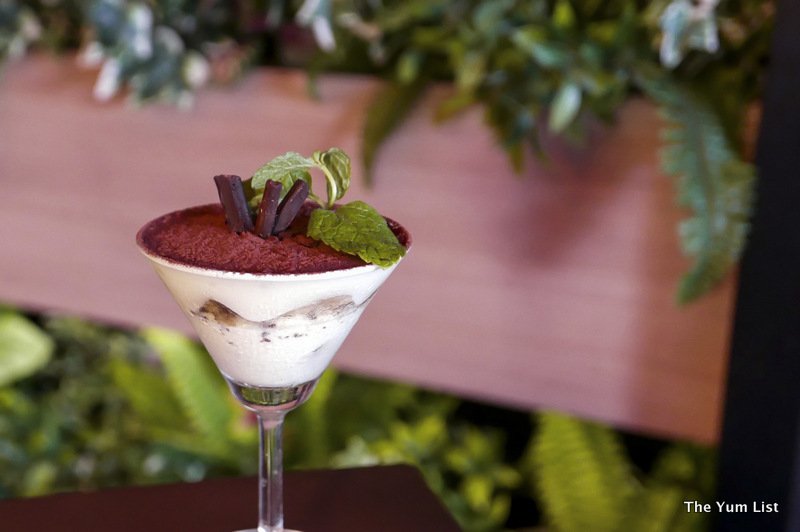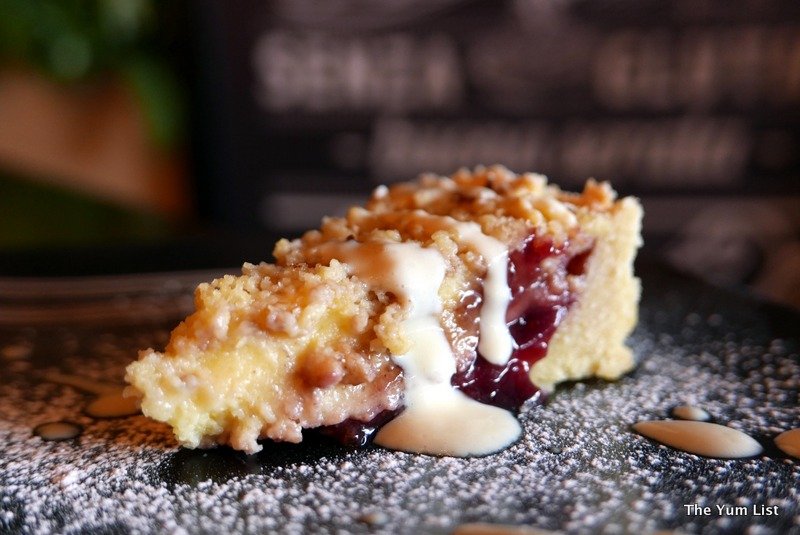 What Italian feast would be complete without a liqueur digestif? Certainly not this one! We were treated to Neroteca's homemade Limoncello. A super tasty product of a month's marination of lemon peel in alcohol before adding sugar and water, we savoured every delicious drop.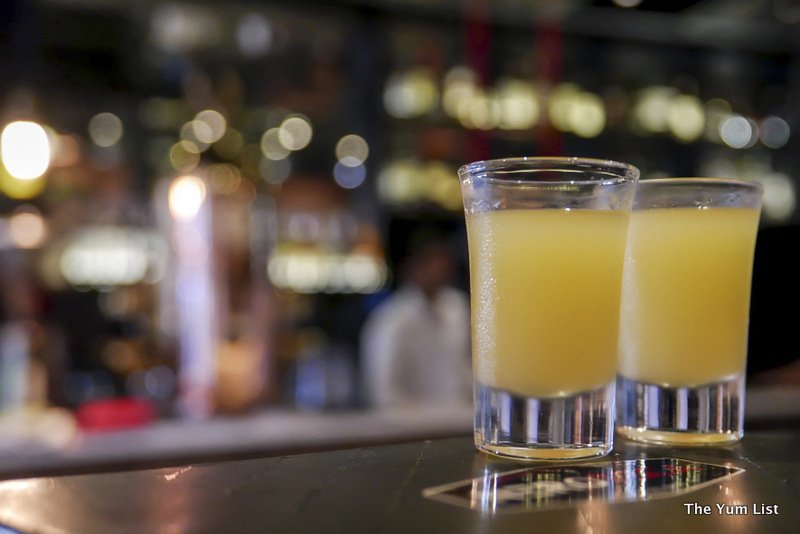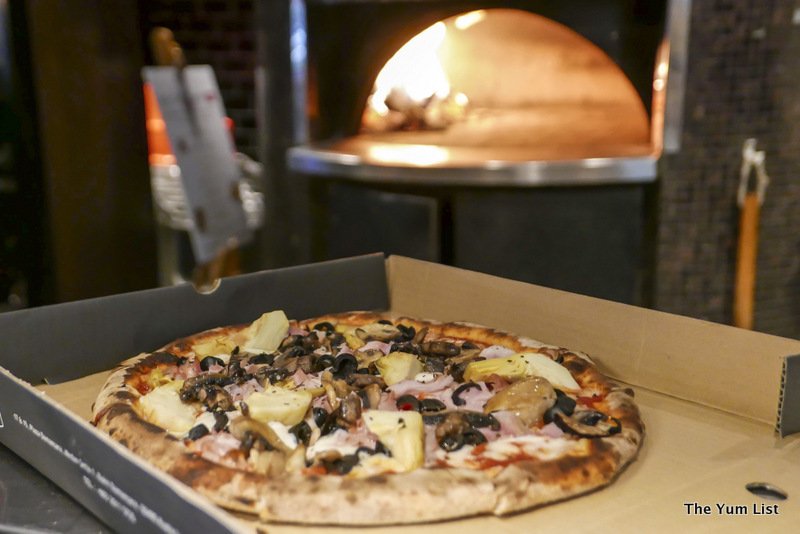 Reasons to visit: Spaghetti alla Pescatora, Chitarra alla Montanara, Filetto Iberico in Crosta con Salsa Ai Porcini, extensive wine list, lots of vegetarian options, great service and good value for money.
Neroteca Plaza Damansara
17 & 15, Plaza Damansara
Medan Setia 1, Bukit Damansara,
50490 Kuala Lumpur, Malaysia
www.neroteca.net
+603 2011 5725
[email protected]