Monica Tindall
I have to admit; Maldives wasn't the first place I thought of when considering high tea. It probably wasn't even the 20th spot that came to mind. But, the team at Taj Exotica Resort and Spa Maldives has promised to change my preconceptions.
Offering a Maldivian High Tea experience for two at the price of $80 USD, guests can partake in an afternoon tradition with a twist any afternoon between 4 pm and 6 pm. And, following our treat here, I recommend it as a highlight not to be missed!
Equator Bar
Just before our tea is due to begin we wait in the Equator Bar. Jazz music from a high-quality sound system fills the air with a gentle hum. It's the perfect volume: loud enough to create an uplifting ambience, but soft enough to allow the waves lapping the shore to be heard in the background. The bar has a classy lounge atmosphere. Its open walls and views to the sea, however, top any setting you could find in the city. Who needs air conditioning when you have an ocean draft to caress your skin?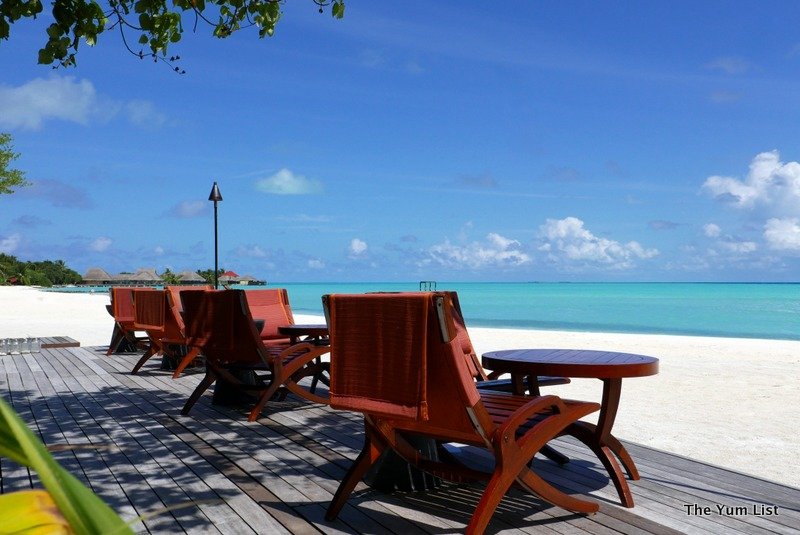 Dhoni and Maldivian Drums
The location for the actual high tea, however, is not inside The Equator Bar itself, but rather on the beach outside in a traditional Maldivian fishing boat, a dhoni, parked in the sand. We climb on board to the beats of the bodu beru (Maldivian drum) to cushioned and decorated seating that resembles a throne. In an almost tribal like ritual, we're regaled with a unique affair that will certainly be retained fondly in our memories for years to come.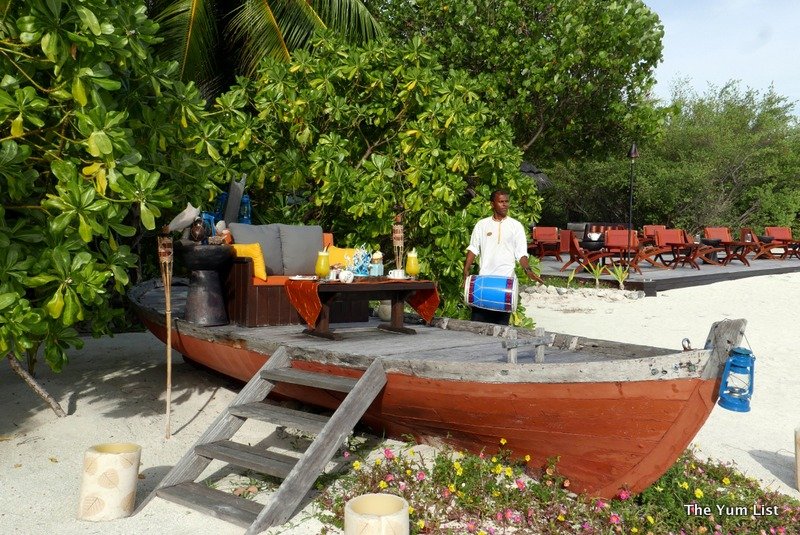 Maldivian High Tea
Beautifully plated on a polished slice of tree trunk, the set includes a fine spread of handcrafted local treats. Maldivian Yellowfin Tuna Puffs, Tarukaari Keemiya (fried crepe parcels with Maldivian vegetable compote); and Kukulhu Roshi Rolls (local griddle bread wraps with mildly spiced chicken and vegetables) provide a savoury base. Each is elegant and well balanced with a distinctive, but not overpowering, punch of the spice of choice, the Maldivian chilli.
Sweets are equally impressive and presented with artisanal skill. Hubby is particularly taken with the Dhonkeyo Boakiba, traditional banana cakes. Leaning more on the side of a mousse than a cake, they're rich and buttery and literally disappear in the mouth leaving the luscious taste of banana lingering in the palate. They're backed up with pineapple custard tarts, mango slices and Addu Bondi – a traditional Maldivian sweet made with coconut and treacle similar to sugary fudge in texture.
A high tea wouldn't be complete without scones, and the set here includes their own Maldivian version with cardamom seasoning and fresh mango crème fraise.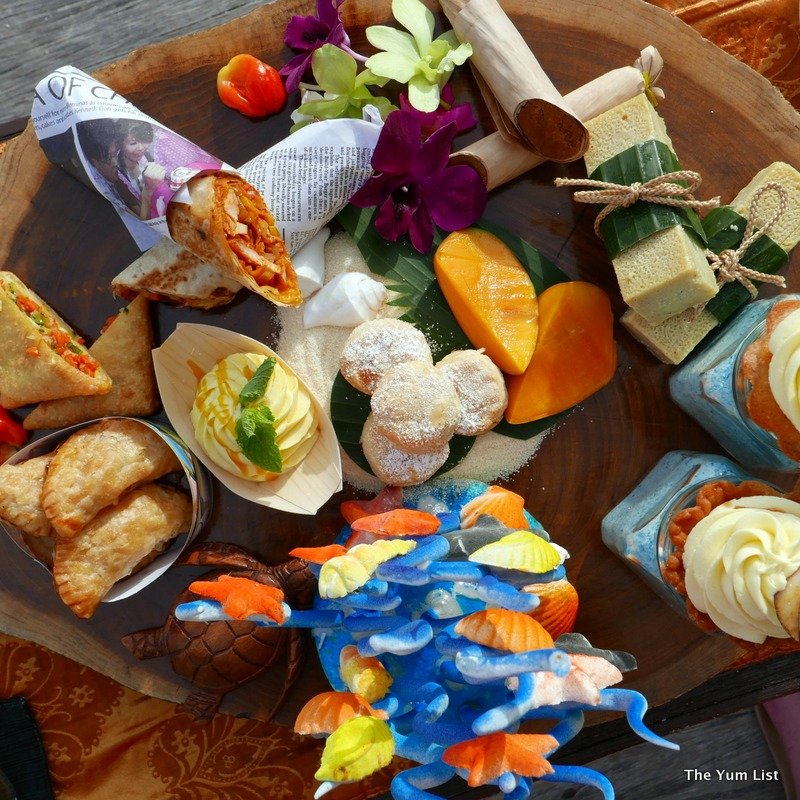 A choice of cold beverage – fresh coconut water, pineapple or mango juice – and a hot drink – Masala chai, Darjeeling tea or coffee – are included in the price. The high tea set can be made 100% vegetarian. Just remember to request this when you make your reservation.
Reasons to visit: The Maldivian High Tea – a unique and regal culinary experience.
Equator Bar
Taj Exotica Resort and Spa Maldives
Emboodhu Finolhu
South Male Atoll 02117, Maldives
+960 664-2200
https://taj.tajhotels.com/en-in/taj-exotica-maldives/