Monica Tindall
It would be an understatement to say that I have a hard time unwinding. I can't stay put long enough to make it through an entire movie without fiddling with something else at the same time: filing my nails, sewing on a button… I wake in the middle of the night with "ideas" for saving the world and promoting the greater good and have to scribble them down before nodding off again. Hubby jokes that even my reading habits are non-relaxing as I only choose non-fiction for fear of missing a moment to learn. You can only imagine the amount of stuff I get done on a long haul flight! The only place I truly relax is at the spa, and what a beautiful spa I've found to do that in at SUNDARI Ayurvedic Spa, Anantara Veli Maldives Resort.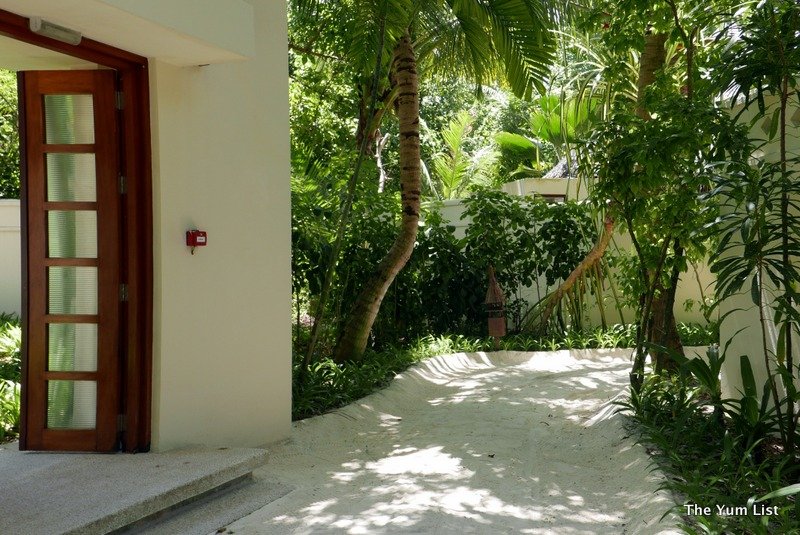 SUNDARI Ayurvedic Spa Setting
Five peaceful spa villas, with two dedicated to Ayurvedic therapies, offer complete privacy while still connecting to the outdoors. Glass-walled rooms look out onto lush tropical gardens and water features. Indoors have the luxury of ensuite bathrooms, deep bathtubs, lounges and two very comfortable therapy beds.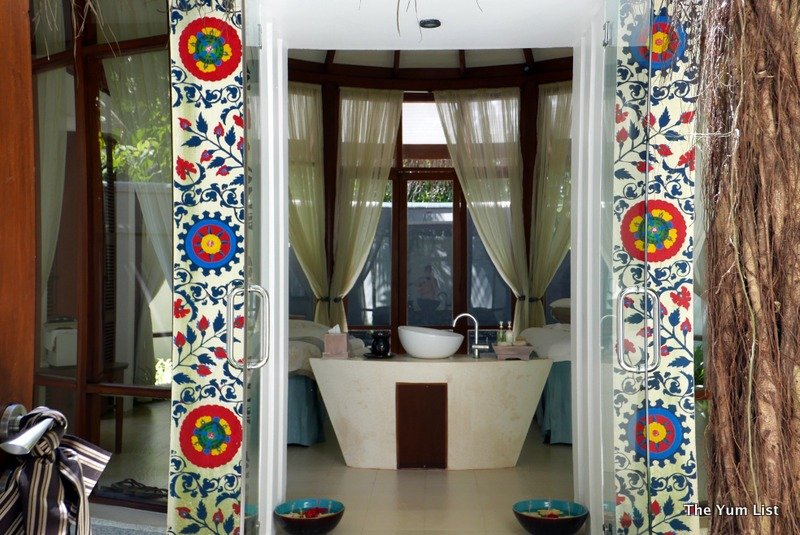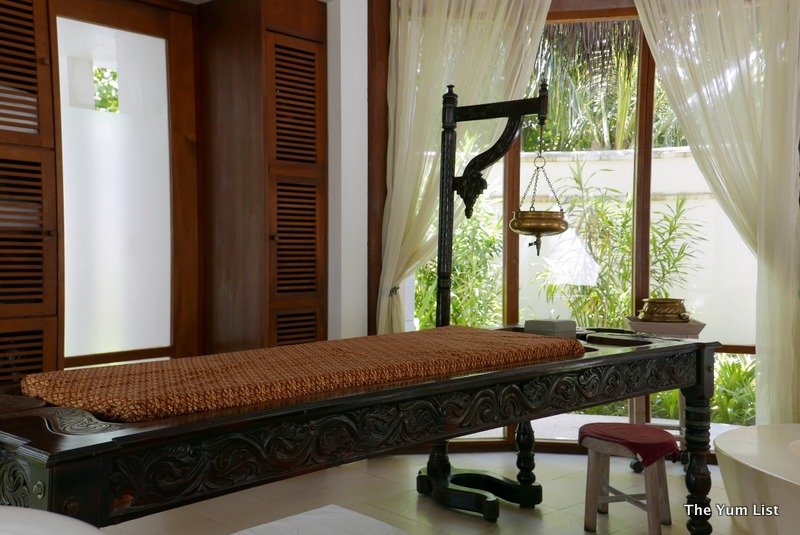 The Details
The details are all well taken care of: pre and post treatment tea and cold towels, mesh underwear, pre treatment foot washing ritual, cushions placed appropriately under joints to relieve tension on the back, high quality massage oils and natural spa products, trained therapists who check in on comfort levels including massage pressure, temperature and music. And, guests have a multiple playlist to choose from for background music. No one is forced to endure that repetitious Balinese ting ting ting that seems to have permeated spa culture.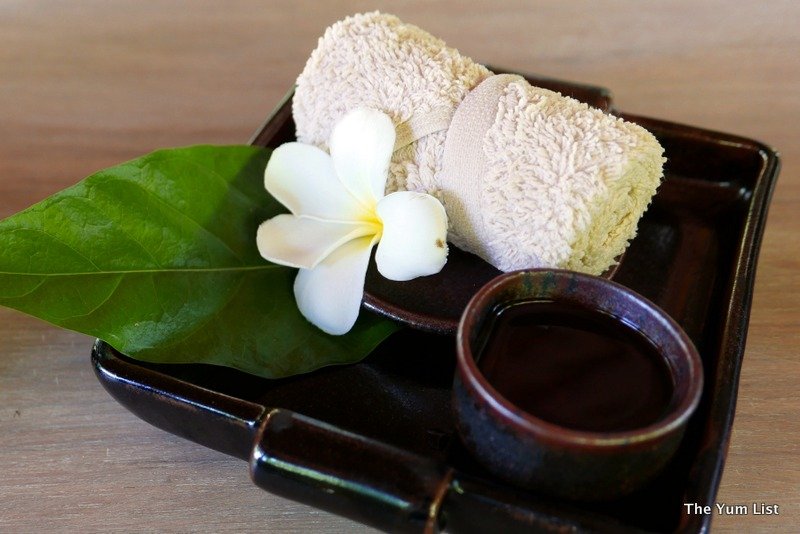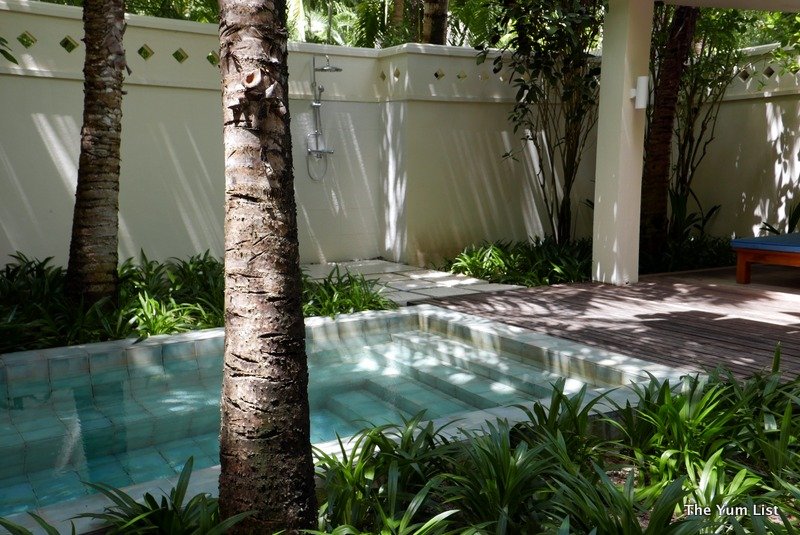 The Menu at SUNDARI Ayurvedic Spa
The spa menu is extensive with multiple pages of Ayurvedic specialties, massages and facials. The Ayurvedic treatments begin with an in-depth consultation with the on-site doctor before a wellness plan is proposed. This is a relatively quick visit for me though so I sign up for the signature massage and take some time before and after treatment to play around in the relaxation facilities. Hot and cold dipping pool, steam room, Jacuzzi and sauna are part of an indoor/ outdoor set-up.
Meridien Massage
The signature Meridien massage is carried out by expert hands stroking in symmetry: left and right hands working in unison. Palms and heels of hands as well as thumbs are primary forces. At one stage elbows are used to get at extra tight muscles, but this is quickly ceased upon my request. (I'm a bit of a fuss when it comes to massage and was happy to see the therapist quickly adapt to my preferences). The oil used was luxurious: silky and viscous with a mild pleasant scent.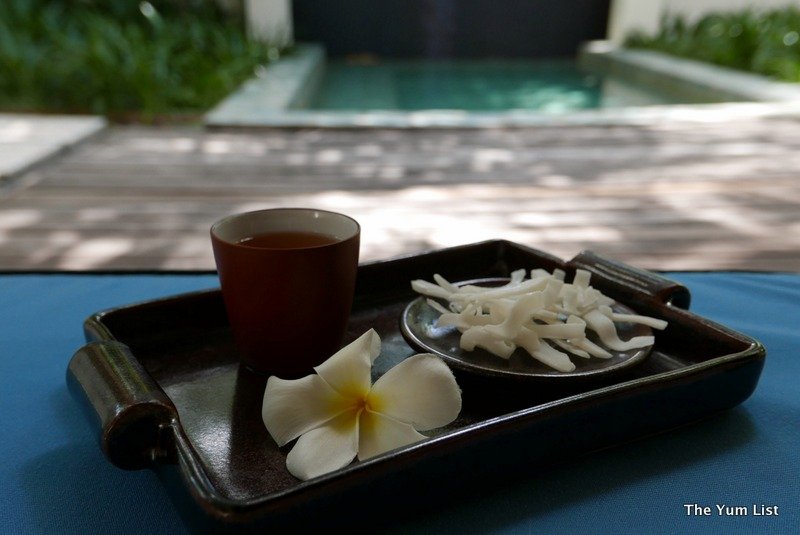 The complete experience at SUNDARI Ayurvedic Spa is top-notch and I hope to return to understand their holistic wellness menu further.
Reasons to visit: pretty garden setting, expert therapists, a holistic focus including Ayurvedic treatments.
SUNDARI Ayurvedic Spa
Anantara Veli Maldives Resort
Veligandu, South Male Atoll 20109
[email protected]
+960 (0)6 644 100
http://veli-maldives.anantara.com/