Words: Louise Miller    Photos: Monica Tindall
If you've never visited Sri Lanka, you may not know that in addition to its stunning beaches, green hilly tea plantations and wildlife reserves, it enjoys a cuisine of tantalising flavours whose specialities can rival its Indian neighbours. Monica and I were recently invited to A Li Yaa to experience a special dinner featuring some Sri Lankan highlights that Sommelier Dinesh Kumar had thoughtfully matched with wine from premium Chilean wine producer PengWine.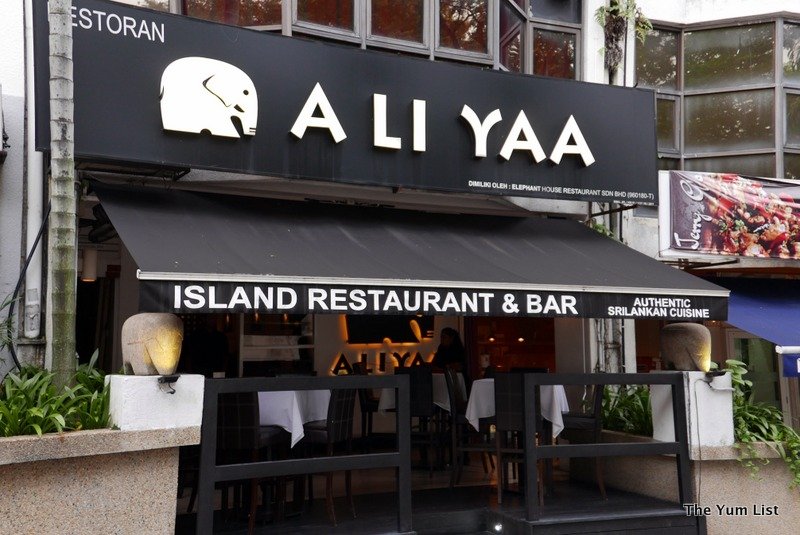 Within the modest shop front of this eatery lies a convivial setting and a stylish decor. Urban touches provided by the cement floor and bar are softened with cosy lighting and muted tones. We were swiftly ushered upstairs where the ambience feels more romantic: deep crimson drapes and a gallery of stunning photographs add splashes of vibrancy and warmth to the ambience.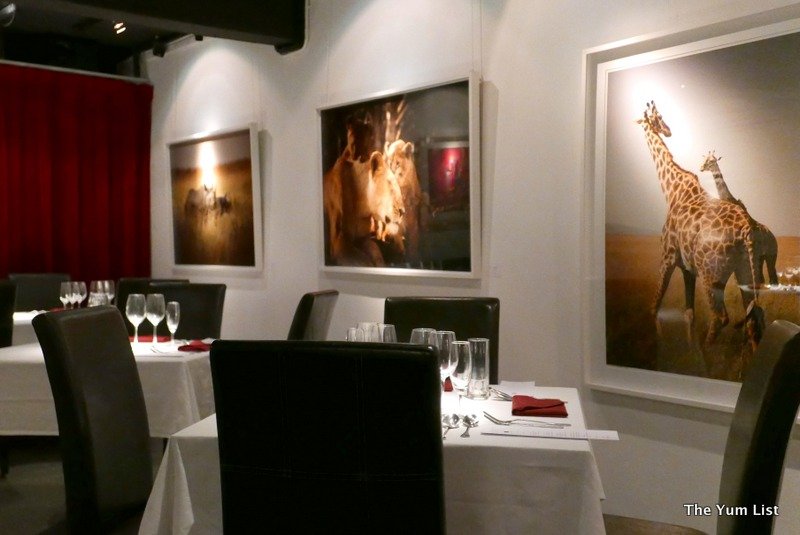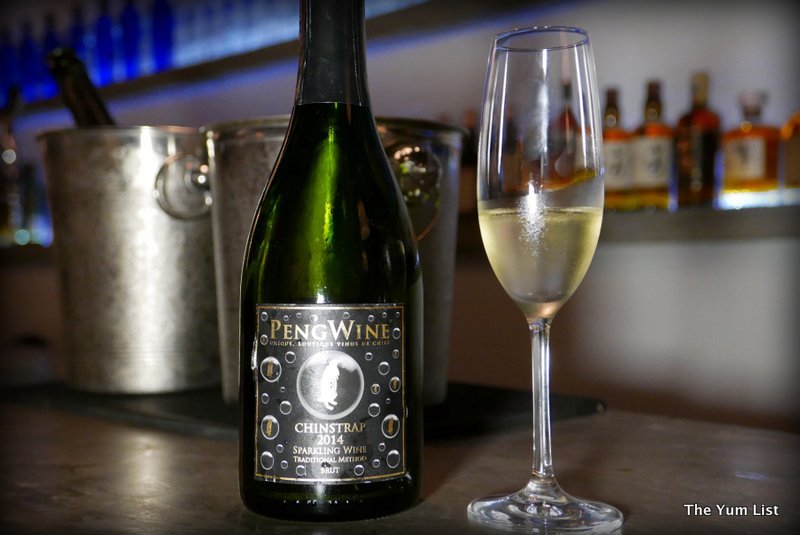 Amuse Bouche
The amuse-bouches that teased our taste buds came in the form of Fish Cutlet and Prawns in Poppadom. Both provided tasty and subtly spiced flavours that whetted our appetites further for the first course.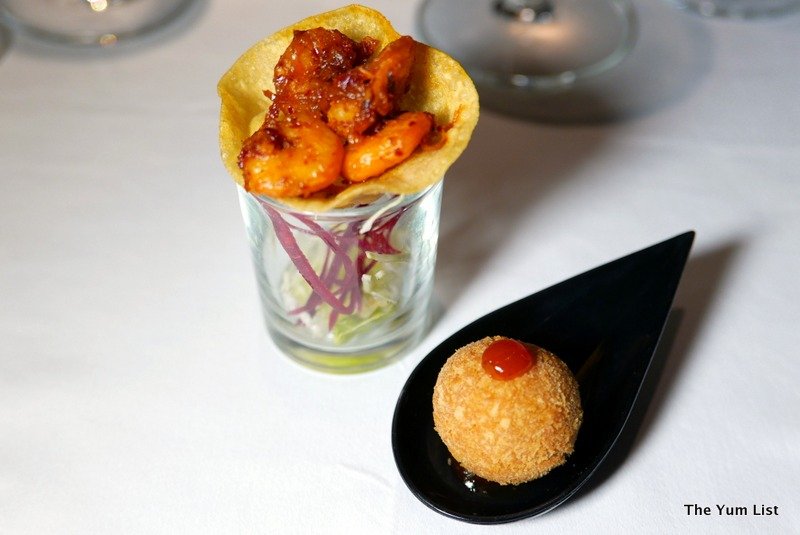 Appetisers at Aliyaa
Kiribath Cone Fish looked and tasted comfortingly familiar. Perhaps that was due to the parallels between this dish and local nasi lemak. The coconut milk infused rice and sambal are where the similarities end though. The Sri Lankan classic is served with flaked fish, yellow cream and a garnish of deep fried lotus root. This, like the amuse-bouches that preceded, was partnered by 2014 Chinstrap Pinot Chardonnay, a crisp, vivacious and elegant bubbly that made an excellent overture to our wine pairing.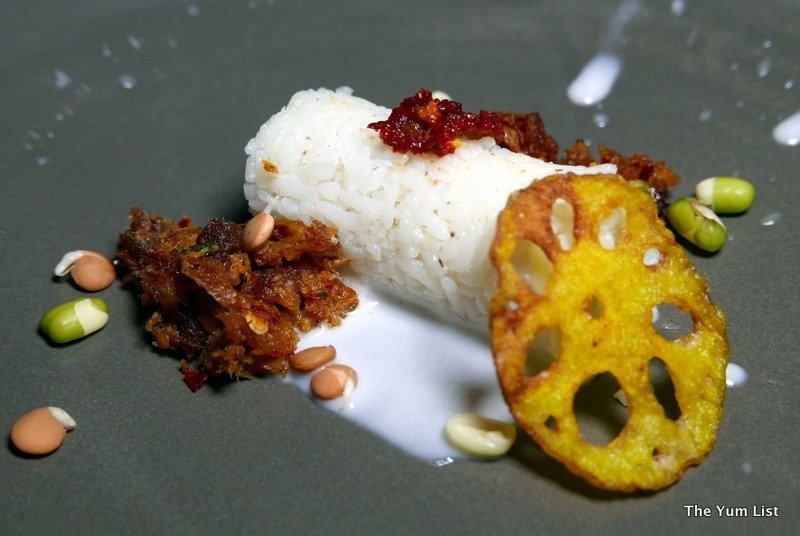 No Sri Lankan meal would seem complete for me without a crab dish so I was very happy to see the next course, Cinnamon Crab, make an entrance. Crab shell dishes were loaded with tempered crab meat below a cinnamon crust, carrot sambal and mango chutney. The rich flavours were well paired with the refreshing 2013 Pagos Chardonnay Sauvignon Blanc.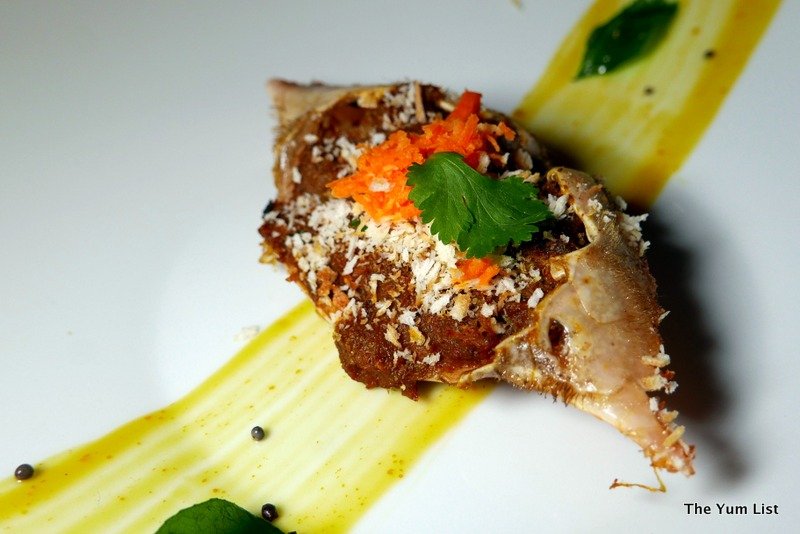 Polkiri Thiyal String Hoppers promised another iconic experience. The string hoppers, ubiquitous at Sri Lankan dinner tables, are little bundles of rice flour noodles. These ones came with a delicious fish sothi, a mild coconut fish curry infused with plenty of turmeric that lends a tasty tang and a golden hue. Further coconutty flavours were added by a pol sambol and a refreshing mango chutney provided a fruity zing that cut through the creaminess of this dish. The 2010 Magellan Chardonnay Sauvignon Blanc that accompanied this course was crisp and well-balanced partner.
Main Dish
Our final savoury course came in the form of Ceylon Mutton with Lemon Rice. A plethora of Sri Lankan spices with garlic created robust, mouthwatering flavours. The slow cooked meat was succulent and tender. We loaded our forks with the meat, zesty lemon rice and battered fried okra and enjoyed the tantalising combination of textures and aromas. A dish that could stand up to plenty of body, it was fitting that it was partnered by not one but two reds! The 2009 Humboldt Cabernet Sauvignon Cabernet Franc and the 2009 Rockhopper Cabernet Sauvignon Carménère were tasked with this role and fulfilled it perfectly. Our expert guide, Dinesh, showed us how different pairings could bring out different experiences with food. The first, slightly more fruity, worked to tame the spice, while the second served to bring the spice out further both in the food and the wine.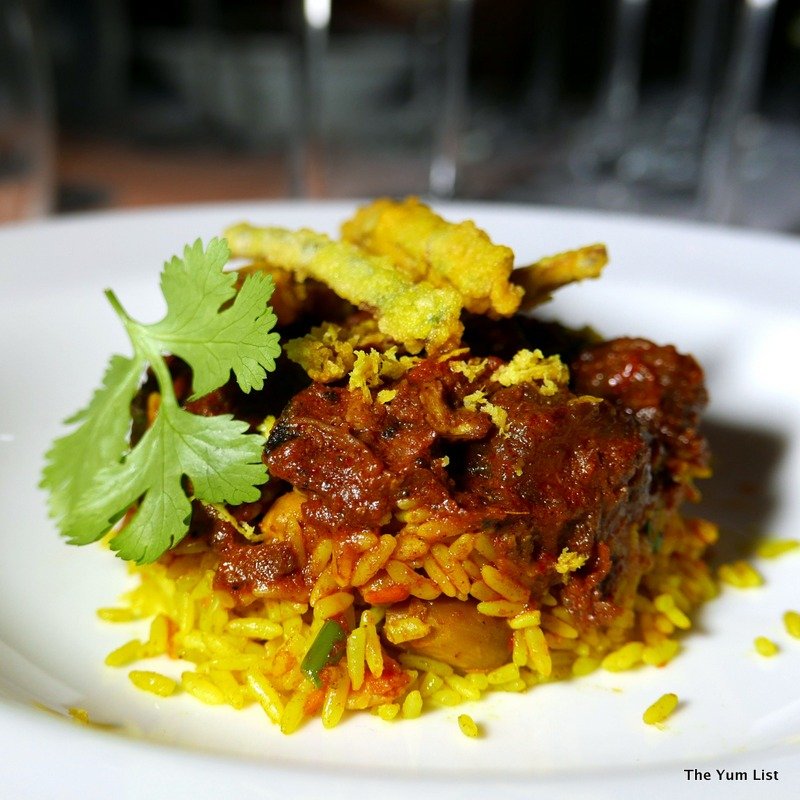 Sweets
Aliyaa Sweet Appam provided a welcome light and delicate conclusion to our meal. The appam or rice pancake was crisp around the outside and fluffy in the centre. Coconut milk and jaggery (or cane sugar) provided a delicious sweetness that we enjoyed alongside an aromatic Masala Chai Tea.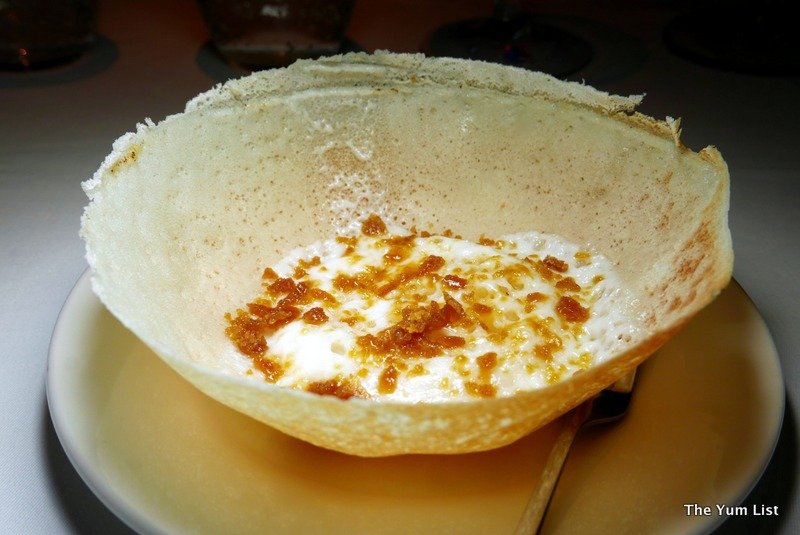 Reasons to visit: attentive service, stylish setting and wonderful authentic Sri Lankan flavours. Our favourites were the Polkiri Thiyal String Hopper and Aliyaa Sweet Appam.
A Li Yaa, Island Restaurant and Bar
Plaza Damansara
Jalan Medan Setia 2
Bukit Damansara, Kuala Lumpur
Malaysia
+60 32092 5378
www.aliyaa.com