Words: Claire Matheson    Photos: Monica Tindall
Gold domed tiled ceilings sparkle warmly in the soft light. Gold leaf splashbacks glimmer against a smokey dark marble bar. Hints of the precious metal gleam from recessed gold leaf ceilings in between the crystals of staggeringly ornate art deco chandeliers. The Midas touch is subtly woven throughout this decadent room. And yet, there is nothing of the brash ostentation or vainglorious pomposity of wealth that is sometimes found in luxury establishments. This is elegance. This is class. This is Astor Bar, The St Regis Kuala Lumpur.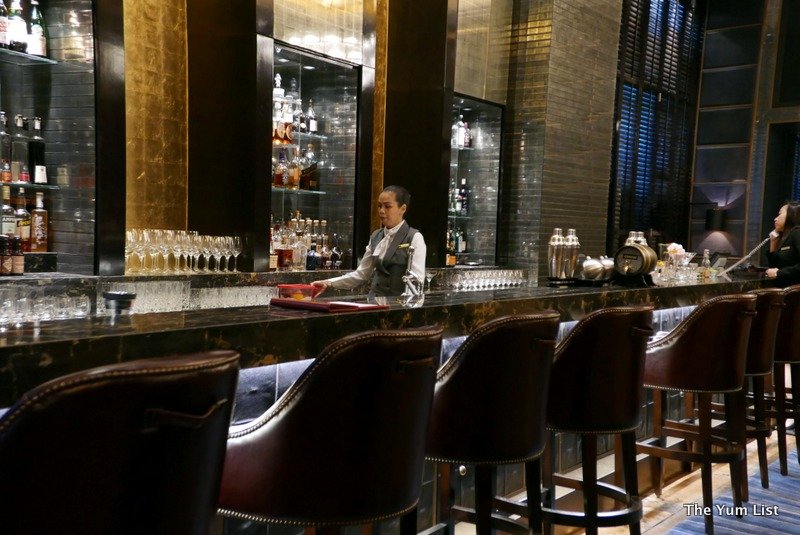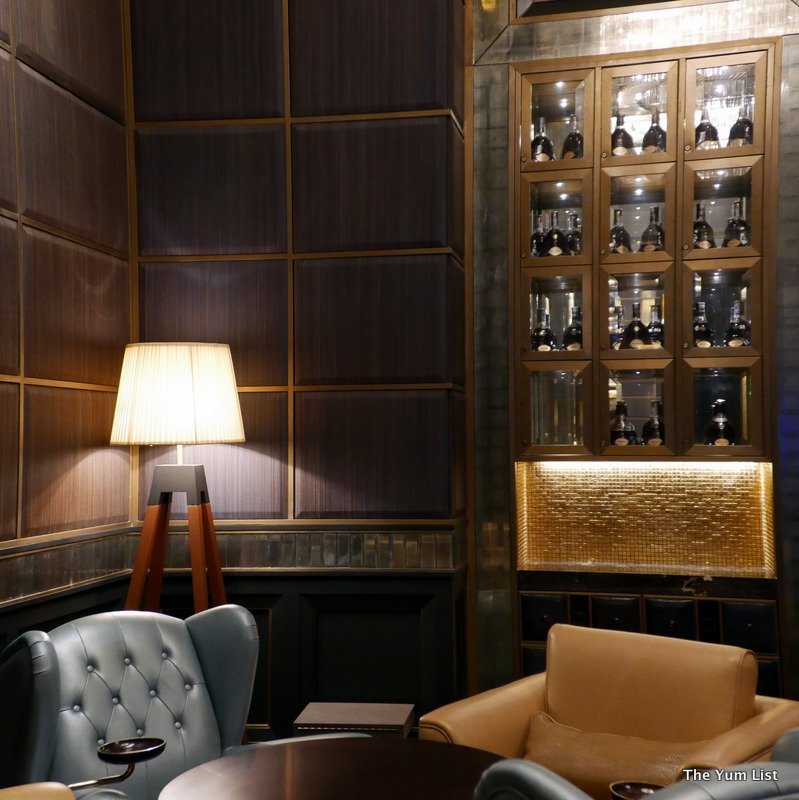 The Astor Bar is old money, old school glamour and effortless taste. The perfect place for private business meetings in rich leather club chairs. For secluded dates in low lighting. Where the beautiful people can sit in comfortable seclusion at the bar with ice clinking in their glasses. Dining in the hotel is an excellent excuse for Champagne and cocktails in the Astor Bar before dinner, followed by the world's finest spirits from the top shelf later in the evening.
Bartenders, Not Mixologists
Tended by debonaire bartenders rather than hipster mixologists, the difference is subtle. While cocktails are still highly individual and precisely developed to enhance flavour combinations, they are served with a focus on service, where the emphasis is the relationship built with each guest. You will leave knowing the name of your bartender, who will, in turn, remember your preferences, and who will have handled your requests and overall experience discreetly and impeccably.
Impressive Drinks List at Astor Bar
The Astor Bar's drinks menu heralds an impressive list of Aperitifs, Vodkas, Gins, Rums, Tequilas, Cognacs, Liqueurs and Digestifs, and its list of Whiskeys is divided into nine geographical regions. A small yet artfully curated menu of wines and beers are also available. Tonight, however, we are here for cocktails.
KL Brown
The KL Brown (RM65) is a Malaysian take on a traditional Irish Whiskey, replacing the traditional coffee with Teh Tarik, blended with twelve-year-old single malt Macallan Scotch Whiskey, aged in sherry oak, and with a slight ginger finish. Additions of spicy cardamom and a smoking cigar-like stick of cinnamon lend a warmth and comfort to the drink. All that is needed is a crackling fireplace!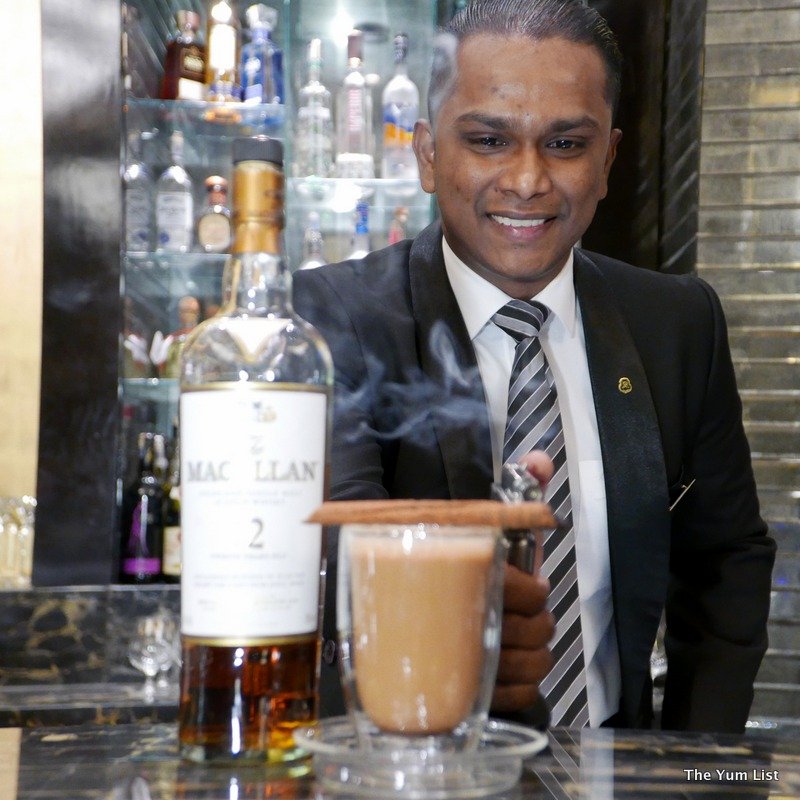 New Fashioned
A classic cocktail with something of an aromatherapy twist, the New Fashioned (RM65) is a mix of Michter's Original US-1 Sour Mash Whisky from Kentucky, with Creole Bitters laden with flavours of dried fruit, smoked paprika and lots of pepper, finished with a creamy, frothy maple syrup foam. A slice of dehydrated orange is torched with syrup to infuse the liquor resulting in a deep, rich taste. The smell reminds me of the months-long maceration process when making a great fruit cake. Often mistaken for having a sour taste, the name Sour Mash instead refers to the method of using a fermented mash starter from previous batches, similar to the making of sourdough bread. Personally, this is a favourite, and is seductive, smooth and easy to drink.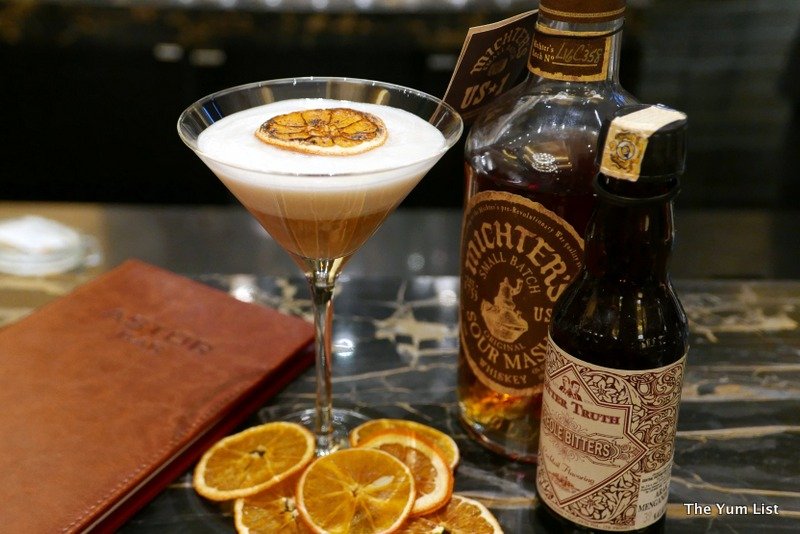 Bar Snacks at Astor Bar
With so many tempting choices on the menu, we are in danger of ingesting too many cocktails, and light snacks are welcome in warding off any potential ill effects. The typical savoury bar offerings are given a touch of Astor Bar panache, and we are presented with plates of chicken satay, beetroot chips and mozzarella balls. With high-quality cuts of tender chicken, a creamy nut laden sauce and a smattering of chilli, the Chicken Satay (RM27) accompanied with cucumber pickle is all you would expect from The St Regis name. Playfully purple in colour and enchantingly addictive in flavour, the Beetroot Chips (RM16) are undeniably more fun to eat than regular potato versions, while soft stretchy buffalo mozzarella encased in a light golden crunchy batter and served with a punchy tomato relish makes the Mozzarella Balls (RM32) a gratifying, cheesy mouthful. The plates quickly empty themselves.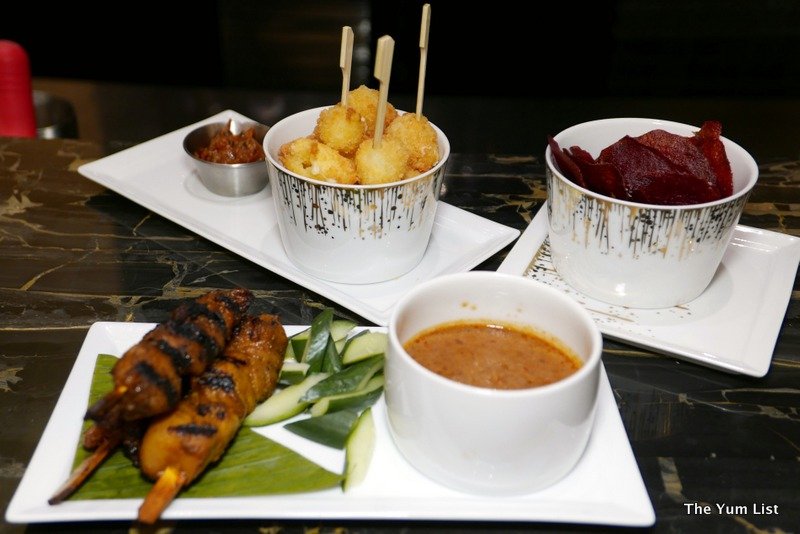 Victoria
Another frothy favourite, the Victoria (RM65) begins and finishes with a dash of elderflower foam, building on Jose Cuervo Silver Tequila, freshly pressed pomegranate juice and lemon bitters. The end result is a dreamy pink mix served in a Marie Antoinette glass and topped with a cheery marigold on top of its feathery bubbles. Naturally sweet with no overwhelming sugary overtones, it is a sophisticated summer option for Margarita lovers.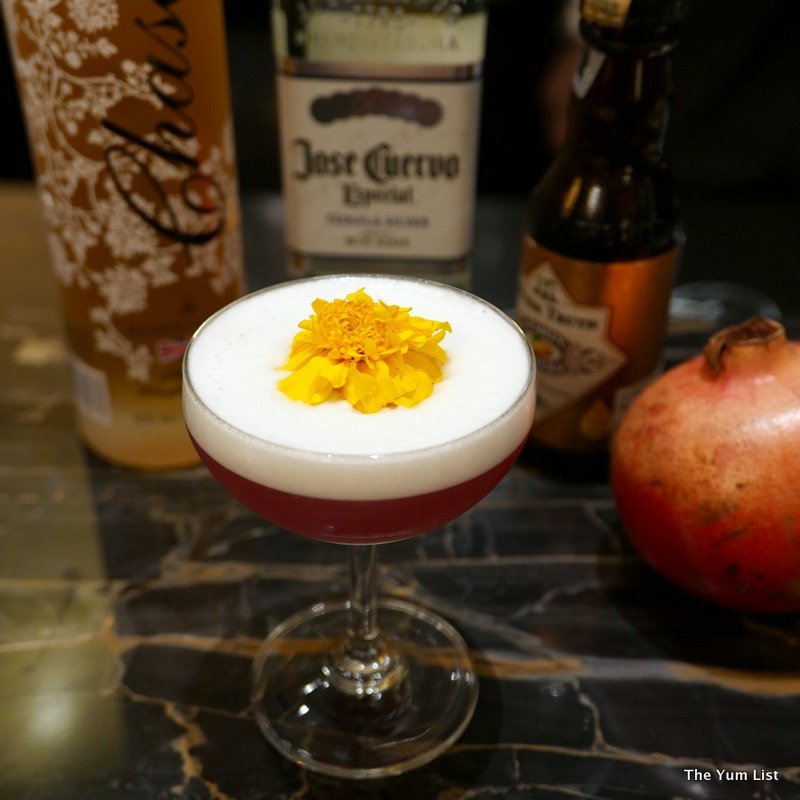 Phone Booth
Tiers of ombre pink and coral assemble in waves in the aesthetic Phone Booth (RM65). A base of Jose Cuervo Gold Tequila is combined with passion fruit juice, yuzu vinegar, grenadine syrup lime juice and peach liqueur, and topped with soda. The pretty layers of pink belie the adult undertone, balancing sweet, tart, citrus and stone fruit flavours for a garden party punch with a bit of a kick. If you are a long term fan of Pimm's like I am, this is the pick of the menu!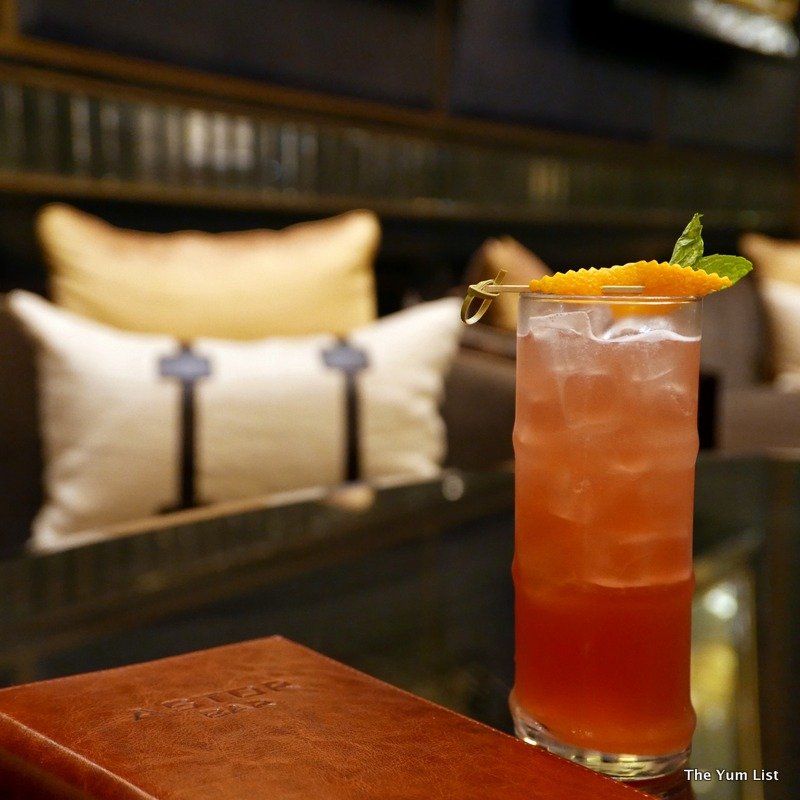 Cuban Gentleman
The Cuban Gentleman (RM65) is an original twist on the Long Island Iced Tea, with Gordon's London Dry Gin, Stolichnaya Vodka, Mexican Sierra Tequila, Joseph Cartron Curacao Bleu from France, Triple Sec and pineapple juice poured over crushed ice to hold the chill, topped with a stick of cinnamon and a juiced lime. A luminous blue, it glitters like a pool at night lit from below. Powerfully strong and layered with complex spirits, each vying for your attention, the Mad Man inside you will fly high on this concoction. Sip it slowly.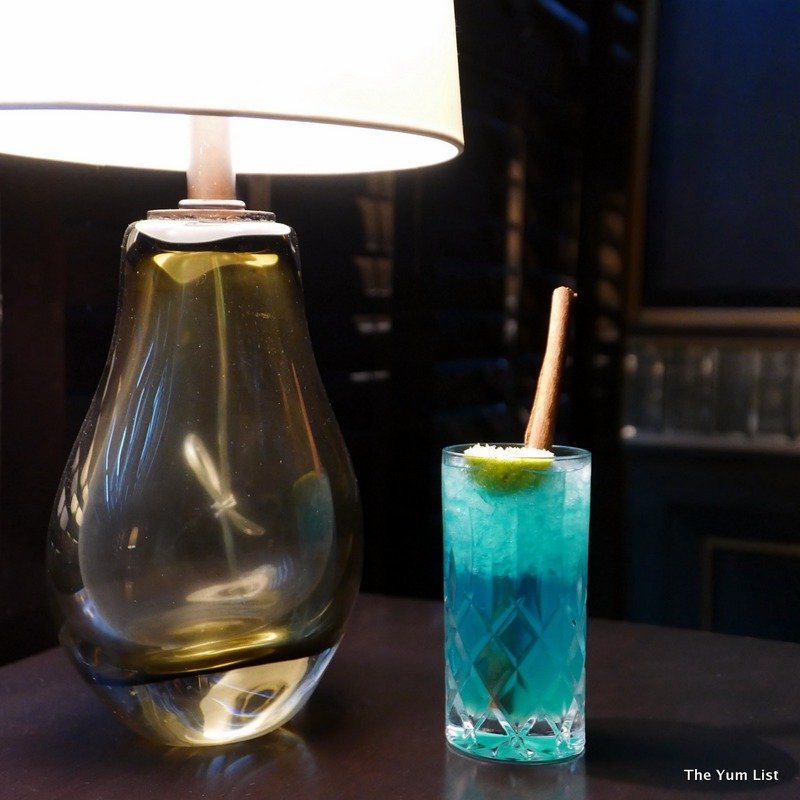 Som Tum
For those who cannot decide between a beer and a cocktail, or who simply prefer a more 'drinkable' cocktail, the Som Tum (RM65) is a good choice. Jose Cuervo Tequila is topped with bitter lemon juice, refreshing mango, lager beer and a pop of chilli as a garnish and for a hint of heat. Evocative of a Thai Mango salad with all the satisfaction of the first mouthful of a blonde beer on a hot day, this is the ultimate by-the-pool drink.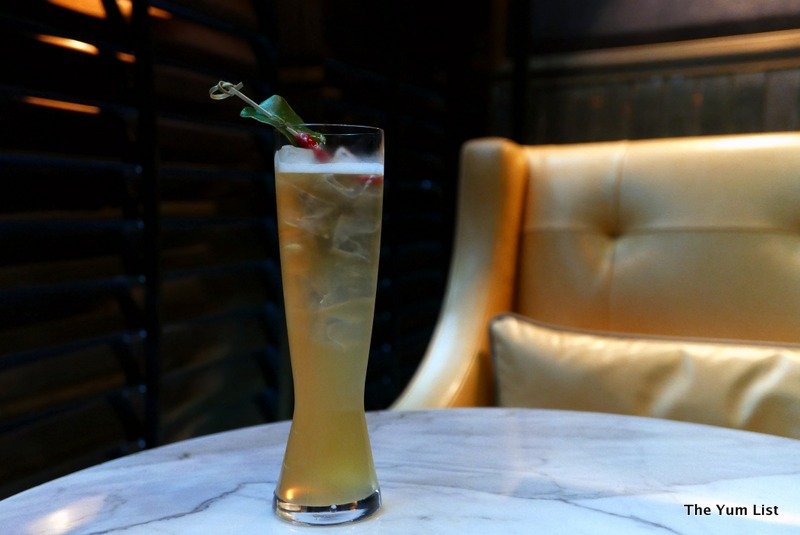 Pink Surprise
If it is childhood nostalgia you seek, try the Pink Surprise (RM65) combining all the fun of cotton candy with the frivolity of pink bubbly. With dramatic flair, the cotton candy melts and crystallises under the pour of Russian Standard Vodka, strawberry, lime and Luc Belaire Rare Sparkling Rose. A heady rush with a playfulness of strawberries, the sweetness offset with citrus tang and effervescent fizz. Try and stop yourself dipping a finger into your glass to fish out any remaining lumps of hot pink sugar clinging to the sides.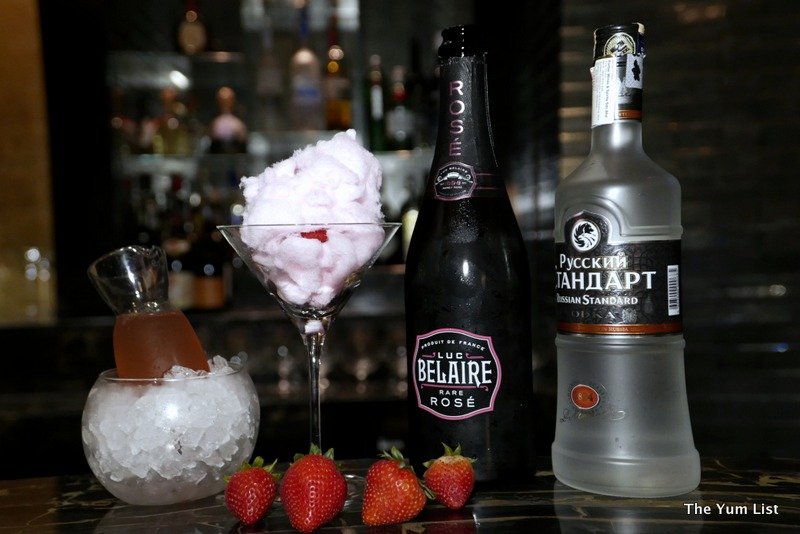 Good Morning
I admit I am a little apprehensive before trying our last cocktail of the evening as I am always dubious of cocktails based on absinthe. The Good Morning (RM65) however, reflects the skill of the bartender making it, as it has to be tasted and adjusted in the making to get the balance just right. Monica is invited into the sacred space behind the bar to try her hand at construction. The Botanist Gin, delicately yielding 22 different herb infusions, is combined with NV Absinthe Verte, and muddled with grapefruit juice, star anise, cardamom and Japanese cucumber, bruising and releasing multiple flavours. The liquid is stirred and strained, served with a cucumber ribbon. A creamy, silky liquorice, it slides around the mouth. Neither overpowering nor dark, it is simply exotic and aromatic. Pleasantly surprised, it is the antithesis to every flaming absinthe shot I've ever mistakenly agreed to. Surprisingly, this would make the ideal brunch accompaniment.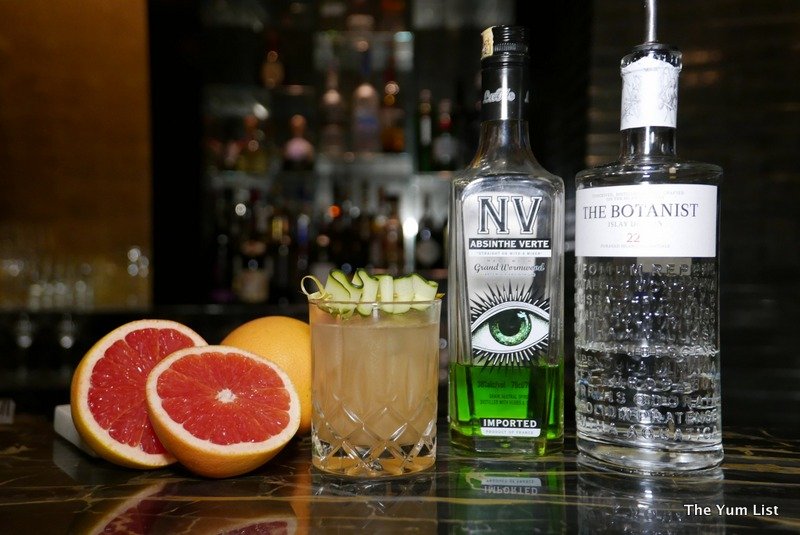 Even with plenty of guests, the richly decorated Astor Bar feels private. Cocktails here are created calmly, and passionately. It is a place where time seems to slow down in a world of old glamour with glints of gold giving a tastefully luxurious and somewhat aristocratic touch. Sinking deeply into sumptuous leather chairs, life seen through a glass of artful liquid becomes clear and golden.
Happy Hours at Astor Bar
Visit between the hours of 5-8pm when selected drinks are two for the price of one, with beers starting at RM32. Cocktails ordered from the menu are priced from RM42-RM68 inclusive of GST. If you can't find your favourite on the list, servers will be happy to accommodate your selection.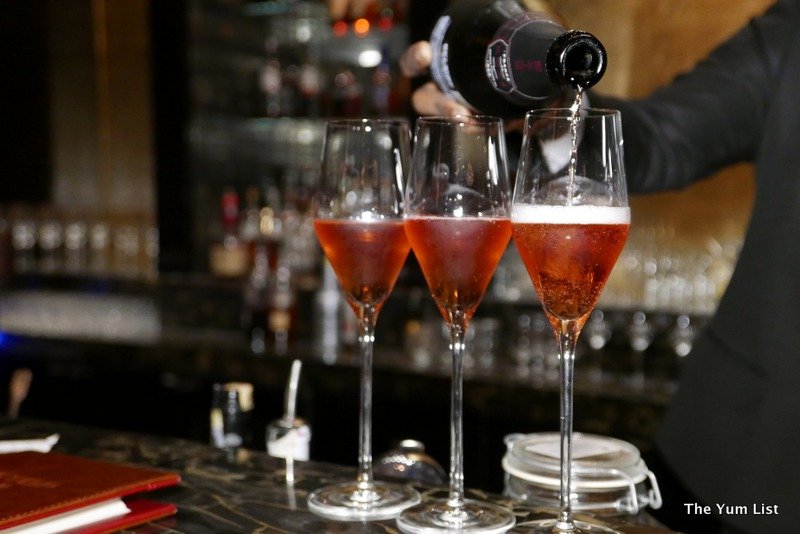 Reasons to visit: A stylish bar with prices that don't (!) match – drinks are actually quite reasonably priced here, especially during happy hours, and the location is fab. From the cocktail menu, try the decadent pluck of the New Fashioned, the garden punch vivacity of The Phone Booth, or channel your inner Don Draper with a Good Morning.
Astor Bar
The St. Regis Kuala Lumpur
No. 6 Jalan Stesen Sentral 2
Kuala Lumpur Sentral
Kuala Lumpur 20470
Malaysia
+603.2727.1111
[email protected]
www.stregiskualalumpur.com