Byblos Sur Mer – Abu Dhabi
Monica Tindall
Specialising in marina views and a complete food and beverage experience, Byblos Sur Mer is InterContinental Abu Dhabi's Lebanese restaurant. It's comes with high repute and we've been told that guests travel all the way from Dubai (a 90-minute drive away) just to dine here. If you've been to the port city and know the number of superb dining options within it, you'll understand what an affirmation that is for a kitchen.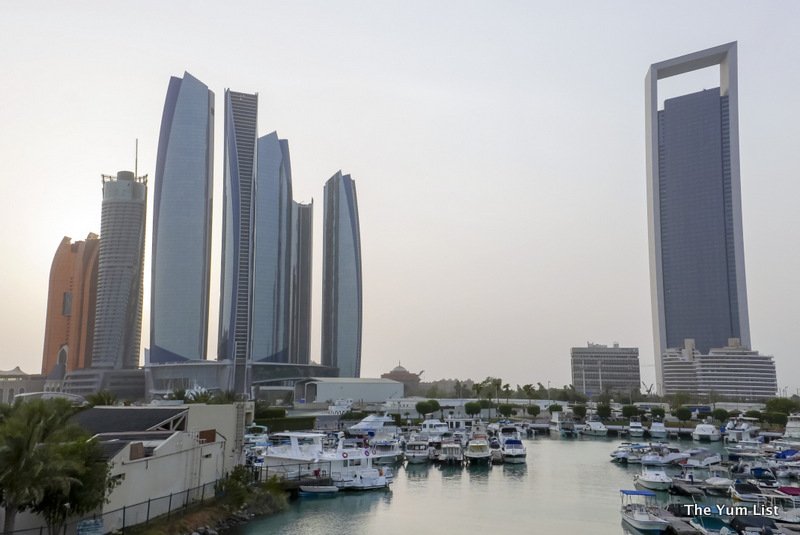 The restaurant covers two levels: a formal dining area downstairs, and a relaxed lounge and bar above. In the cooler months the terraces (both on the ground and first floors) are popular places for their outlook over the harbour.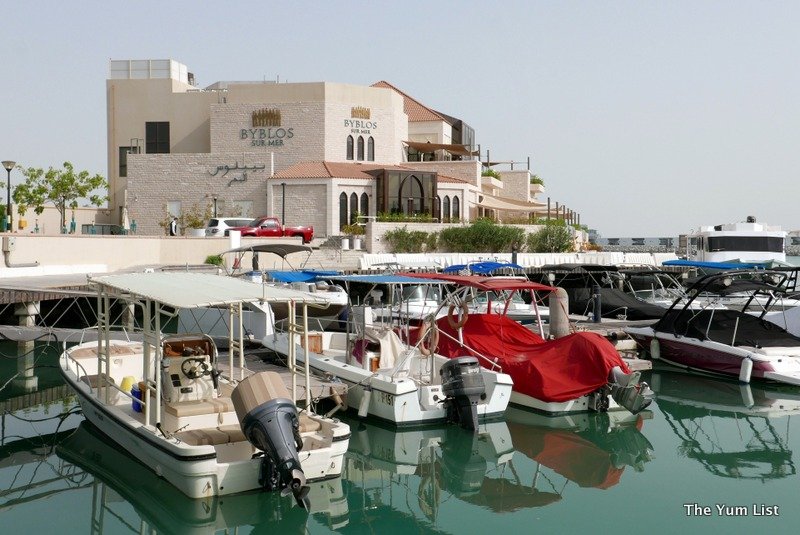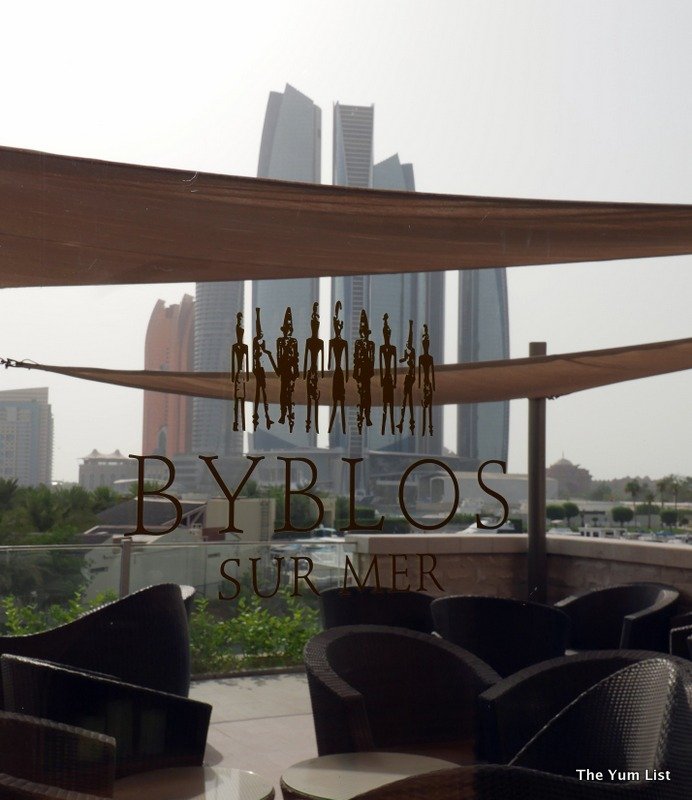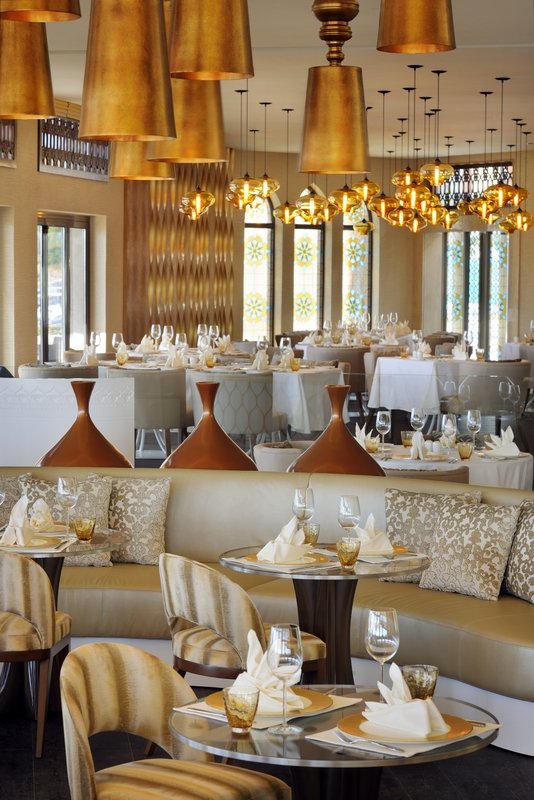 Drinks at Byblos Sur Mer
We're here during summer though (think 47 Degree temperatures) so take cool refuge in the lounge with a cocktail as our first refreshment. The bartender tells us that his specialty is different takes on the classic Mojito. So the Passion Mojito (AED 46) and Middle East Mojito (AED 46) are first on our list. The former consists of fresh lime, mint, passion fruit, rum and soda, with a garnish of half a passion fruit and mint. The latter holds the same base ingredients but switches the fruit for apple and adds a drizzle of karkade (hibiscus) syrup, which floats around the top creating an alluring red cloud. Both are briskly chilled, balanced with a light tang and extremely refreshing – just as the bartender ordered.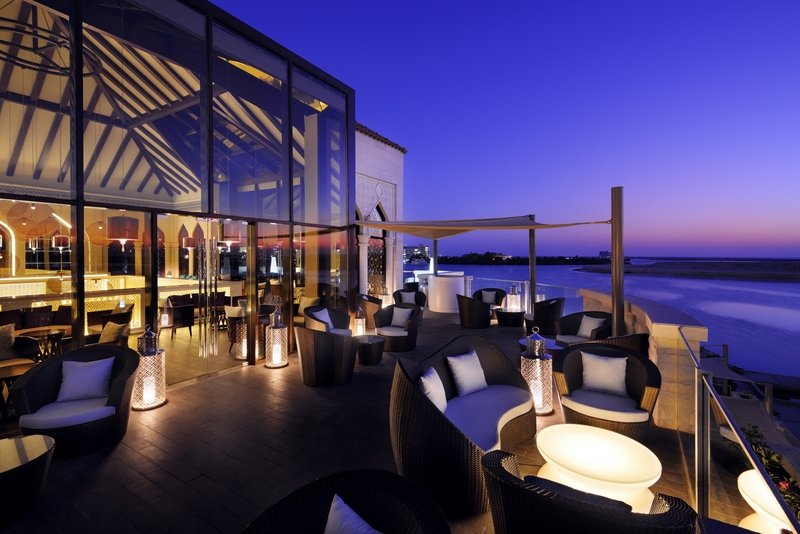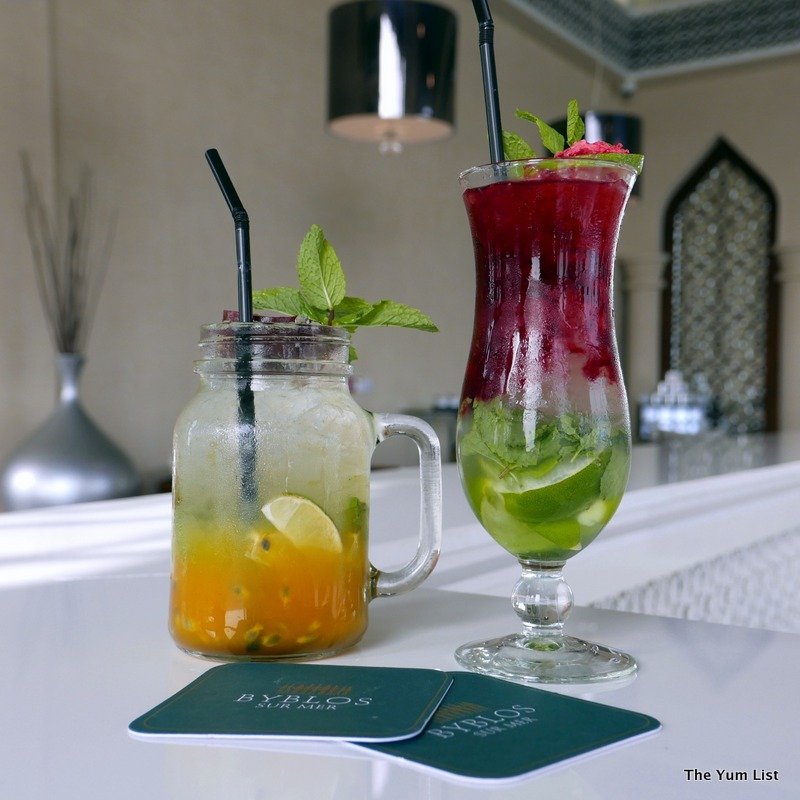 The menu is extensive and we're grateful for the assistance of Rami, the restaurant manager from Lebanon, who is willing to guide us. He thinks we should sample the cold and hot mezzeh, raw meats, grilled items, fruit and dessert, but first… he says, "You must begin as we do in Lebanon with arak. It's very delicious with food."
The anise-flavoured spirit is served with water causing it to turn milky and is traditionally taken with mezzeh. First sip… Oh boy, it is strong and I can see why food is a good companion. Opening our appetites, this arak will surely help us fully appreciate the feast that is about to come.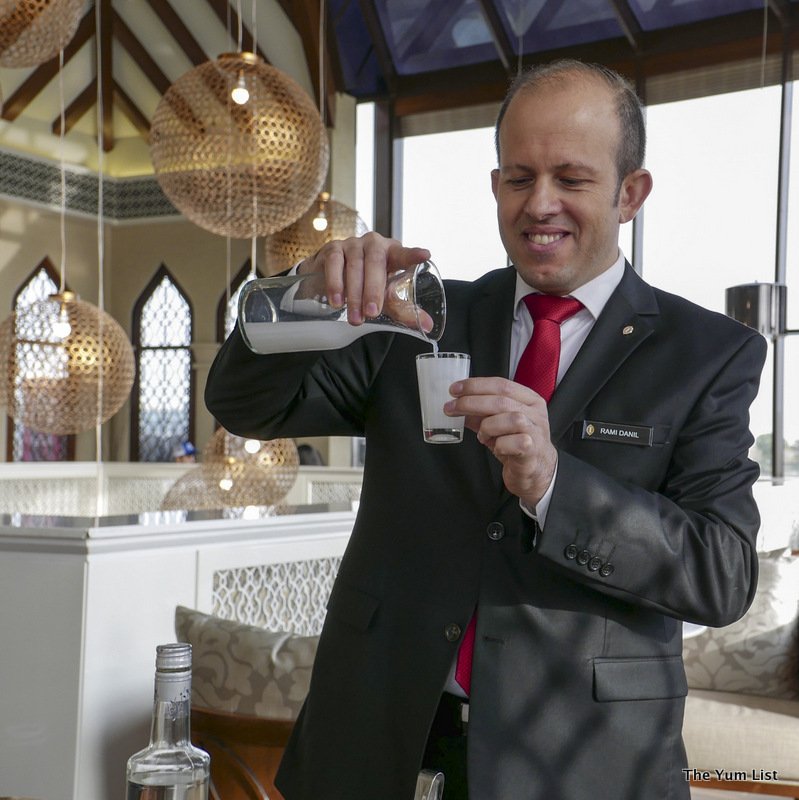 Before the order arrives, pickles, bread and Lebanese water (yes, it's from the country itself!) are placed on the table, complimentary for all guests. It's customary for Moukarmachat (AED34), an enormous bowl of raw vegetable crudités with mint, to be ordered to launch the meal as well.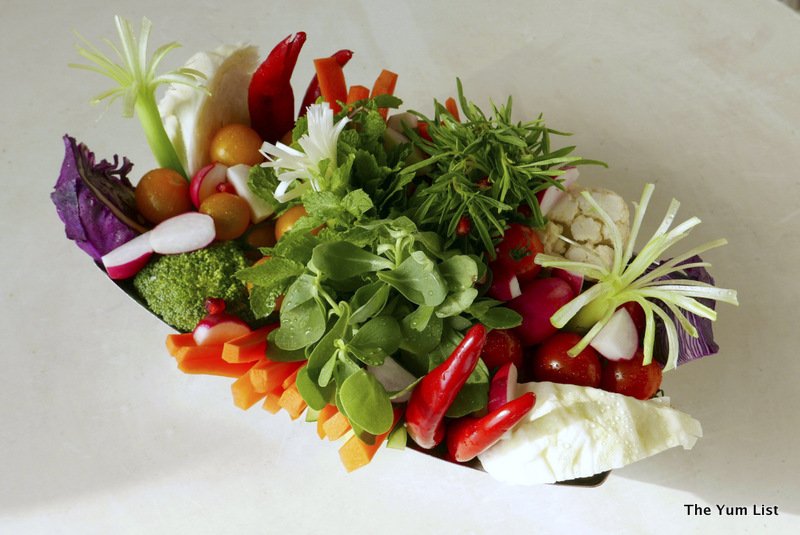 Byblos Sur Mer Cold Mezzeh
Following tradition we start with the Tabouleh (AED 26), a vibrant mix of parsley, tomato, mint, onion and fine white burghul (cracked wheat), which is seasoned with salt, lemon and olive oil. Fatouch (AED 26) is next, with a bright bowl of cucumber, pomegranate, lettuce, mint, tomato, thyme and fried bread jazzed up with a dressing of vinegar, lemon juice and olive oil. Both are amazingly fresh. I can't believe we're in the desert with the superb quality of these ingredients. I'm told daily flights bring fresh veggies directly from markets. I'm sure these veg are of higher standard than what I fetch in my local supermarket back home! We learn an inside secret: make a cup with the cabbage and scoop the tabouleh inside. Yum!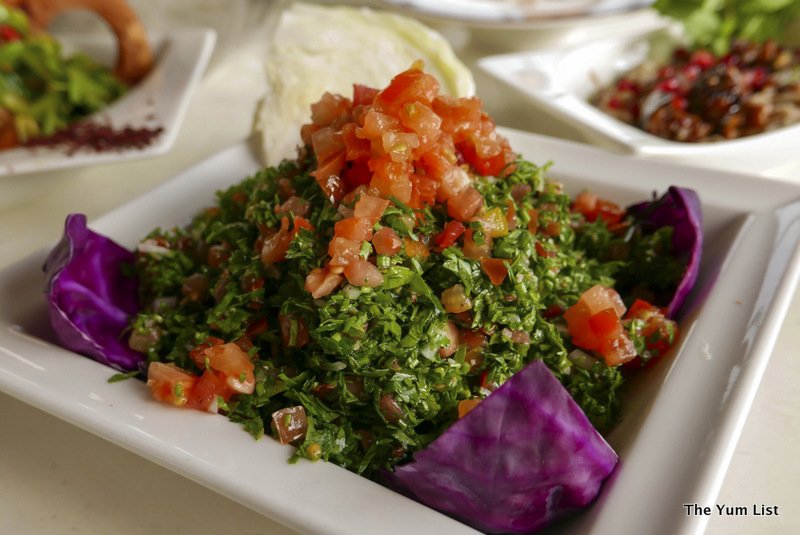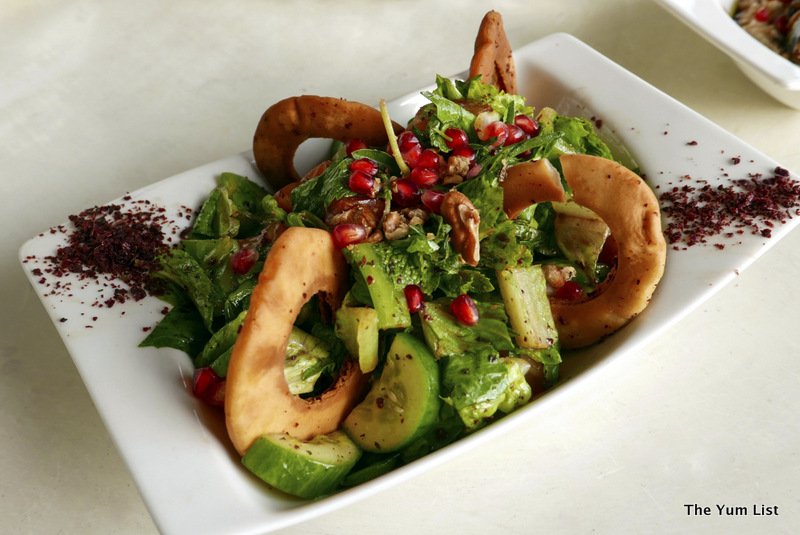 An assortment of cold mezzeh would make a large group of my girlfriends extremely happy – no further food required. Ajami (AED 33) char-grilled eggplant puree is chaperoned with fried eggplant, molasses and walnuts. Labneh Phoenician (AED24), a thick whippy version of the soft cheese staple (made with strained yoghurt), is seasoned with green onions, olives and basil and sided with tomatoes and olive oil. Further dipping material is seen in the Halabi Bil Chatta (AED28), a type of hummus (chickpea puree) topped with spicy tomato and pepper salsa and pine nuts. A basket of puffed Lebanese bread and the rainbow of crunchy crudités make healthful edible utensils.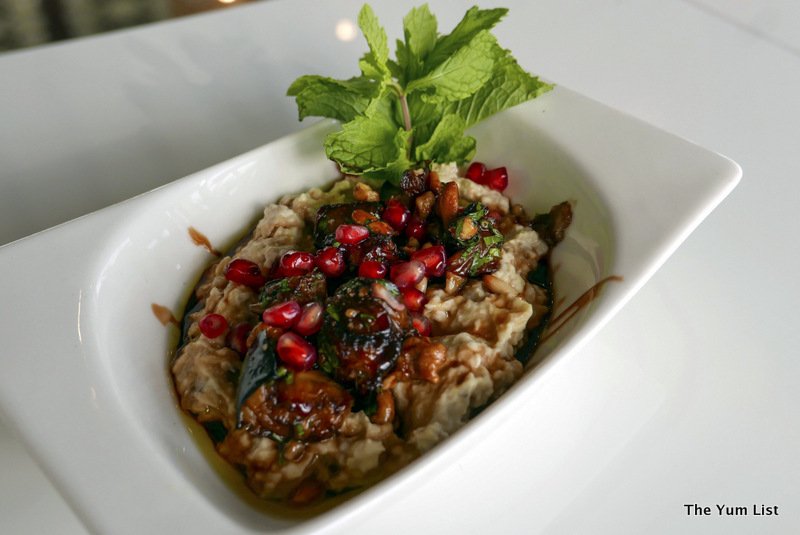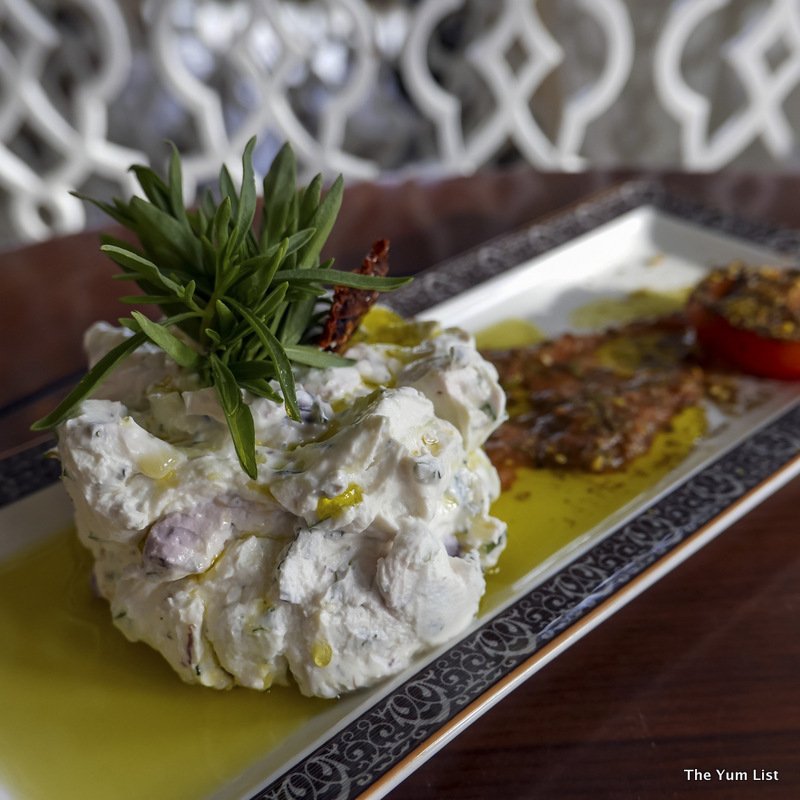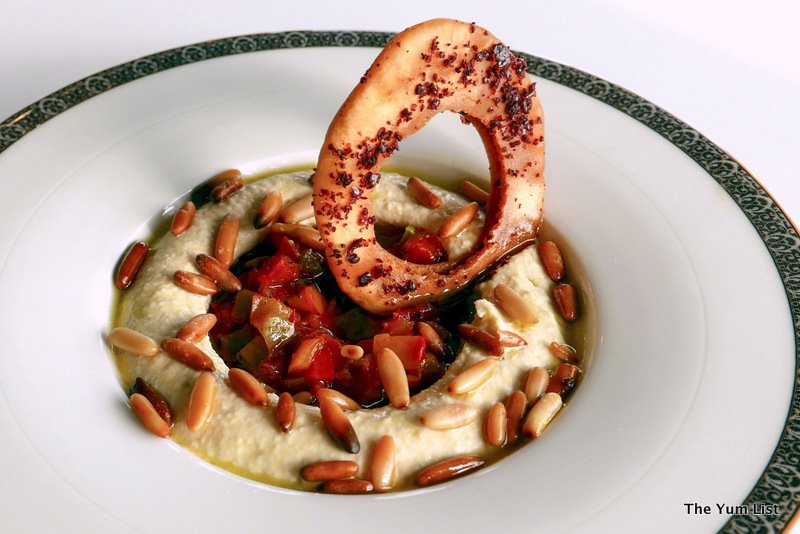 Giving a little more substance to the cold mezzeh are three delicious meat-free selections. Innabiyeh (AED 30), vine leaves stuffed with rice and tomato and pomegranate seeds are the softest rendition I've ever tasted. Hendbeh Mkeleyeh (AED 30) takes the veggie options up a notch with a calamari and fried onion crown topping a tower of chicory sautéed in olive oil. And the Chandklish (AED) is a must for cheese lovers. Made in house it's aged for up to a year and rolled in spices before serving with an assortment of fresh veg.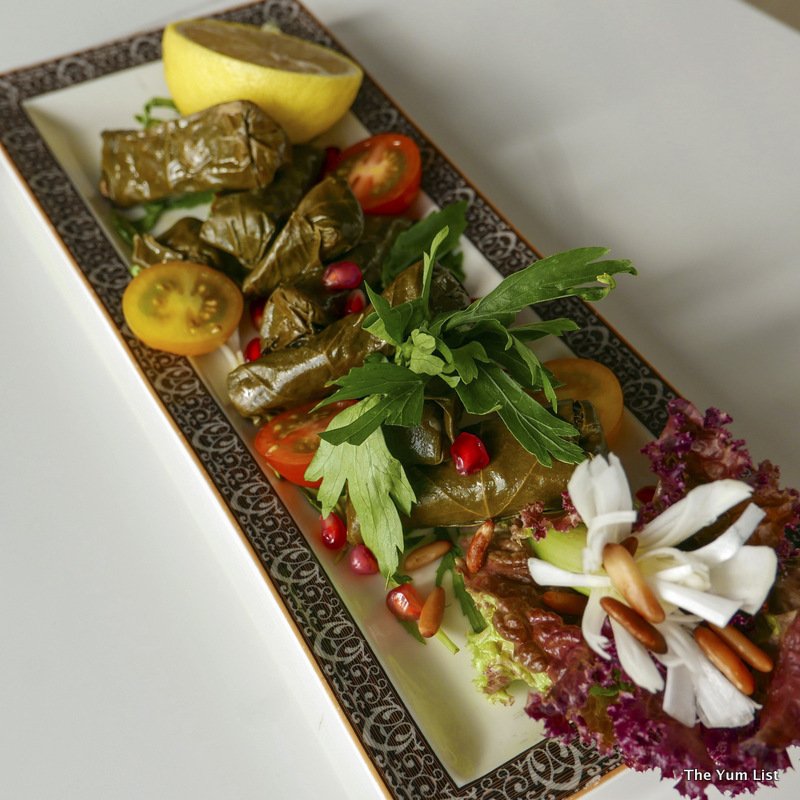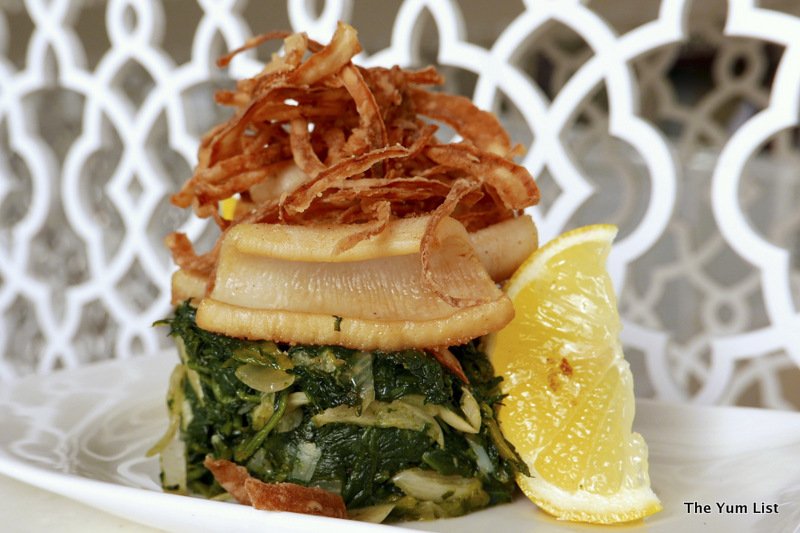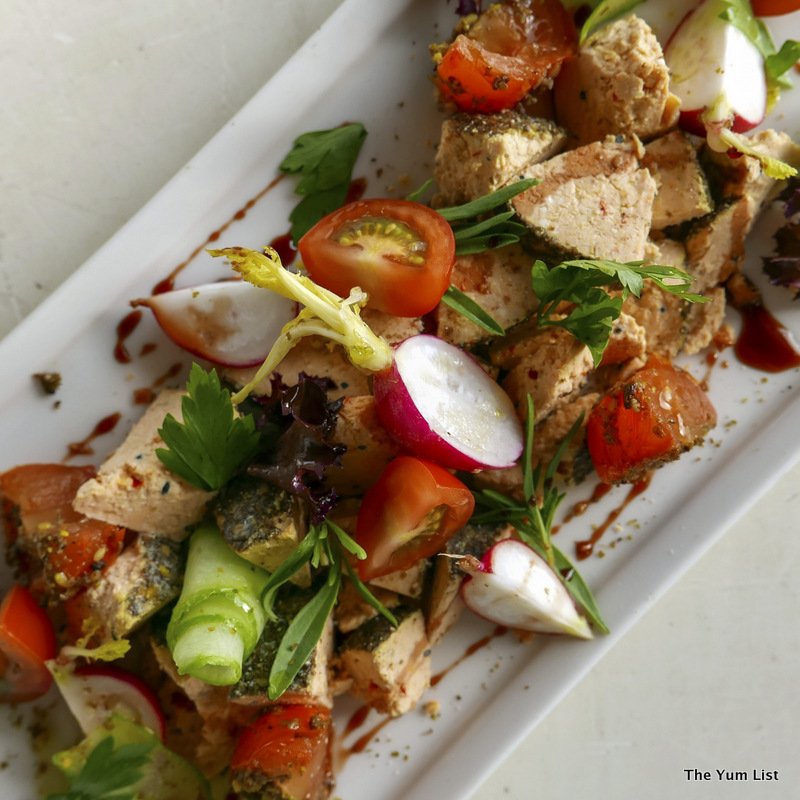 Next is the raw meat. Lamb. "Obligatory" to have the true Lebanese experience we're informed. Two portions are ground until smooth: one is mixed with cracked wheat, onion and pepper, while the other is plain. Garlic, spicy sha'ta, more crushed wheat and pistachio condiments are for the adding. I've eaten a number of raw meats before, but this is a first for lamb. "I'll give you some oil. It will become even more delicious," says Rami. Hubby voices my thoughts exclaiming, "Fantastic!"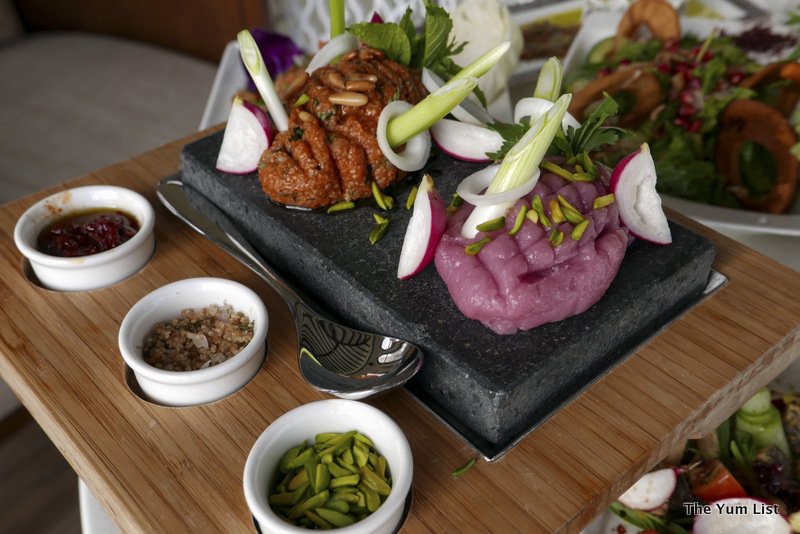 Hot Mezzeh
Looking at that cold spread you might think our meal was complete, but, oh no, it was only just beginning! Succeeding the cold comes the hot, and each of the dishes we try have their own appeal.
Prawns rolled in a fine stringy pastry (similar to that found in Greek and Lebanese desserts), Kreydes Bil Ithmaliyah (AED65), are deep-fried and served with a luscious tahini harra sauce. Hubby claims this as his most beloved, before he tries, that is, the deep-fried halloumi. With a superb texture worth biting into and having a few good chews before swallowing, the Halloumi (AED36) crusted in mouhamarah come with a lip-smacking caramelisation of onions, apricot, quince and molasses. And, just as equally scrumptious are the Mwaradeh (AED35) – little cups made of minced meat mixed with burghel and filled with minced lamb meat, cherries, molasses, pistachios, pine nuts and onions.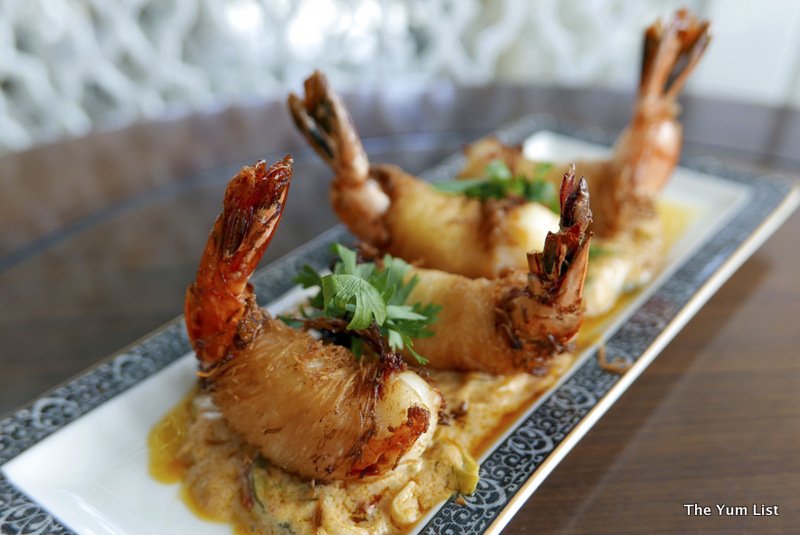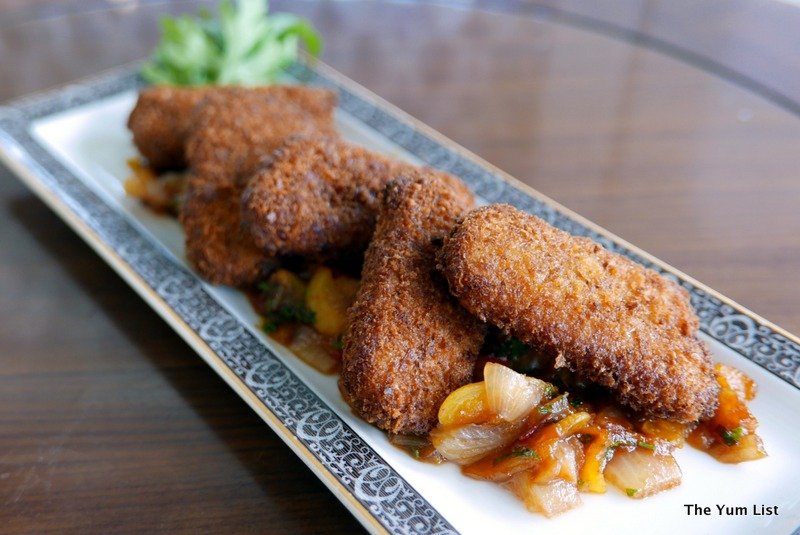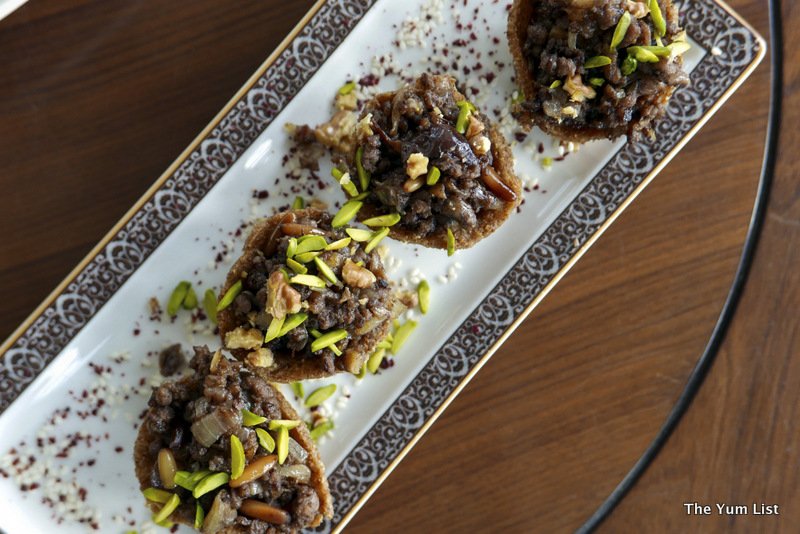 Lebanese Wines
Again in the name of having the "full Lebanese experience," we change pace, moving away from the arak and onto some Lebanese wines. We try two from Chateau Ksara from the Bekaa Valley. A blanc de blancs blend of sauvignon blanc, semillion and chardonnay (AED 250 bottle) and a red (AED 335), a union of cabernet sauvignon, mourvedre, carignan and Grenache. The white has quite a bit of structure and body and stands up well to the multiple layers of seasonings in the dishes. The red, is still a little young, and benefits from some airing time to fully open up.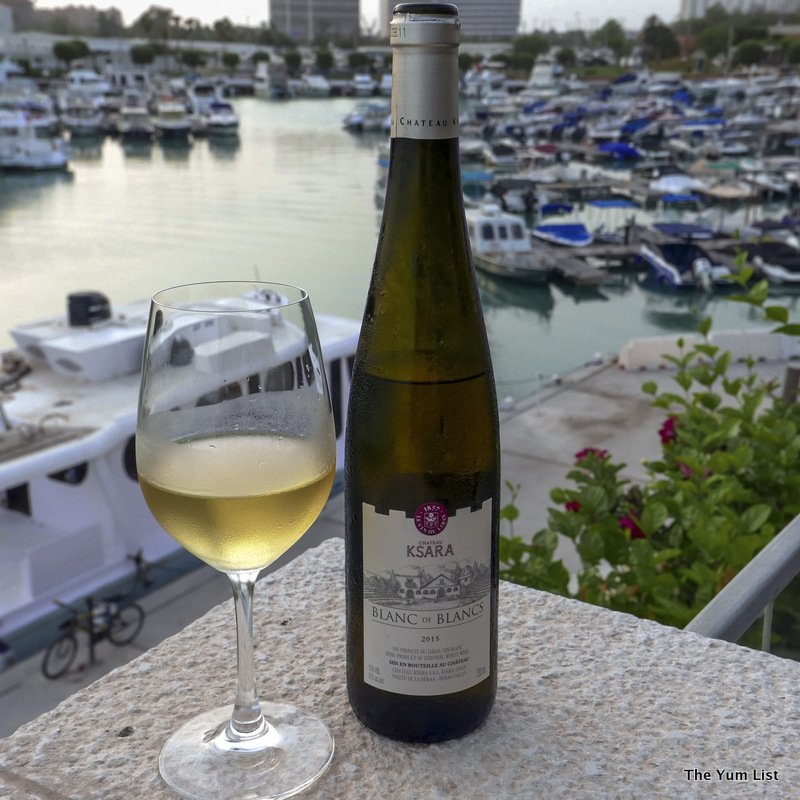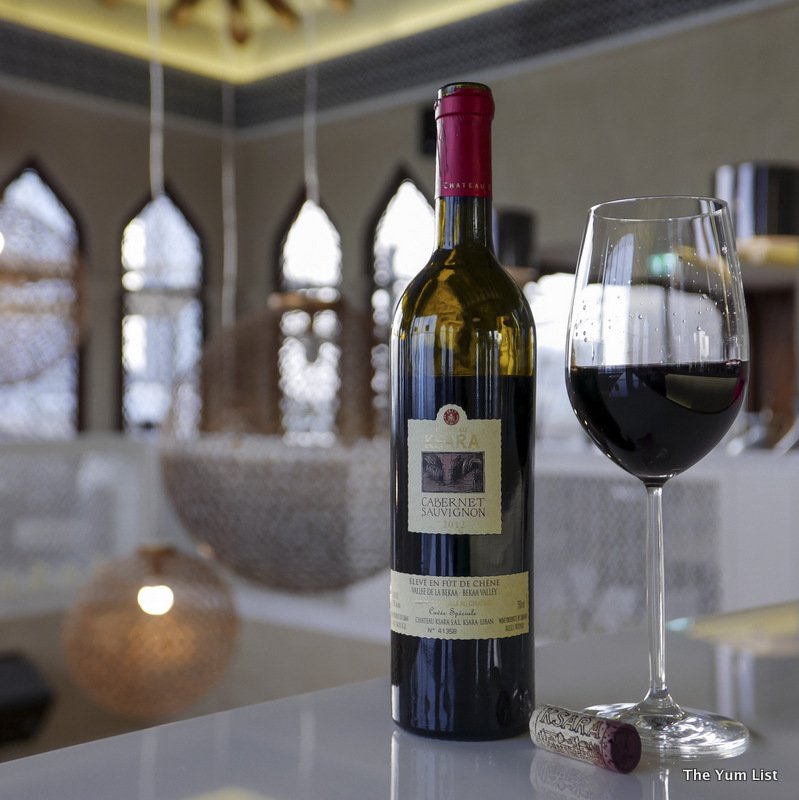 Byblos Sur Mer Mixed Grill
The natural progression following mezzeh is grilled meats, and unless you've already tried all the choices on the menu, the mixed grill is the way to go. Kastaleta (lamb chops), Shish Kebab (lamb tikka) and Shish Taouk (char-grilled chicken marinated in garlic) are presented together with flat bread covered with a vibrant salsa of onion, green peppers and tomatoes. Garlic sauce is for the dipping, but the marinade on the meats furnishes more than sufficient verve.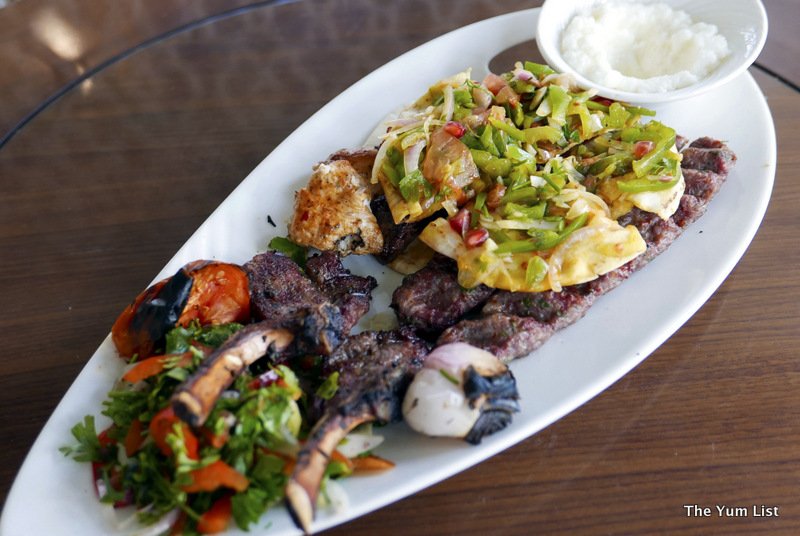 Fruit and Dessert at Byblos Sur Mer
Apparently, fruit is considered a separate course and there's no choice not to have both something fresh and decadent. A colourful platter of nutrition is backed up with two extraordinarily delectable sweets.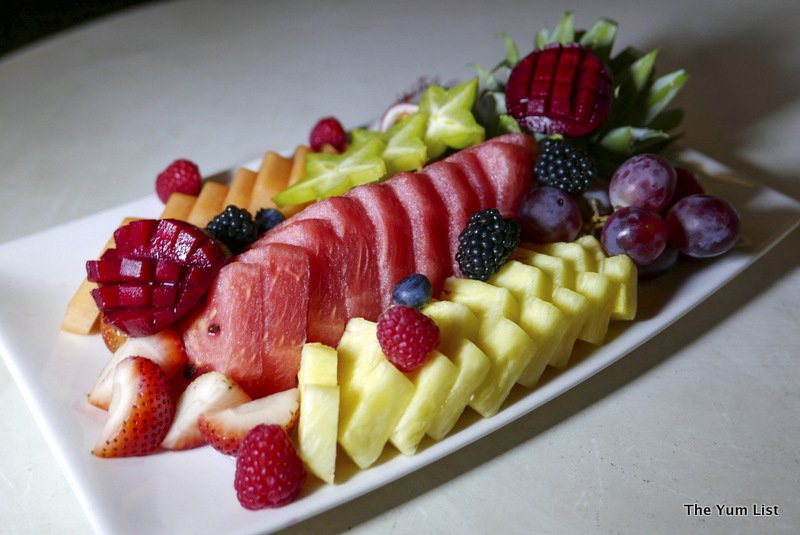 Gorgeously sticky, smooth and crunchy, the Bakdash Ish-el-Belboul (AED 68) sees house made pistachio ice-cream ballooning out over baskets of crispy string pastry. The whole thing is drizzled with a viscous liquid (honey perhaps) and finished off with crushed pistachios.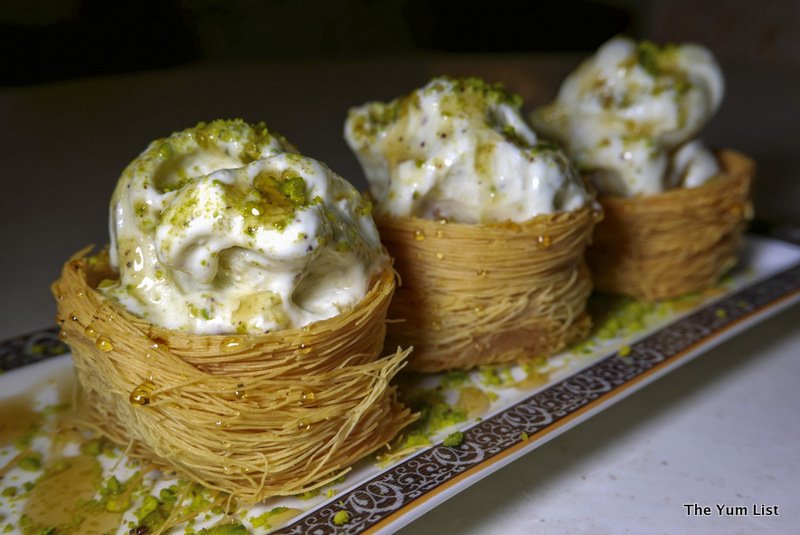 Awaymat Bidebes Kharoub (AED 34) is another beauty with golden globes of fried dumplings glowing with sticky molasses and luxuriated even more with an overlay of cotton candy (in Arabic: women's hair) mistika ice cream, cinnamon and hazelnuts – heaven on a plate.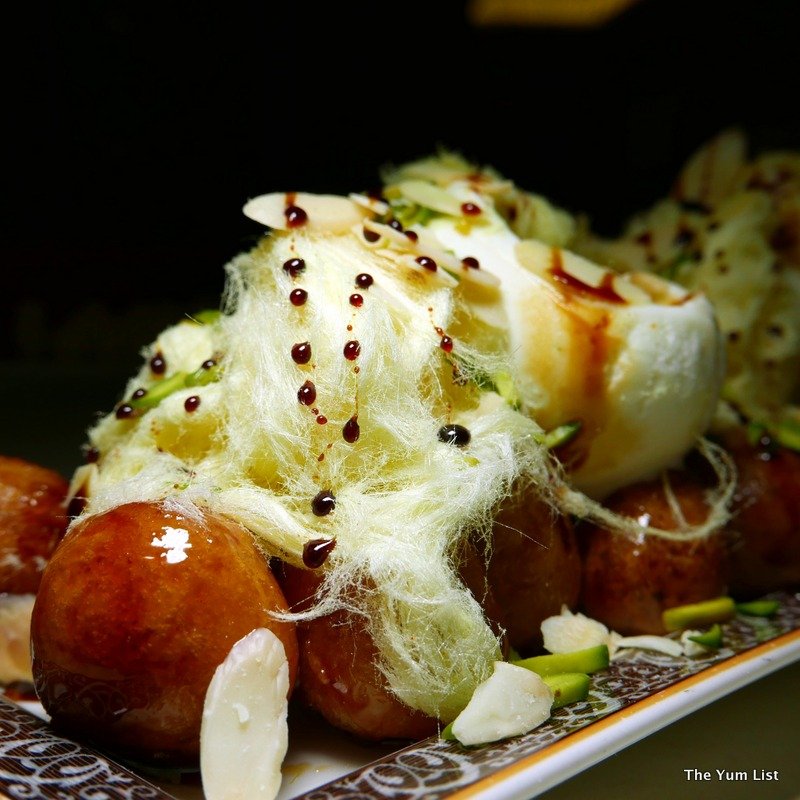 Reasons to visit: beautiful setting; superb service with a team proud of the cuisine and ever-so-willing to share the culture with guests; go with a group of friends and order as many dishes as you can – the set menus are a good way to go; sweet tooths must not miss the Bakdash Ish-el-Belboul and the Awaymat Bidebes Kharoub.
Byblos Sur Mer
InterContinental Abu Dhabi
King Abdullah Bin Abdul Aziz Al Saud Street
Abu Dhabi
United Arab Emirates
+971 2 666 6888
www.dining-intercontinental-ad.ae/restaurants/byblos-sur-mer
Open Sunday to Wednesday 12:30 pm – 1:30 am
Thursday and Friday 12:30 pm – 2:30 am
Dress code: smart casual
Alcohol age: 21+
Stay up-to-date on the latest gourmet travel happenings here and here.