Words: Patricia Podorsek   Photos: Monica Tindall
Sunday brunches in KL can be a little formulaic. Most profess weekly free-flow bubbles and buffet tables laden with iced seafood, a charcuterie station, carved roast for the carnivores, and a festive dessert selection that includes the likes of Black Forest torte and colorful French macarons. The Shangri-La's illustrious Lafite, known for years for its exemplary French cuisine, however, has introduced a new concept to break the mold of KL brunches.
Lafite's Beats and Brunch
Beats and Brunch embraces the evolution of the French restaurant concept: Continue to purvey the highest-quality food with respect to recipe detail, ingredients, and preparation, but deliver it in a style that is less formal and more smart casual. Haute cuisine for the 21st century, if you will. Upbeat music, colorful swirls of light, and a menu that combines buffet and a la minute options are all part of the new package.
Chef Oliver Pistre
Beats and Brunch is the brainchild of Executive Chef Olivier Pistre, an accomplished chef trained in France and experienced in top-rated restaurants around the world. Read more about him in this interview with The Yum List.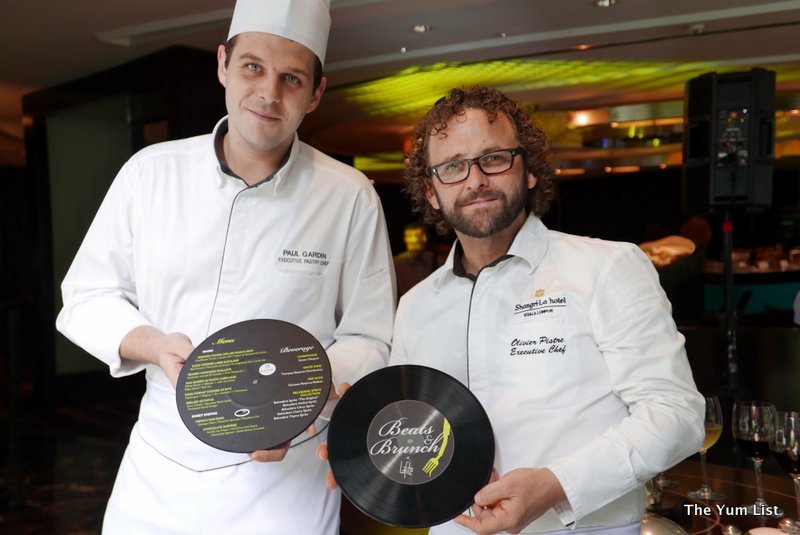 Champagne
A flute of Veuve Clicquot greets guests at the entrance to Lafite and starts the flow of bubbles that continue throughout the meal. Red and white wines are also available, as well as several Belvedere Spritz options, including one infused with thyme.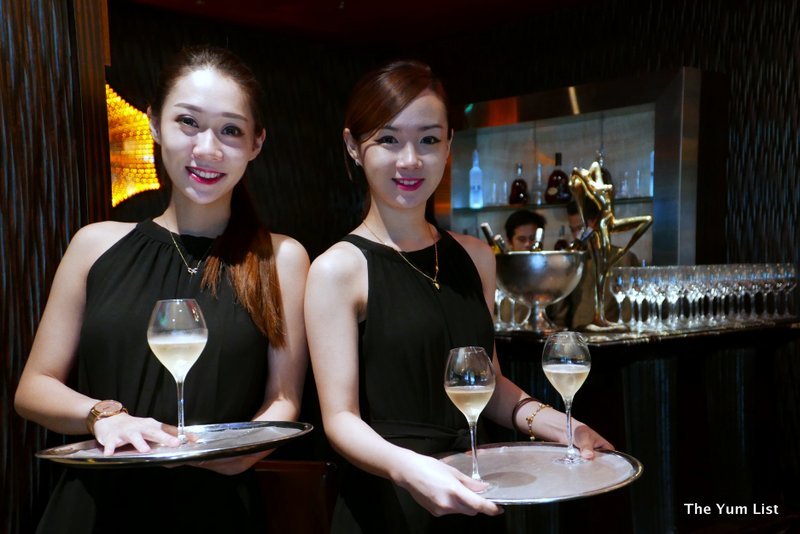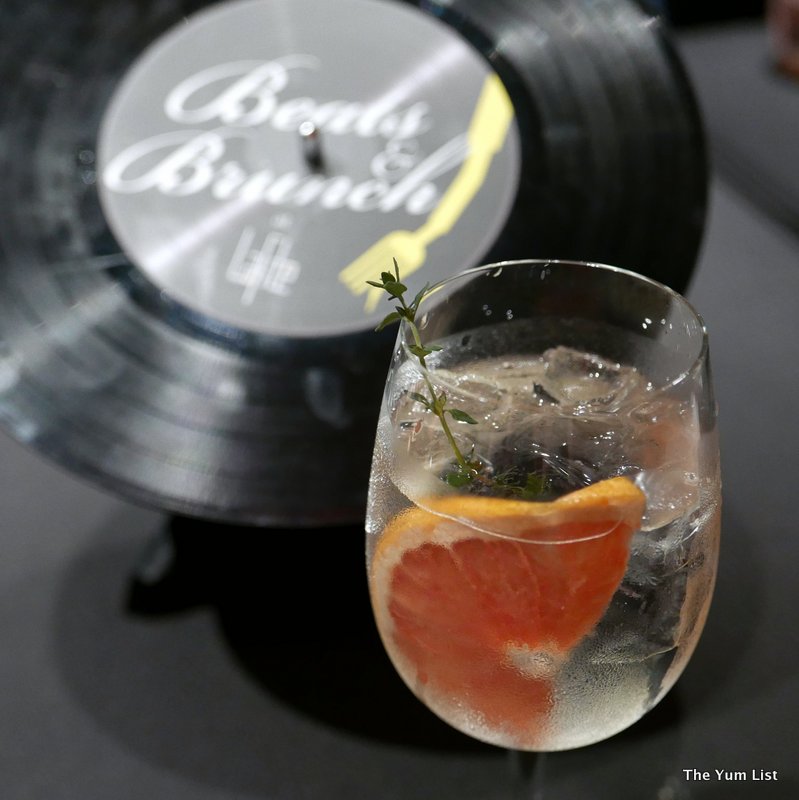 Brunch Buffet
Moving toward the tables, it is impossible to miss the mountain of oysters that anchors the small buffet in the center of the room. Cadoret oysters, their cool and clean kiss from the sea pairs beautifully with the bubbles and sets the tone for the luxurious meal to come.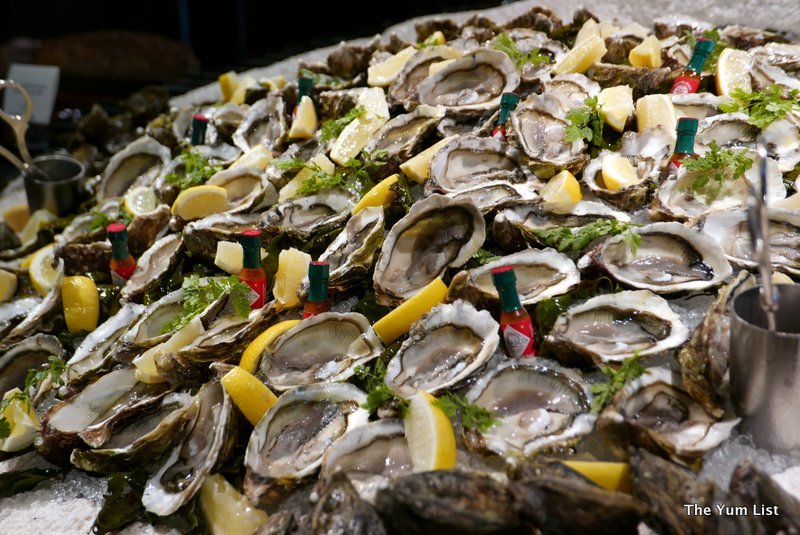 To whet the appetite, the buffet also bestows a small selection of artisanal French cheeses, including sharp Laguiole and zesty Bleu D'Auvergne. Along with fresh loaves on the buffet, servers also furnish guests with mini-baguettes and chewy olive focaccia.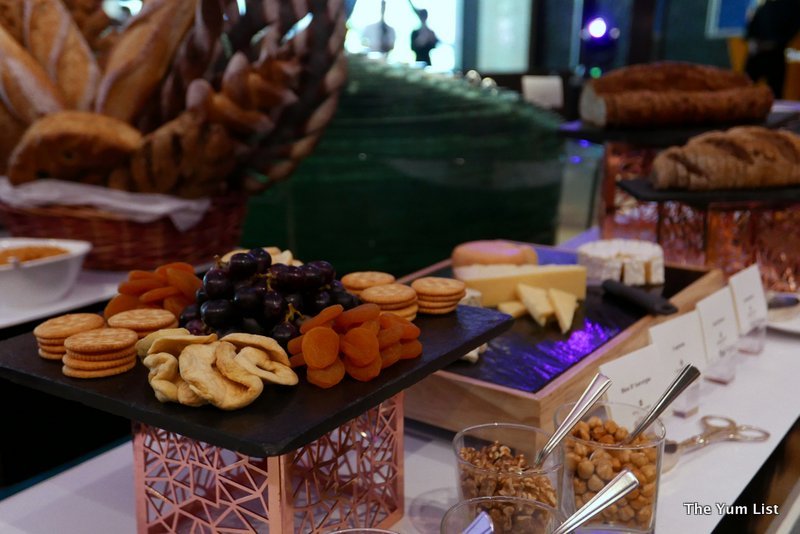 Brunchy Items
Prepared at the buffet and served at the tables, eggs lightly scrambled with smoked salmon begin the meal properly. The addition of aerated wheat cream and a sprinkle of brioche crumbs add richness and texture to this delicious opener.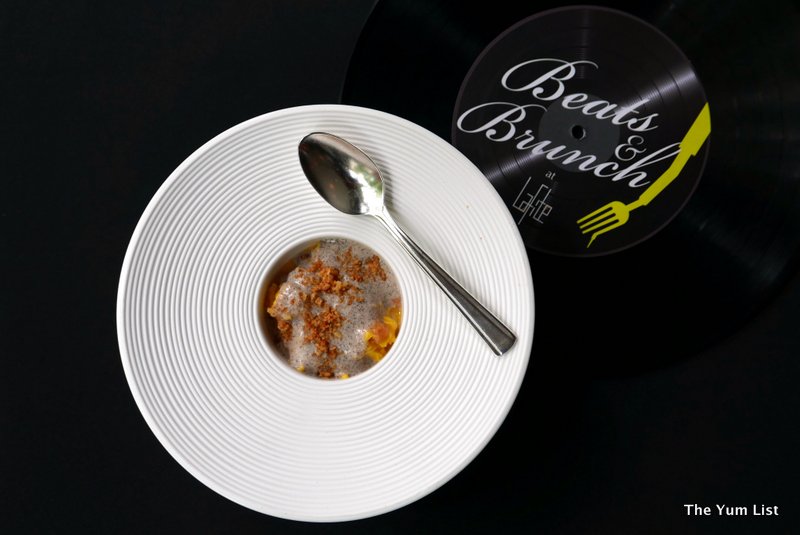 Starters
Each guest is served a starter plate designed for those who like to dabble in flavors. The centerpiece is gratinated lobster thermidor, rich in flavor and impressive in display. Poached apple stuffed with foie gras is accompanied by toasty brioche. Small dishes include fragrant red-pepper gazpacho, creamy asparagus soup, a spoonful of caviar and burrata salad with tangy heirloom tomatoes.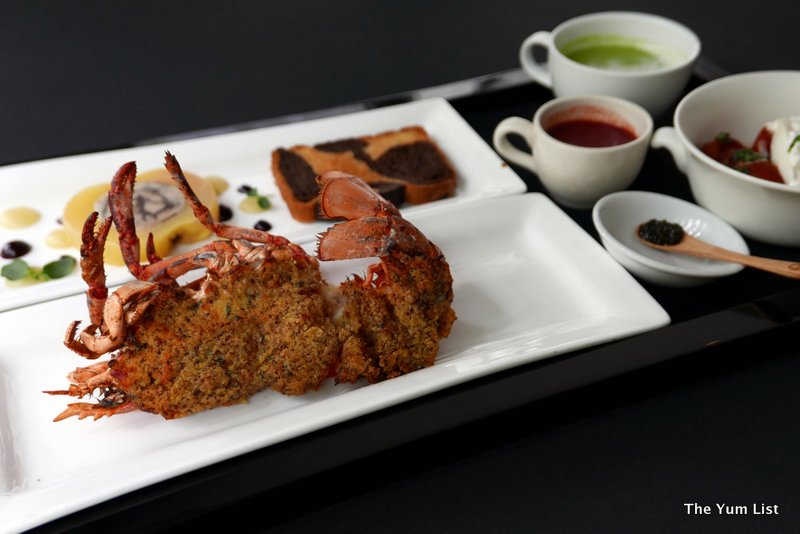 Beats and Brunch Menu
The Beats and Brunch menu, cutely displayed on vinyl, boasts a choice of mains. The brunchier items begin with the Egg Parfait. Here poached eggs float upon thick asparagus cream. You'll want some bread handy to sop up every bit of the runny yolk goodness infused with ham.
Mains
A second main delivers a grilled Hokkaido Scallop served with artichoke veloute, tangy with chunks of fresh artichoke prepared a la barigoule.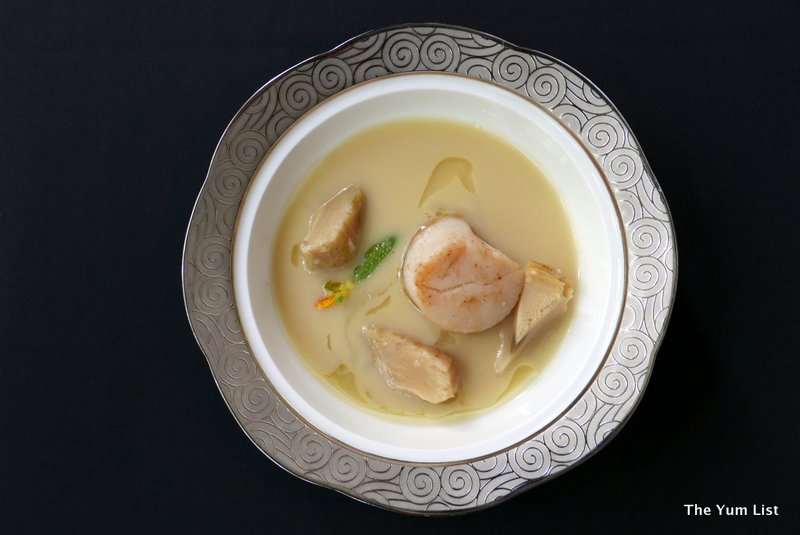 Seafood lovers might instead prefer the Grilled Octopus. Here a meaty tentacle is adorned with piquant corn cream and a smear of black garlic. Artful sauce vierge rounds out the plate.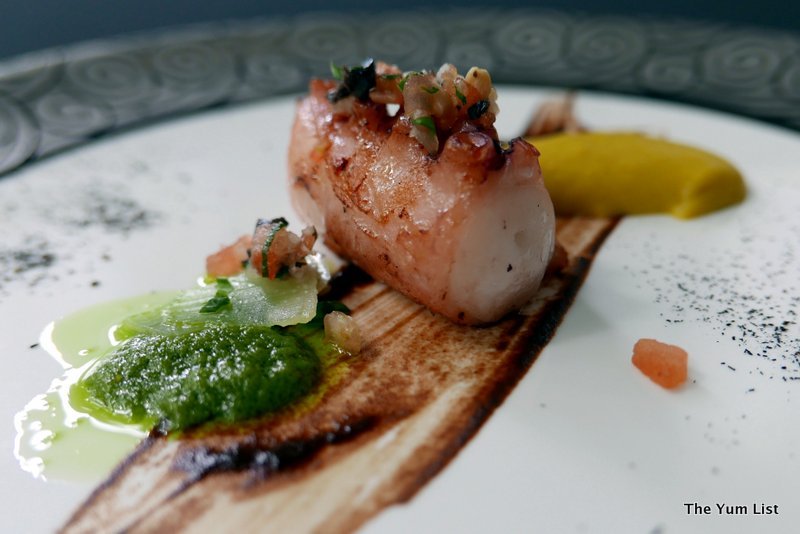 Of the sea-borne dishes, my favorite was the Pan-Seared Cabillaud, Atlantic codfish served with white beans in hearty jus. This was elegance and homestyle rolled into one.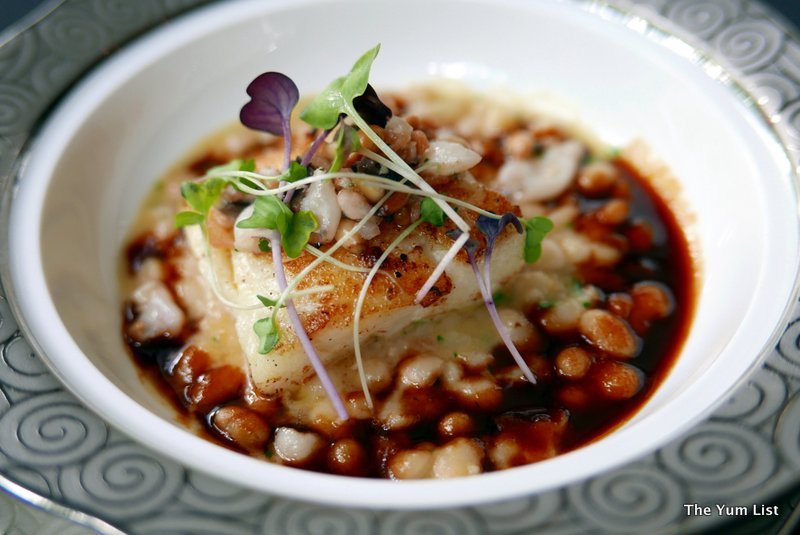 Meatier mains include slow-cooked lamb shoulder. Supremely tender, the cut is capped with rich jus, and accompanied by bites of parmesan gnocchi, and roasted baby onion.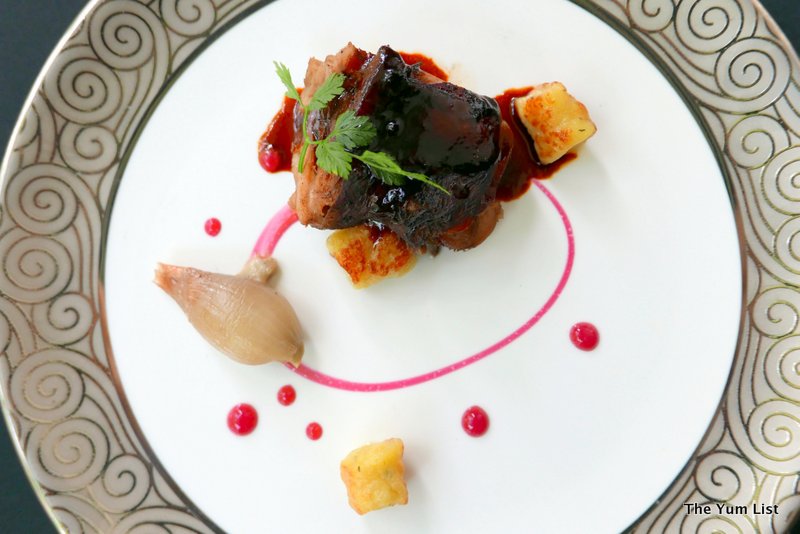 More impressive is the grilled wagyu beef tenderloin, enhanced by smoked Cohiba leaves and served atop a delicate oyster and seaweed emulsion. Dollops of cauliflower puree adorn the rest of the plate.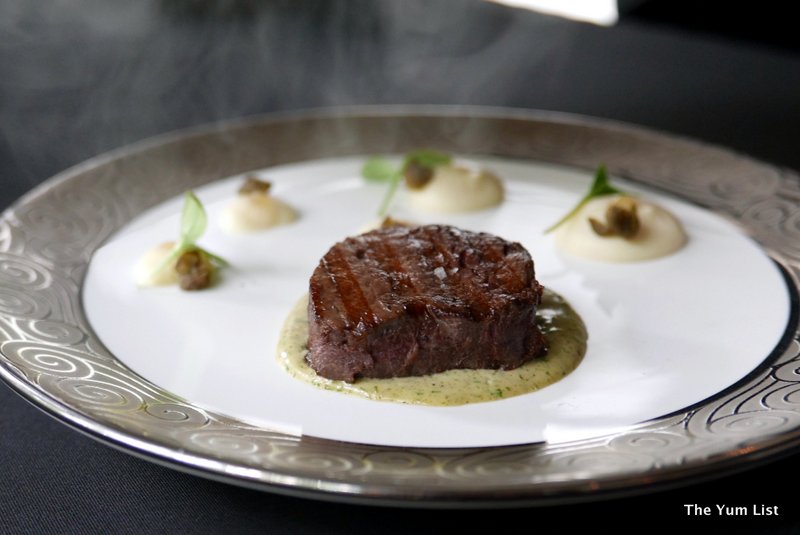 Dessert at Lafite
Dessert at Lafite is an affair of its own. Yes, Beats and Brunch offers a modest buffet of mixed eclairs, including pistachio and chestnut, but the showcased desserts are an event.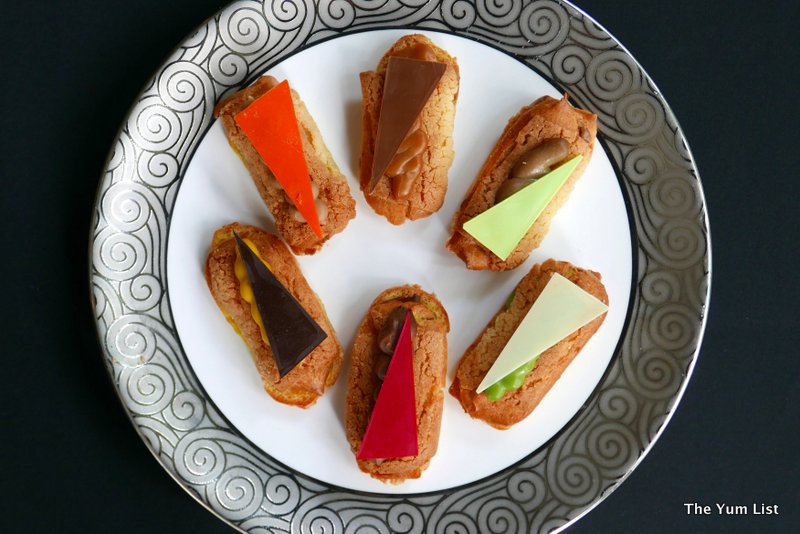 The opening act is French Rum Baba, orange and pistachio sponge cake soaked in rum and crowned with whipped cream.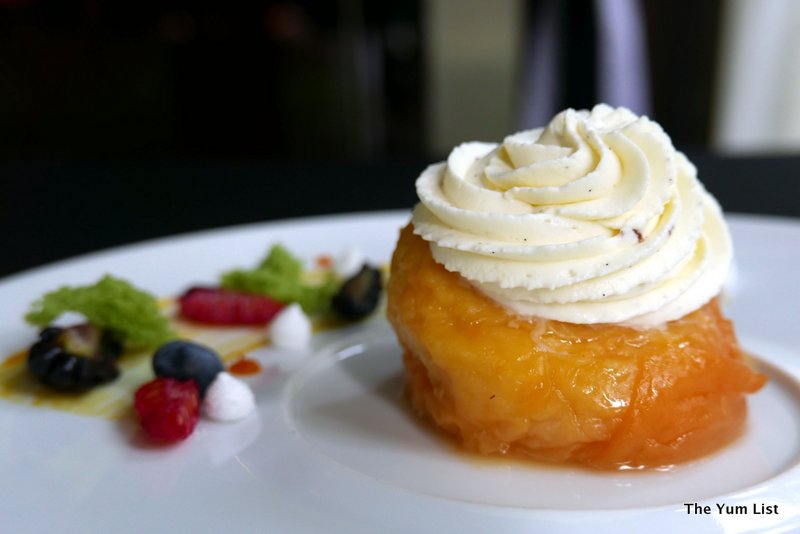 The headliner is Chocolate Surprise, traditional French butter cookie topped with vanilla ice cream and a dark chocolate ball that melts as hot milk chocolate is poured over the top. The smell alone might prompt you to burst into applause.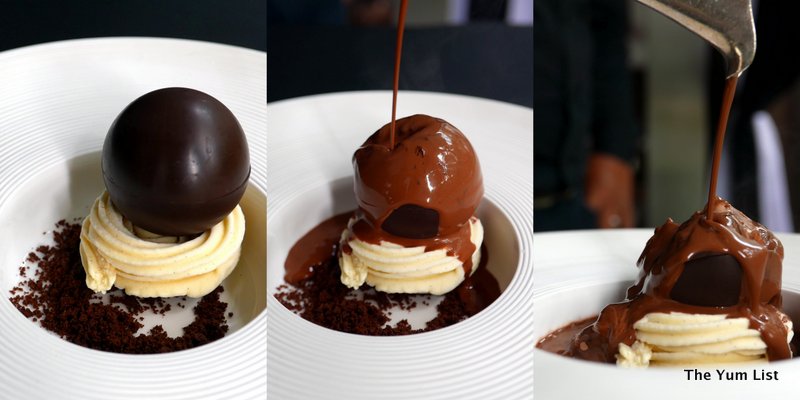 Priced at RM499, Lafite's Beats and Brunch is only available the first Sunday of every month from now until the end of the year, from 12:00 p.m. – 4:00 p.m. Your next opportunity will be the 3rd of September. Look for an extra special holiday-themed menu in December. Reservations are recommended.
Reasons to visit: A new concept to infuse your brunch habits: The guests and ambience might appear more casual than you'd expect from a restaurant like Lafite, but the food at Beats and Brunch is still dressed to the nines.
Lafite, Beats and Brunch
Shangri-La Hotel
11, Jalan Sultan Ismail
Bukit Bintang, 50250 Kuala Lumpur
+60 3 2032 2388
www.shangri-la.com