Words: Sarah Rees     Photos: Monica Tindall
Who knew a humble mountain hut could become one of the must-go places in Sölden for traditional, local food with a view to dominate any conversation and distract you continuously from your date? It was only our second day in Austria when we visited Gampe Thaya and, not yet used to the spectacular scenery, we spent most of our meal a-gog at the view.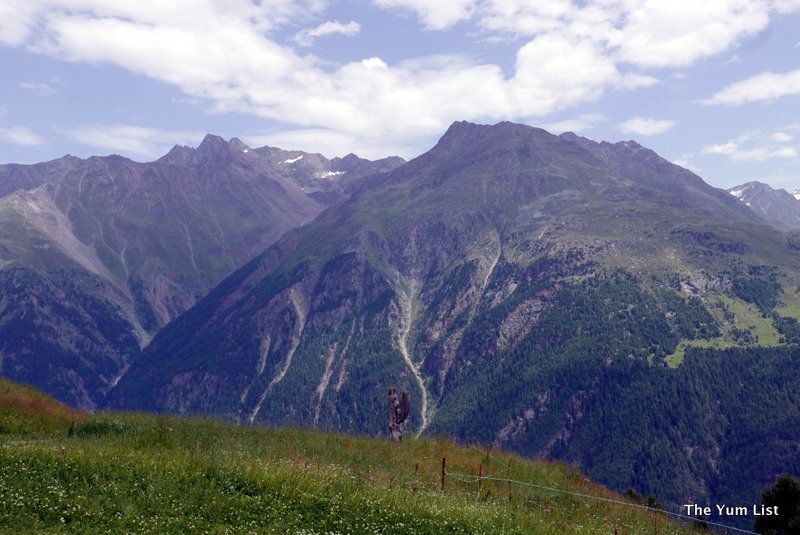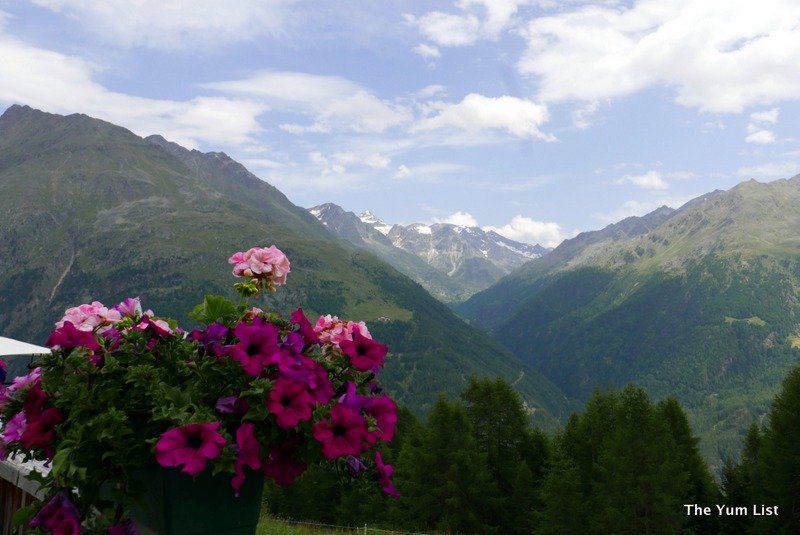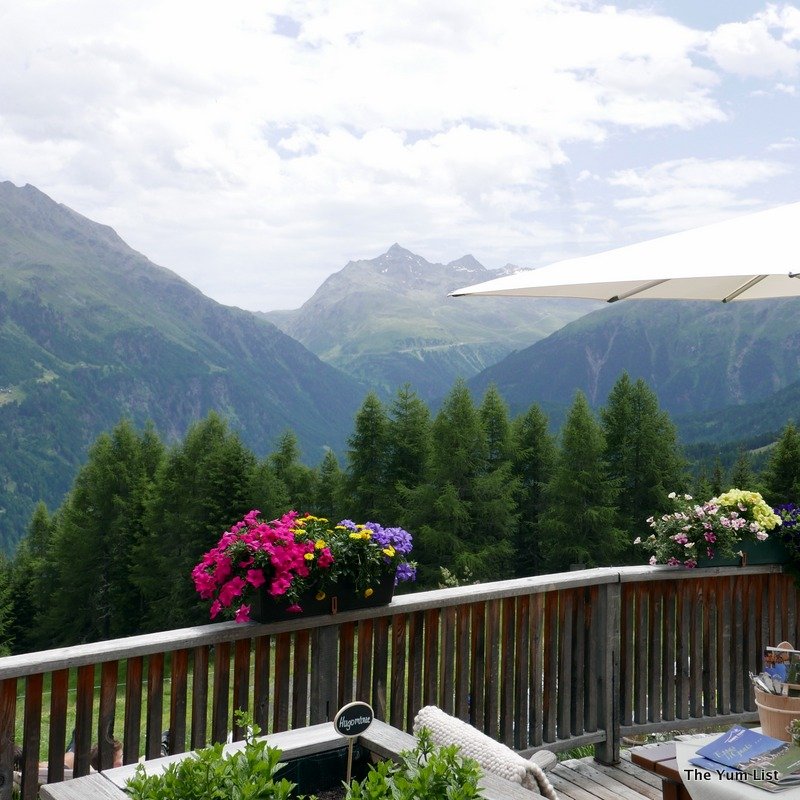 The Prantl Family
The Prantl family have been serving food and beverages from their traditional wooden hut at 2,000m above sea level since 1982. This farming family's determination to offer local cuisine was initially mocked by the other restaurateurs who believed tourists wanted only chips and spaghetti to fuel their skiing and hiking during their stay in Sölden. How wrong they were.
Thirty-five years later, Jakob Prantl continues to maintain his herd while running one of the most successful eateries in the area; Gampe Thaya. On the sunny Sunday lunchtime that we dropped by, the terrace surrounding the rustic hut was packed with locals and visitors alike.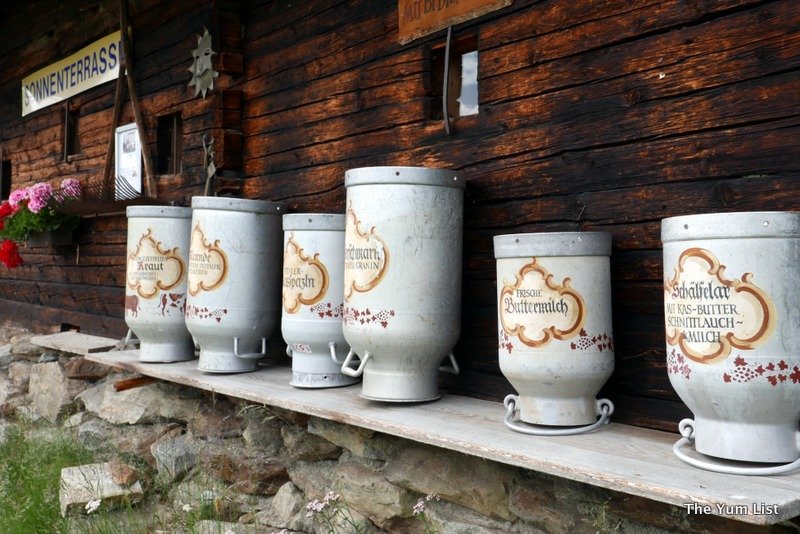 Austrian Entertainment at Gampe Thaya
There was much feasting on big plates of Tyrolean specialities with a glass of something delicious. Feet were stamping along to the traditional band who sang, played and enlivened the whole experience. (The music takes place once a month, and you can check on line to make sure you catch it.)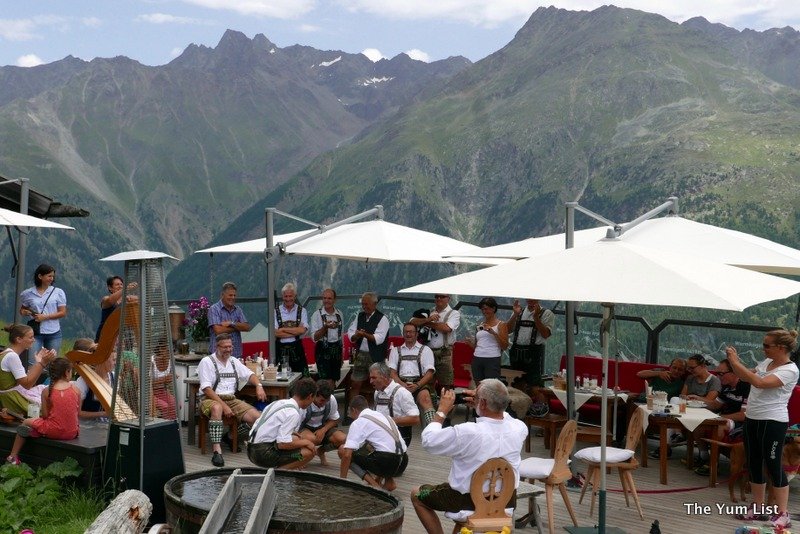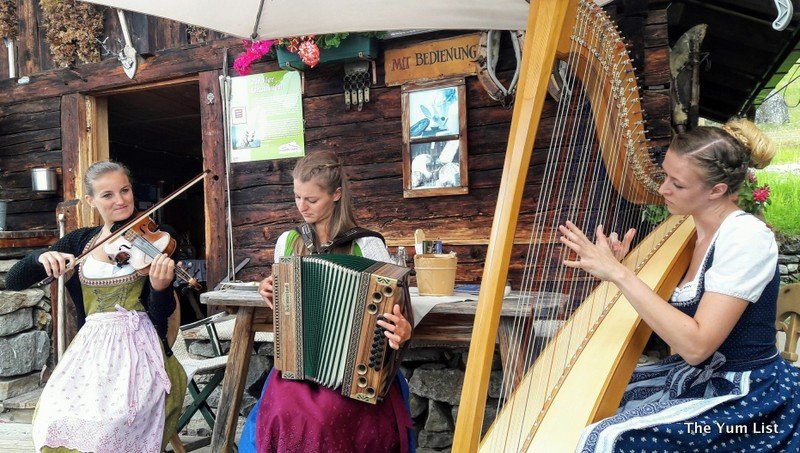 The jolly ambiance was supported by friendly, prompt service from the Prantl family themselves – patriarch Jakob could be seen enjoying a beer after his milking duties were complete while his wife Daniela answered all our questions with doughty patience. Jakob is also responsible for making the cheese that goes down a treat on a platter with cured meats and fresh bread. The fresh milk is used extensively on their menu (try the ice cream!), and they also farm their own cranberries for jam and juice.
Starters
The cranberry juice, Grantensaft, Preislbeersaft (3.80 euros), whetted our mouths as we perused a menu that covers soups, salads, speciality dishes and meat choices, with the prized cows making an appearance in various guises: boiled beef, carpaccio and sausages. The Tyrolean speciality dumplings are also well represented – bacon, sausage or cheese – and we enjoyed a taste of the cheesy ones alongside a steaming mound of buttery, tangy kraut topped with greens, Eingezetteltes Kraut mit zwei Kasknodel (10.60 euros).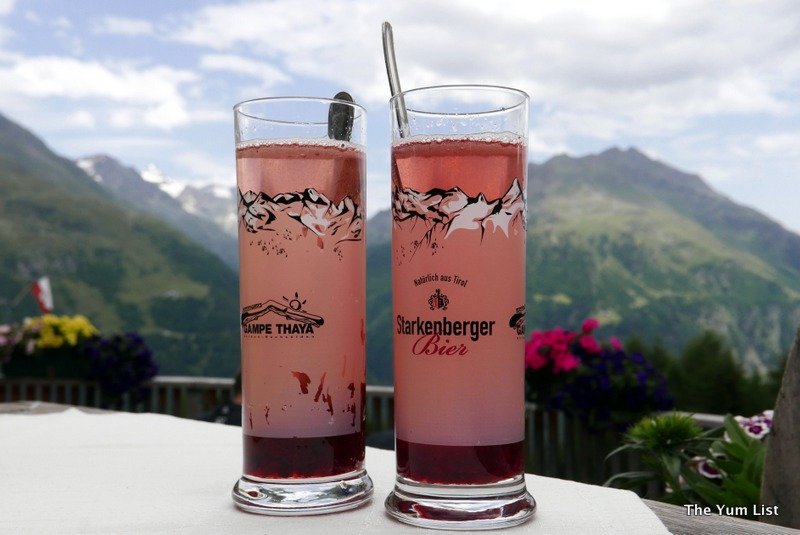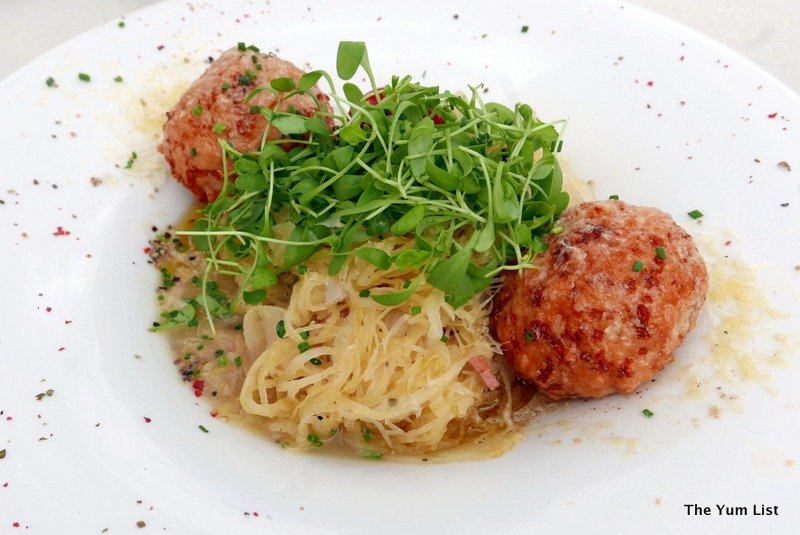 Think doughy, gooey, cheesy balls of comfort and you have an indication of the satisfaction on offer in a traditional dumpling. The cheese is mixed into the dumpling 'batter' (which can be made with breadcrumbs or dough) to deliver a sustained cheesiness; these depth-charges are ideal to power the walkers and bikers onwards or replenish the skiers in the winter.
Heartier Fare at Gampe Thaya
Other hearty fare that comes with a stamp of 'house speciality' includes the oven baked small potatoes daubed in herby sour cream (Ofenkartoffel mit Krautersauerrahm). Cheese fondue is available on request and an Alpine breakfast (15 euros) on offer from 8-10am with pre-booking. There is also a small shop that sells local produce, including cranberry jam, soaps and house-made cheese.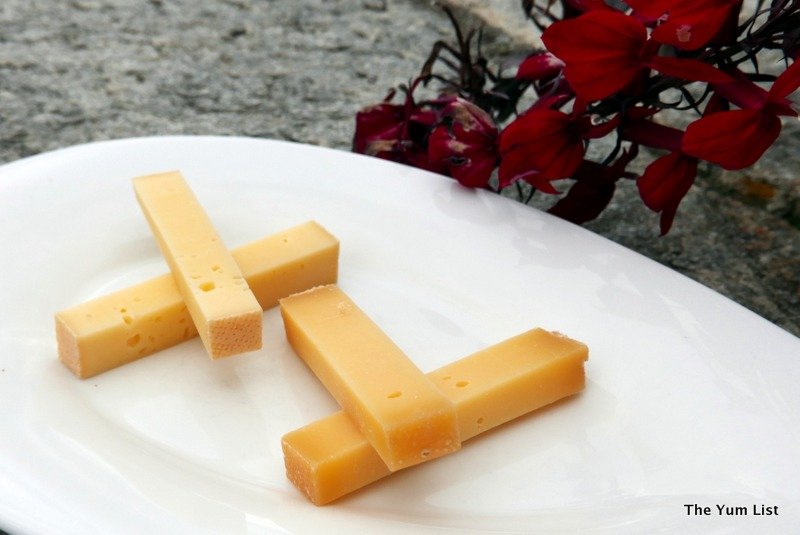 Don't be perturbed with assumptions that all Gampe Thaya's food comes with a risk of heart attack. One of the stars of the salad menu is the Salatteller 'Gampe' (13.80 euros); a bowl of fresh seasonal salads with pumpkin oil and warm boiled Tiroler Grauvieh beef. The greens were fresh and tasty, with the dressing well judged (no sogginess), and the meat was surprisingly juicy and tender. Mop it all up with home made bread and you will leave a happy punter.
Dessert
If you want to move from satisfaction to giddy joy, follow the example of every other table in the place and order the famous Kaiserschmarren (12.10 euros). A pan arrives hot from the oven in a cloud of sugar, containing a heap of chopped pancake tossed with icing sugar and nestled alongside pots of home made cranberry jam and apple sauce. It's simple but excellently executed. The freshness of ingredients and preparation is evident, and it continues the theme of wholesomeness, quality and simplicity, with robust flavours and a hearty weight in the stomach.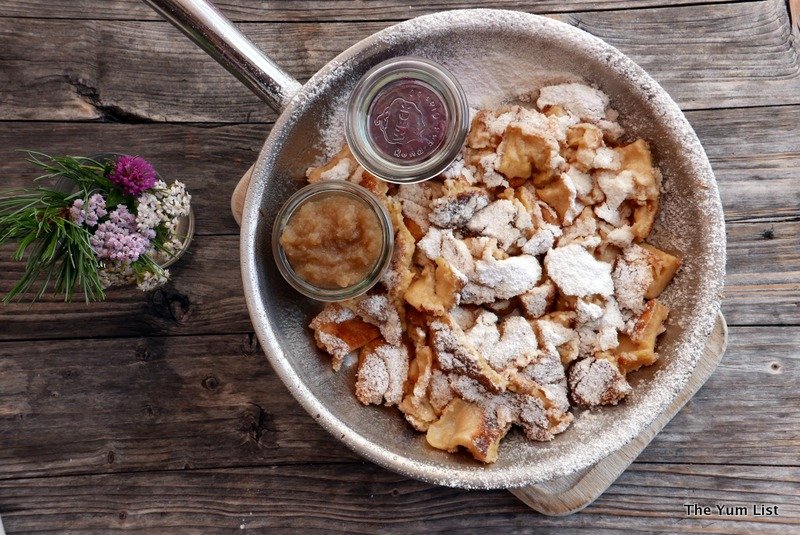 As this is Austria, the wine list is enthusiastic, with red, white and sparkling available by the glass, the carafe or the bottle. Schnapps has a dedicated page in the menu and hot drinks are enhanced with a little tot of something. Hot chocolate with cream and rum perhaps? Or coffee with red wine liquor?
More of Those Views
To be honest, the food and drinks could be sub standard (they're not) and you would still want to hike or drive up to Gampe Thaya purely for the unbeatable location and oozing Alpine charm. Perched midway up the mountain, the hut seems to hang on to the side of a sprawling valley, with greenery and rugged outcrops as far as the eye can see.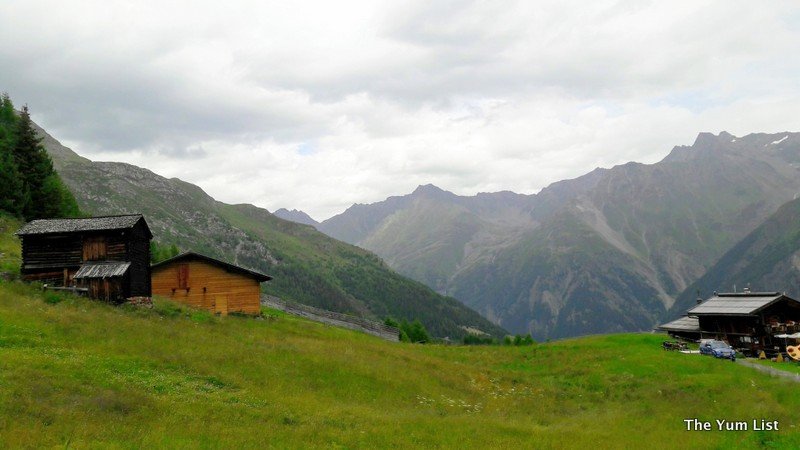 If the weather is unkind, guests can sit instead within the old hut where cosy nooks and roaring fires combine with the lulling smell of pine wood serving to speed your descent into a happy lethargy that comes with hearty food and holidays. Take a moment to admire the collection of hefty cow bells and other alpine paraphernalia that adorns the walls – this is no funky design feature but souvenirs of the farmer's life. Authenticity in décor and edibles served in extraordinary surrounds makes Gampe Thaya unmissable.
Reasons to visit: traditional local food prepared and delivered with care in a stunning setting.
Note: Payment is cash only.
Gampe Thaya
Gampe Alm 1
Sölden
Austria
https://gampethaya.riml.com
Opening hours
15 June – 1 October, 8.30am-5.30pm (closed Monday)