Words: Sarah Rees    Photos: Monica Tindall
If you are seeking a spectacular and exclusive dining experience, it doesn't get much better than this. Not only are you 3,048m above sea level at ice Q, hanging off the side of one of the most spectacular peaks in the region with an expectation of fine foods and excellent wines, but you are following the footsteps of James Bond in Spectre, with the location every bit as seductive as it looked on the silver screen.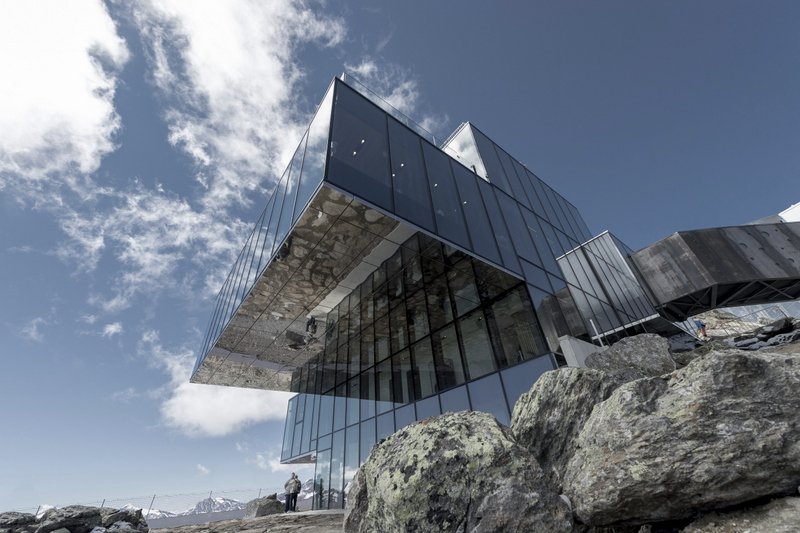 ice Q
ice Q is an experience you cannot miss during a holiday in the area. Built in 2013 and spearheaded by the community, ice Q is a stunning, glass structure that offers unbeatable views of the Gaislachkogi mountain in all seasons and weather. Whether the sun shines or the clouds roll in and out, the vista is immense – you'll have to keep reminding yourself that it's no movie backdrop but the real deal.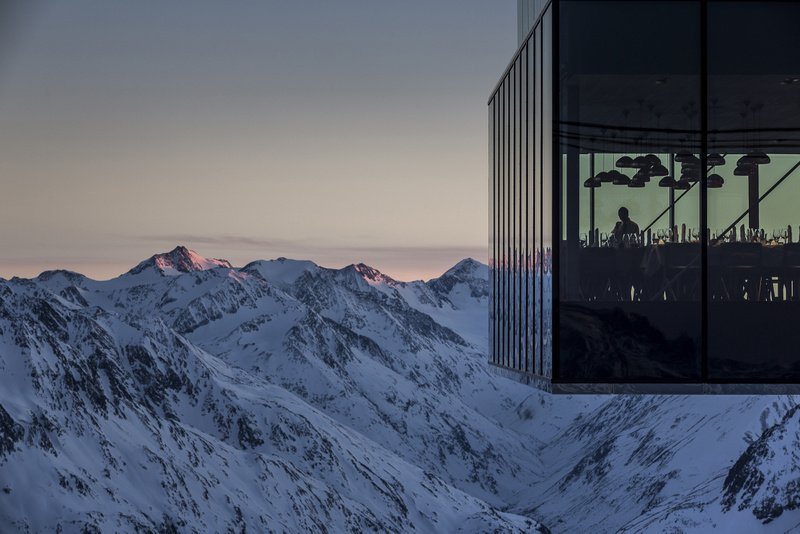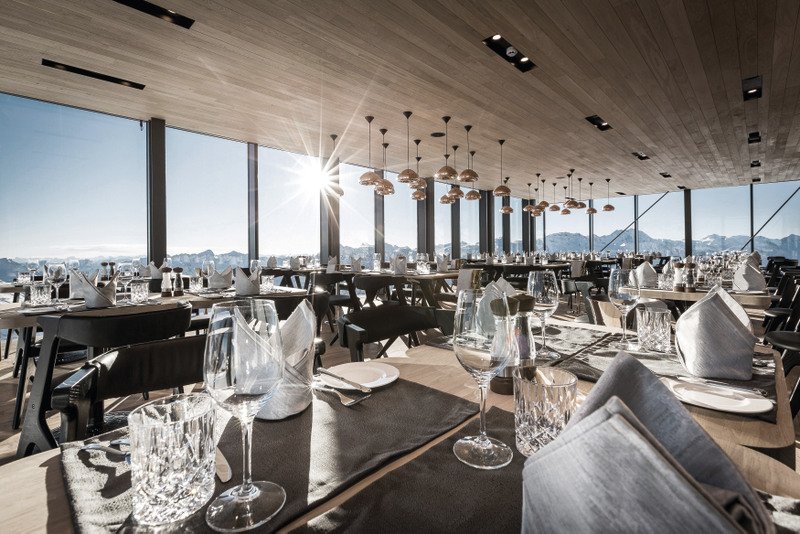 The interior is wood-panelled, combining comfort with elegance and offering a space for all, no matter budget or desires. On the ground floor, you can hoist yourself into a bar stool for a martini (shaken not stirred) or order coffee and cake to replenish your energy while you marvel at that view. Tapas is also available for those in need of a small bite before they emerge back onto the mountain. The owners are well aware that most visitors are stopping by mid-hike or ski, so dress codes are loose and there is a place to swap your ski boots for warm slippers during the season.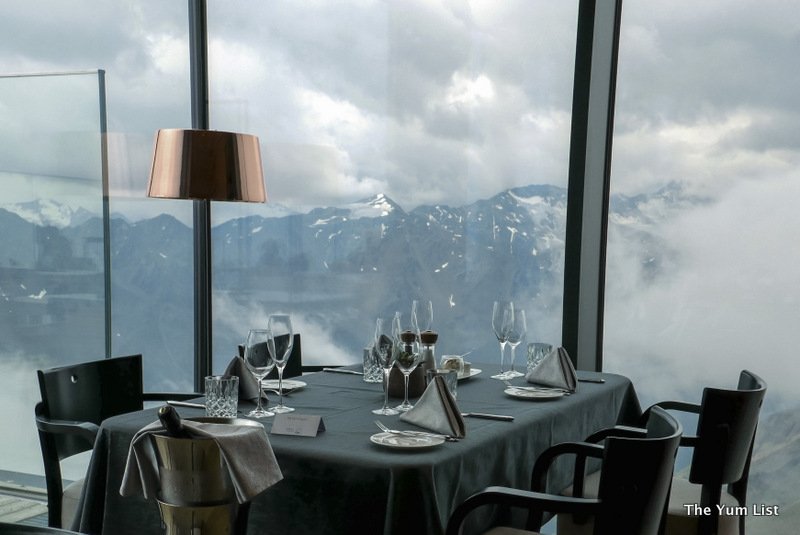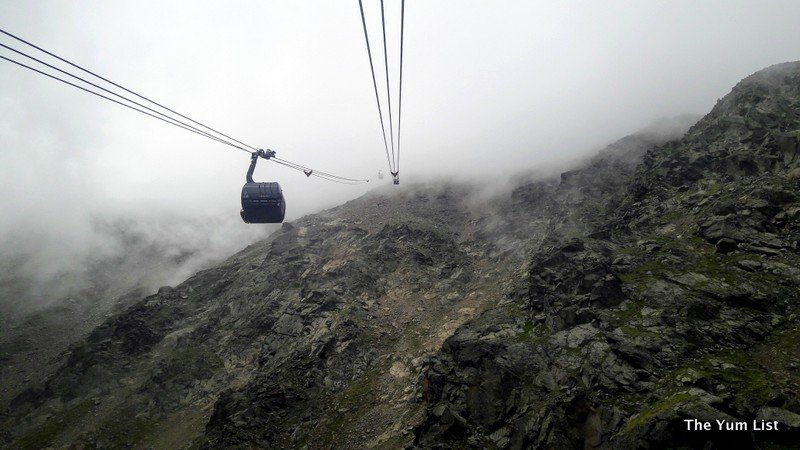 While the ground floor (ice Q Bistro and Lounge) is for more casual fare, climb the wide wooden stairs to a dining area where Alpine cuisine is transformed into fine dining, with three- (44 euros), four- (56 euros) or five- (68 euros) course menus served alongside outstanding regional wines – and always with a glass of the exclusive Pinot 3000.
Pinot 3000
This unique wine is the product of international cooperation: three winemakers from Austria, Germany, and Italy contributed Pinot Noir grapes to be combined to create this very special blend which is barrelled and bottled at ice Q. The result is a unique, high altitude red you can't buy anywhere but ice Q and Das Central. The flavour is just as satisfying as its story, and the rich, fruity red was just what we needed to gear up our taste buds for an exhilarating journey through Alpine cuisine at altitude.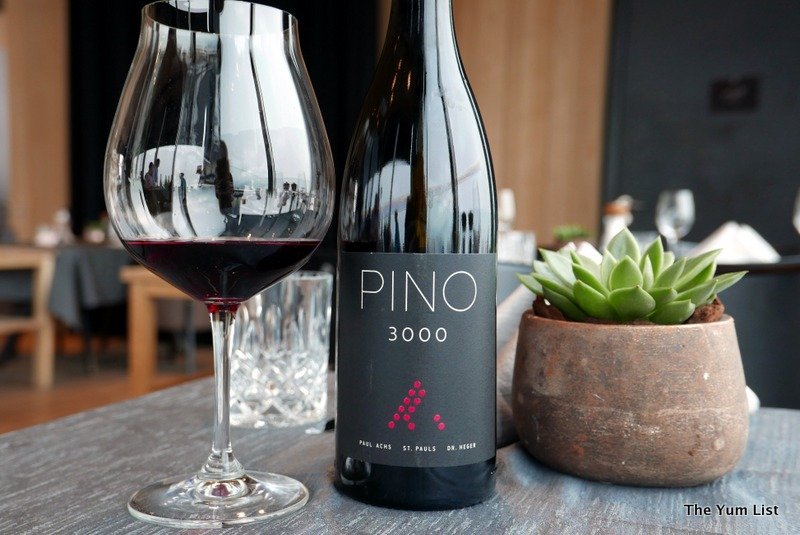 Amuse Bouche
Emphasis – as it should be – is on high quality, local ingredients prepared to perfection and presented with artistic flair. Plate composition may have been a work of art, but there was a simplicity in the combination of superior ingredients, right from the goose liver lollipop (encased in beetroot) and beef tartare (topped with pickled walnut) that served as our amuse bouche.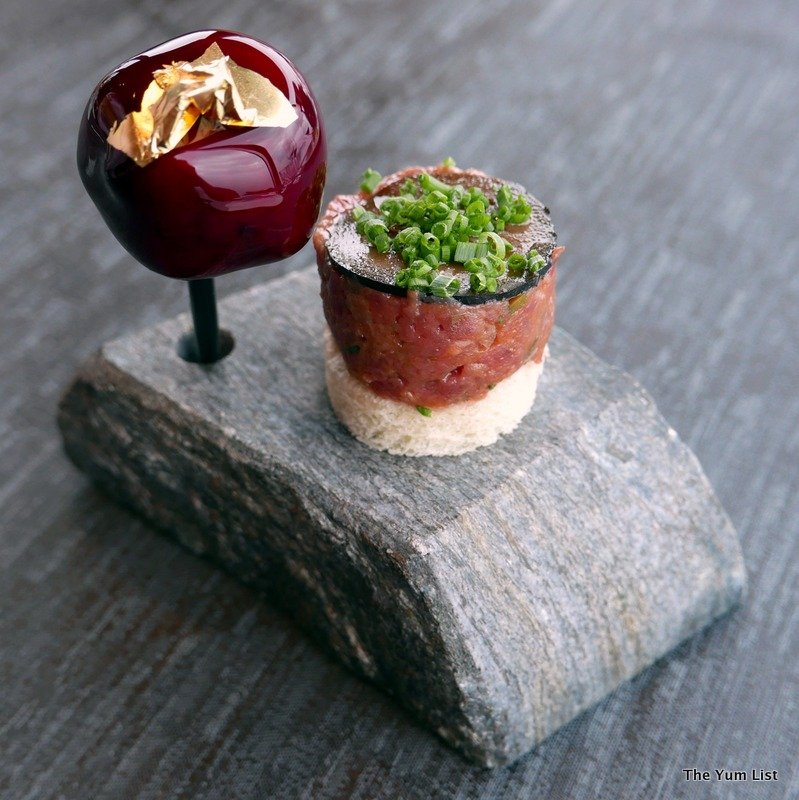 Starters
A selection of fish was the next beauty to arrive, with a beautifully smoked char and a smoked salmon balanced with fresh cucumber, boiled quail eggs and plump balls of caviar. This cleansed the palate ahead of the rich confit of suckling pig served alongside pig breast, little tomatoes, morels and a bed of cabbage beneath. A glass of the deliciously sparkling Preclaerus Brut from Wolfgang Tratter brought this to new heights, with a richness that hinted at Champagne in the process, if not in the name.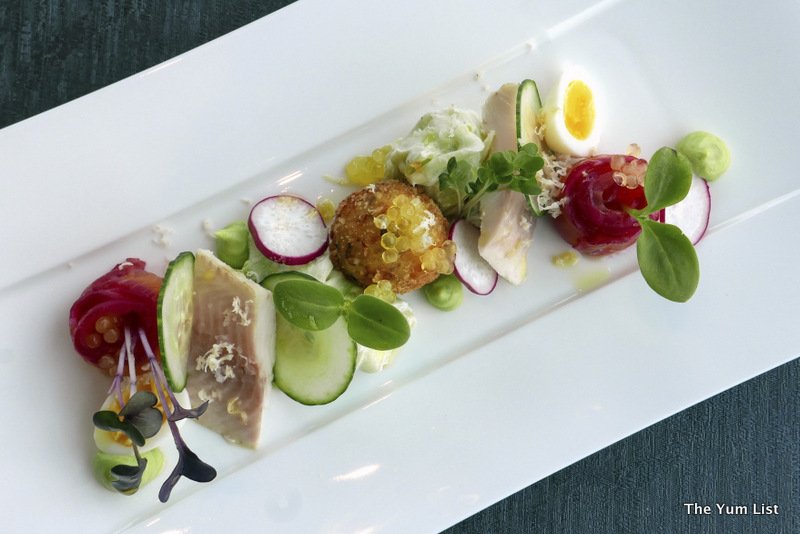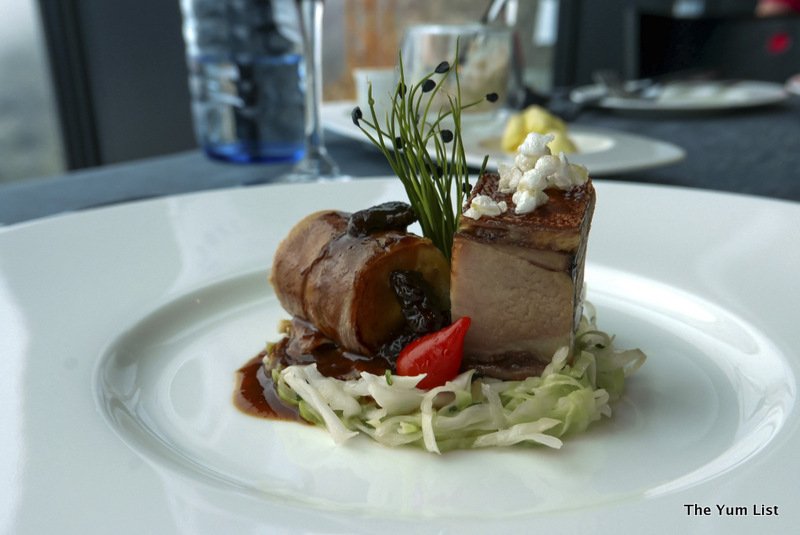 The traditional Tyrolean dumpling had an exuberant makeover at the hands of chef Patrick Schnedl: soft, cozy dumpling encased bone marrow and sat a-top zucchini balls and mushrooms in a vivid green parsley sauce that softened the richness and density of the dish. To accompany this dish we enjoyed a taste of Austrian wine maker Nigl's Gruner Veltliner, a white wine of exquisite depths.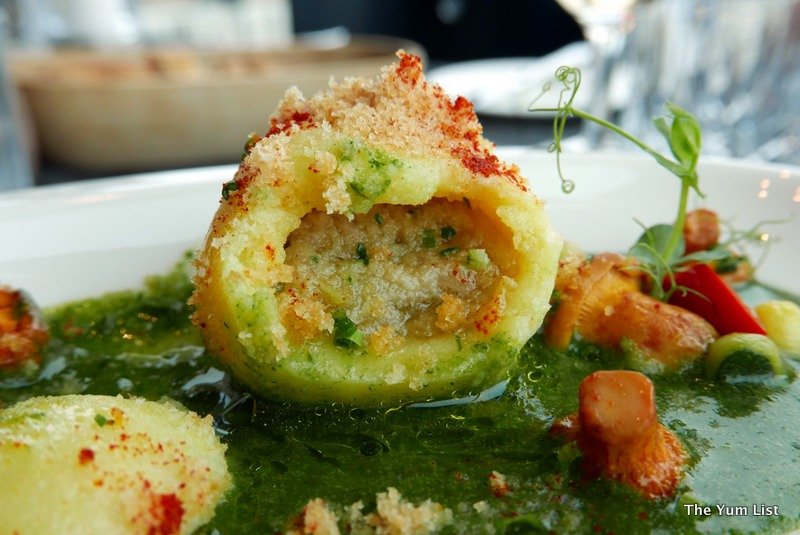 A serving of bouillabaisse looked deceptively diminutive, packing a huge, warming flavour within its dusty red depths. The fish additions were independently glorious and served as critical parts of the whole, with a scallop, a fat juicy prawn, a scattering of mussels and a slice of sea bass all prepared to the same high standard. This was washed down with a taste of the Austrian Gesellmann Blaufränkisch Hochberc 2008 – all their wines are aged in wooden casks.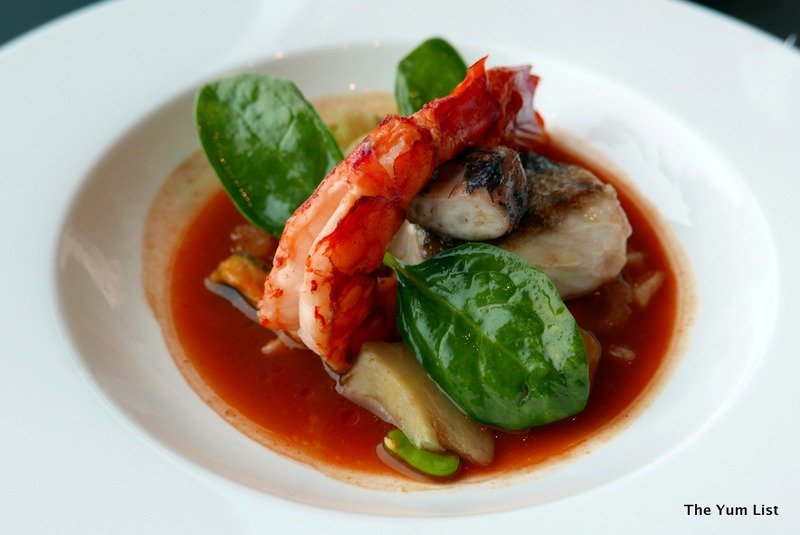 The main courses were completed with a saddle of venison wrapped in flaky pastry. This reclined on a wipe of beetroot puree dotted with vegetables and truffle potato. The meat was tender and juicy, with the buttery pastry cutting through the rich meat while the vegetables brought the combination down to earth. Heger's 2015 Oktav Grauburgunder (or pinot grigio) was a tender but robust white to accompany the rich juicy venison.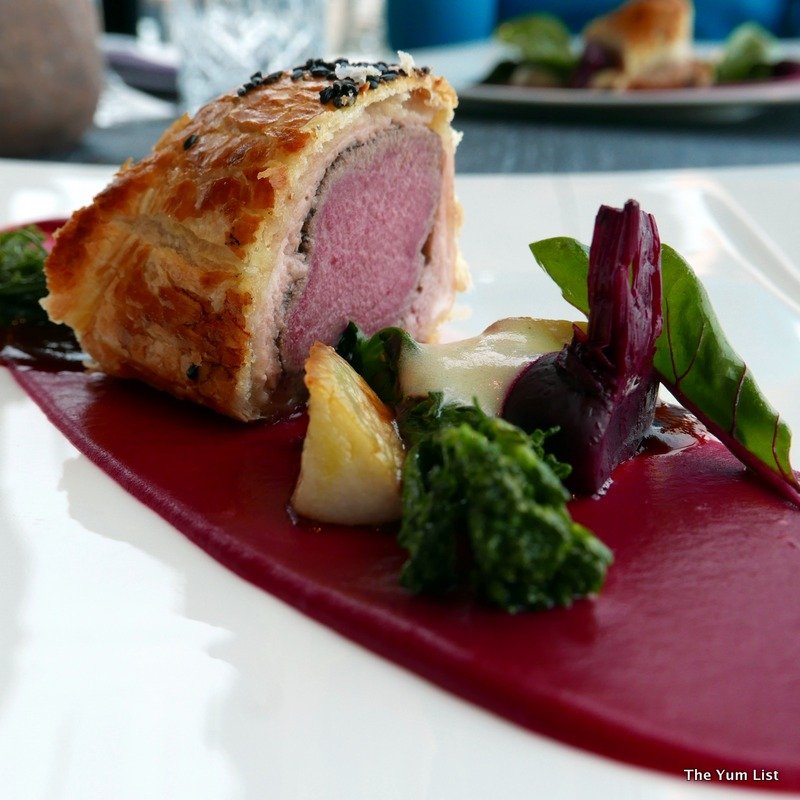 Indeed 'down to earth' is an unexpectedly apt phrase to describe this restaurant in the clouds. It may be elegant, stylish and of a supremely high quality, but Ice Q is welcoming and accessible – no need to stand to attention or hike up there in your finest. All are welcome to enjoy a refined version of the comforting local classics, such as the apple strudel and Valrhona chocolate cake that we gamely squeezed into our replete tummies as dessert.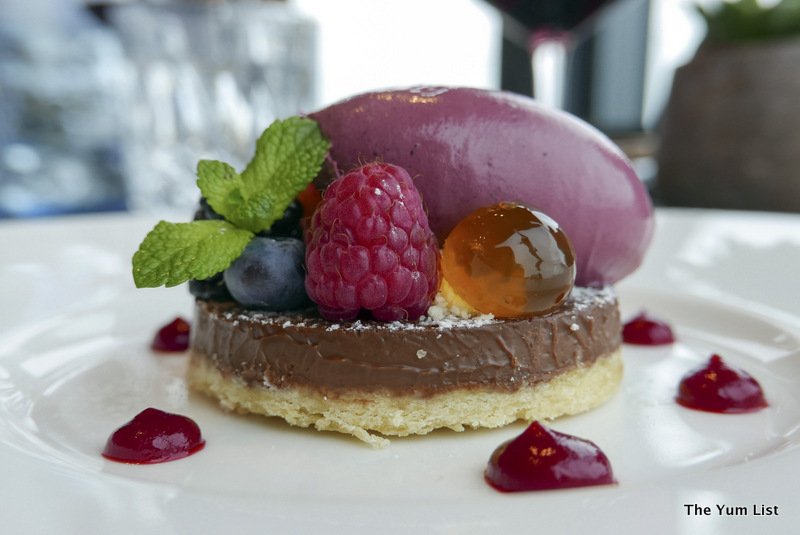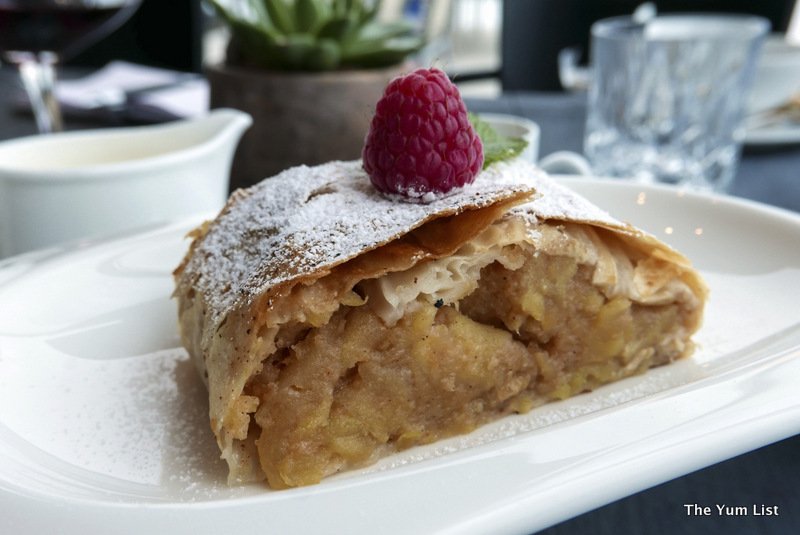 We were charmed by Ice Q, and spent a good half an hour taking 'just one more picture'. The views and interiors are spectacular without the movie connection, but the Hollywood glitter is a real bonus. The thrill of knowing you are walking in the footsteps of Daniel Craig, Sam Mendes and the Spectre crew who filmed here in 2015 is enough to get a goofy smile out of even the most stoical diner. ice Q may have served as the baddies' lair in the movie but in real life, it is a place of gastronomical delights, with the finest Austrian hospitality.
Reasons to visit: the views, the high-quality food and wines, the irresistible Bond connection, an exclusive taste of Pinot 3000.
ice Q
Gaislachkogl mountain station
Dorfstraße 115
Sölden
6450 Austria
http://www.iceq.at
Opening Times
Daily 9am-4pm
Summit dinner available every Wednesday from 3 January- 21 March (reservation required)