Monica Tindall
We first fell in love with the cuisine of chef Theodor Falser of Michelin-starred Johannesstube in the north of Italy when he was the star chef in the celebration of Traders Hotel Kuala Lumpur's tenth anniversary. Opening the hotel a decade earlier, the team at Traders felt immense pride that their head chef had gone on to become a celebrity in the north of Italy with three consecutive Michelin Stars under his belt.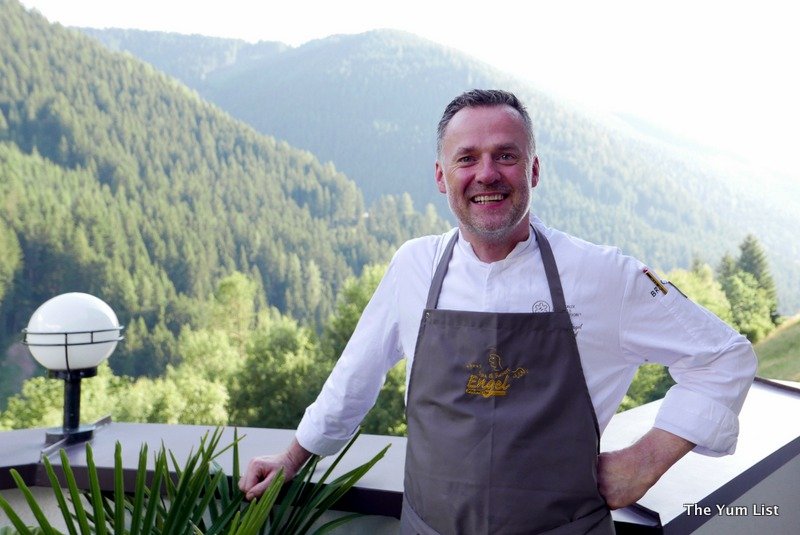 Johannesstube
Named after the founders of the 155-year-old Hotel Engel (which is home to the restaurant), the Michelin-starred Johannesstube is housed in an Alpine-styled living room. Respecting tradition there's a statue of Jesus Christ in the corner with portraits of the deceased owners also paid tribute to on adjoining walls. The light polished wood is from the 1300s and French doors overlook fabulous pine-coated mountains with the breathtaking Dolomites proudly towering over them from behind. When the sky changes from day to night, the Dolomites become a fabulous rose colour, dubbed the "rose garden" by locals. With such magical light, my recommendation is to arrive before the sun says its daily farewell to appreciate the full beauty of the setting.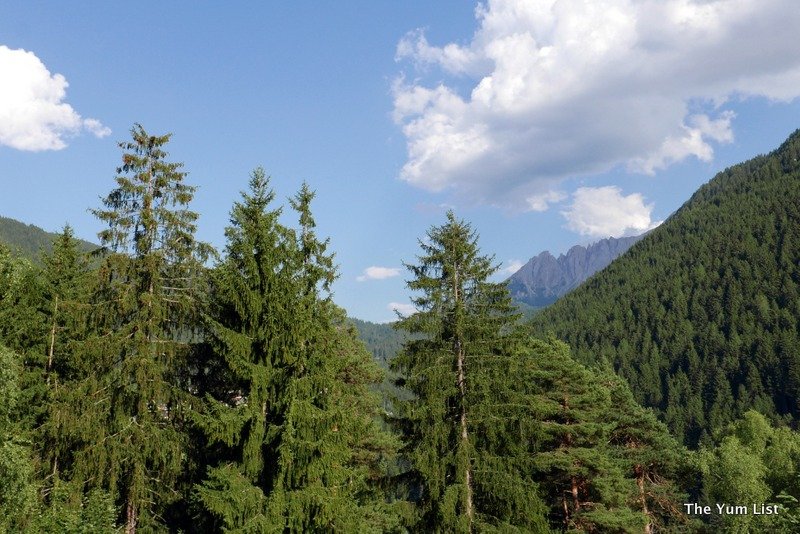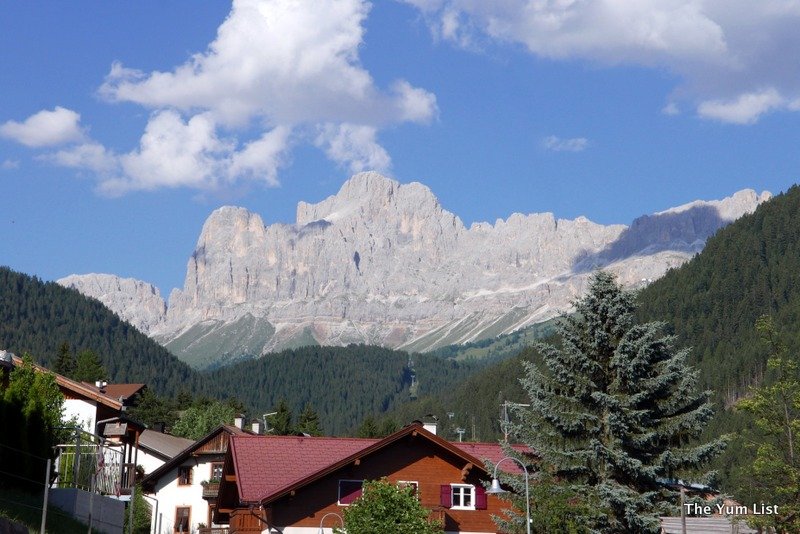 Chef Theoder Falser and his team at Johannesstube place high importance on sourcing local, sustainable and organically grown ingredients. The menu changes with the seasons, and even week-to-week depending on what is plucked from the garden. There are herbs and vegetables on this menu that we've never heard of before and Chef tells us that not only can they not be found anywhere else in the world, but that he has had to use a process of trial and error to figure out what to do with them as "these are things that are not available on Google."
We can't wait to begin!
Aperitivo
We've just learnt how the fourth generation young Johannes, at the tender age of 17 made the history books as the Italy's youngest sommelier. Now that the laws have changed making the legal age 18, he will forever remain so. Besides having a fantastic knowledge of local wines, Johannes has developed a fondness and in depth knowledge of French vintages too. So it is a French Champagne, Yann Alexandre, Rocher Mere, Brut Nature that launches our Johannesstube journey. It's the house Champagne, imported directly from a boutique producer in France. They produce less than 10 000 bottles a year and the hotel is an exclusive importer of the drop. Fresh, dry and crisp it's a sound start.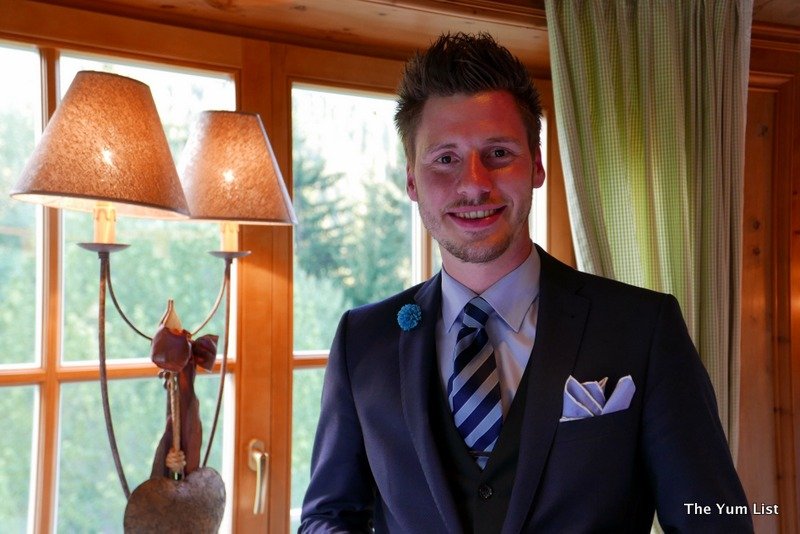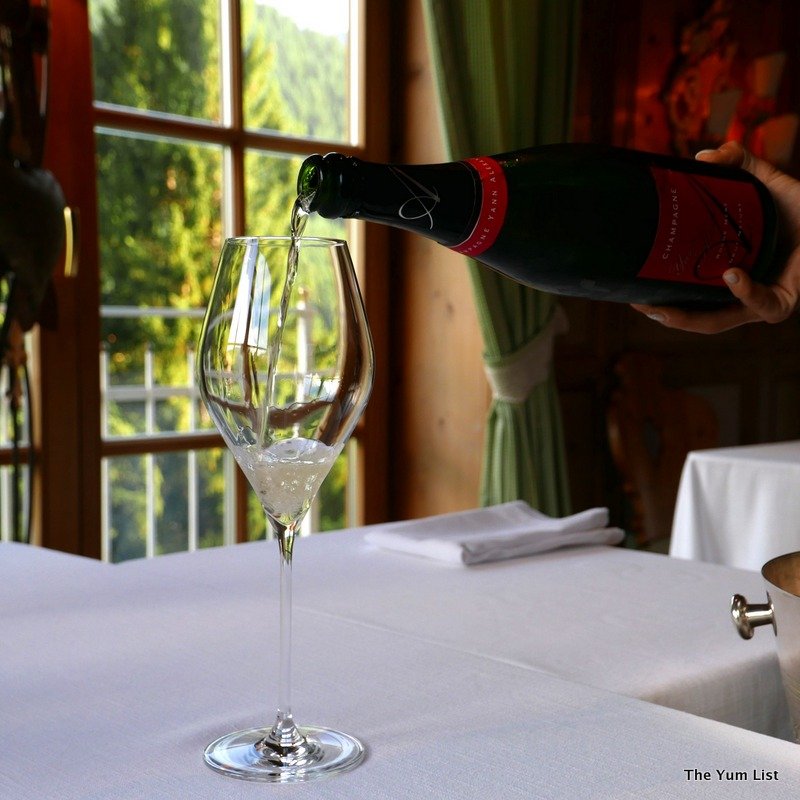 Snacks
As if delivered directly from the forest, Bresoala with Homemade Grissini arrives with sprigs of pine on a slice of a tree trunk: sandpapered smooth with the concentric circles telling the age of the tree and the bark forming a rough embrace. The meat sports wonderful depth of flavour and the grissini is rustic in its presentation, unevenly formed with whole grains texturing the surface.
Amuse bouche
The first amuse bouche, homemade miso soup with fermented chickpeas, is like no other we've tasted. It tastes clean with Artemisia leaves filling the cup. Used in Chinese medicine, the herb is said to have sedative, expectorant and pain relieving effects. Tasty and healthful: a winning combo in my opinion.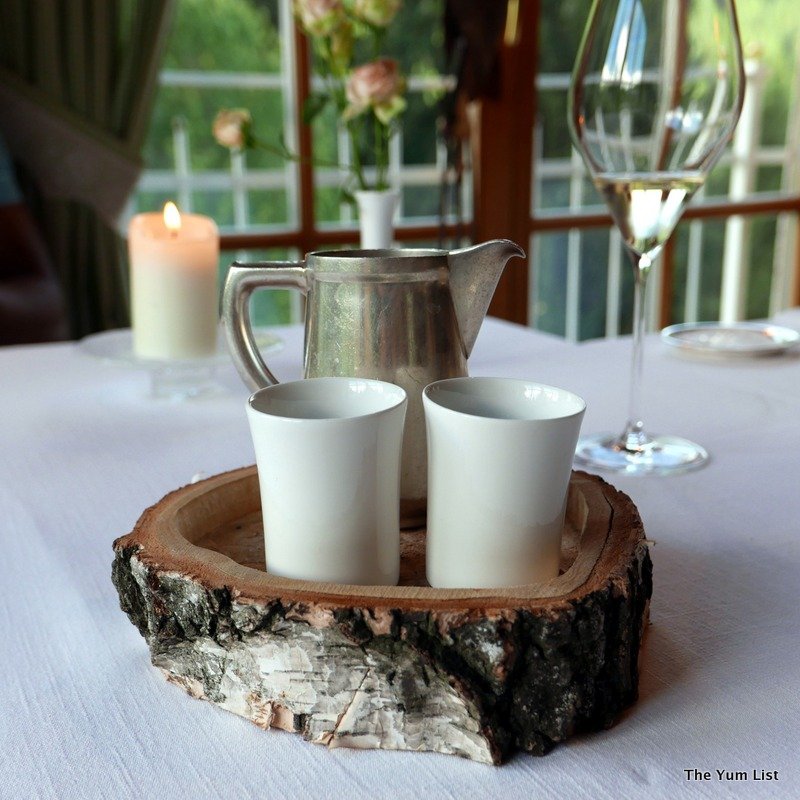 With the second amuse bouche, it's evident that the plating here is founded in the natural environment particular to the Alpine home. Wooden sections continue to appear as the main serving receptacle and adornment is from the forest itself. Veal tongue in a tiny bread-crumbed cube is a perfect pop-in-the-mouth with a sweet paprika sauce and wild cumin.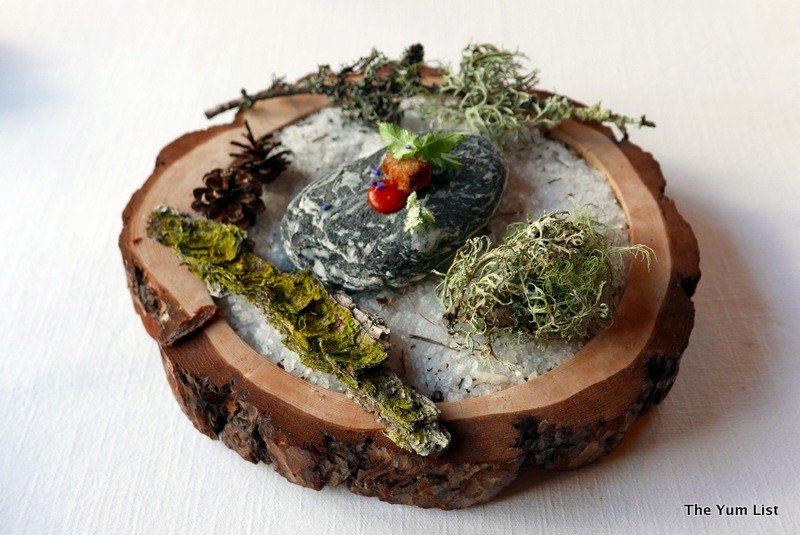 Johannesstube Bread
Salted butter and red cabbage with mascarpone are first placed on the table, and then the bread loaf, fresh from the oven, is sliced in front of us. A "Taste Nature" information card tells that in an effort to support nature, sustainability and regionality the bread is wheat cultivated and milled by Eisath Hof Deutschnofren and the butter is produced with mountain milk of the Eggental. Oh my, stop me here. I need nothing else than these crusty loaves and my glass of wine.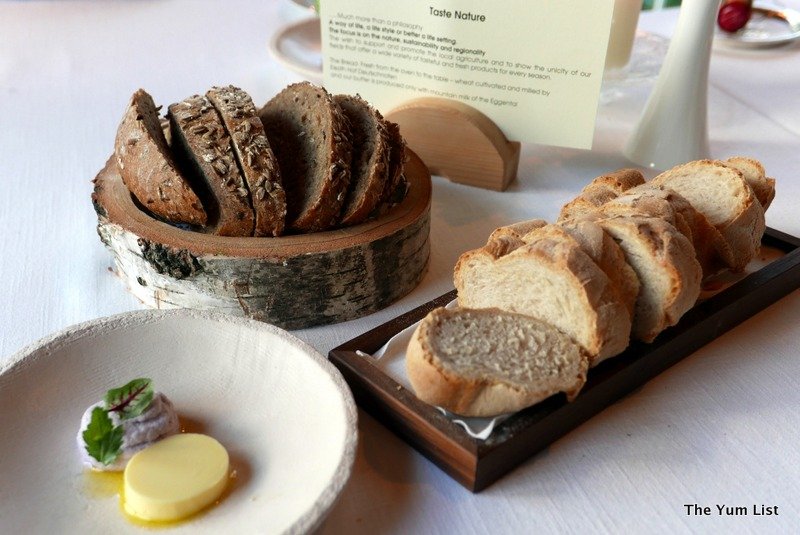 First Wine
A German Riesling by Haart to Heart smells of summer with apricot and peach aromas. Coming from the cool Mosel climate it's naturally crisp and so has been balanced with up to six grams of residual sugar. Just lovely.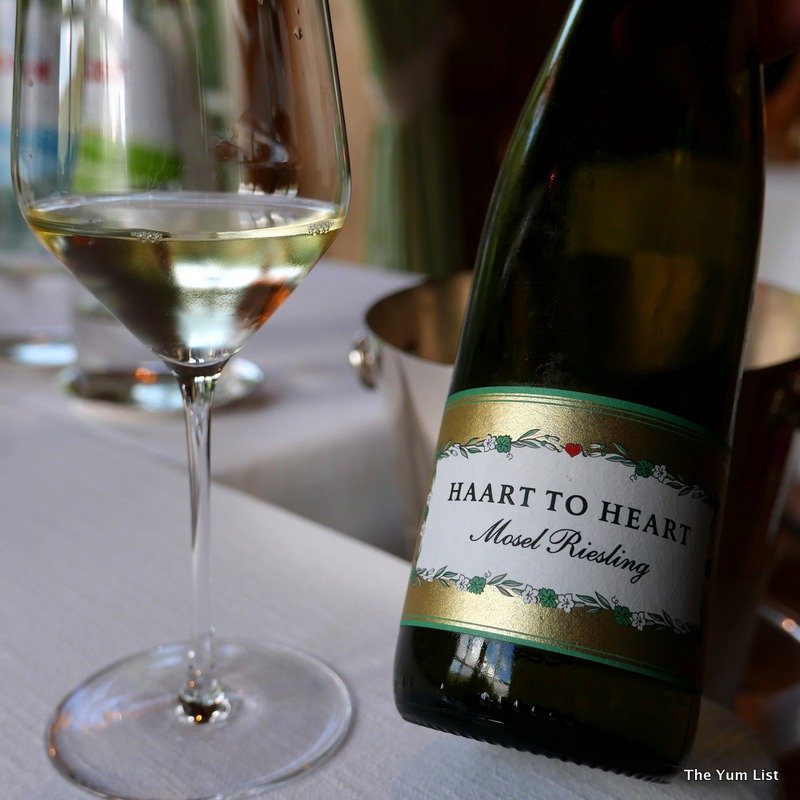 First Plate
"Scalops" are a cheeky vegetarian interpretation with swede turnip cooked in almonds and olive oil shaped as the mollusk and served in its shell. Topinambur (Jerusalem artichoke) skins cream, candied topinambur, and elder caper dressing complete the recipe. I look at hubby to see if he realizes it's a vegetarian dish: I'm not sure but he's given it a thumbs-up, so it's not likely. 😉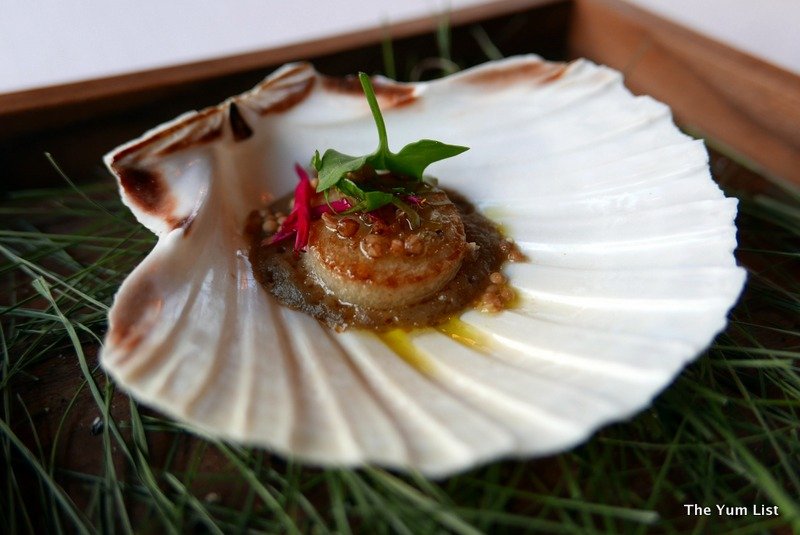 Second Plate
Char (fish caught locally in the Passiria Valley) is laid atop fermented root vegetables and bordered with cubes of beetroot and Chanterelle mushrooms. Fermented mustard seeds, raspberry vinegar and beet juice boost the flavours. Precise balance harmonises the dish with the classical piano music softly playing in the background.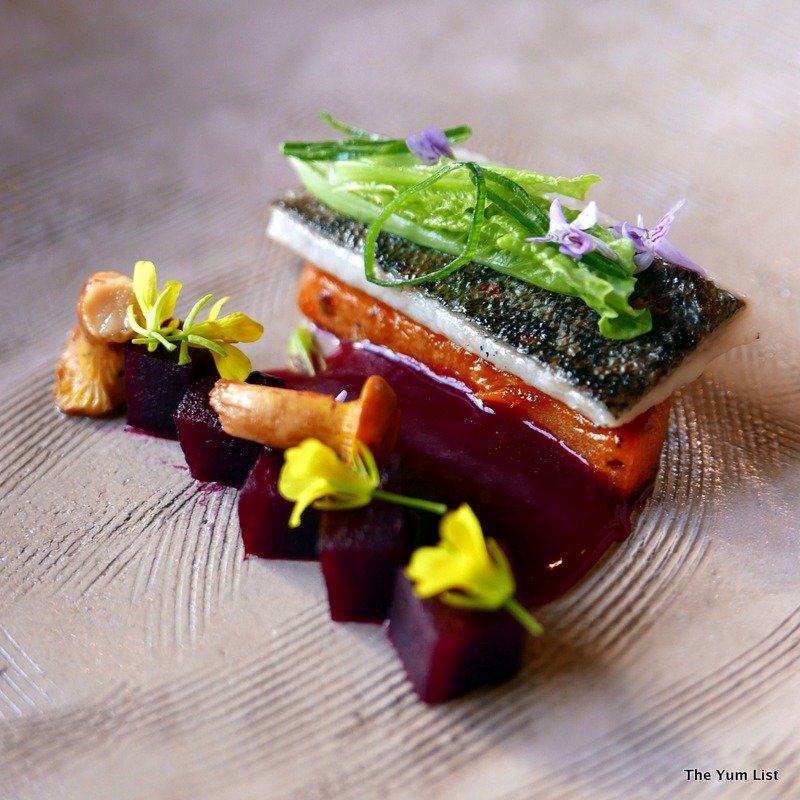 The Next Wine
A change of glasses (elegant long stemmed beauties) signifies a change of wine and boy are we excited to try it! Coming from a local production of only 1000 bottles, Johannes laughs that now that we've opened a bottle there are only 999 left! This is an experimental grape, a cross between Riesling and pinot blanc from the biodynamic winemaker Alois Lageder. I think Forra Bianco 2014 smells of the Dolomites with green apple and pear whispers in the aromas. It starts fresh and matures into a creamy finish.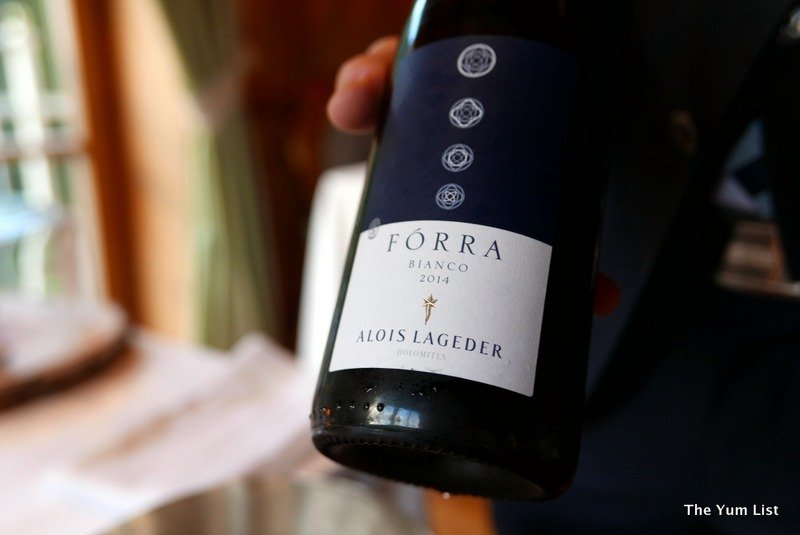 Third Plate
Malaysians will be happy to see the chef remembering his time in South East Asia with a samosa of braised lamb belly as the first ingredient in the soup. Over the top, a shaving of black Umbrian truffle follows, and lastly, a pouring of potato peel cream (from Val Pusteria) completes the plate. The soup is familiar and comforting, as is the deep-fried samosa, and bitter herbs and edible flower garnishes slice through both, causing us to dig back in for more… and more.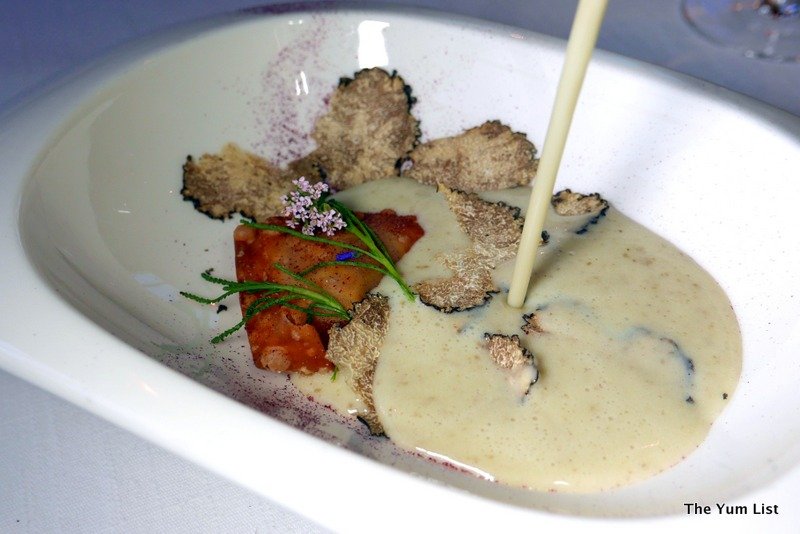 Fourth Plate
Bio Carnaroli rice is the base of the risotto. Again I can't help but feel that Malaysians, particularly Chinese food lovers, would be proud of this dish with its herby greenness (it reminds me somewhat of lei cha). I soon learn that the bitterness comes from the stinging nettle of Maso Eisath of Nova Ponente, and the tasty slice of flank steak is of Moltina deer from Mair Butcher. A few roasted almond halves uplift the textures with a nutty crunch.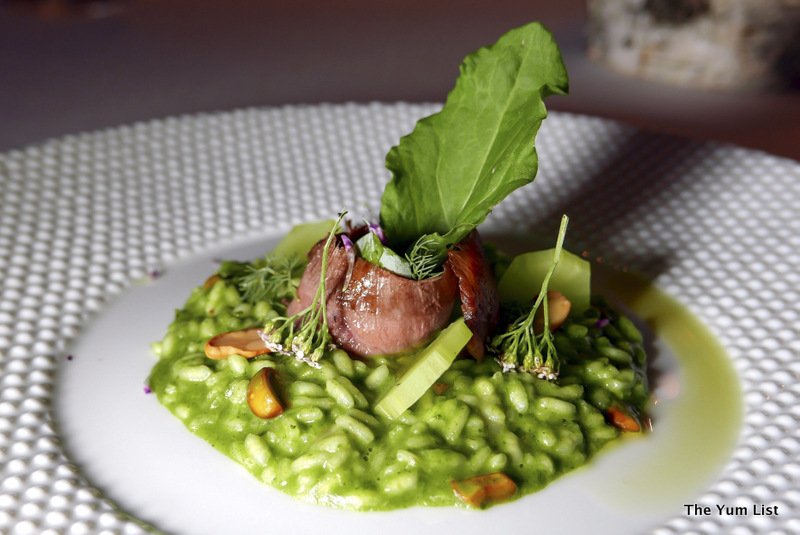 Fifth Plate
Alps tortilla is a rich rendition that would make any Mexican envious of the intensity of savour. A thin wrap of Monograno Felicetti and buckwheat hold rich juicy pulled tip of veal with mountain herbs and mildly piquant apricot barbeque sauce. Delicioso!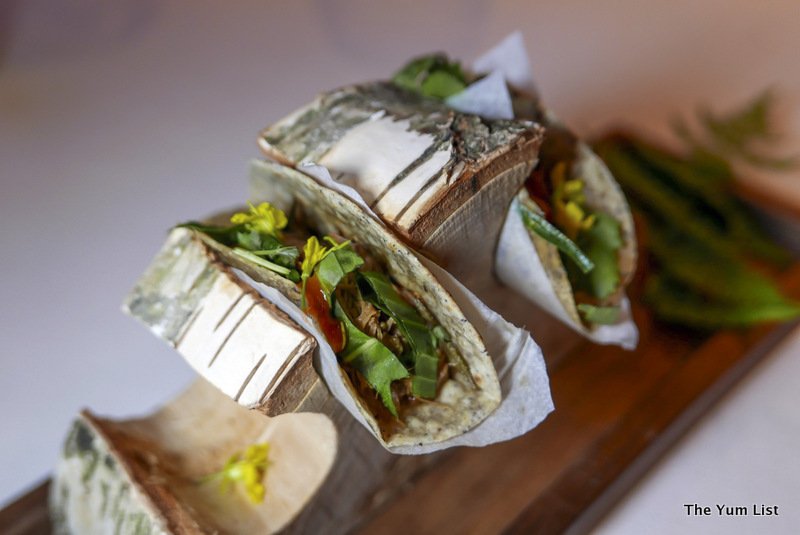 Palate Cleanser
Frozen birch juice makes a clean and refreshing sherbet. Candied birch leaves contribute a grassy texture, and Southern Tyrol Grappa further purifies. Unlike the Asian trend to make palate cleansers that resemble dessert, this intermezzo truly performs its duties.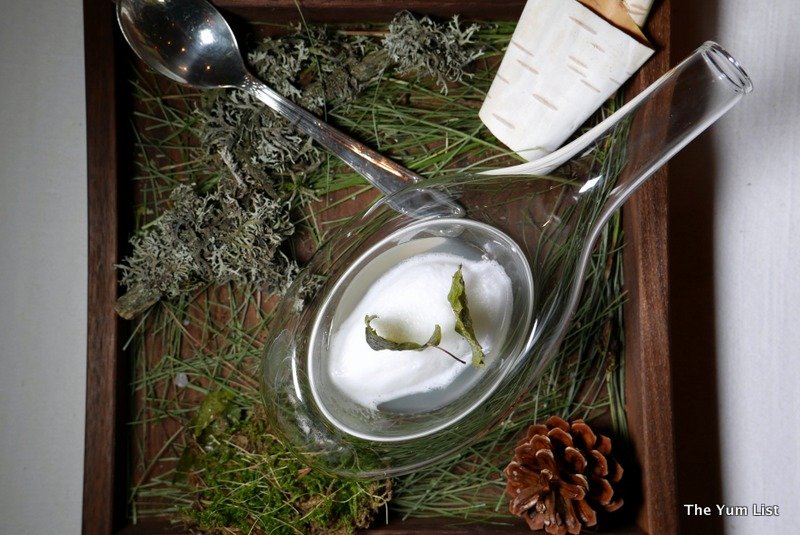 Red Wine
A 2012 Riserva Pinot Noir by another small producer, Stroblhof from South Tyrol, is deliciously aromatic with berries such as cranberries on the nose. As we sip and discover a medium bodied yet slightly more structured drop than what we're accustomed to, Johannes tells that he believes that "pinot noir is the future of South Tyrol wines."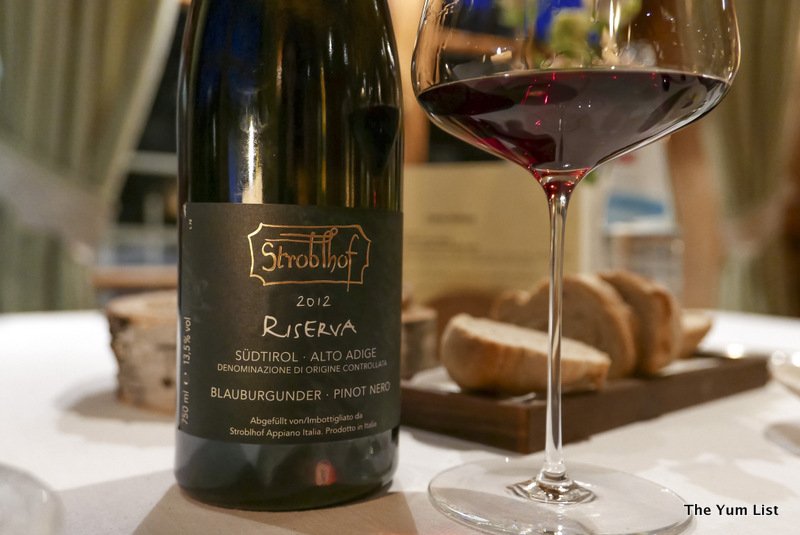 Johannesstube Main Dish
More tableside "eatertainment" is brought with Mair's BBQ. A metal grill of dry-aged entrecote from Badia Valley and braised bone marrow comes alongside pots of polenta foam and beef jus, which are sliced and scooped onto our plates. The meat is seasoned with local herbs gifting an appealing and distinctive flavour. Viola carrots, celery cream and artemisia embellish the plate and this makes a filling and satisfying main.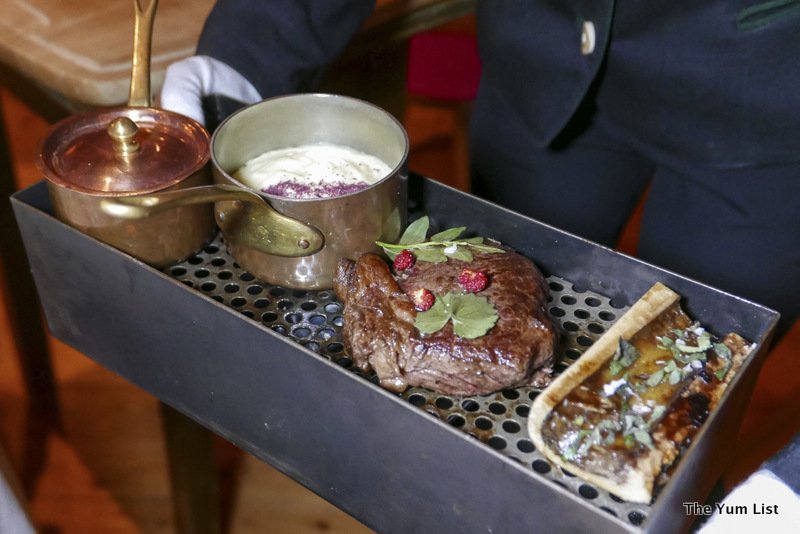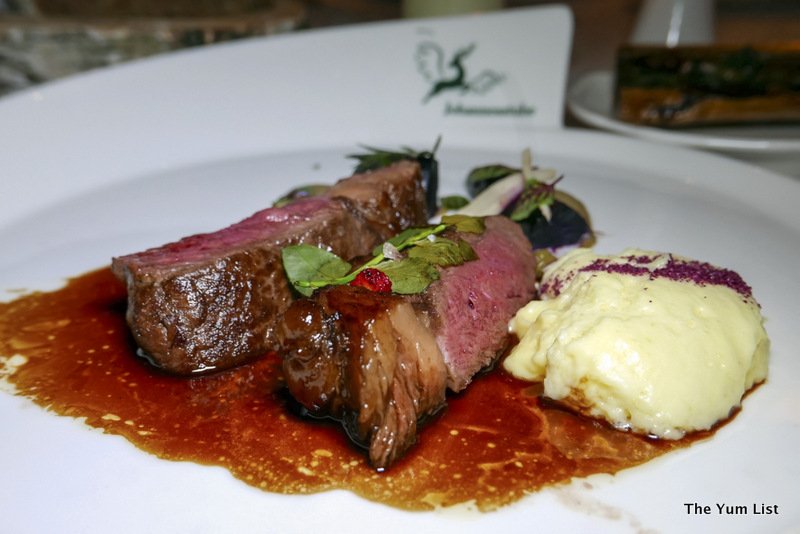 Pre-Dessert
Our waitress stages another brief performance when she plucks long cylinders of house-made marshmallows from a large candy jar, snips them to size, and torches them right in front of us. Again, similar to my opinion on the palate cleanser, I consider this a proper interpretation of a pre-dessert. It's interesting enough to capture our attention, but not so complicated to outshine the grand finale.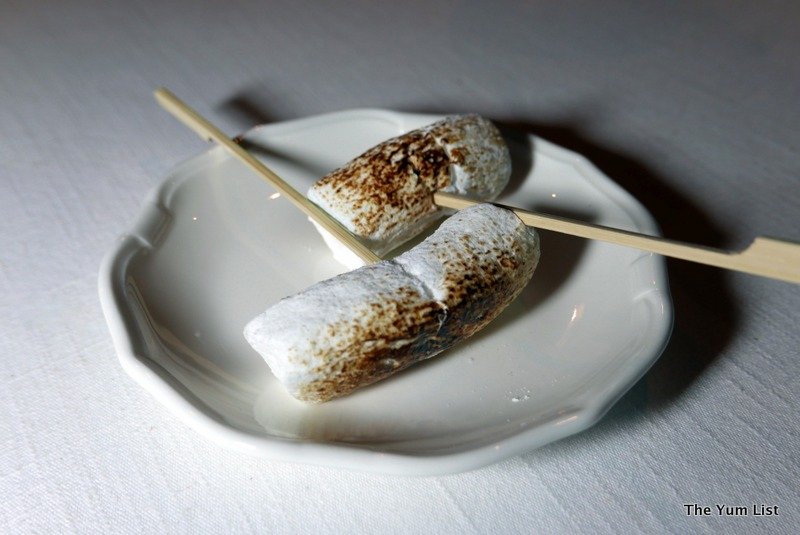 Johannesstube Dessert
You could essentially say that we have three desserts (including the marshmallows) as the finale comes on two separate plates as Cocoa and Peas. A trio of chocolate preparations – semi freddo with white chocolate, mousse of milk chocolate and crisp of potatoes with cocoa niblets – compose the former. A glass bowl holds the latter, with strauben of wild sage, crisp and just right for dipping in the pea mousse and white chocolate praline rolled in shredded coconut. Something comforting and something new for my palate – all bases covered.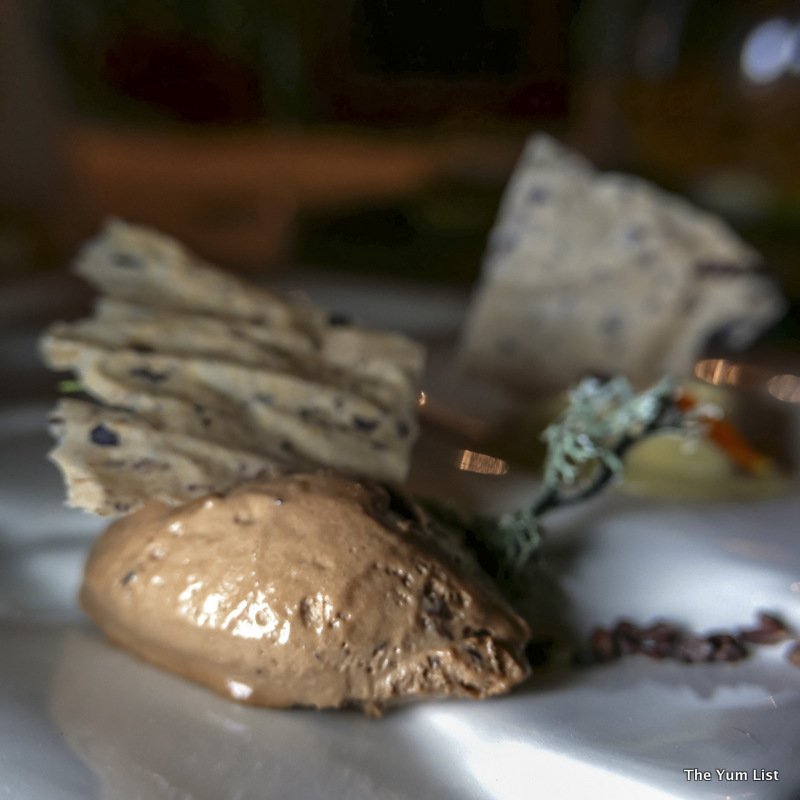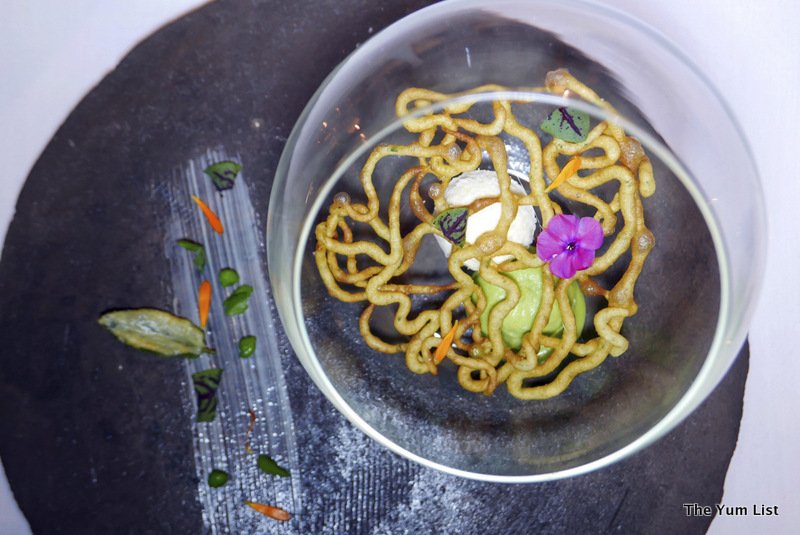 The sun has now disappeared and the crisp mountain air revitalises our spirits. The menu has left us satisfied, but not bursting at the seams. Inspired, freshly educated and with a newly discovered affection for the cuisine of the Dolomites, we congratulate ourselves on our efforts to follow chef Theodor Falser across the globe and thank him and his team for a truly noteworthy experience.
Reasons to visit: exquisite degustation menus celebrating local produce; a chance to taste unique ingredients not found anywhere else in the world; excellent wine pairings; stunning views and an authentic Alpine setting.
Johannesstube
Hotel SPA & Gourmet Resort Engel
Family Kohler
Gummerer Straße 3 • 39056 Welschnofen
Trentino South Tyrol • Italy
+39 0471 613131
[email protected]
www.hotel-engel.com/en/gourmet-restaurant-johannesstube