Monica Tindall
Turning two years old in November, Stars Italian Gourmet Burgers is in one of the hottest locations to fill your tummy and satisfy your taste buds in Bolzano. Put together a charming city centre address, local ingredients, the friendliest team ever and a Michelin-starred chef, and you've got all the necessary elements for success!
Situated in the heart of Piazza delle Erbe, home to a beautiful daily market selling fresh seasonal produce and gourmet goodies, the place is always alive with a cheery buzz. Stars Italian Gourmet Burgers fits into the action with a bar and high tables in the entrance, a cozy more intimate area out back and the facade spills into the street blending into the market with shaded outdoor tables.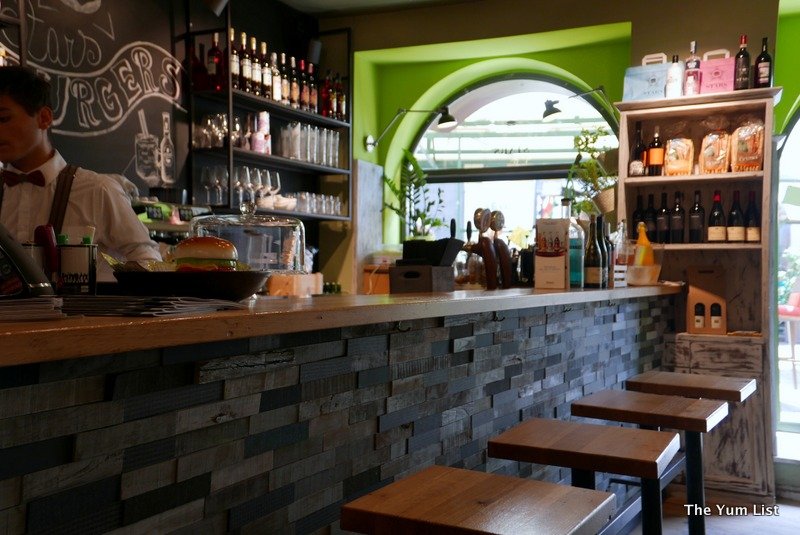 Chef Theodor Falser (of Michelin-starred Johannesstube restaurant), his wife Simone and the Stars Italian Gourmet Burgers team present friendly faces and a genuine desire to share the essence of their Bolzano community. Ingredients are sourced locally, many from the vendors on the very same street, everything is made in house from scratch, and warm hospitality that is often only found in small towns is breathed into every interaction.
The menu is perfect mountain food. A day of hiking (or skiing in the winter) through the Dolomites generates big appetites, and the hearty portions made of wholesome produce are highly satiating.
Drinks at Stars Italian Gourmet Burgers
You'll find not a single drop of Coke or Pepsi on this menu: everything is sourced from boutique producers, celebrating local and supporting small businesses. We try a Baladin Cola (Euro 2.90) with no artificial additives, rosy red in hue and a much better alternative to the commercial brand. Homemade Lemonade (Euro 2.90) is another special, and it comes in a jar with a dried citrus slice on top. Not overwhelming sweet, it's a real thirst quencher.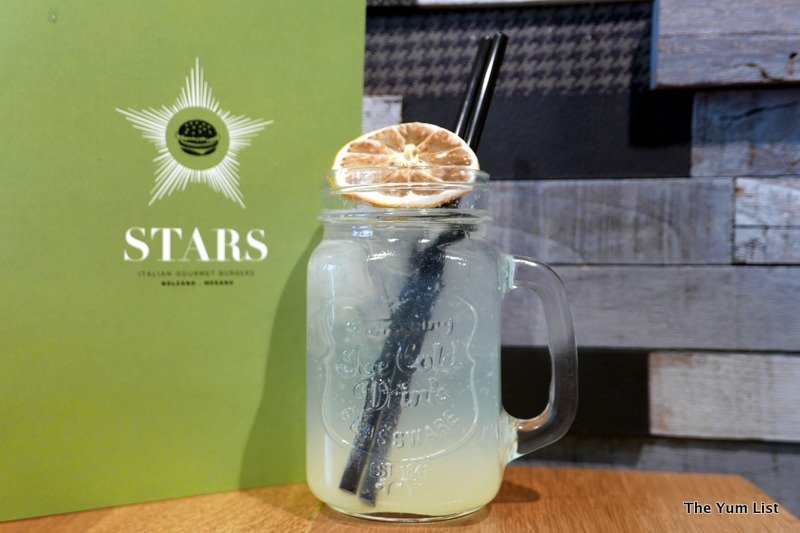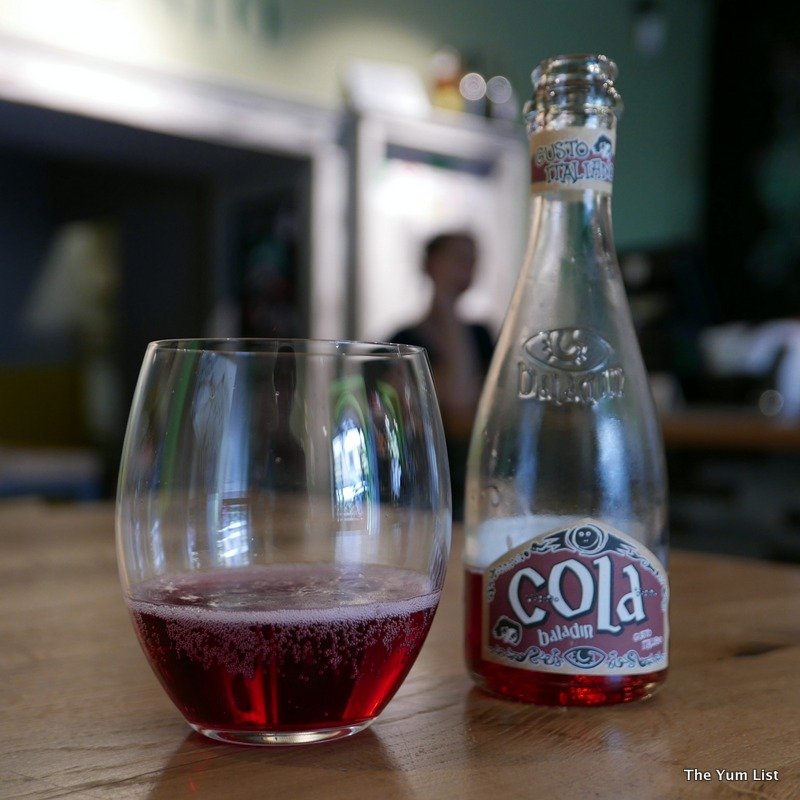 Alcoholic beverages too are taken from craft breweries. Pale Ale Camba (Euro 4.20) comes recommended by Peter the bartender as a refreshing choice for summer. It's described as having notes of exotic fruits, hints of citrus and a nice hoppy finish, and we have to agree with Peter, it's a fine selection for warm weather.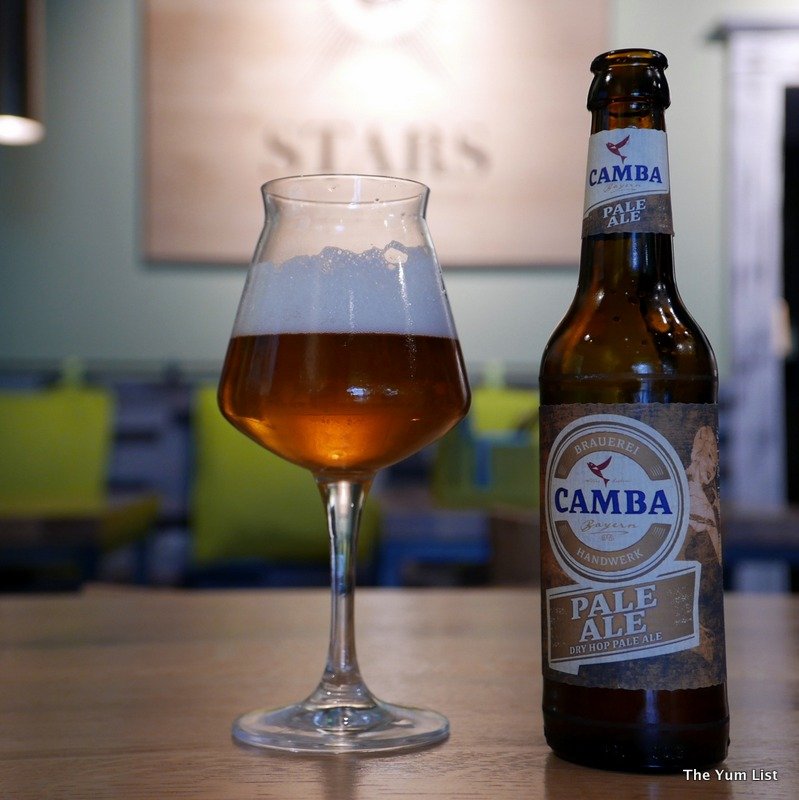 Stars Italian Gourmet Burgers
The "must" burger on the menu, not only for its line-up of gourmet ingredients but also for the fact that 50 cents from each order goes to the Peter Pan foundation is the Sudtirol Gourmet Burger. It's made with 100% South Tyrolean Beef supplied by Butcher Egger Bolzano (who happens to be just a couple of shops up the road). The juicy, meaty patty is stacked with crunchy speck, cucumber pickles, Alpine cheese, salad, tomato, salsa and sour cream. The buns on all burgers are thick and sturdy, providing strong arms to embrace the fillings. I'm lucky to get a bite of this one as hubby has already claimed it his fave.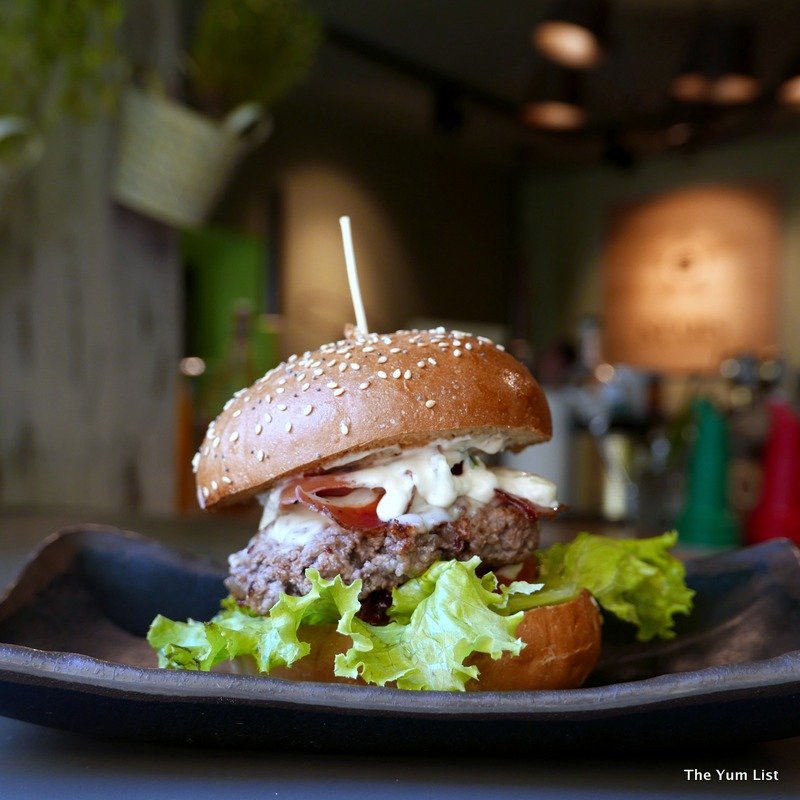 Parmigiana Burger (Euro 7.50) is a classic Italian representation. 100% beef patty is backed up with mayonnaise, rocket, mozzarella, eggplant, Parmesan, tomato, red pesto and basil. A luscious red sauce drips down the side and I fight temptation to not catch it with my finger before snapping some shots.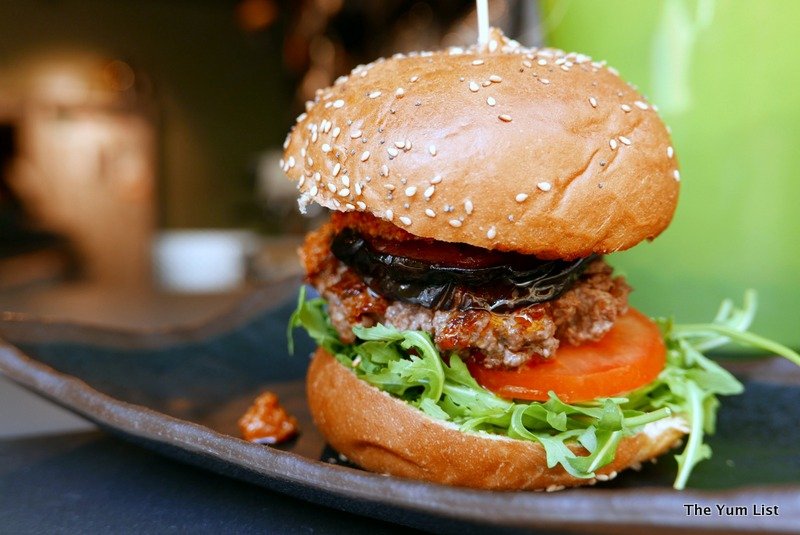 Vegetarians are not forgotten and both meat and veggie lovers alike should find the Vegi Gourmet Burger (Euro 7.60) a tasty and filling order. Green leaves, grilled vegetables, garlic sauce and red pesto surround marinated mushrooms, which provide a substantial padding. Also catering to multiple dietary preferences, all burgers can be made gluten and lactose-free.
Side Dishes
You can't go wrong ordering any of the side dishes and just to prove it we order all of the fries! Hand-cut French Fries (Euro 3.90), made from Italian potatoes (fresh not frozen), Polenta Fries (Euro 3.50) and Sweet Potato Fries (Euro 3.50) are all delightfully crisp on the outside while maintaining moisture within.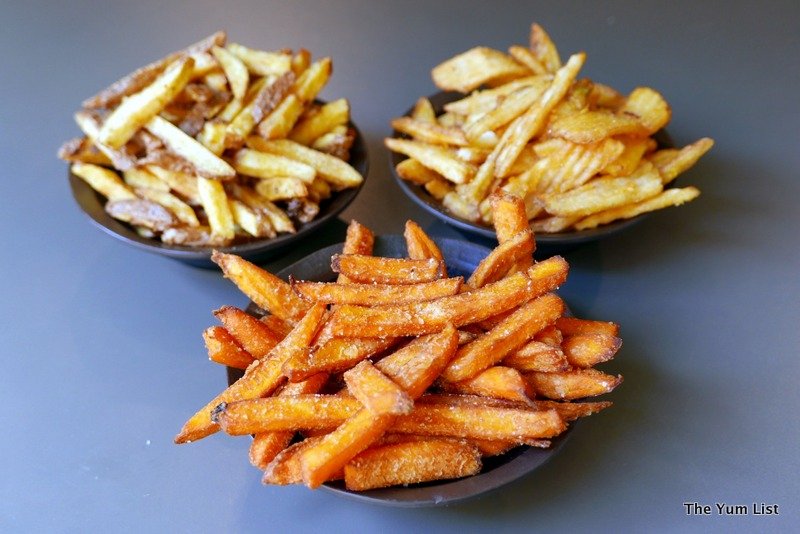 Salsas
Burgers come with varying sauces according to the recipe, and fries are really so flavourful that no additional seasoning is necessary, but, if you like your meals saucy you can add one salsa for Euro 0.80 or three for Euro 1.90 extra. They're all made from scratch in house. My favourite is the Stars BBQ Jack Daniels, but the Tartufo comes a close second, and well, hubby, he just has the biggest grin scooping on extra Mayonnaise.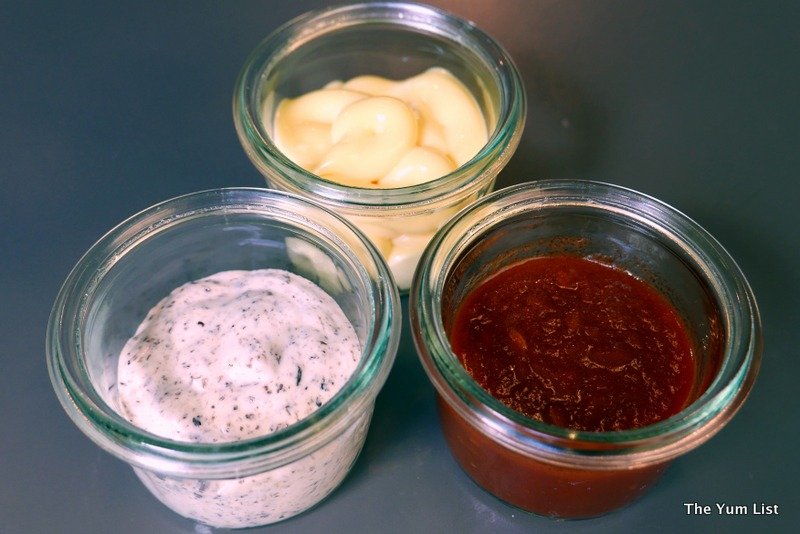 Salads
You could say the burgers are reasonably healthy being made in house from natural ingredients but just to balance a little indulgence out, we turn to the salad section. A generous portion in the Stars Salad (Euro 7.90) could easily be shared or eaten as a main by itself. The bowl is filled with mixed salad greens (rocket, lettuce, radicchio to name just a few), grilled vegetables, a mixed cream of porcini, field and chanterelle mushrooms, plump red slices of tomato, and balsamic dressing. A crusty half hamburger bun is dressed with a mash of artichoke and hemp seeds. Good stuff.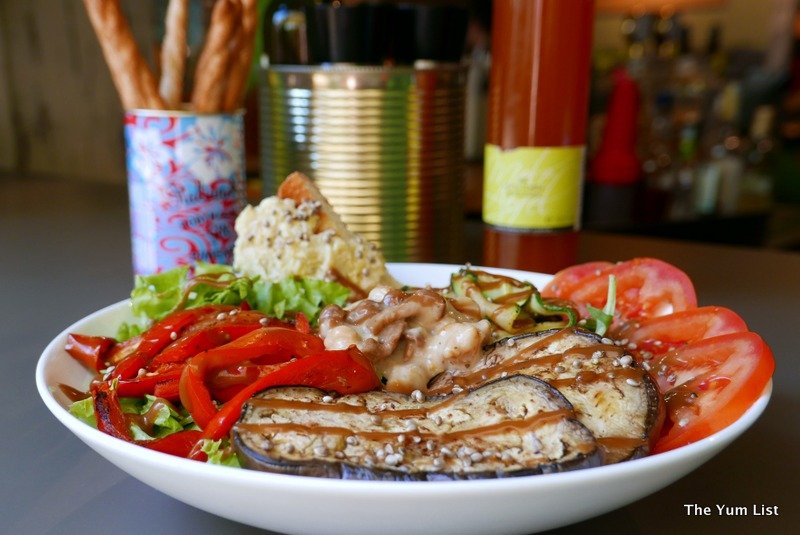 Dessert
Collaborating with fellow Bolzano resident: Andreas Acherer, master of pastries and named as one of the top chefs in Europe, provides a daily selection of five to six sweets with the varieties changing seasonally. I pick a pretty chocolate and berry number and learn that it is also lactose and gluten free. "Gsundes," meaning "the healthy one" in local dialect, is layered with chocolate sponge and chocolate fondant and a topping of tart berries balances out the sweetness with a nice tang. Paired with good cup of coffee (not pictured below but the barista has a good handle on latte art), it's a superb ending to a satisfying meal.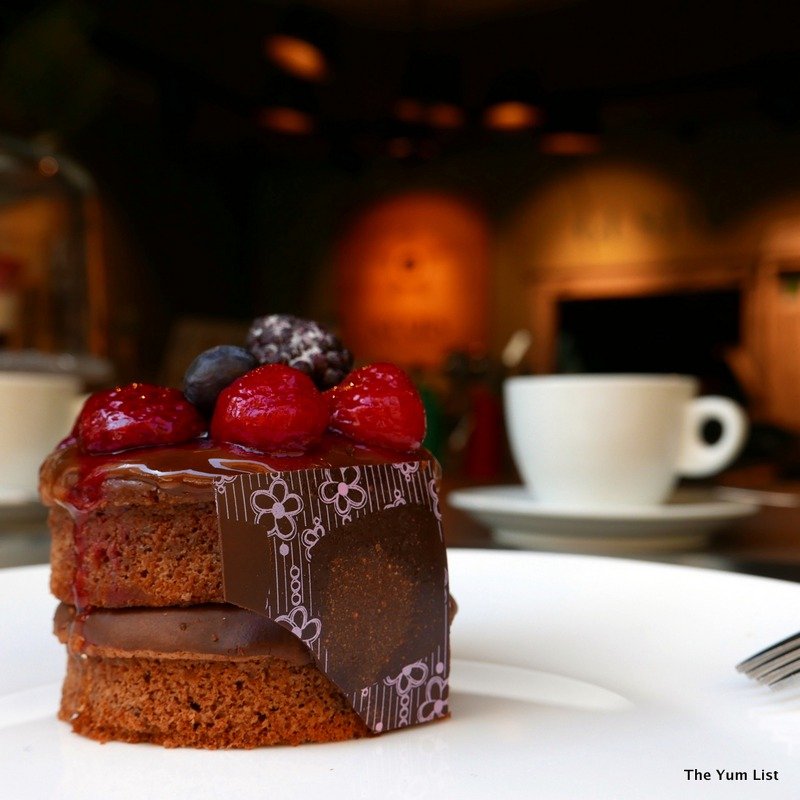 Reasons to visit: friendly staff; Sudtirol Gourmet Burger; must order some fries (all of them!); natural minimally processed local ingredients; gluten and lactose free options.
Stars Italian Gourmet Burgers
Piazza delle Erbe, 39
39100 Bolzano BZ
Italy
0471 324507
[email protected]
www.stars-burgers.com
www.facebook.com/StarsBurgersBolzano
Monday to Thursday: 12 noon until 10 pm weekdays
Friday and Saturday 12 noon until 11 pm
Sunday timing changes according to the season