Monica Tindall
SPASSO Restaurant & Bar in MyTOWN Shopping Mall has seen a reinvention of the original Italian concept. Chef Iker Fernandez from San Sebastian, Spain has recently joined the team, and is adding a Spanish twist to the traditional Italian offerings.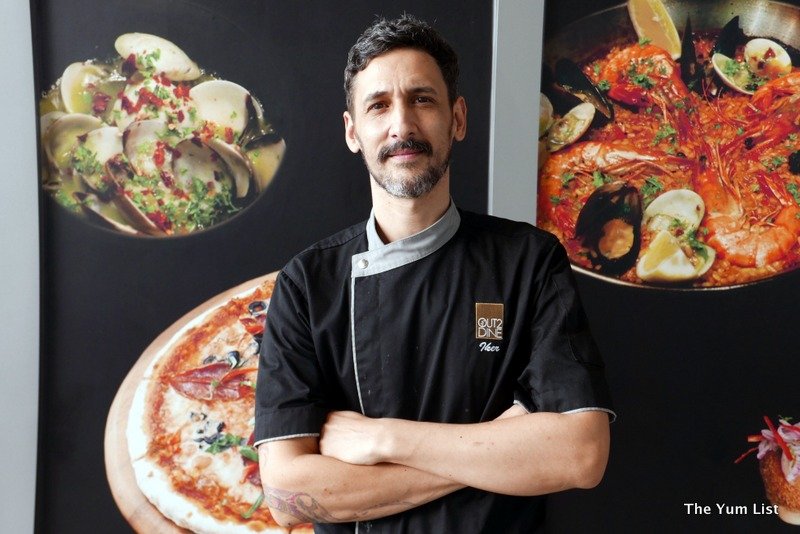 Located at the main entrance, just across from the newly opened Cochrane MRT station, SPASSO Restaurant & Bar benefits from both a chilled indoor setting as well as some umbrella-shaded al fresco tables. Staff are friendly and the setting gives off a welcoming neighbourhood feel.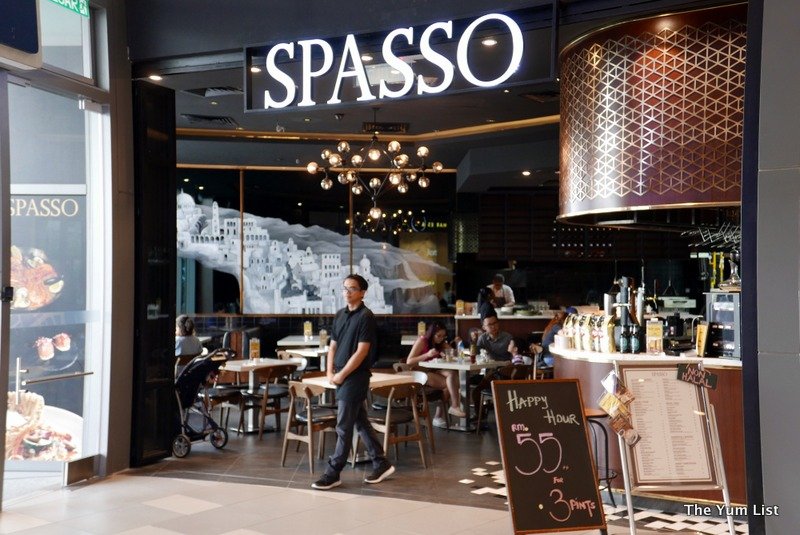 As mentioned earlier, the classic Italian pizza and pasta menu has been boosted with Spanish tapas and a few heartier plates from the country. This, alongside a decent beverage menu, has turned SPASSO into not only a place for breakfast, lunch and dinner, but a flawless in-between destination too.
Tapas at SPASSO
A bit of a show precedes the eating of our first tapa, the Gorgonzola Cheese Fries (RM13). More like Patatas Bravas than fries, browned cubes of potato are served on a hot black pan. Before devouring, a hot blue cheese is poured over the top, causing the plate to sizzle and steam – an irresistible temptation if I've ever seen one. The sauce has just enough tang to remind us of its blue beginnings, but is surprisingly smooth, and even my non-blue-cheese loving companion enjoys this dish.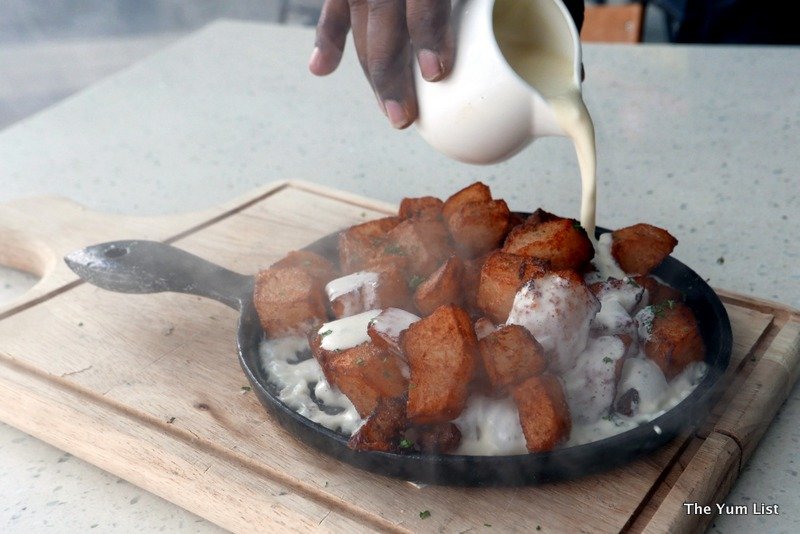 Up next, a wooden platter holds fresh shavings of Iberico Ham (RM19) and toasted pieces of sourdough. A simple Spanish style spread of tomato baked with olive oil and mashed is seasoned with salt and pepper and good enough to eat on its own with the bread. Add a slice of the cured meat though, and you've got yourself pure Spanish delight.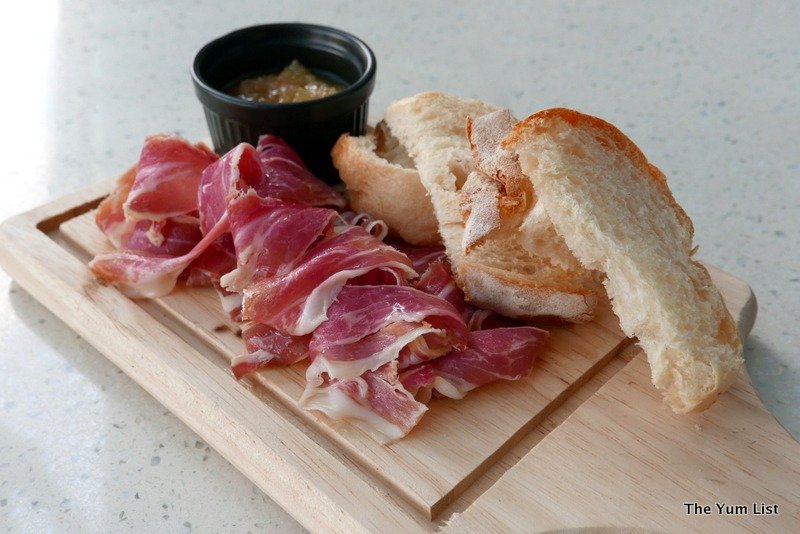 Bombas (RM12) come as two plump balls of mashed potato with a beef and tomato filling. They're lightly crumbed and deep golden on the crust. A light kick from chili flakes lifts the flavour. If you're a saucy person (and don't mind risky shame from the chef), you might like to dip them in some of the blue cheese sauce for an extra kick!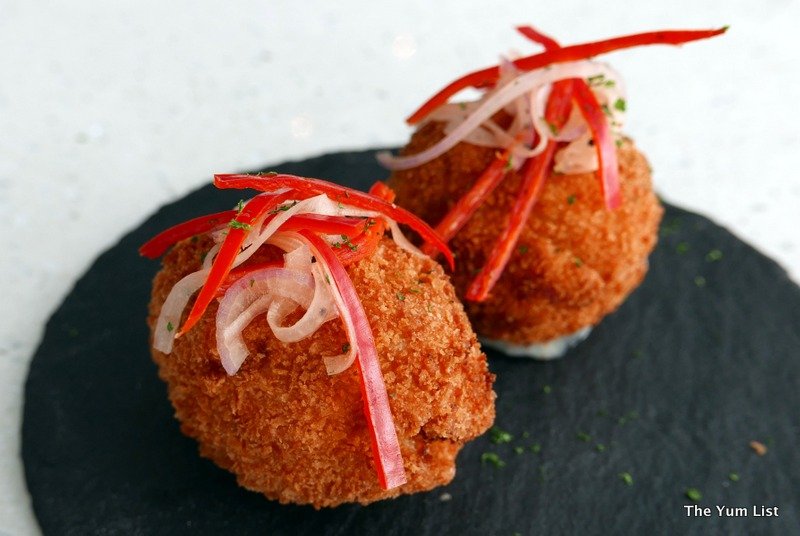 Succeeding our Bombas, bubbling hot out of the kitchen arrives the Garlic Prawns (RM38). Tender springy beauties are simply dressed with olive oil, garlic, chilli flakes and parsley – when you have good quality produce, you don't need a lot of extras.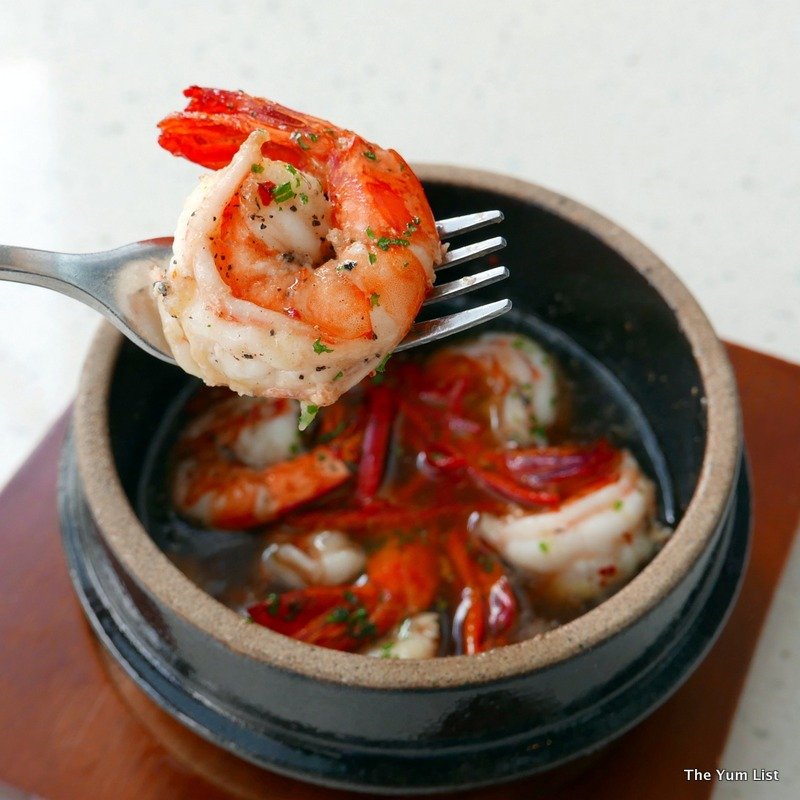 Mussels Marinara (RM13) is a great deal with two handfuls of molluscs filling a cast iron bowl. Marinated in a spicy tomato and white wine sauce, the mussels are great toppings for the slices of sourdough that accompany it.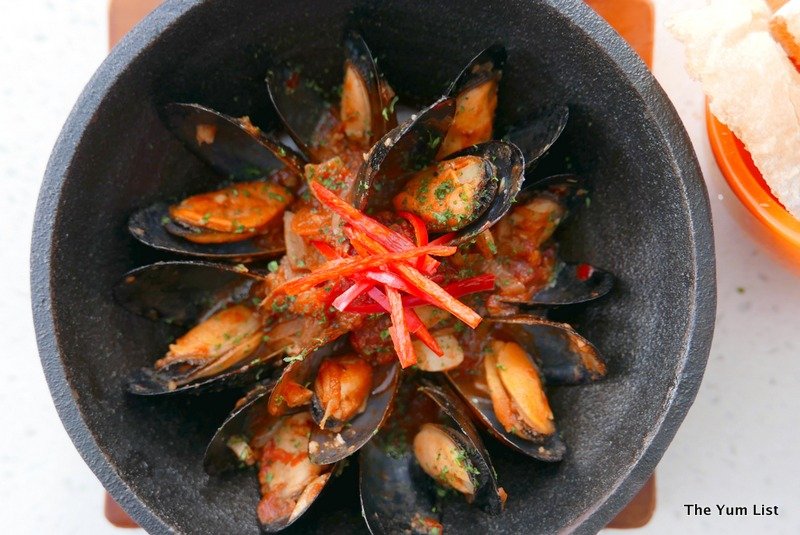 SPASSO Salads
Spanish Salad (RM13) is a generous portion with a ratatouille middle supporting a prettily poached runny egg, which is moated with green leaves, red and yellow grape tomatoes, black olives and red onion. Super fine stripes of fried potato mix up the texture on top, and a light balsamic dressing adds zip to the greens. This would make a good light lunch choice or starter to an evening meal.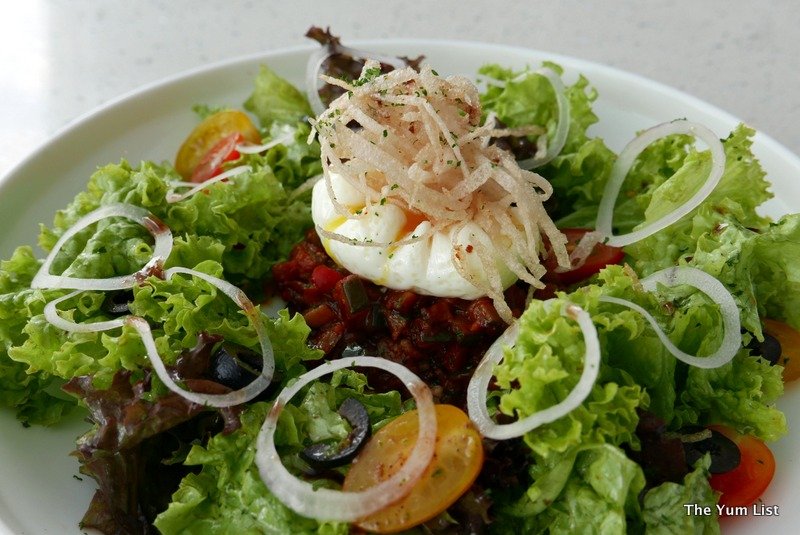 SPASSO Pizza
The mouthwatering aroma of pork salami indicates that our next dish is on its way. Diavola Pizza (RM32), a thin-crust wood-fired item, is spread with a tasty tomato sauce and finished off with slices of pork salami, basil, Parmesan, black olives, fresh chili and mozzarella.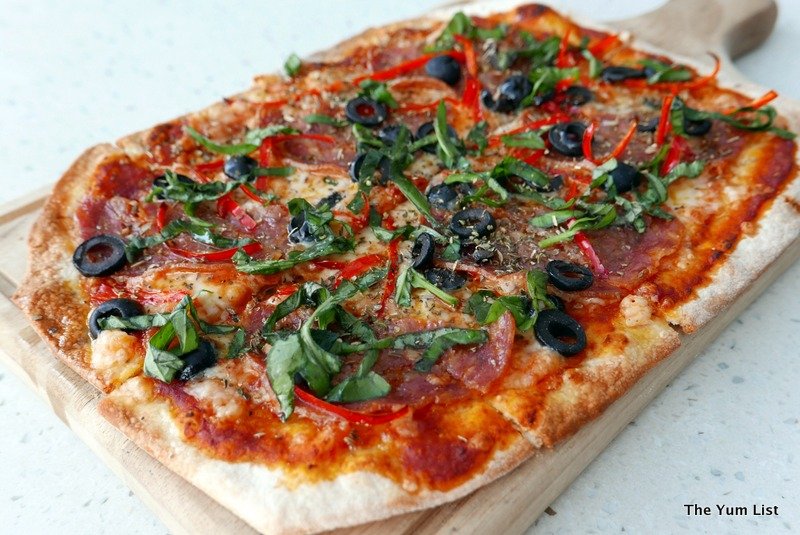 SPASSO Pasta/Rice
A beautiful pan of rice, peas, capsicum and calamari is topped with large tiger prawns, clams and mussels in the Seafood Paella (RM53). The saffron seasoning and a squeeze of lemon make this dish even tastier. This seductress is made for sharing, but follow my advice and be the first to scoop up the caramelized grains around the edges – the best bits!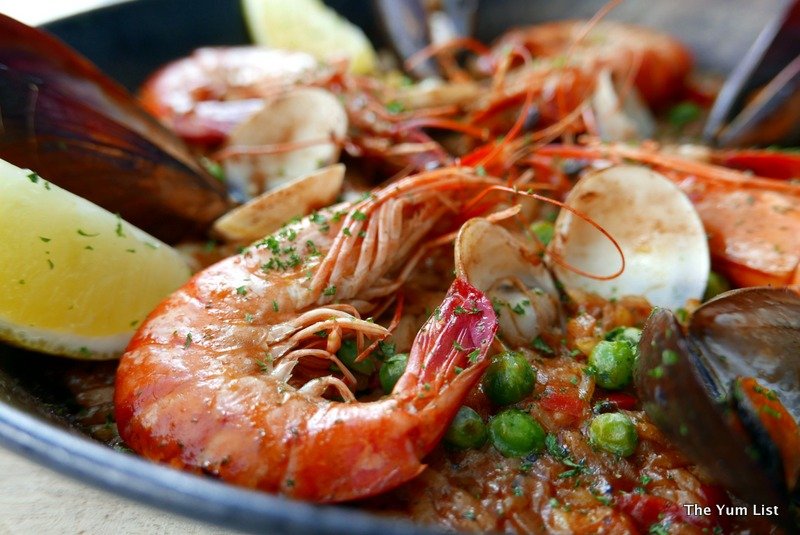 Non-meat eaters need not despair, as the Vegetable Pesto Risotto (RM28) is a delicious mix of al dente rice in a green basil sauce with Parmesan. Cherry tomatoes, mushrooms, broccoli, carrots, cauliflower and a topping of rocket ensure you've got your serving of veg for the day.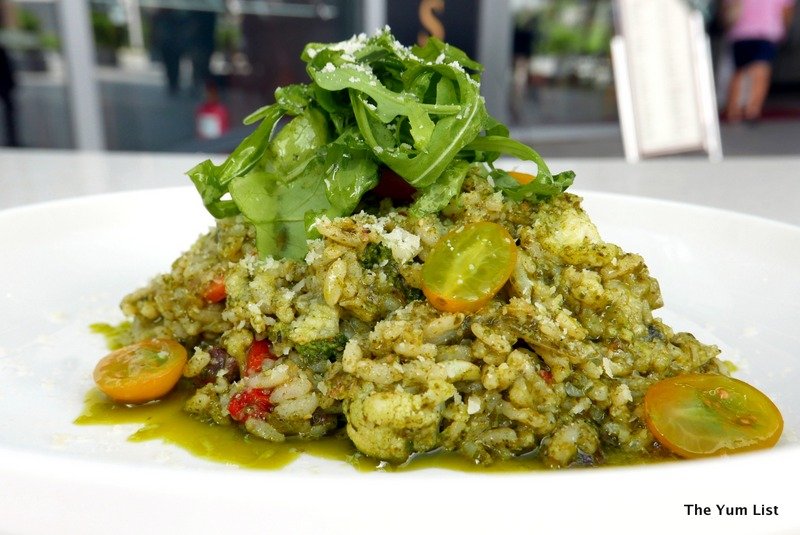 SPASSO Sandwiches/ Burgers
A wooden chopping board holds the Pork Secreto Sandwich (RM28) and a small mound of crinkle cut fries. Roasted capsicum, lettuce, tomato, red onion and fat slices of pork belly fill two fat spongy (really good!) slices of focaccia. Blue cheese enhances its richness and lubricates the padding.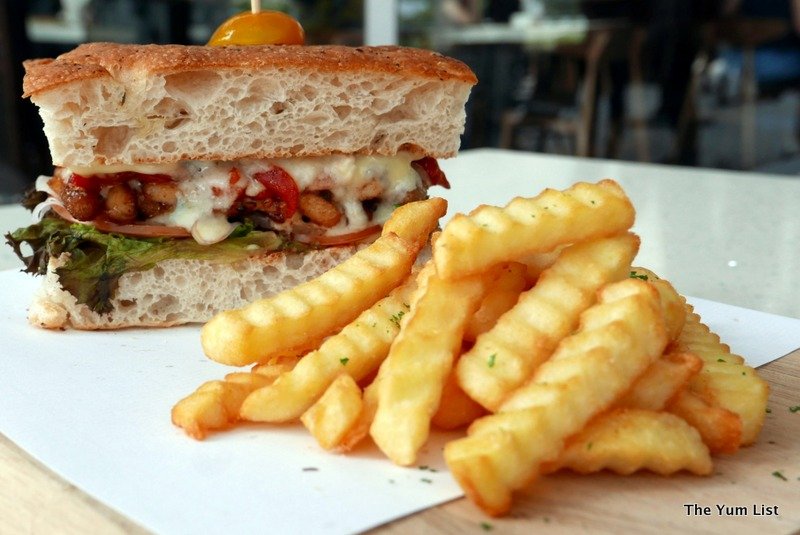 SPASSO Sweet Temptation
With a Spanish head chef there's no way that the usual tiramisu is going to be highlighted. Today, Spain is celebrated with Crema Catalana (RM8), the Spanish version of a crème brulee. Featuring the characteristic caramelised sugar top, the custard base is runnier than the more widely known French set style. It's creamy and delicious.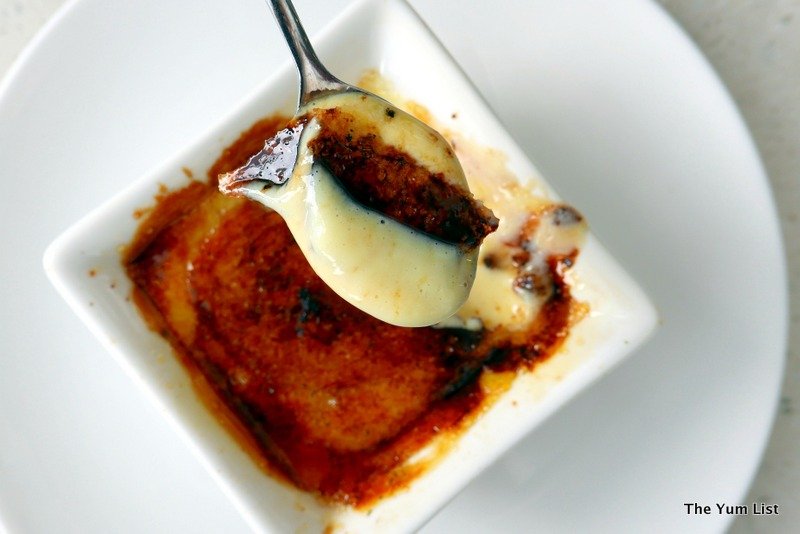 Coffee
To revive after that feast we take an Italian coffee with Caffe Pascucci (RM13), exclusive to the Out to Dine group. It's a mixed blend called the Golden Sack and with its mild acidity concludes our meal well.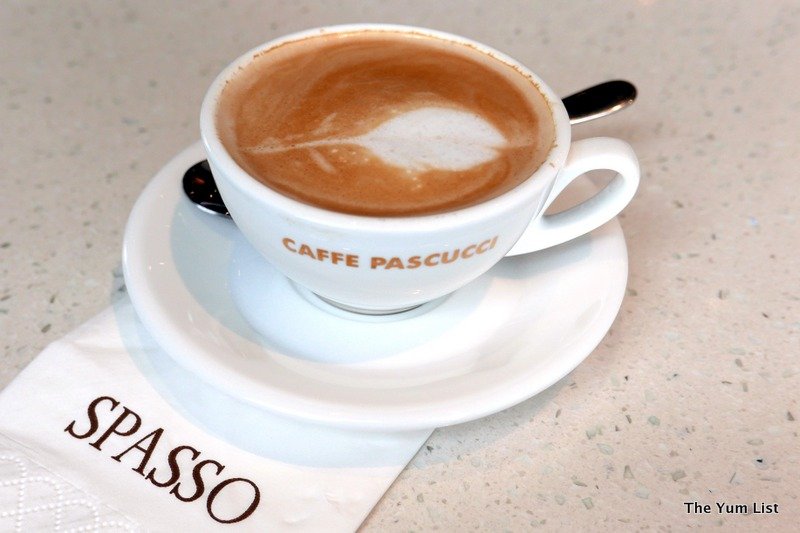 Reasons to visit: reasonable prices; a cheery friendly setting in the newly opened mall; easily accessible via the newly opened MRT from Cochrane station; don't miss the Gorgonzola Cheese Fries, Pork Secreto Sandwich or the Seafood Paella.
SPASSO Restaurant & Bar
G-038, Ground Floor (opposite Starbucks)
MyTOWN Shopping
No. 6, Jalan Cochrane, Seksyen 90
Kuala Lumpur, Malaysia
+6 03 9202 9299
Facebook @spasso.mytown
Instagram @spasso_mytown
* SPASSO is non-Halal.
The newly opened MRT station Cochrane no. 18 is just across the road.