Words: Louise Miller   Photos: Monica Tindall
The words elegance and luxury pretty much summarise my first impression of the Mandarin Grill. Muted shades of plush upholstery and fittings are offset by huge crystal chandeliers that seem to cascade like waterfalls over the crisp clothed tables. Such opulence could seem intimidatingly grand if not perfectly balanced by the warmth of an uber stylish fireplace set into a glossy amber coloured wall and an array of huge paintings that transform the setting into a gallery showcasing local talent. It is clear that this is a venue where you can come both to impress and relax.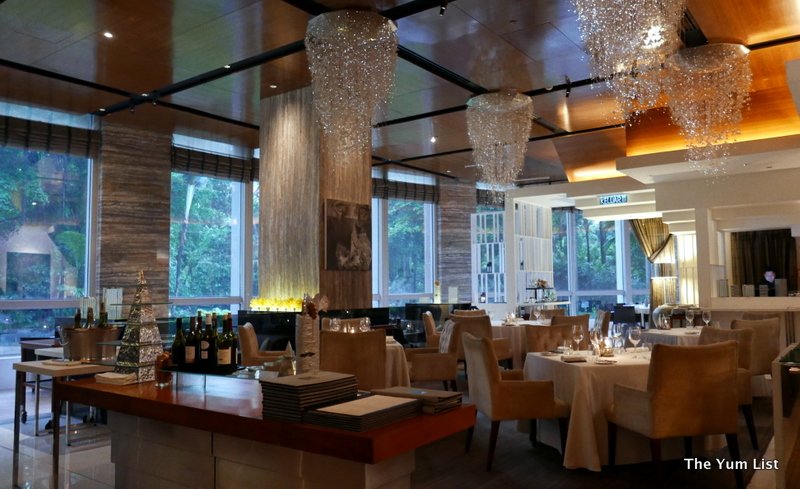 We are here to see how the new chef, Sebastian Barcudes, has made his mark on the menu. Argentinian born with a mixed Spanish and Saudi heritage, chef Sebastian favours bold flavours and takes inspiration from his own background in addition to the plethora of countries where he has trained. He tells us that he is constantly seeking better ways of doing things, often rejecting tradition in the process. So, having further fuelled our anticipation, Monica and I embark on a menu that is designed to showcase some of his signature dishes.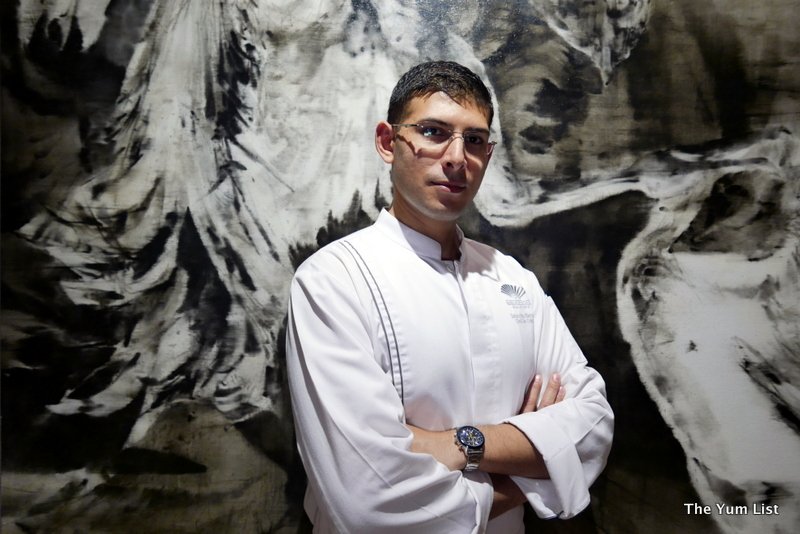 We really should learn to exercise a little more self-restraint at the start but with our appetites seriously whetted by our chat with chef Sebastien it proves difficult to resist the freshly baked, crusty bread that is placed before us. Light, airy and still warm from the oven, we have at least one slice too many.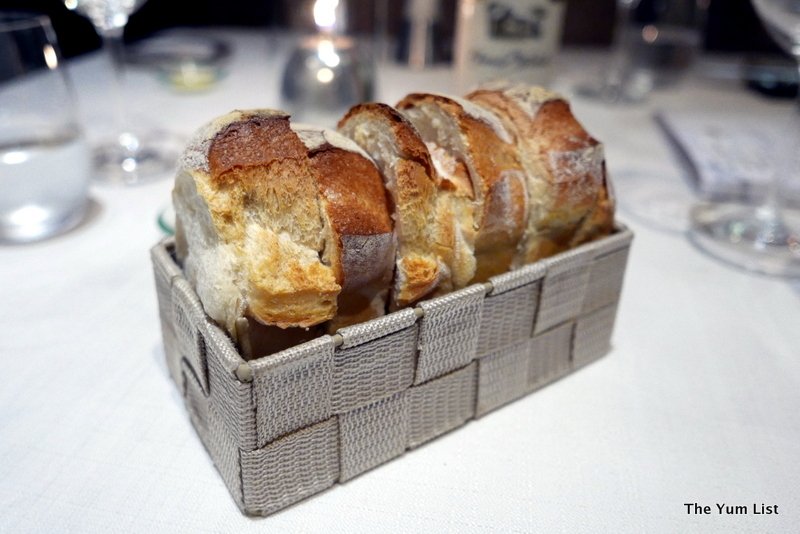 Burrata has never failed to bring a smile to my face. I just love the fresh creaminess of this queen of Italian cheeses. At the Mandarin Grill, a trio of burrata pieces are bedded on orange compote and peel and crowned with beautiful shards of brittle orange chips. Arugula and a balsamic reduction add further contrasts to this heavenly starter. The bitter sweet flavour profile of the oranges work so well with the luscious Burrata (RM78)  – we were already in awe of Chef Sebastian's work!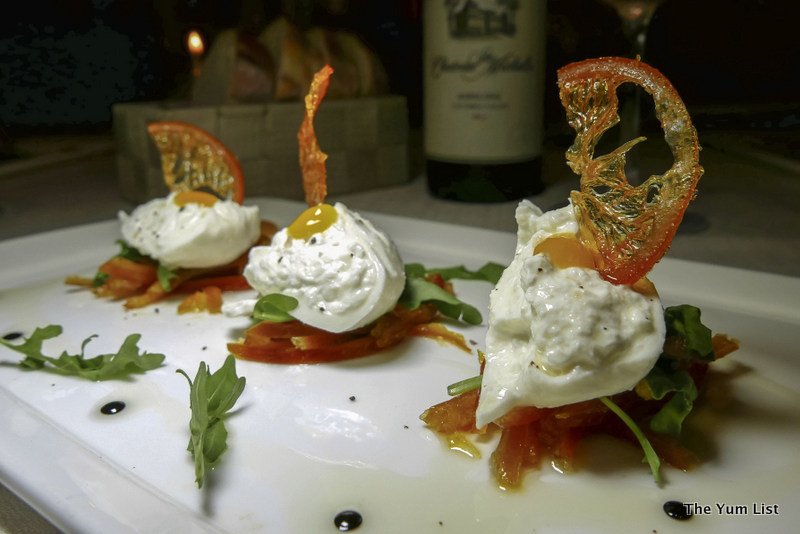 The course is paired with 2015 Chateau Ste Michelle Riesling and we both marvel at this match. The wine's citrusy notes echo and enhance those of the orange and provide a further zesty contrast to the cheese. We agree that this is one of the best food and wine pairings we have ever experienced and begin to wonder how this could be followed.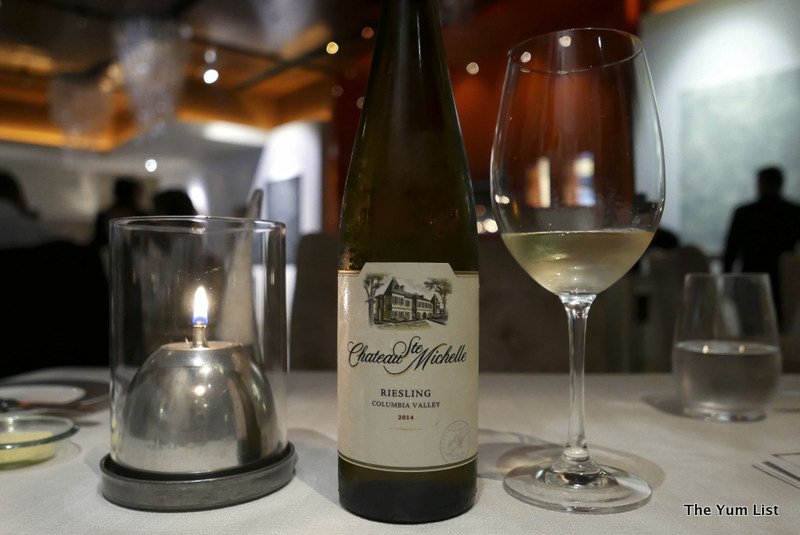 Seared Hokkaido Scallop (RM98) answers our question. These beauties are accompanied by a pear and ginger chutney, grape gastrique and an aubergine puree. Once again, Chef Sebastian creates an explosion of flavour – the delicate sweetness of scallops is contrasted by subtle Indian spices in the chutney and a delicious smokiness in the aubergine puree. A 2015 "Reserva" Terrazas Chardonnay partner this dish. Its rich full body and notes of tropical fruit and butteriness provide another great pairing.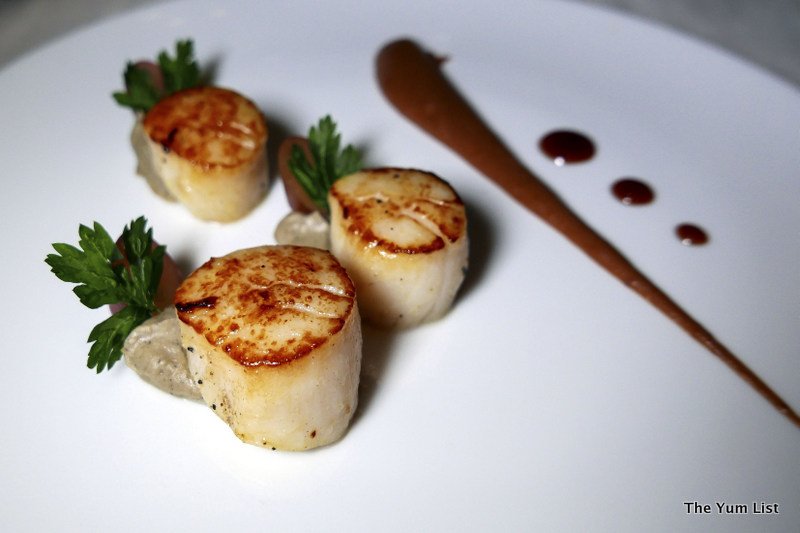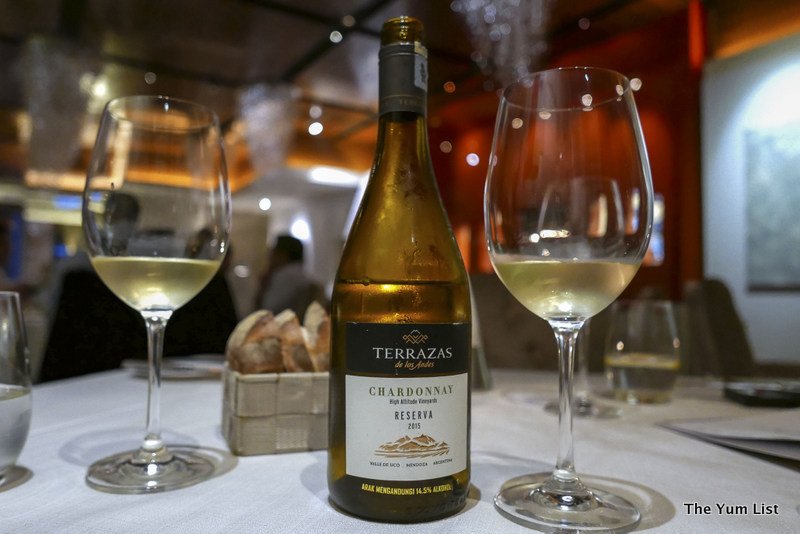 Parihuela (RM56) a spicy Peruvian seafood bisque is next to arrive. A mini stack of plump sweetcorn kernels topped with juicy prawns stands in solitude before our server pours in the soup. My mouth is watering now as I reminisce about this dish: a host of chilis produces a wonderful heat and a tantalising tamarind like sourness creates a great balance. With so many layers of complex flavours, one bowl doesn't seem quite enough to identify all of them. If it weren't for a further two courses, I'd have asked for more.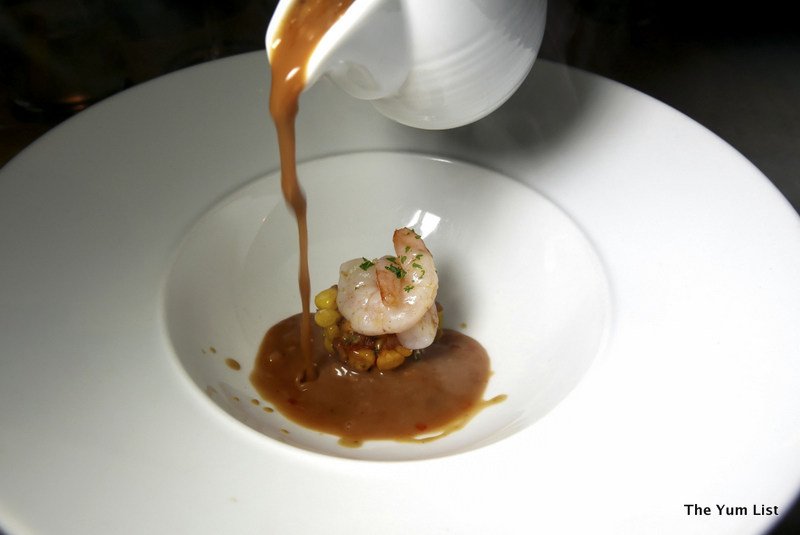 The dish that we'd been warned to save an appetite for was now making its grand entrance. Our first glimpse of the Black Angus Short Rib (RM188) makes us instantly regret gorging on so much bread at the start. This is a monster brick shaped cut of meat ingeniously perched on the actual rib bone. The beef is topped with intensely flavoured Serunding or beef floss and accompanied by a rich and comforting ginger infused beef jus. It's melt-in-the-mouth tender and so succulent and rich in flavour – a carnivore's dream! A side of Crushed Potatoes (RM18) with extra virgin olive oil and parsley furnishes the plate with further contrasts and deliciousness. Complementing this dish is a 2013 Chateau Ferrande from Graves. A good old fashioned claret that offers a rounded body and notes of plums and cassis that pairs very well with the beef.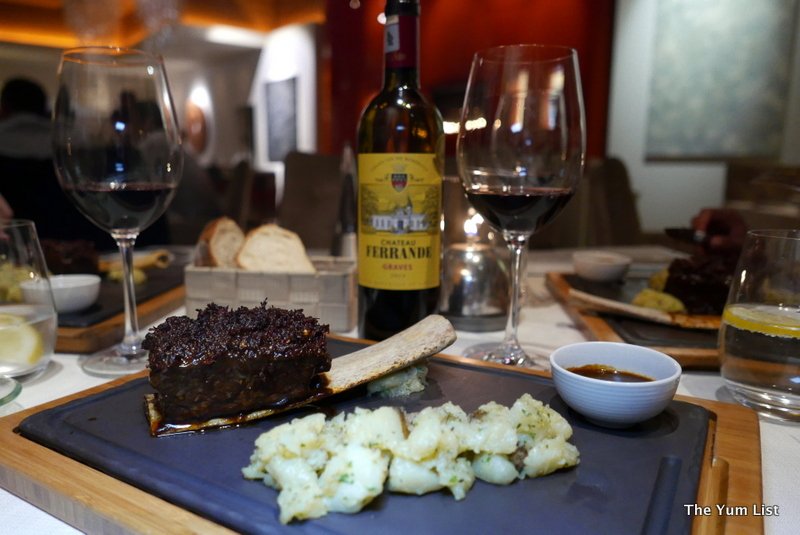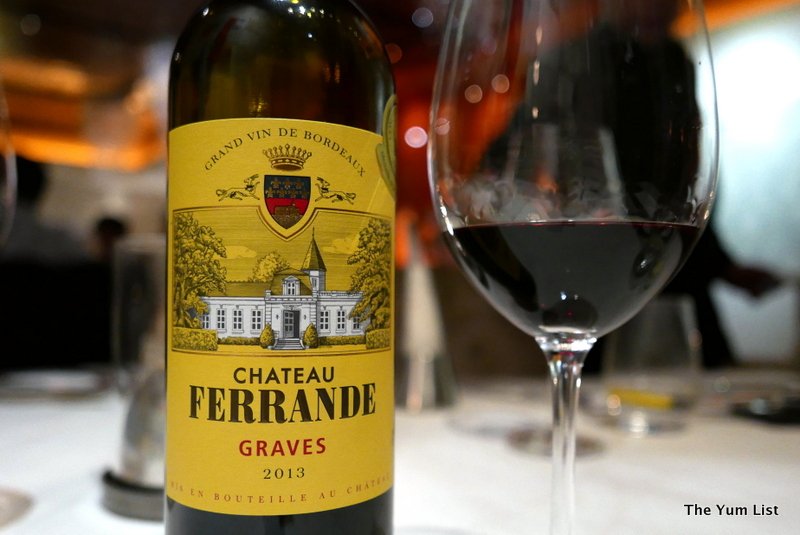 Textures of Valrhona (RM42) delivers a sweet pre-conclusion to our meal. Chef Sebastian uses three varieties of the French premium chocolate to craft a luxurious dessert to die for! A dense and velvety mousse fills the dark chocolate casing and the quenelle of ice-cream adds a sweet, silky smoothness making this even more irresistible.
A 2012 Carnes De Rieussec Sauternes provides our final wine pairing. Golden in colour, it offers aromas of blossom with hints of honeysuckle that combines beautifully with the richness of chocolate.
A box of Petits Fours epitomises the elegance of the venue and all the courses that preceded. Chocolates, Spiced Madeleines, and Mandarin and Apple flavoured Macarons offer a sumptuous finale to a truly wonderful meal.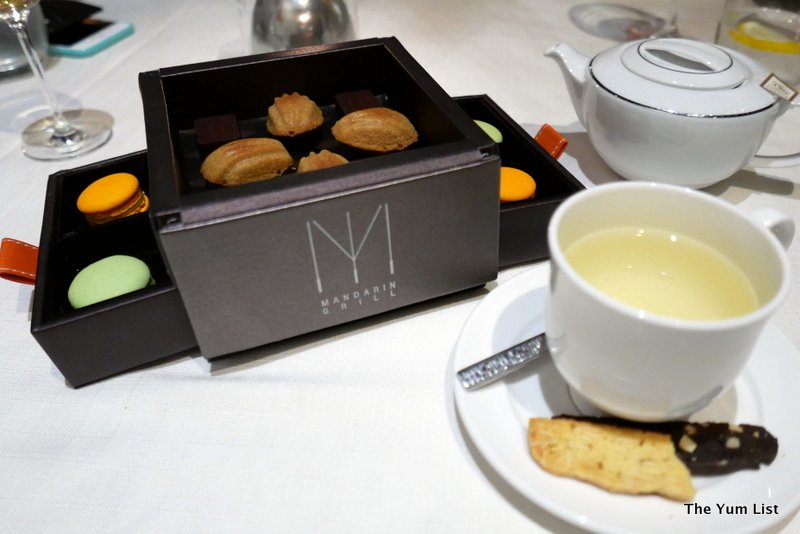 Reasons to visit: Exquisite and innovative flavours and wine pairings, a stunning setting and excellent service. Don't miss the Burrata (for pure heaven be sure to pair it with the Chateau Ste Michelle Riesling), Parihuela and the Black Angus Beef Short Ribs (the pairing with Chateau Ferrande from Graves is also an excellent choice).
Mandarin Grill
Mandarin Oriental, Kuala Lumpur
Kuala Lumpur City Centre
50088 Kuala Lumpur
Malaysia
+6 (0)3 2380 8888
mandarinoriental.com